NEW YORK RAMBLES (page 9)
page 1 2 3 4 5 6 7 8 10 11 12 13 14 15 16 17 18 19 20 21 22 23 24 25 26 27 28 29 30 31 32 33 34 35 36 37 38 39 40 41 42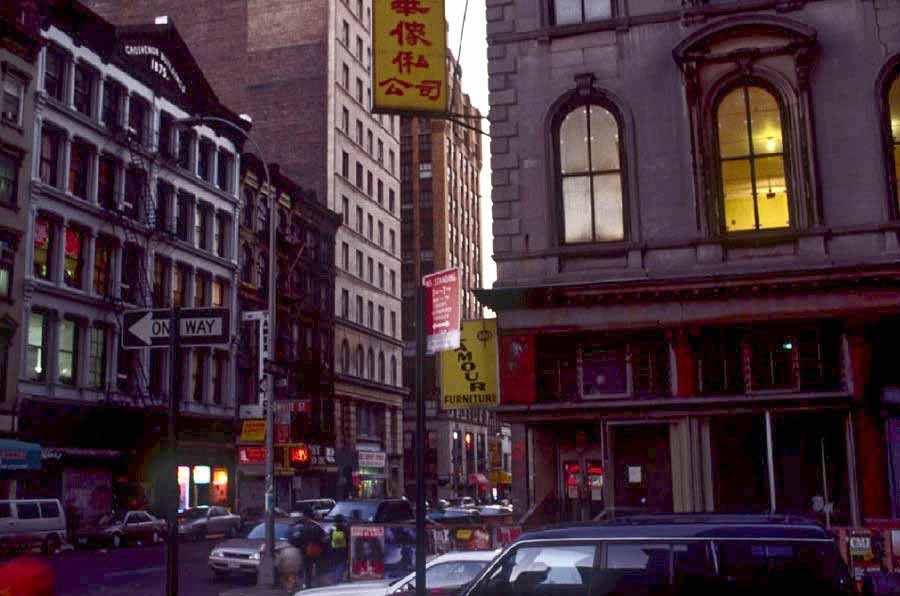 October 1996

A ramble in Tribeca

As a storm moves in the sky darkens and the faint light in shining through windows becomes ever more dominant. It is a reminder that there are many lives lived behind the walls I normally perceive as nothing more than stone and brick.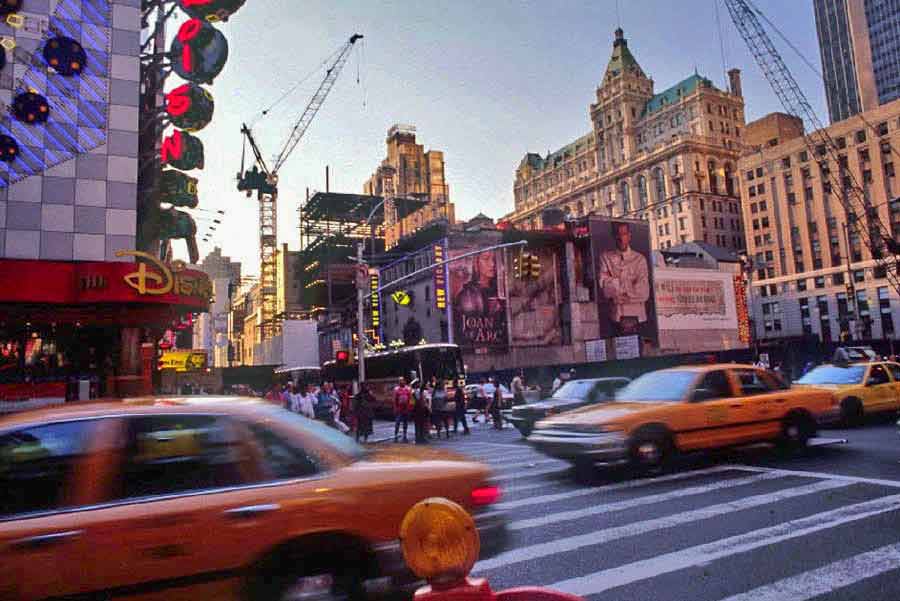 October 1996

A Midtown ramble

As buildings are razed I'm seeing others I didn't know existed. The width of an avenue is a poor distance to observe the designs of architects but for the most part it is all we are given.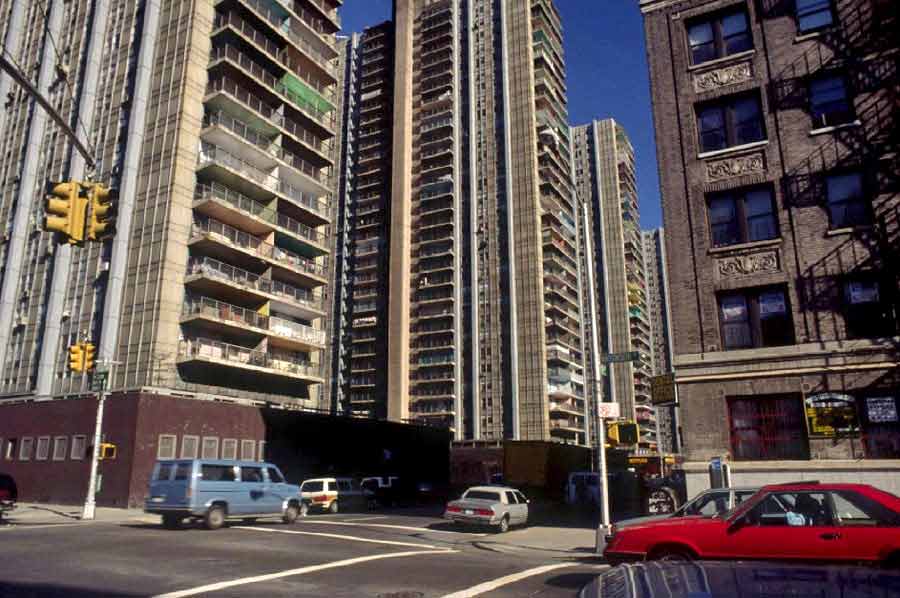 October 1996

A 6 mile ramble across Washington Heights

The views on this day loomed so large they were difficult to capture even with a wide angle lens. To understand any part of the landscape it was necessary to comprehend all that lay beyond the peripheries. Even the Little Red Lighthouse, which is about as small as they come must be understood within the context of the massive bridge that now looms over it. All relies on the interconnectiveness of things.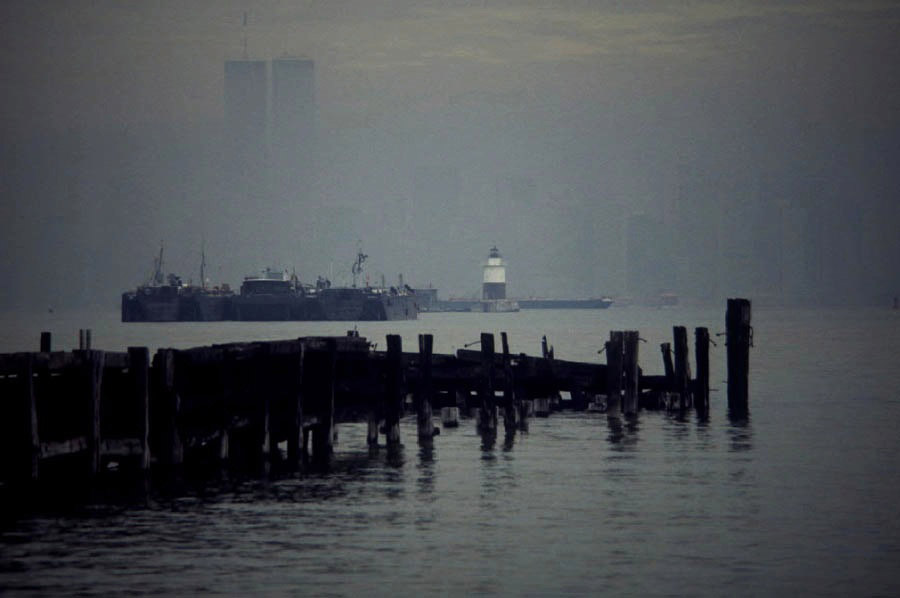 September 1996

A 6 mile ramble about the Battery and St. George

The fog took me out to the waterfront and then drew me across the harbor. It wasn't a solid body but drifted along in fits and stops. From Staten Island the Manhattan skyline was largely out of view except for the twin towers rising above the mist. To someone unfamiliar with what they were viewing it would appear as a strange phantom indeed.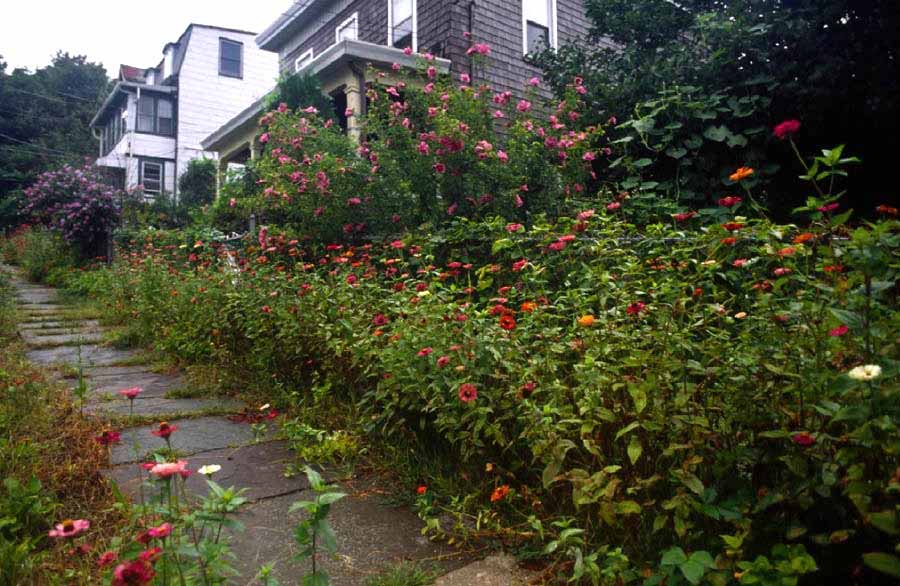 September 1996

A ramble about St. George and New Brighton

The leaves of summer tend to obscure the views otherwise to be had from the hills but foliage brings its own pleasures whether manicured or overgrown. The happiest mix is between the two where a rich texture is created displaying the subtleties of green, and where man's hand takes on the touch of the wild.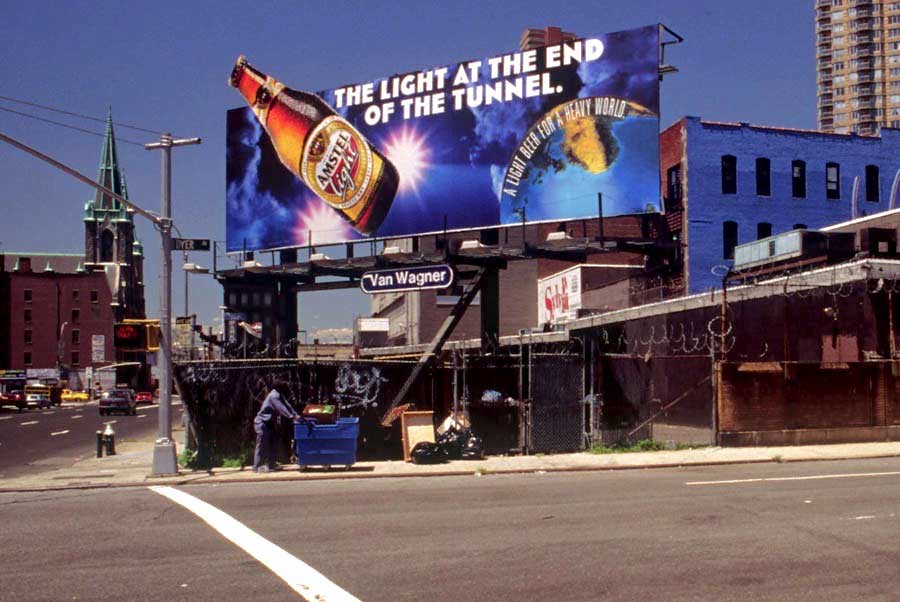 July 1996

A 5 mile walk from Hell's Kitchen to the Lower East Side

The Port Authority ramps and tunnel entrance near the west end of 42nd street have created an environment of nooks and crannies that make it difficult to walk through. The tall spires of a church are one of the few reminders of a community that one stood here. It is a place to pass through not live. Only the homeless can find any refuge here.
Postscript: While the church still stands most of the surrounding blocks have filled with luxury condo highrises.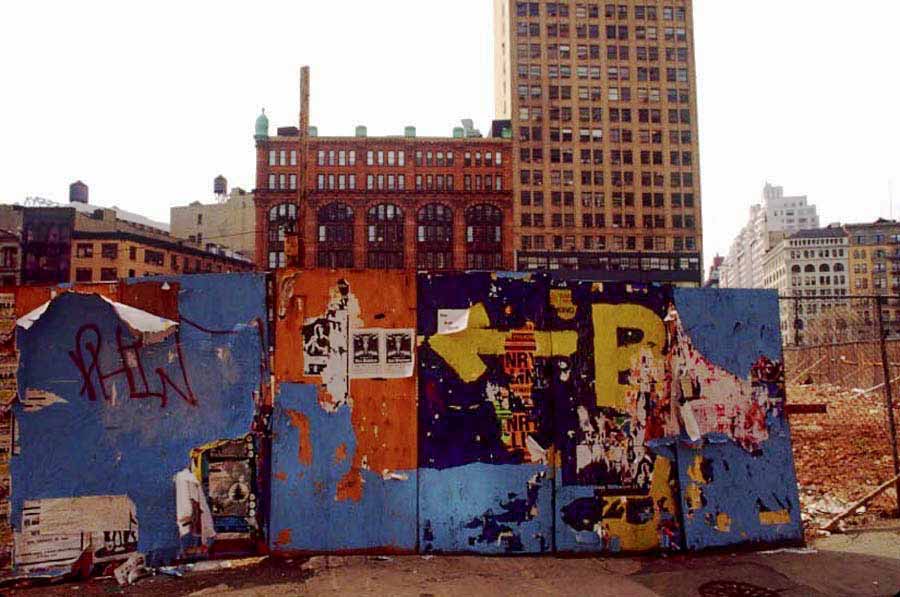 April 1996

A loop between Madison Square and Union Square

An entire block has been razed. It has taught me the true value of open space, not to use or occupy but as nothing more than ether so we can breath.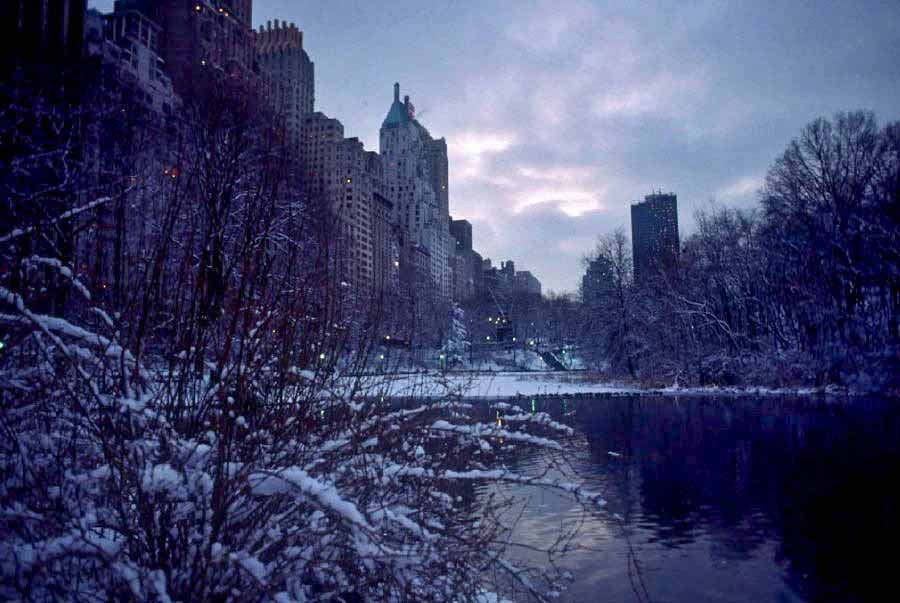 March 1996

An 8 mile ramble around Central Park and the Upper West Side

My timing could not have been better. I arrived at Central Park just as the storm was dropping the last of its snowflakes. It was a wet clingy snow and the lack of wind let it crystallize into a landscape of white lace. After traversing the entire length of the Park and back again I still could not bring myself to leave. I wandered back and forth until it became too dark to shoot.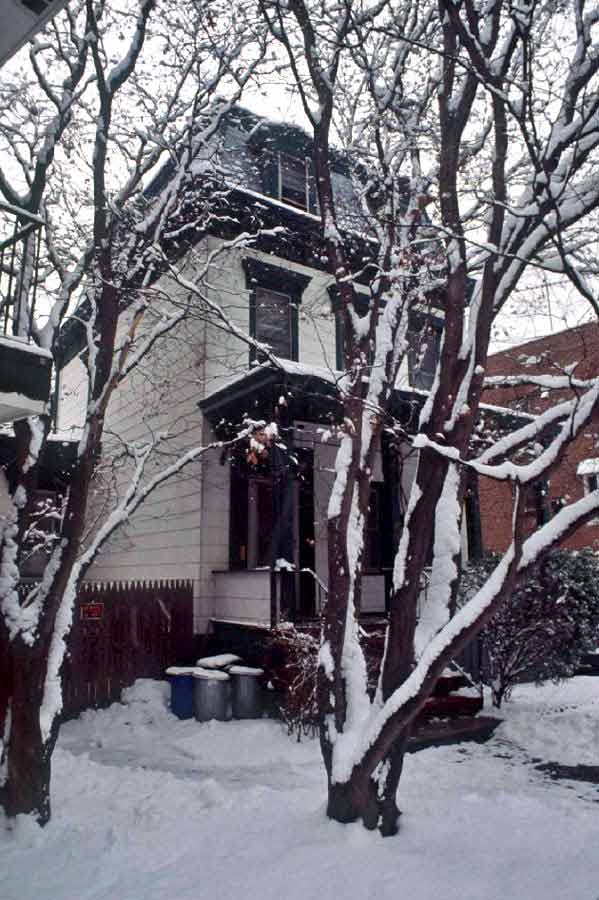 March 1996

A ramble about Flushing

There is a lone Victorian that I continually try to capture but have not been able to do so to any satisfaction. Part of my compulsion is derived out of fear, that this lone sentinel will disappear into a sea of brick and concrete as its old neighbors had. I can still remember this street lined with modest homes just like it, all with ancient wisteria climbing up their front porches on an avenue lined with bald cypress.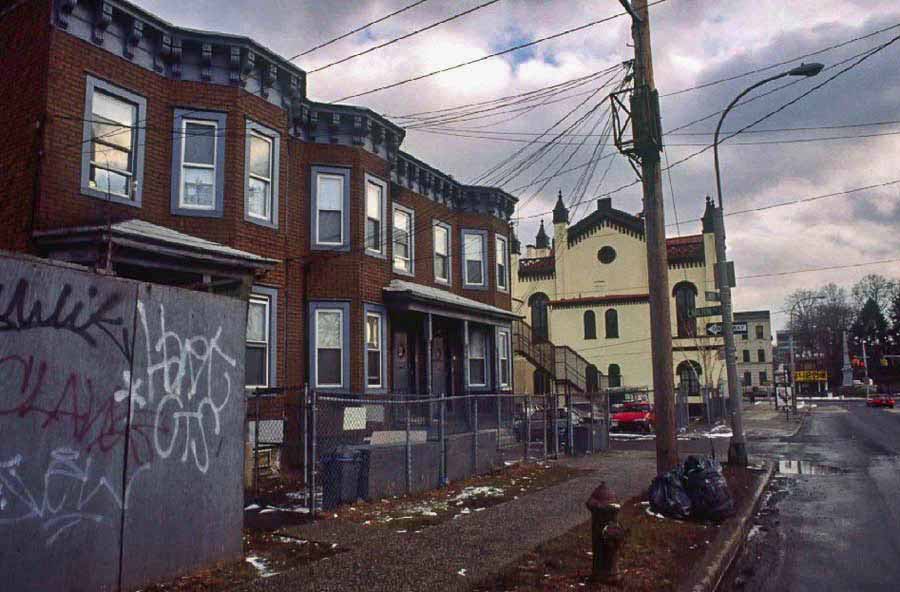 February 1996

An 11 mile walk from Flushing to College Point

I find it strange walking the back streets of Flushing for I rarely come here anymore. The area around the town hall has grown tired since the subway shifted downtown's focus many blocks away. Those who place large scale infrastructure into a landscape always look at the bigger picture as if the traditional ways we have lived our lives never existed. There are two cities here, the one on the drawing board and us.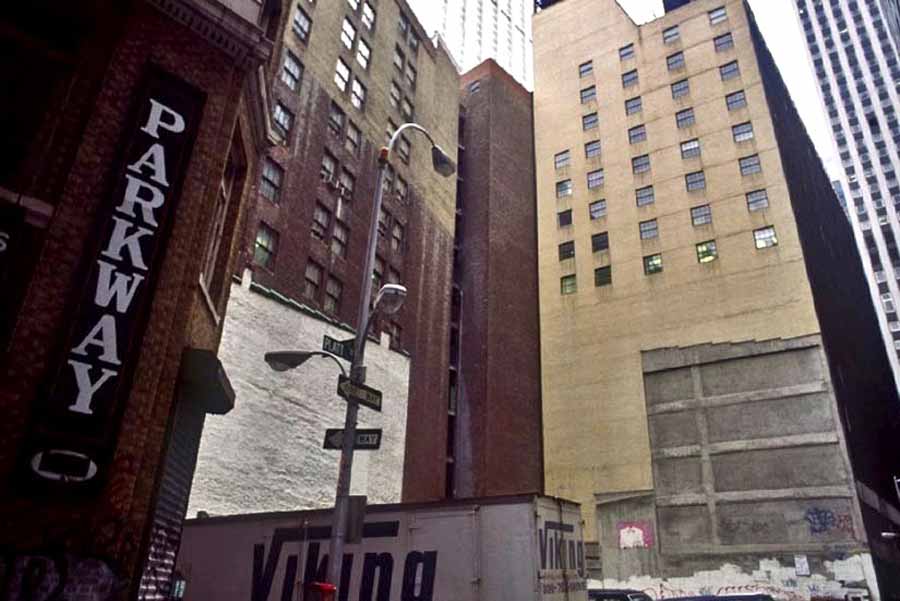 February 1996

A walk from Wall Street to Soho

People do not exist today, all is shape and color.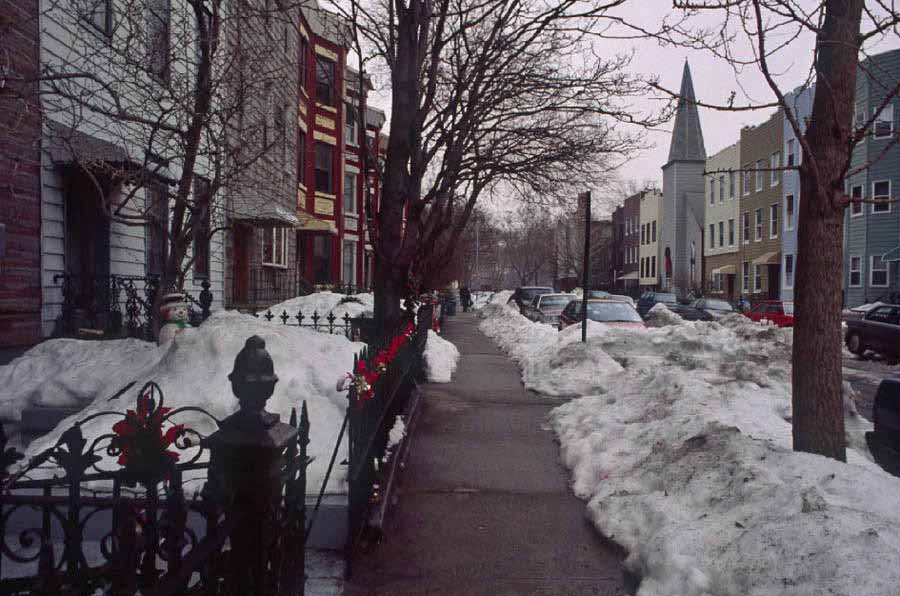 January 1996

A walk from Long Island City to Maspeth

The snow has made this old section of Queens look all the more old. Not in a bad way, it just covers the new cars and day-glow trash cans so that I am a child again on these streets.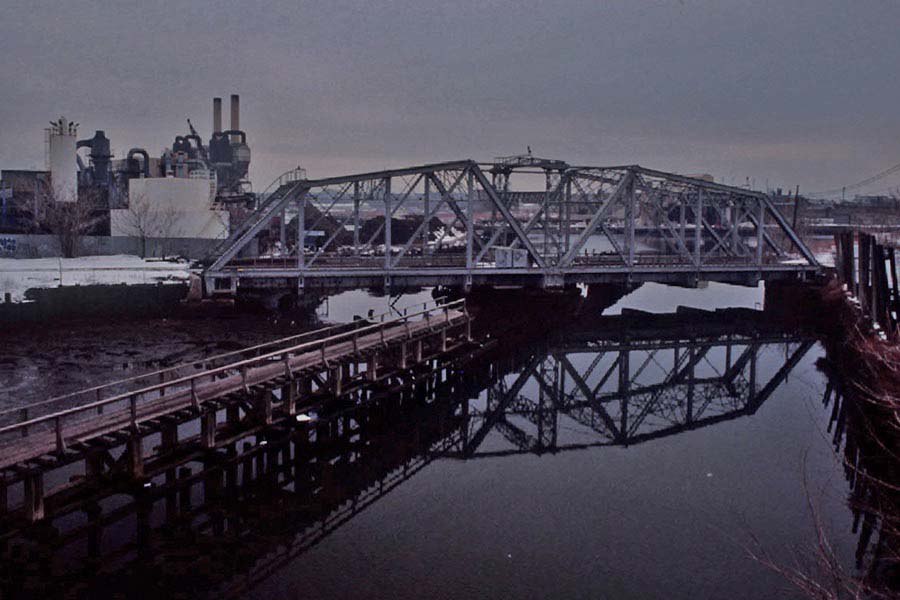 January 1996

An 8 mile walk between Long Island City and Williamsburg

Despite the presence of boxcars the snow packed atop the railroad tracks showed me that traffic was slow. I followed the line until reaching the Kills where an industrial landscape awaited me. Snow has a way of quieting things. There was no escaping what has been done to this land and yet at the same time man was conspicuously absent.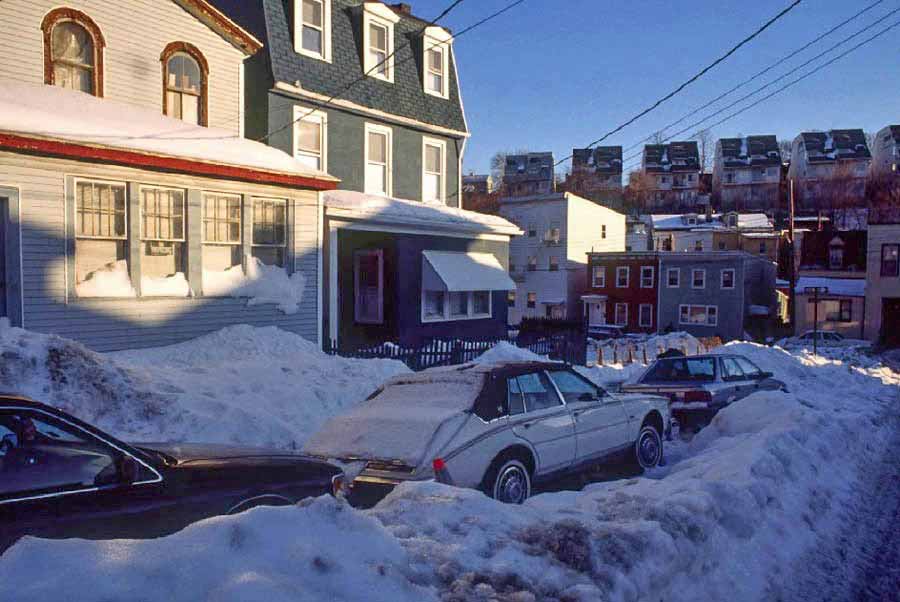 January 1996

A 6 mile walk across downtown Manhattan and around St. George

Walking down from City Hall I could barely tell there had been a heavy snowfall. Downtown was relatively clear except for the slush at the corners and a huge mountain of soot covered snow waiting to be carted away. I thought I would try my luck at finding more snow elsewhere and took the ferry to Staten Island. Things were moving at a much slower pace out there as everyones concern seemed limited to shoveling their way out. It was very difficult making my way about but I found what I was looking for.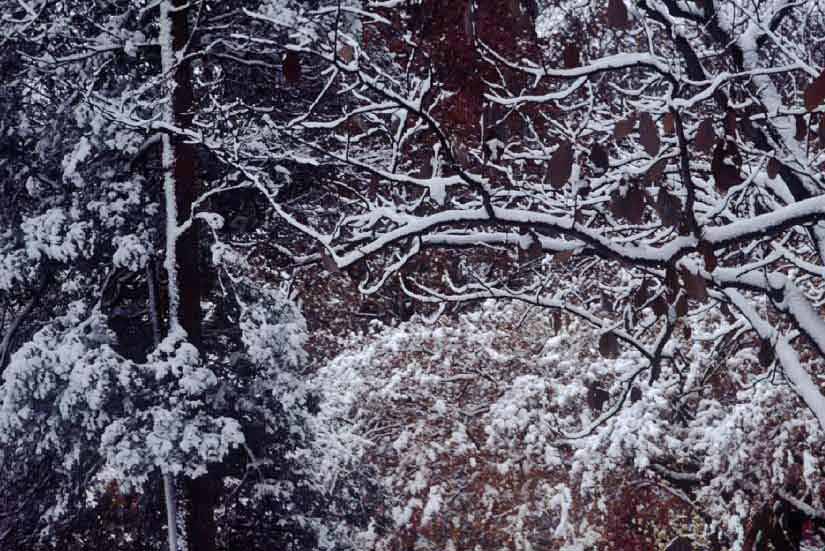 November 1995

A ramble in Kissena Hollow

The first snowfall arrived before the trees had shed their leaves. A magical combination.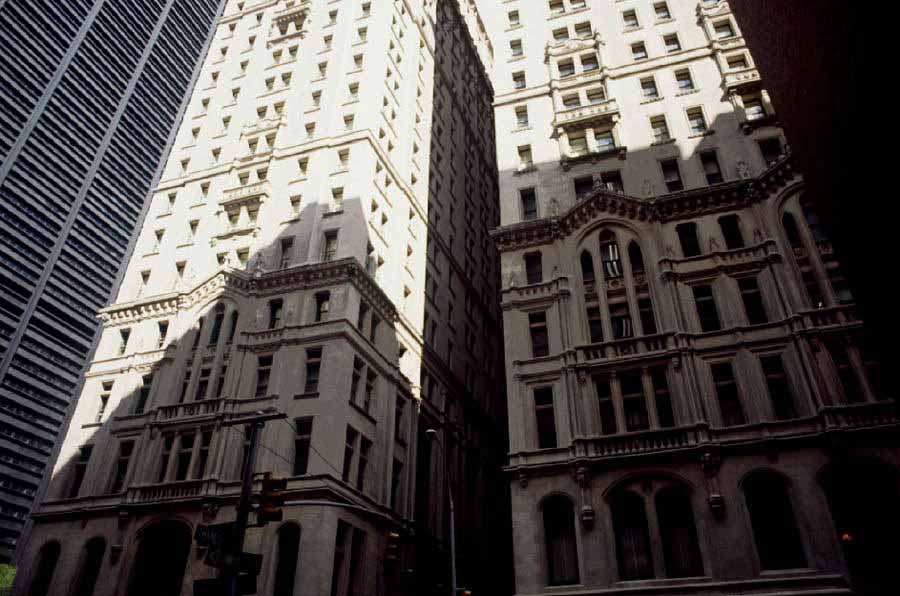 September 1995

A loop between City Hall and Wall Street

Some of these downtown canyons can feel so closed in I cannot help but think of Bishop's poem "The Manmoth" as I pass through them struggling to catch a glimpse of the light above.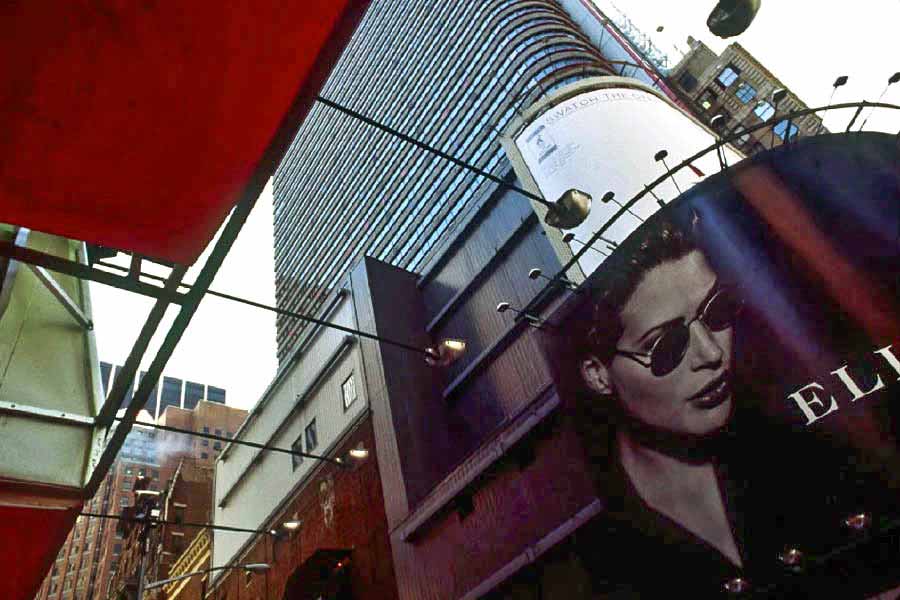 August 1995

A ramble about Midtown

It has been said that if Times Square ever became an archeological sight, future generations would think this was a great place of worship, where we stood under the gaze of our gods.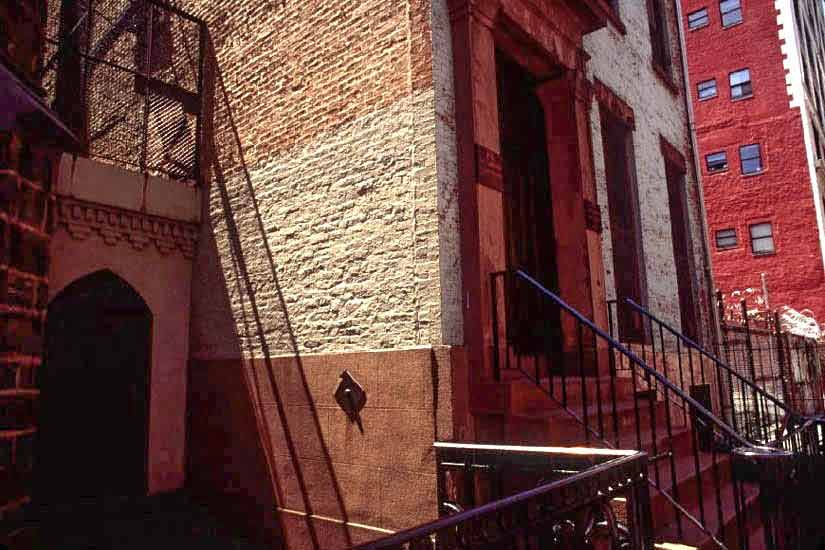 August 1995

A walk from Madison Square to Wall Street

I don't know how many times I've walked down this street but everything down to the minute, the hour, and the season added up to create perfect balance in this moment.
Postscript: St. Ann's Church and Rectory were torn down to build a dormitory for NYU students. While the facade of the church was left standing, it was not incorporated into the modern new structure and it is now reminiscent of war damage in a bombed city.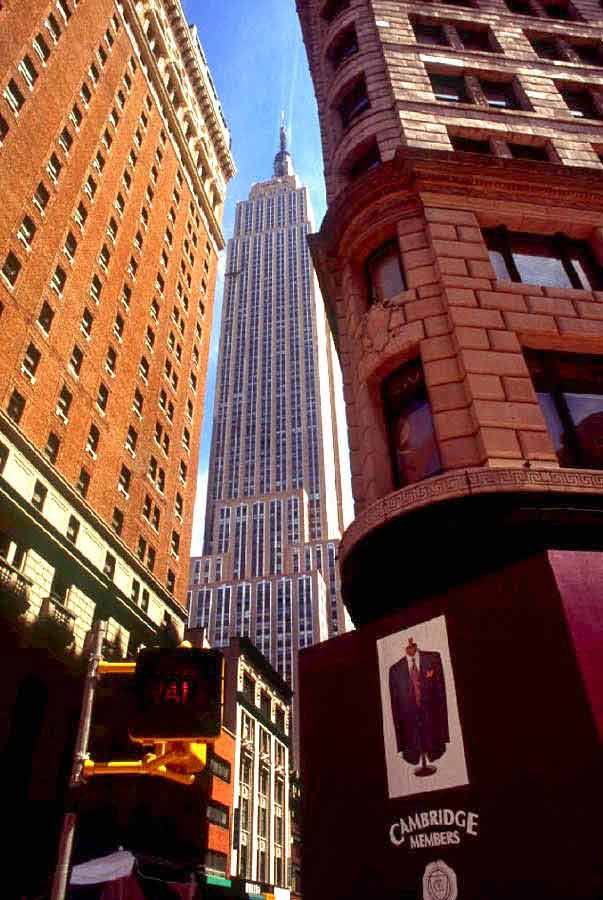 August 1995

A Midtown ramble

There is something so formal to modern buildings that the camera can reduce them to nothing more than color and shape. A simple sign added to such a composition adds a human element that seems so out of place to make it surreal.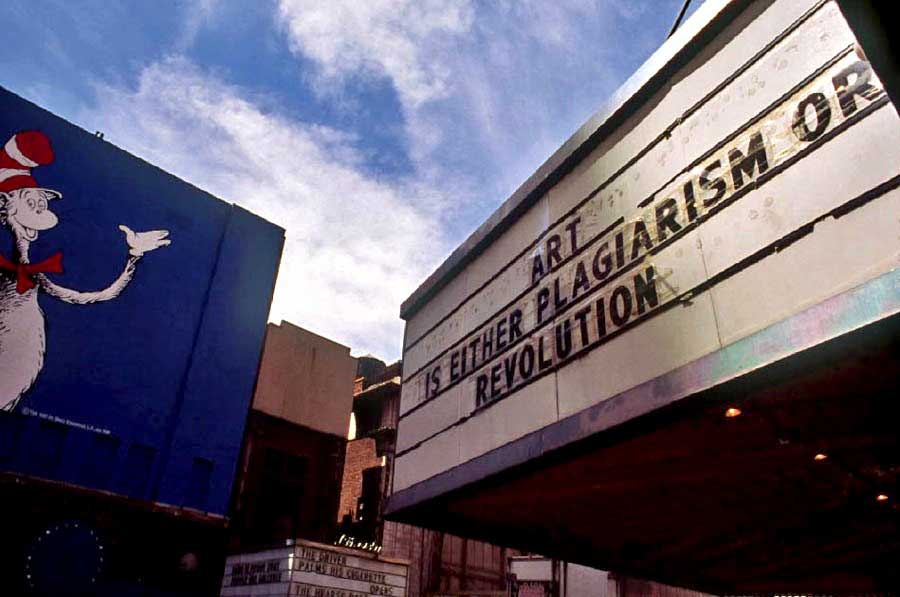 August 1995

A Midtown ramble

It is good to see that 42nd street is not submitting to Disneyfication without a fight.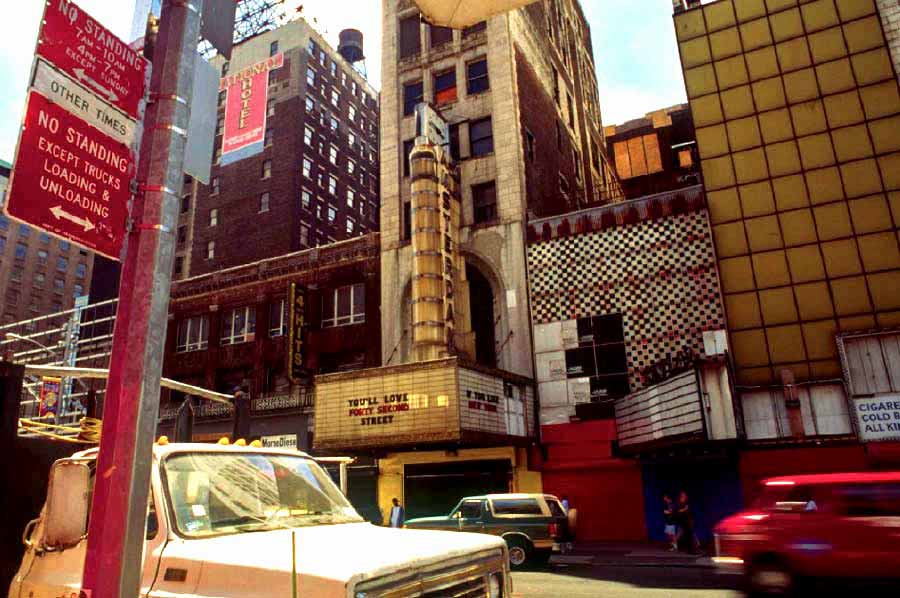 July 1995

A ramble about Times Square

Vacant storefronts are being painted bright colors like the pox of a highly contagious disease. Mickey Fucking Mouse is coming to town.
Postscript: While this neighborhood had no shortage of detractors it was still a real community that has since been turned into a glitzy strip mall for tourists. For me it is a net loss.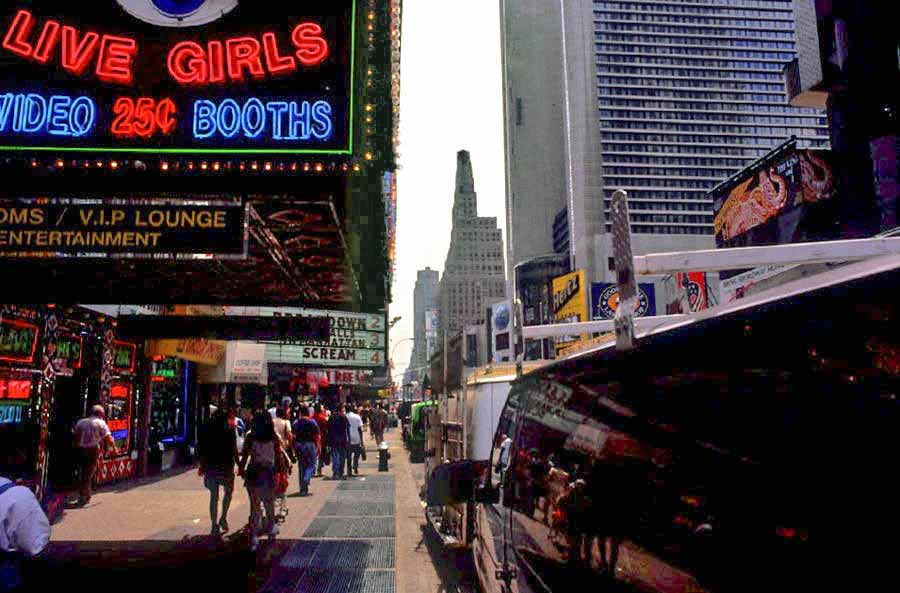 July 1995

A Midtown ramble

Rezoning has scattered the porn shops out from their traditional haunts. While anathema to some, I enjoy the splash of color and honky tonk they add to the streets.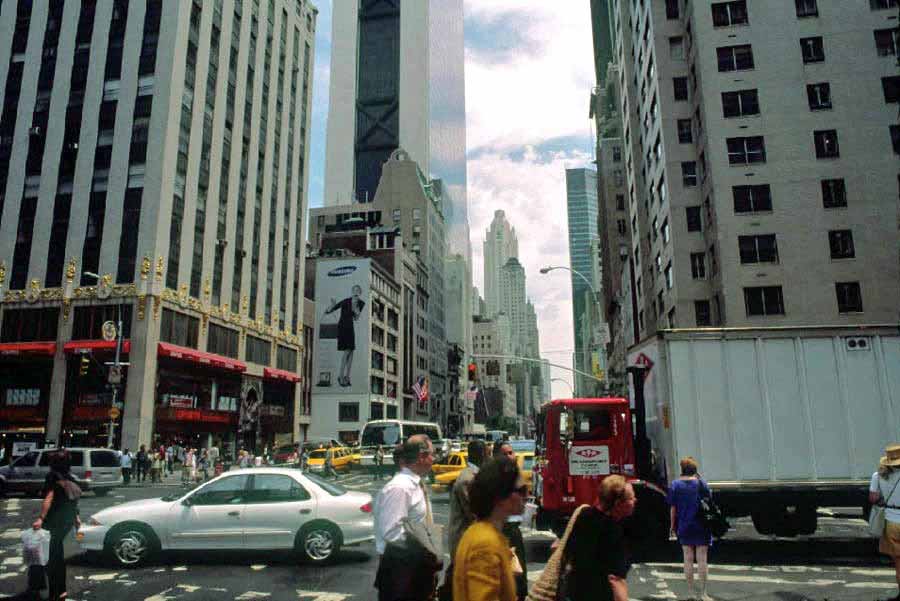 June 1995

A Midtown ramble

I've become good at capturing empty streets but the City is also about people and movement.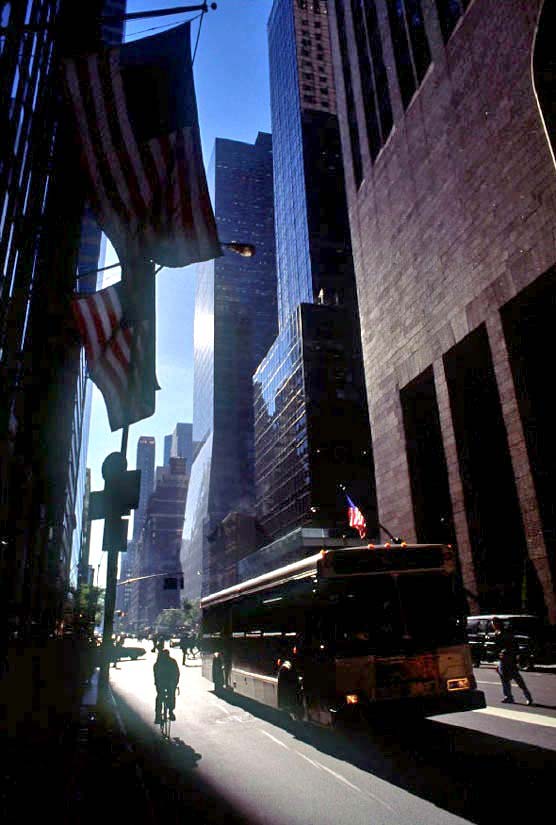 May 1995

A Midtown ramble

The light bouncing off the buildings makes it twice as harsh as it already is. I learn to make use of it.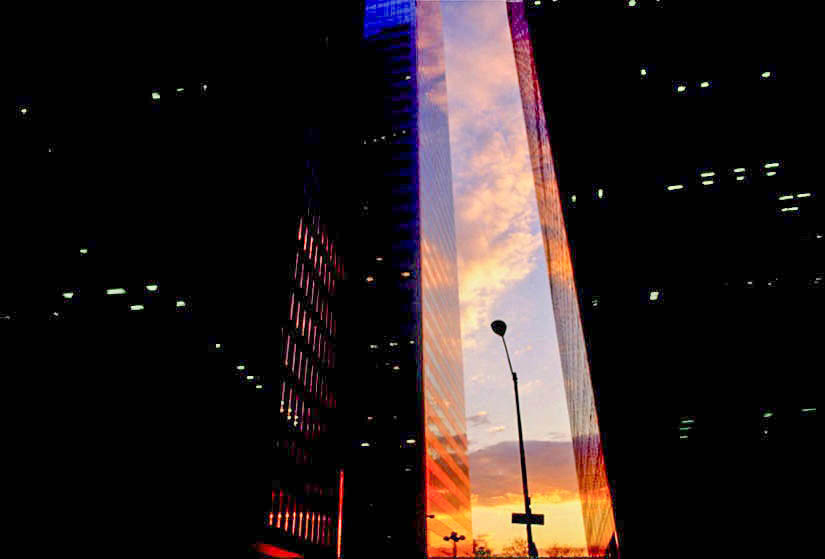 May 1995

A Downtown ramble

The city of my youth was much darker at night. I can no longer remember the constellations I had once learned to find. Now there are more street lamps with brighter illumination that have almost compleatly obscured the heavens. But there reaches a time of day when the lights shining from inside glass skyscrapers replace the stars of the night sky.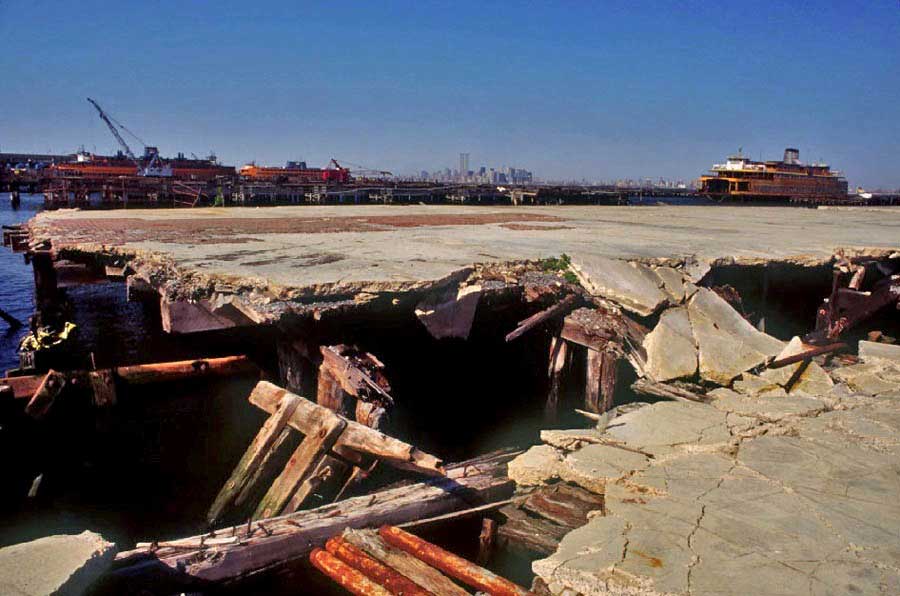 May 1995

An 11 mile ramble between St. George and Rosebank

While the abandoned Light House Station is again off limits the neighboring industrial area is now desolate and assessable. I am tempted to climb out on the old wharfs but they seem to be already collapsing readily under their own weight without mine added.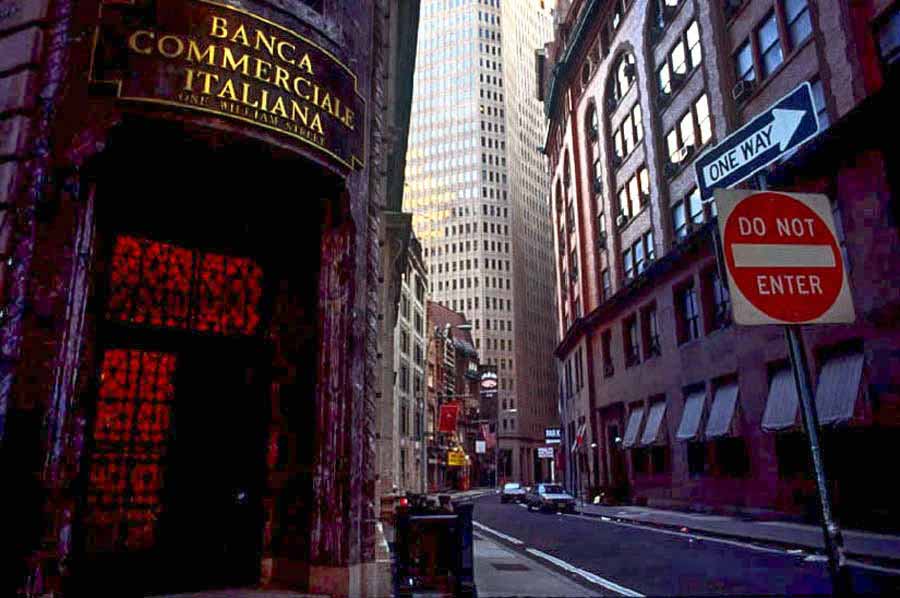 May 1995

A Downtown ramble

As new skyscrapers rise the downtown canyons grow ever deeper. These narrow streets can bring on attacks of claustrophobia in some or a sense of comfort as if sitting in a nest.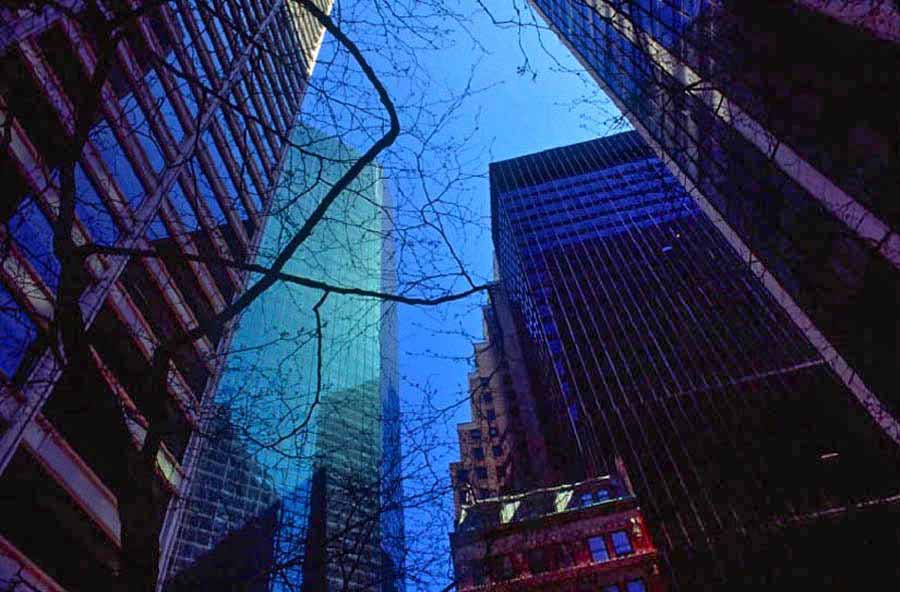 May 1995

A Downtown ramble

While few of the new skyscrapers are remarkable as buildings, their mass of reflective glass can create wonders of light and color at the right time of day.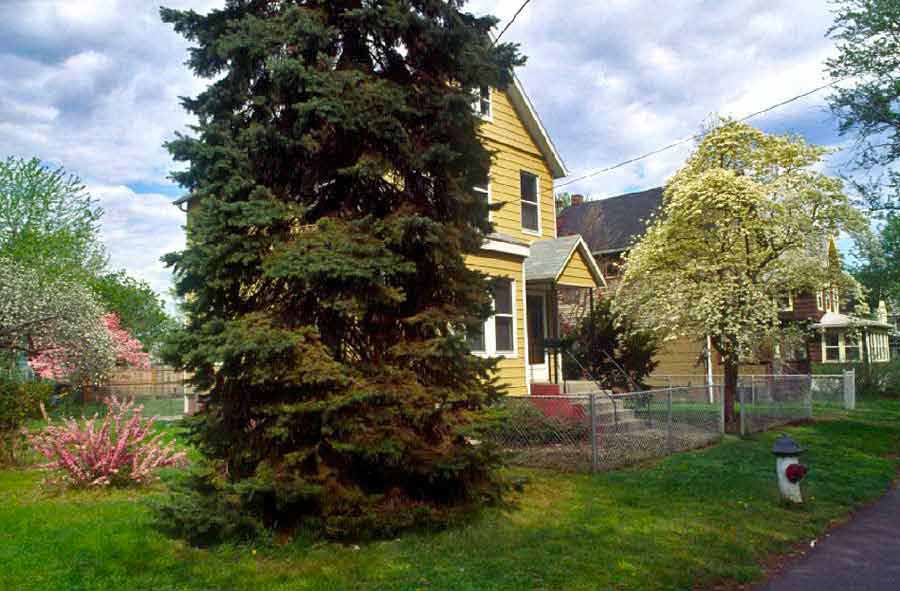 May 1995

A 14 mile ramble between Travis and St. George

I am so used to walking on the hilly side of Staten Island I forgot that some parts come flat.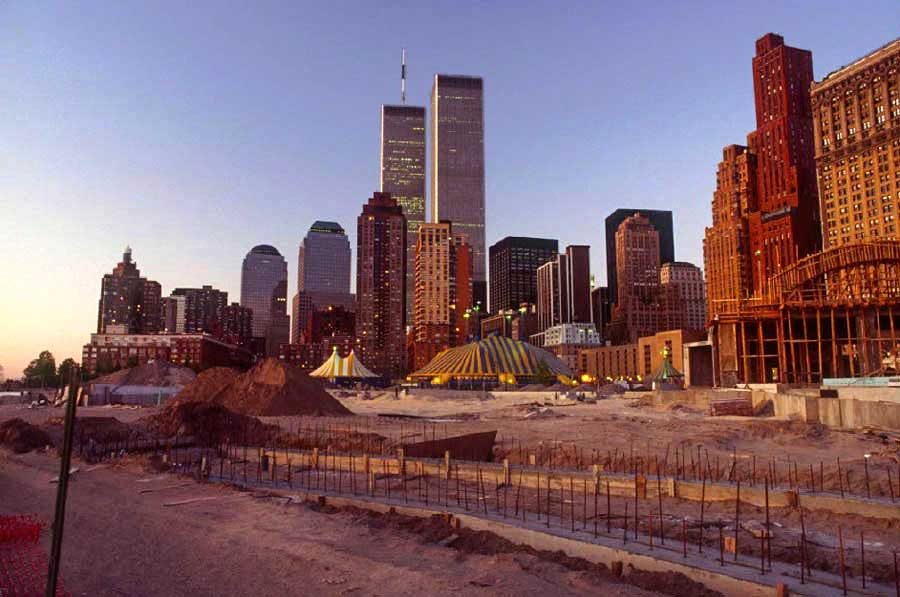 May 1995

A walk around the Battery

The circus is in town. With their tents raised on the vast sculptured landfill along the Hudson it turns an already strange scene ever more surreal. Then again some parts of this city have never looked real.

---
Copyright 2009 Alan Petrulis All Rights Reserved