NEW YORK RAMBLES (page 2)
page 1 3 4 5 6 7 8 9 10 11 12 13 14 15 16 17 18 19 20 21 22 23 24 25 26 27 28 29 30 31 32 33 34 35 37 38 39 40 41 42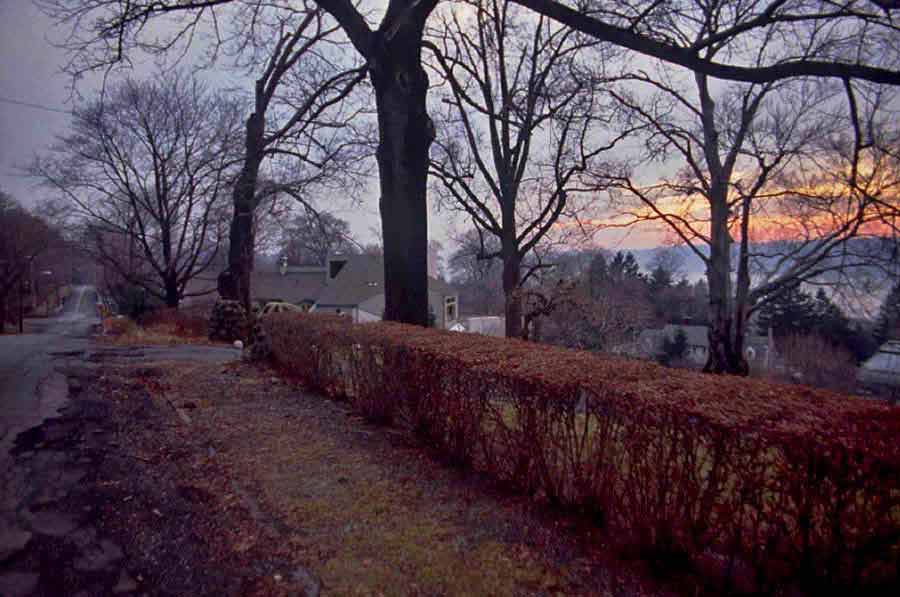 February 1984

A 6 mile walk from the Spuyten Duyvil to Riverdale

From sight alone I could tell I was in the Hudson Valley but I would have never guessed I was still in the Bronx. Small patches of snow clung to the wet ground wishing not to leave. A cold dampness filled the air, yet there was something Spring like about the day.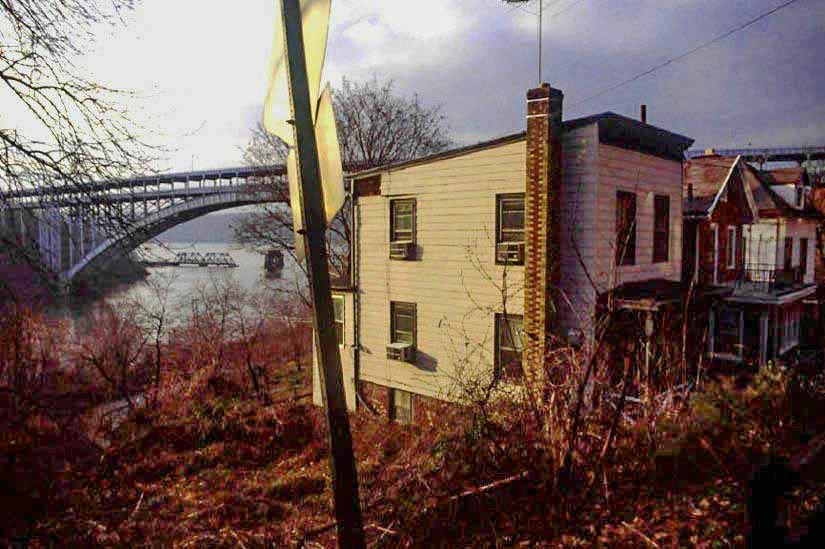 December 1983

A 5 mile walk from the Spuyten Duyvil to Riverdale

The area surrounding Spuyten Duyvil Creek is one of New York's great spaces. There is a secret held here in the valley between the modest homes that hug its slopes, one that demands a deeper look.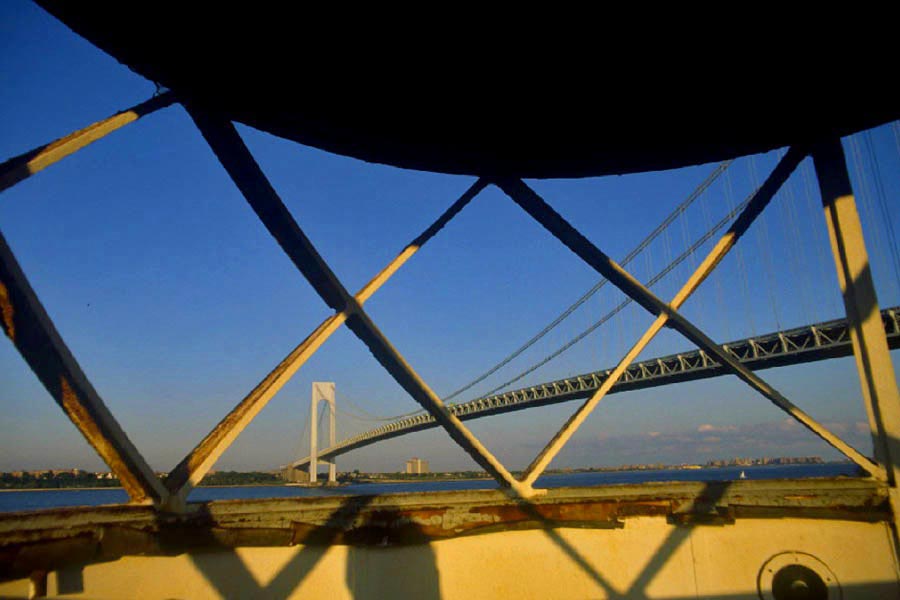 September 1983

A walk to and about Fort Wadsworth

Further exploration of Battery Weed took me to the abandoned lighthouse built atop the fort's parapet. Even with its glass and lens long gone this empty shell retained a certain romance.
Postscript - This lighthouse was restored by volunteers and relit as an unofficial guide to navigation in 2005.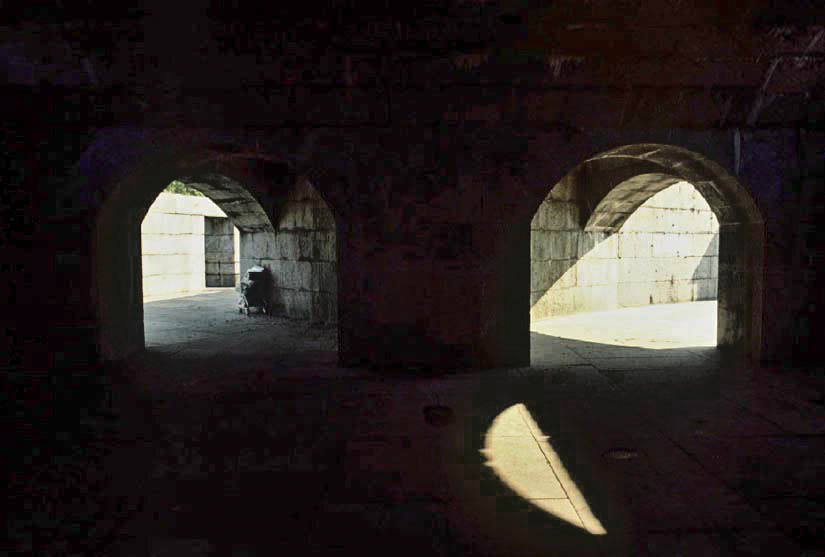 September 1983

A short walk in Fort Totten

With the guns long gone it is easy to forget the purpose that these monumental abstractions once served.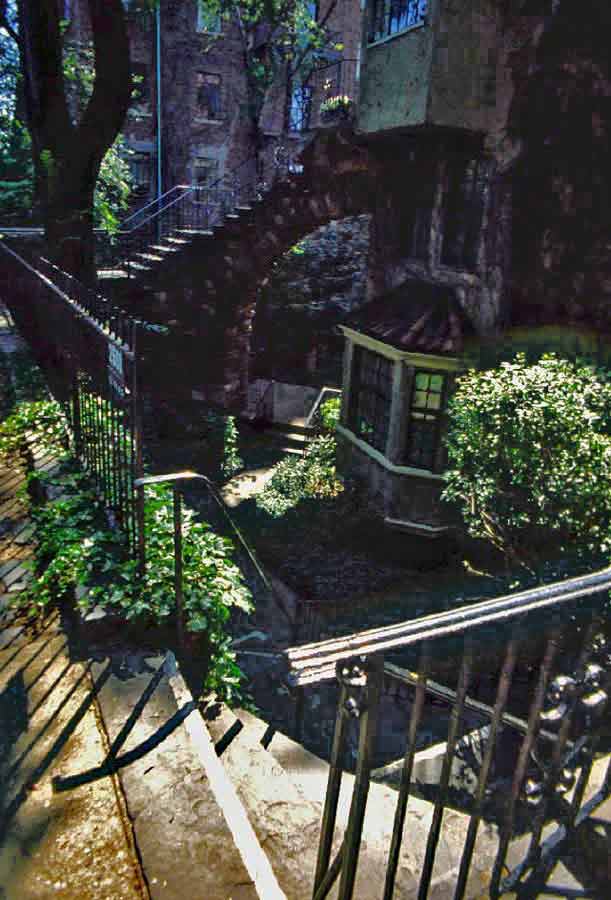 August 1983

A ramble in Spuyten Duyvil

I have seen modern cliffside homes propped up with long beams but people have found ways to live on steep slopes long before the introduction of steel. Technology does not always make new things possible, it just often replaces the elegant with the expedient.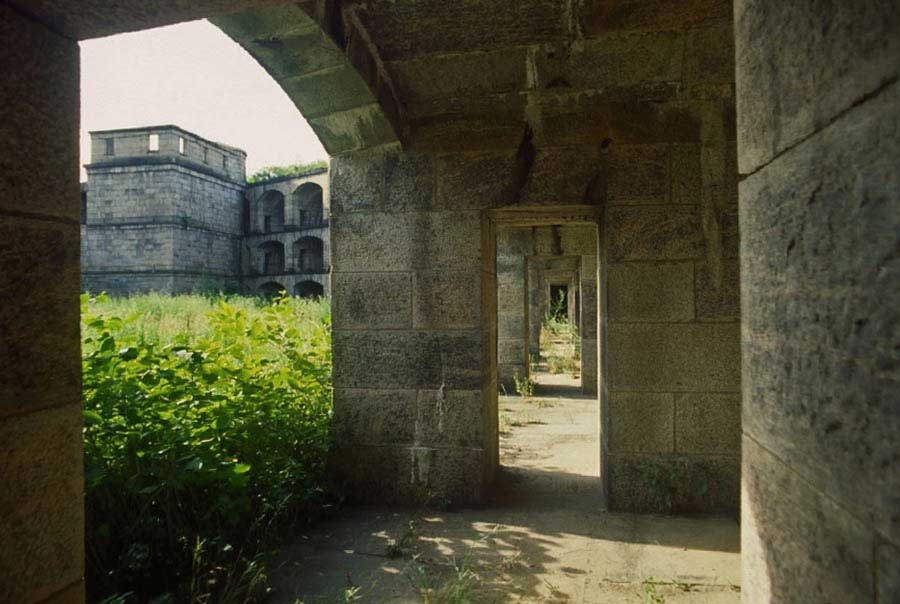 July 1983

A 10 mile walk from St. George to Fort Wadsworh

Successive storms and lack of maintenance made a mockery of the barrier at the beach and I was soon standing outside the walls of Battery Weed. I was not its first visitor for a bricked up gunport had been chopped out as if for my convenience. The parade and parapet were overgrown but the arched galleries were enough for me to explore. I noticed the arch of each tier was shaped differently, I suppose to identify it within a regularity of stone.
Postscript: This fort has since become part of Gateway National Recreation Area. It is only occasionally open for tours but strangely I had more private access to it when unmaintained while under Army control.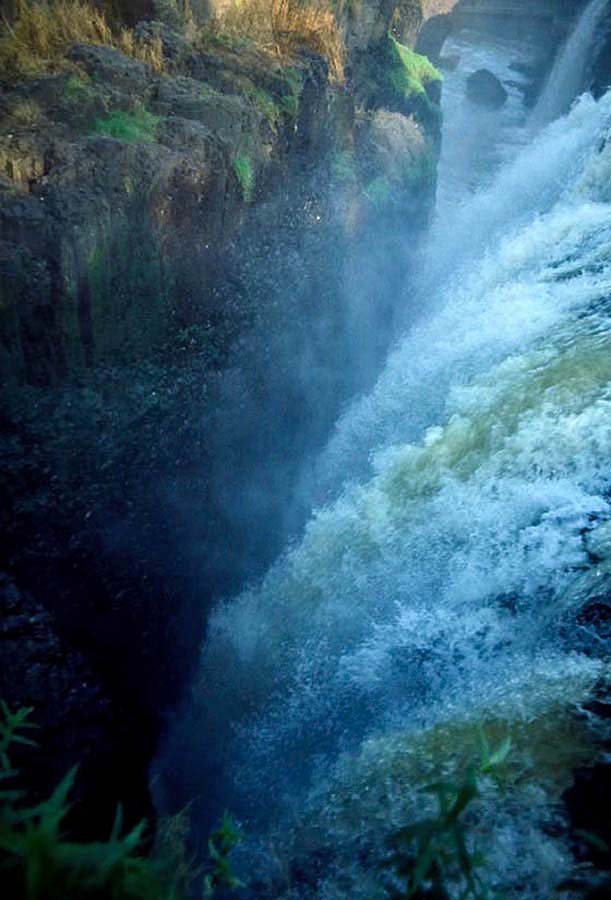 July 1983

A ramble in Paterson, NJ

I was diverted from my planned walk in the city by an offer to visit a waterfall in Paterson. As we drove past blocks of old brick factories and mills I thought a bad joke had been played upon me. Then there it was, the Falls of the Passaic nestled within a small park. My enthusiasm may have clouded my judgement for I kept on crossing paths with danger. At one point I noticed I was slowly sinking for I was not on solid ground but a huge pile of leaves compacted in a cliffside crevice. Then I only noticed the closed, in danger of collapse sign after crossing the footbridge over the gorge. Despite this I still pressed my luck by going out on a narrow ledge to the edge of the precipice. The spray from the falls had made the top so slippery I had to eke out the last remaining yards crawling on my stomach. The great power of the falls was so mesmerizing it drew me into the abyss. I had to use all my strength to not literally go over the edge.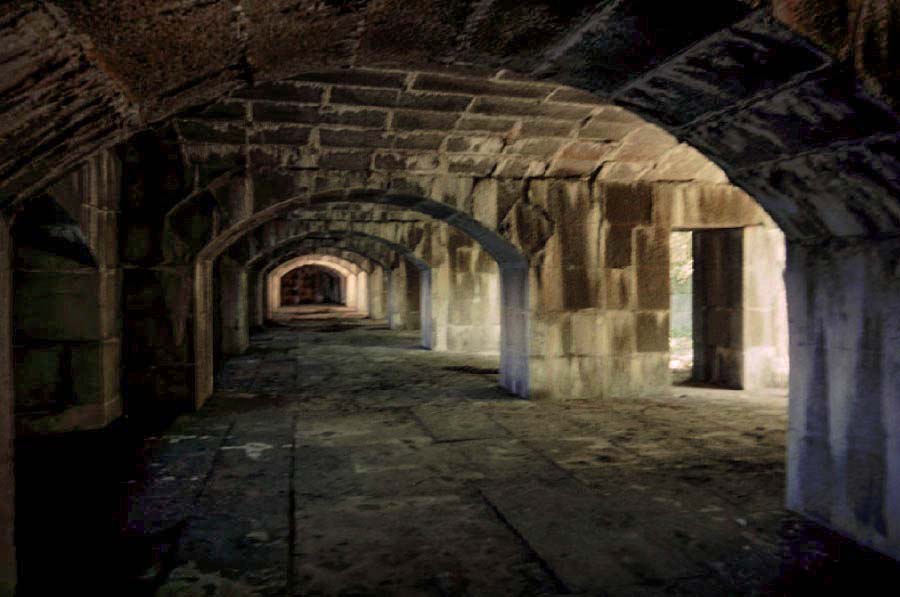 July 1983

A short walk in Fort Totten

Human activity around the old granite fort and the newer concrete batteries has been wanting for some time. Weeds grow from every crack and crevice that is assessable to light while the roots of large trees slowly pry their massive blocks apart with a quiet determination. It was like standing in a lost city of the Yucatan.
July 1983

A loop between Hells Kitchen and Murray Hill

It is the 4th of July and the stillness of this hot night has left clouds of acrid smoke drifting through the air. The skyline is as festive as fireworks.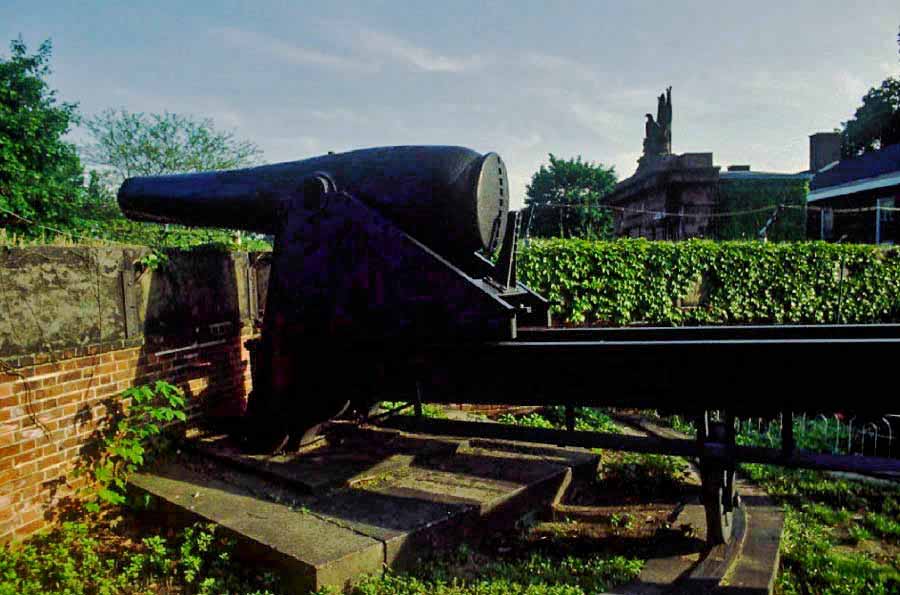 June 1983

A ramble about Governors Island

What is more odd than seeing families living inside an old masonry fort is to see patches of irises growing under lines of laundry strung out to old Rodman guns.
Postscript - The Coast guard has removed all personnel from the Island and since 2003 Fort Jay has been in control of the Department of the Interior.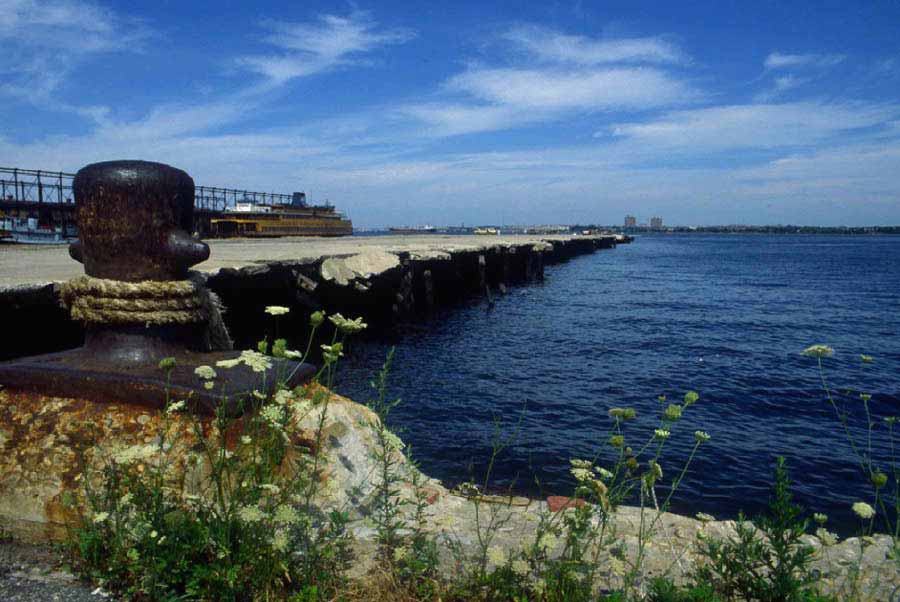 June 1983

A walk from St. George to Clifton

Fishermen patiently stand to either side of me in between the empty piers that are collapsing under their own weight as if on some desolate shore, while skateboarders whiz past my back at speeds unknown. This open space on the Stapleton waterfront is an unusual combination of abandonment infused with home town practicality. Though in the height of decay this place is a hidden paradise for locals and itinerant photographers that will never appear in any guidebook.
Postscript: This expansive waterfront area was chosen to be developed as a homeport for the U.S. Navy in 1983 but ten years latter when the military began closing bases, construction was halted. In 2006 this area was again assigned for re-development but nothing has yet happen and it still remains inaccessible to the public.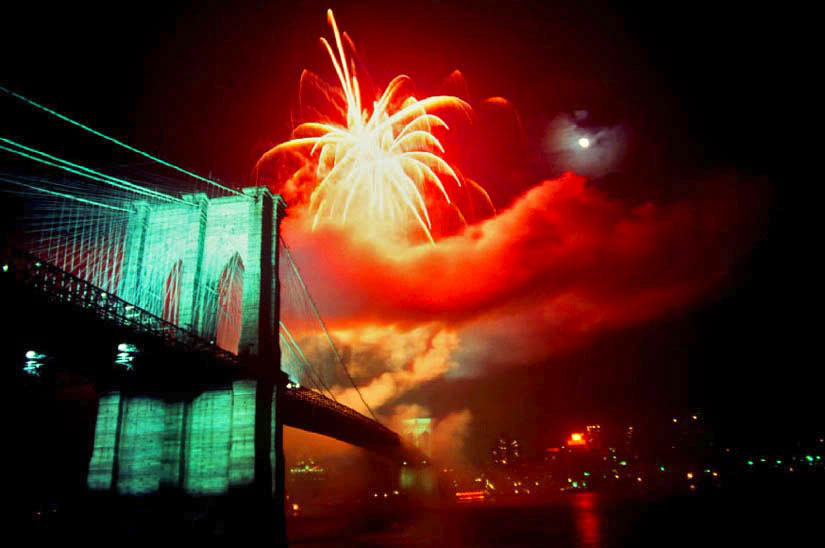 May 1983

A ramble near the Brooklyn Bridge

As I approached the East River on this Centennial day the crowds so thickened to the point that I did not think I could gain any access to the waterfront. I am not sure how I managed it but I ended up next to a railing though I had to sit on the ground pressed up against its bars. Photos of fireworks tend to look all too anonymous despite their beauty unless a decent backdrop can be had. I could not have hoped for a better one than what I found today.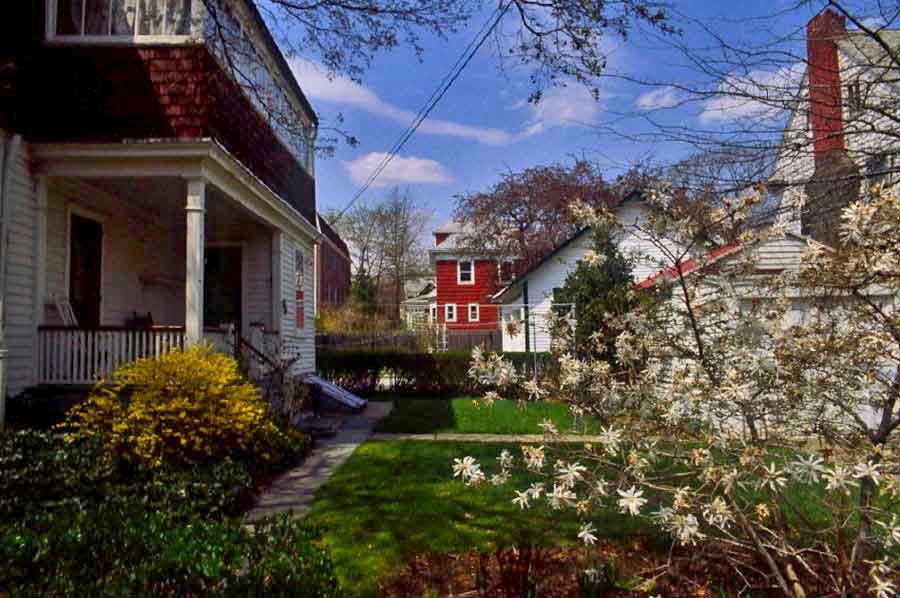 April 1983

A ramble in Flushing

With spring in the air backyards have become temples to the season.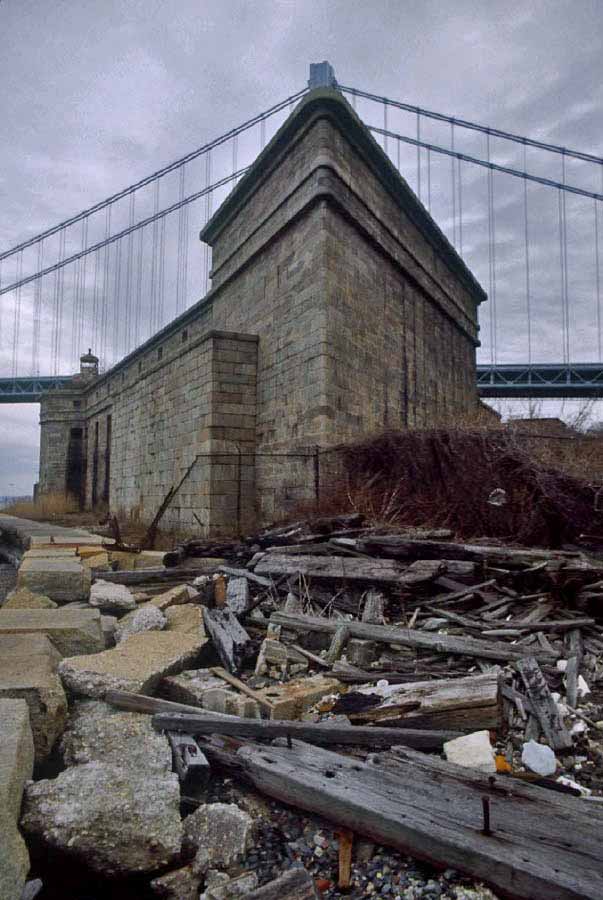 April 1983

A walk to Fort Wadsworth

Though built of granite the fort sailed forth, its prow rising far above me.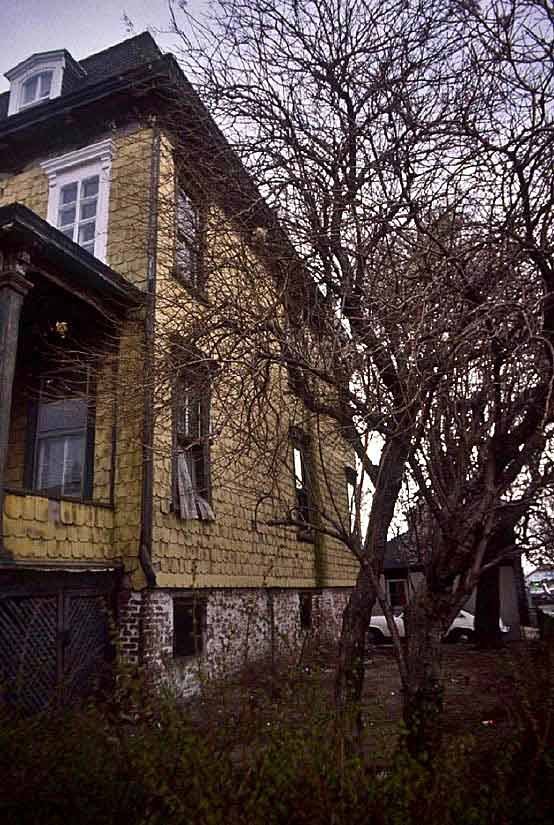 April 1983

A ramble about College Point

The day is dark and swollen with the promise of rain. Blossoms abound in this landscape that has not yet given up on winter.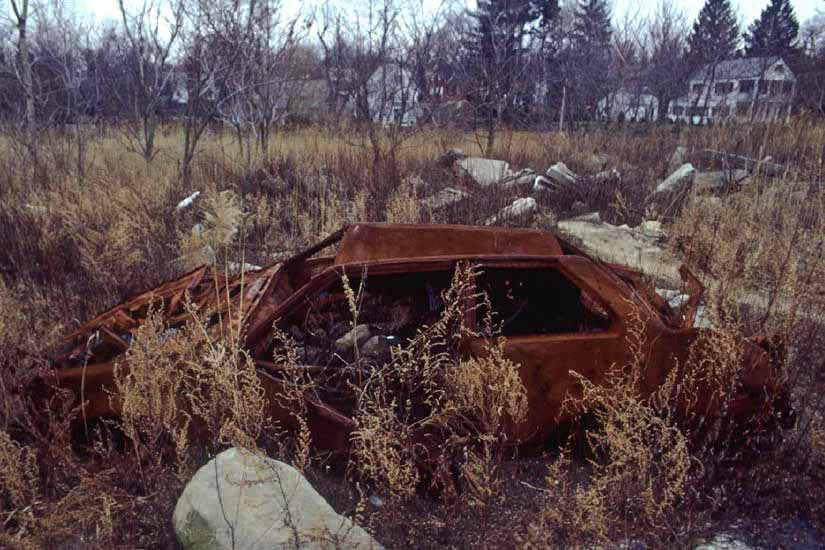 March 1983

A 5 mile walk from Fort Totten to Little Neck

Do animals have aesthetics? Do they really care about what we toss into their homes? Perhaps a burnt out wreck is nothing more than a great new opportunity for birds to tower above the weeds, a balanced slab of concrete a safe dry place to nest.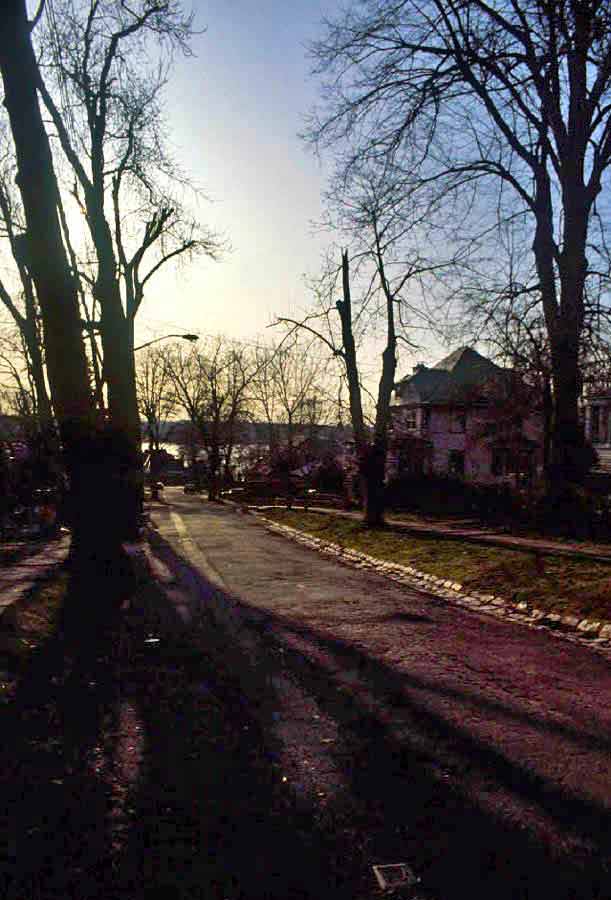 March 1883

A 10 mile loop between Little Neck and Saddle Rock

Long shadows and sun glare are the signatures of March. I seem to be always looking down.
February 1983

A short Walk in Kissena Hollow

Once traffic is silenced by falling snow I can travel a million miles away.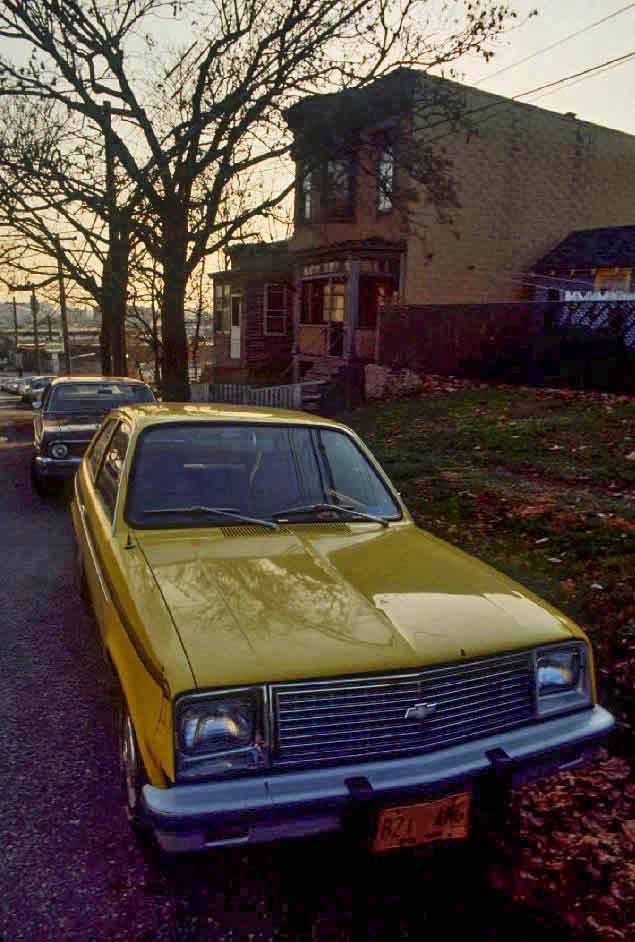 January 1983

A ramble in College Point

Some places just seem frozen in time as if the last thirty years were no more than a dream.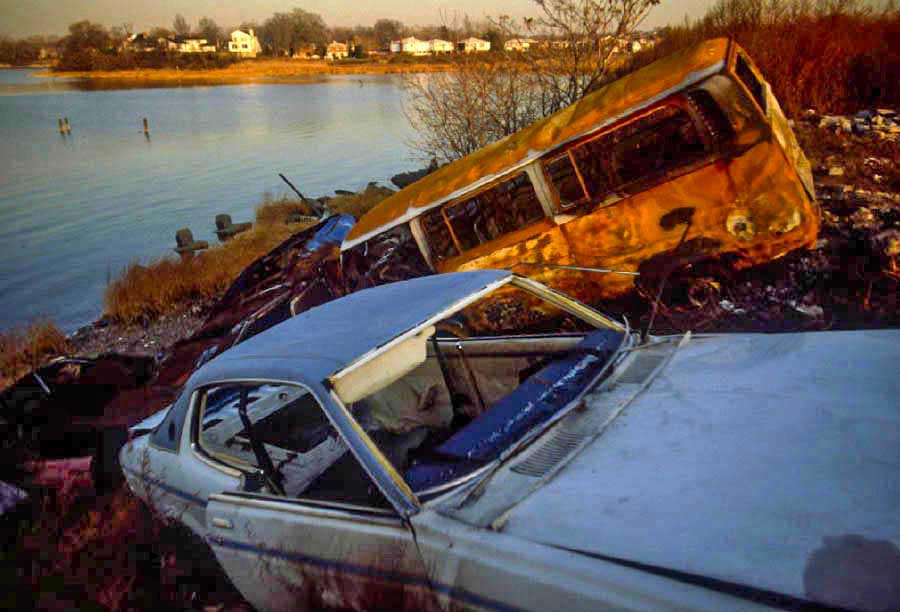 December 1982

A 7 mile walk from Flushing to Malba and then on to College Point

Abandoned cars are now a normal part of the landscape on any unused property. There colors and form can be used to balance out a composition just like an ancient boulder or rock formations.
Postscript: After being an illegal dumping ground for years this landfill at the edge of Powell's Cove now holds a gated town house development and some parkland.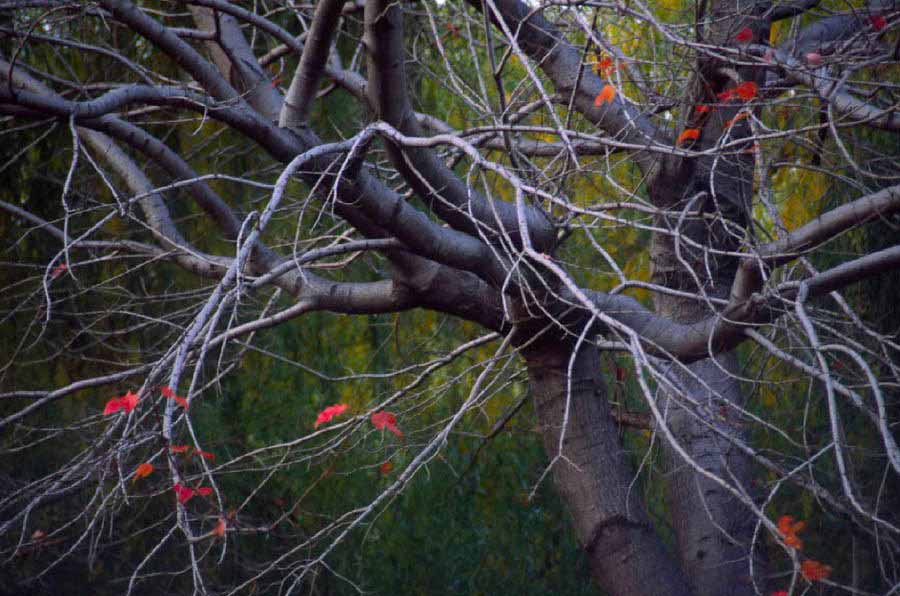 October 1982

A ramble about Kissena Hollow

As I move from the lake to the lawn there are precious encounters. I savor them all.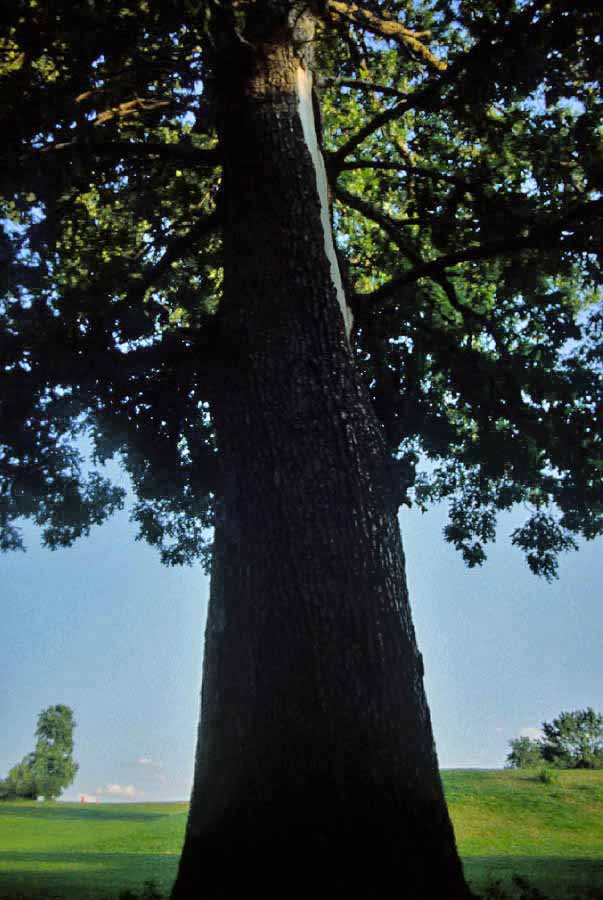 September 1982

A ramble in Kissena Hollow

I've watched a mighty oak grove slowly disappear over the years until only one giant tree remains. A recent lightning strike has left a new pale scar over those still visible from years past.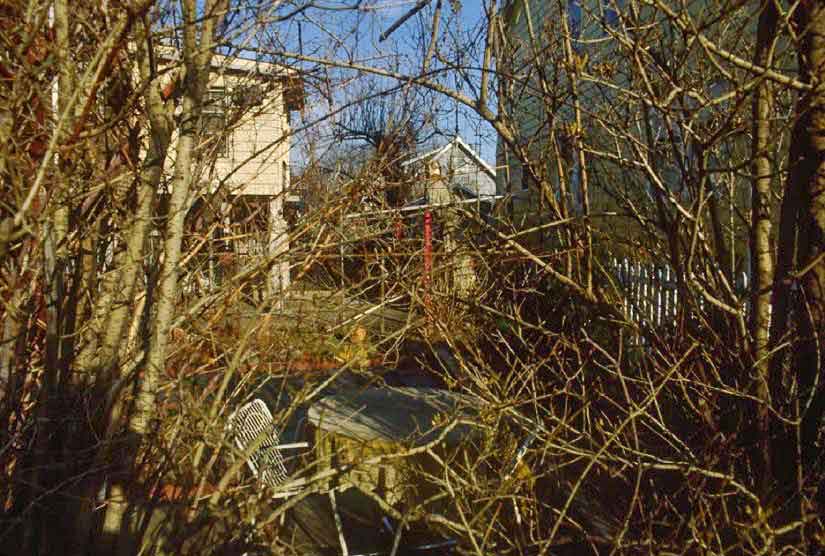 September 1979

A ramble in Flushing

The chaotic is creeping into my sense of harmony and balance. There is a battle waging between the little ordered worlds of falsehood we create in our backyards and the plantings we put in that want to observe no rules but their own. Somewhere in this conflict is balance.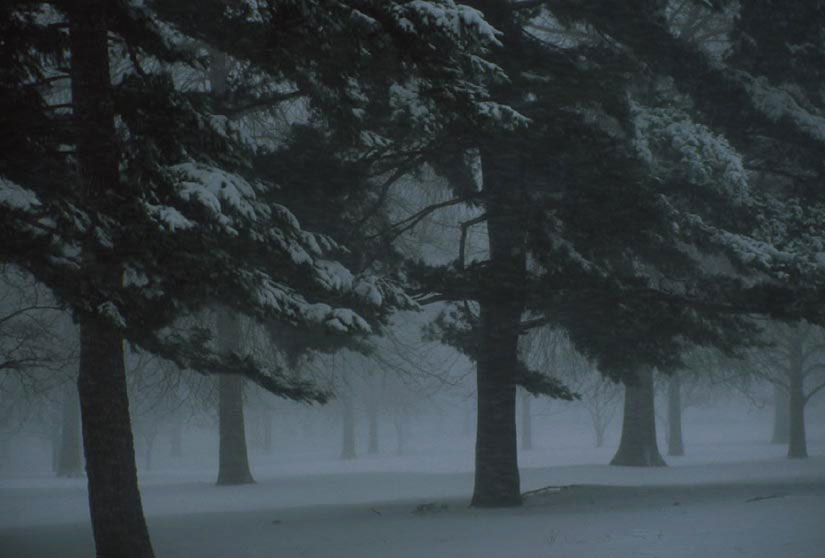 April 1982

A short walk in Kissena Hollow

Taking photographs while it is snowing is difficult, taking photographs while high winds are blowing snow into my face is insane. It is impossible to keep my lens dry long enough to compose a shot, yet I do.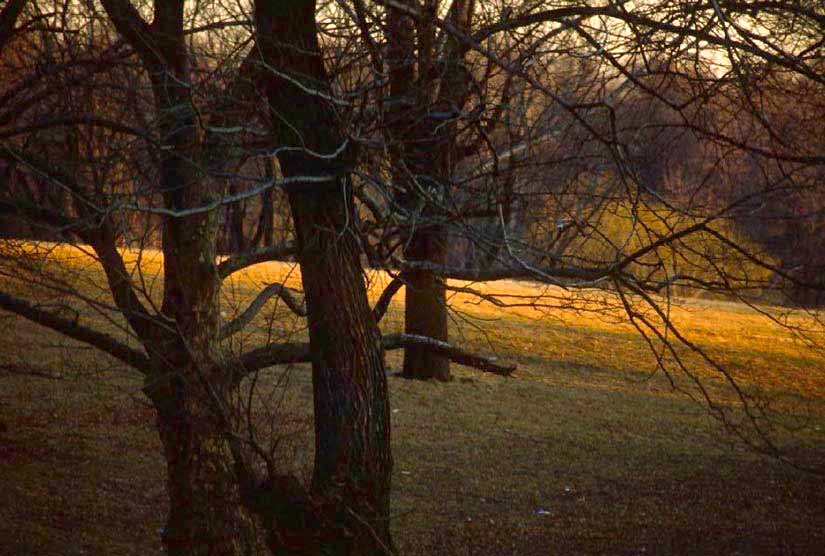 March 1982

A short walk in Kissena Hollow

While trees have their own individual rhythms they can create songs if rooted in the right places.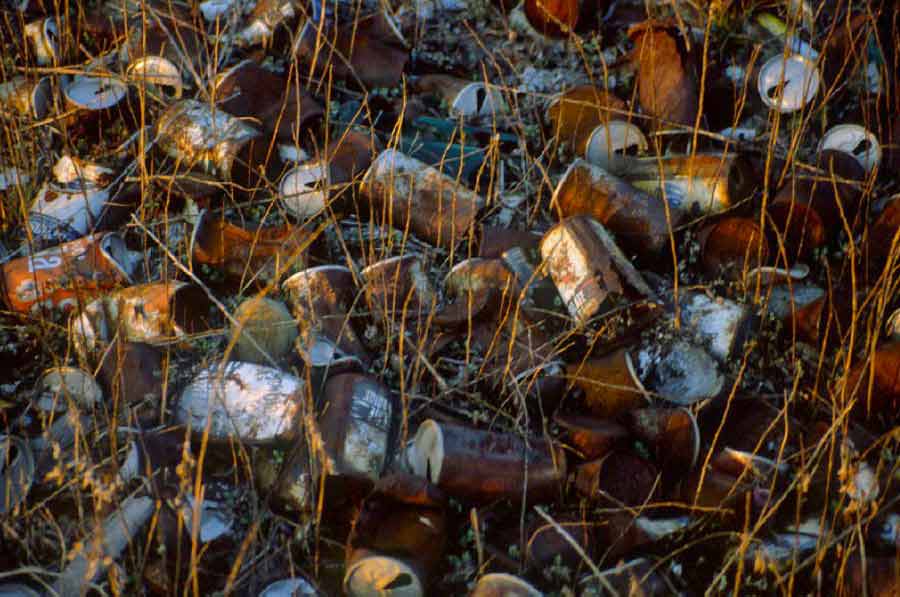 March 1982

A ramble in Kissena Hollow

Arsonists have inadvertently exposed a more subtle hand of man that has previously gone unnoticed.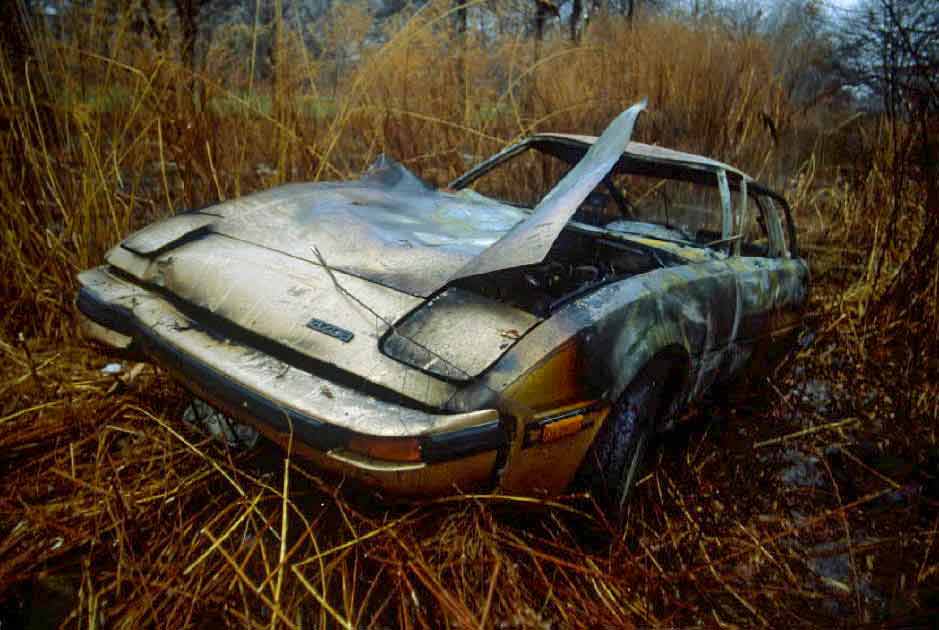 February 1982

A ramble in Kissena Hollow

Abandoned burnt out cars now seem to be an unavoidable addition to the landscape in our city's parks. While little remains of some of these metal corpses other than rusty hulks, others take on multicolored hues of strange proportions like decaying flesh where blistered paint has meet both fire and natural weathering.
Postscript - After setting stolen cars ablaze in parks reached epidemic proportions, barriers to prevent vehicular trespass where erected all over the City. For the most part they have worked.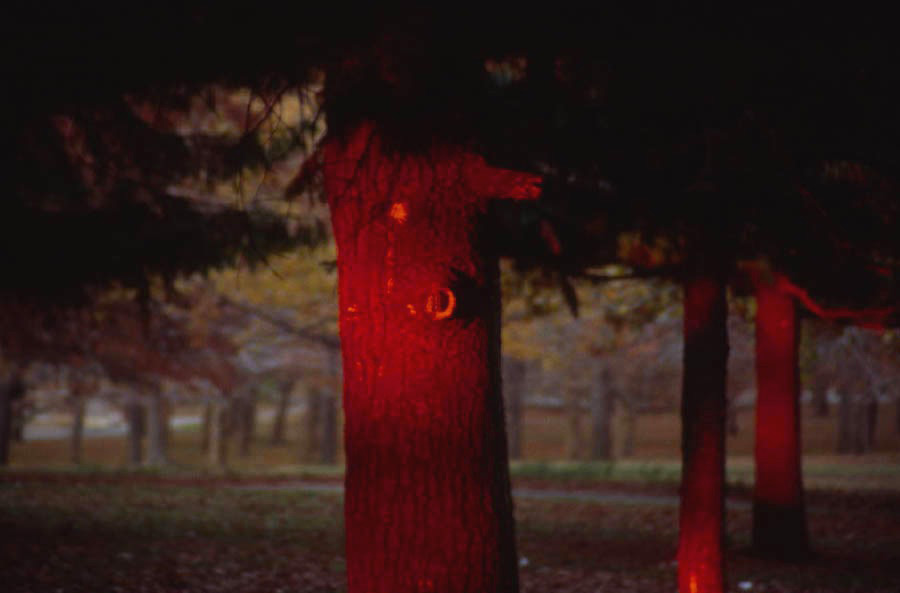 November 1981

A short walk in Kissena Hollow

Sometimes the extraordinary sensuality of light is just too hard to resist.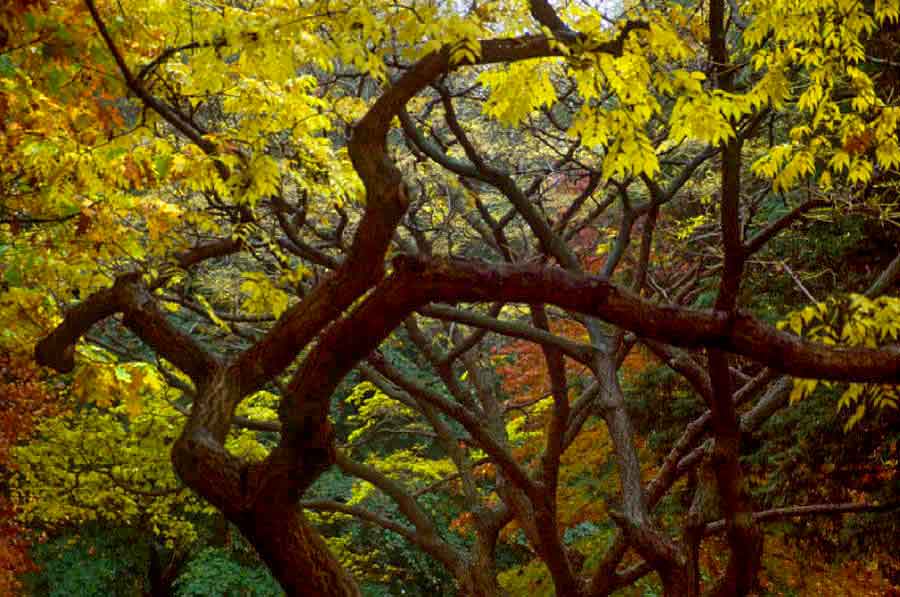 October 1981

A ramble about Kissena Hollow

While the colors of fall can be beautiful anywhere, here where groupings of rare and exotic trees mix with the native born new possibilities are offered as they take on combinations found nowhere else.
Postscript: Although designated an Historic Grove in 1986 many of the trees planted since the 1870's have since died or are sick due to negligence.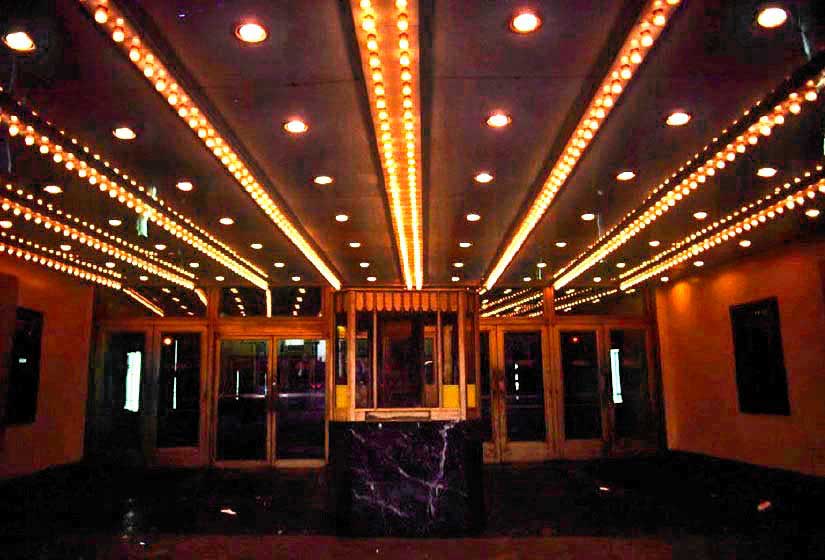 September 1981

A ramble about Flushing

For such an old town it is difficult to capture Flushing as anything but new. There are historic buildings here and there but the streets themselves that have laid quiet for decades are quickly loosing their associations with the past. The entrance to the RKO theater lies somewhere between two worlds with its elegant brass ticket booth and modernist design still harkening an optimistic future.
Postscript: The RKO closed in 1986 and despite its outstanding lobby obtaining landmark status it has been badly damaged and the theater's brass doors stolen.

---
Copyright 2009 Alan Petrulis All Rights Reserved