NEW YORK RAMBLES (page 10)
page 1 2 3 4 5 6 7 8 9 11 12 13 14 15 16 17 18 19 20 21 22 23 24 25 26 27 28 29 30 31 32 33 35 37 38 39 40 41 42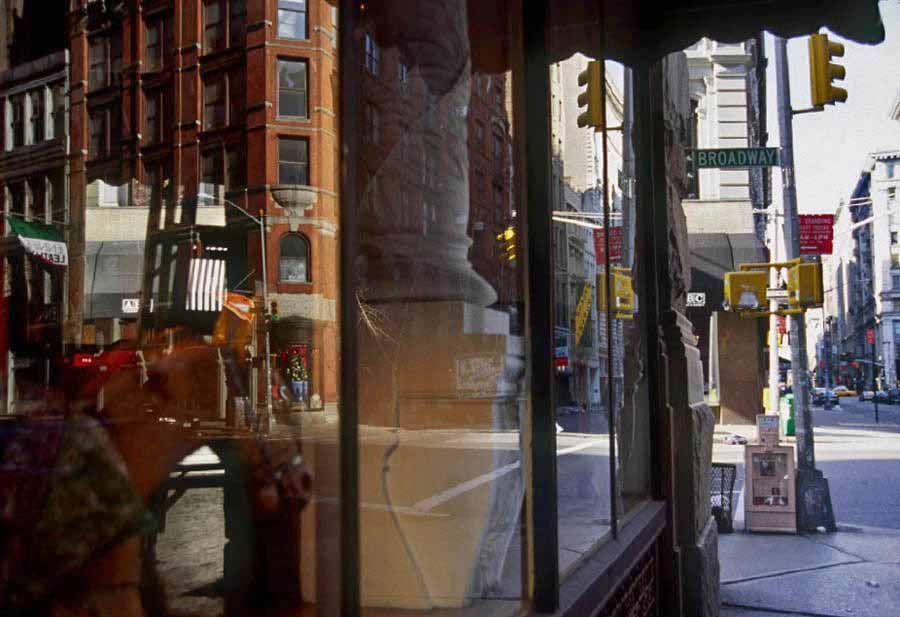 May 1998

A 6 mile walk to Union Square from the Upper West Side

Early modernists often portrayed the streets of New York in fractured views. Up until now I have always considered that style a metaphor but perhaps I was wrong. Sometimes the fractures and displacements are really there.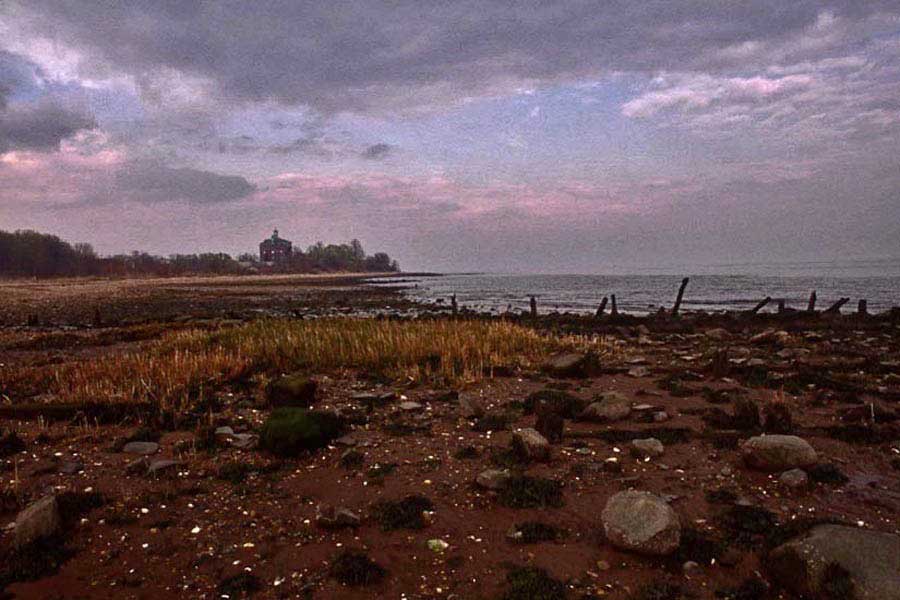 April 1998

A 6 mile walk from Tompkinsville to Lemon Creek

The shore here is difficult to understand. It is a bit like a tidal marsh but there is plenty of sand contaminated with iron and clay and heaven knows what with both stones and small pebbles scattered in random groupings. Small seashells rest between bits of seaweed and odd pieces of plastic washed ashore. Further on I discovered how Redbank got its name as I sunk into the soft red clay in a foolhardy attempt to gain some height.
Postscript: The boots I wore that day never lost their new red tint.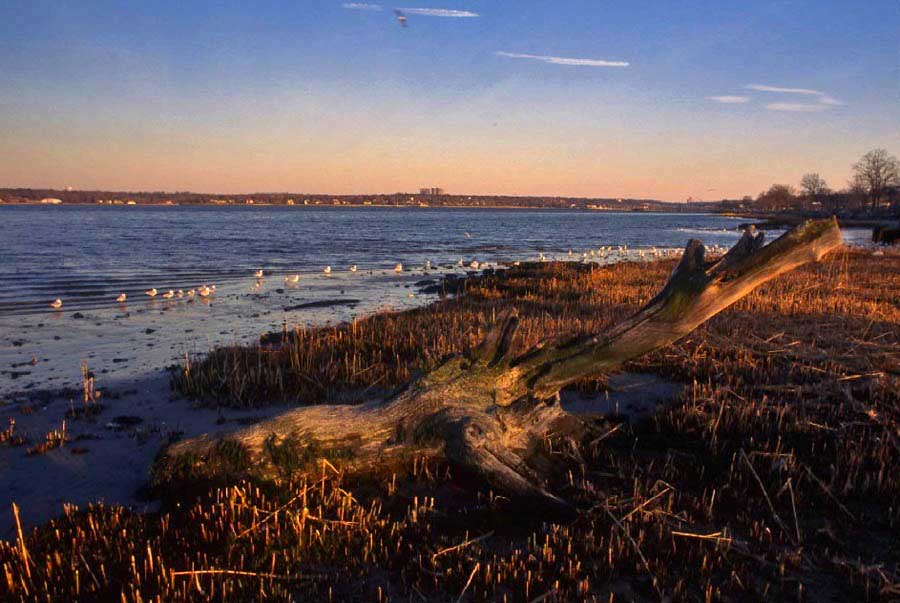 March 1998

A walk along the shore of Little Neck Bay

As my plans to go out to Montauk fell apart I took a consolation walk along Little Neck Bay in the day's last light. The wind off the bay blew cold but I could barely feel it.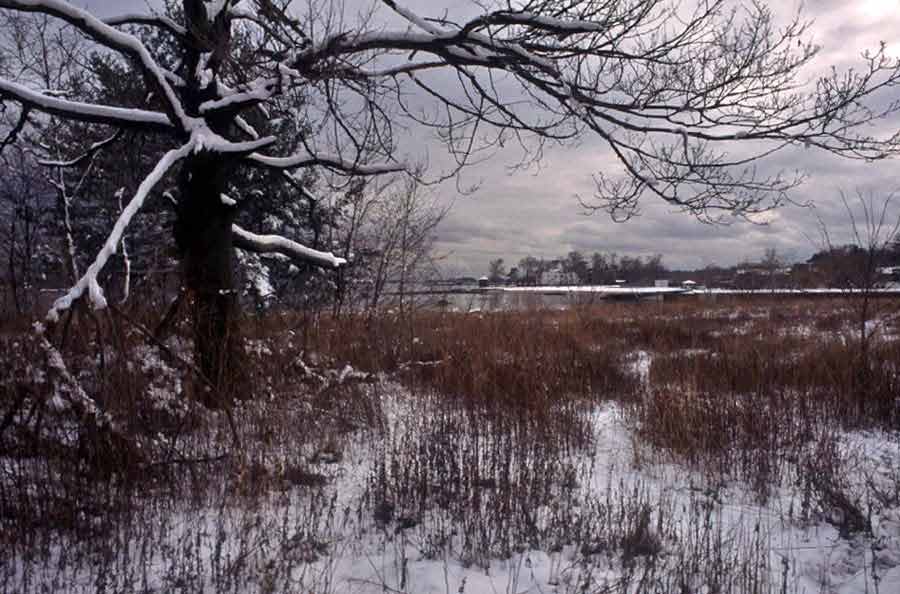 March 1998

A walk from Pelham to Davenport Neck

This was a picture perfect day. Everywhere the snow had fallen it transformed the landscape into the ideal vision of winter. Color was sparse but no more that what it should be.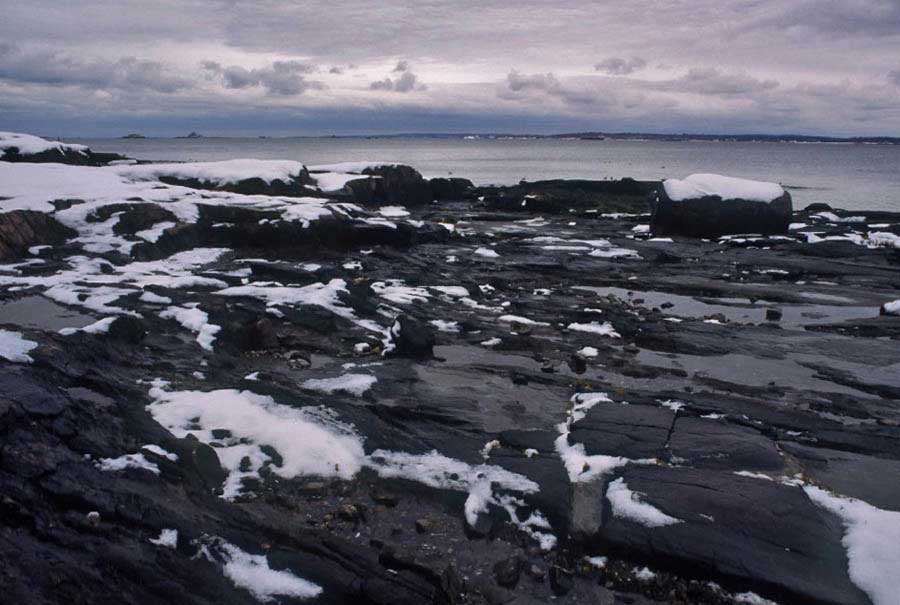 March 1998

A ramble about Pelham Bay

The lace like snow had turned clumpy by the time I arrived at Orchard Beach. The air off the sound was frigid and there was no one in sight. With benches and fences poking out from the snow it was not isolated enough for me so I headed from sand to rocky shore. As I moved out further a melancholy filled the air. This was a distant shore. Had the mud flats not halted my advance I would have gone on forever.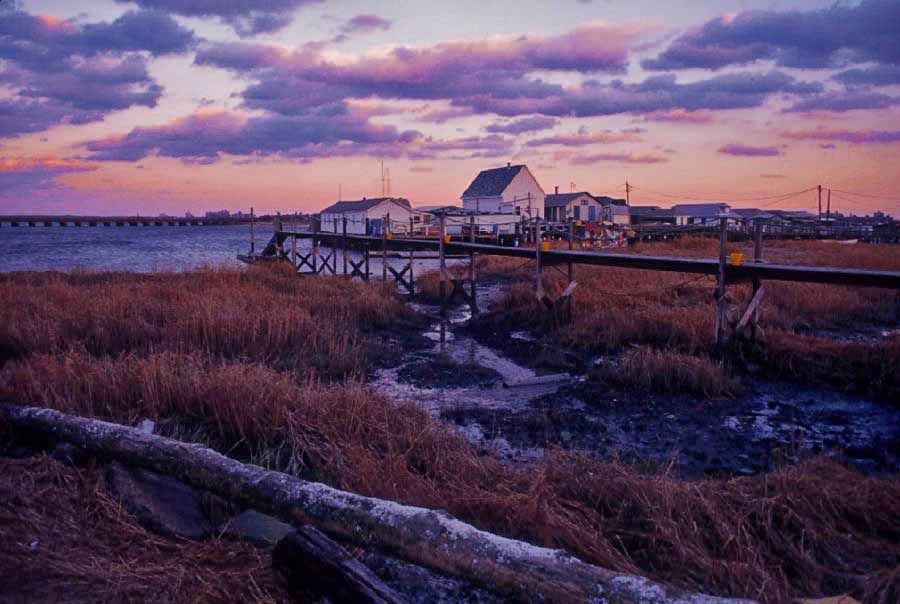 March 1998

A short ramble about Broad Channel

By the time I arrived at Jamaica Bay it was already late in the day but I could have not asked for better light. The houses on the west facing canals turned orange between long dark shadows. As I stepped out onto the western shore the light was already fading into a soft pink. When you live near water there is a closeness to the real world not found anywhere else.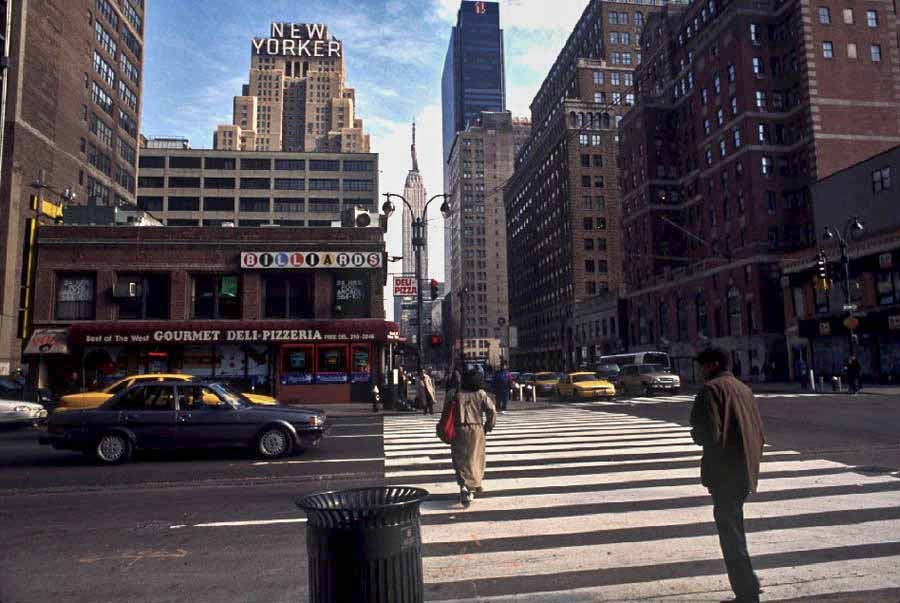 March 1998

A 7 mile walk from the Upper West Side to Madison Square

I can talk all I want about pure form and color but a single landmark building can add a dimension to a composition that overwhelms all else. We define ourselves through narrative.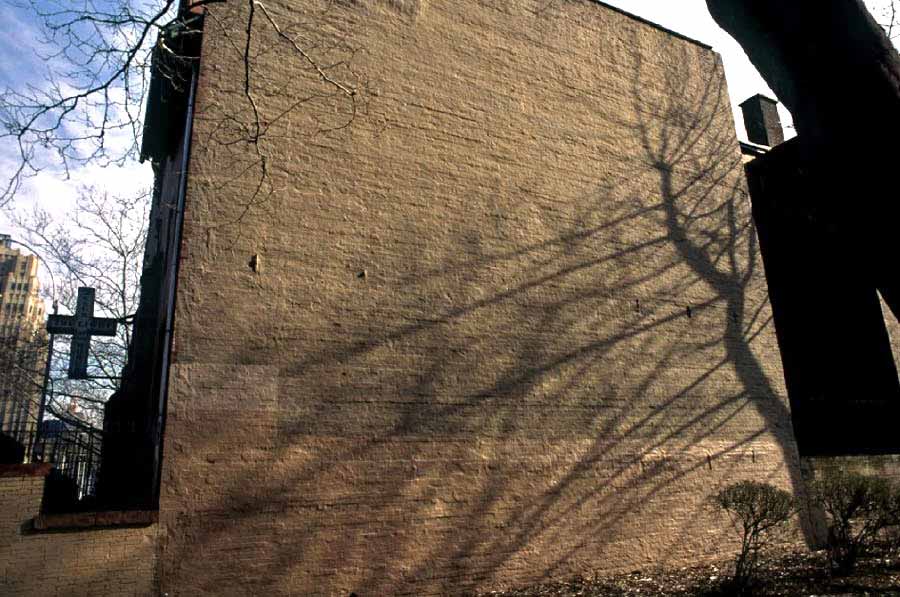 March 1998

A ramble in Chelsea

Some subjects lend themselves to the abstract but it would be foolish to think that is all there is to them. Sometimes the fewer the elements the more potent the meaning.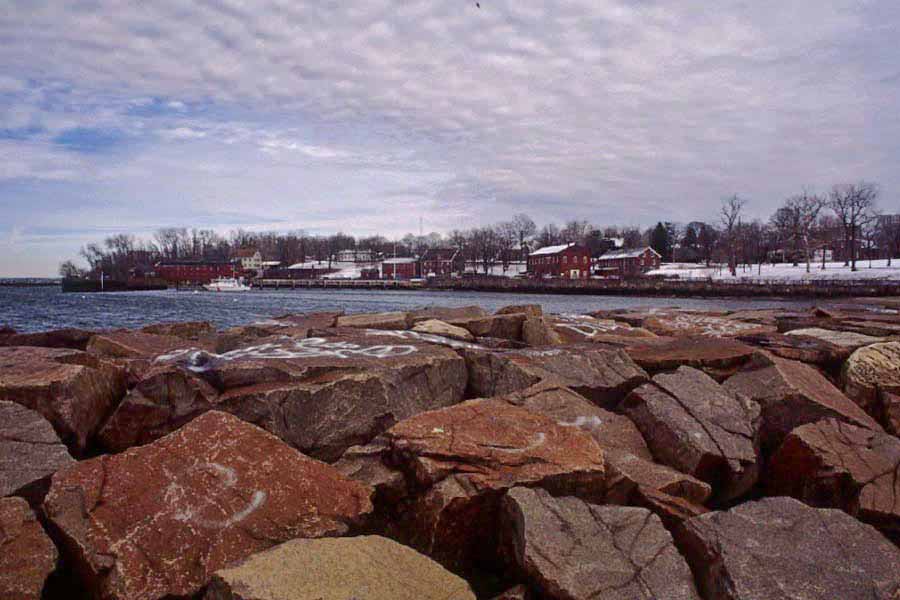 February 1998

A short walk in and around Fort Totten

I can never seem to understand what is happening at Fort Totten. The base is decommissioned and being turned over to the City for parkland and yet when I showed up with a camera everyone got excited and I became a national security risk. After a bit of a debate they let me in after I promised not to take any pictures. It was a promise hard to keep as the snowfall was balanced perfectly against the red brick buildings and wintry grey sky. Once back outside the gate I shot the Fort from a safe distance away.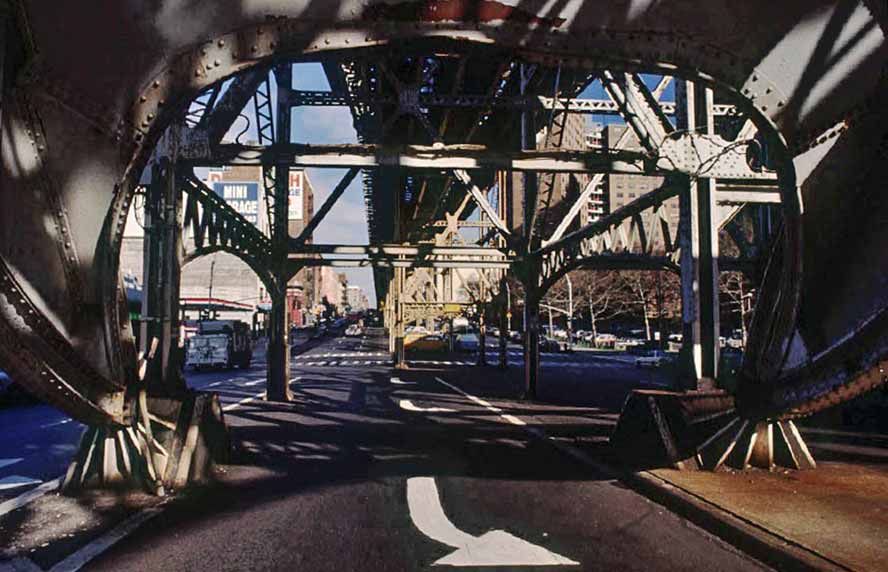 December 1997

A walk across Harlem

Structural engineering can be so regimented and matter of fact, but sometimes it incorporates elements of pure lyrical fantasy.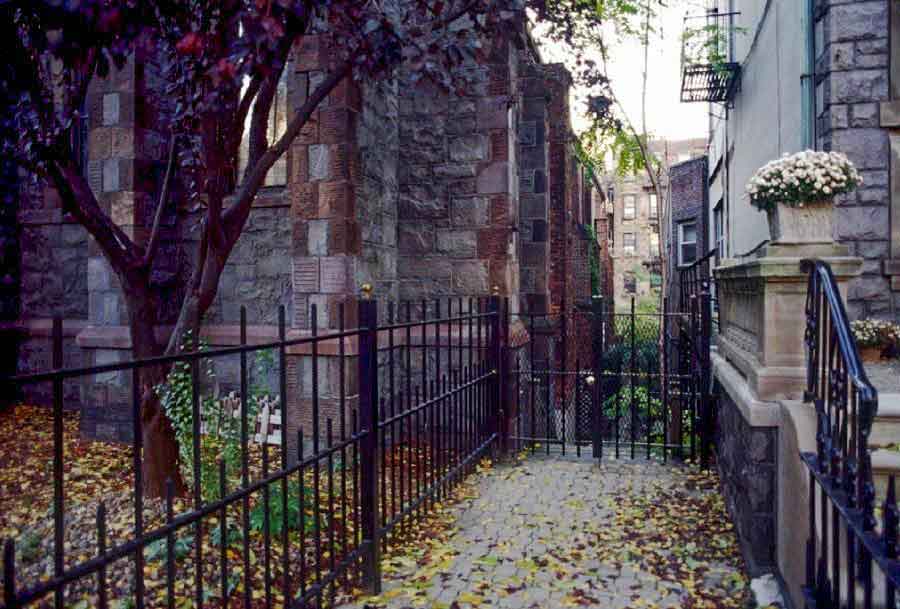 November 1997

An 8 mile loop between Hoboken and Union City

Construction along the waterfront had kept me on higher paths for most of the day. The abandoned piers I hoped to photograph were there no longer. I contented myself capturing snippets of the river between homes and apartments perched high up on the palisades. These meanderings however cost me the time I need to get to Fort Lee as planned so I headed back to Hoboken instead.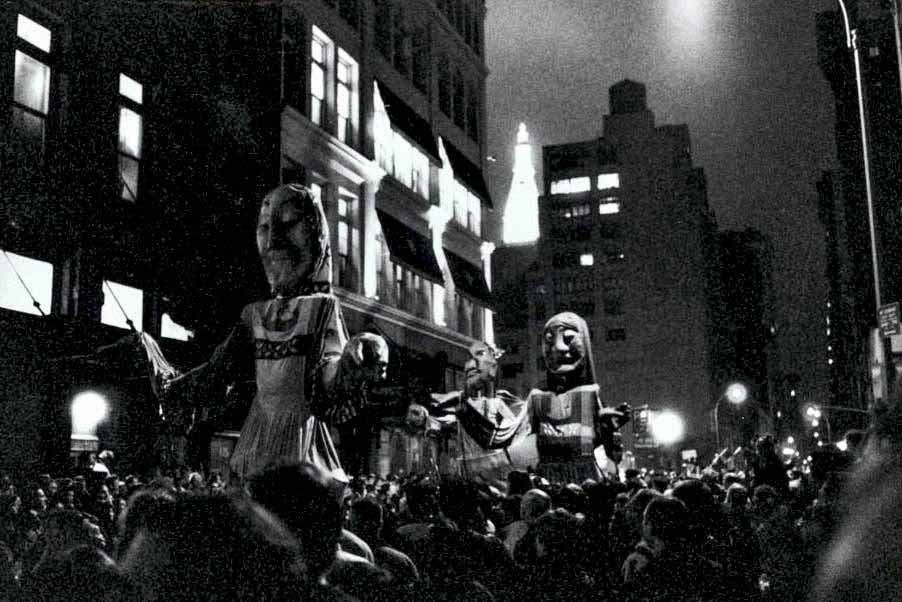 October 1997

A walk from Soho to Madison Square on Halloween

Despite various strategies, shooting the Halloween Parade has always been a loosing battle with the dark. Tonight I experiment with high speed black & white film but it remains much of a loosing battle with crowd control.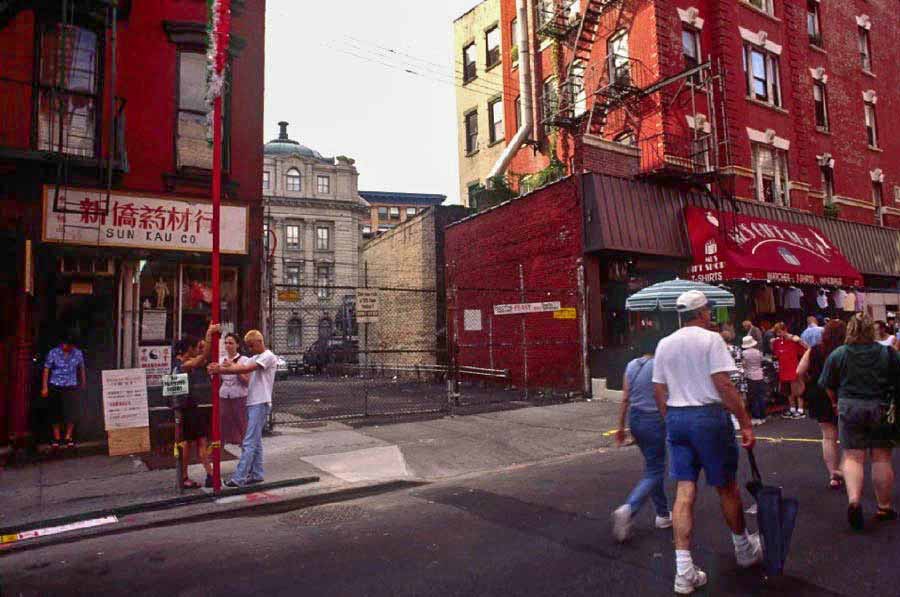 September 1997

A walk from Soho to City Hall

Sometimes compositions work and I don't even know why.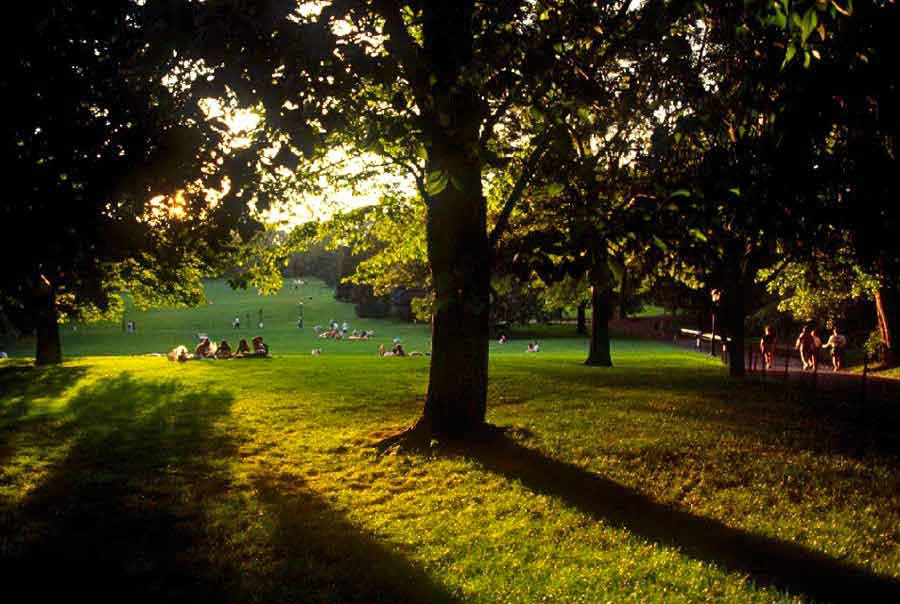 September 1997

A walk across Central Park

Central Park can be a place of solitude, a safe harbor to collect one's thoughts, a place to recharge one's soul. But amidst those couples holding hands, friends sitting out on the grass, and parents playing with their children this can prove to be a lonely place. This walk is defined by an absence.
September 1997

A ramble across Flushing

On this street of apartments houses there stands a reminder of how people once lived.
Postscript: This home has been demolished and the property is now used as a parking lot.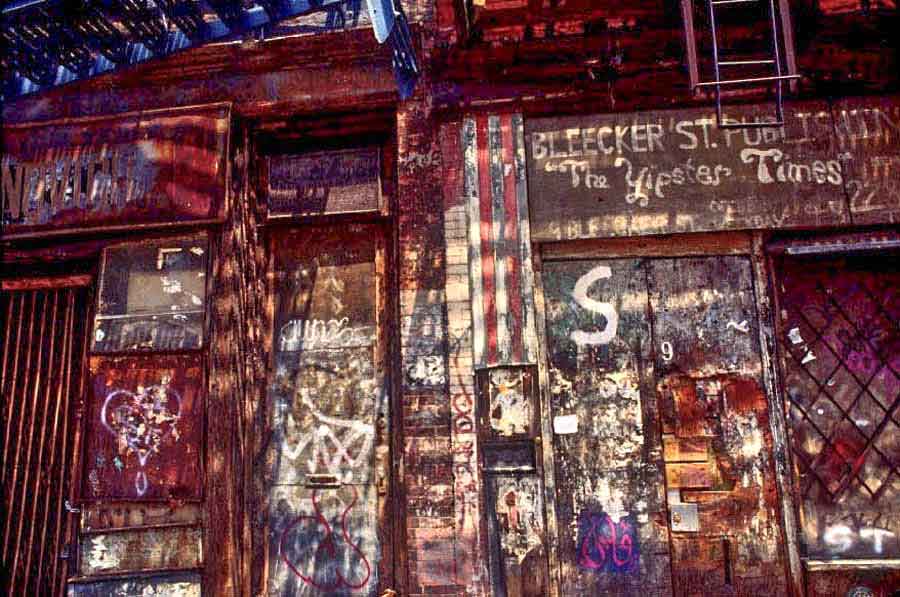 July 1997

A ramble between Soho and the East Village

The Hippies may have moved on but the Yippies remain on the streets.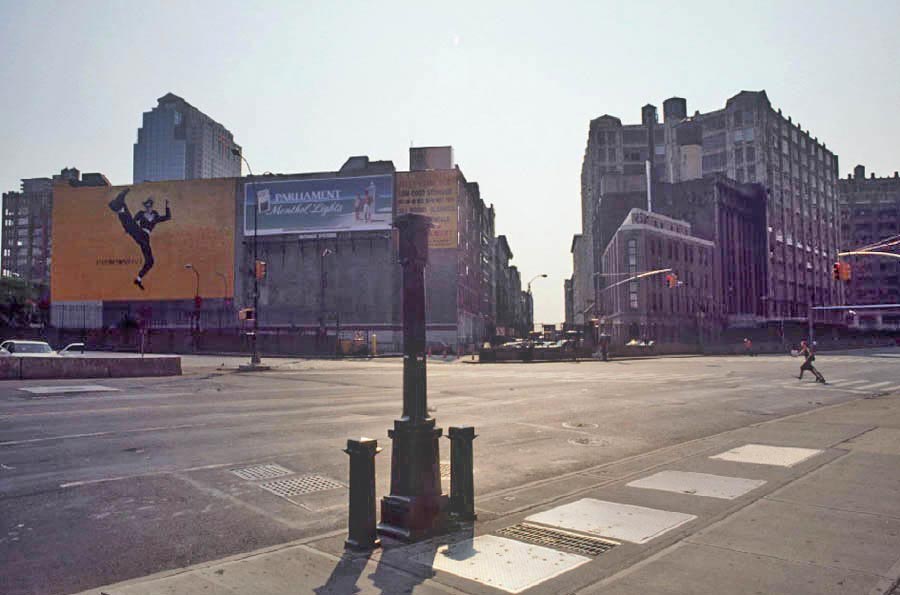 June 1997

A loop between Soho and the North River

The heat has placed a pale haze over the City, which at times is not an unpleasant quality. For a moment it seems as all streets are empty and I stand alone.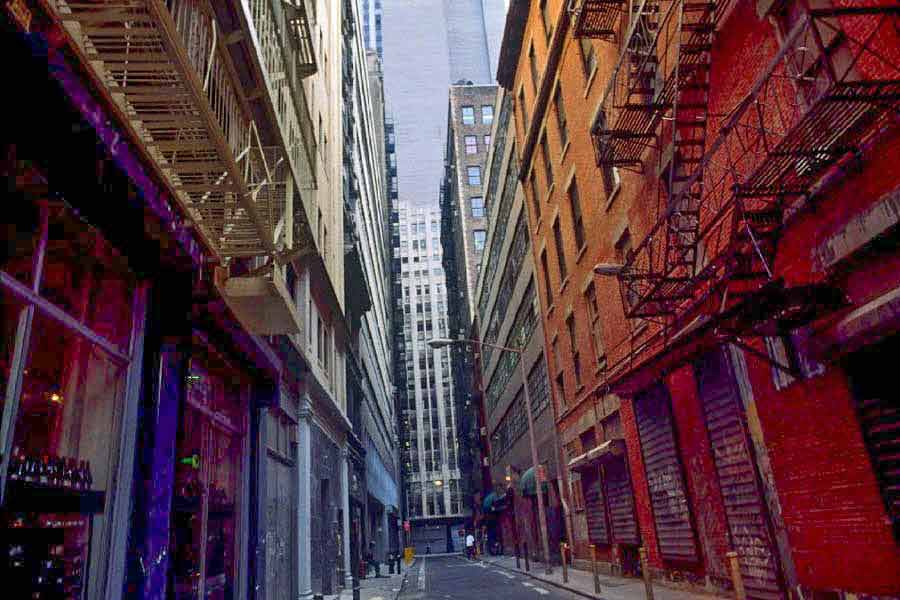 June 1997

An 11 mile ramble between Union Square and the Battery

From some perspectives the sky is no more than myth.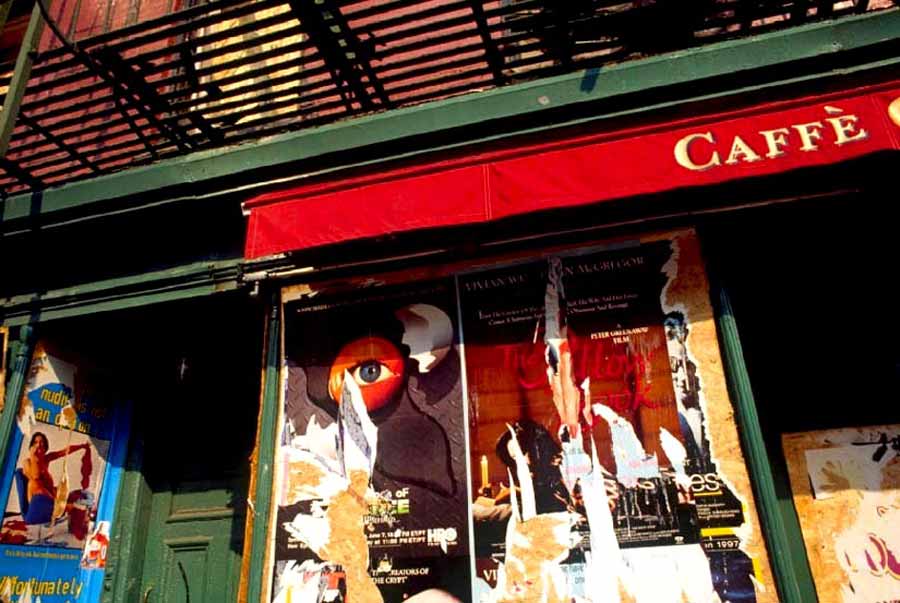 June 1997

A loop between Soho and Tribeca

A composition may be made surreal by its cropping. It is an added bonus to be able to incorporate elements that are already surreal.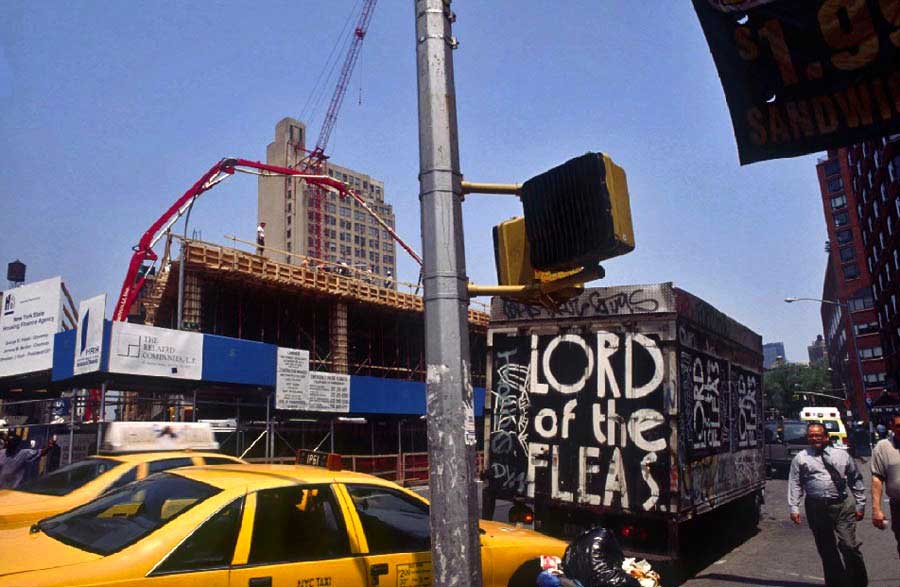 June 1997

A Midtown ramble

On the streets of New York words can have power beyond their intentions. We often miss the magic in them.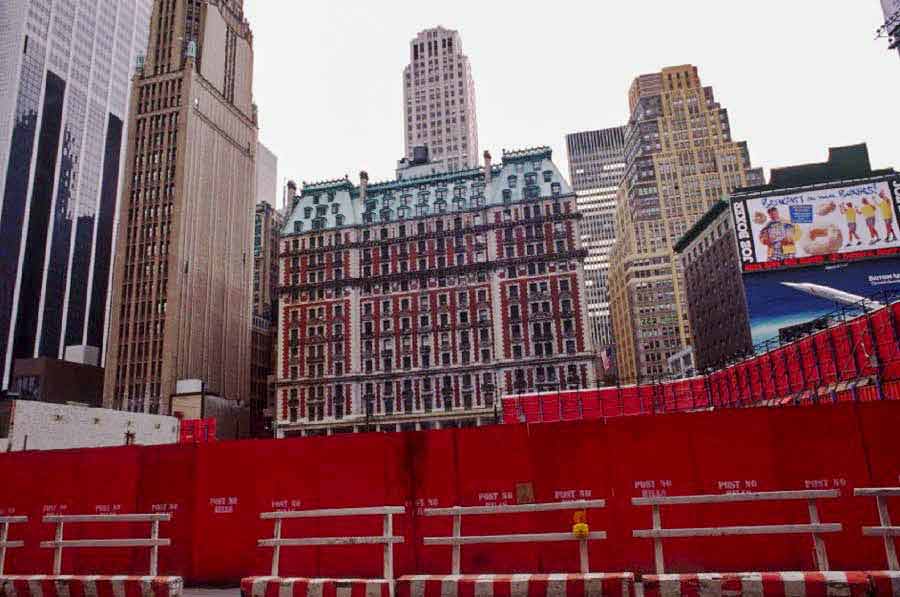 May 1997

A Midtown ramble

The new 42nd Street may have little to offer me but in the meantime it is more interesting than ever as a giant construction site.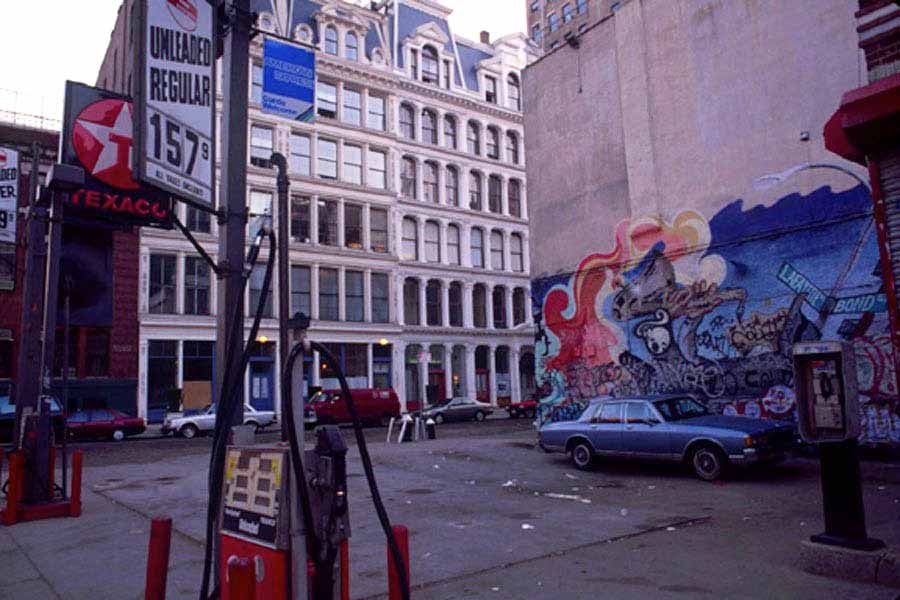 May 1997

A ramble about the East Village

There are many places we pass every day or at least fairly often that stick in our minds despite the fact we don't apply much value to them. They become part of our inner landscape that defines our home. But these are also the places that really make up the city as much if not more so that those found on picture postcards.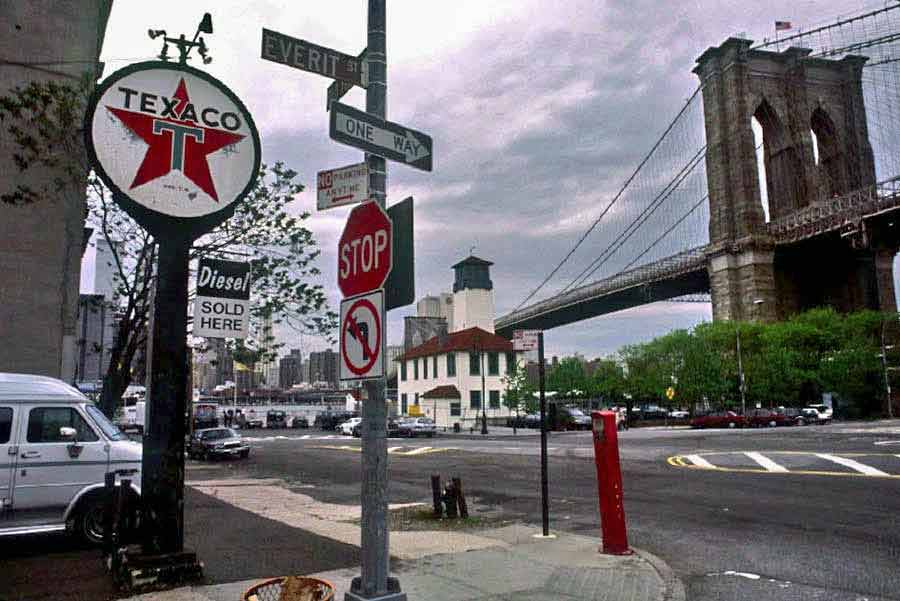 May 1997

A 6 mile walk from Dumbo to the East Village

Traffic islands with neat little garden beds have been inserted into the streets surrounding the Brooklyn Bridge. I wonder if the person who designed these features that are totally out of place with the 19th century industrial architecture of the neighborhood ever set foot here or if they are just totally lacking in aesthetic insight. Two worlds have collided and the final results are yet to be seen.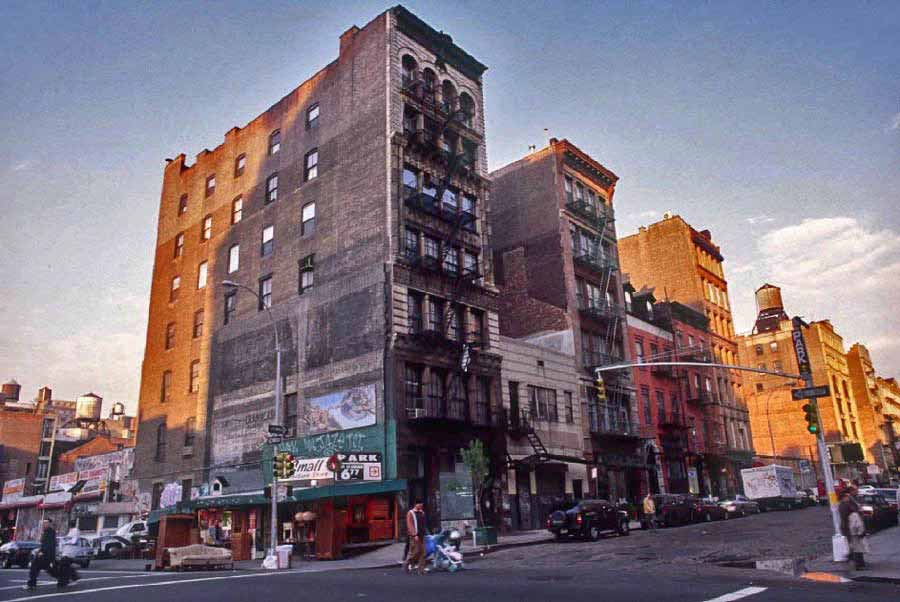 March 1997

A loop between Soho and the East Village

Sometimes in randomness we can find symmetries more beautiful than anyone could have planed.
Postscript: New buildings added to this block have destroyed its perfect balance.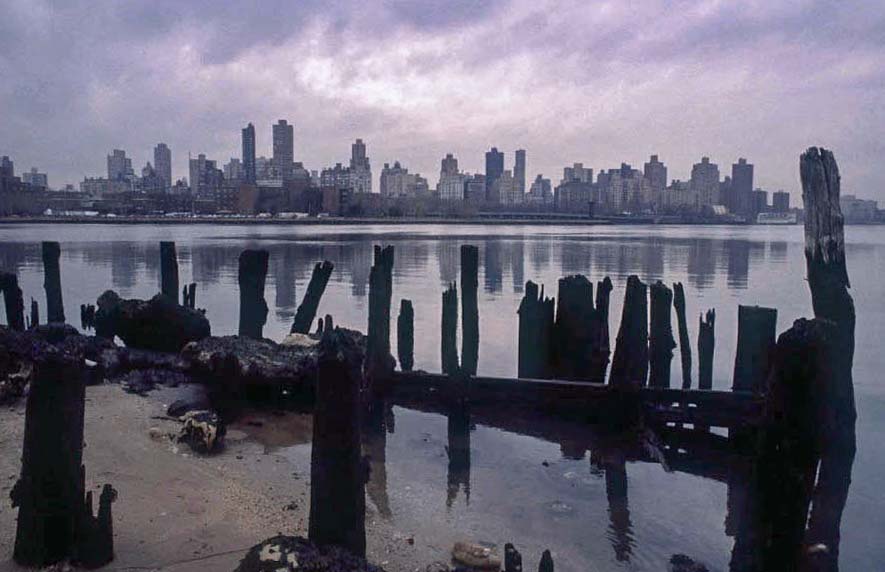 February 1997

A six mile walk from Astoria to Long Island City

We have all become so conditioned by seeing the same parts of the city skyline reproduced over and over again that the rest of it may well as not exist. At least eight million people live in this city but only with a handful of views.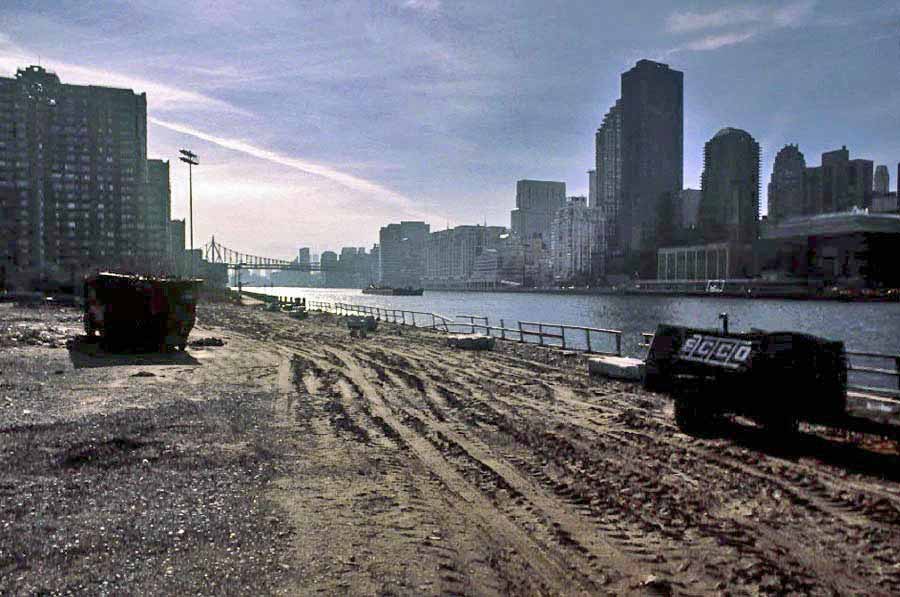 February 1997

A 7 mile walk from Woodside to Roosevelt Island

I didn't have the ambition to battle with the fence on the south side of the island and opted to explore other areas further. There should be so much compositional potential here but nothing really grabs me. Perhaps it's because this is a planed community and my sense of balance does not match that of the planners. What interests me the most is what they have denied me with fences.
Postscript: With much of the construction on the island now complete it is a comfortable place to walk around but it still leaves me cold. Only the few original structures hold any attraction for me.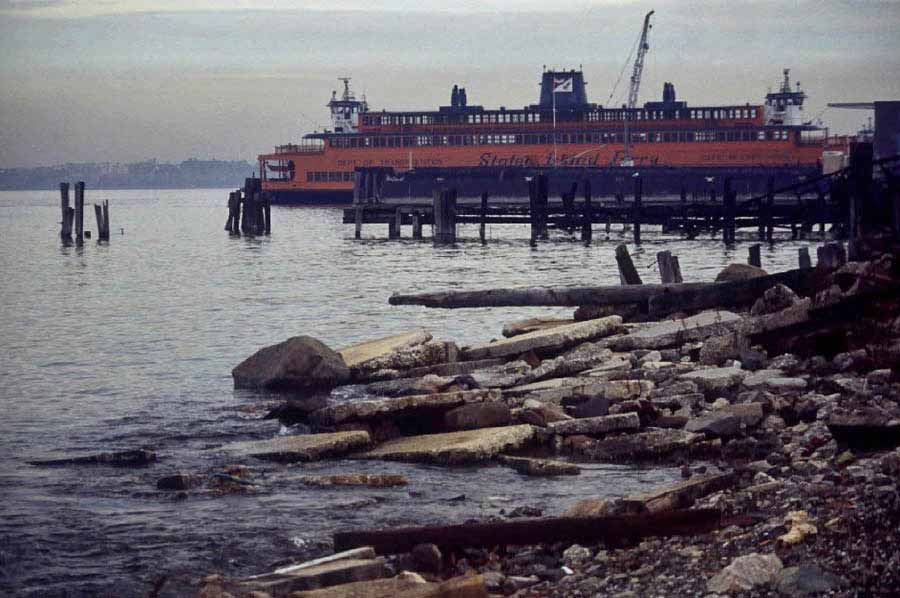 December 1996

A loop between St. George and New Brighton

This is an interim shore standing between the old railroad yard and its docks and the new construction that is creeping this way. But when progress is slow it becomes easy for me to forget that ruins are not the natural state of things, for in some of these places it has been all I have ever known.
November 1996

A Downtown ramble

It has become fashionable to string trees up with electric lights these days. I suppose some can't stand the fact that they refuse to bare leaves year round and something must be done to offset their inefficiency.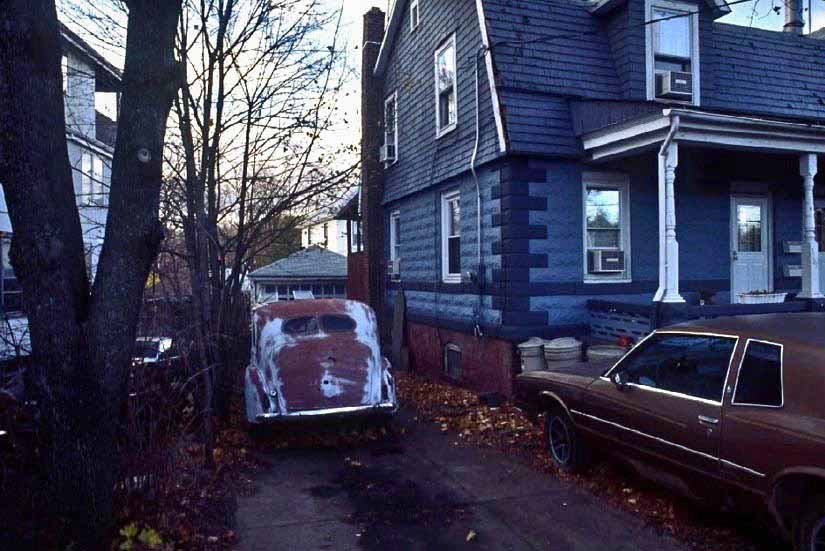 November 1996

A 6 mile ramble in and around Richmondtown.

My attempts to revisit the marshlands were blocked by new fences so I began wandering aimlessly in the opposite direction. The streets may have been new to me but they contained subjects I have become greatly familiar with.
November 1996

A short loop between St. George and New Brighton

With so much construction work taking place on the waterfront I thought a visit to the abandoned railroad yard at St. George was worth another try before it disappears. There was plenty of decay left to satisfy me for now. I find it strange that while this area is still an industrial landscape it is dominated by an eerie stillness. An occasional tug was the only movement to be seen as they glided by in silence.
Postscript: This entire stretch of waterfront has since been redeveloped. A ballpark has been built on to it but the rest has been turned into parkland. While it displays many of the same sterile components as other waterfront parks the old pilings and coaling bin remain in place decaying offshore. This waterway also has much more boat traffic with the park providing a great place to view it from.

---
Copyright 2009 Alan Petrulis All Rights Reserved