NEW YORK RAMBLES (page 16)
page 1 2 3 4 5 6 7 8 9 10 11 12 13 14 15 17 18 19 20 21 22 23 24 25 26 27 28 29 30 31 32 33 34 35 37 38 39 40 41 42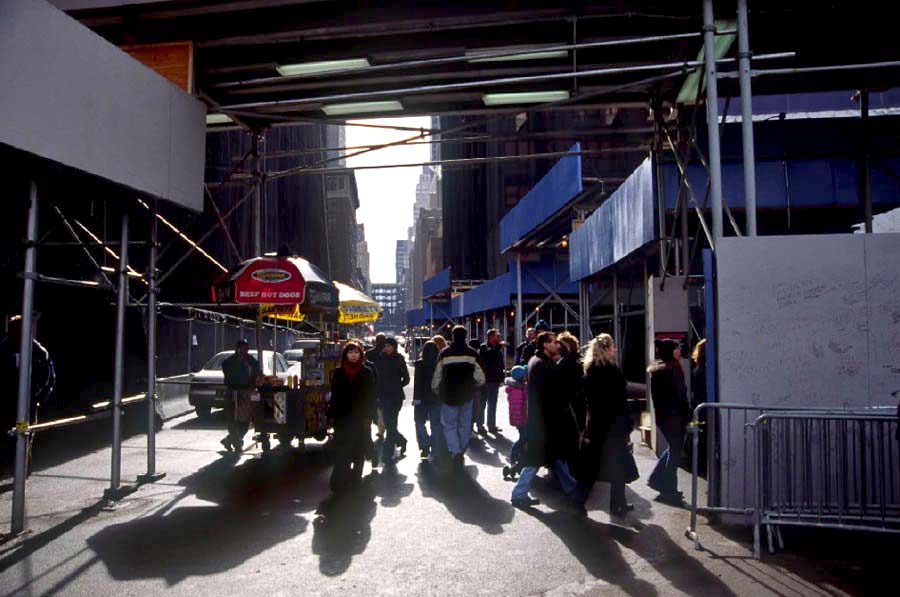 February 2003

A loop between Soho and Battery Park City

The only constant on these streets is construction.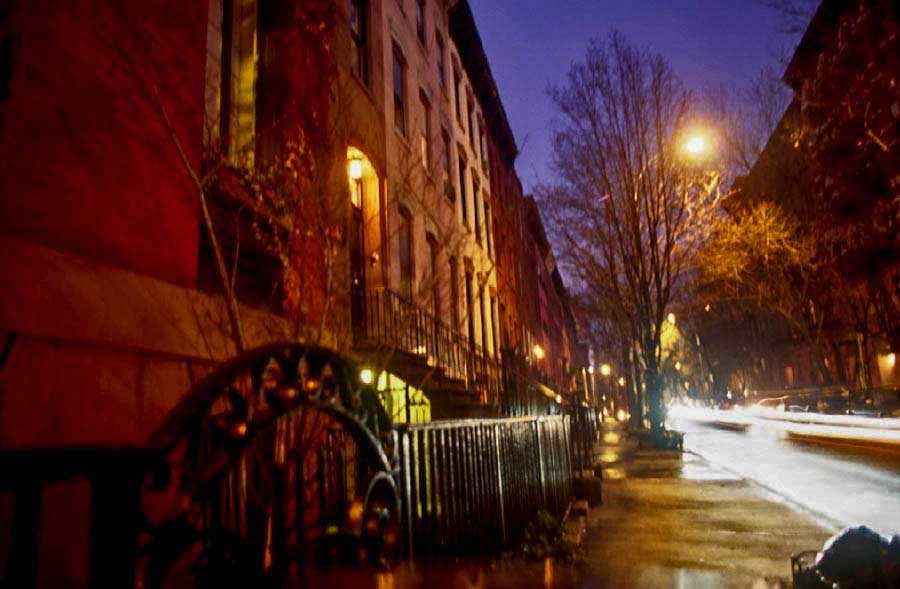 February 2003

A ramble through the Village at night

This slushy evening has given this neighborhood an attractive ambiance I had never before seen. But without a tripod I am forced to prop my camera up against lamp posts and stop signs, which are never situated where I really need them.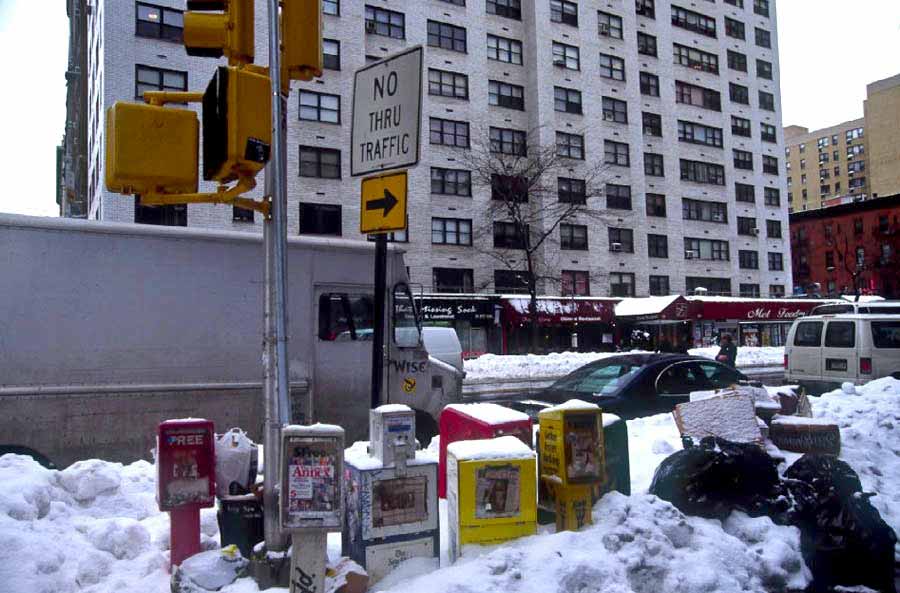 February 2003

A short Midtown ramble

Timing is everything with snow in the City. It had barely stopped falling before turning into a sloppy soot covered gray slush.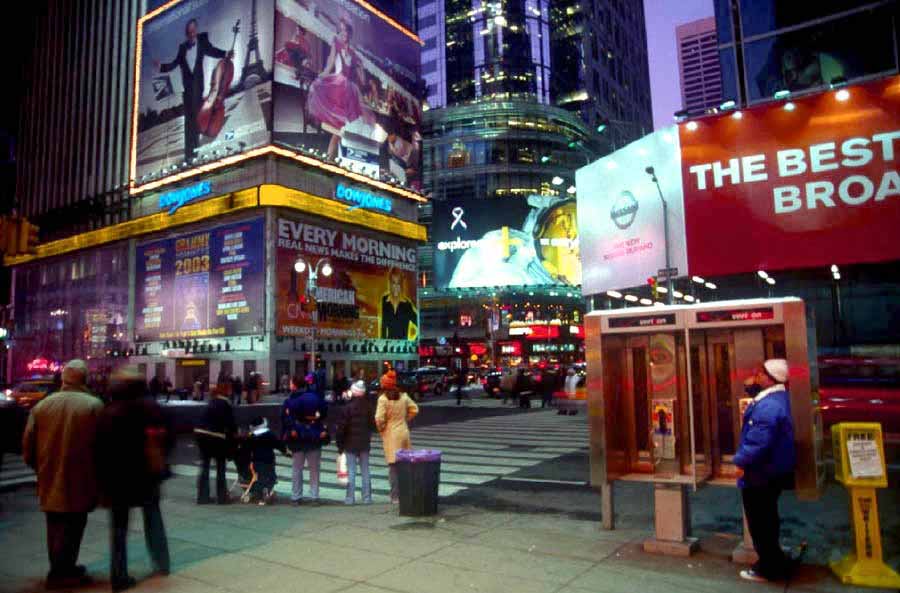 February 2003

A Midtown ramble

There was a time when illuminating the streets of night left some mystery behind. Now city lights have grown so bright and numerous they create bizarre environments that rival those of day.
February 2003

A walk down the North River and into Hell's Kitchen

As I enter a newly reconstructed area of the city I find that I am not welcome. Signs warn cyclists and pedestrians to stay out but I ignore them. There is a lonely vender here standing in the snow. He might as well be in a desert.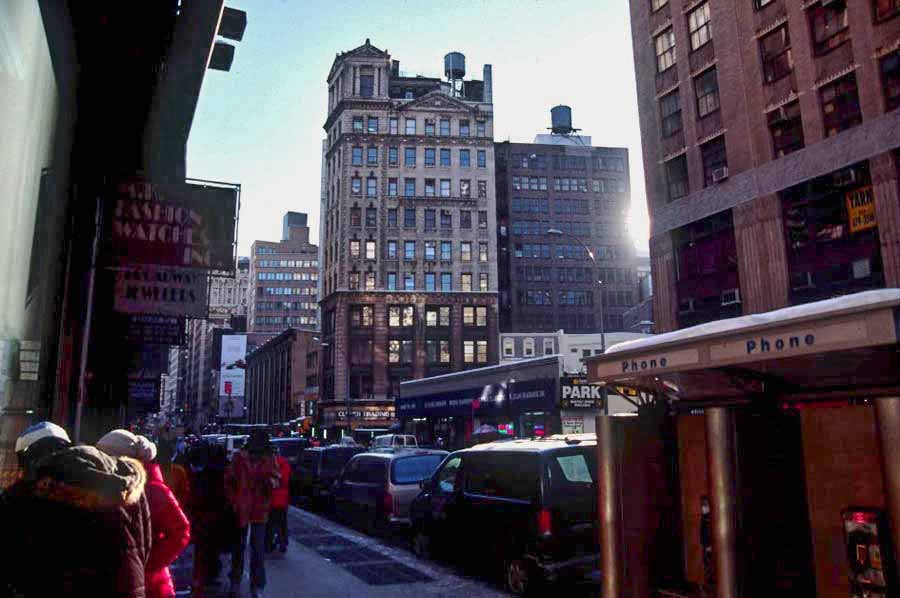 February 2003

A 5 mile ramble between Union and Times Squares

We rarely look up at buildings, even those of moderate size. We often don't know what we're missing. I have always been intrigued by a midtown building that has a small neoclassical temple sitting atop it. It is as if a lost piece of the ancient world is hiding away in plain sight.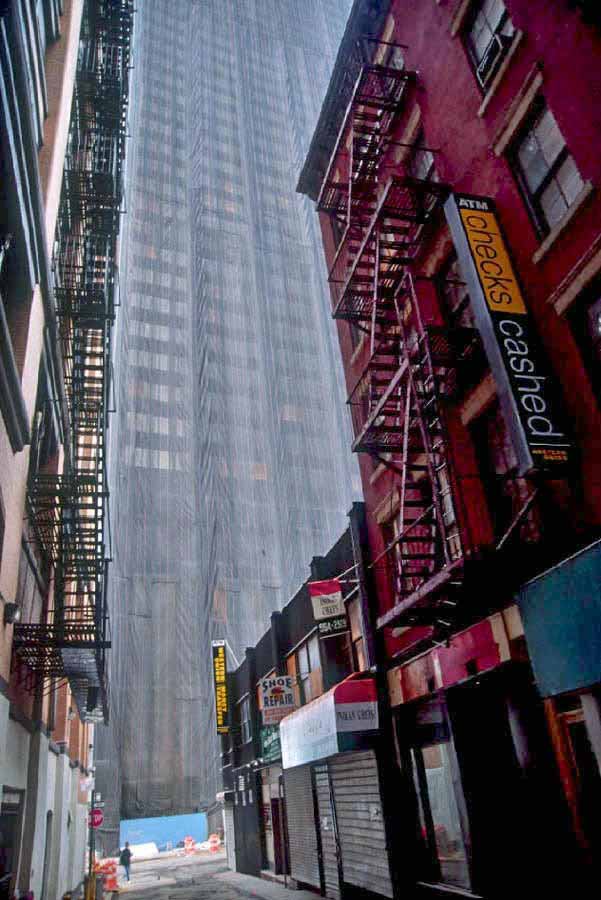 February 2003

A loop between Soho and the Battery

Though there is a great deal of construction and demolition taking place in the city, it is well removed from the images of riveters on high beams that were photographed and etched back in the 1920's and 30's. Everything is more enclosed these days with some sites indistinguishable from modern works of art.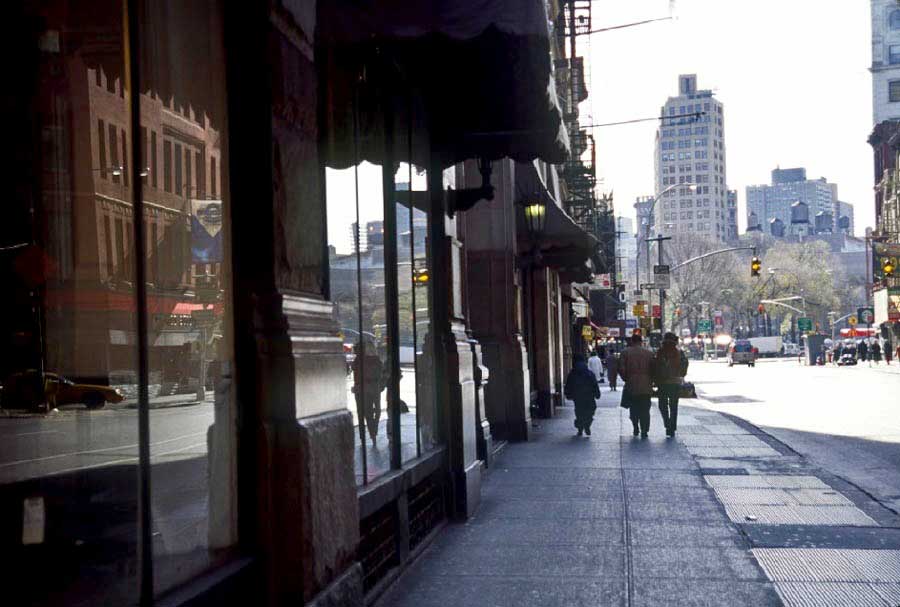 December 2002

A Midtown ramble

It is said that the rarest Greek vases that exist today are those that were made in the greatest number for ordinary use by ordinary people. There must be over a million pictures of the Empire State Building but what of the street I now stand.
December 2002

A ramble through Flushing

The snow is so deep and so clingy it has created new voluminous shapes all around. One can only guess at what lies underneath in places. Yards appear like some sugary plaster coated model that craftsmen did not make an effort to detail.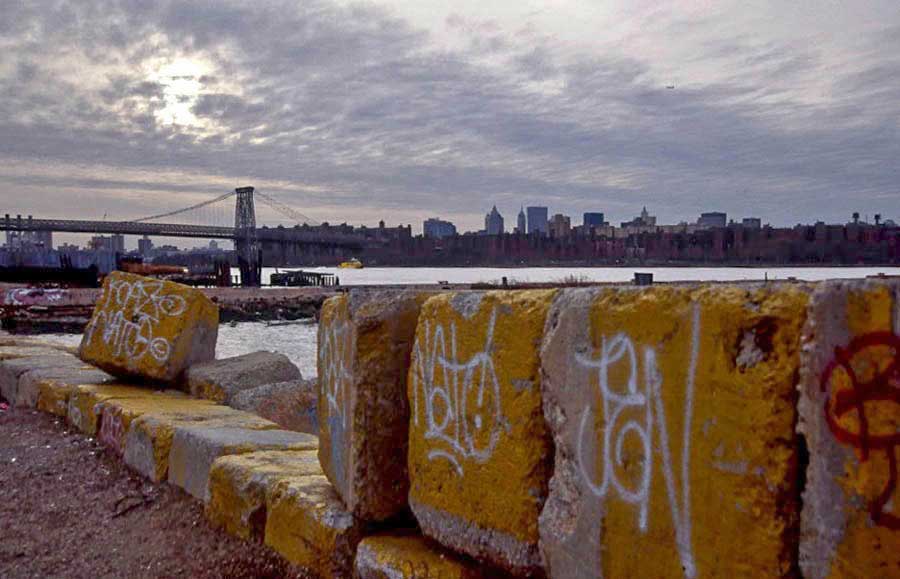 December 2002

A walk from Williamsburg to Soho

On this Christmas Eve I find myself among the vacant lots of Williamsburg's northside. It's a dark day, too dark even for the moodiness of a decaying industrial waterfront. If it was not for the occasional passing tug I could believe all had left and I stood alone in the city.
Postscript: this once empty lot is now filled with luxury apartment buildings.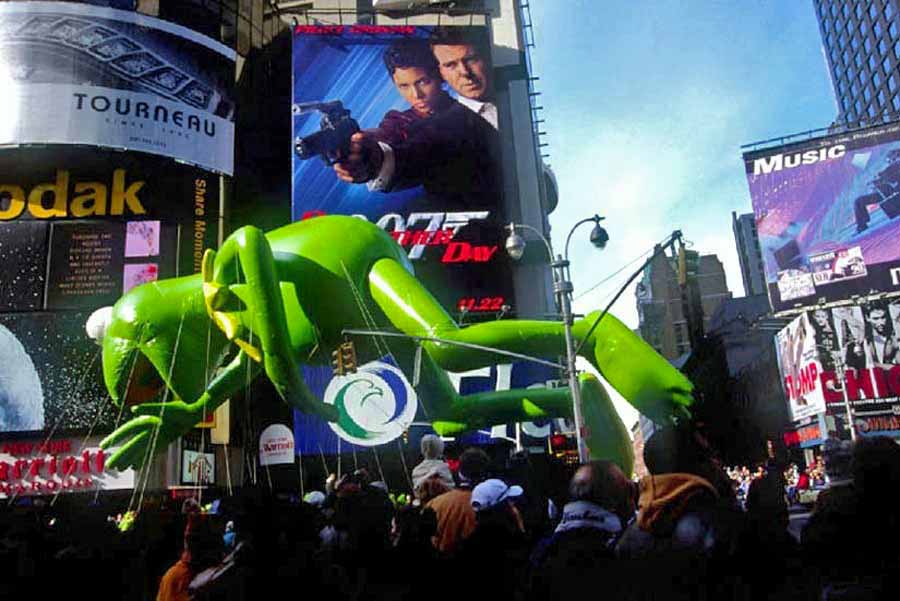 November 2002

A Thanksgiving Day ramble in Midtown

I could not understand a word the two German girls standing in front of me were saying until they got excited at the sight of a giant balloon and began calling out Kermit the Frog's name. Kermit looked a little deflated as he passed by. Did he have a run in with a lamppost on this windy day or was it the doings of James Bond.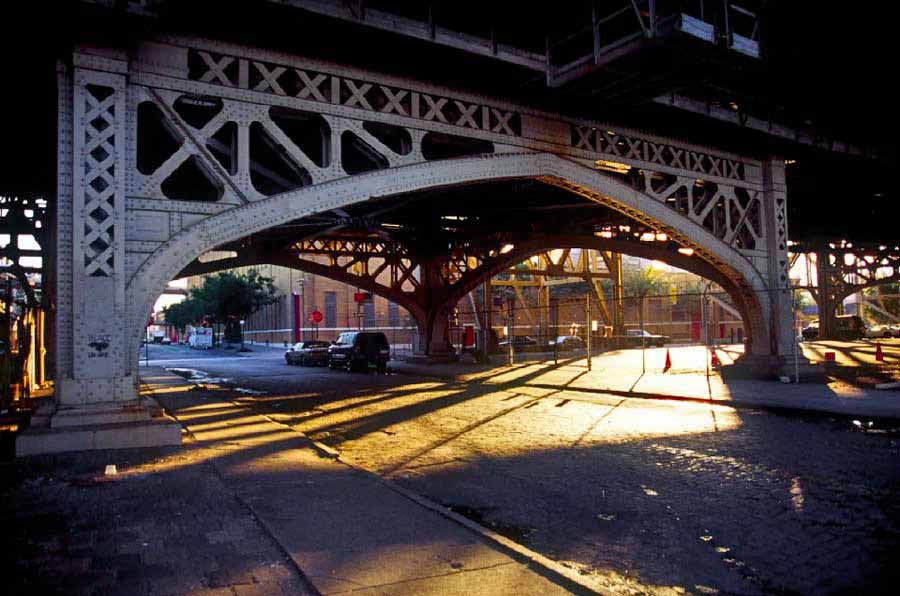 October 2002

A ramble in Long Island City

As the sun falls behind the Manhattan skyline the streets across the East River fall completely into shadow well before sunset. But in those minutes leading up this, the bathing light puts on quite a show.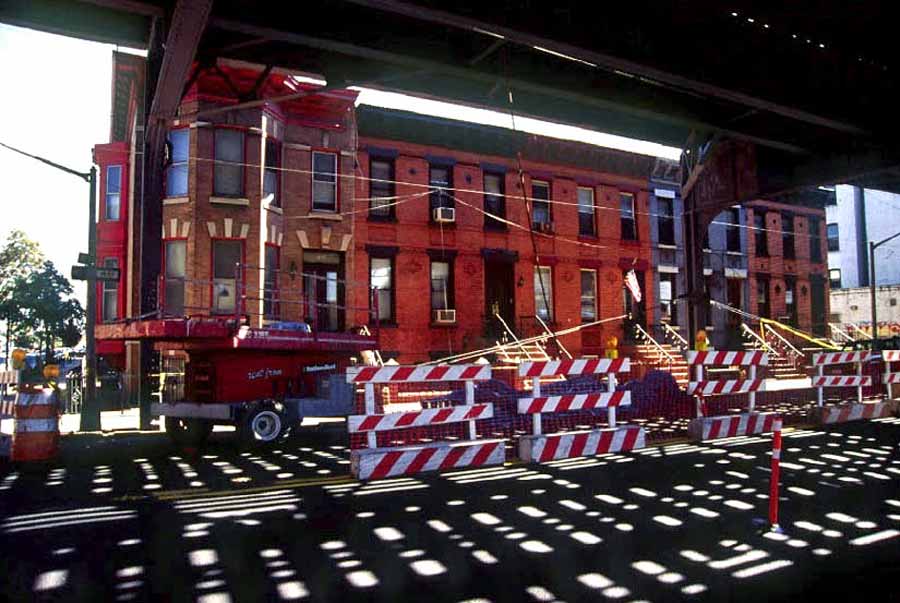 September 2002

A ramble about Long Island City

The afternoon light is particularly harsh for September. It has bleached the streets clean but under the El it has caused the shadows to solidify.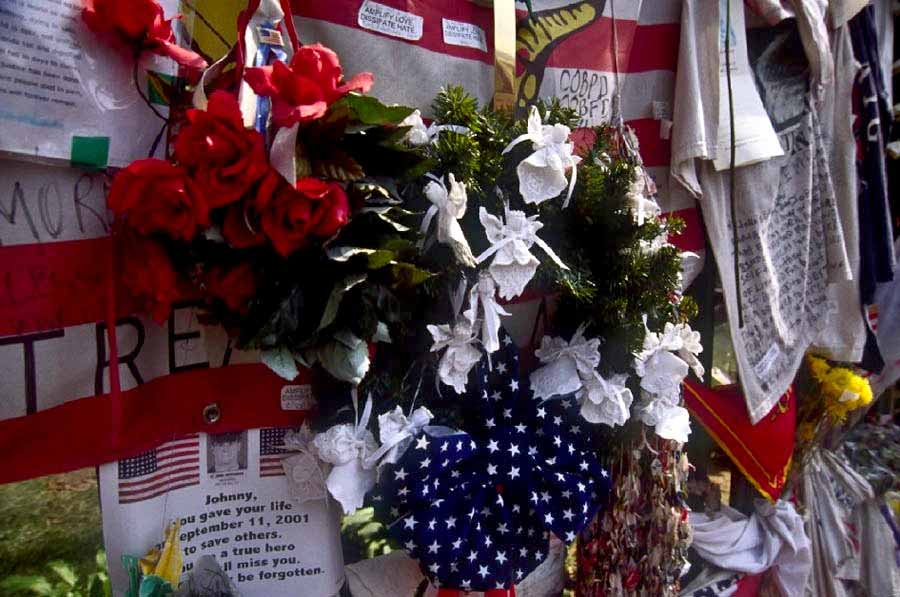 September 2002

An 8 mile walk from Brooklyn heights to Battery Park City

Someone has hung an old photograph of the Manhattan skyline on the fence of the promenade in Brooklyn Heights. It is a memorial more than a reminder for no one who has lived here can forget the presence of the twin towers. I always thought they were as ugly as can be but their sheer size made them so intrusive that they became part of all our lives even if only from a distance. Closer to Ground Zero the fences hang heavy with flags, flowers, letters, and mementos in all shape and form. It is not the loss of a building that we mourn.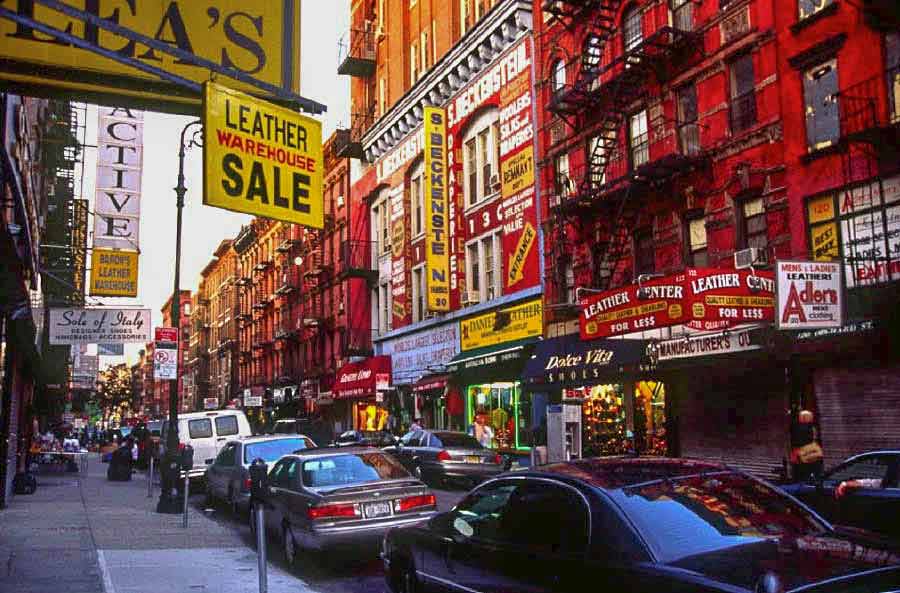 September 2002

A walk from Soho to Williamsburg

While the faces in the streets may change New York remains strongly tied to the immigrant experience. As I passed down a block of shops and looked up above the awnings covered in Chinese writing I could see older hand painted signs in Hebrew still adhered to the glass of second story windows. There was something strangely comforting in this.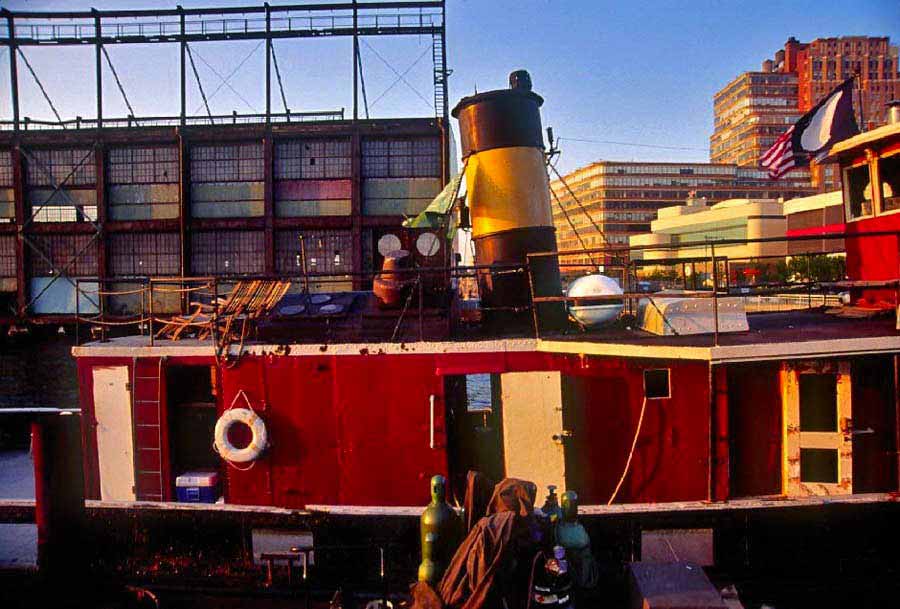 September 2002

A walk along the North River

It is almost impossible to imagine the ships that used to dock here, the crated cargo lowered in netting to awaiting trucks and trains. greetings and farewells exchanged as puffing tugs maneuvered behemoths into place. But this was the scene for scores of blocks. My father briefly worked here as a night watchman, just long enough to take me aboard the Queen Mary for a look around one weekend. The visit was so long ago it seems more like a dream but standing here now I'm sure it would still seem dreamlike even if I remembered it to a fault.
Postscript: These piers have been demolished.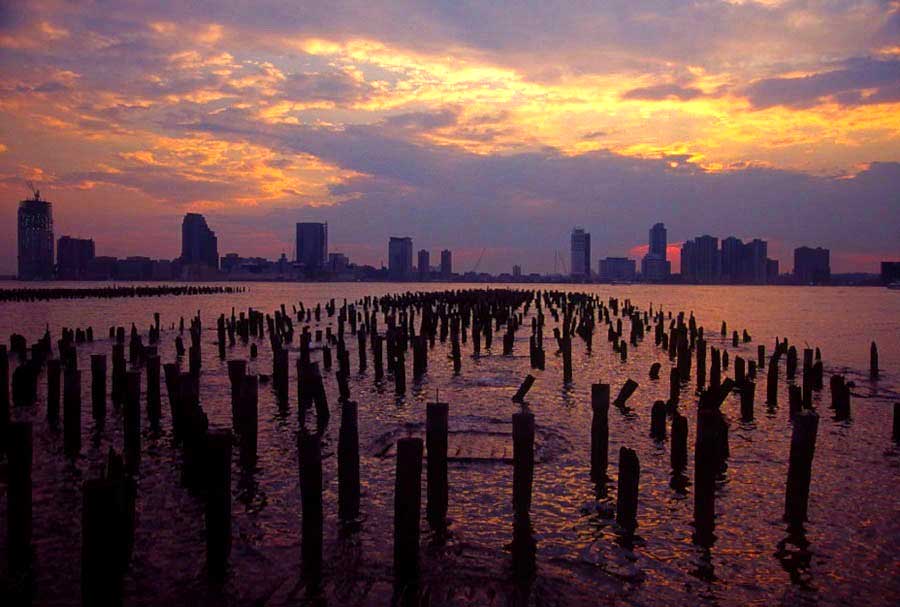 August 2002

A short walk from Soho to the North River

The sun is almost down when I reach the Hudson. Wooden pilings sit in the river like a giant flock of seabirds that have settled in for the night. The air is as still here as back on the streets but it feels a bit cooler. Others arrive and linger into the darkness.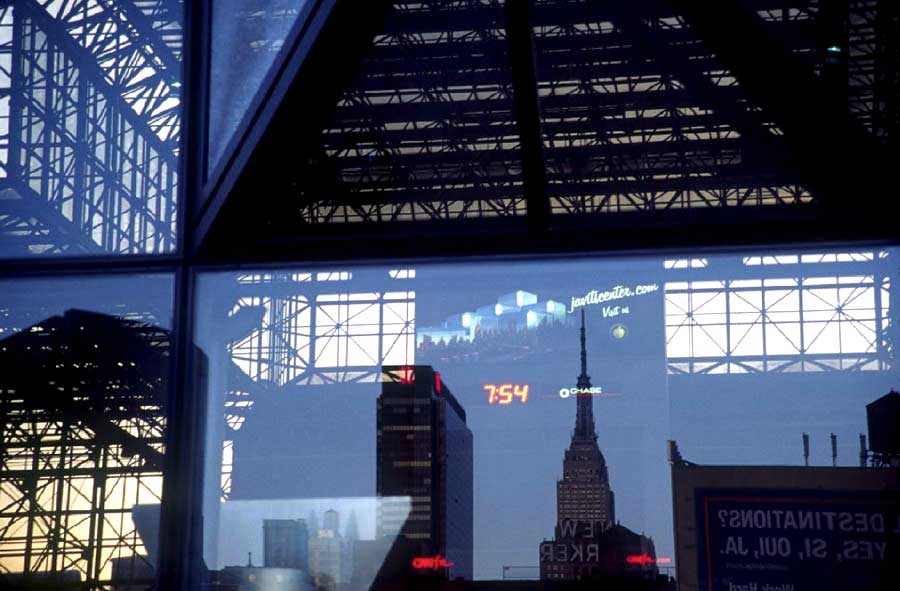 August 2002

A walk from Chelsea to Hells Kitchen

Glass and steel have come to the west side. Its a bit disconcerting to see these modern building rise where warehouses, factories, and gas stations have reigned. It's not just a difference in style it is a clash of cultures. The Midtown stew has finally boiled over.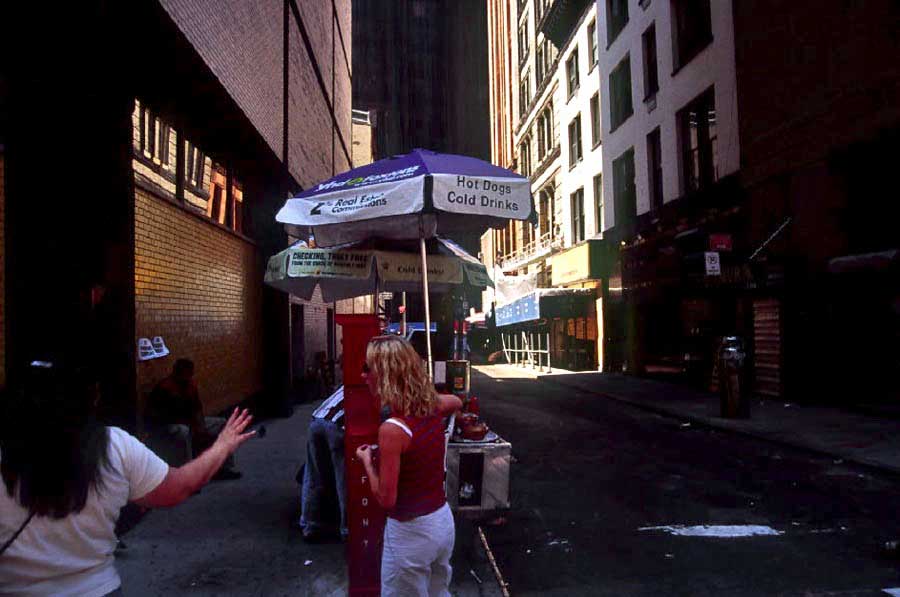 August 2002

A Downtown ramble

I no longer know what to expect when I head downtown. Streets seem to open and close or are excavated without notice. New buildings are rising among those hidden under black mesh. Yet people go about their daily lives amidst a world asunder.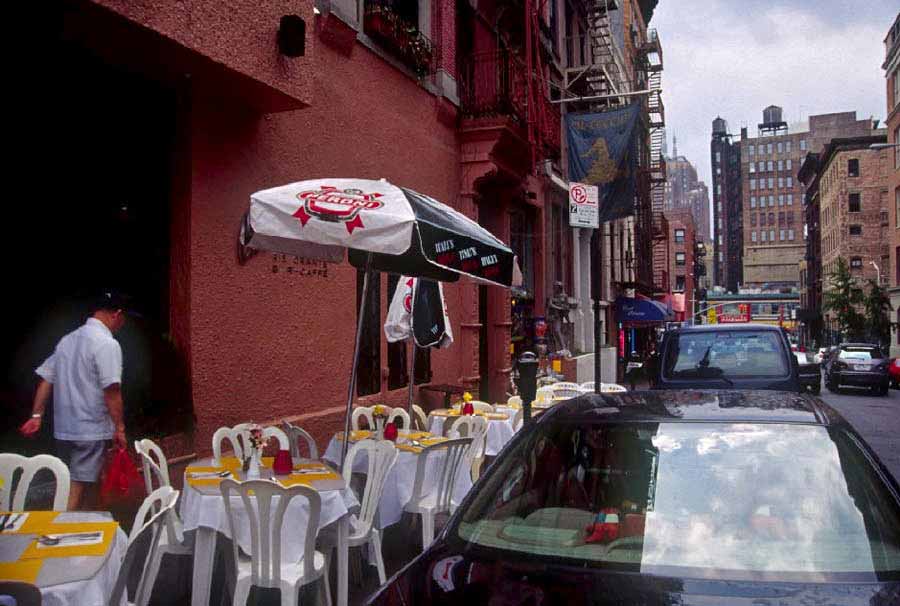 August 2002

A loop between Soho and Chinatown

I understand outdoor dining on a broad tree lined avenue. On the dirty streets of New York it is often just an excuse to have more seats.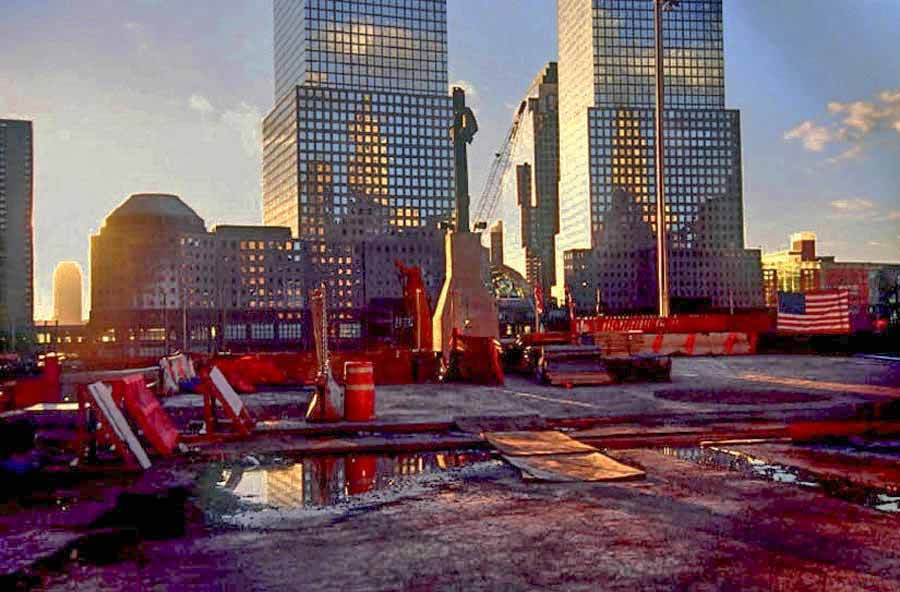 August 2002

A loop between Soho and the Battery

Curtains of opaque netting now back the cyclone fence around Ground Zero to prevent all purvayors from looking in. Privacy issues are cited as an excuse but whose privacy? Doesn't this place belong to all of us now? I still manage to find access for a few shots.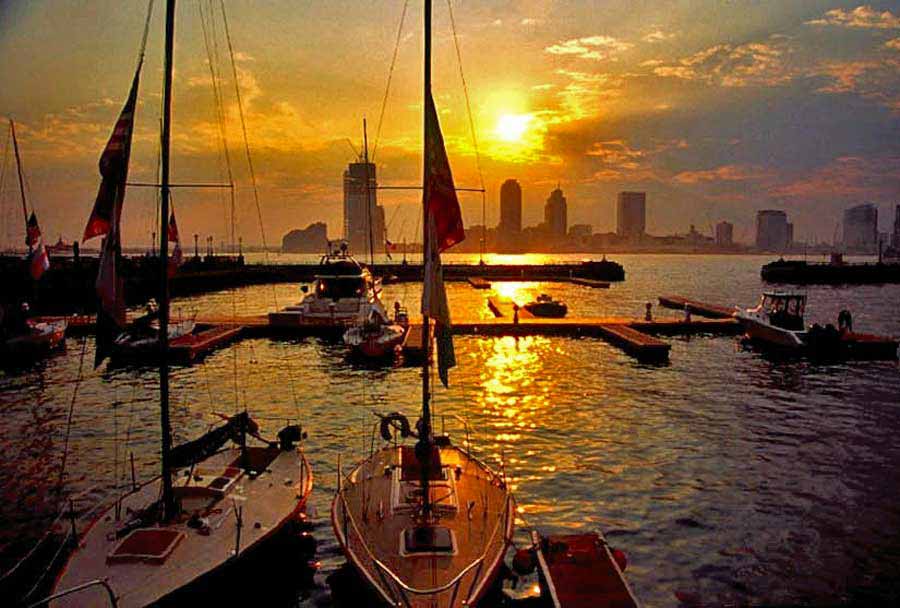 August 2002

A loop between City Hall and the Battery

It is a real sultry summer day and my usual fast pace has been reduced to a stroll. Still it is nice to be out and its pleasant near the water. I come across new views that are so grand I must redefine my definition of this City.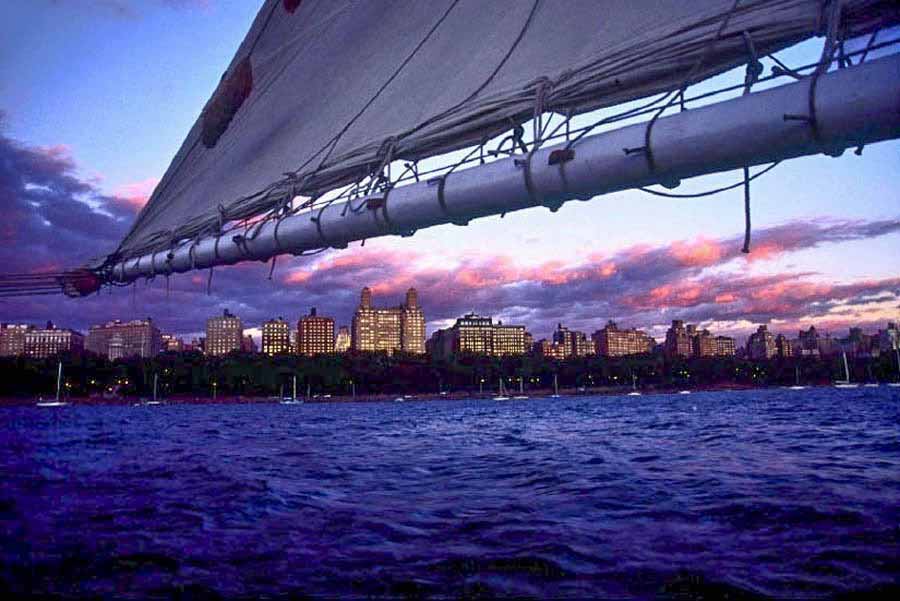 August 2002

A cross town walk to Chelsea and a sail on the North River

It was a perfect day to be on the river under sail with high winds and fast moving fair weather clouds. The geometries of ship and shore were pitted against the flowing organics of sea and sky. There were moments when the world turned flawless.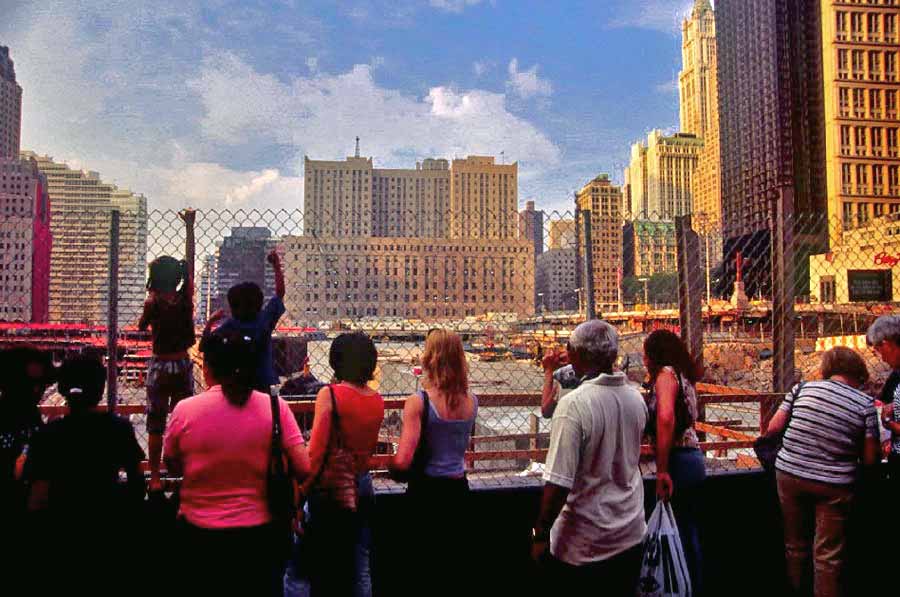 August 2002

A 5 mile loop from Soho to Battery Park City

Hundreds every day still circle around Ground Zero in a strange procession while hawkers sell pictures of the towers that once stood here. Those more ambitious than me have snipped holes here and there through the chain links, just wide enough to fit a camera lens through. I am not bashful about using them.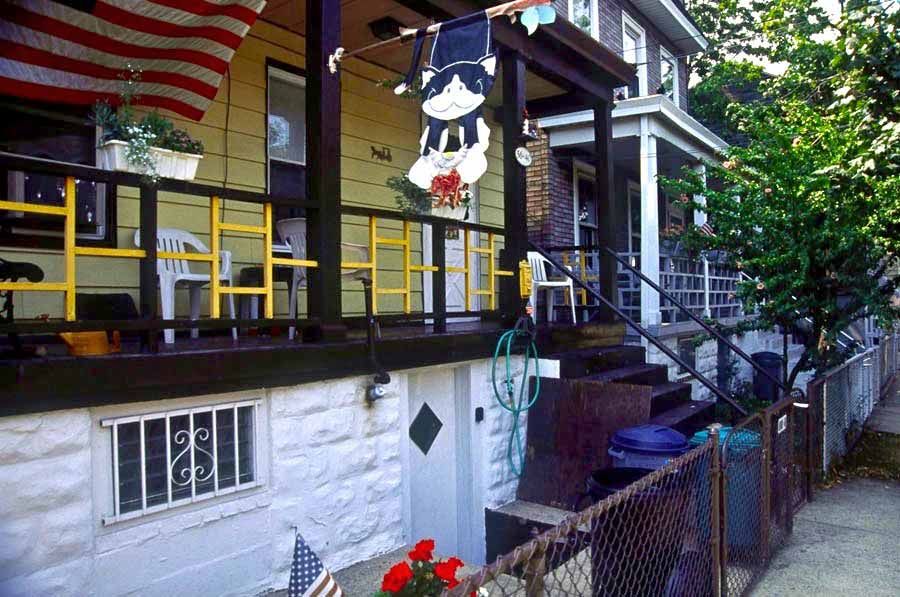 August 2002

A walk from Maspeth to Woodside

If nothing else plastics have added more color to our lives.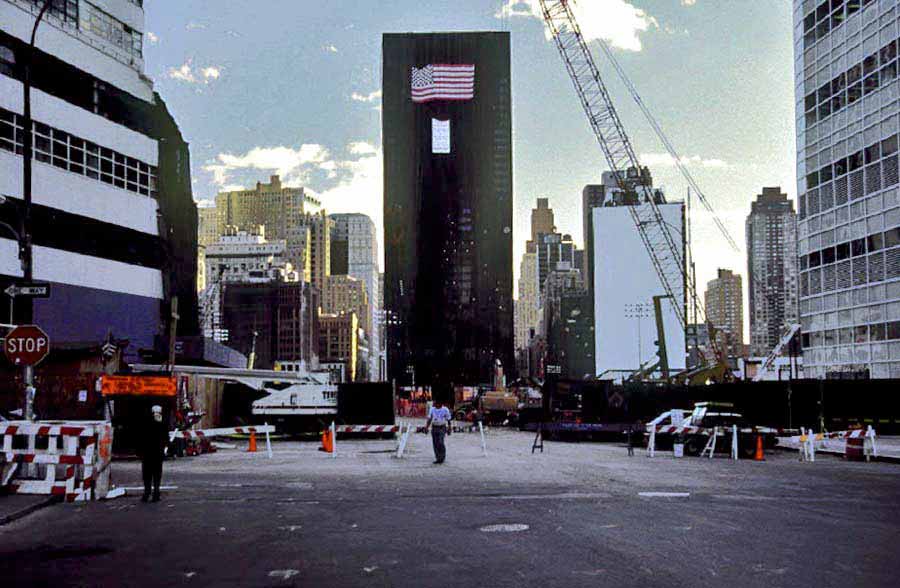 August 2002

A Downtown ramble

The black netting shrouding the Deutsche Bank Building makes it loom like a giant figure of death over Ground Zero.
Postscript: The damaged Deutche Bank building has been scheduled for demolition rather than repaired due to extreme mold contamination. The process is proceeding at a snails pace and has been plagued by accidents, fire, and deaths.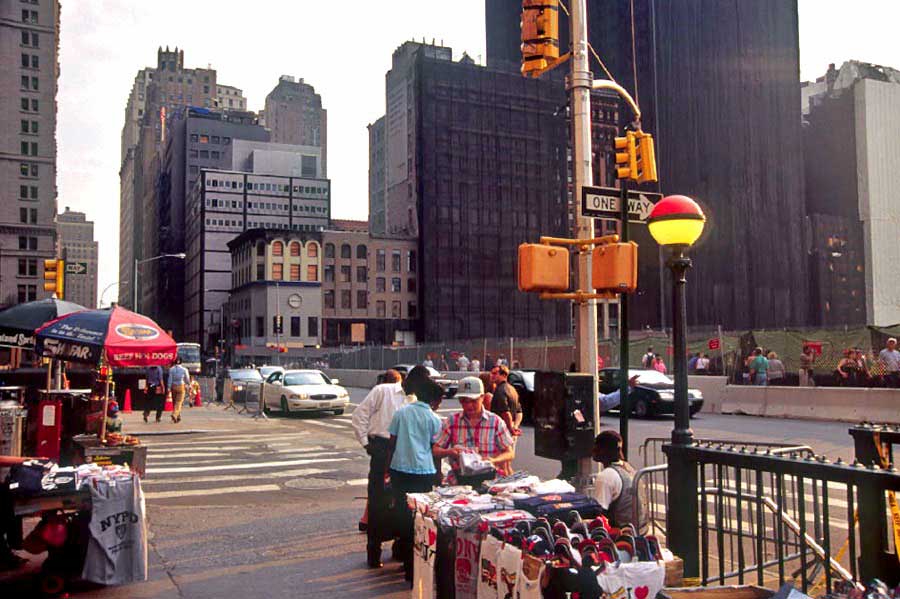 July 2002

A Downtown ramble

The streets are still full of venders hawking all sorts of World Trade Center souvenirs to tourists. Tragedy often breeds opportunity and there appears to be a real audience for this merchandise. People have a genuine need to connect to what has happened here and they don't always know how. It seems the real profiteers are those who have sequestered Ground Zero for their own ends.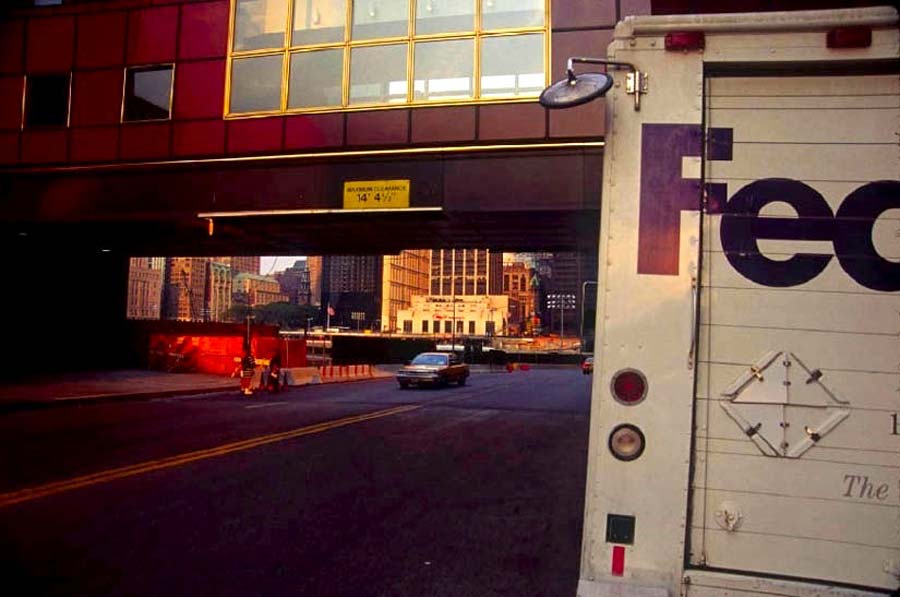 July 2002

A Downtown ramble

Depicting colors and simple geometries only appears more safe than work that concerns itself with social issues. But if there are those who learn to open their heart to the beauty hidden from their eyes who knows what they will open their eyes up to next.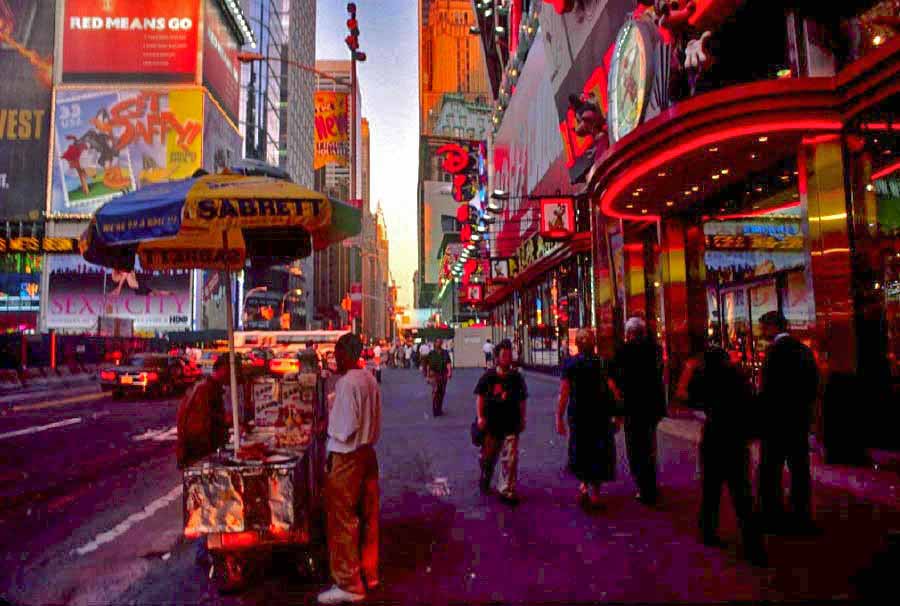 Times Square

A 6 mile ramble between Union Square and Times Square

Evening is falling and Times Square is a nether world dominated by color cast shadows and the early glow of neon.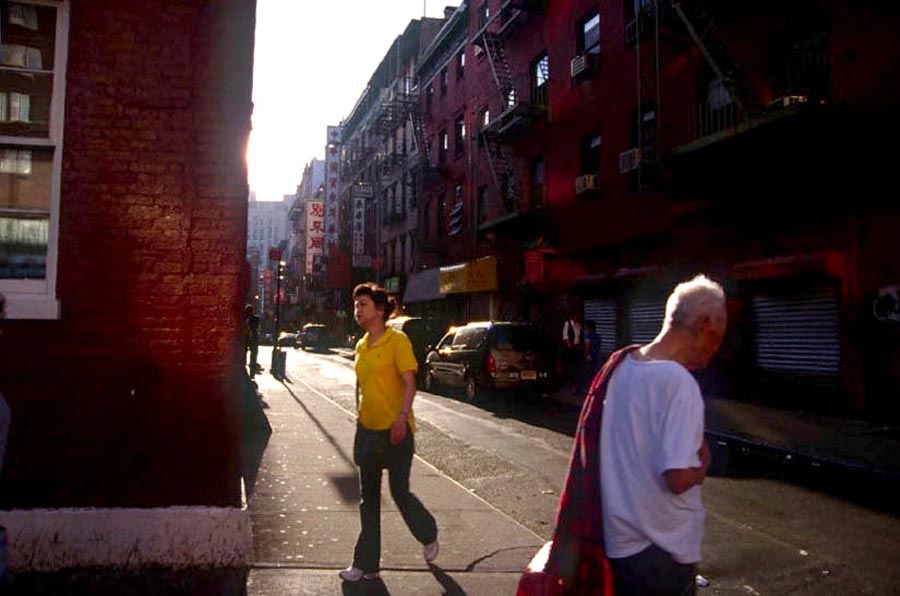 July 2002

A walk from Union Square to Chinatown and on to the West Village

Some of my walks are more planed than others but ultimately they all come down to chance. A cloud in the sky, a single pedestrian in the street timed to arrive just as I do turns the ordinary into something more. The thing is to recognize what has been given and not to dwell on what may have been lost.

---
Copyright 2009 Alan Petrulis All Rights Reserved