NEW YORK RAMBLES (page 4)
page 1 2 3 5 6 7 8 9 10 11 12 13 14 15 16 17 18 19 20 21 22 23 24 25 26 27 28 29 30 31 32 33 34 35 36 37 38 39 40 41 42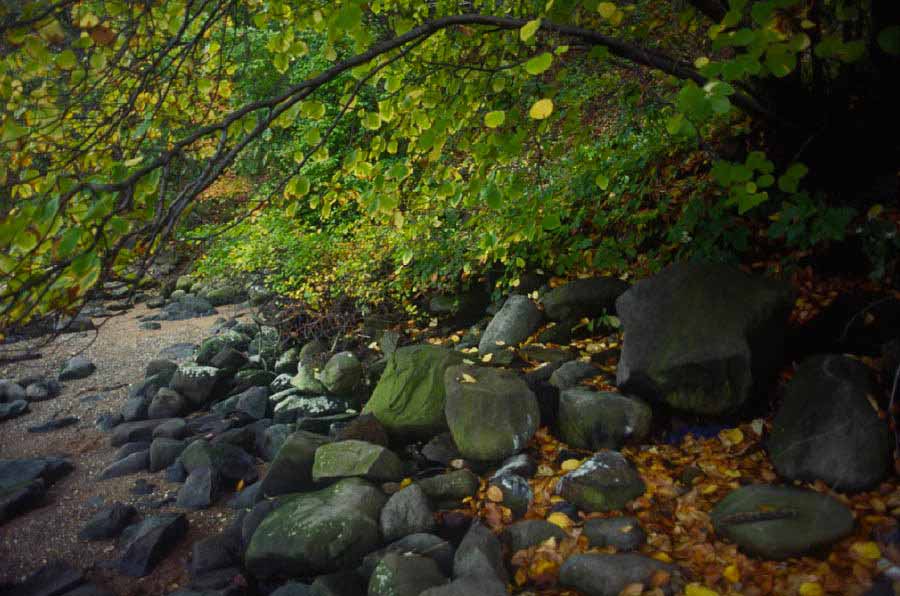 October 1986

A 6 mile ramble between Washington Heights and the Spuyten Duyvil

I was very surprised upon reaching the northern tip of Manhattan to find a few yards of actual sandy beach. At the shore I was greeted by rocky ledges that held small kettle holes in their polished surface. The stones that bore them through their twisting and turning had disappeared long ago replaced by an array of wild grasses that found home amidst the rotting leaves that accumulated in them.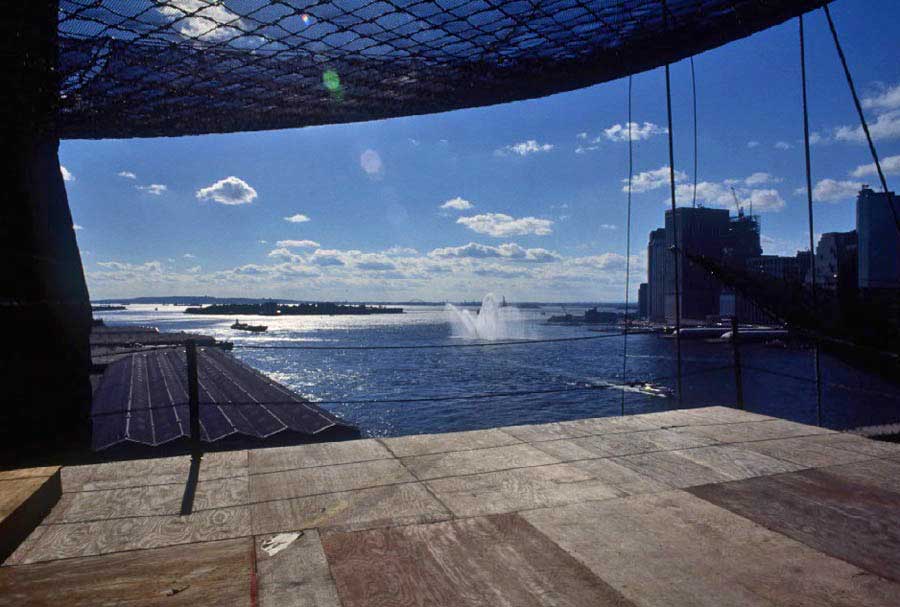 October 1986

A walk from Brooklyn Heights to City Hall

Construction on the Brooklyn Bridge has transformed it into a fantasy world. Only the acrobats and high wire acts are missing.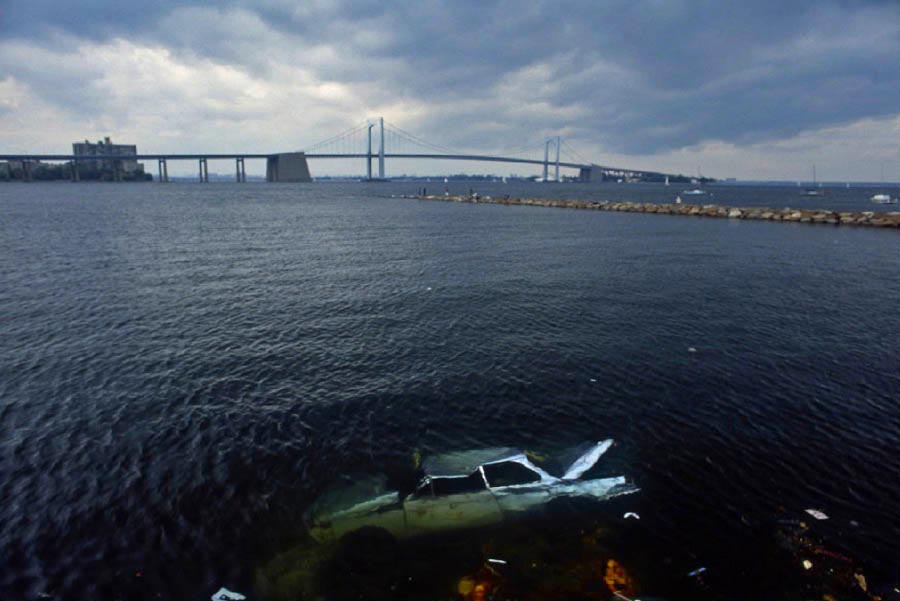 September 1986

A walk from Bayside to Douglaston

Is it a mermaid or Ophelia drifting by?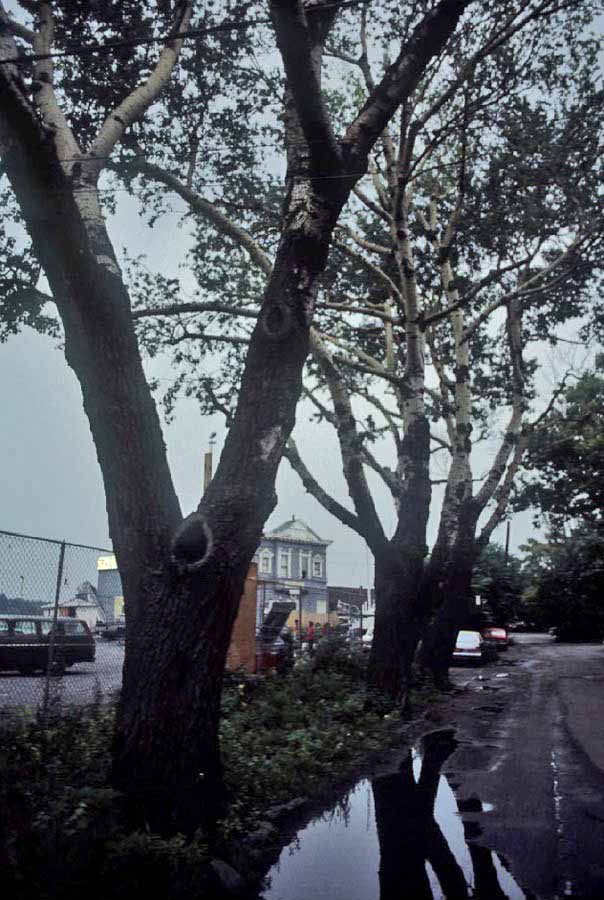 August 1986

A brief visit to City Island

It rained all morning but the clouds were far from empty.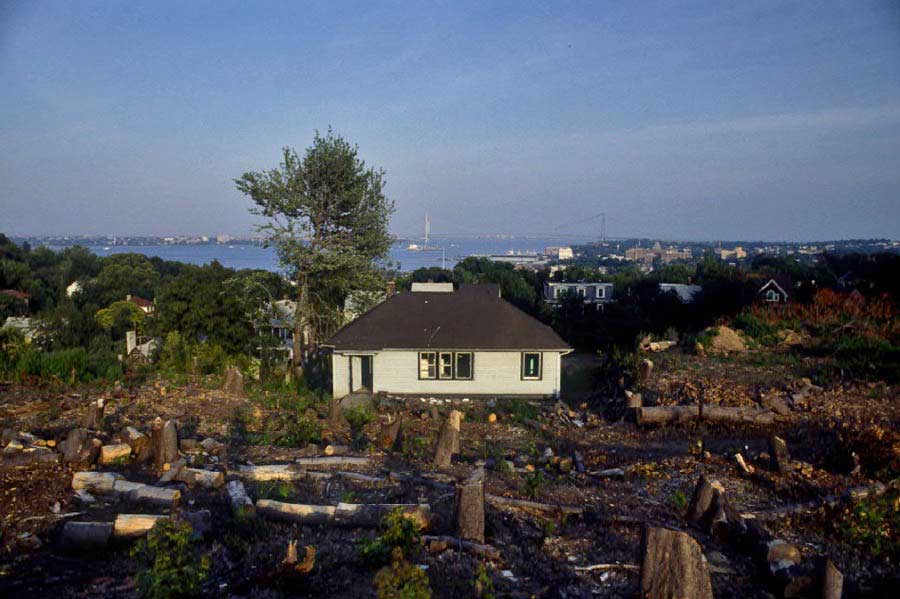 July 1986

A 6 mile walk from Stapleton to New Brighton

Construction sites have often provided me with unique if only temporary views, and a vacant lot atop a hill in Stapleton proved no different. There was actually no construction in progress but the ground had been laid bare except for the heavy stubble of cut brush and stumps. A lone white house lay empty waiting for its days to end. When walking down in the streets it is easy to forget the surrounding views that may abound but are from vantage points just out of reach.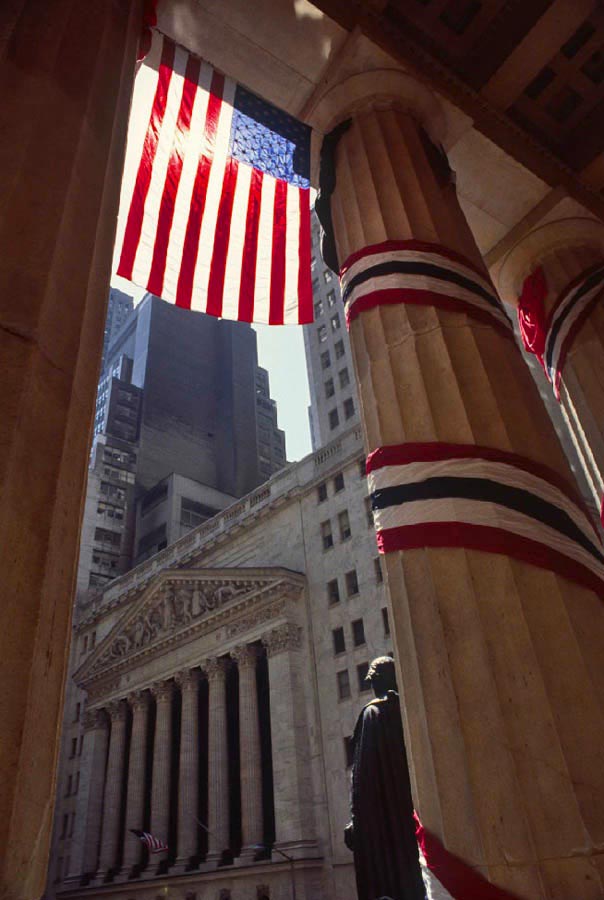 July 1986

A walk from Wall Street to Brooklyn Heights

There always seems to be something missing on the Forth of July. Of course there are the spectacular firework displays after dark but during daylight hours the city looks much as it always does. The sun rises and sets on holidays just like any other day, it is only we who make distinctions. But here and there these distinctions bear fruit and the ordinary gains a new life.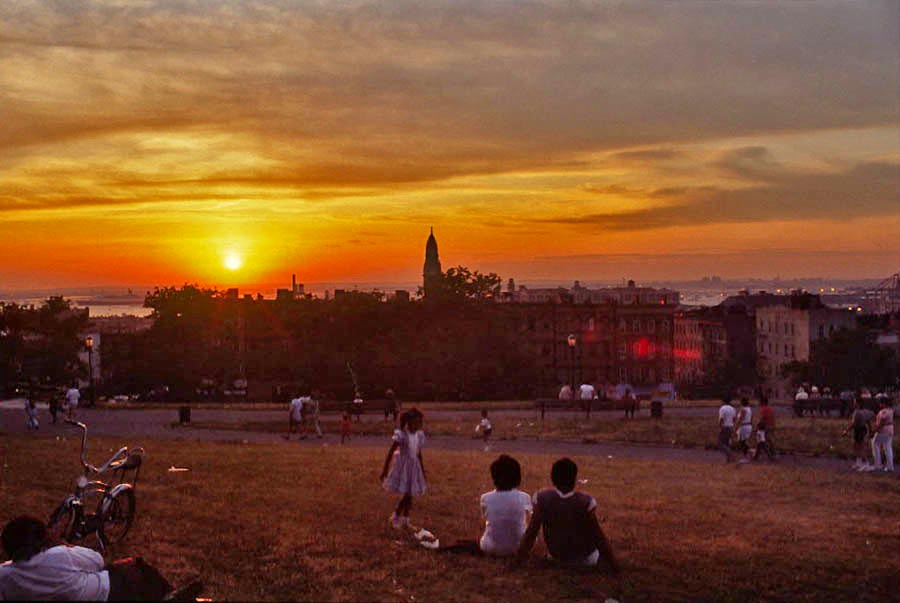 July 1986

A walk in Sunset Park

After walking along a good deal of waterfront I returned to Sunset Park where I had been highly impressed by the view. Not only could the harbor crowded with ships be clearly seen but the entire skyline of lower Manhattan rose above the cranes of Red Hook. I don't know whether it was the heat or just my enthusiasm that skewed my judgement but it was a bad decision. The long line of park lampposts that came to life as evening fell obscured much of my view with their bright glow. Bt nightfall the crowds were massive and fireworks were flying in every direction.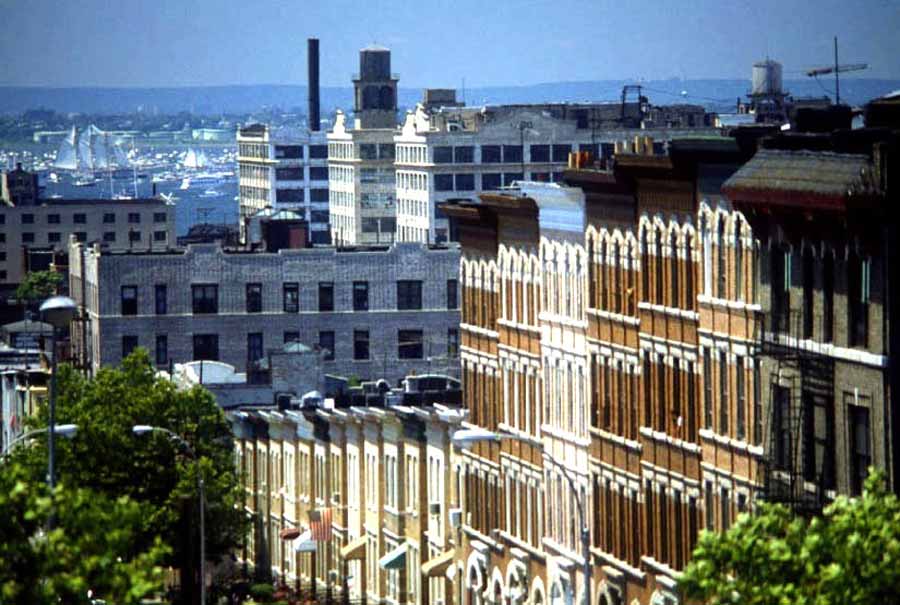 July 1986

A 14 mile walk from Fort Hamilton to Brooklyn Heights on the 4th of July

Police are spaced out along the abandoned waterfront to make sure no one trespasses in an attempt to view the tall ships that are in town. I retreat to sunset park for a glimpse of the harbor. The view though distant is more than I could have hoped for.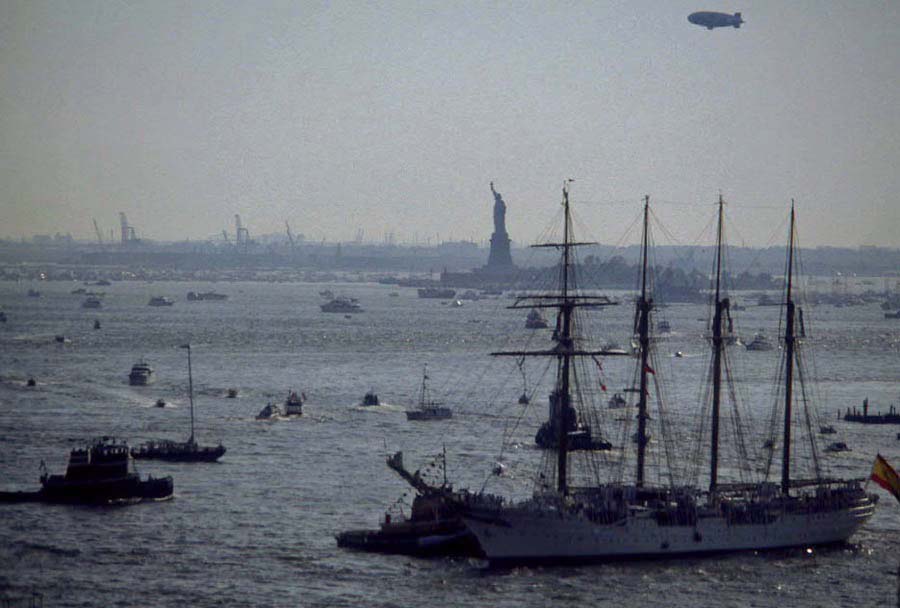 July 1986

A walk from City Hall to Brooklyn Heights

I still remember the first time I came down to the Battery to view the harbor only to find it devoid of ships. My Romantic notions of the great port of New York immediately dissolved in the face of modern commercial realities. So the view from the Brooklyn Bridge today, of a harbor full of activity was like suddenly falling into a dream. I knew I would eventually wake from this vision but for now it was my world.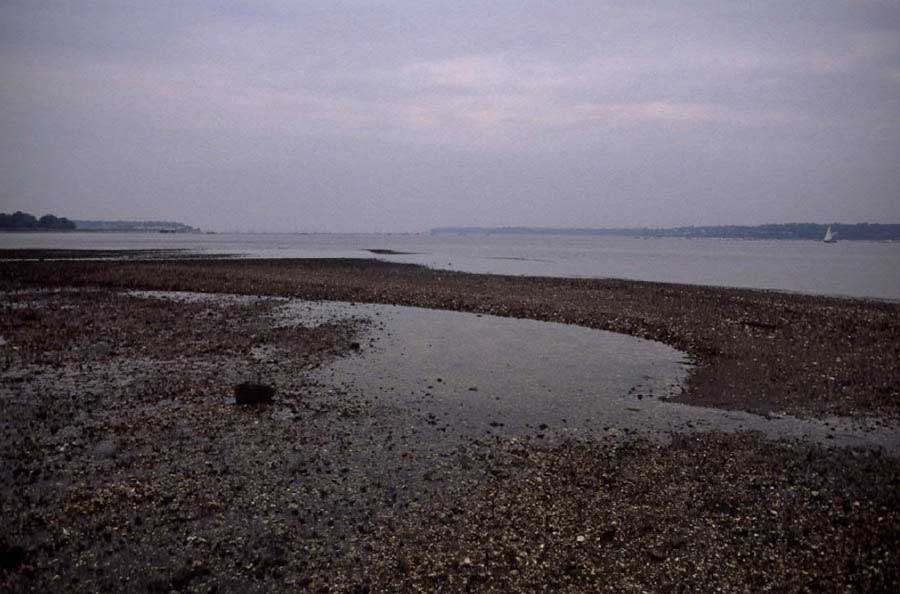 June 1986

A 5 mile walk from Bayside to Beachurst

While poking about the tidal flats I noticed a small piece of green glass. As I pulled it out from the mud it reveals itself to be an entire bottle shaped like a fish. Could it be for bitters? It is not very old but still a treasure.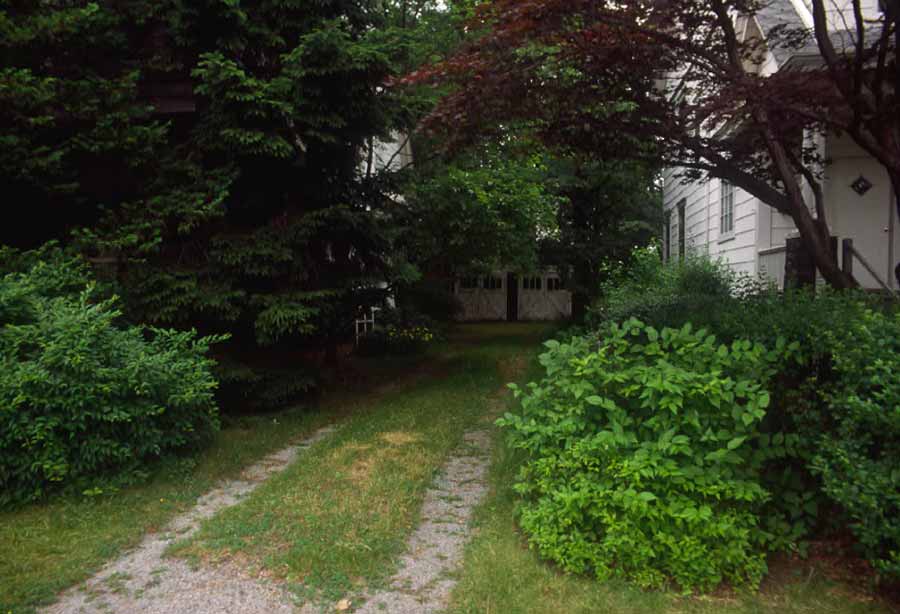 June 1986

A ramble in Flushing

Even in neighborhood where homes stand next to one another in file, small hidden recesses can occasionally be found that hold more depth than mere space can allow.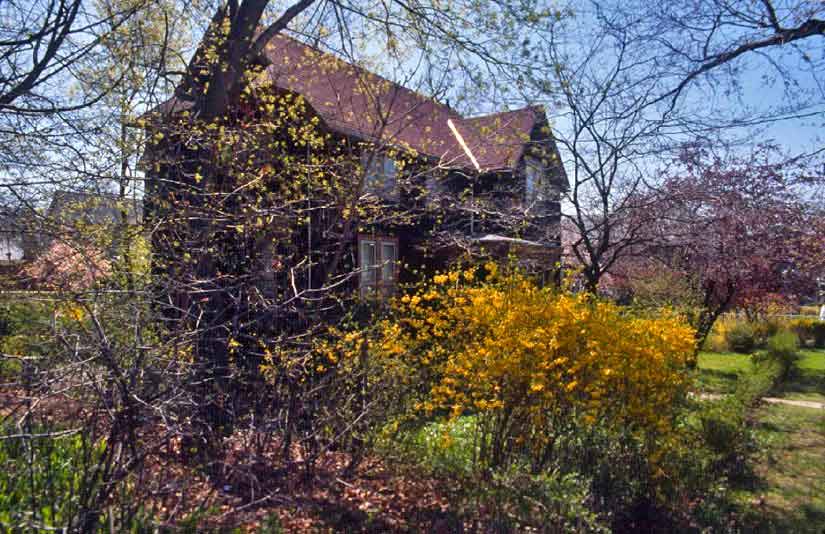 April 1986

An 8 mile walk from Flushing to Beachurst and on to College Point

There is finally a warmth to the air. The trees are alight with promise as the starkness of winter days fail to hang on.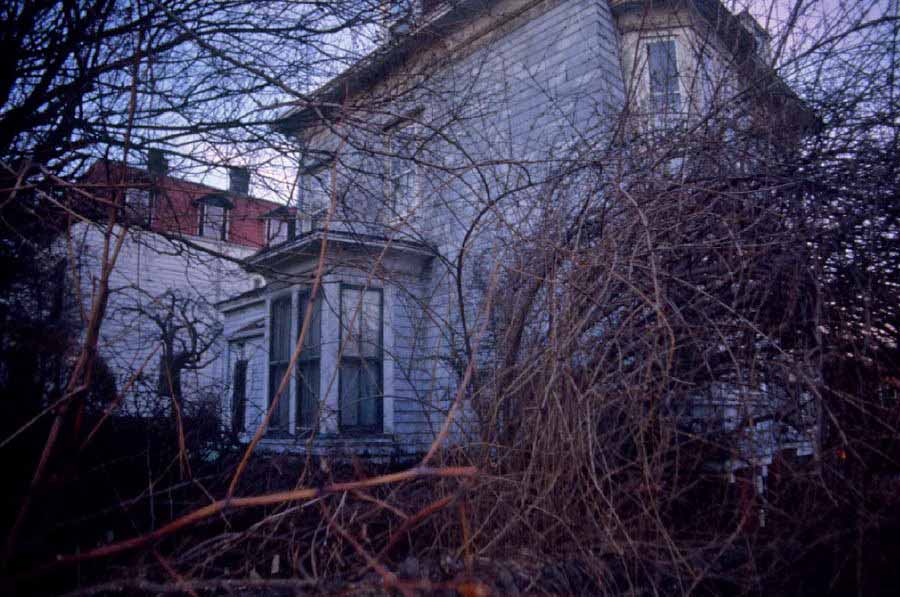 March 1986

A 7 mile round trip between St. George and Silver Lake

There are few other places that contain as many grand old houses that have not been meticulously cleaned up with every detail refurbished. I prefer those that reveal the wear of living as to those put on display. It shows some comfort with the real world where perfection does not exist.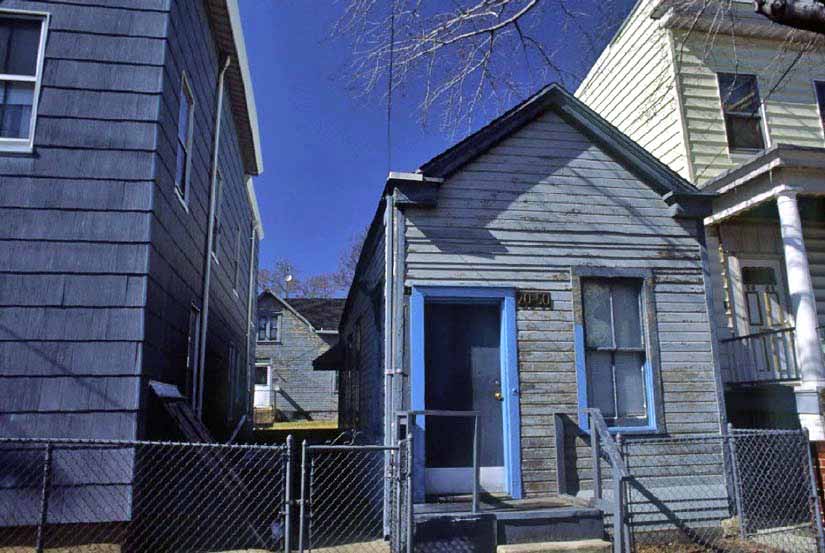 March 1986

A ramble in College Point

With the popularity of metal siding and the construction of extensions it is sometimes difficult to gage the age of a house. Some homes however are of such small size their age regardless of remodeling can never be in doubt. In this era of two or four family attached brick homes finding a newly constructed wooden railroad shack would be a remarkable experience indeed.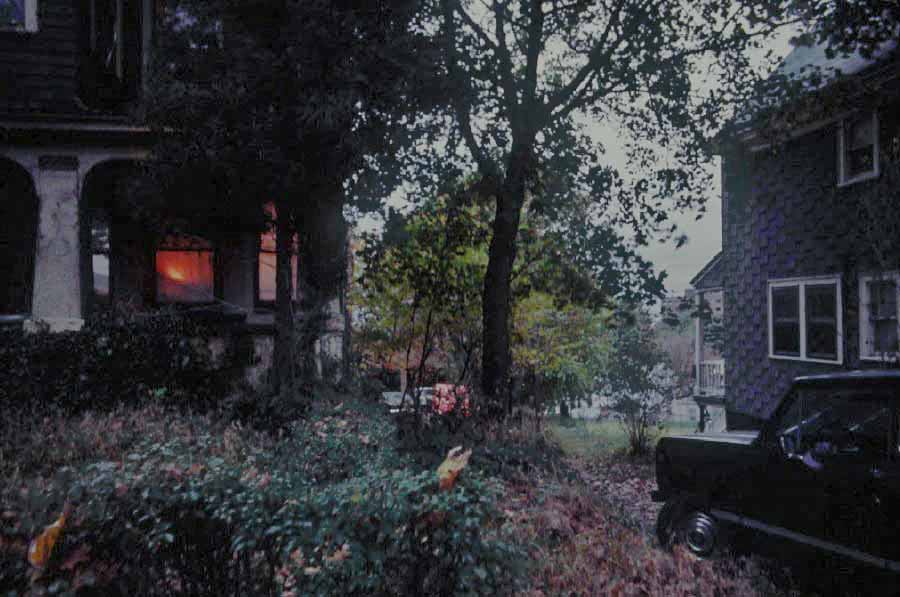 October 1985

A 12 mile walk from Oakwood to Travis then on to Castleton Corners

As the day draws to a close I find myself walking down streets I have not passed on before. I am not sure where I am only that I am heading in the right direction. I love this time of day like no other, when the transition between day and night becomes so ill-defined to create another world. But this world remains recognizable; a glowing window lamp in the cooling air promises all the comforts of home. I have miles to go.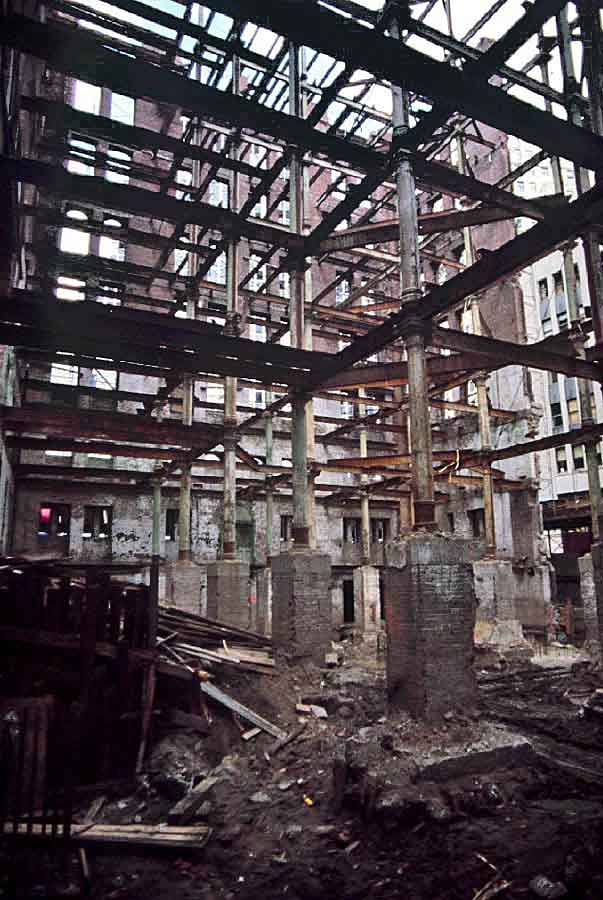 September 1985

A short Downtown ramble

An endless column of Union soldiers marched along the frieze that surrounded this building. Its interior was gutted but its shell was carefully left in place. Surely they would march on.
Postscript - I have not been able to recall the exact location of this building other than it being close to the Battery. Since I have never seen the wonderful relief again on any one of my many subsequent visits to the area I assume it was torn down.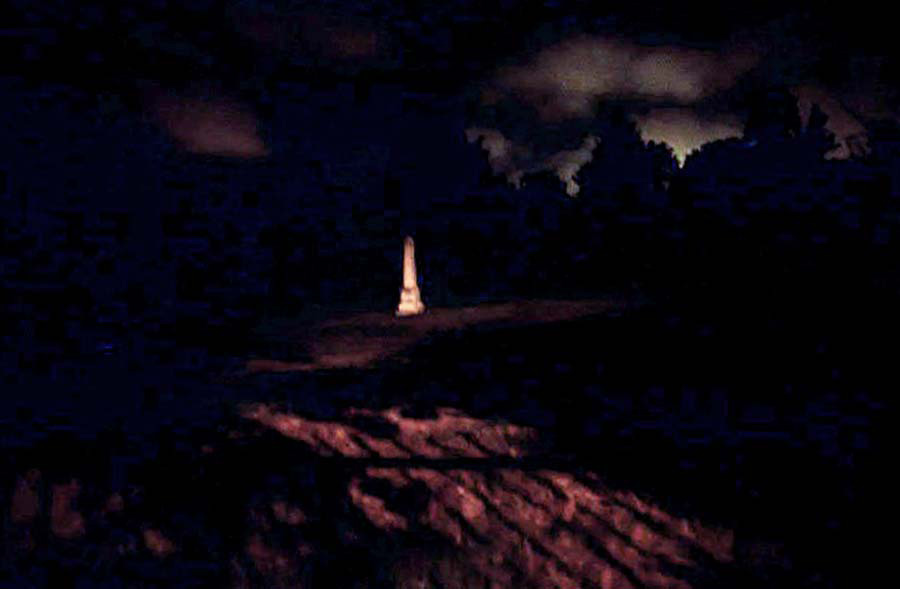 August 1985

A walk across Flushing

I was on my way home from shooting when my eye caught a solitary cemetery marker bathe in an unknown light. I was forced to stop and stare. I did not have the means to take a proper picture of it but the scene gripped me to the point that I felt compelled to capture it anyway. Within a few days my Mother suddenly died.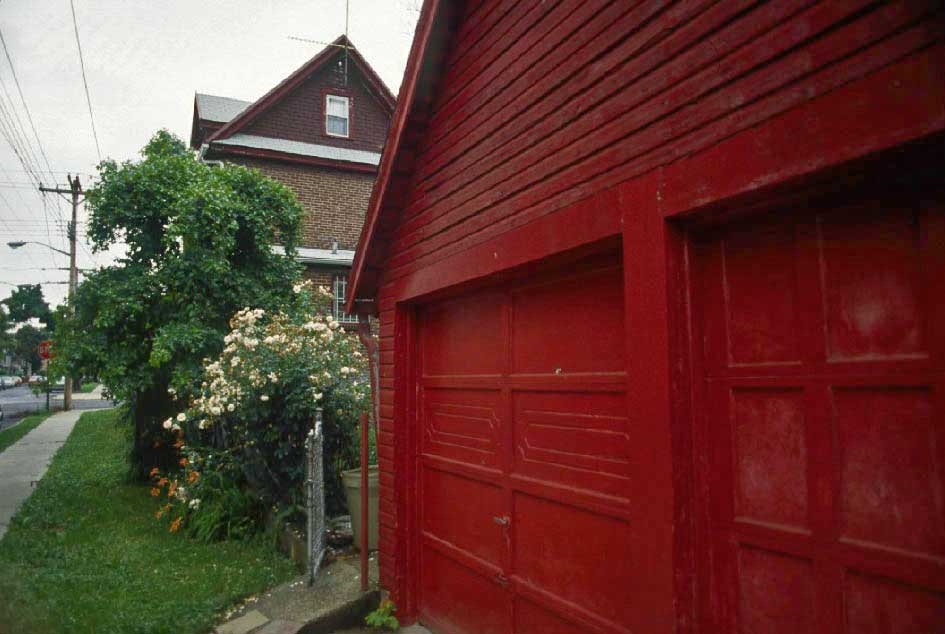 June 1985

A walk between Flushing and College Point

A familiar path with a fresh coat of paint offers me a new view.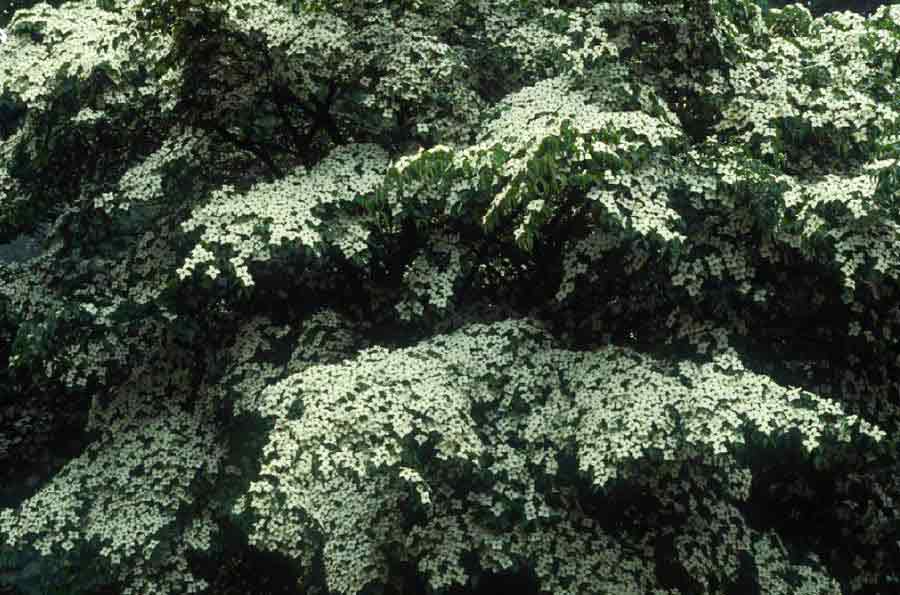 June 1985

A ramble in Kissena Hollow

After Spring's blossoms fade and all turn to green the sudden appearance of white flowers on an exotic tree is a welcome respite.
Postscript: Of the numerous Korean dogwoods that once stood in this grove only one remains.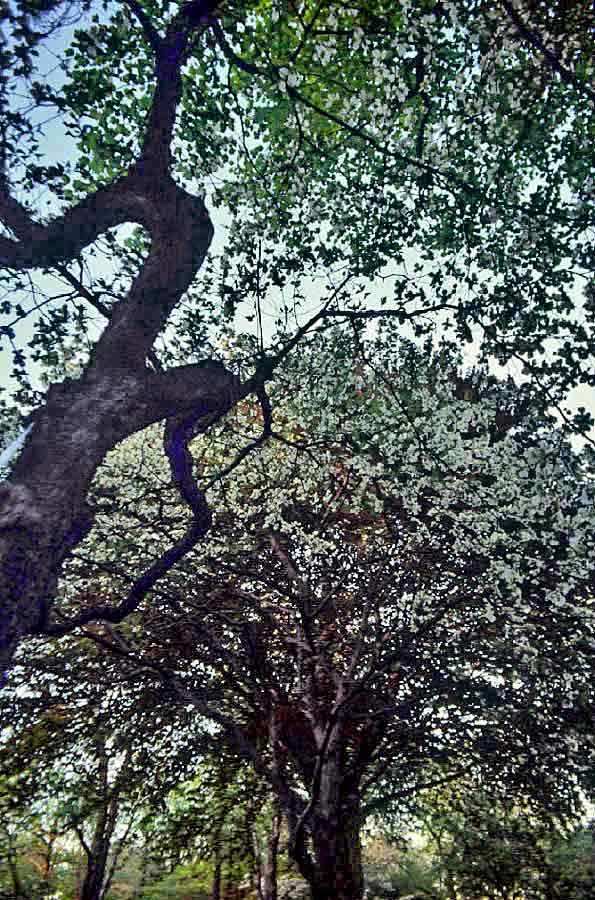 May 1985

A ramble in Kissena Hollow

Without a breath of wind to knock them from their heights, the blossoms of Spring grew large and heavy. I could no longer tell if winter past was a memory or an illusion.
Postscript - This giant Silverbell has since died.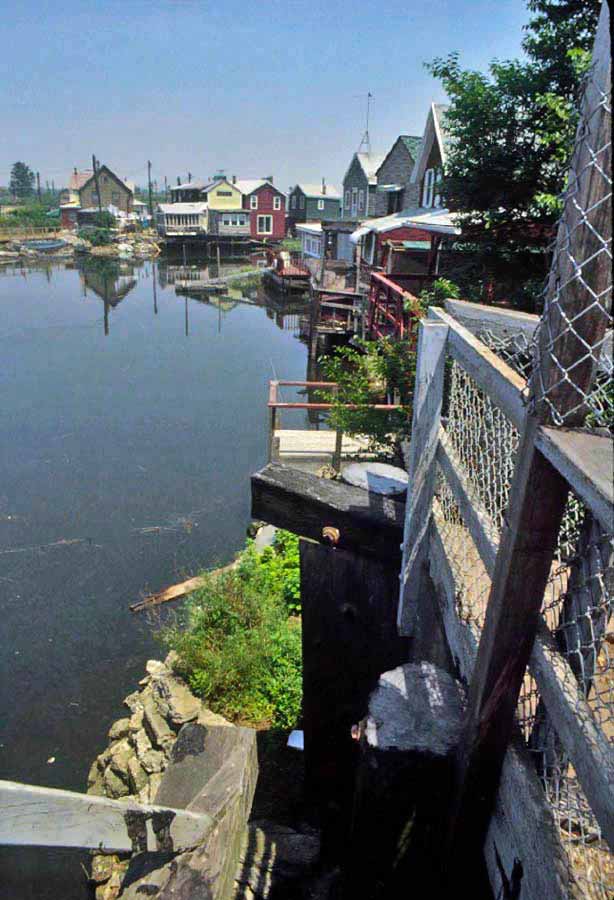 May 1985

A 12 mile walk from Howard Beach and across the Rockaways to Floyd Bennett Field

It is easy to ascertain when your in a community founded by squatters. The resulting mish-mash is a pleasant break from the regiment of neat orderly homes found on most streets.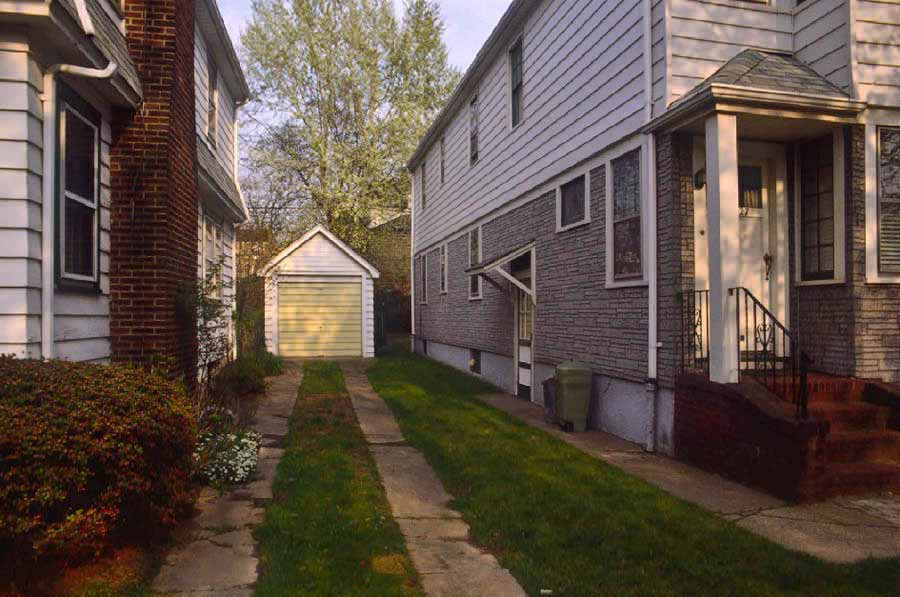 April 1985

A 10 mile loop between Flushing and Beechhurst

Views of the river were far and in-between. It never ceases to amaze me that I can live on an island but have such difficulty in accessing the shore. There are never any shortages of driveways.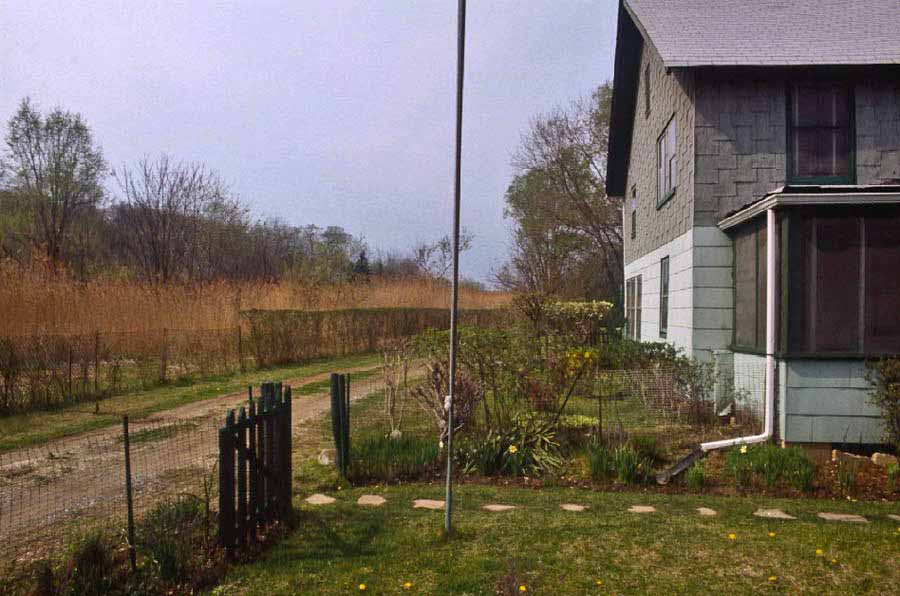 April 1985

An 11 mile walk from Hollis to Udalls Cove

At the County line I wandered out on a small back road that was so out of place with the rest of Queens that malls, subways, buses and miles of apartments could not even be conceived of. This road was far too short.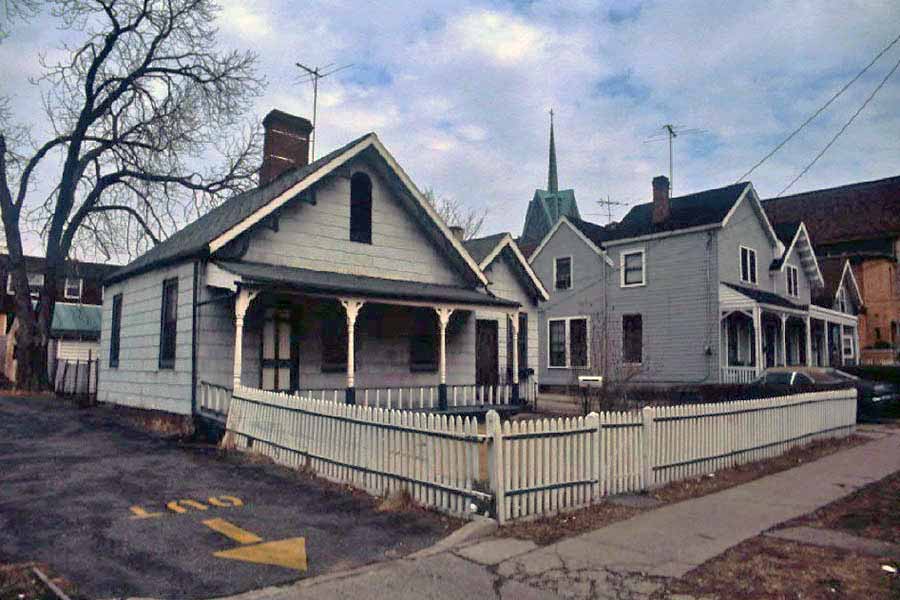 March 1985

A ramble about College Point

Pockets of the landscape seem seem to be asleep. I step around them quietly so they will not stir.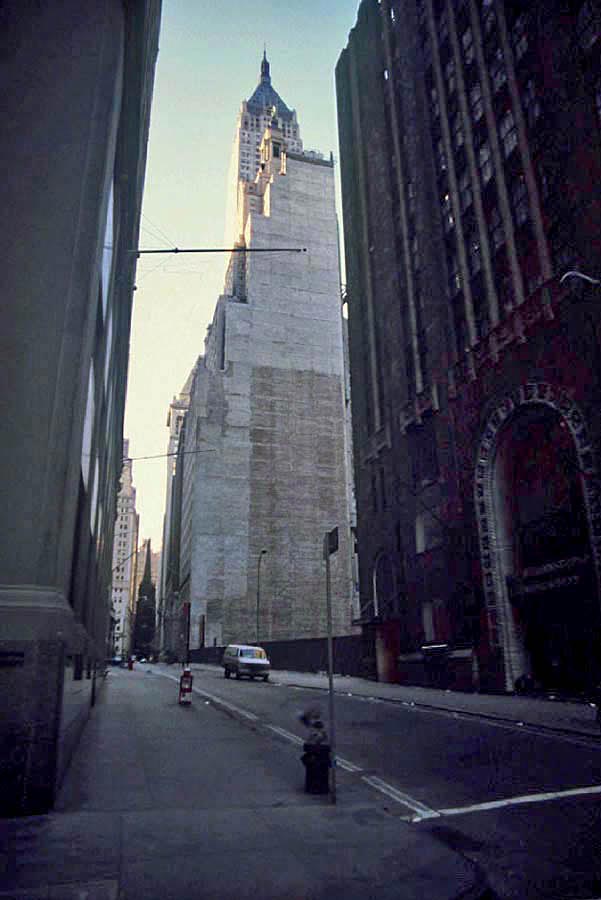 March 1985

A walk from Soho to Wall Street

Buildings with large windowless walls have a natural oppressiveness to them. They have an existence apart from the need for people.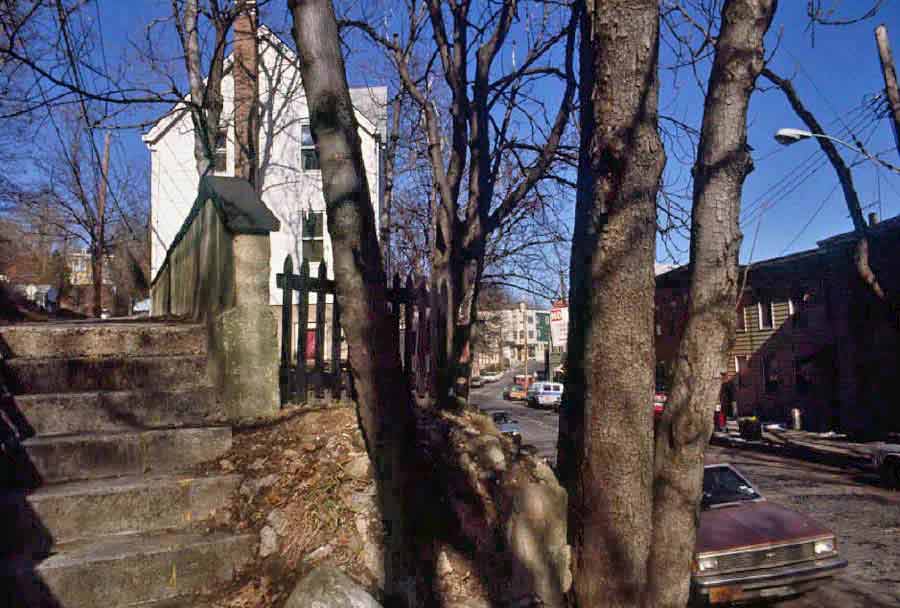 February 1985

A 14 mile walk between St. George and Linden Park via Todt Hill

In this land of hills unexpected stairs are constantly throwing me off course. I tell myself I'll only stray a few yards to see if there is a view to shoot, and then I'm off for good in a new direction. My need to explore has a greater hold on me than any plans I may draw.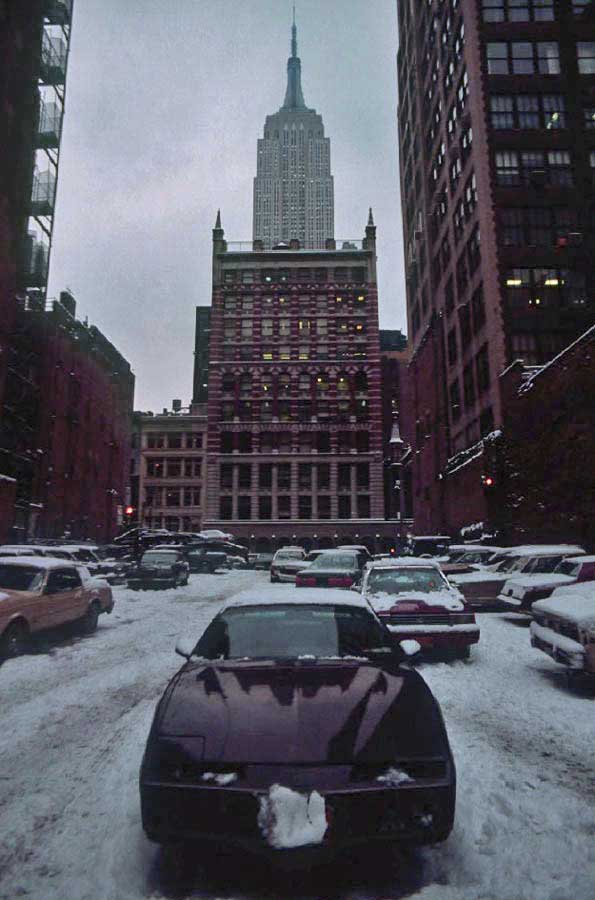 February 1985

A Midtown ramble

Is symmetry something we create in our minds and tell ourselves we see it, or is there an underlying order to things that reveal life's mysteries just waiting to be discovered?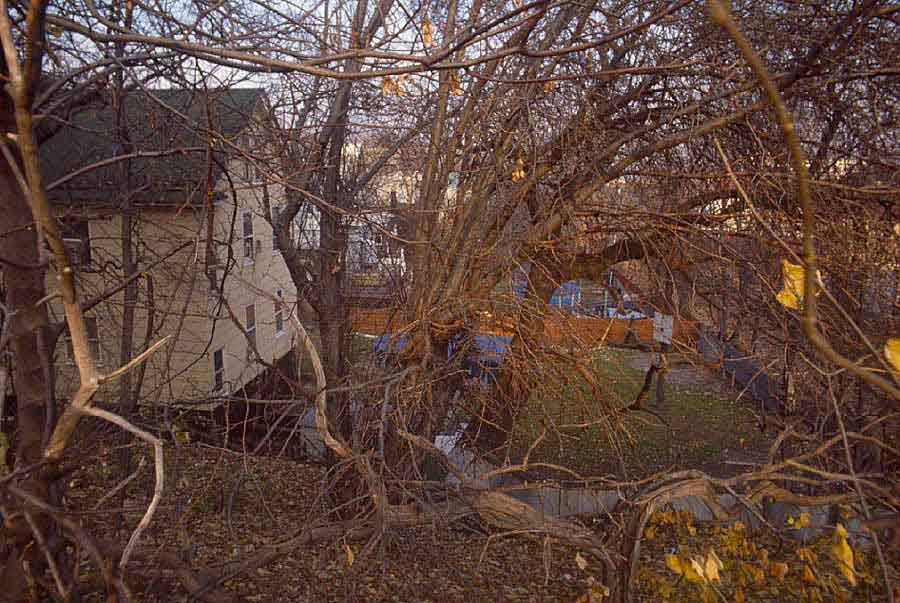 December 1984

A loop between St. George and Stapleton

Unseen voices unsettle the quiet and then they are gone.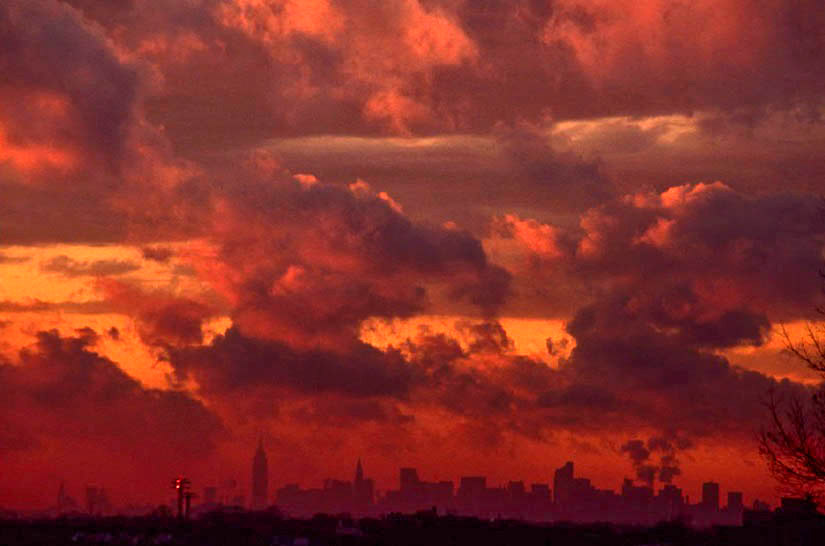 December 1984

A short walk in Kissena Hollow

The city only seems monumental until you step back from it. From the right perspective most human endeavors fall into their proper place.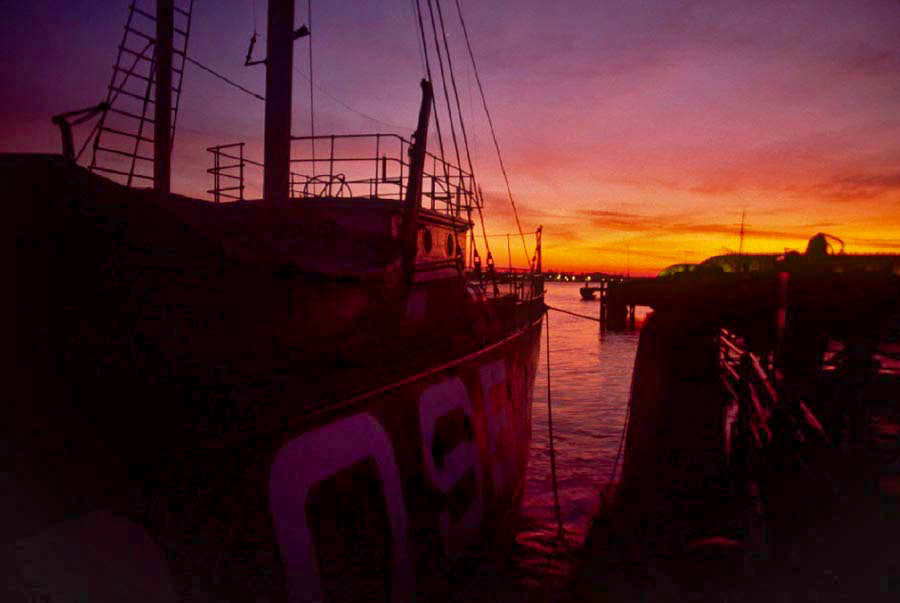 December 1984

A Downtown ramble

A short walk yields little results. A flaming sunset is the day's grace.

---
Copyright 2009 Alan Petrulis All Rights Reserved