NEW YORK RAMBLES (page 27)
page 1 2 3 4 5 6 7 8 9 10 11 12 13 14 15 16 17 18 19 20 21 22 23 24 25 26 28 29 30 31 32 33 34 35 37 38 39 40 41 42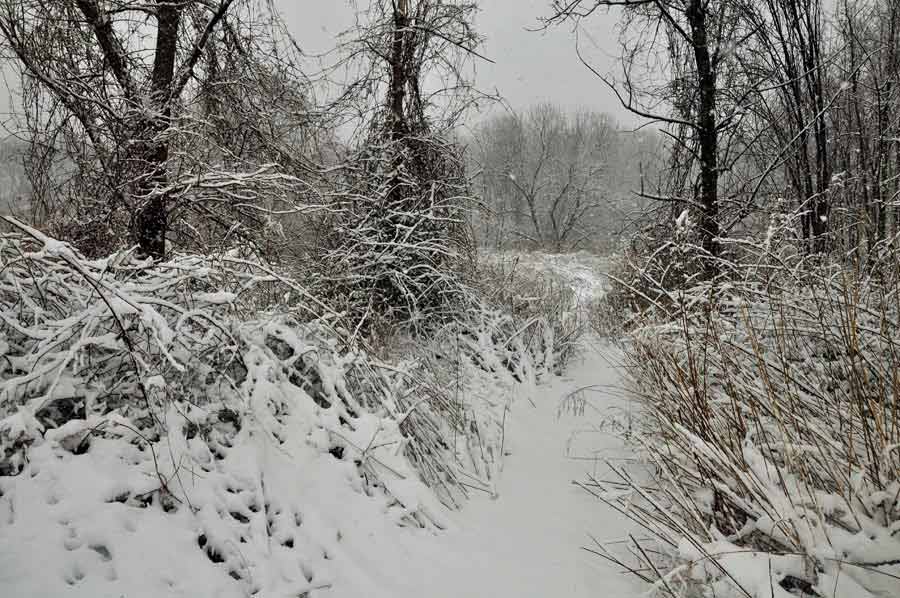 February 2010

A walk in Kissena Hollow

I head out during a lull. The landscape before me is so sugary I do not know which way to turn in the face of so many treats. All is quiet except for the occasional sharp chirp of a nervous jay. It isn't long before the momentary break in the storm is a passing memory. Flakes begin falling in wet clumps punctuated by stinging beads of ice. While this enlivens the snowscape to a more intriguing level my camera and I are soon encased within a white blanket. As the wind begins to pick up I can barely keep my eyes open.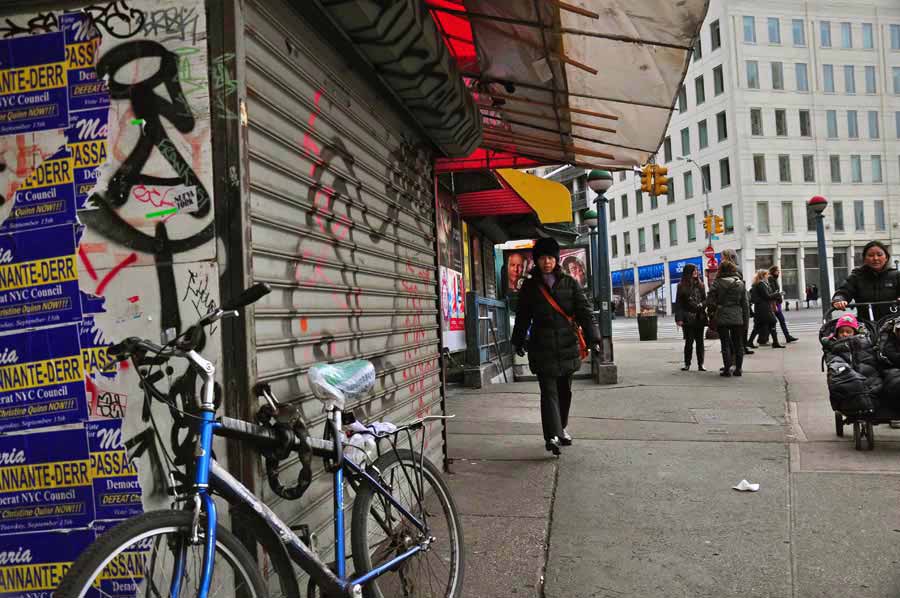 February 2010

A 6 mile walk from Midtown to the Lower East Side and back up to Tribeca

By mid-afternoon the the intense blue of the sky had faded. The sun could do no more than occasionally present itself as a pale white orb in the greying overcast. At first I did not notice the shadows disappear as the light remained appealing in all its incarnations.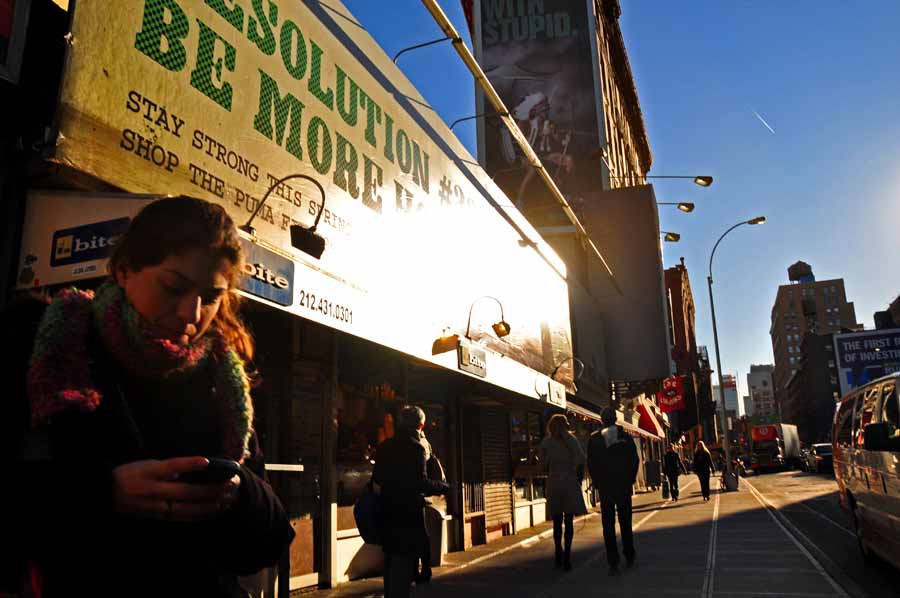 February 2010

A walk from Little Italy to Chelsea

I step out of the subway into blinding light. The low winter sun has created canyons ever so dark pierced by light so intense to cause momentary incoherence. I need to calm myself and adjust to my new surroundings but I plunge ahead impetuously; a moth to the flame.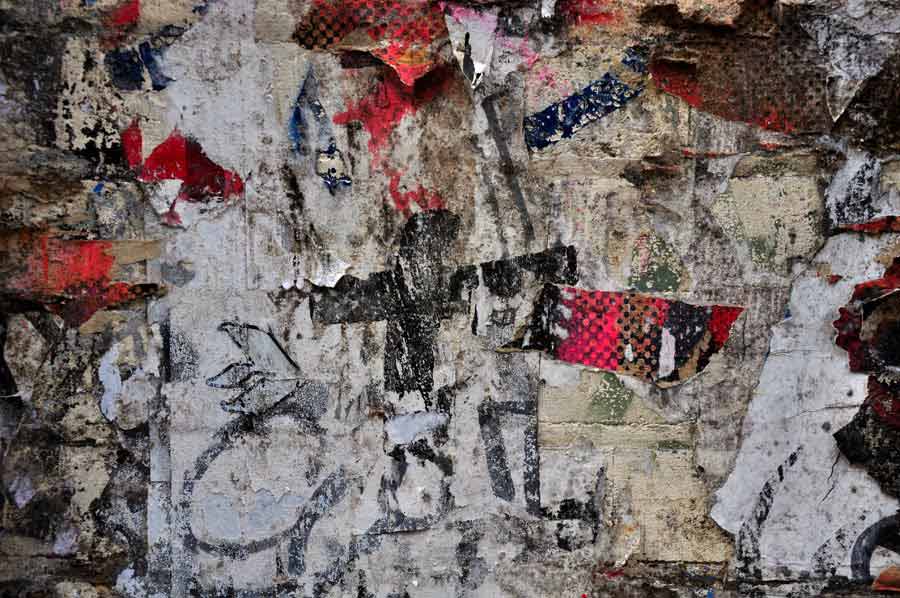 February 2010

A walk in Soho

I told myself that I would stay away from this wall that it has consumed too much of my attention already but I am back again despite my resolve, the addiction out of control. Symmetries and geometries have been catching my attention lately but they are much too easy to shoot leaving my hunger awaiting satiation. There are moments that seem to provide a glimpse into another world so mercurial so fleeting as to wonder whether they were ever perceived of at all. Hints of these other dimensions so alien to our everyday lives often reside in what the uninitiated eye mistakes as chaotic. Answers lie just beyond my tongue.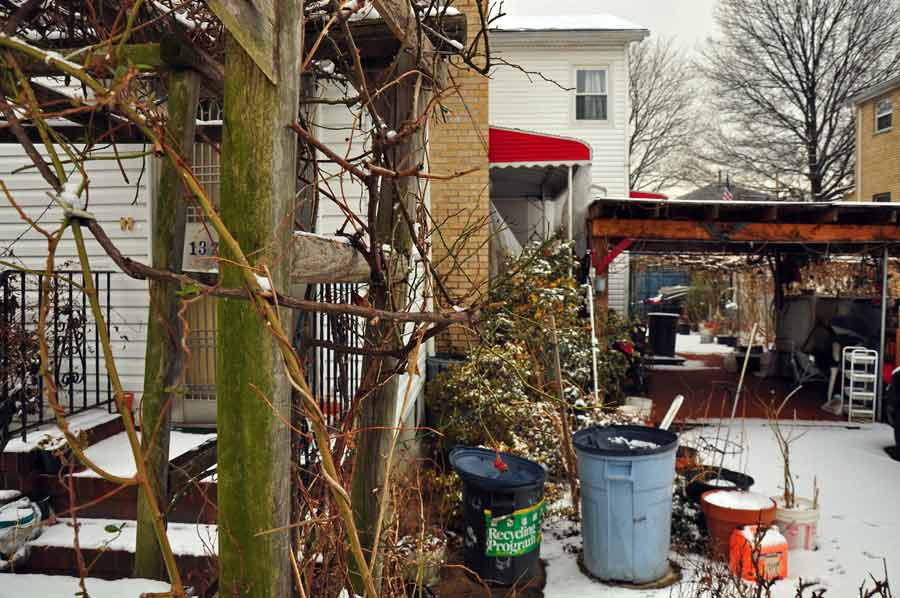 February 2010

A ramble in Flushing

Some days snow can be a great unifier. It can simplify a landscape into plain geometries that hide the clutter that tends to fill everyday vision. Today is not that day.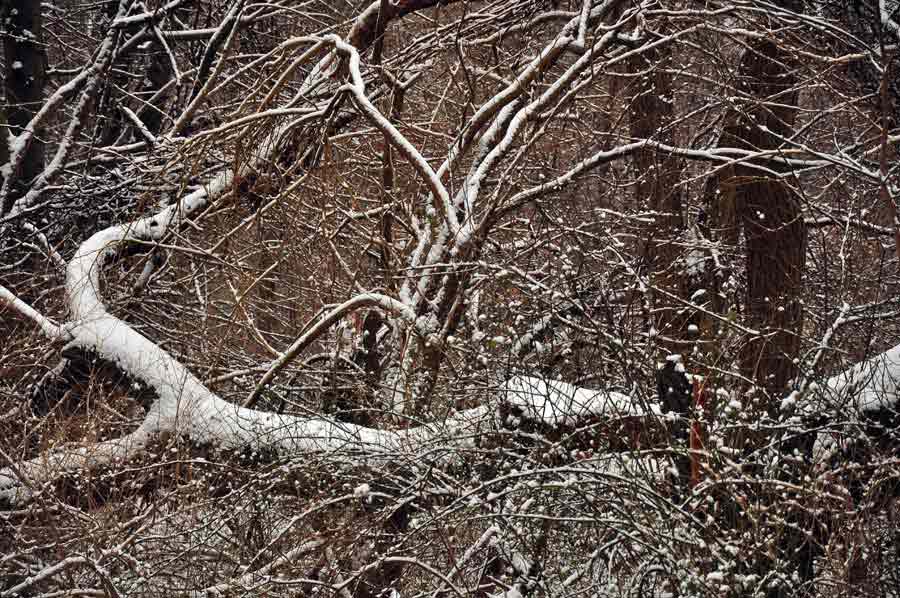 January 2010

A ramble in Kissena Hollow

Winter has not been kind to the trees. Many limbs have been torn and trunks splintered or broken. A light dusting now speckles the land revealing hidden form. Those trees that have fallen in previous storms gain new life in swirling arabesques.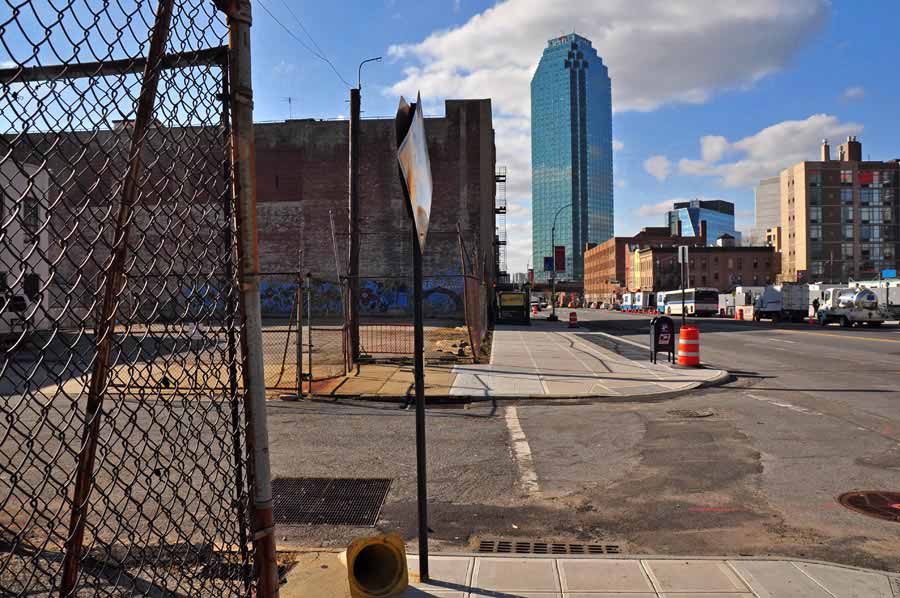 January 2010

A walk through Long Island City to Hunters Point

There is a noticeable emptiness to the neighborhood, not of people but of buildings. Even though new towers are within sight at every turn, vacant lots scraped clean of their old inhabitants lay about dormant awaiting a thaw that may not arrive with spring.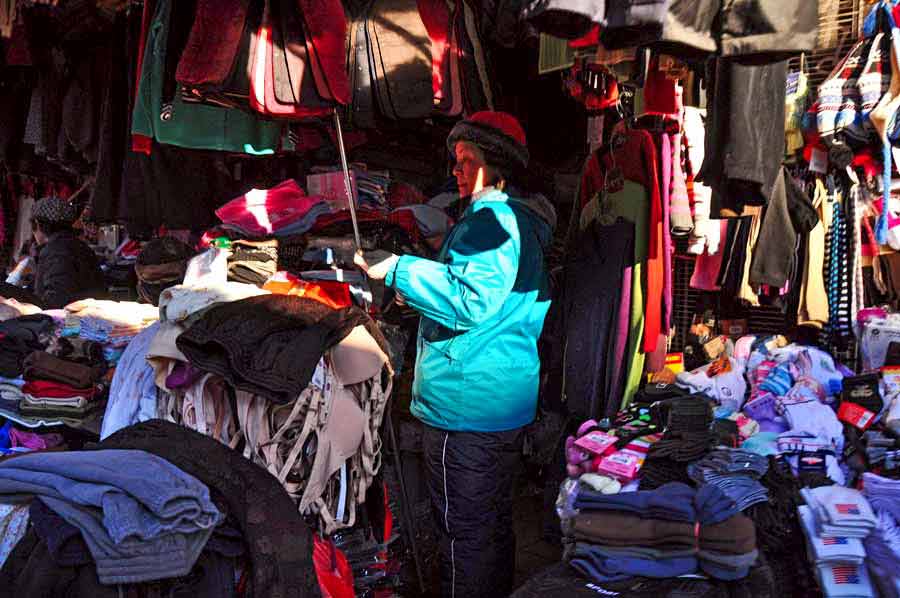 January 2010

A walk through Chinatown

Some streets are so crowded with overflowing merchandise and people filing down narrow passages that all becomes indistinguishable from the next.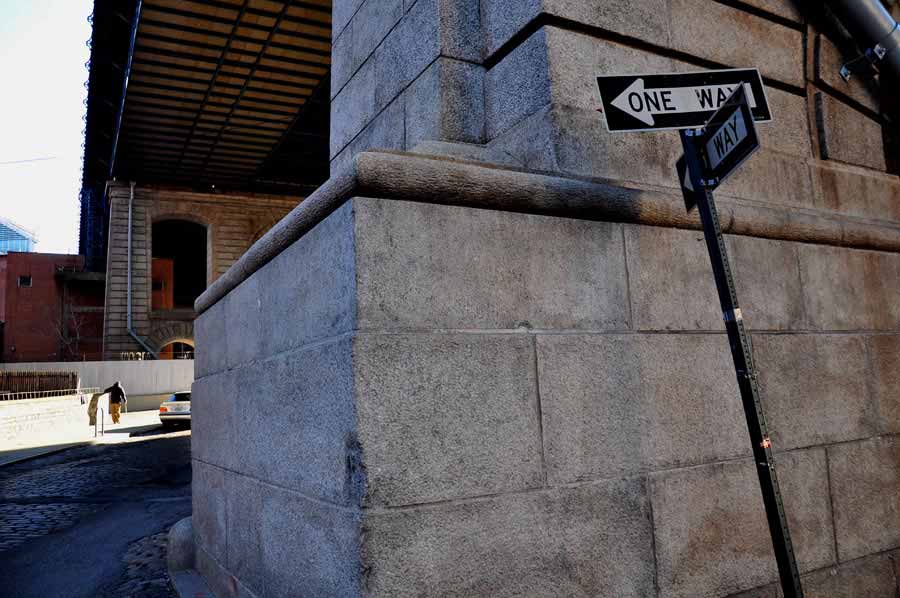 January 2010

A 9 mile walk from Boerum Hill to Chelsea

I pass mothers with children and couples walking their dogs. A chauffeur paces impatiently next to a stretch limo at a corner. Some tourists have strayed from the waterfront parks and wander about with with confused looks in their eyes. On every other block there seems to be another photographer about snapping away, which annoys me to no end. The uneven geometries of old factories and bridges insure that Dumbo will remain an interesting place but it is no longer the place I once knew. I know most of what I love is bound to change for mine is a peculiar taste, but I can no longer walk these streets that were once so familiar without feeling like an alien.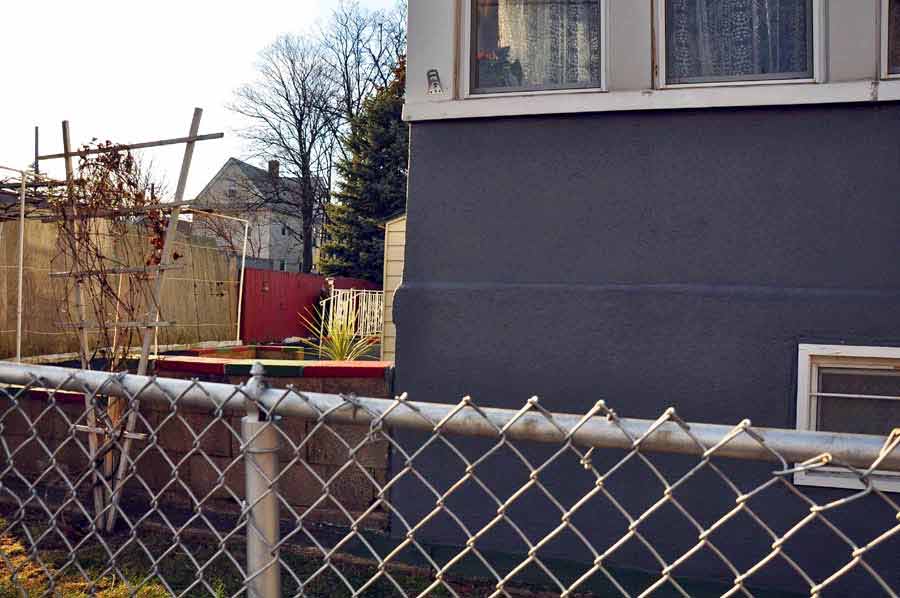 January 2010

A 10 mile arc from Auburndale to College Point

For the most part I skirted the old village streets confining myself to parts that not too long ago were open fields. It was an endless stilled sea with no hope of landfall.
January 2010

A walk in Flushing

Christmas decorations may have once brightened up an otherwise drab winter landscape but we now live in a world where a multitude of hues fill our daily lives to the point of oversaturation. If not for the seasonal iconography I would be at a loss to tell what has been put on display for a holiday from everyday yard paraphernalia.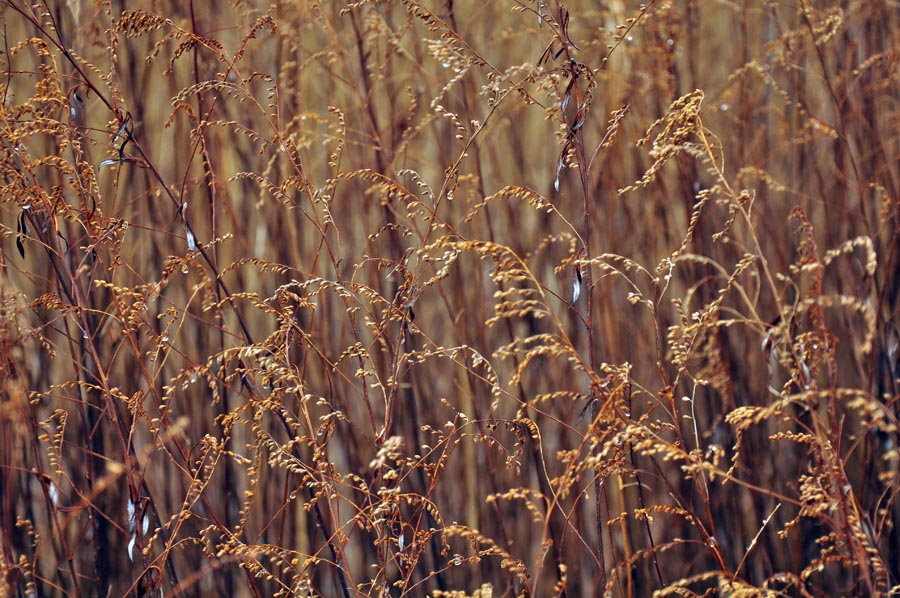 January 2010

A ramble in Kissena Hollow

As I moved across the field I could hear the ice concealed beneath the snow begin to squeal then crack. It was only a matter of time before reaching a spot where I fell through. This was all unexpected. Days of warming and cooling had left behind large shallow pools that refused to soak into the otherwise dry frozen landscape. While disconcerting none of these plunges carried me into icy waters beyond an inch.
December 2009

A 7 mile loop between Flushing and Hollis

If I could reproduce the seed pods I pass in twenty tons of steel I would be a modern master.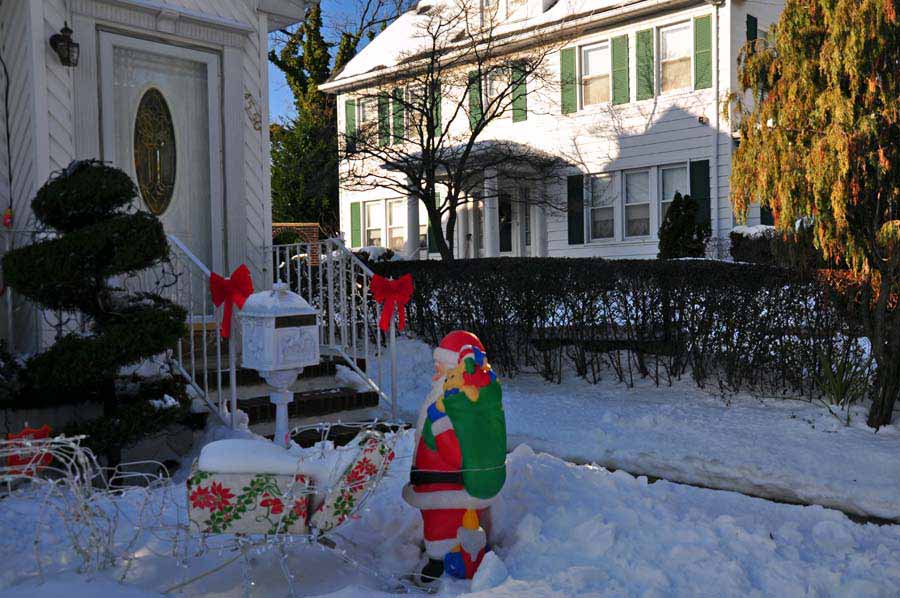 December 2009

A ramble in Flushing

I am used to seeing seasonal holiday displays come and go but it seems that yards year round are becoming less about gardens and more about decoration.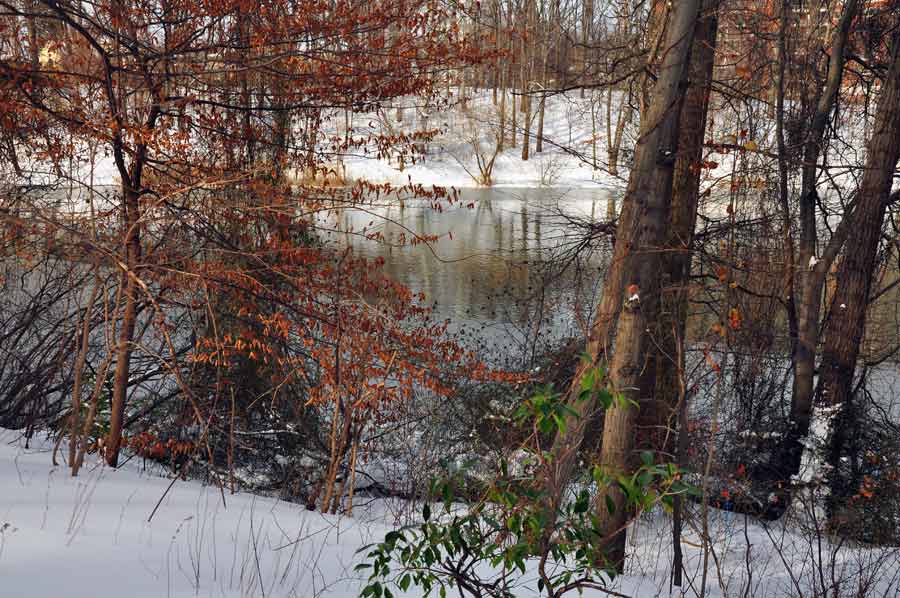 December 2009

A walk at Oakland Lake

The spectacular show of migrating birds that I observed last year has not repeated itself. Yes, there are ducks resting in the lakes and the cry of geese have made me turn my glance toward V formations gliding across the sky, but their numbers are noticeably small. Though I trudge miles through the snow my feet are firmly plated here, no warmer climes to fly of to except in dreams. There are no regrets. I pass by those cursing the snow as they shovel their sidewalks and clean off their cars but for me there is a blessing on the ground.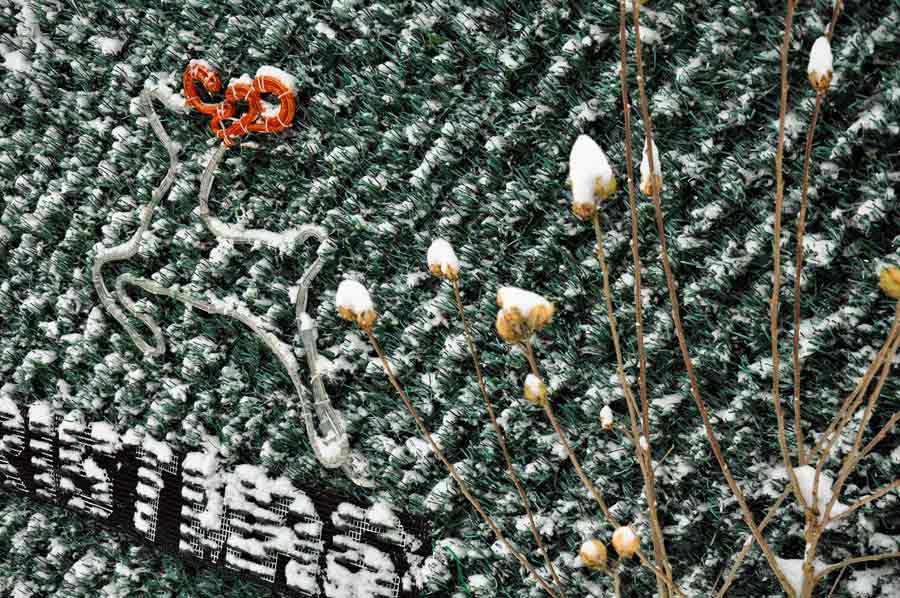 December 2009

An 8 mile loop between Flushing and Bayside

The last hours of autumn left behind more than a foot of snow; it is the blossoms of the season.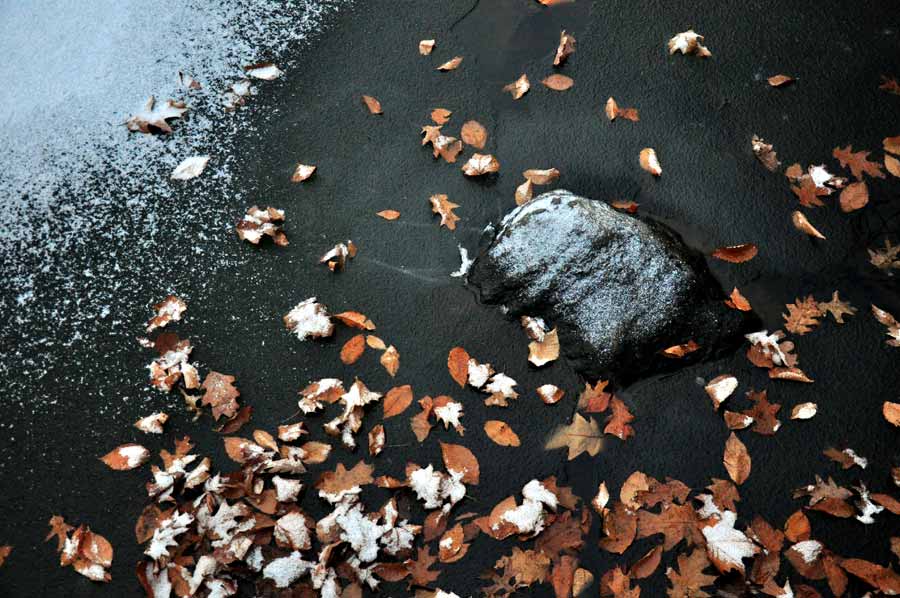 December 2009

A ramble in Kissena Hollow

The seagulls had gathered by afternoon shifting nervously from one end to the lake to the other. By the time the first flakes began to fall they had all disappeared. A pair of swans lingered among the mallards in one of the few open pools remaining. Leaves have also been lingering and those late to fall are now suspended in their icy graves as if time itself has ended.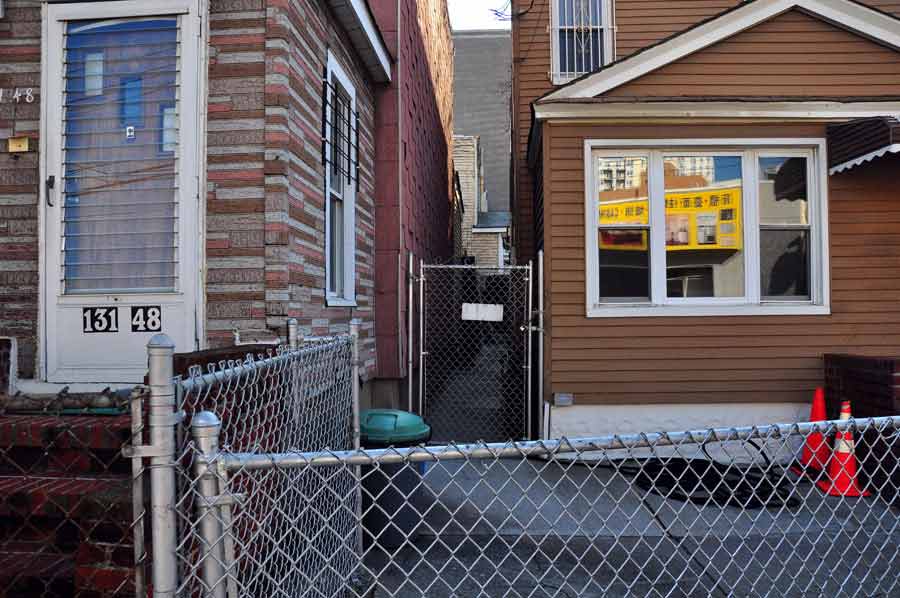 December 2009

A walk in Flushing

What is it about passageways that attracts us to them? I know it is more than personal appeal for they have been incorporated into countless works of art over the centuries to draw viewers in. There is their obvious symbolic value but symbols are learned, and these hemmed in alleys seem to have a broader appeal that defies culture and time. They seem to hold meaning based on something more archetypal, more innate in all of us.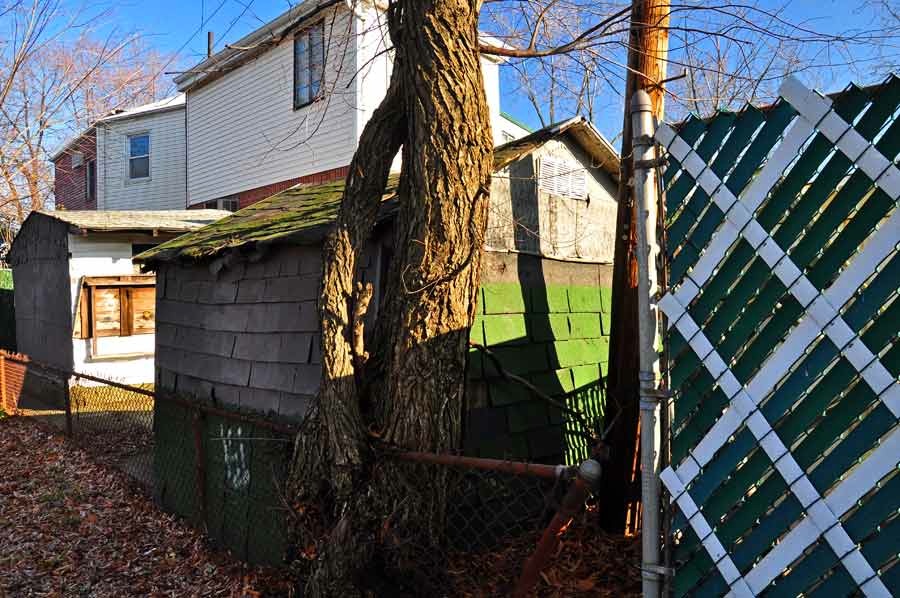 December 2009

An 8 mile walk from Auburndale to Flushing

I find myself complaining a lot about change lately. It's not change I object to, I know life is change, it's just what it has been bringing thats been on my mind. Everywhere I look developers seem to be diminishing everything I hold of value. A fence that rusts and begins to lean is change too, and many would say not for the better. That is certainly true if functionality is your sole criteria for evaluation. Those things that move away from our expectations take on a life of their own. We may not like that independent life but we must respect it. I am thankful there are too many nooks and crannies about for us to change them all.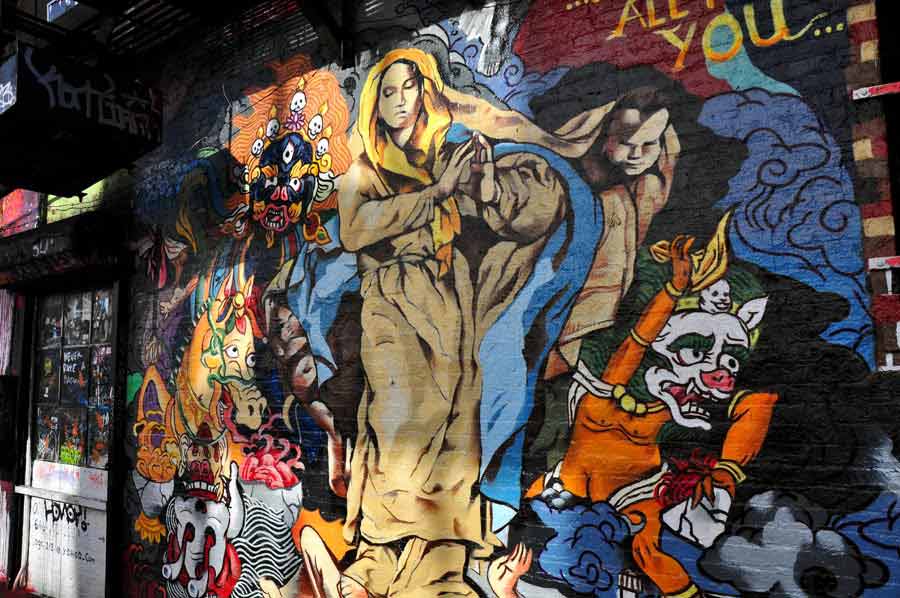 November 2009

A walk from Midtown to Soho

I've been noticing for some time that various towns I have frequented over the years has passed a tipping point, where these sleepy communities have now been overwhelmed by summer residents or even their own efforts to increase tourism. New York has reached that same point where cohesive neighborhoods are disintegrating and towers each more ugly than the next compete to how best disrupt any sense of communal and visual harmony. It is as if developers have attached themselves to our very soul and are sucking us dry. The city I once knew is dying but we won't go quietly.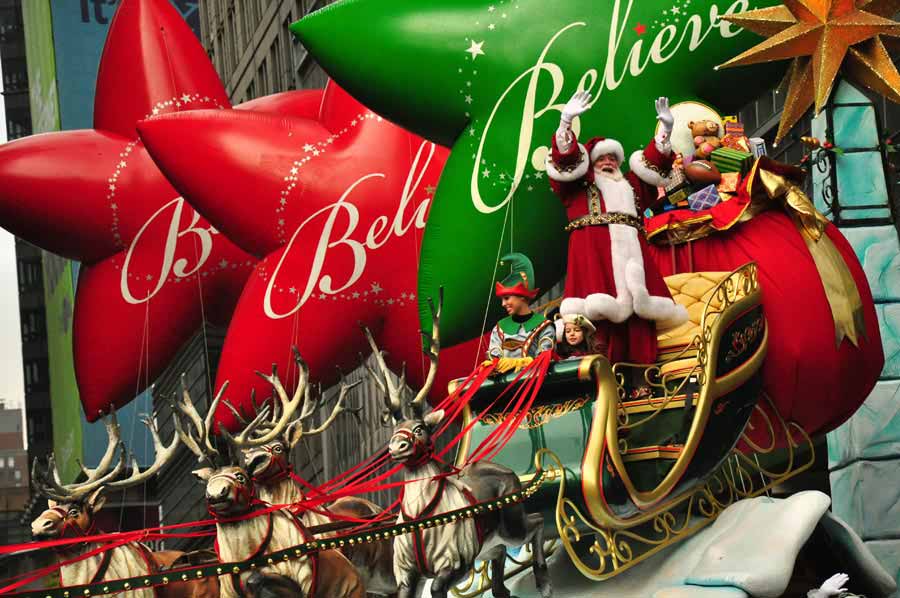 November 2009

A Midtown walk on Thanksgiving Day

An early but reasonable arrival netted me a spot on the parade route from which I could actually see it fairly decently. I could barely believe it.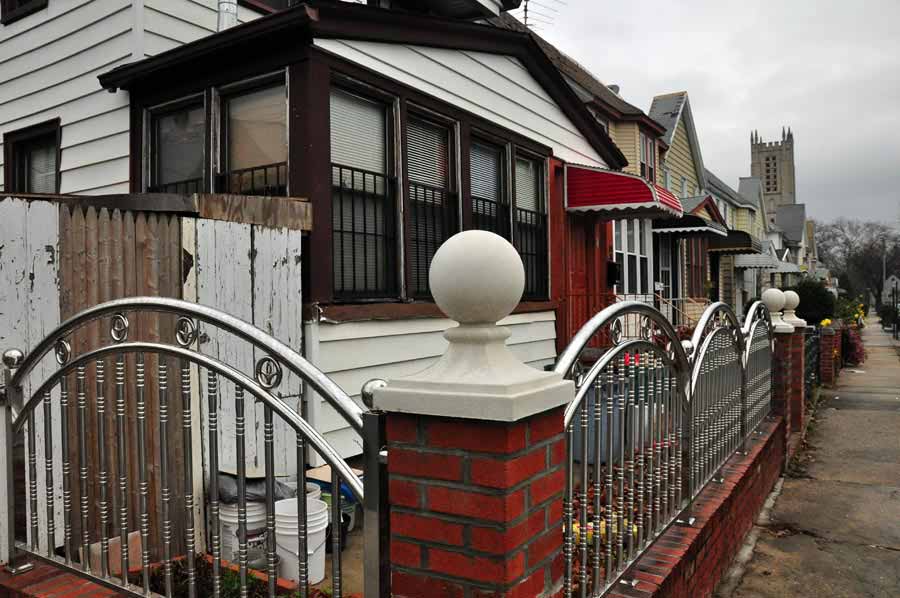 November 2009

A walk in Flushing

I have noticed an alarming trend in Queens; highly polished metal bed frames are being used in place of real fences. At first I mistook these for individual cases of simple bad taste but as their use is now growing to epidemic proportions I can't help but wonder if there is a more sinister plot underfoot. Let us all pray for rust and corrosion.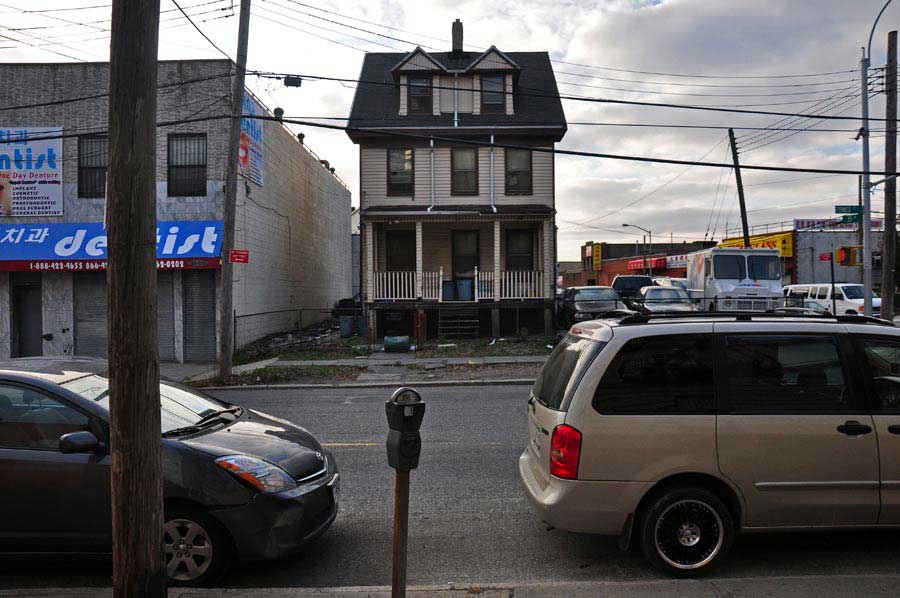 November 2009

A ramble through Flushing and Murray Hill

I try to picture the street when children played on their green lawns under the canopies of tall elms but I am unable to focus. The great house before me is but a ghost that will disintegrate if I approach to close. Its dead eyes stare outward but they no longer wish to see.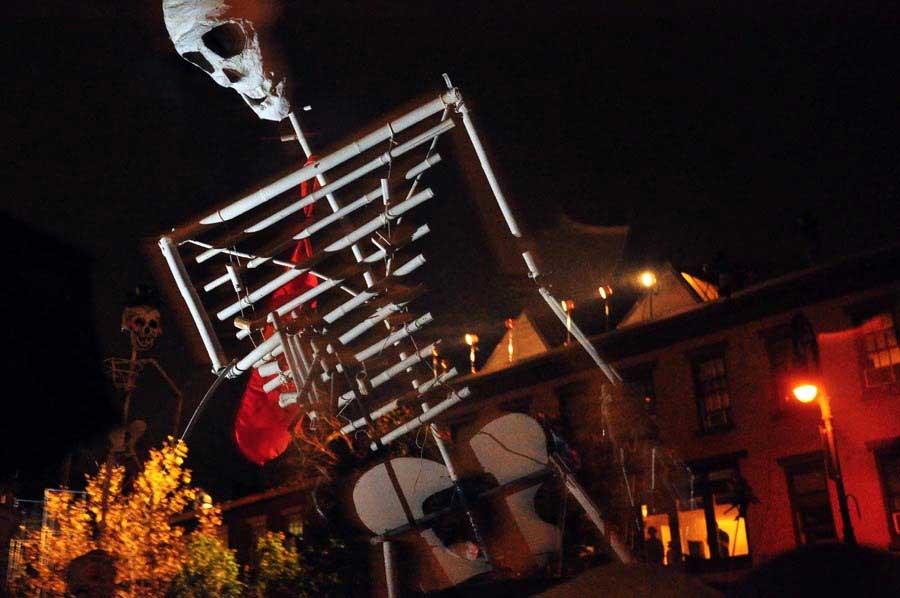 October 2009

A ramble in the Village on Halloween

The rain did not thin out the crowds as much as I had hoped leaving me to glean shots through waving umbrellas. This damp night however was much too warm for retreat. What is it about spectacle that holds us, that makes us devour it with an insatiable hunger even to the point of ignoring real life discomforts? Tonight among the mummers I am alive.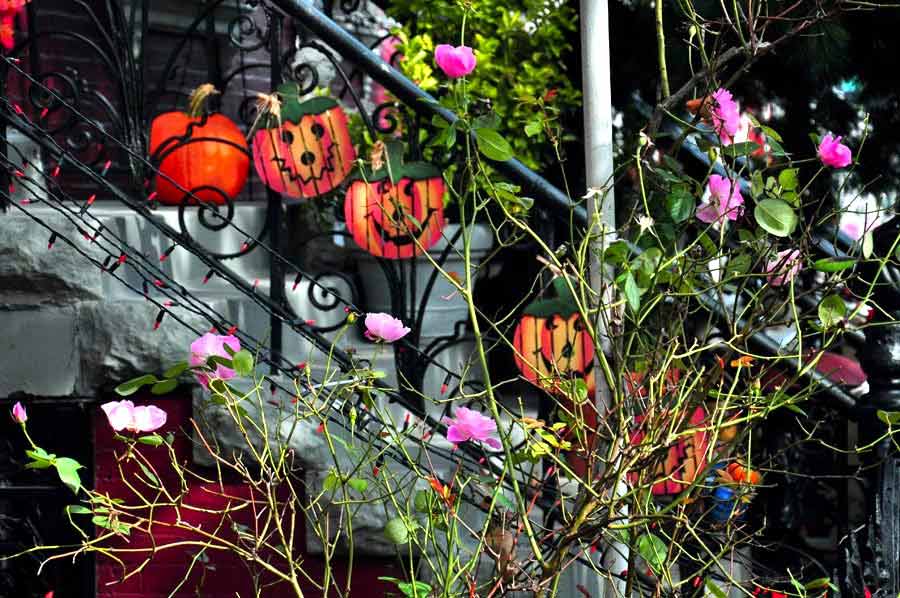 October 2009

A walk in Long Island City

Summer roses, Halloween pumpkins, and Christmas lighting; for some it is always a holiday.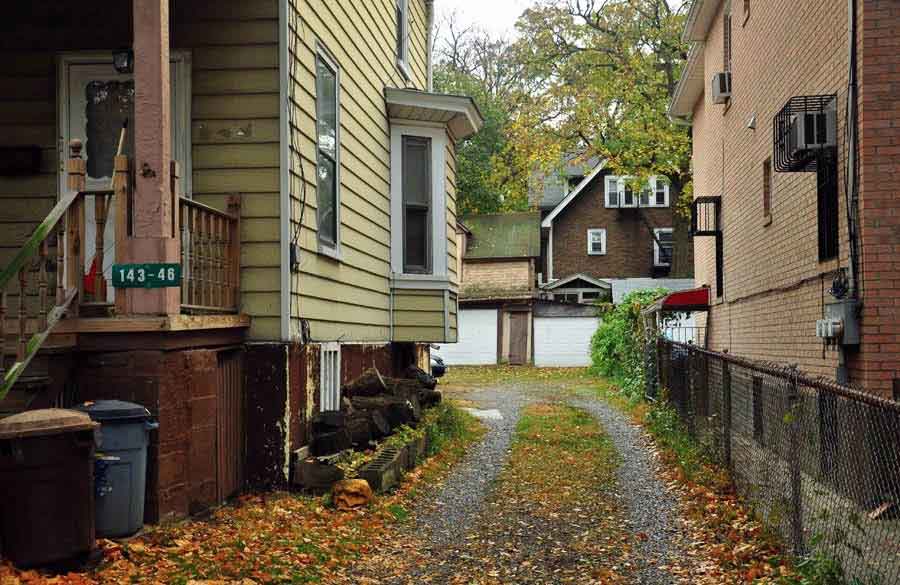 October 2009

A walk in Flushing

There still exists parts to this city that have not yet been made over into a sterile mediocrity, where one can stand and dwell someplace deeper. A soul is not merchandise. These places are not brand names or a result of marketing surveys, they are the real deal.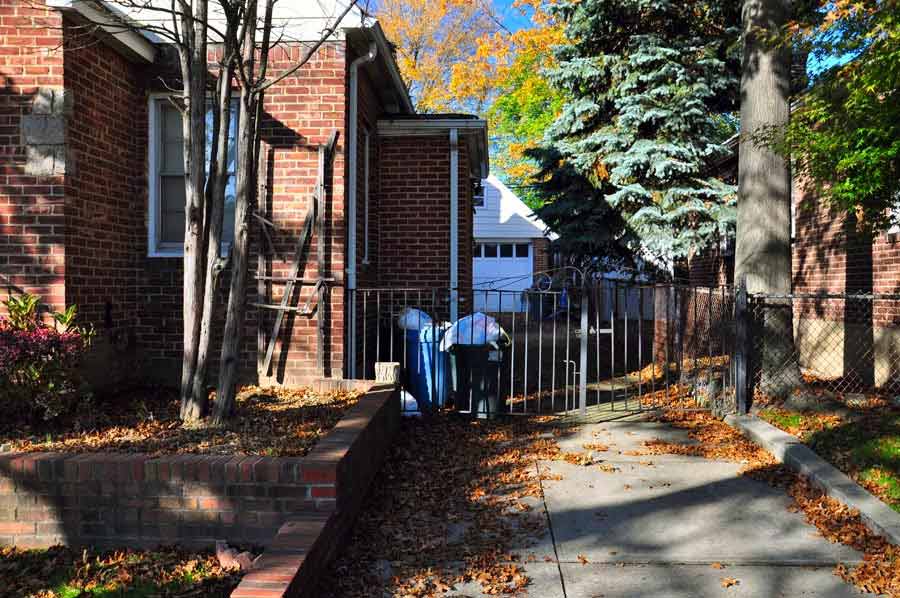 October 2009

A 6 mile walk in Auberndale

Gasoline powered leaf blowers whine and whine and spew their fumes on nearly every block I walk down. It is a serenade I can do without. I change my course to avoid a cloud of airborne dust and dirt only to be confronted again. Am I the last person alive to own a rake?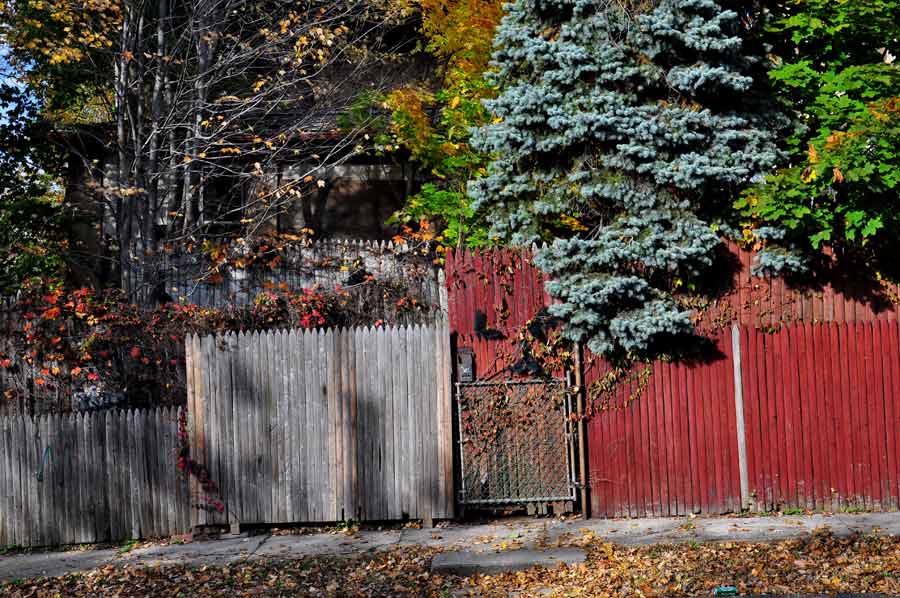 October 2009

A 6 mile walk in Flushing

Even in an age when the acquisition of celebrity has become the sole quest of so many, there are still those who do not even want to be found.
October 2009

A walk in Kissena Hollow

Some people retreat to the Hamptons; I find refuge in lonely tracks of weeds.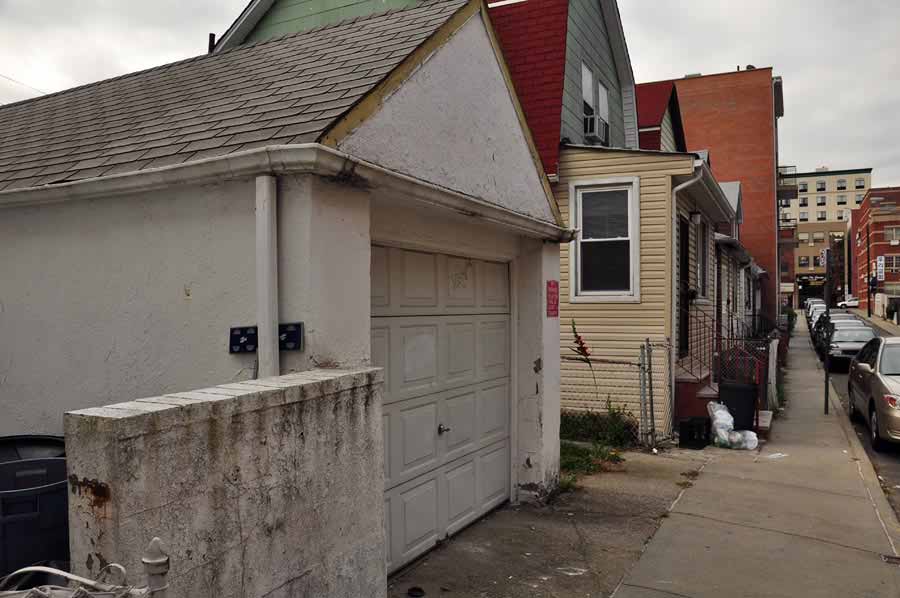 October 2009

A ramble in Flushing

There is never enough time in ones life to do all the things you think you will do. I've been meaning to walk some of these streets for at least twenty five years, yet they haven't felt the touch of my step until now. There is no self congratulation here, no pat on the back, for I always find myself somewhere.

---
Copyright 2009 Alan Petrulis All Rights Reserved