NEW YORK RAMBLES (page 30)
page 1 2 3 4 5 6 7 8 9 10 11 12 13 14 15 16 17 18 19 20 21 22 23 24 25 26 27 28 29 31 32 33 34 35 37 38 39 40 41 42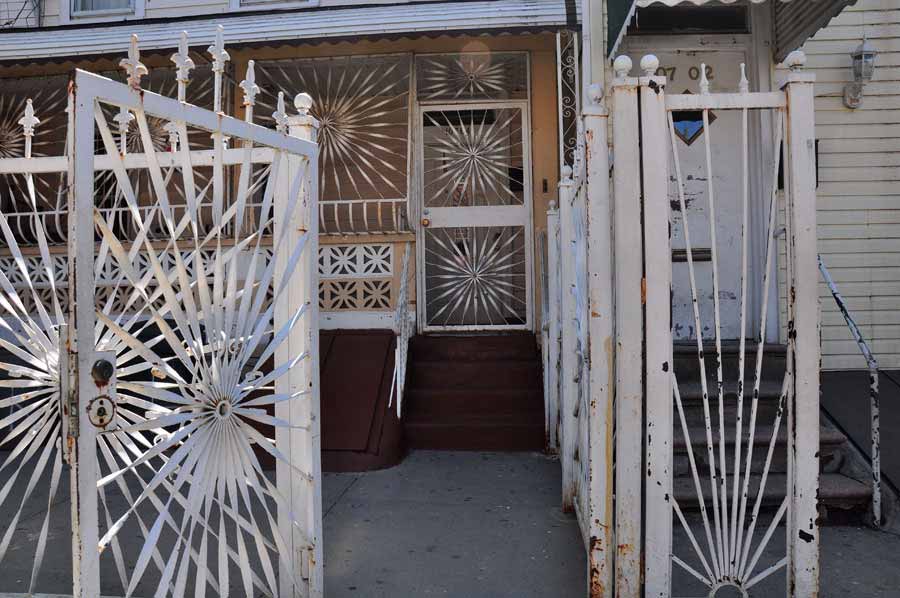 April 2011

A ramble through Corona, Elmhurst, and Jackson Heights

Some people do not have yards. Whatever real estate they may have acquired is nothing more than a buffer zone between alien worlds. Not all view space as something to live in, only an uncomfortable inconvenience. If only we could secure all of our property within our heads.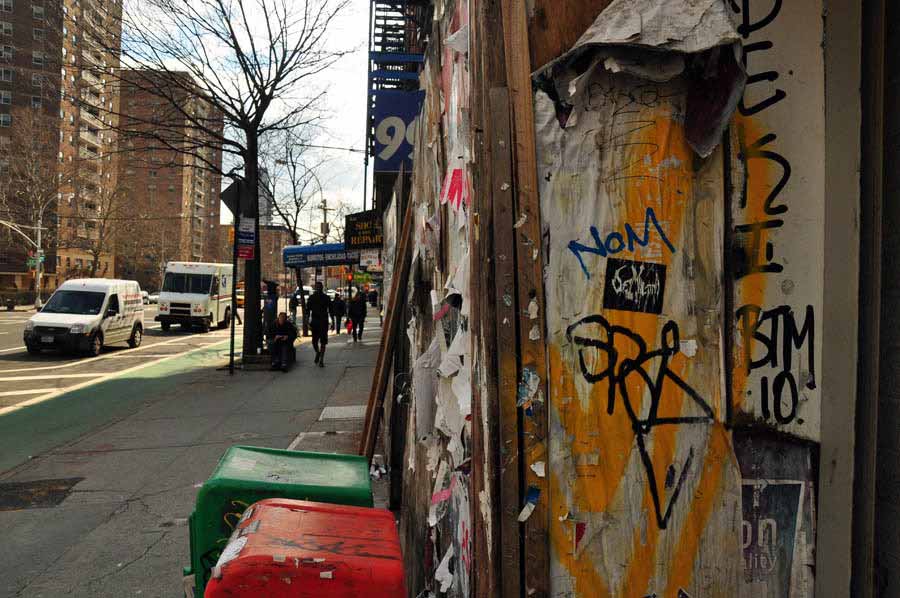 March 2011

A walk from the lower East Side to Times Square

Avenues, streets, and endless divides pass beneath my feet but I canÕt begin to say where boundaries lay. For me all is foreign and yet all is mine. I begin to forget who I am as I pass from one neighborhood to the next.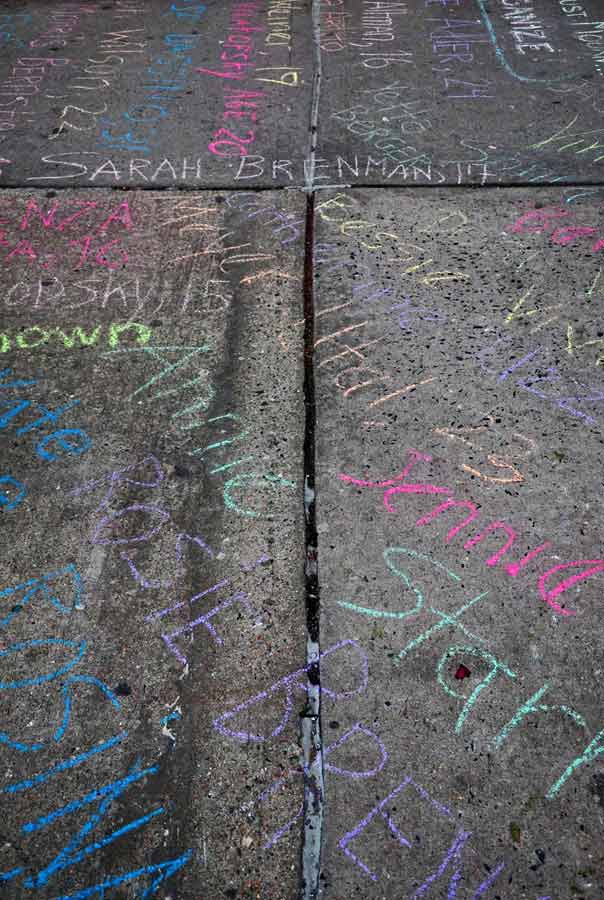 March 2011

A pilgrimage between the Village and the Lower East Side

Earlier today I had walked down from Union Square to the commemoration on Washington Place in remembrance of the 146 who died in the Triangle Shirtwaist Factory fire a hundred years ago to the day. There was music and speeches but it was not enough to satisfy my heart. As the light of day began to fade I returned to that corner once more for a more private encounter. The names of those who had jumped to their deaths had been written on the cold hard pavement where they fell. I don't know why this tragedy has engaged me so. No member of my family ever worked there, but perhaps it is because they could have. We still live in a world where only profit is sacred and life is cheaper than dirt. I leave and head down past Delancy to where most of these young girls once lived; making the walk home for them that they never could.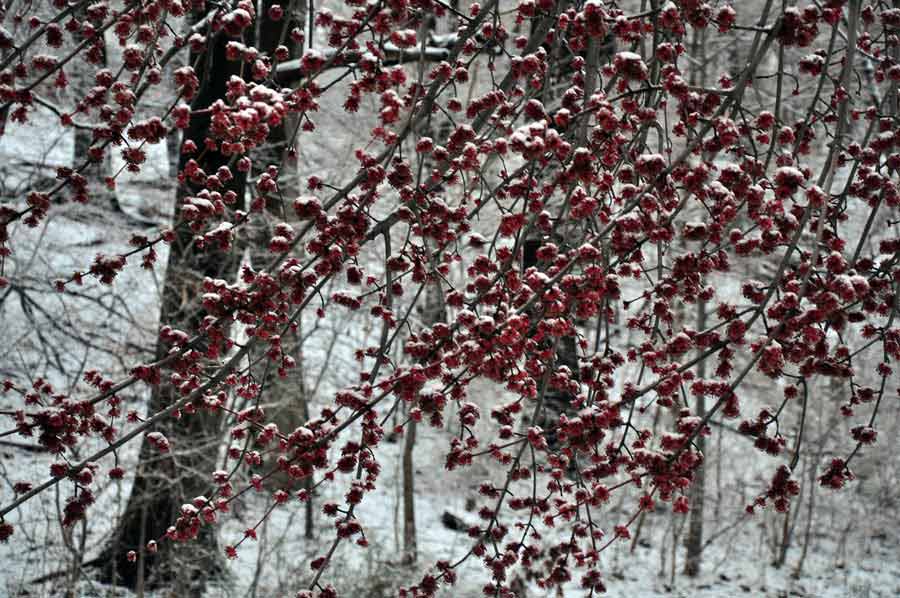 March 2011

A walk through Kissena Hollow

Snow arrived during the night as a reminder that Spring is not a date on the calendar. The dusting however was so delicate as was as if the landscape had been locked away in a closed room for a hundred years.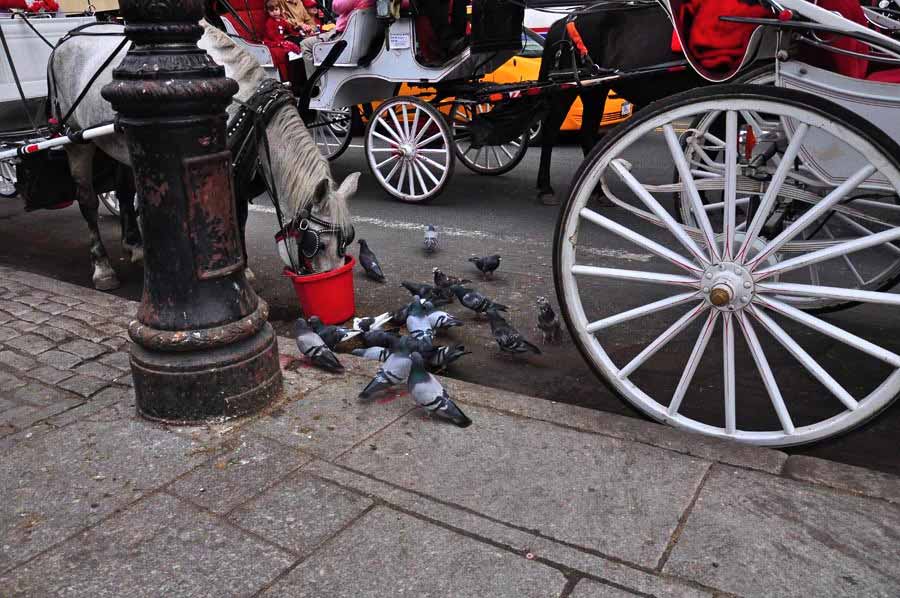 March 2011

A walk from Union Square to Central Park

The warmth of the day was welcome but the light presented me with few shots. At central Park the horse carriages were all about, chauffeuring tourists and curbed in long lines. All arguments from traffic congestion to cruelty aside, I like to see these animals in the street. As contrived as the carriages are, they remain a glimpse into reality.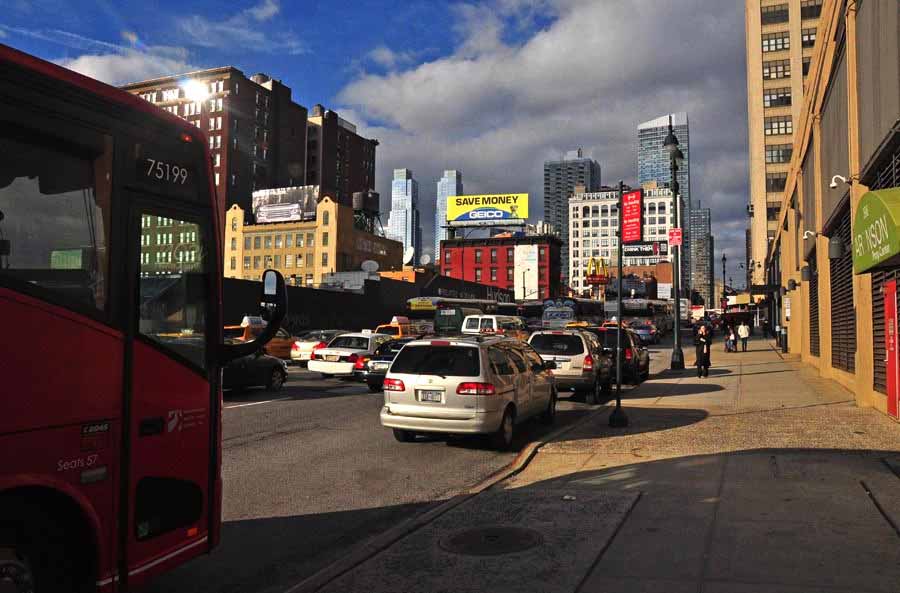 March 2011

A ramble through Midtown and Chelsea

I found the head of a small bird laying on the sidewalk along Ninth Avenue. This is not my first such discovery on this street.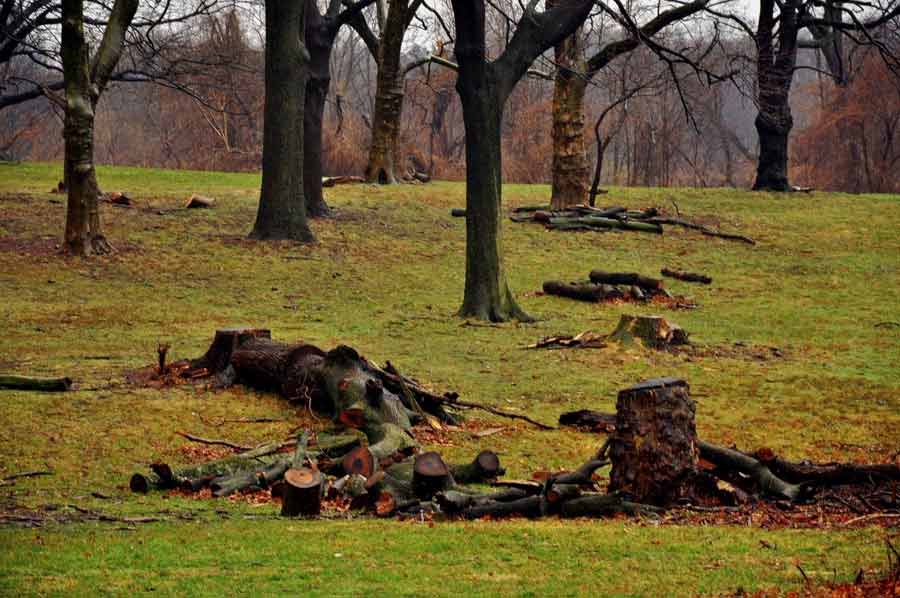 March 2011

A walk in Kissena Hollow

Every storm since the September tornado has taken down more branches and trees. On the streets they are quickly whisked away and forgotten to keep traffic flowing, but remnants continue to pile up in those nooks and crannies not immediately subject to commerce.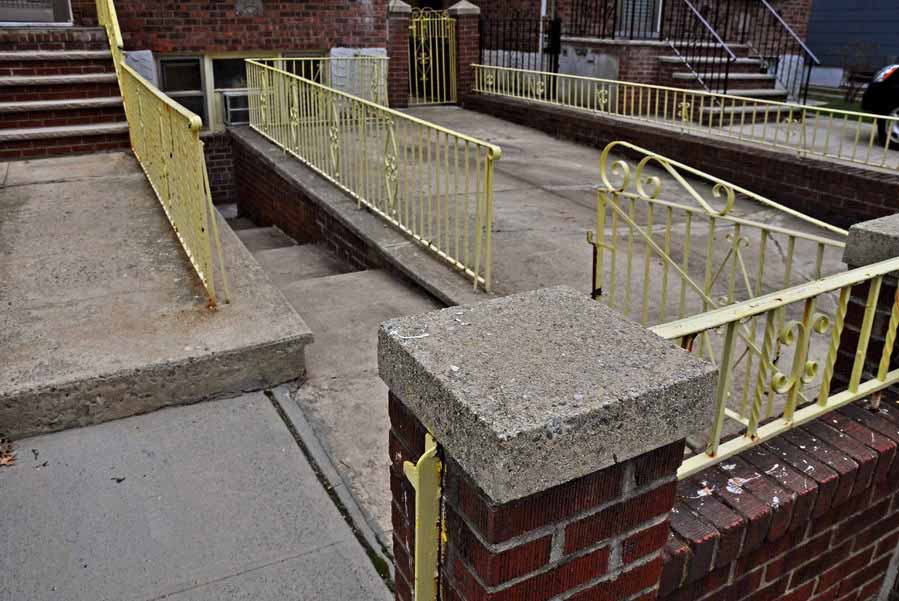 March 2011

A walk in Flushing

Sometimes I am amazed by the poverty others live in when they can just as easily afford to live well.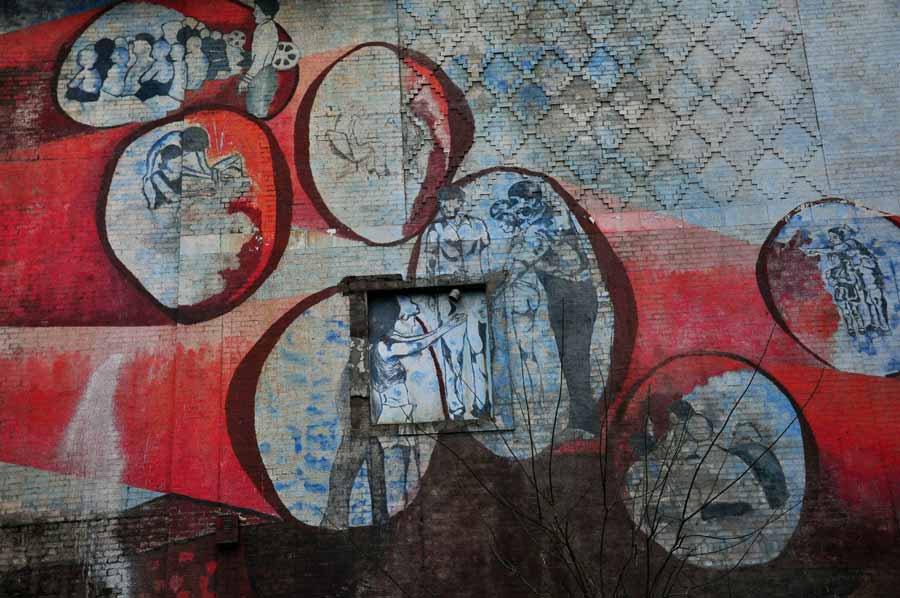 March 2011

A ramble through the Lower East Side

The sun has left for the day and all contrast has gone with it. As I aim my camera a woman calls out and asks what I'm doing? For once there is genuine curiosity, and it is met with an honest answer.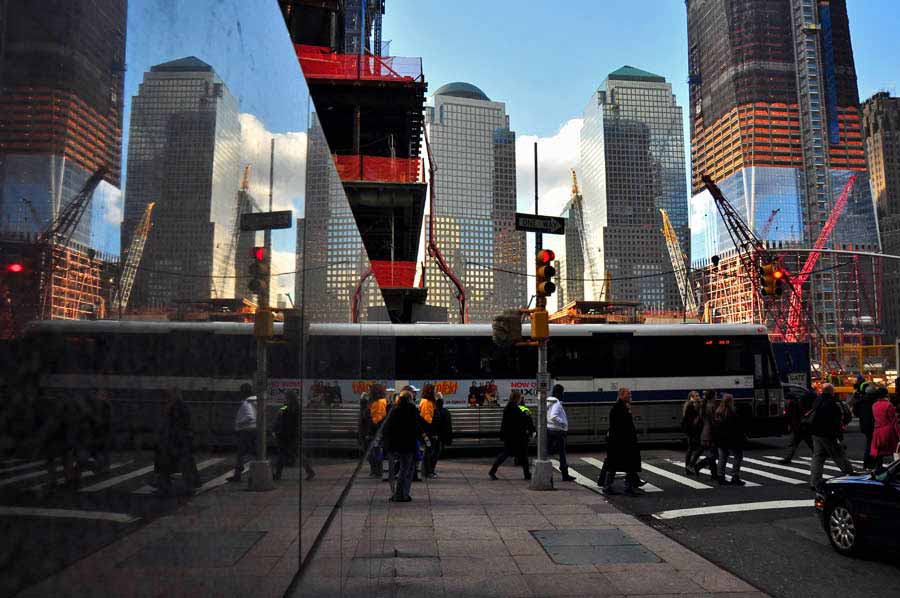 March 2011

A circumnavigation of Ground Zero

Pockets of tourists still wander about, but as buildings now rise Ground Zero has become just another construction site. By now those coming to and fro from work are probably sick of all the gawkers and photographers that have clogged the streets over the years. My presence seems an aberration, as if there is nothing special here to observe. I am not sure what I feel down here; I just know it is something I shouldn't miss. I better pick up my pace.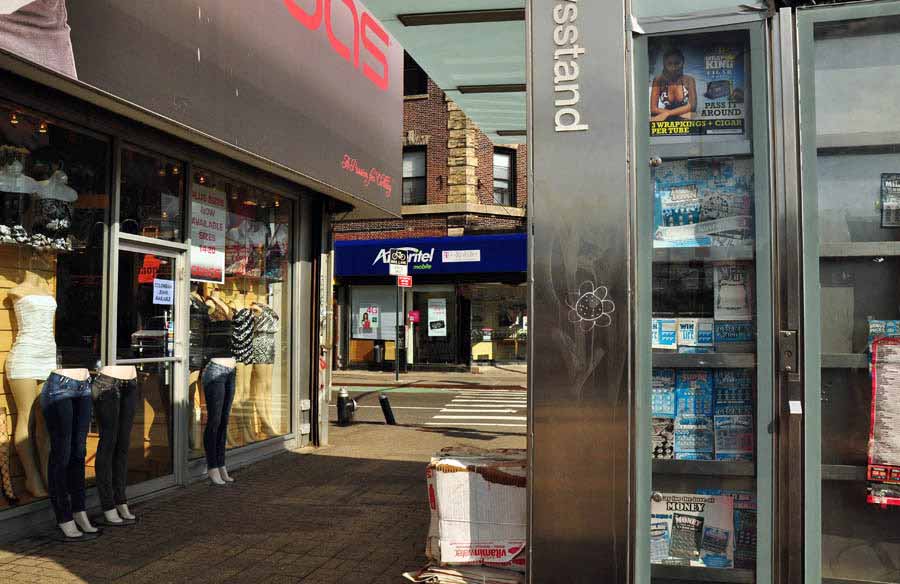 March 2011

A 5 mile walk from Union Square to Battery Park City

I've come to like the new stainless steel newsstands. With their simple geometries and reflective surface they may seem out of place with most of the city, but perhaps that's their saving grace.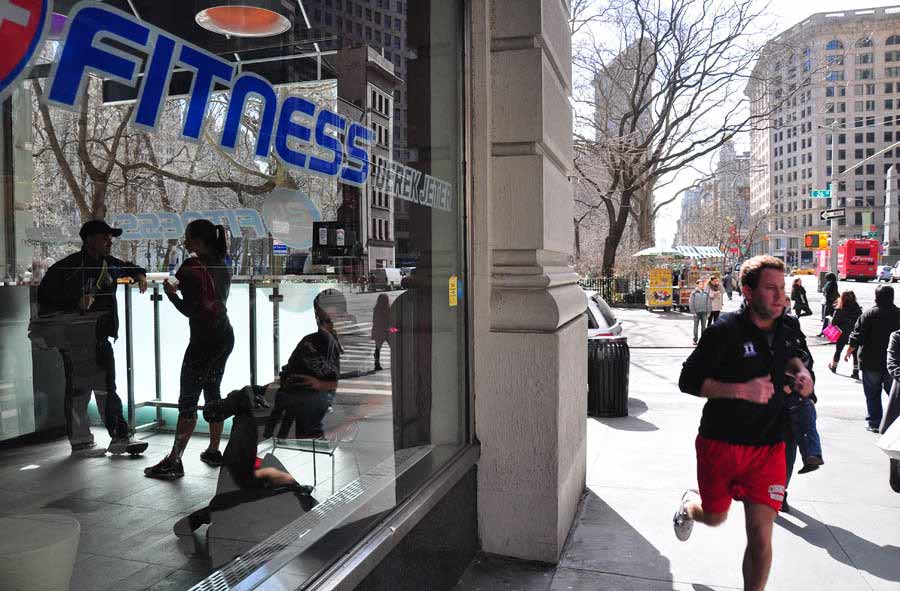 March 2011

A Midtown ramble

There are less seats these days on city buses so more people can be crammed into them. At the same time the average New Yorker seems to have grown so heavy that city officials are considering restricting their numbers on public transportation out of safety concerns. Despite all the gyms and joggers the fitness gap seems to be widening as fast as the income gap.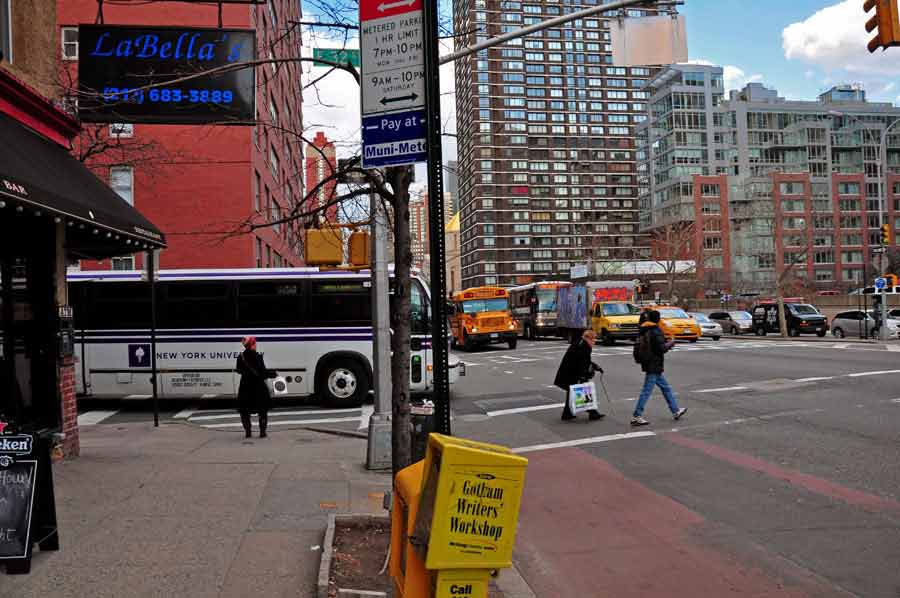 March 2011

A walk around Midtown

Not a day for drama but a curious light ebbs and flows.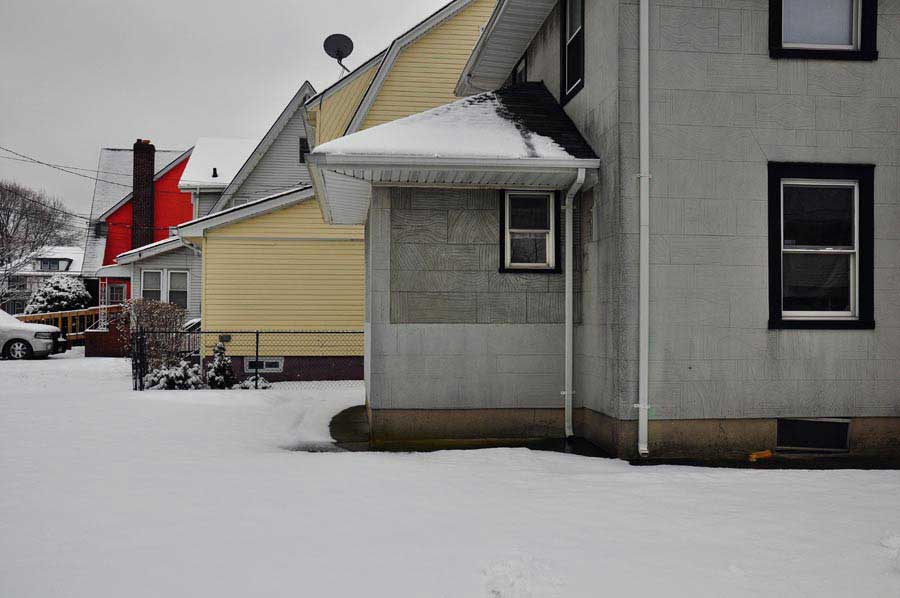 February 2011

A 7 mile walk from Hillcrest to St. Albans then around to Fresh Meadows

Some walks I plan, some are serendipitous; I'll come to a corner and wait for something to pull me to the left or right. Today I am being pulled in all directions thanks to the new snowfall that for the most part lays pristine before my every step. I make mental notes to backtrack to streets of interest passed by as I plod onwards. There is always more ahead than I can get to. Tree branches stretching to the horizon are holding delicate ribbons of white well into the afternoon. Soon it will be dark. There will be no going back to opportunities passed either today nor tomorrow.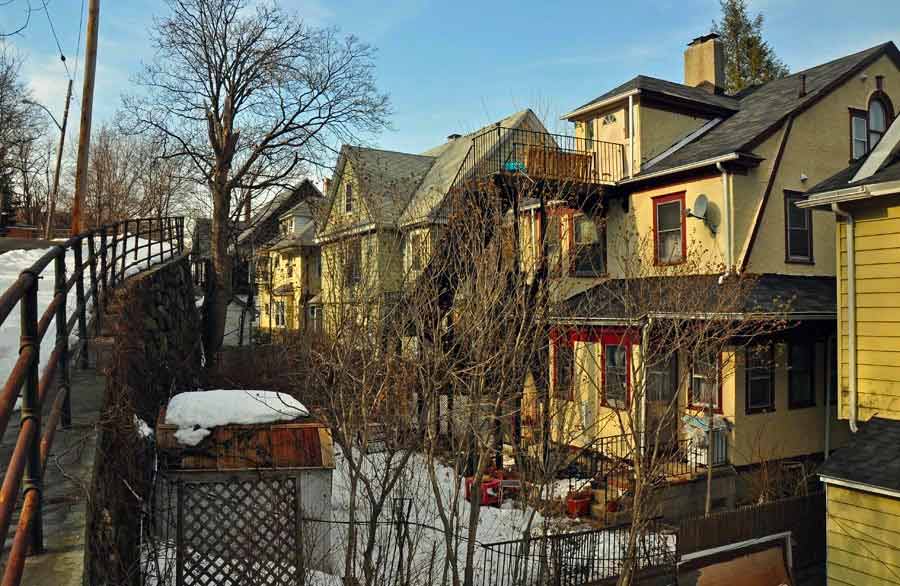 February 2011

A walk in Riverdale

The snow has grown tired. The warm spell has finally rid rooftops and pavements of most of it only to reveal an inexhaustible supply of cigarette butts, soda bottles, and plastic coffee cup lids. Even here at the edge of the city the snow is speckled with soot as if a skin from some exotic beast.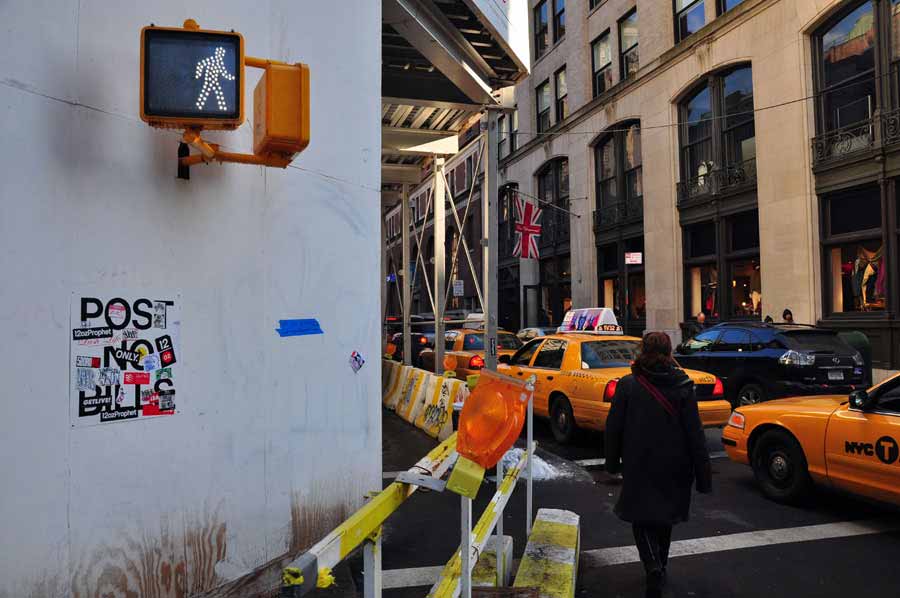 February 2011

A walk in Soho

It seems that whenever I return to a place these days, even after a short absence, I'll turn a corner and suddenly find that I have no idea where I am.
February 2011

A walk from Chinatown to Soho

I spent a good deal of Chinese New Year chasing dragons down winding streets but in the end it was the much smaller things encountered that pleased my eye the most.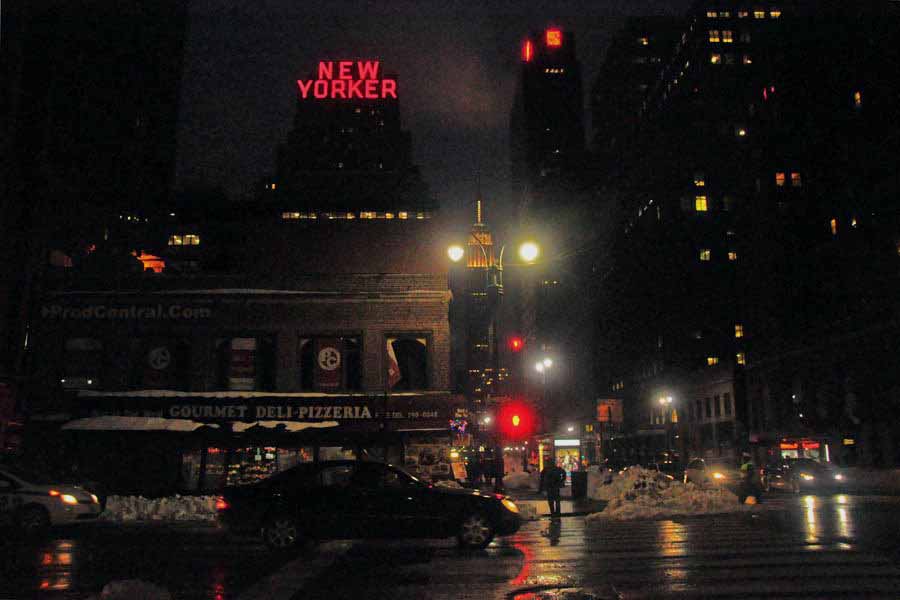 January 2011

A walk from the East Village to Times Square

This winter has been too much for my boots, they are finally giving out. I am still out walking with them as if nothing is wrong with loose soles. I also pretend that the fall of night has not taken away my ability to shoot; but of course in the city this is not a delusion but a half truth. Here light and darkness are always in play, neither having the ability to eradicate the other.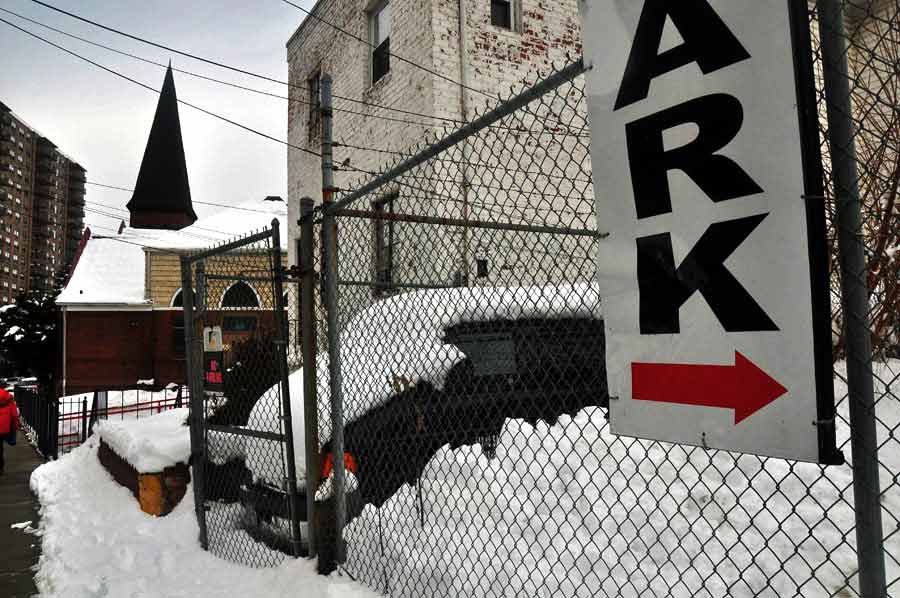 January 2011

A walk across Flushing

A body has been found in a snow buried car near my home. I have been walking past it unknowingly for days. Winter may keep many things hidden but there is always a thaw.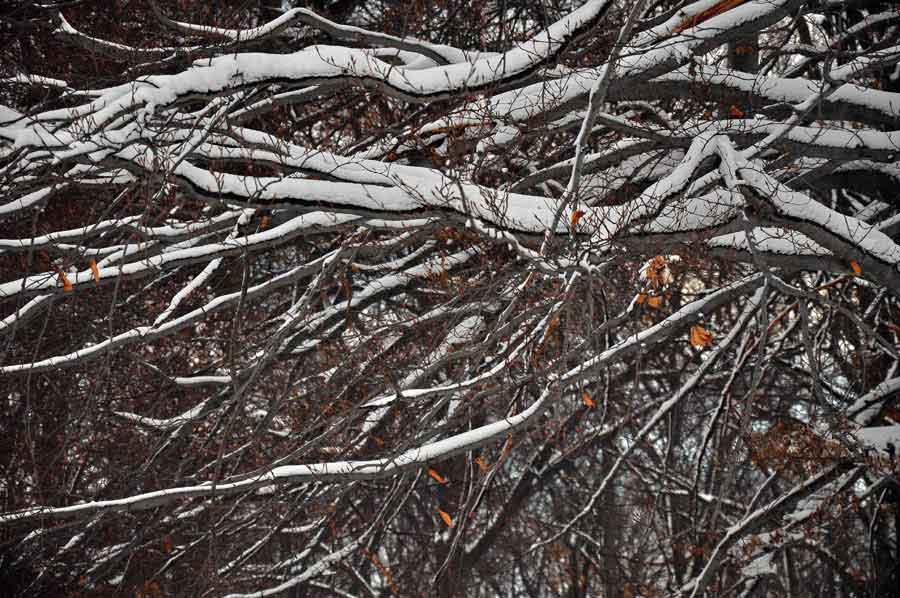 January 2011

A Flushing ramble

The trees seem sad. Snow, ice, and wintery winds have ripped more branches than I wish to count from survivors of SeptemberÕs tornado and the long dry summer. I know the coming of leaves will hide the scars and the songs of birds will brighten my day but something seems to have left that will not be returning.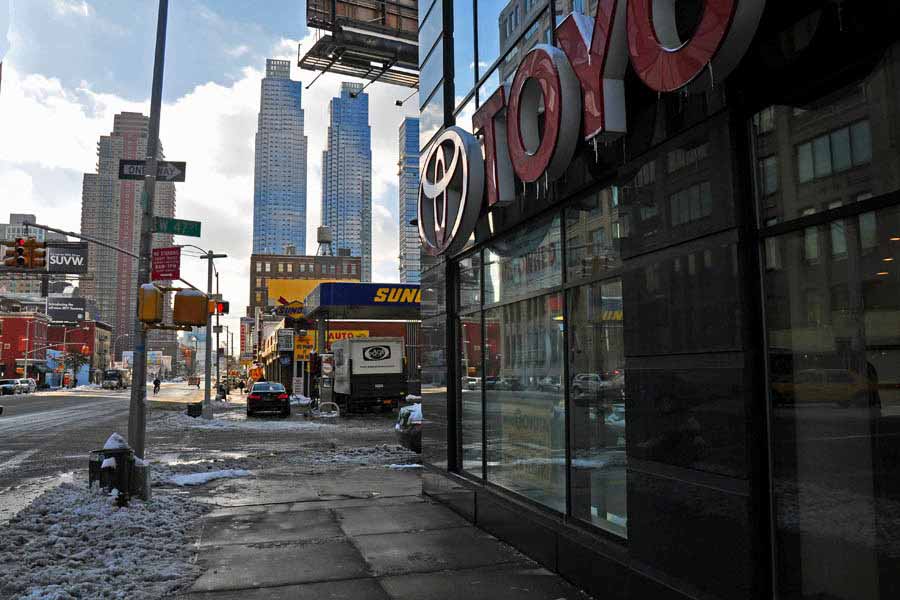 January 2011

A walk from the Upper West Side to Union Square

The mini-thaw is sending missiles of snow and ice hurtling to the ground. I've missed the worst of it but I am not unscathed. There is a strange wintery light about bouncing off of slush as much as snow. It makes everything seem cleaner and better than it is.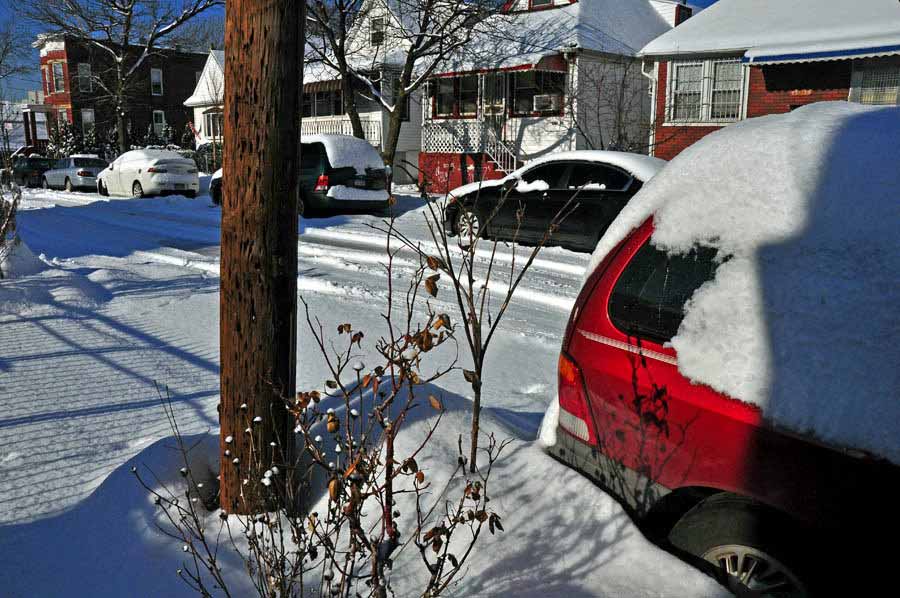 January 2011

A walk in Flushing

Snow exhausts people; not just in a physical sense, it takes something intangible from them. It is as if they were suddenly awakened from a deep sleep and are now unsure of where they are. Most tend to ignore the weather as best they can, unwilling to acknowledge that a world exists outside their heads. Perhaps snow does not take anything from us at all. What is lost is just freely given up.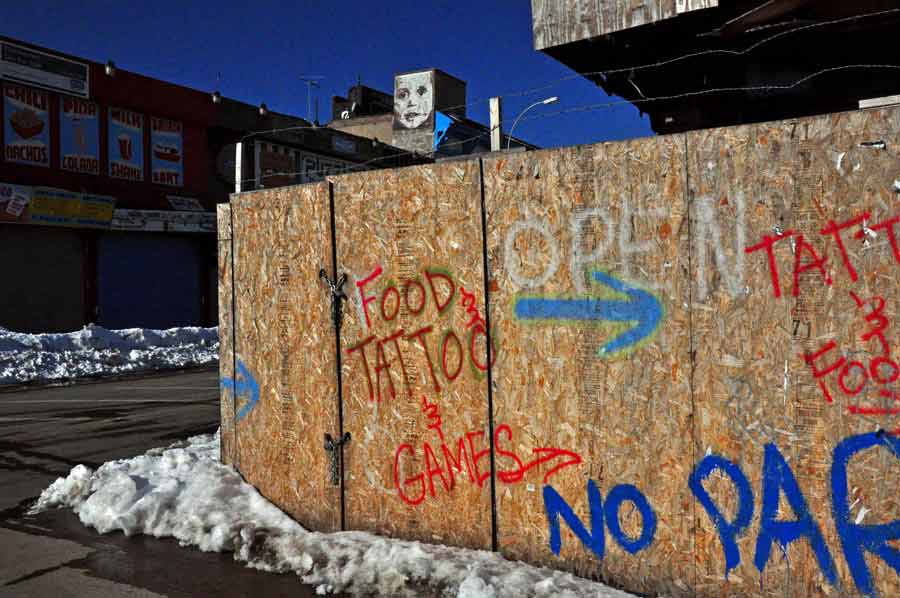 January 2011

A walk from Coney Island to Brighton Beach

The image of a fire eater that has been painted on a gate with the words Save Coney Island glistens in the bright sun. Much of what's left is going fast. These buildings are no architectural gems, they will be hard to miss, but the problem is what leaves with them? Any community is more than a collection of buildings, and the spirit of a place is based in intangibles that cannot be bought or sold. Out on the boardwalk, bread is thrown to scores of seagulls. Their greedy mouths too hungry and cold to cry out. Will the old Russian ladies still be welcome to feed the birds under the shadows of luxury condos? There are no doubt new signs ready to be posted.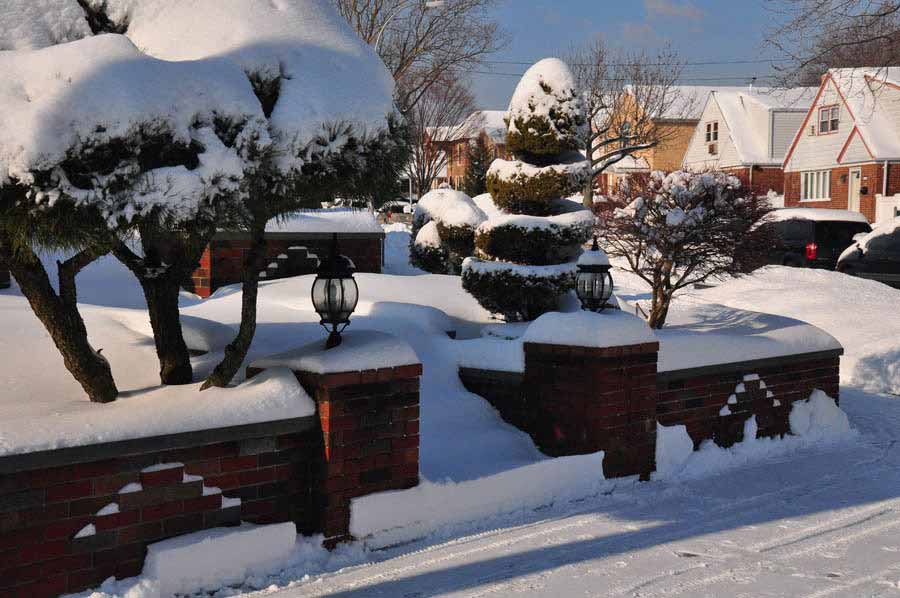 January 2011

An 8 mile walk between Flushing and College Point

Another snow has fallen. I wade in. Shovelers pile drifts ever higher in quiet resignation. Others roam the streets, shovel in hand, hoping to find a day's work. The wind picks up by afternoon and blows through me. There are things colder than the air.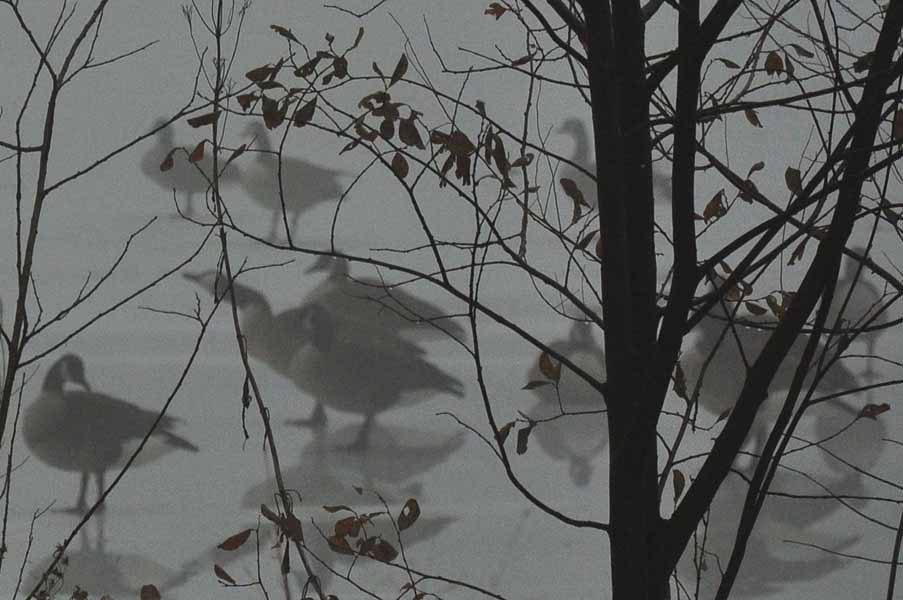 January 2011

A walk through Kissena Hollow

The ghost-like have become more ghostly, every movement that of a specter. Footsteps that fall are silent, but there is a conversation beyond the bushes beyond the reeds, just beyond my reach.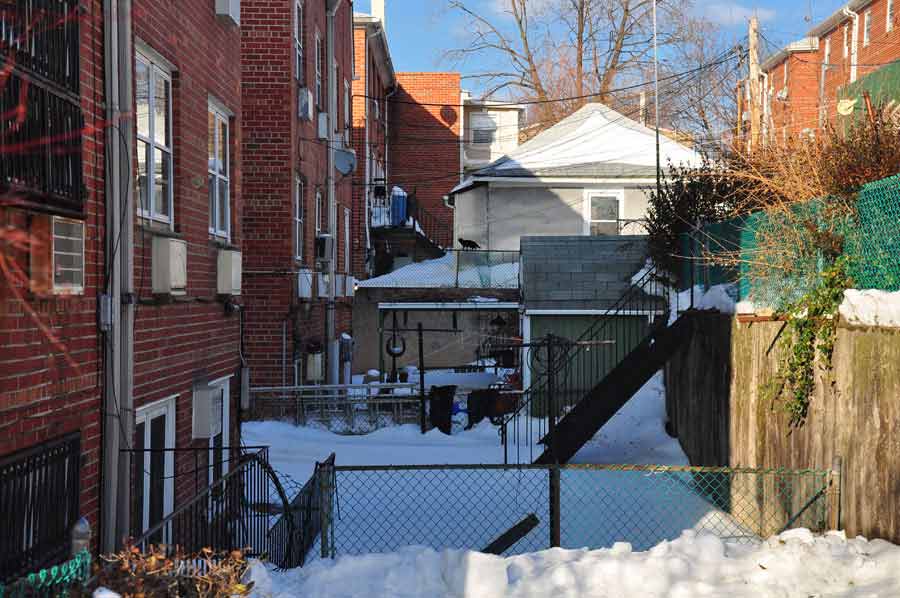 December 2010

A loop between Flushing and Bayside

There are those who talk of the crazy weather as if all had been sane with the world before today. But who am I to say? I suddenly dropped what I was doing, grabbed my camera and headed out the door into the snow and cold bound for nowhere.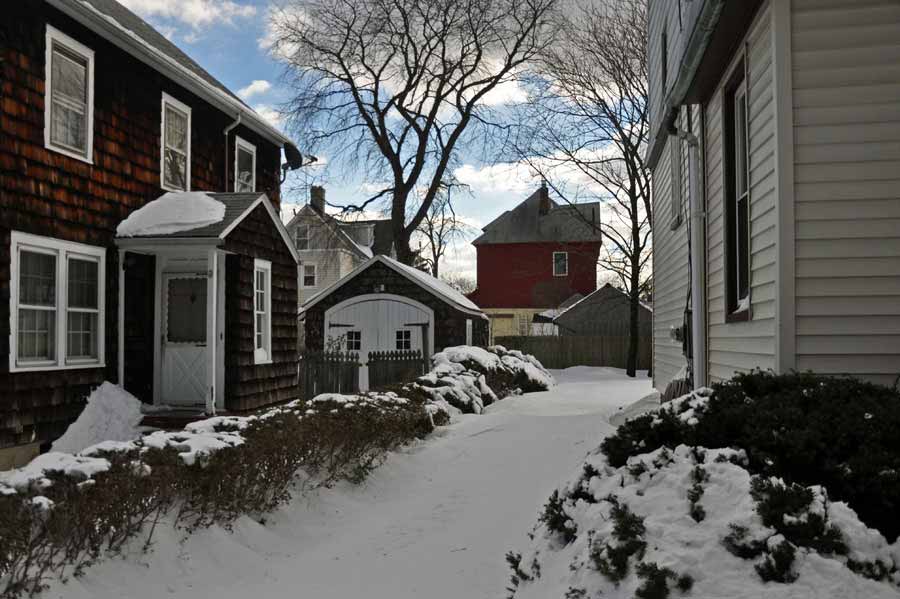 December 2010

A walk in Flushing

There was blood on the snow. A hawk had grabbed a squirrel that naively ventured out from its nest. It is a harsh day. The clouds part for warmer skies.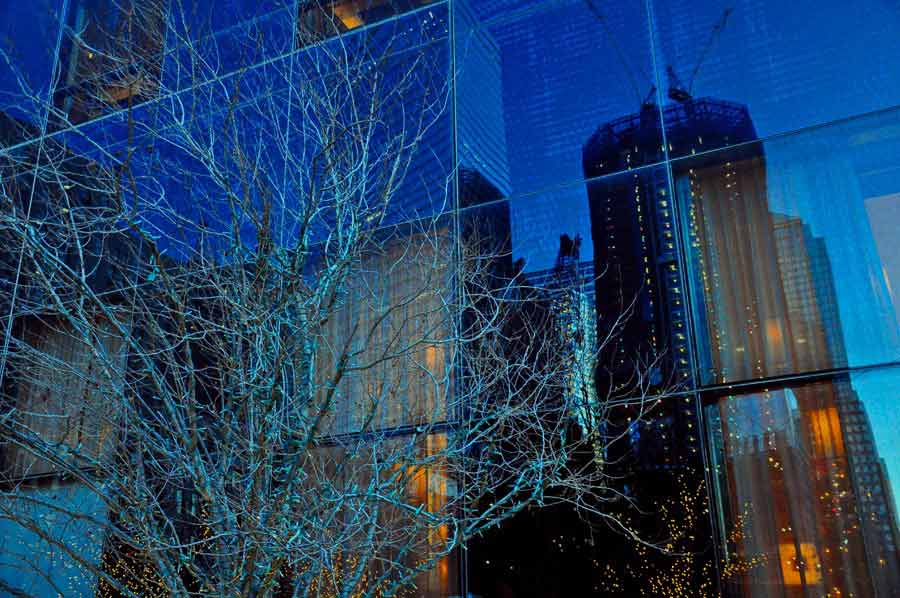 December 2010

A Downtown ramble on Christmas Eve

Florescent construction barriers and lit glass facades are brighter than any holiday decorations. It's a celebration year round. The new tower being built at ground zero has now reached half its height. After nearly a decade of bickering its sudden presence is anticlimactic. There is such a tiredness to it all that if they added another hundred stories it would barely be worth noticing.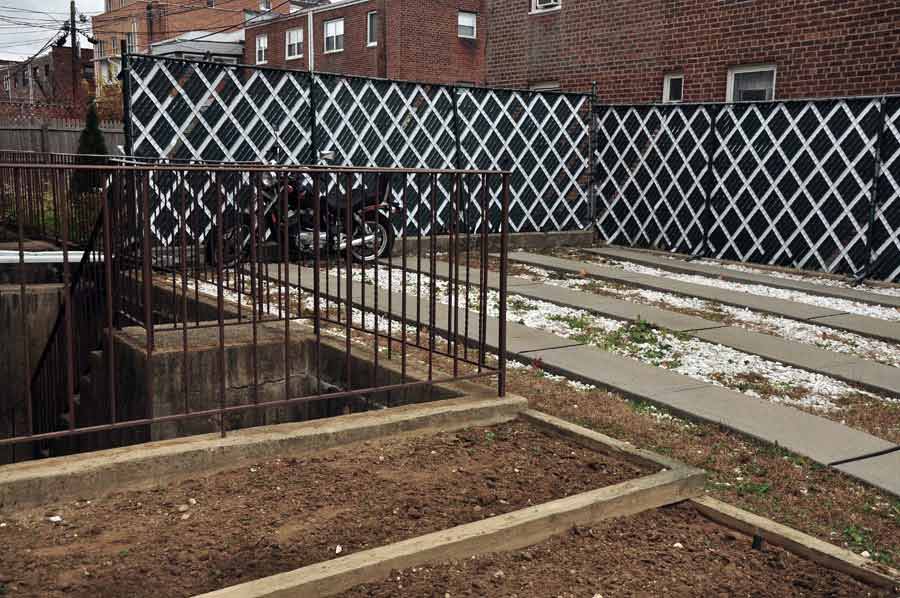 December 2010

A walk in Auburndale

You don't always have to move to find yourself in a new land; just stay in one place long enough and the earth will rotate out from under your feet. Perhaps its time for me to learn the native tongue.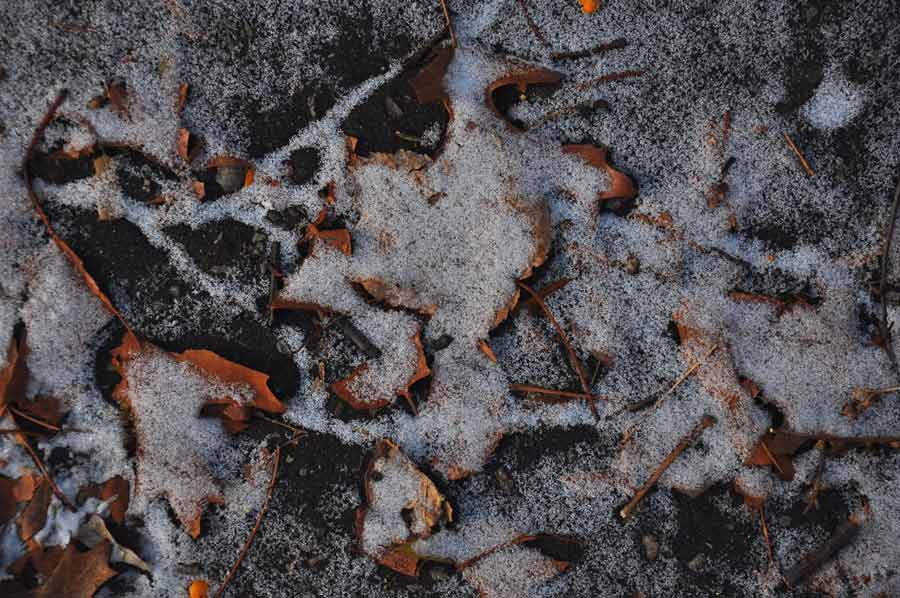 December 2010

A loop between Flushing and Hillcrest

It was more of a reminder than a snowfall, that autumn's crust had hardened. The yellow fading leaves of maple were no more, the pink faces of petunias in my garden all gone. Whatever lingering hopes of a winter delayed has gone with them.

---
Copyright 2011 Alan Petrulis All Rights Reserved