NEW YORK RAMBLES (page 11)
page 1 2 3 4 5 6 7 8 9 10 12 13 14 15 16 17 18 19 20 21 22 23 24 25 26 27 28 29 30 31 32 33 35 37 38 39 40 41 42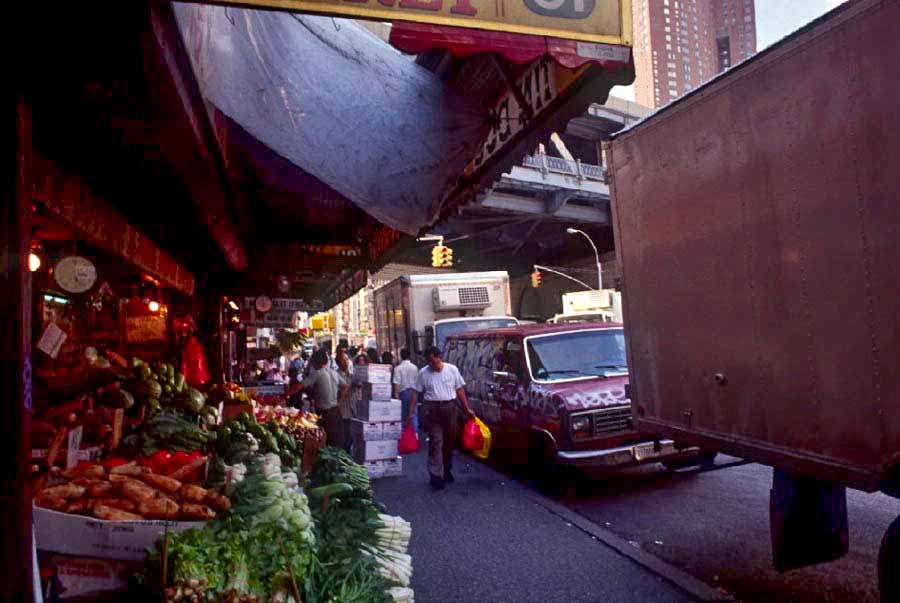 August 1999

A 9 mile walk from the East Village to South Street and on to the West Village

The city is largely about big shapes, the geometries of bridges, buildings, and trucks. I think I am drawn to the sidewalk markets for their contrast. Here there is an abundance of clutter that defies attemps at organization and colors not of concrete or stone.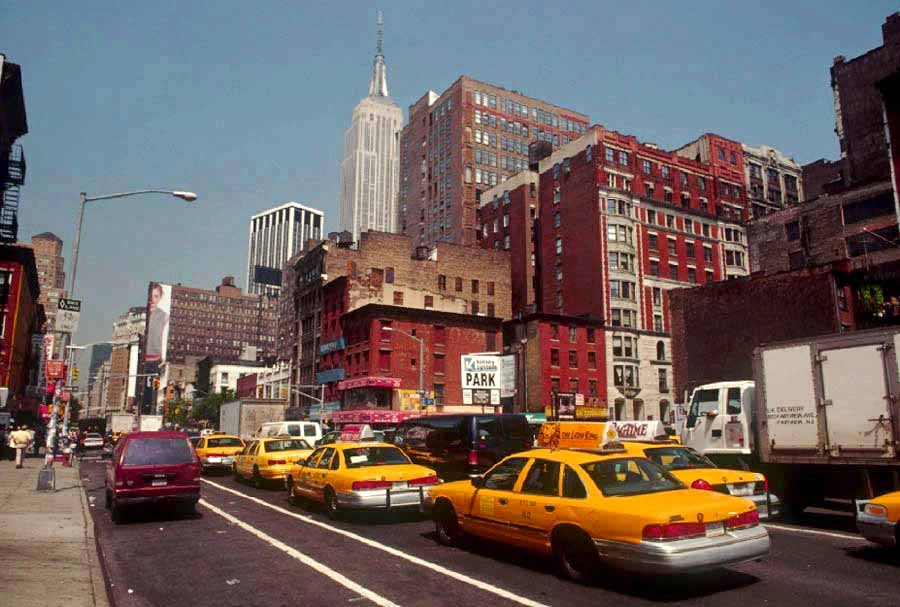 July 1999

A walk from Times Square to Union Square

From up close some buildings are just too large to capture, from afar they act as landmarks that can pin one's position but they have no presence. But there is an intermediate ring where towers dart in and out between smaller buildings with their chimneys and water tanks adding texture to sleek facades. In this ever changing milieu any over photographed structure can be seen in a new light.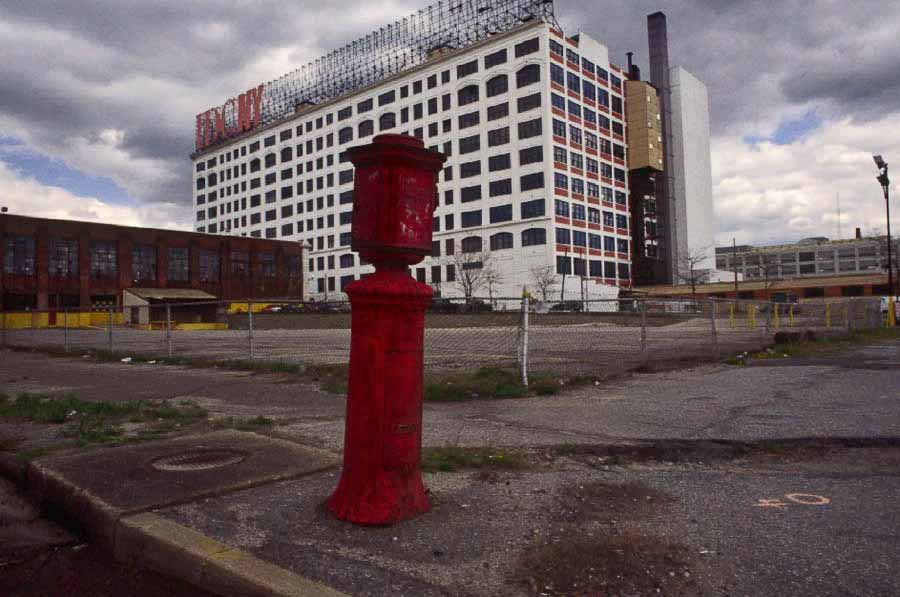 June 1999

A ramble across Long Island City and Sunnyside

In the appropriate setting the most common object can take on the countenance of something extraordinary.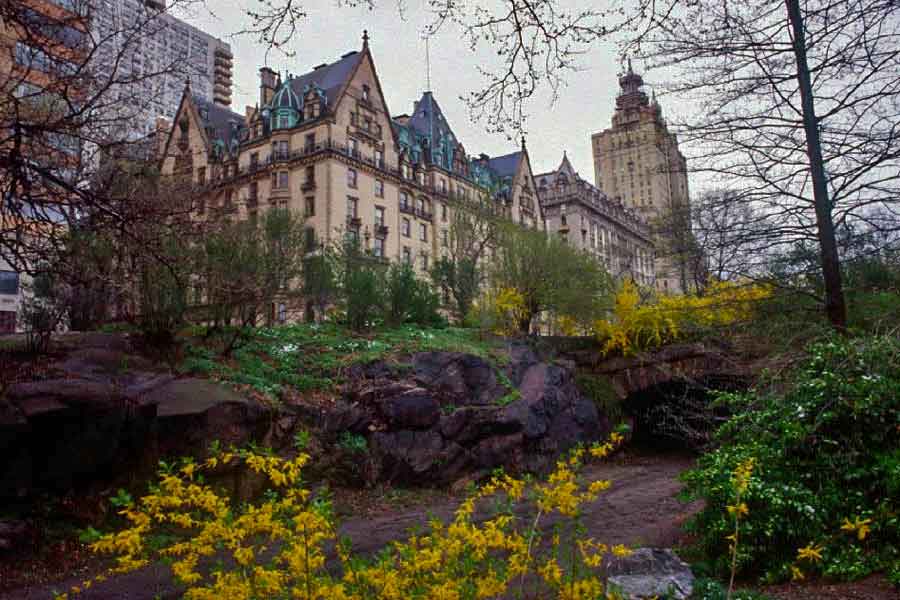 April 1999

A walk from the Upper East Side to the Upper West Side

I thought that the budding trees with their newfound life would contrast nicely to the day's grey sky but the overcast proved too heavy. The streets turned somber and even the brightest flowers of Central Park could not shine through the pale.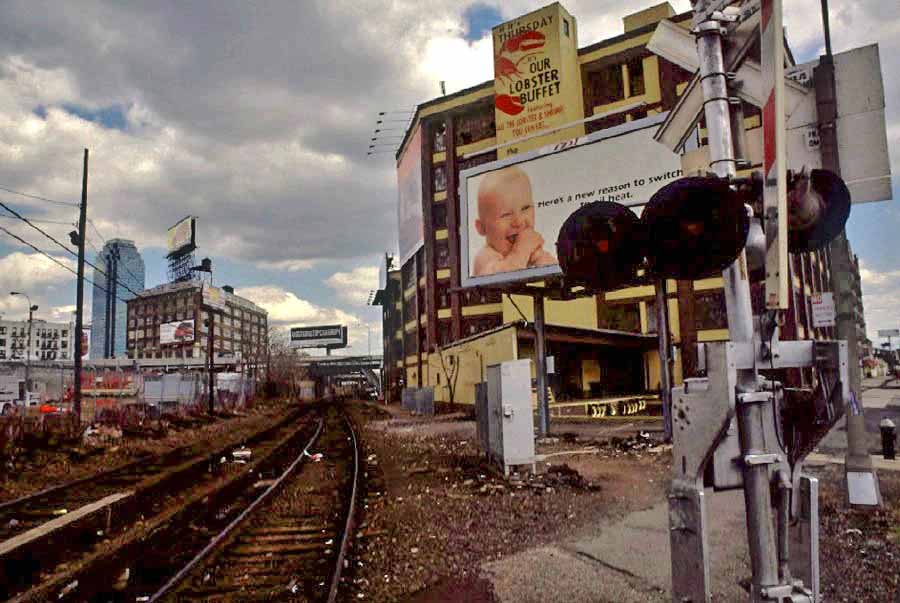 April 1999

A 5 mile loop between Hunters Point and Sunnyside

While I largely concern myself with composition, some imagery is loaded with associations that cannot be overlooked. Though most of these associations are cultural, some are probably innate to being human. This harsh industrial landscape is no place for a soft skinned baby even if only on a billboard.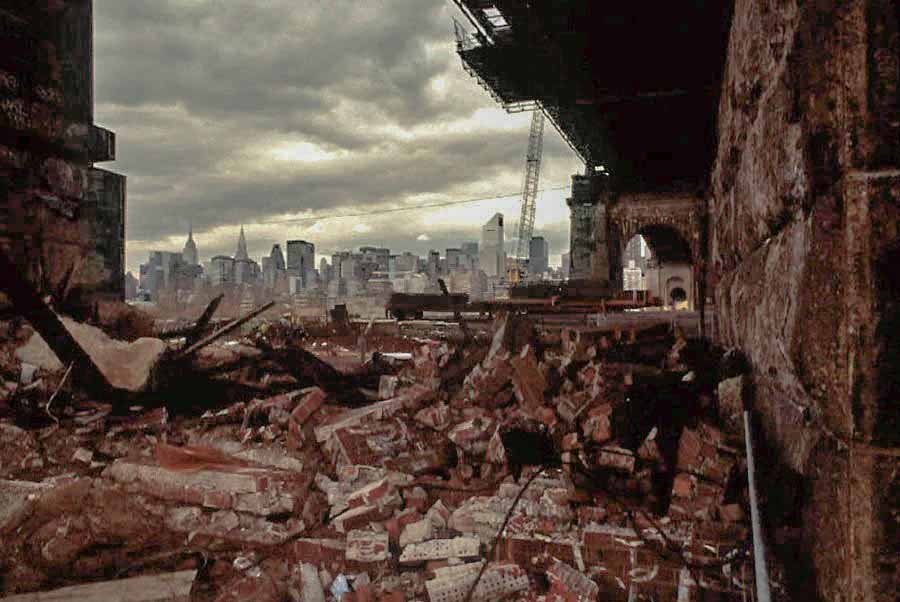 March 1999

A walk from Long Island City to Hunters Point

There is much afoot on the waterfront. New structures are going up while old ones are being razed. It is difficult to ascertain any intent here. The area looks as much a war zone as it does a construction site.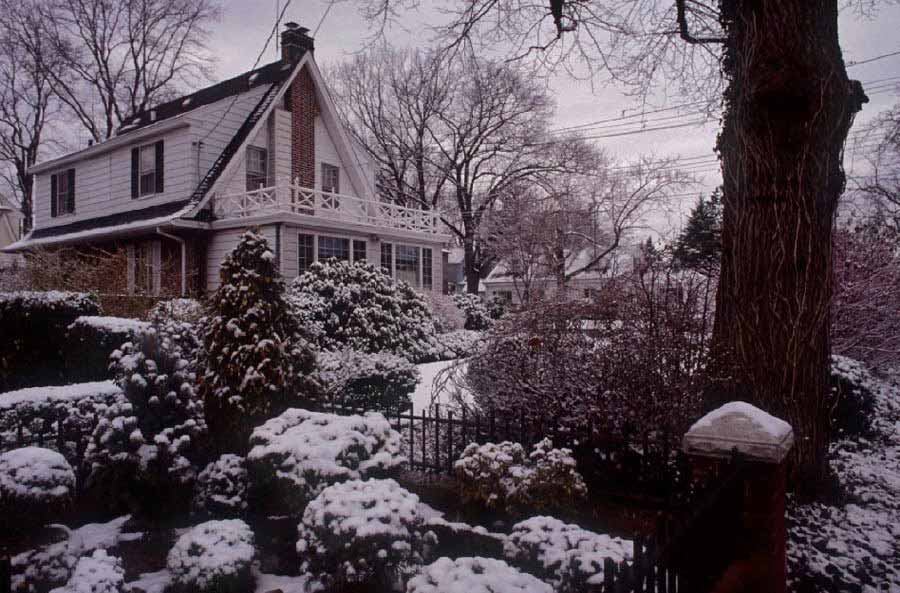 February 1999

A 10 mile walk from Bayside to Flushing

We all love the laciness of fresh snow when it clings to every last twig of every tree and every creviced nuance takes on a new continence. These are the images of Christmas cards and Romantic prints but they are fleeting moments. In short time the lacework falls from branches, the intricate patterns caught in small bushes turns clumpy. Footprints soon follow on virgin paths as snow is piled high by people shoveling their walks and cleaning their cars. If lucky it will melt before turning grey with soot.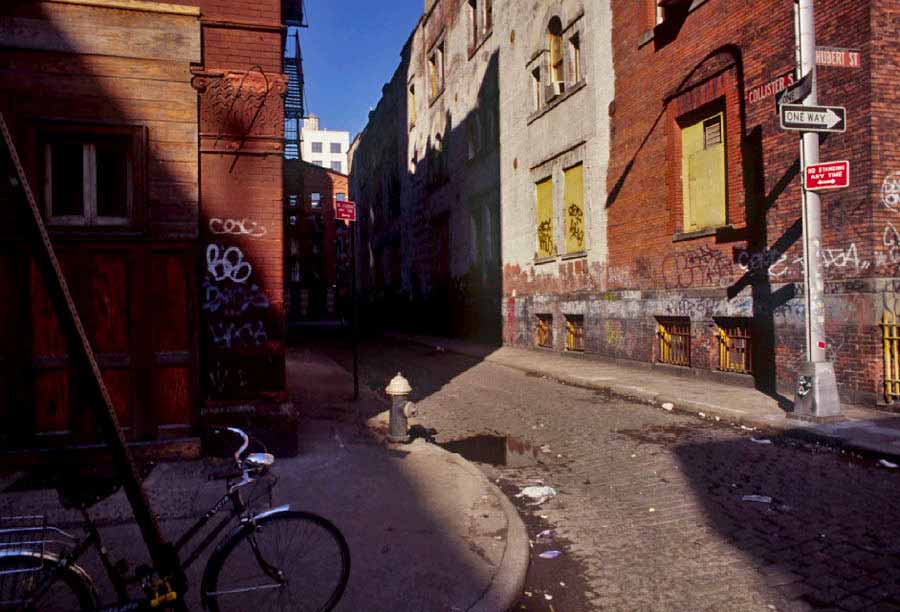 February 1999

A loop between Soho and Tribeca

Whenever I discover a short narrow street tucked away between our broad avenues my mind tries to conceive of purpose. These alleys are rare thus not widely needed, so why are they here at all? Somewhere, deep down in a dusty book there are records of tenants and their occupations, expenditures for construction, and the minutes of planning boards. Even so this city maintains a fair share of mysteries that can never be deciphered.
Postscript: This building was once used as a stable with the alley providing access for the horses. It has since been renovated into luxury living quarters.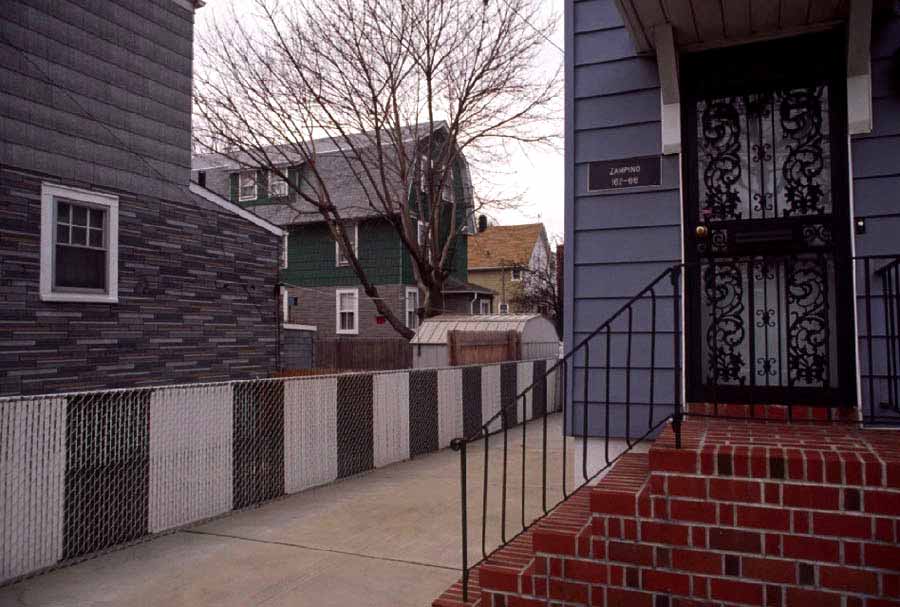 January 1999

A ramble about Flushing

There is an uncomfortable trend these days to rename streets after those who have died in the service of this City. While I respect their sacrifice I have problems with any street being named after any person. The naming of our earliest streets, Pearl, Water, Broad, and Canal avoided personalities and politics. But today I wonder about such names as I cross Fresh Meadow Lane and Pigeon Meadow Road. There once descriptive titles are now only a sad reminder of things past as I walk down block and block of houses and driveways.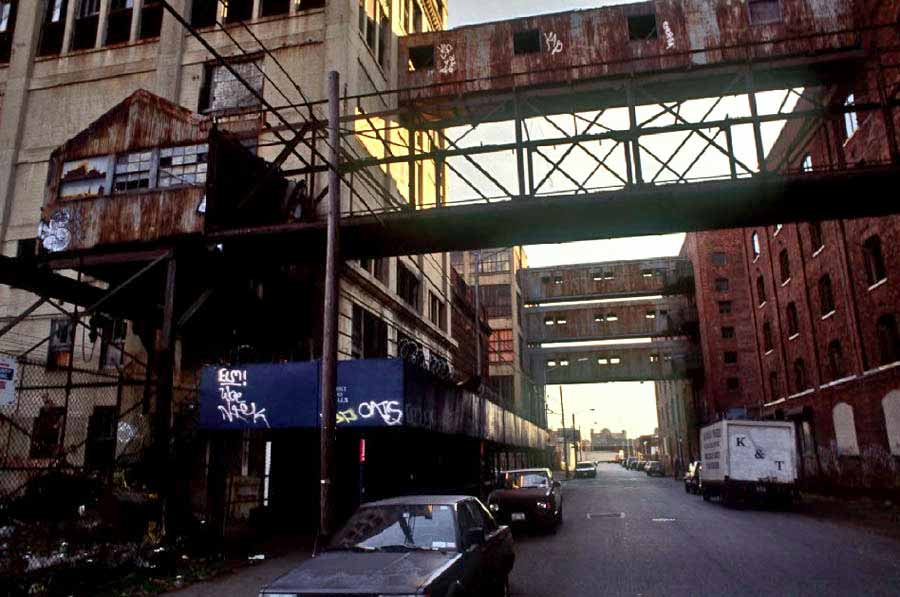 December 1998

A walk from Williamsburg to Greenpoint

There are plenty of old factories and warehouses in the city but not often do you find places remaining where they interact gracefully with public streets. As I walk alone here the quiet creates an erie atmosphere. If not careful I can forget the hustle and bustle that once dominated this place as ships were unloaded and freight trains rambled across the cobbles. This place was not created for mood.
Postscript: While attempts were being made to landmark some of these old industrial buildings, they burnt down under suspicious circumstances.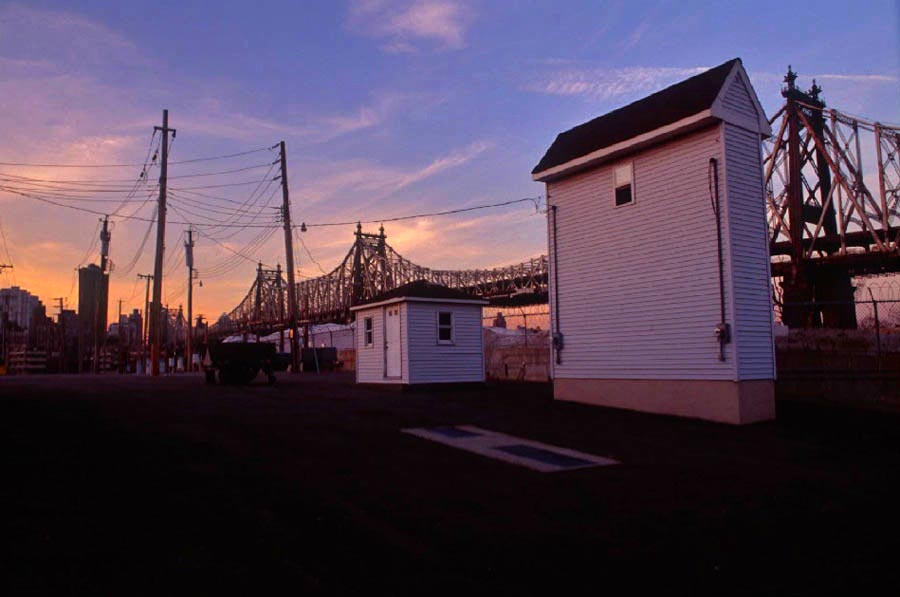 December 1988

A walk from Greenpoint to Long Island City

Non-aesthetic utilitarian objects are sometimes disguised in more palatable forms when in public view. Sometimes this hides them away nicely and at other times they are made all the more conspicuous.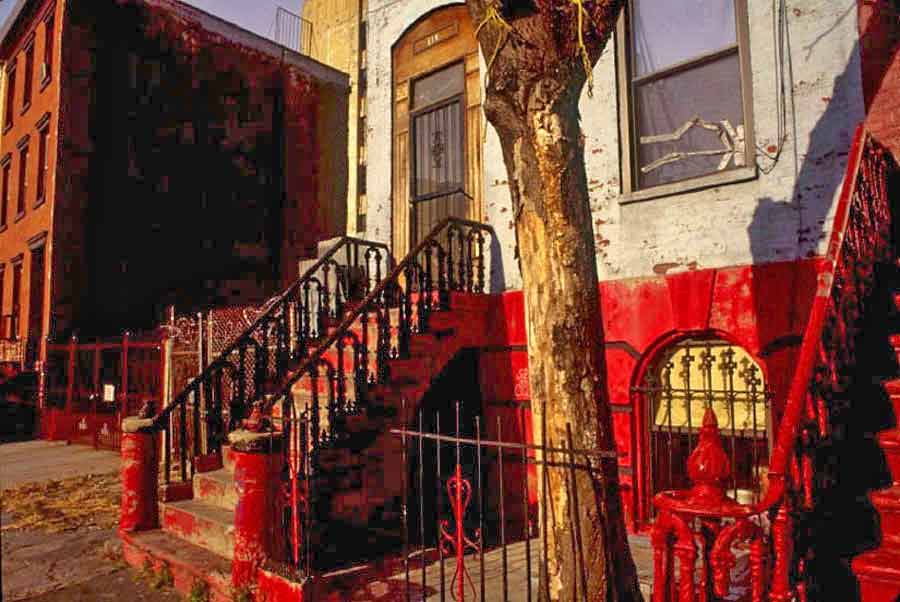 December 1988

A walk in Williamsburg

An old bridge towers above a street with old houses. This is a classic New York view that cannot often be found these days as tenements have been replaced with tall apartment houses. But now that I've found a view that I have wanted I can't seem to get it to work for me. I have better luck with stoops and alleyways.
September 1997

An 11 mile walk from Soho to Roosevelt Island via Williamsburg

A closed outer car lane created the temporary pedestrian walk on my first trip across the Williamsburg Bridge. When I saw there was nothing between me and a passing ship far below except for an extremely rusted grating I began to wonder about my safety. Metal plates had been placed over the many gaping holes where this flimsy flooring had crumbled away. These are conditions I often face while trespassing but not on a public walkway. The views however were fantastic. They were not the classic scenes to be found in tourist books but that of a real city.
Postscript: A new bike and pedestrian walkway has been built on an upper level to the bridge. While there is no longer a chance of falling through the flooring they have also fenced it in eliminating unobstructed views.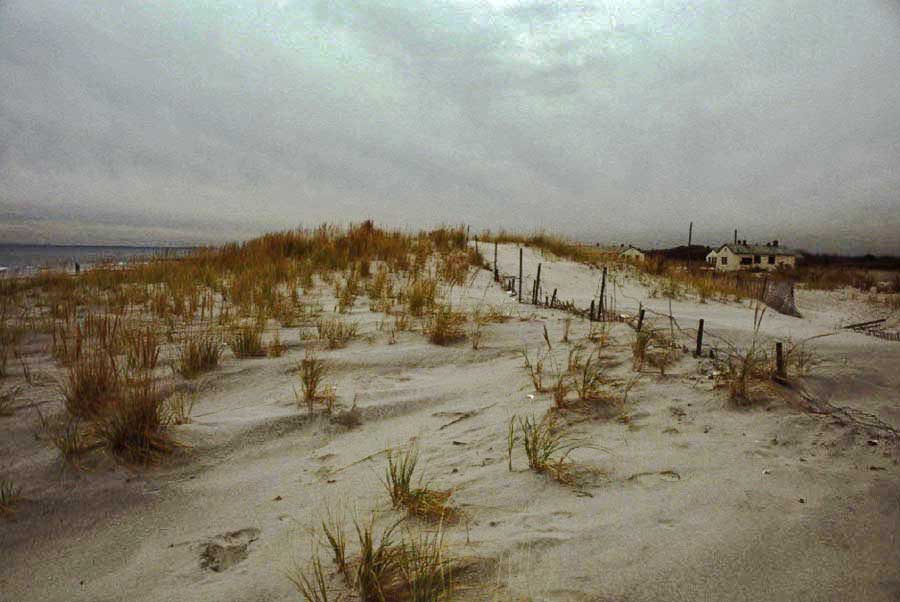 November 1998

A ramble about Fort Tilden

Rusty wire barriers run half buried in the dunes while hidden pillboxes lay in wait of an attack that never comes. This is a peculiar shore built out of landfill in a marsh. Never completely natural, residential, or resort, only the markings of 20th century warfare.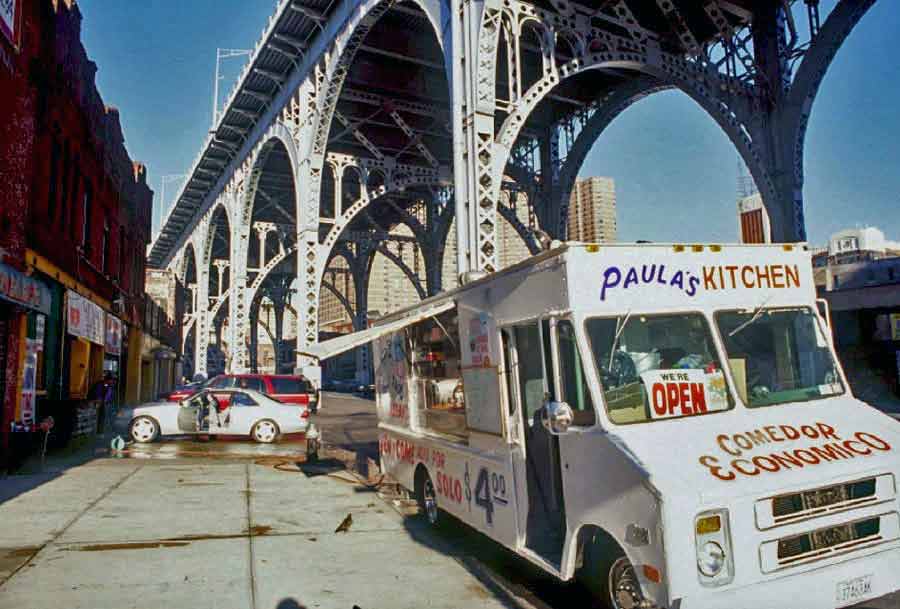 November 1998

A 10 mile walk from Central Park to Harlem and down the Upper West Side

The Riverside Viaduct is such a marvel of engineering you would think nothing would be easier to photograph. The problem is its scale. Built to the necessary height to serve its purpose it dwarfs the low lying structures beneath it exposing a huge swath of sky in-between. I fill this emptiness with those who work in the viaducts shadow as if this were any other street in town.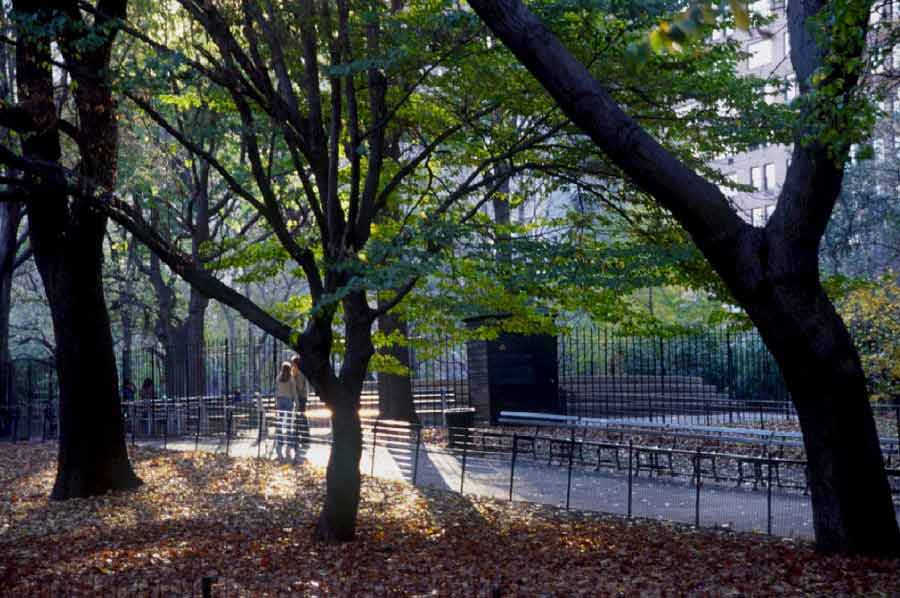 November 1998

A walk from the Upper East Side to the Upper West Side

A constant search for the dramatic or the next big thrill can lead instead to a disappointing life. It is the smaller moments that make up most of our lives.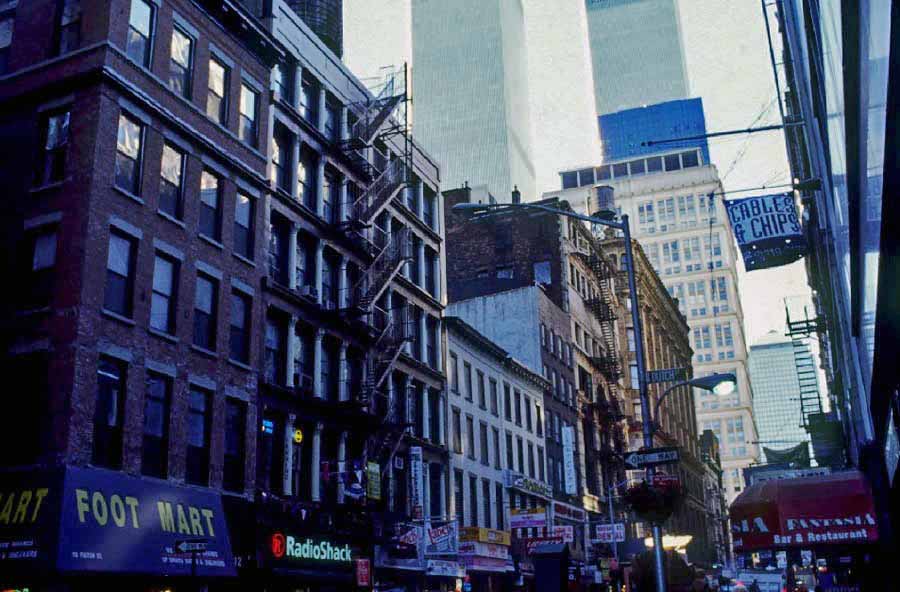 November 1998

A Downtown ramble

People and trucks crowd the narrow streets lined with modest buildings, then suddenly a skyscraper looms above as if dropped here by an alien society. The change of scale is dramatic, wonderful, and scary.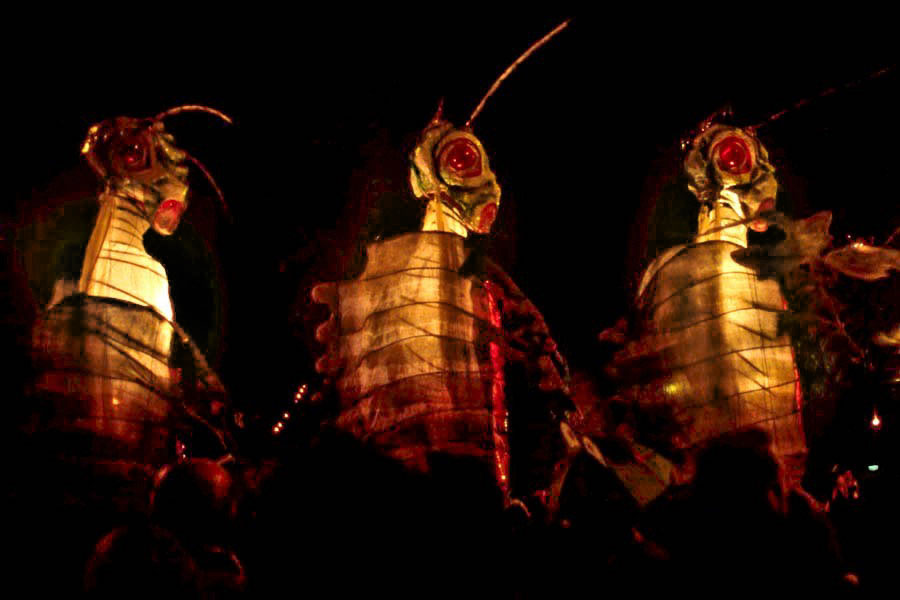 October 1998

A walk from Soho to the Village

As I try to move along with the parade I find my movements blocked by police barricades. Their efforts at crowd control have sent me wandering down side streets unable to rejoin the festivities. Not all amusements are in the street. As I look through a plate glass window I see a witch in a pointed hat eating a slice of pizza.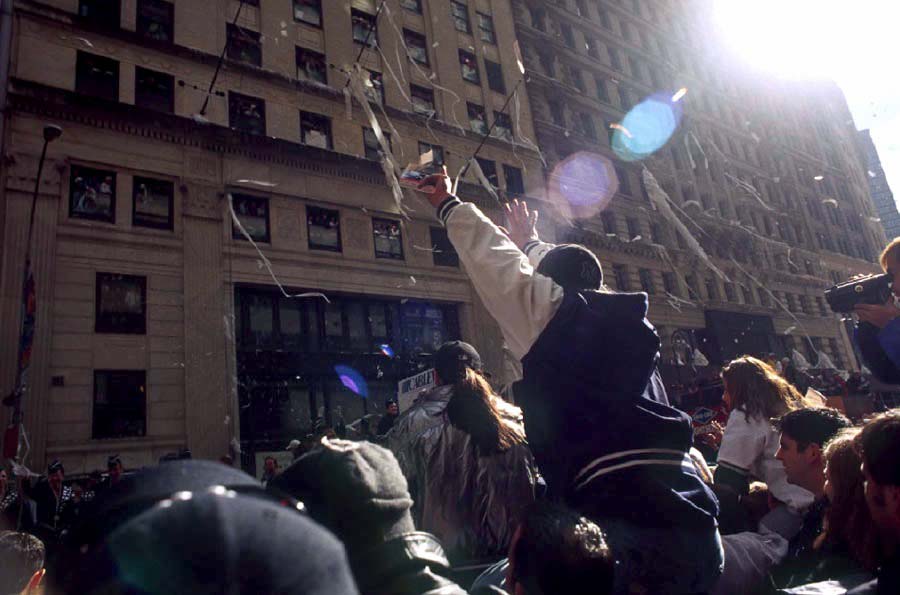 June 1997

A Downtown ramble

It does not matter who the parade is for, I've come for the crowds and the falling ticker tape.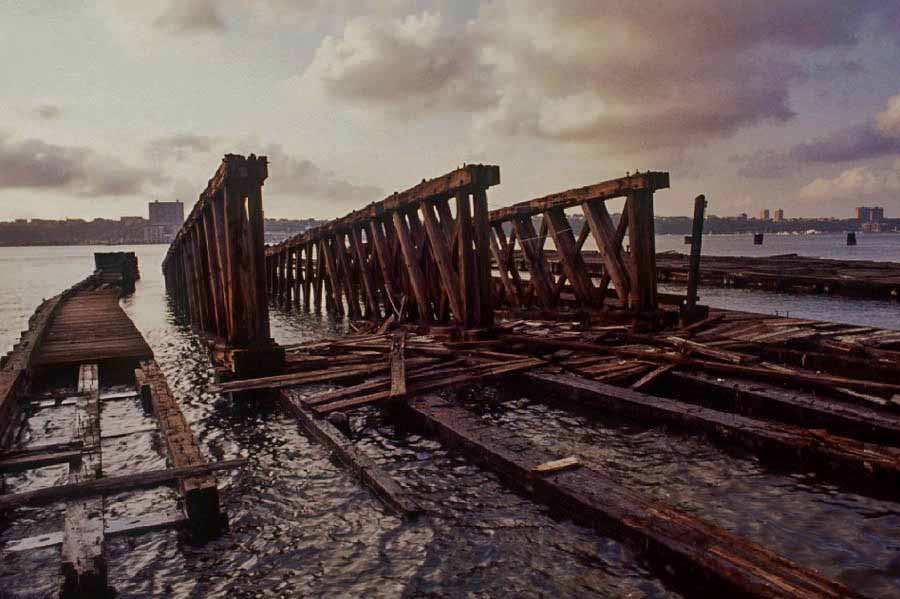 October 1998

An 8 mile walk from City Hall to the Battery and on to Chelsea

In my years photographing the outer Boroughs I neglected Manhattan's shore. So much has disappeared in those years that I feel compelled to capture what little of the old working waterfront is left. My heart sinks a little at every opportunity missed. The fact that I have limited resources and time, that I cannot be everywhere at once is of no consolation.
Postscript: The remnants of these lifts were not demolished during the rehabilitation of the waterfront but incorporated within a new park. In their new context however they have lost much of their character. Has anything really been saved?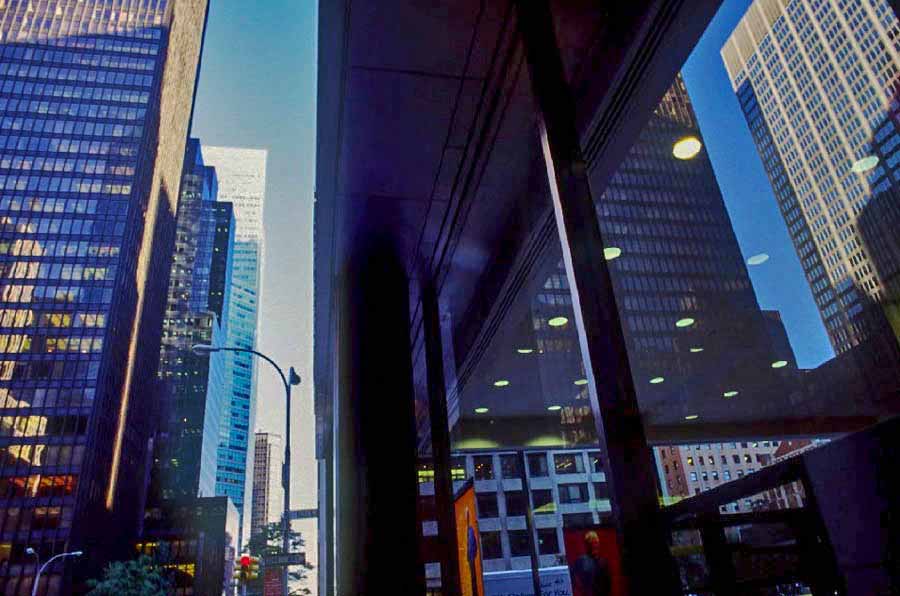 October 1998

A Midtown ramble

On some streets it is the people who interest me while on others I am alone in the crowd gazing upwards.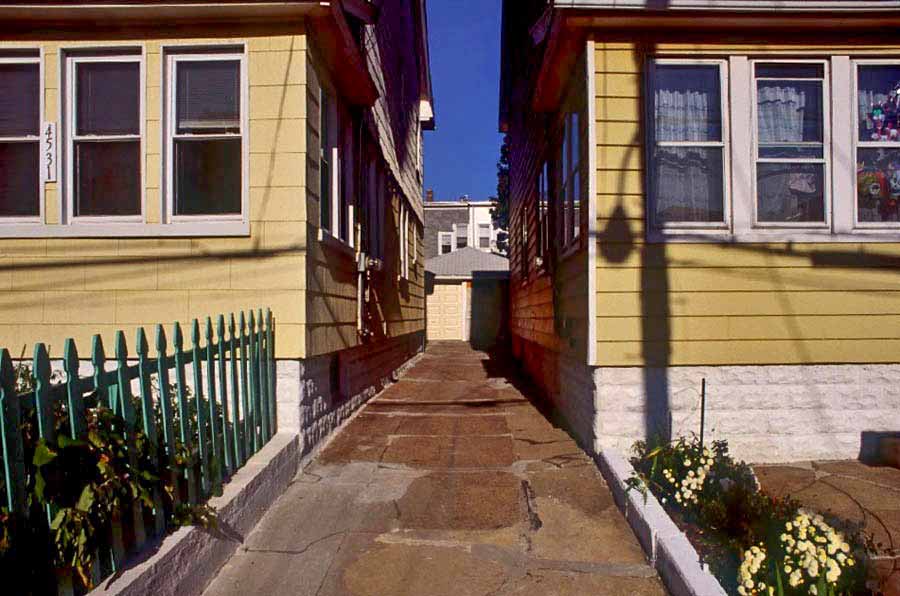 October 1998

A ramble about Flushing

My attraction to driveways is not in their symmetry but in their unsymmetrical yet balanced proportions that seem to imply meaning beyond the subject. All this said sometimes I'm just attracted to symmetry.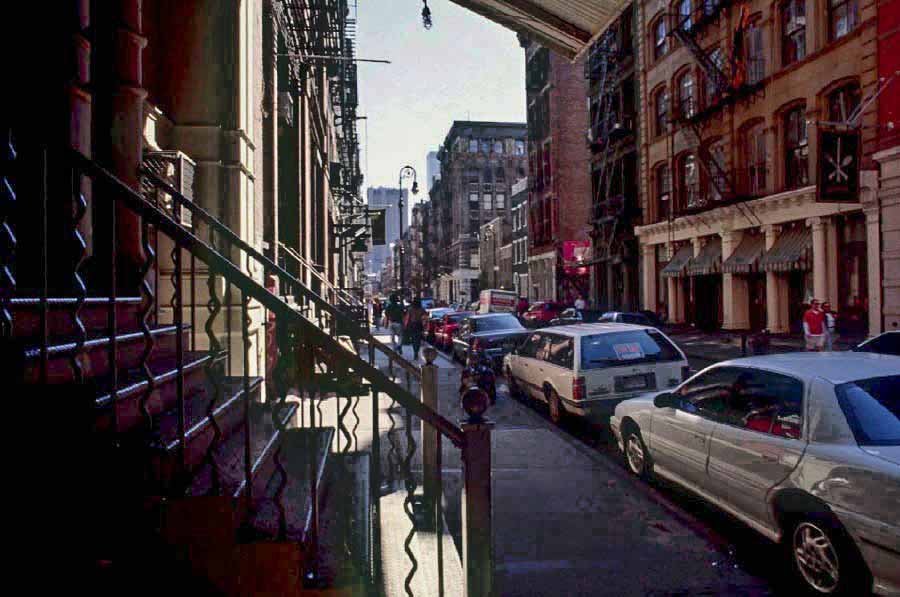 October 1998

A walk from the Village to Soho

Soho attracts many photographers and I have seen many composing at these steps. I doubt this is the best shot taken here but it is mine.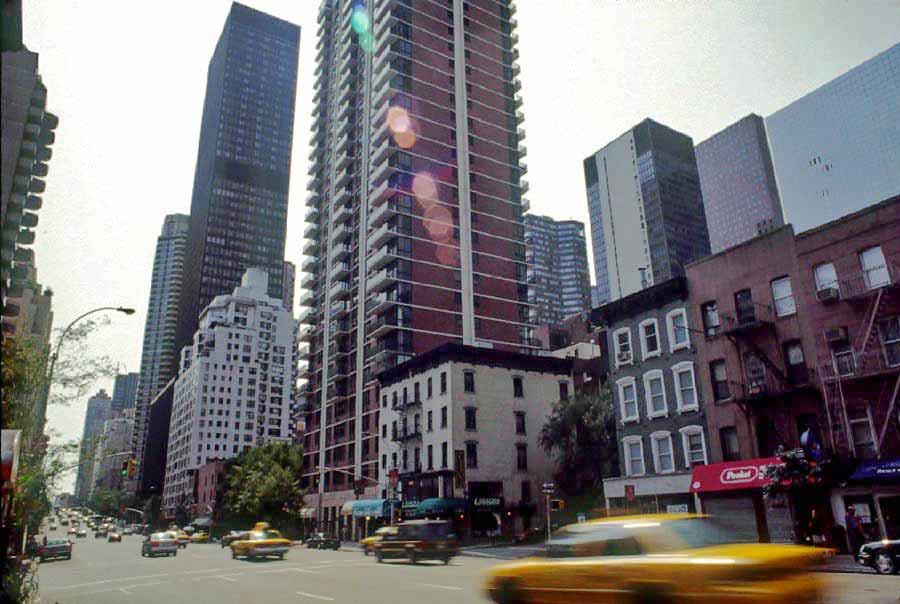 September 1998

A Midtown ramble

We have become a city of odd proportions. Anything can be balanced through a camera's lens but we unfortunately cannot live our lives in balanced compositions.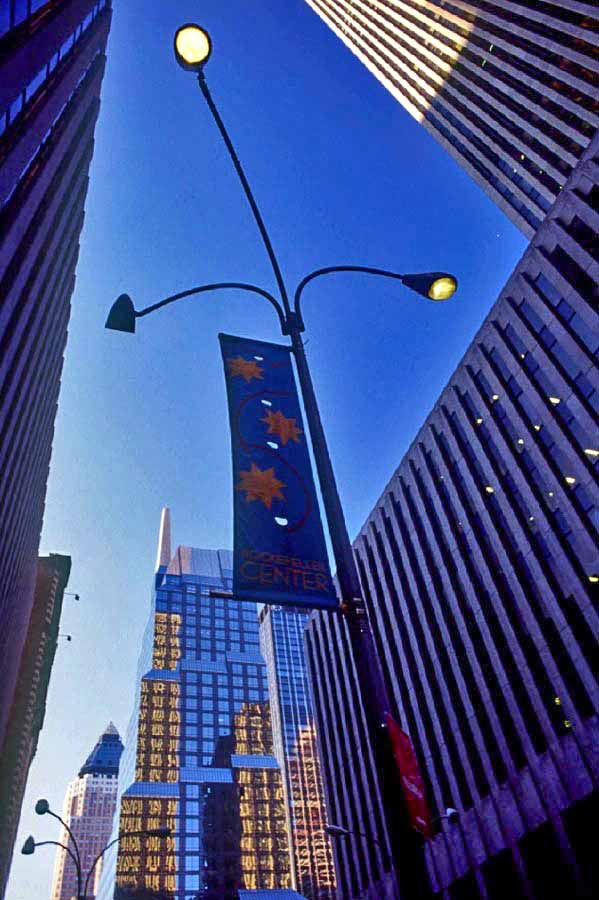 September 1998

A Midtown ramble

When it comes to street lamps the City seems to have given up on any notions of standardization. Old ornate designs not seen for decades are being put back on streets lined with brownstones while in Midtown steel grows from the sidewalk like some alien sprout. But what's with all the banners?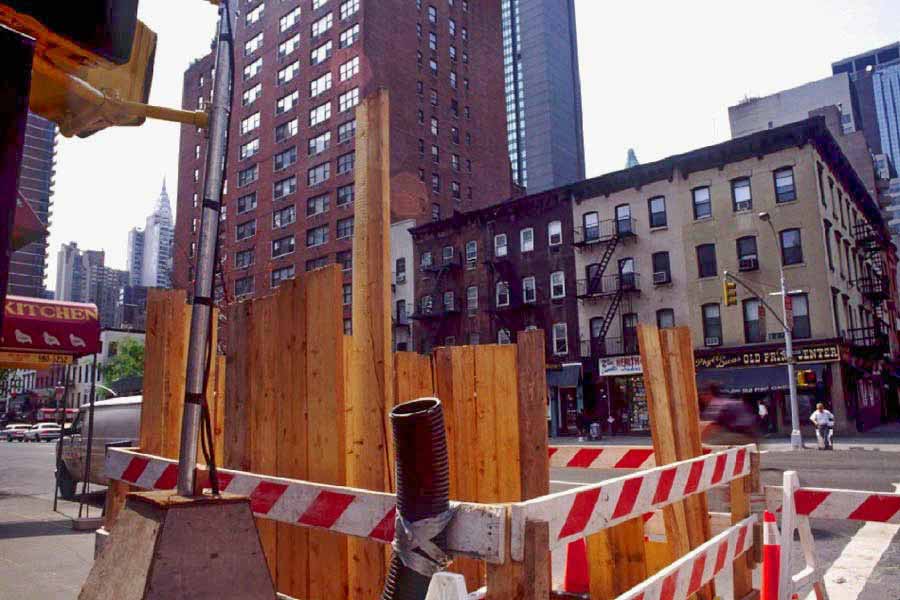 August 1998

A 6 mile walk from Grand Central to the Upper East Side and then to the Upper West Side

Sometimes the battle between my intuition and my rational mind is fought to a draw. I'm just beginning to give my intuition the benefit of the doubt.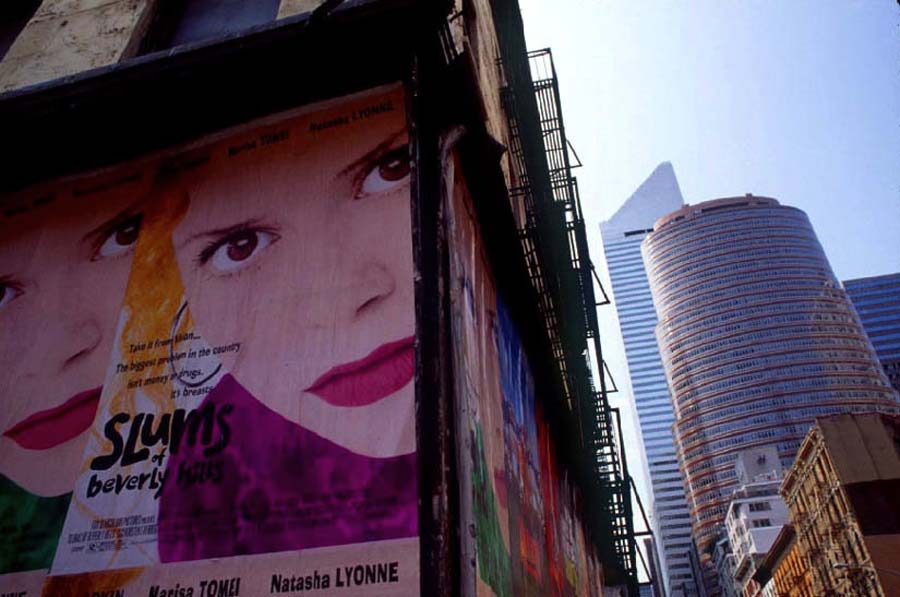 August 1998

A Midtown ramble

It is the dynamic between high and low that make this City work. It is a lessen that fewer and fewer seem to realize.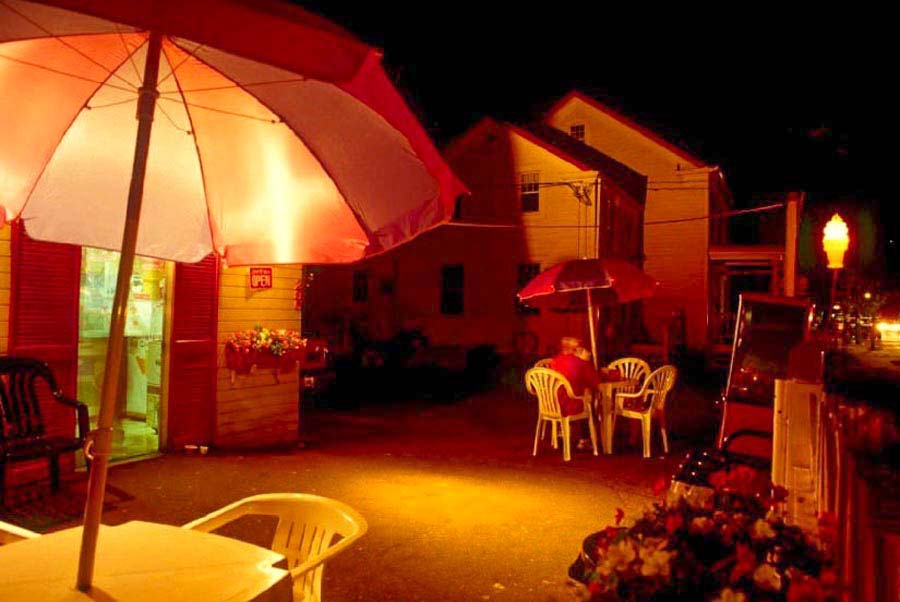 July 1998

A ramble about City Island

Even after the sun fell it was the warmest of evenings. The quiet ambiance of the island changed as crowds began filling the waterfront eateries for plates of fried clams and pitchers of beer. It felt more like a festive resort town than a part of the City. But the people here were not tourists, this place of cheap thrills was a hidden oasis for the working class.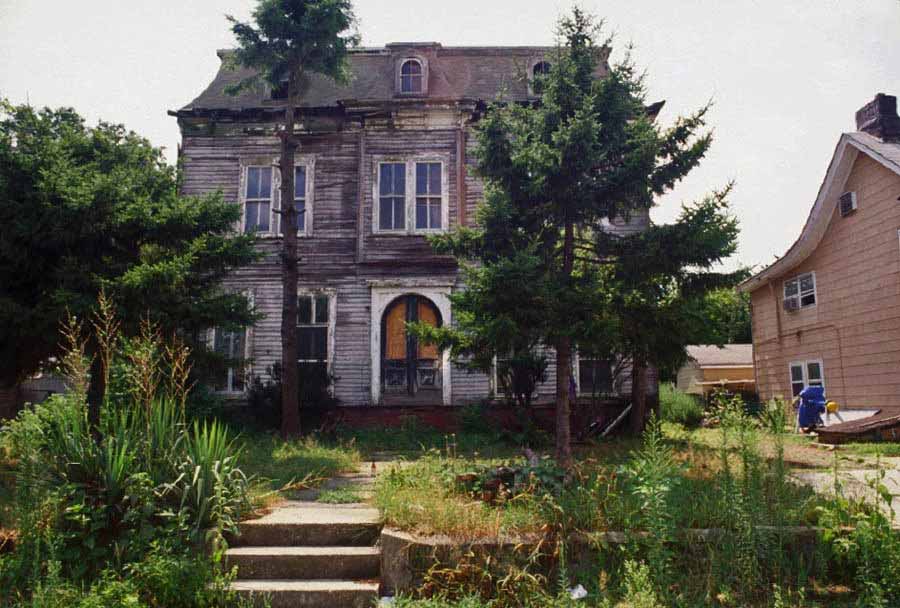 July 1998

An 8 mile ramble around southern Staten Island

I suppose I new the day would come but it was still strange beyond belief to walk through clean cut residential neighborhoods that were little more than woods the last time I was here. I remember one old home partially hidden behind tall bushes, there were chickens roaming in the yard. No chickens in sight now, only garden sprinklers and colorful plastic toys.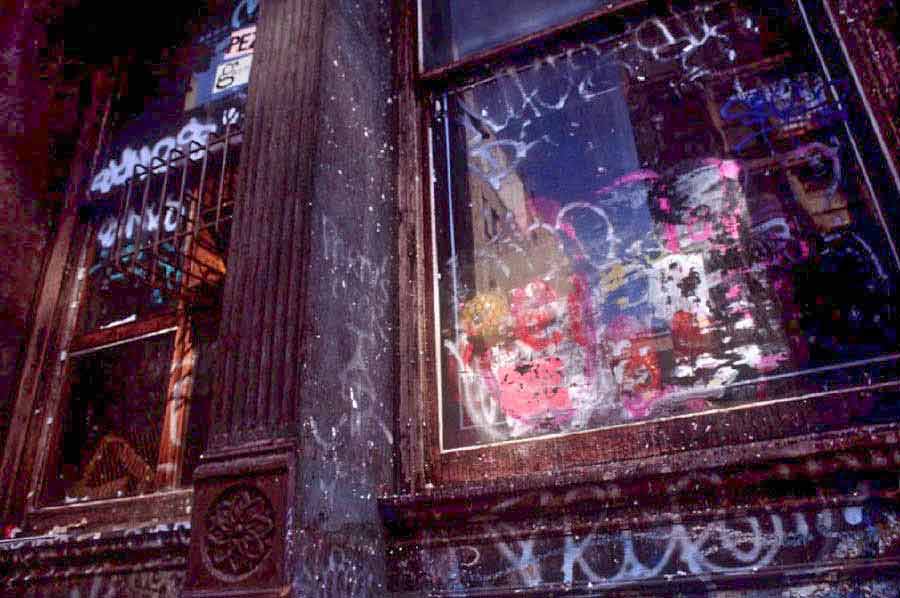 July 1998

A Walk from South Ferry to Soho

When I first started coming to Soho most of the cast iron facades were painted black, but as shops have been replacing manufacturing lofts some have repainted their facades in colors. There have been complaints of course among those who believe history began with their birth. When these buildings were new they were painted in the bright colors of the day. Despite renovations there remains plenty of rusty corners whose only paint comes in spray can colors chosen by graffiti artists.

---
Copyright 2009 Alan Petrulis All Rights Reserved