NEW YORK RAMBLES (page 5)
page 1 2 3 4 6 7 8 9 10 11 12 13 14 15 16 17 18 19 20 21 22 23 24 25 26 27 28 29 30 31 32 33 34 35 36 37 38 39 40 41 42
February 1988

An 11 mile walk across Jamaica Bay from Hamilton Beach to Hammel

It is cold enough for large sections of the bay to have frozen over. The wind is bitter but the light fantastic. I hear of artists fleeing to the Hamptons or the Cape to find this type of light but I think it must have more to do with escaping the city's summer heat. There are days when the best light can be found closer to home.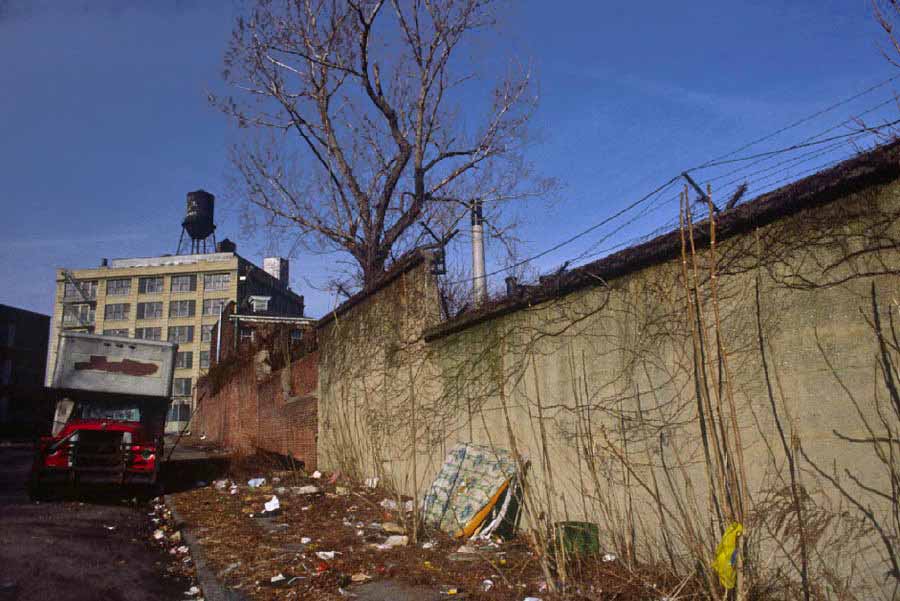 January 1988

A 4 mile ramble between Fort Green and Dumbo

Thousands may have worked in the Navy Yard but it remains an unfamiliar land of mystery for many. A glimpse here and there over its high walls gives hints to the richness on the other side that has so far eluded me. Often I am content with what I am able to shoot but not today.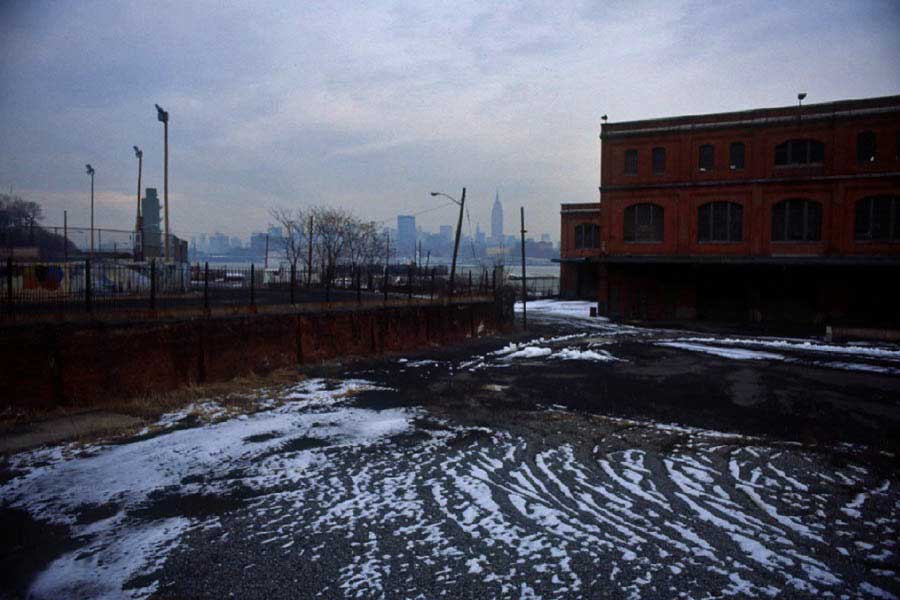 January 1988

A ramble in Hoboken

A line drawn down a map separates me from the far shore of the Hudson more than the wide river ever can. I shoot Manhattan Isle from Queens and Brooklyn without a second thought but New Jersey is as far away as another Country. Boundaries do not just divide property they limit what is possible by confining our thought. Today I know no boundaries.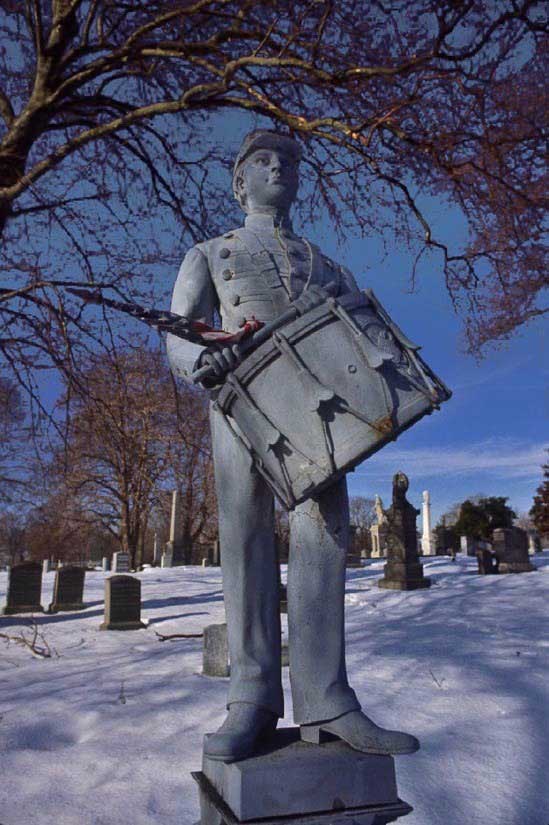 January 1988

A short walk from Park Slope to Sunset Park

We go to great lengths to create monuments so as not to forget the past, and then tuck them away where they can be forgotten.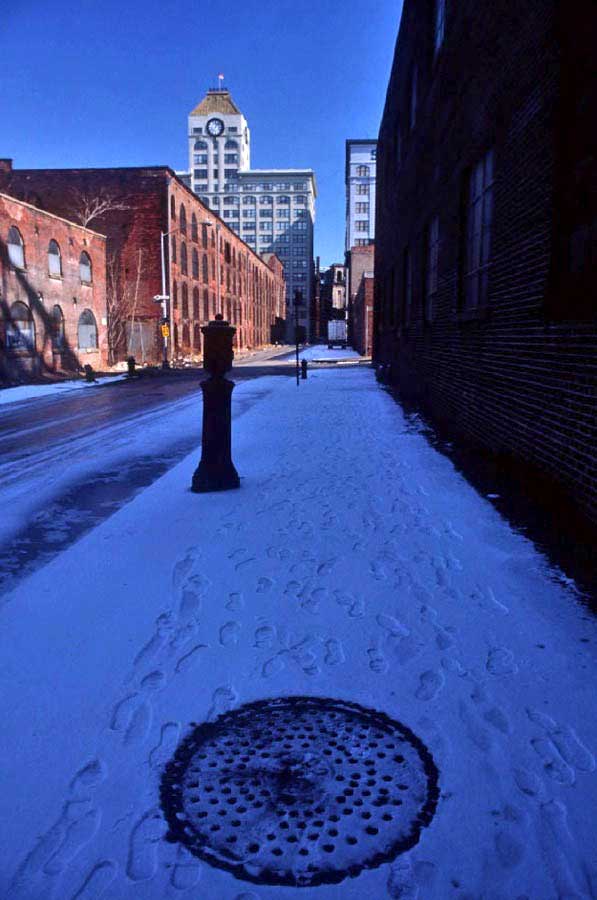 January 1988

A ramble through Dumbo

Sometimes I can't bare to remove the color cast from a photograph.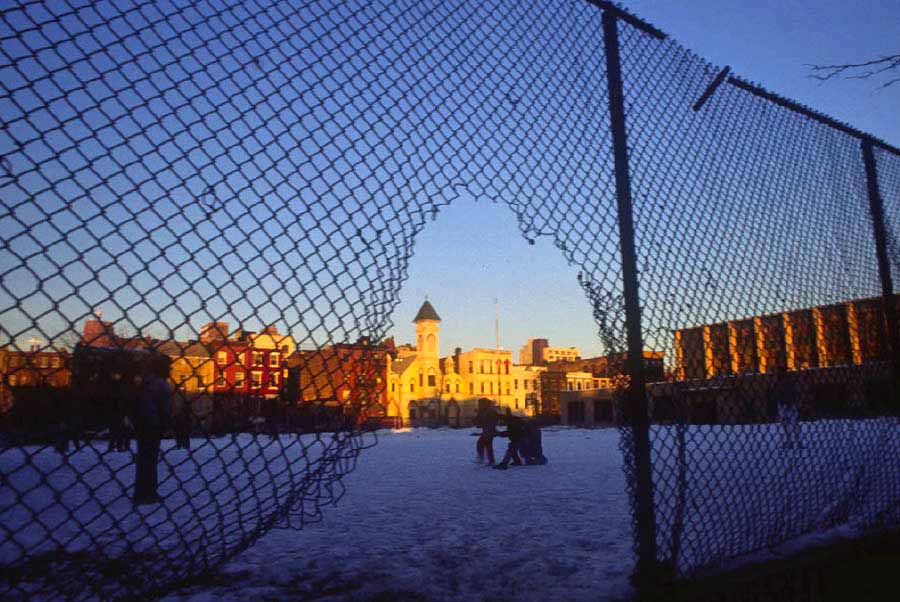 January 1988

A 4 mile ramble about Park Slope

It was the snow that forced me to leave the comforts of home on this frigid afternoon. The light was already fading and long cold shadows crawled across the landscape.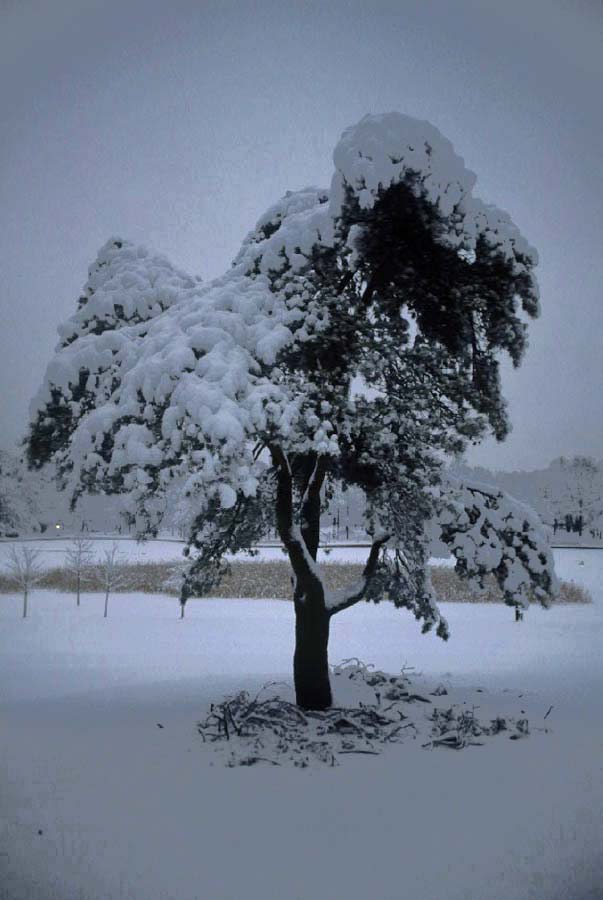 December 1987

A ramble in Kissena Hollow

Snow hangs heavy from all the trees, the long branches of great pines touch the ground. It is quiet now. I wonder why I am the only one out here, but I am not sorry for it.
Postscript: Many years later this beautiful Scotch Pine suddenly died. It was like loosing a good friend.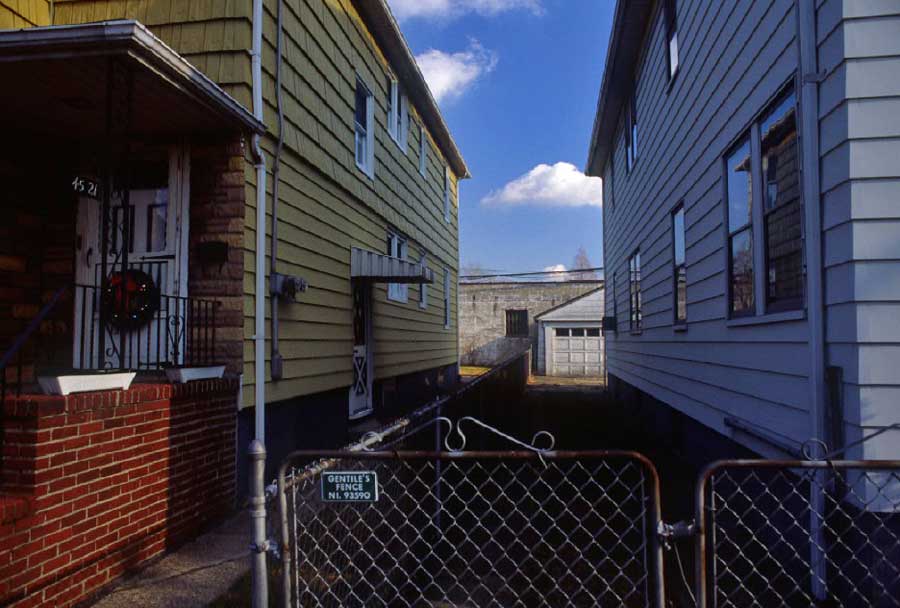 December 1987

A short ramble about Flushing

While driveways can take on many different forms those I've found in Queens seem to possess a familiar yet mysterious order. The distance between houses, the position of the garage and the setback from the street all add up to a sum greater than its parts. There is some great truth to be found in the proportions here if only the metaphysics of driveways can be deciphered.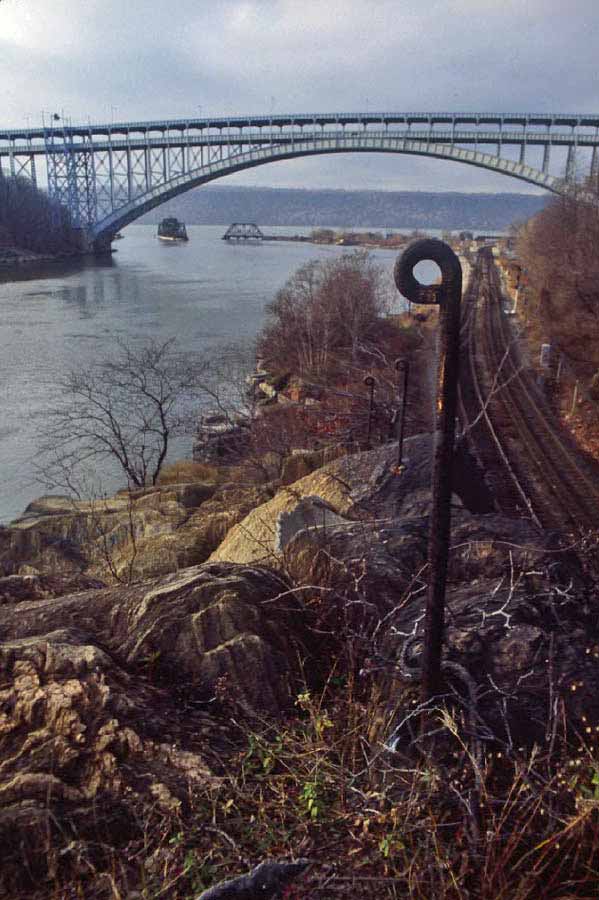 December 1987

A walk from Marble Hill to Riverdale alongside the Hudson

Few areas of New York have been shaped and then reshaped by the hand of man as much as where the Harlem Canal meets the Hudson. I wish I could have seen this place in more idyllic times but then I am not all unhappy with the intriguing views that lay before me.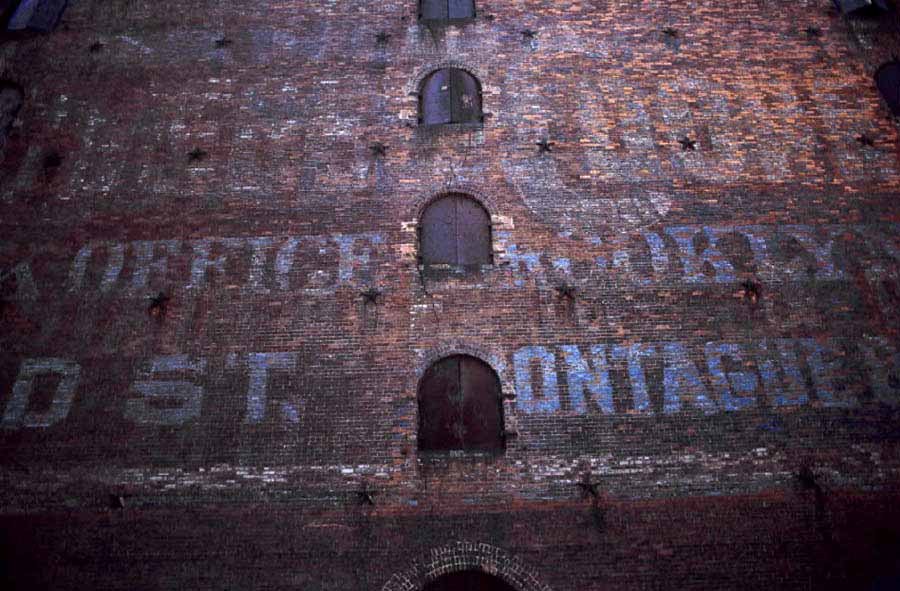 November 1987

A ramble about Dumbo

The streets are empty until noon when the factory workers pour onto the pavement for lunch. They walk in the footsteps of the many that traversed these cobbles before them. Peeling paint and rusty iron shutters feel at home here in this land of brick and granite. This is a neighborhood where ghosts and the living exist side by side.
Postscript: Many of these old industrial buildings have been renovated into luxury condos as part of attempts to revitalize the neighborhood. Of course there are people like myself who felt that the neighborhood was fine as it was and that this is nothing more than an effort to empty it of one class of people to fill it with another.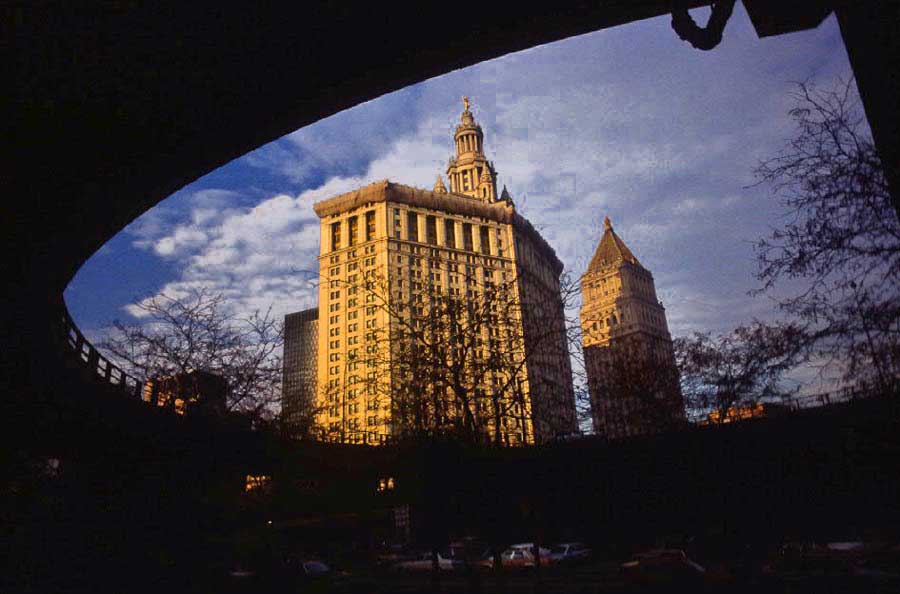 November 1987

A Downtown ramble

It is rare to find a place so inhospitable to people as what replaced the old Five Points district in lower Manhattan. The over packed slums are gone and now clean buildings surrounded by manicured shrubbery have risen to take its place, but this attempt at urban renewal leaves me cold. All seems oriented to the automobile and pedestrians must make their way as best they can. I feel I am being maneuvered by an invisible hand in every which way except the way I wish to go. The people who used to live here did not make much of the place but the non-human scale that exists here today does little better to make it livable. This is what happens when a neighborhood is replaced with an idea.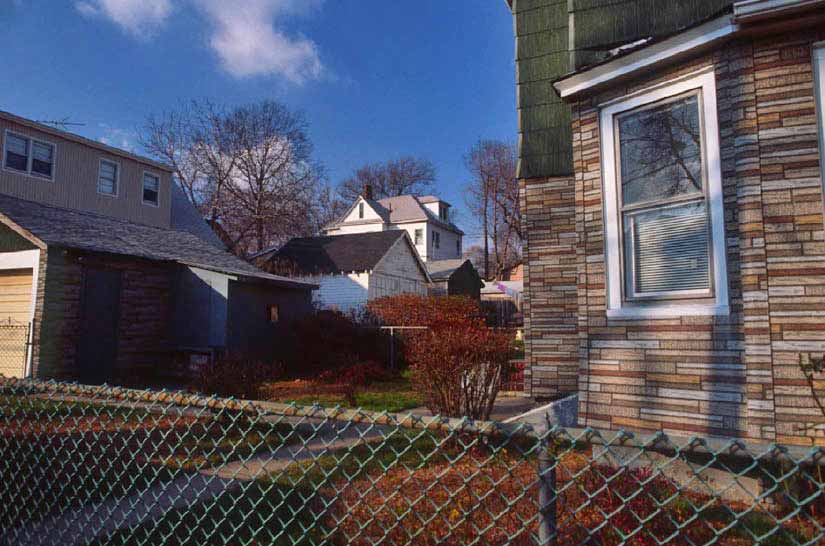 November 1987

A ramble in Flushing

As leaves fall away the hidden lives of backyards emerge, at least sometimes. Even in winter it is amazing how much bare hedges and bushes can obscure. I have always found this a great annoyance preventing me from obtaining my desired shots but I have just started to see these obstacles as a subject in itself.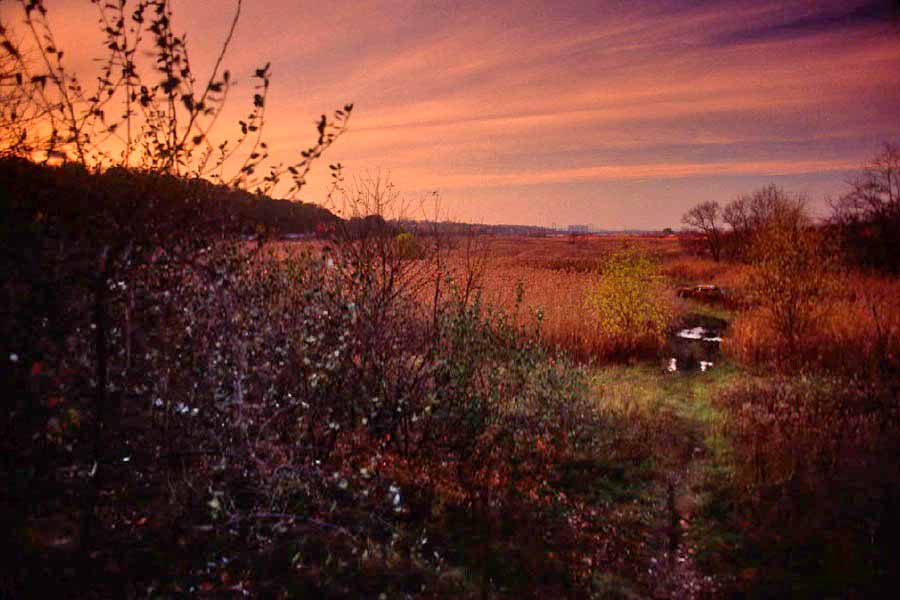 November 1987

An 8 mile walk from Flushing to Bayside via Creedmoor

I began this walk on a trace I had known most of my life but had never followed for any real distance. While I knew it must have an end I did not know where it would be. Parts had been totally eradicated by modern construction and others had not felt a footstep in many years, so I was surprised when these meager hints abruptly turned into a full blown bicycle path. I followed it as curved under cloverleafs and over streight stretched through forest until it ended midair at Creedmore. Having run out of path I headed north into the marshes for a little more solitude.
Postscript: While some have since described this path as the old course of the Vanderbilt Motor Parkway, most of this path is actually the old right of way to the defunct Northside Railroad. The Parkway was later built only over certain parts of the railroad bed.
August 1987

A ramble about Flushing

The area surrounding Flushing Creek seems to be made of leftovers from other eras. Pilings, concrete slabs, and scrap metal all abound. While much of the remnants found here give no clue to their former life, there are other remains that are more intact and decipherable. Burnt out train cars lie behind new models as if awaiting cleanup for the morning commute.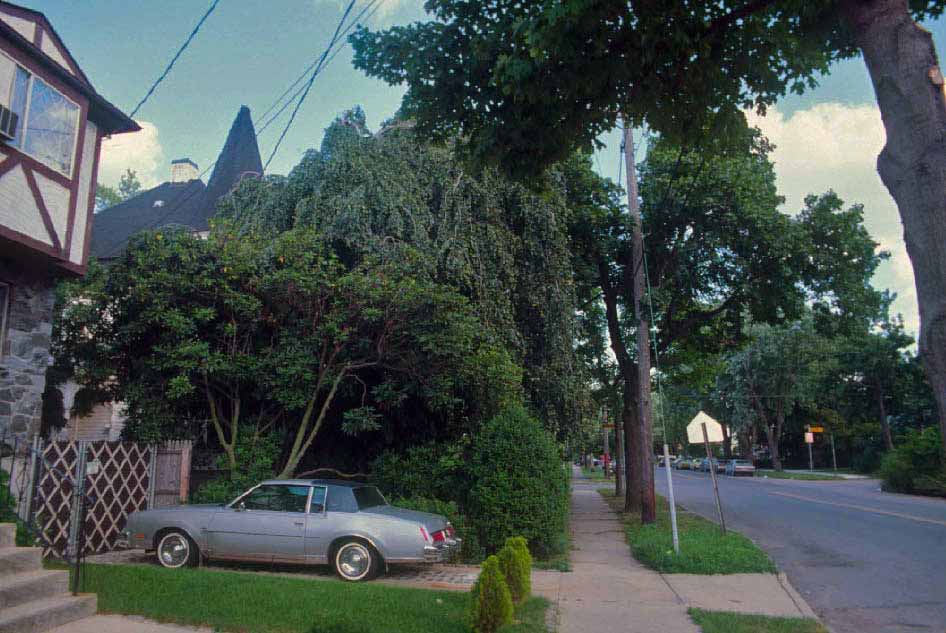 August 1987

A walk from Oakwood to Great Kills

After walking block after block past homes that were all different yet quite the same, I came to a landscape that provided some real change. It was here that I followed a long road through tall reeds until I reached the shore. It seemed odd that such a place should exist within the city. I was soon reminded however of exactly where I was, I had never seen so much garbage on a beach in my life; not left behind by bathers but washed ashore, from overflowing storm drains.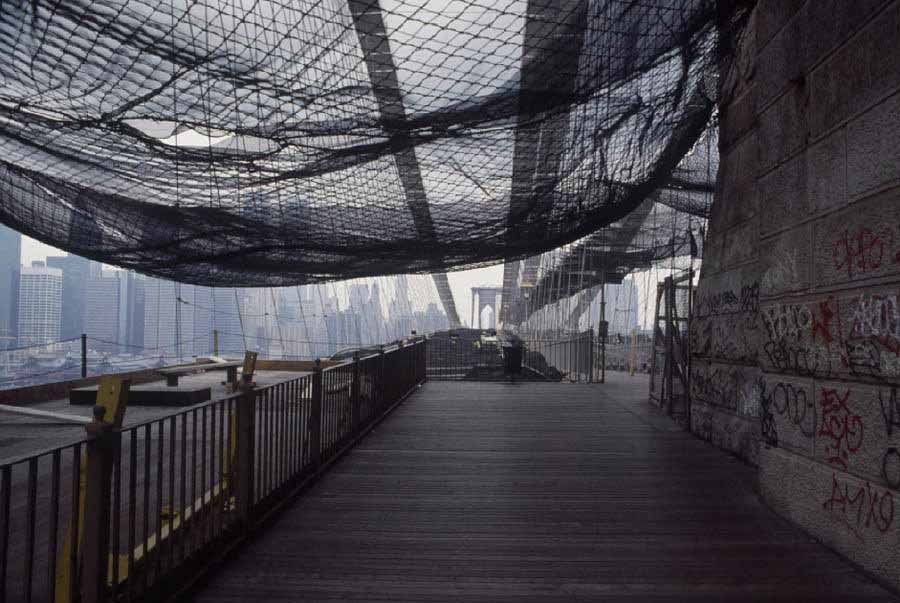 August 1987

An 11 mile walk from Park Slope to the Battery

If the Brooklyn Bridge is a classic work of art in Gothic Revival then the recent construction on it has transformed it into a ever changing piece of modern sculpture. Large sheets of netting hang to and fro as in anticipation of a great high wire act. It is not far from the truth.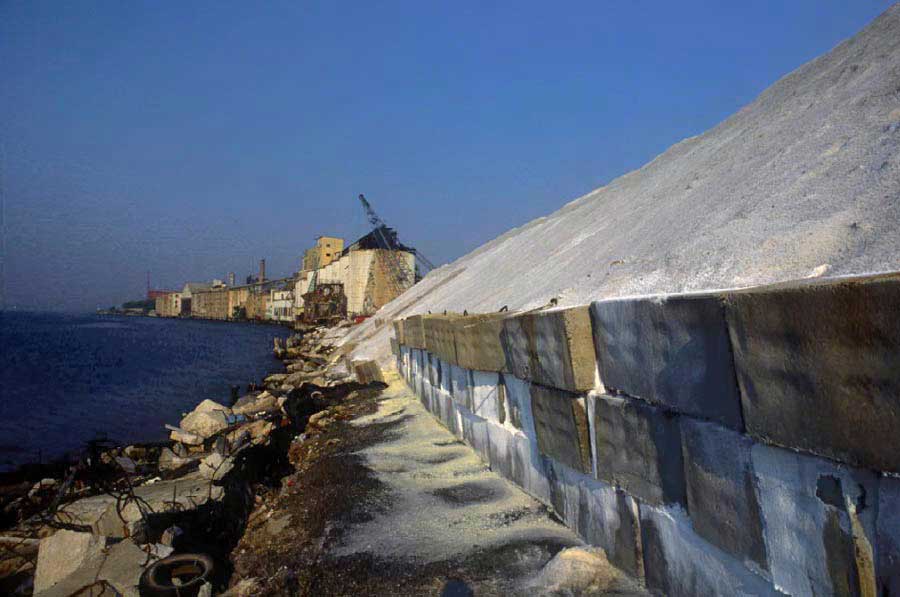 July 1987

An 8 mile walk from Port Ivory to St. George

I was taken by many of the old rundown houses along my route but the harsh light made them difficult to photograph. In the heat and bright glare it seemed as if I was covering twice the distance that I actually was. I diverted myself on what I had hoped to be a shortcut following the abandoned rail line that ran along shore. Soon my passage was blocked by a giant mountain of salt. I maneuvered around the obstacle as best I could and was relieved when I spotted a gate on the other side up by the street, that is until a guard dog let out a frightful bark. It tried to stand up and come at me but collapsed in the fierce heat as I headed on my way.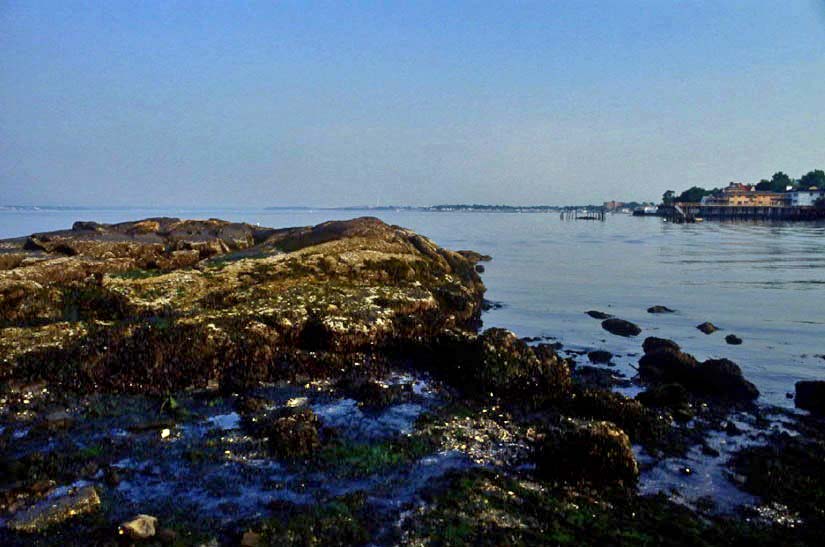 June 1987

An 11 mile walk from Old Ferry Point to Pelham

It was feast and famine when it came to finding views of the Bronx shore. While at times I could not get anywhere close enough to even see the bay, there were also small communities from which I could stroll along the water. As I moved northward the beaches changed from sand to rock as if I had traveled a much further distance. There is a saying, New England begins in the Bronx. I understood what that meant today.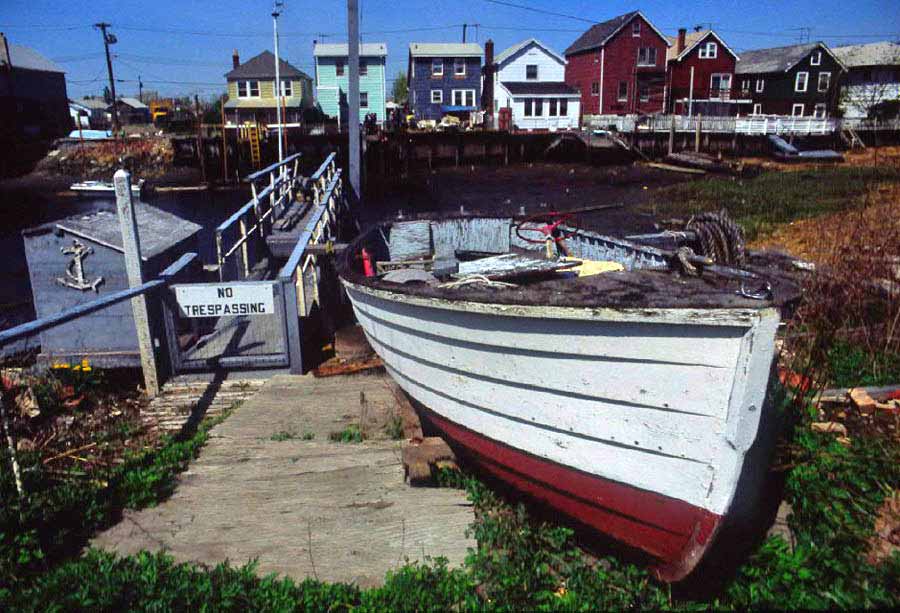 June 1987

A walk from Broad Channel to Fort Tilden

Small seaside communities in New England have been under great pressure to modernize in recent years but some care has been given to preserve at least part of their traditional character for it is what tourists have come to expect. Their stereotypes loom too large in the public imagination to risk loosing them entirely. I am sure that stereotypes of New York as a city of glass and steel have played the opposite role here furthering the demise of many of its more unique neighborhoods. No one clammers to protect the assets they do not even know they possess.
June 1987

A short ramble about Flushing

Some people have the ability to ignore the impoverishment of their surroundings. They are blessed with an imagination that exceeds that of their modest home and yard to create a paradise from very little.
Postscript: The new owners of this property have paved over the front yard and nothing grows here any longer.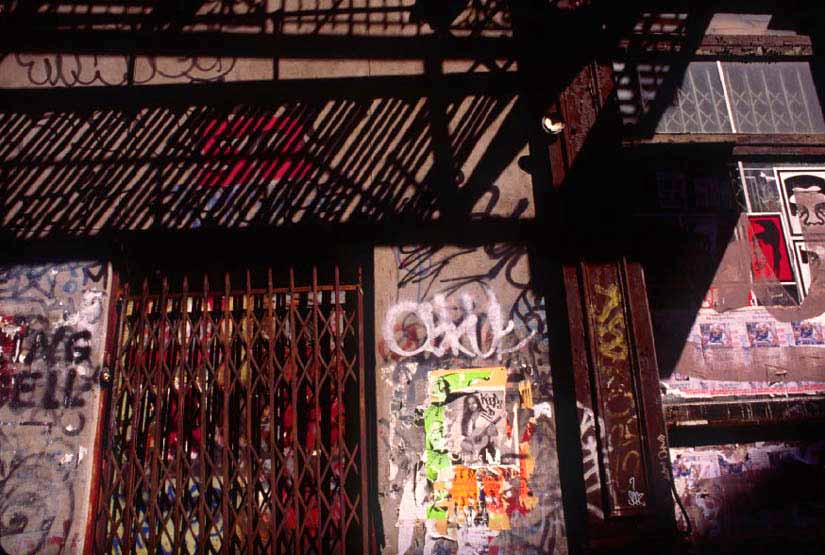 May 1987

A ramble in Soho

I received a complaint from some new business owners about the posters I had pasted up in the streets the night before. They said I was bringing down the neighborhood. They did not appreciate my telling them that the neighborhood was fine, at least until they arrived. There is a battle in the streets between artists and those who prefer the sterility of certainty.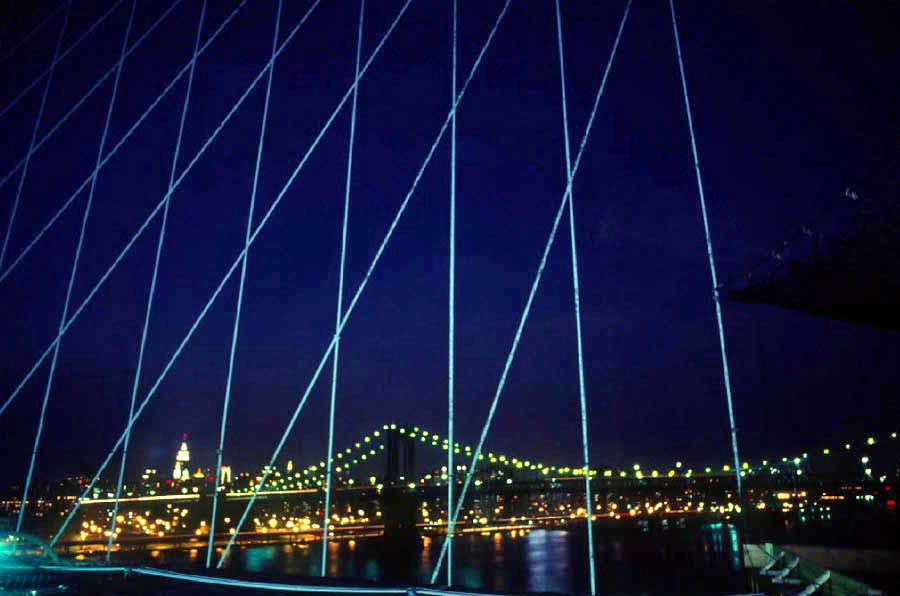 April 1987

A 12 mile walk from Prospect Park to South Street via the Brooklyn Bridge

The cherry blossoms were falling into great puddles of pink this afternoon, a distant memory by the time I reached the Brooklyn Bridge. We praise the view from its heights but all that surrounds is dead. At night, when darkness throws the vanity of man into shadow the energy that emerges from the lights of night breath a little life back into the land.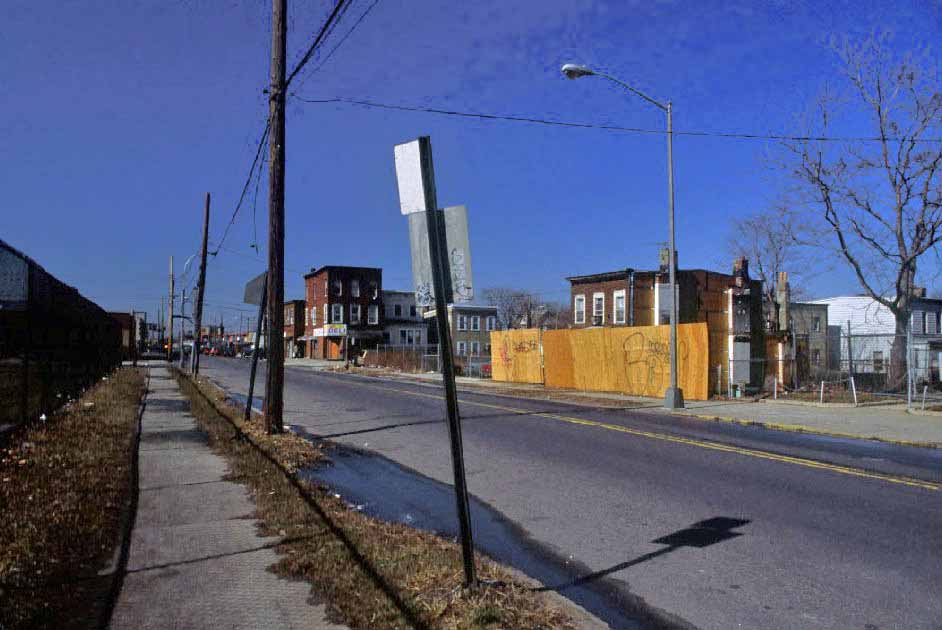 April 1987

A short ramble about Flushing

The old parts of town are fading fast. Soon they will be as distant a memory as the farms and nurseries they once replaced. There are those who talk of space travel and colonization. For the way we have treated the earth we are not good enough for the heavens.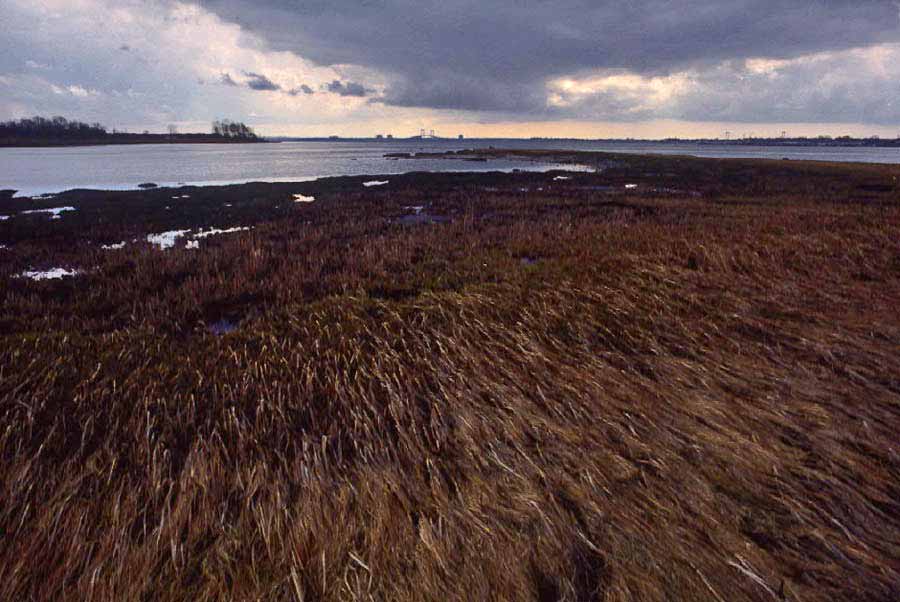 April 1987

A 12 mile loop between Pelham and City Island

The heavy clouds left a dark pall over the bay. I have never looked so forward to spring.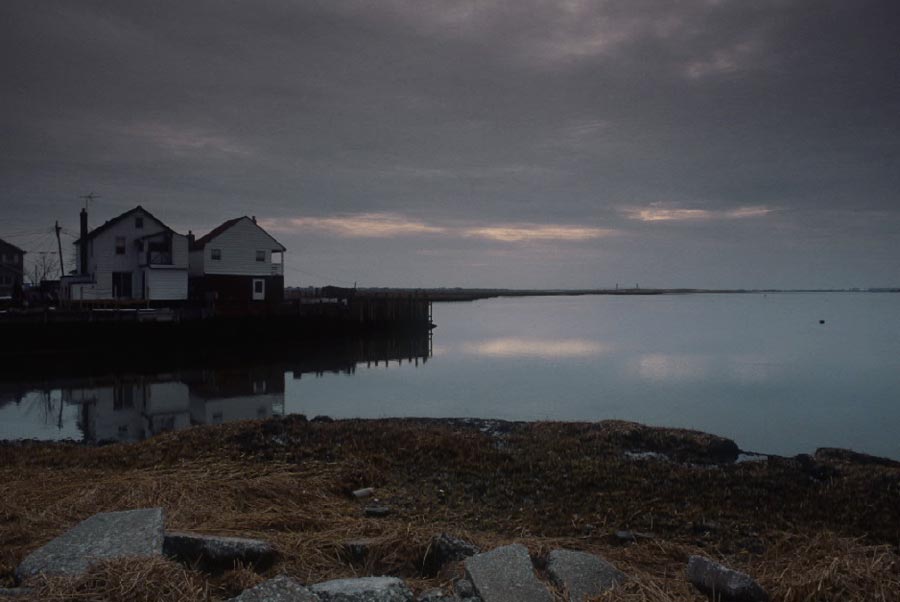 February 1987

A 15 mile walk from Howard Beach to Broad Channel

All is still today, the water, the air. Only I create a stir.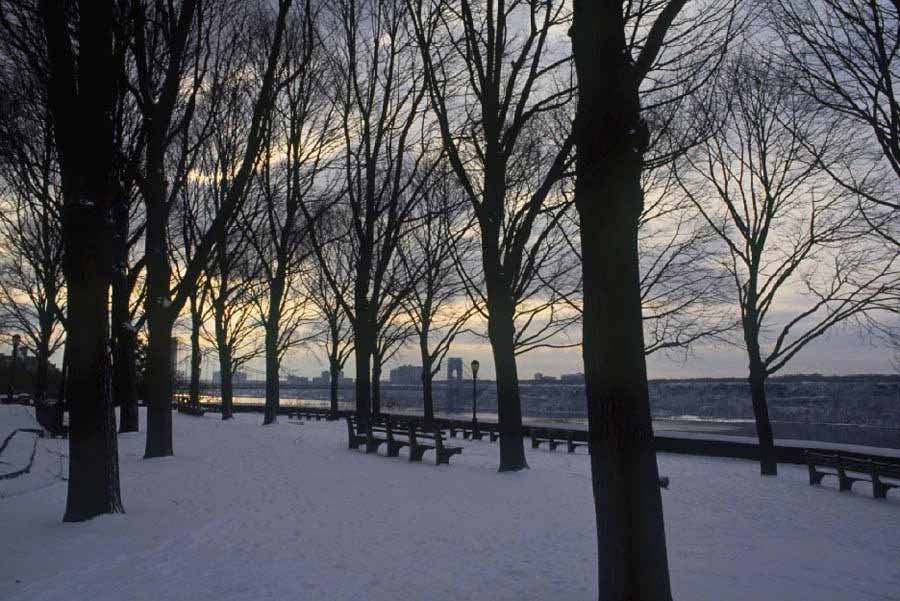 February 1987

A ramble in Fort Tryon Park

By the time I arrived uptown my long trek left me with little usable light to work with. I tramped around as quickly as I could through the drifts making the best use of what I had. It was really cold but as I continued to shoot I was absorbed into the warmth of the fading light. By the time I left I was freezing but it no longer mattered.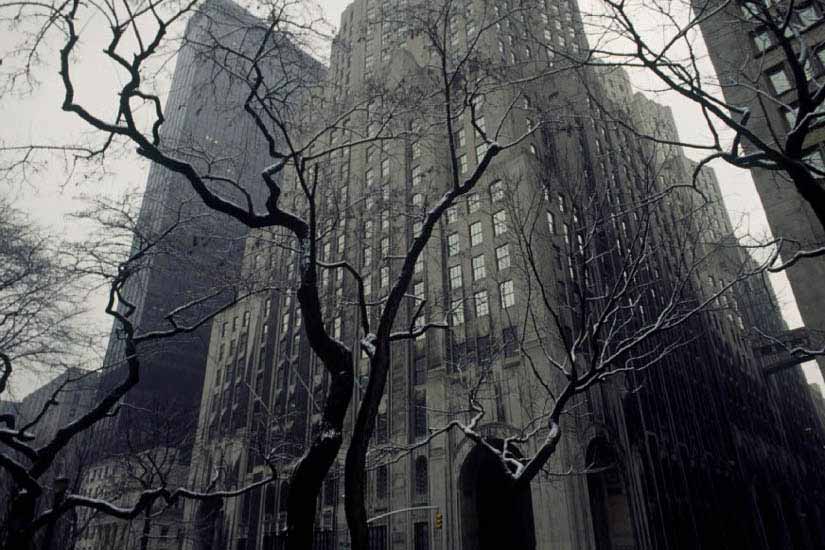 January 1987

A Midtown ramble

Snow can last on the ground for days or weeks until it is dirty and messy and you wish it would just go away. Then there are those gentle snows that suddenly brighten our day covering all with their crystalline lace before melting away like a dream.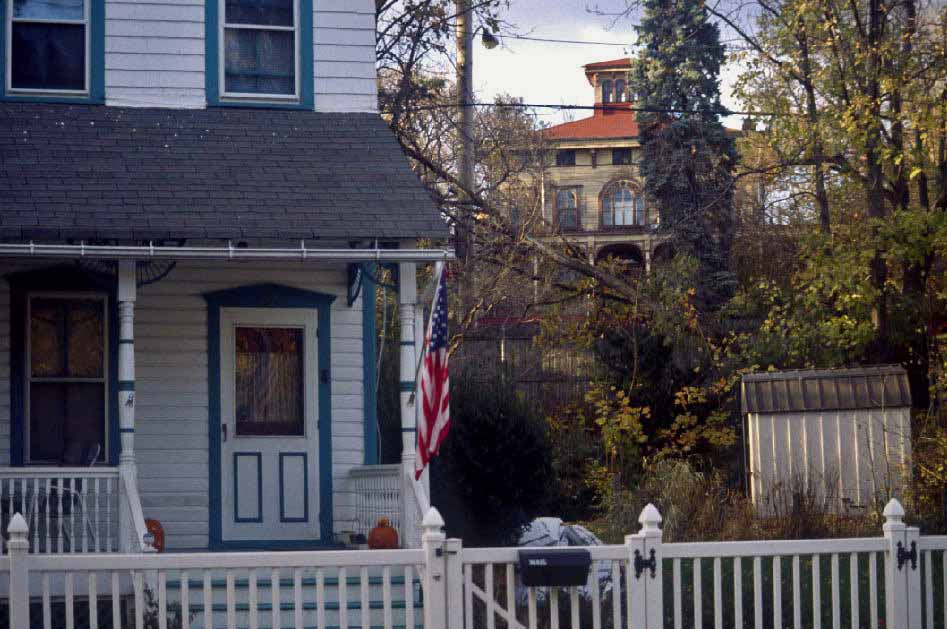 November 1986

A walk from New Dorp to Grant City

A tree falls, a view opens, a shot is taken.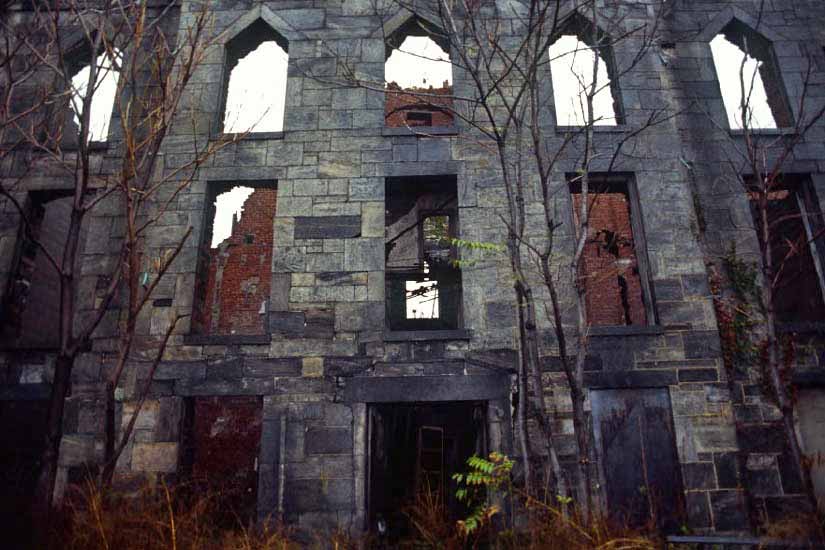 October 1986

A ramble around Roosevelt Island

Once over the fence that sealed off the southern tip of the island I stood amidst a lost world. Had the city's skyline been little less than a stone throw away I would have thought that all of civilization had long faded away. The area was overgrown with vines and fields of ragweed, young saplings took root wherever an opportunity presented itself. The door to the Old City Hospital was missing but with its windows bricked up there was nothing inside but a realm of darkness. The old smallpox hospital, the Pest House, offered a chance at much brighter exploration since most if its roof had caved in. The difficulty here proved to be moving about inside amidst the broken boards of the floors that had collapsed or were just about to do so at the slightest provocation. A real Gothic adventure.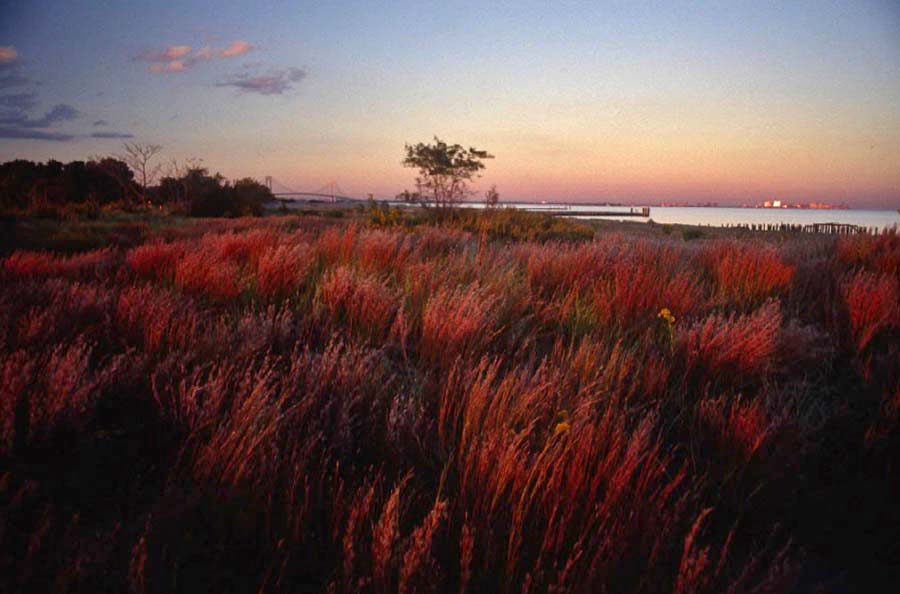 October 1986

A walk from New Dorp to Miller Field

For a moment the light is perfect and then it is gone, but the freighters far across the wide bay still catch the sun's last rays. It is not possible to imagine that in minutes my feet will be pounding a sidewalk. It is another world.

---
Copyright 2009 Alan Petrulis All Rights Reserved