NEW YORK RAMBLES (page 8)
page 1 2 3 4 5 6 7 9 10 11 12 13 14 15 16 17 18 19 20 21 22 23 24 25 26 27 28 29 30 31 32 33 34 35 36 37 38 39 40 41 42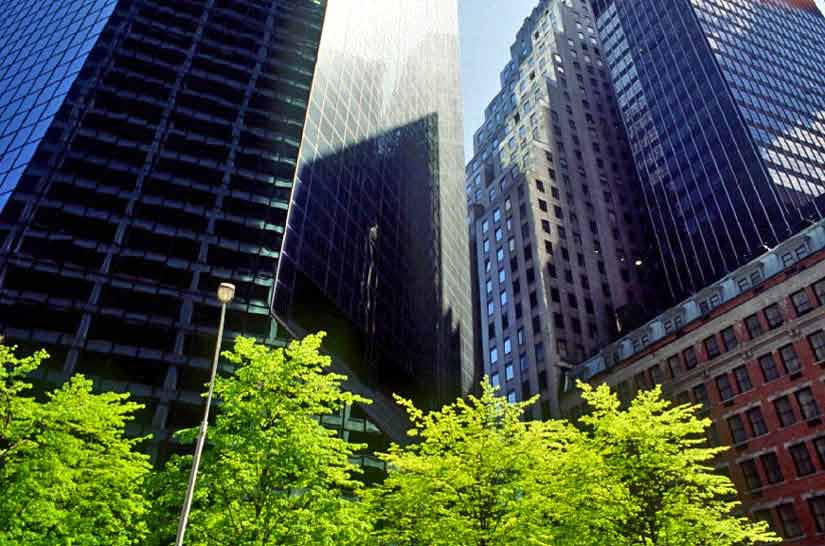 May 1995

A Downtown ramble

There is now so much reflected light off of the new glass towers that even in deep canyons the trees seem to be happy.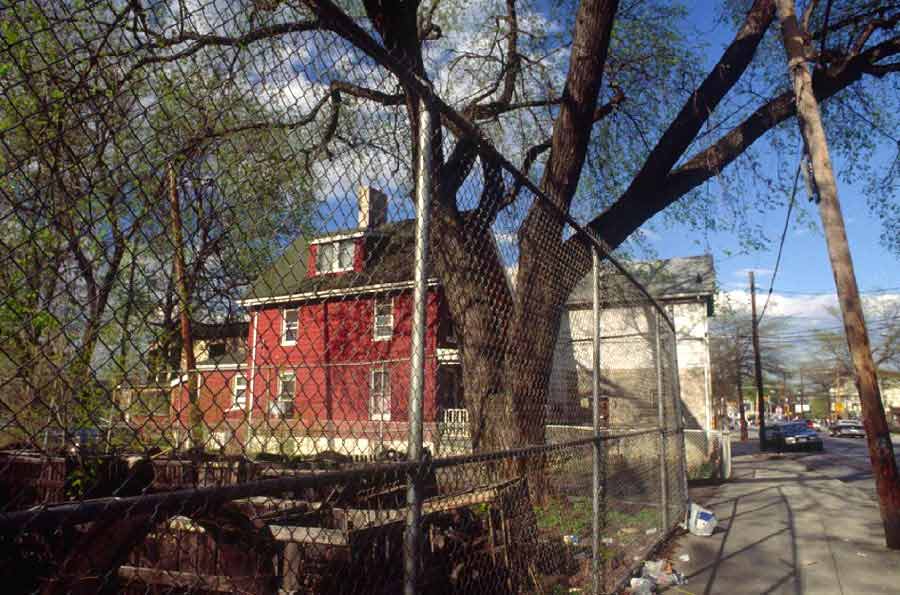 April 1995

A walk from Port Richmond to Grymes Hill

There seems to be much expediency and patchwork at play in this landscape. Few major changes are to be found, only a slow determined but unfocused evolution.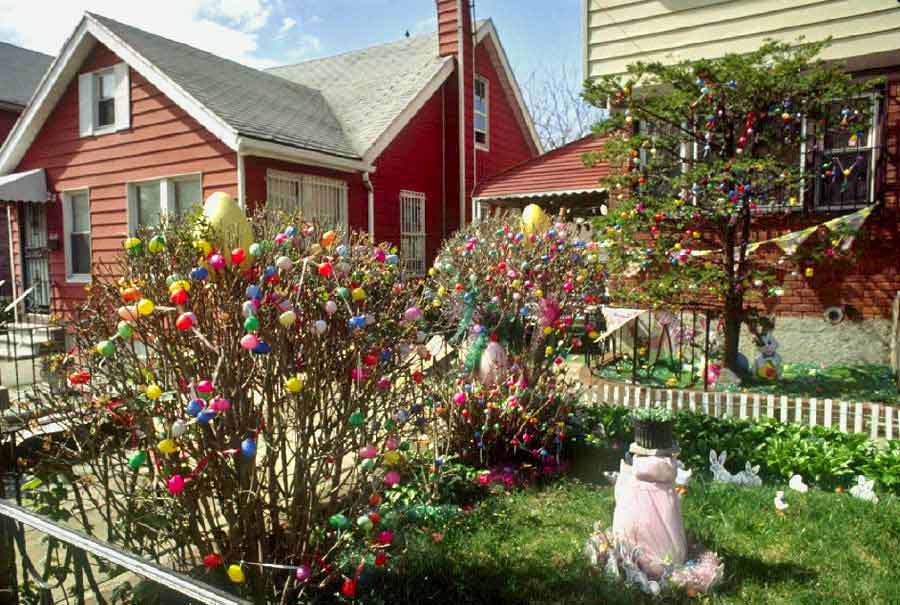 April 1995

An 8 mile walk from Glen Oaks to Flushing

Some people have no subtlety when it comes to holidays. When a simple yard is thus transformed we cannot help but see its artificiality leaping out at us, conveinently overlooking the fact that all yards are artificial to begin with.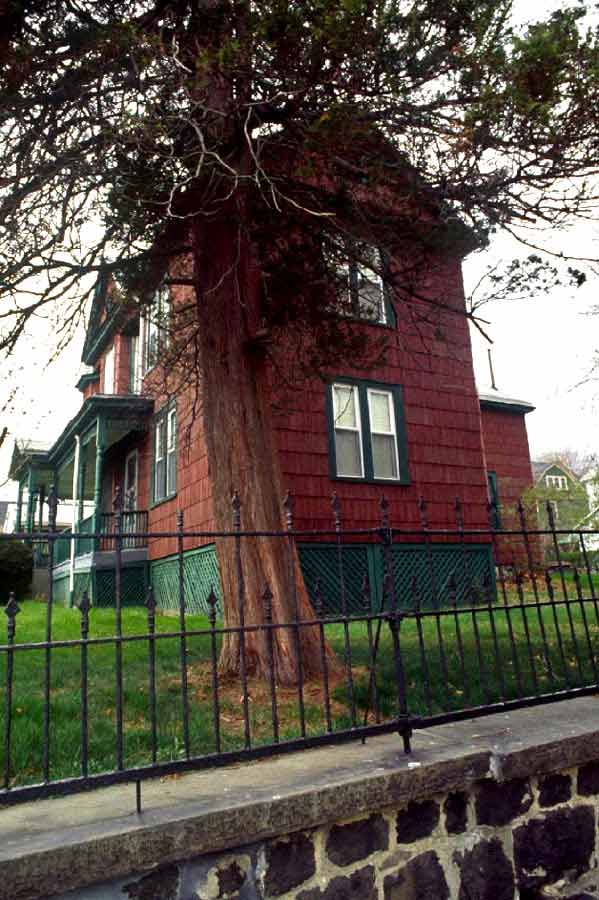 April 1995

A 5 mile ramble through Flushing

The few old homes in Flushing that remain standing are scattered about. They are not as overly ornate as those that may be found elsewhere but they hold a simple flare that probably went unnoticed even in their prime. One house in particular has always stood out for me despite its simplicity for unlike its neighbors it is a bit more frozen in time. But there is also something else here, a dark spirit that I find myself drawn to. I have attempted to photograph this house on three earlier occasions and each time these frames on the film were either lost or totally damaged.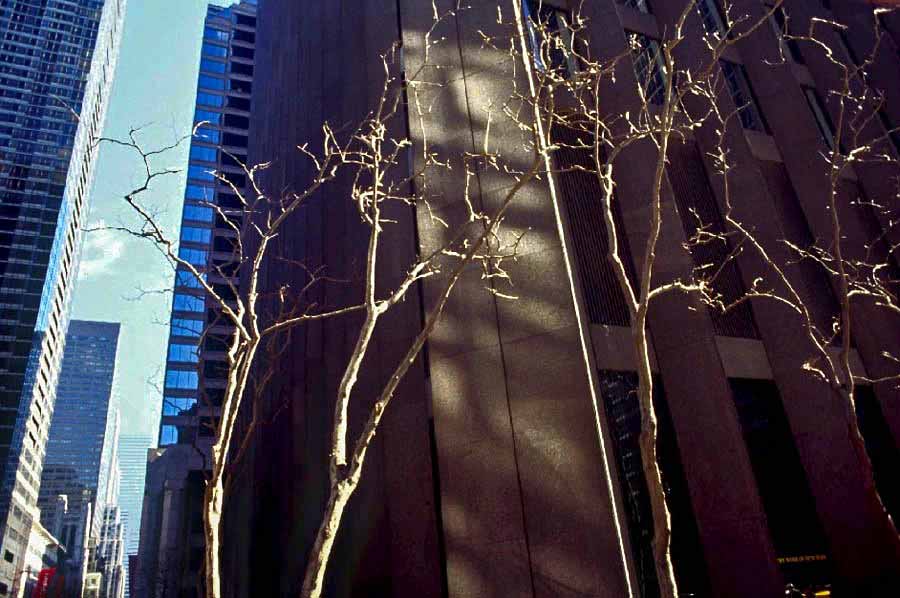 March 1995

A Midtown ramble

We strip the land bare then plant trees to soften the damage. Our needs do not match our desires.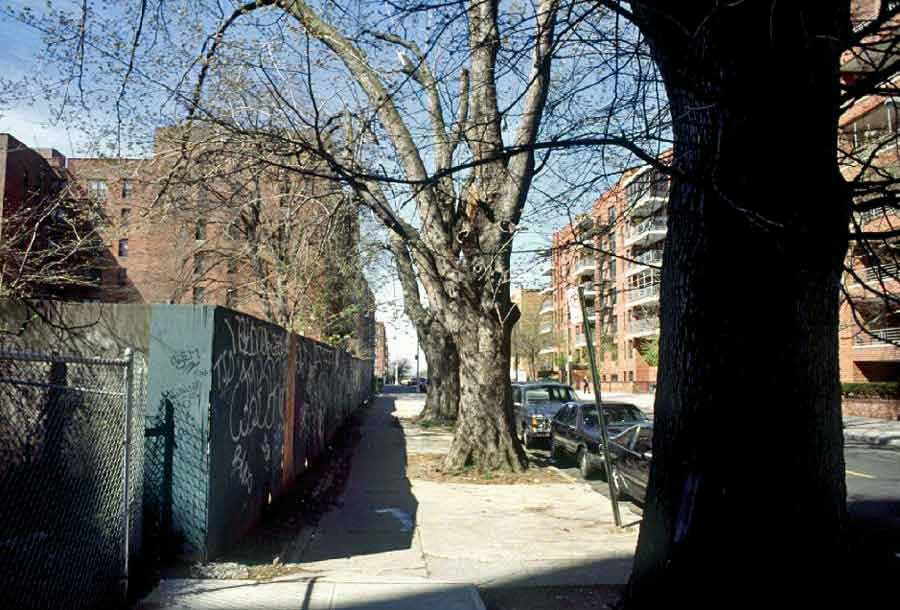 March 1995

A ramble in Flushing

Huge trees still line streets that were once lined with small homes. Flushing was once prized for its trees; now they are just obstacles to the efficient use of back hoes, cranes, and bulldozers. In this climate can anything grow?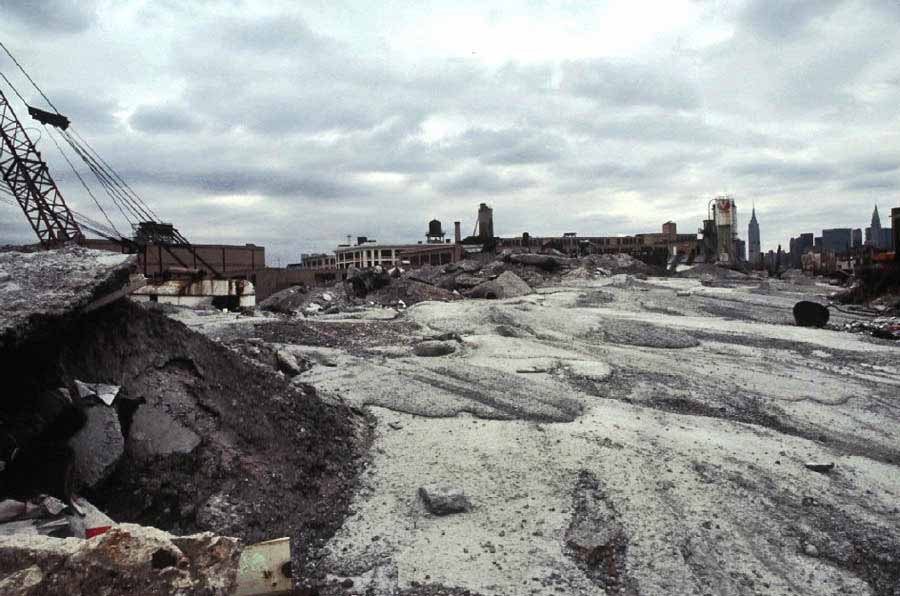 March 1995

A loop between Long Island City and the Dutch Kills

As the soft light of day reflected off the toxic industrial badlands it created the most wonderful if nuanced colors.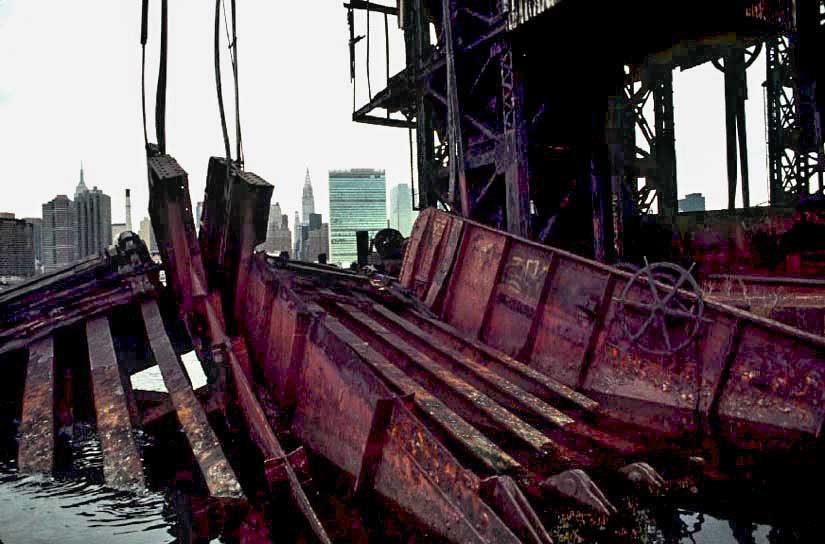 March 1995

An 8 mile walk from Long Island City to Roosevelt Island

Only mounds of debris lay in the ragweed covered field that was once a railroad yard. At the shore however the tall lifts that had once hoisted box cars on and off of barges stood with their dark rusty presence like some abandoned monsters from a War of the Worlds. They were slowly coming apart and falling into the river while new glass and steel structures were rising on the opposite shore. Two vastly different worlds living side by side.
Postscript: With new luxury condos rising on the Queens shore this lot has been turned into a park and the lifts painted and restored, not to functionality but as monuments to our industrial past. When abandoned these giant monsters had an unbelievably strong presence on the shore. In their new context they seem so out of place I am not sure they were worth saving.
March 1995

A Midtown ramble

42nd street has been set upon by artists and now sits in a strange limbo. Its like a cadaver made presentable before the lid on the coffin is closed.
March 1995

An 8 mile walk from Times Square to Queensboro Plaza via Roosevelt Island.

The tall metal fence that meant to keep trespassers out of the southern tip of Roosevelt apparently was not doing its job well for it was heavily reinforced since I last scaled it. Today I took my chances among the slimy stones that pass for a beach at low tide, but getting back up over the high walled embankment entailed grabbing onto some wire that was just beyond my sight. Once over I realized I had been tightly clinging to razor wire. The last time I climbed over the wire my boot was ripped open, this time I got away without a scratch. The overgrown jungle that once nearly hid the old buildings had been cleared and only a muddy field lay ahead. City Hospital having caught fire was demolished, and the Stetcher Laboratory that was near to collapsing had been carefully restored but was now fenced in. Feeling greatly exposed I took refuge in the Pest House, which was still as much of a ruin as it ever was.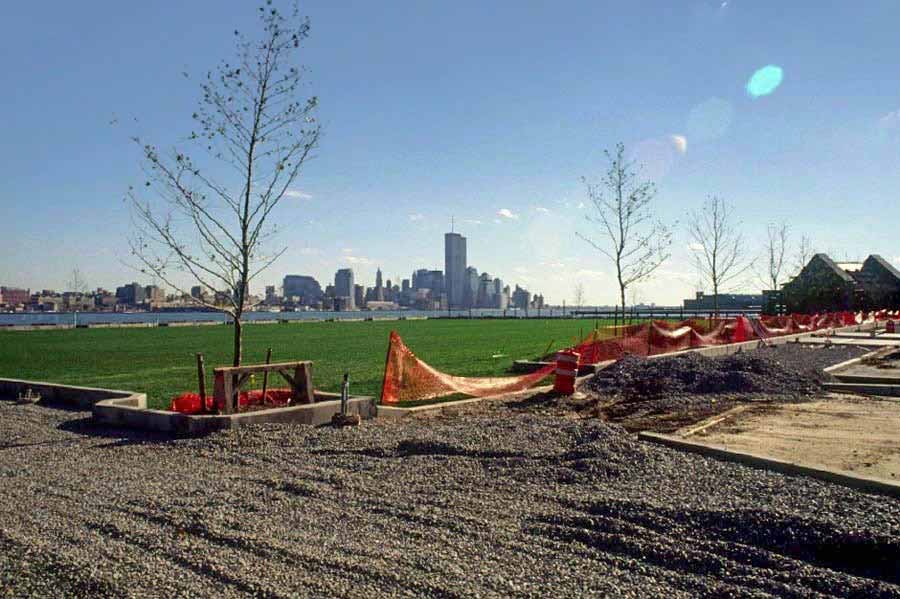 February 1995

A ramble between Jersey City and Hoboken

I am way too late to capture Jersey's industrial waterfront. At least there is some construction to add a grittiness to my shots before all turns sterile.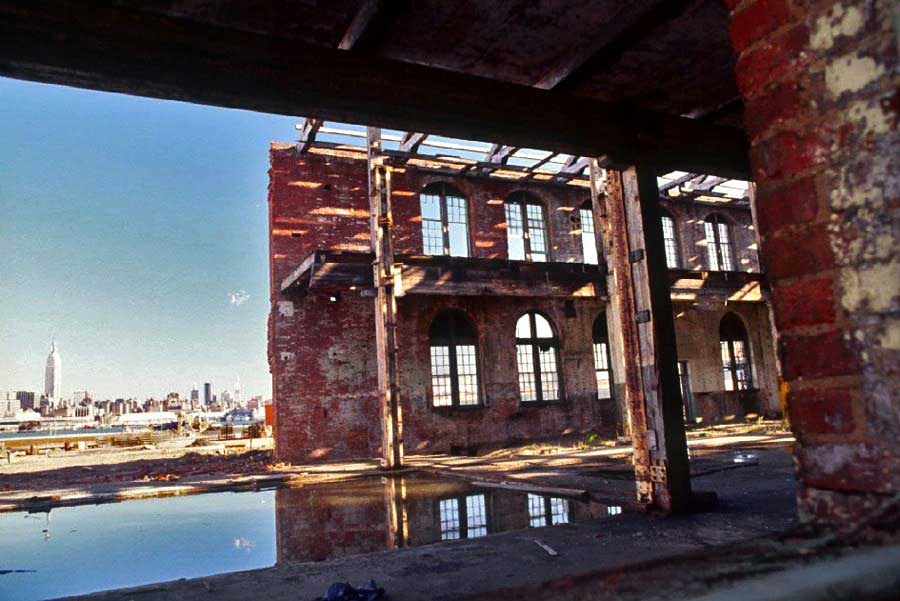 February 1995

A 7 mile loop between Hoboken and Jersey City

The last of the waterfront factories and warehouses are being renovated into apartments or are being turned to dust. It seems everything has changed so fast, an era passes without notice. These transformations are greater than anyone yet realizes.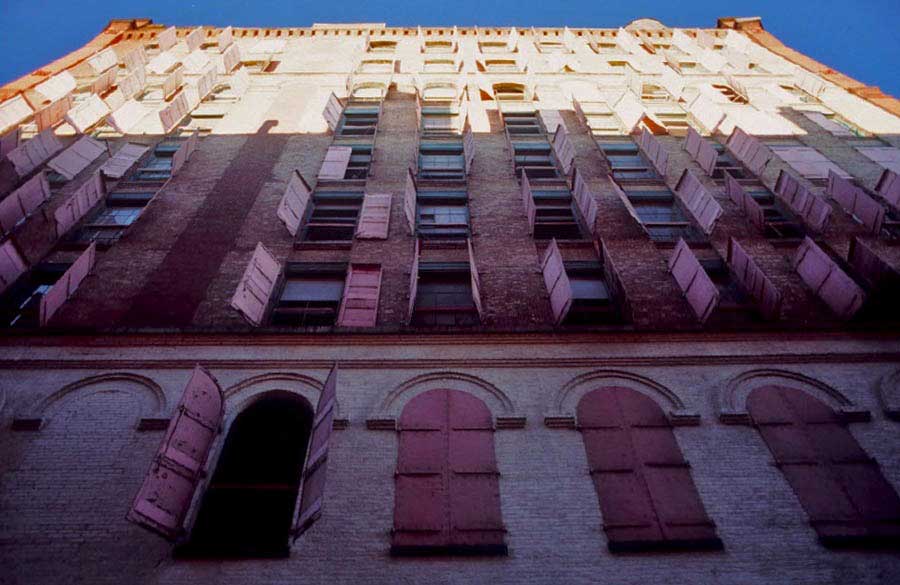 February 1995

A ramble in Soho and Little Italy

Shutters are such prized accouterments on renovated industrial buildings, I wonder why they are so absent from modern construction?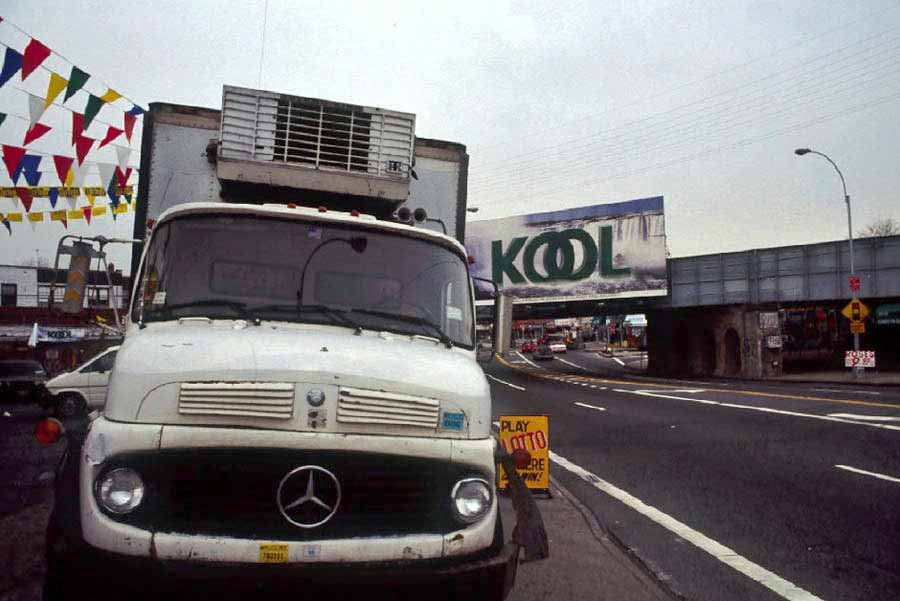 February 1995

A 5 mile ramble about Flushing

While the sameness of residential communities can offer a sense of comfort, any little thing out of the ordinary takes on exaggerated effects.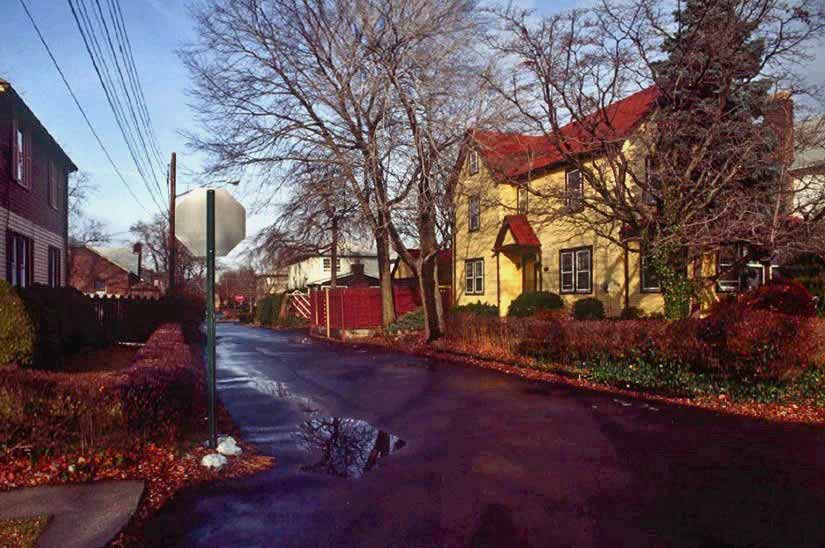 January 1995

A 10 mile walk from Flushing to Beachurst

The snowfall had just ended as I awoke. I rushed out to capture the dusting but by the time I found a scene to shoot I was left with nothing but puddles.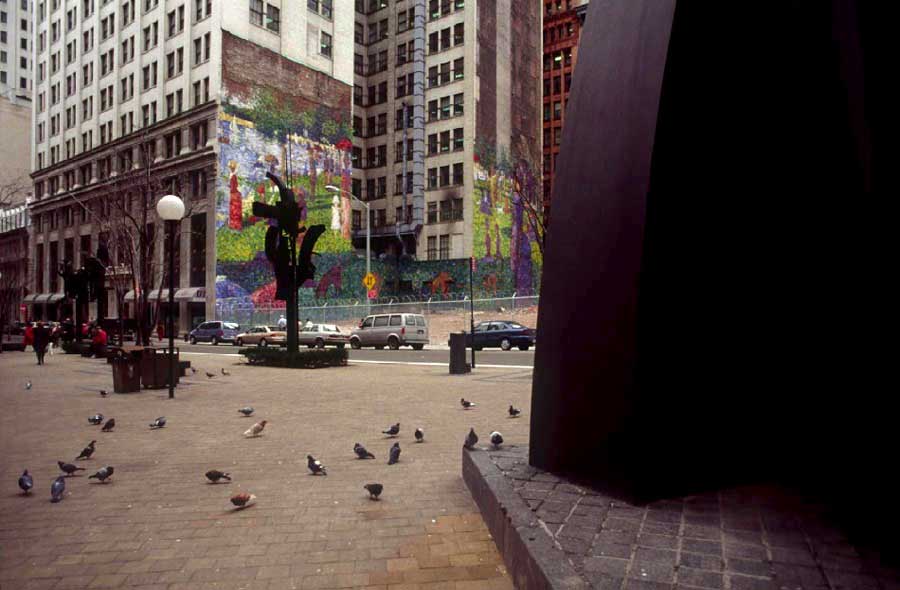 January 1995

A Downtown Ramble

As I walked past the Treasury building I notice a shipping pallet on the sidewalk stacked with gold bullion. No one is around. I wonder how much does a bar of gold weigh. Continuing on empty handed I next find steel bent and contorted. I am not a big fan of much of the City's outdoor sculpture but these pieces by Nevelson feel so natural here it is as if they sprouted from the bricks like weeds reclaiming their turf. I still had my treasure.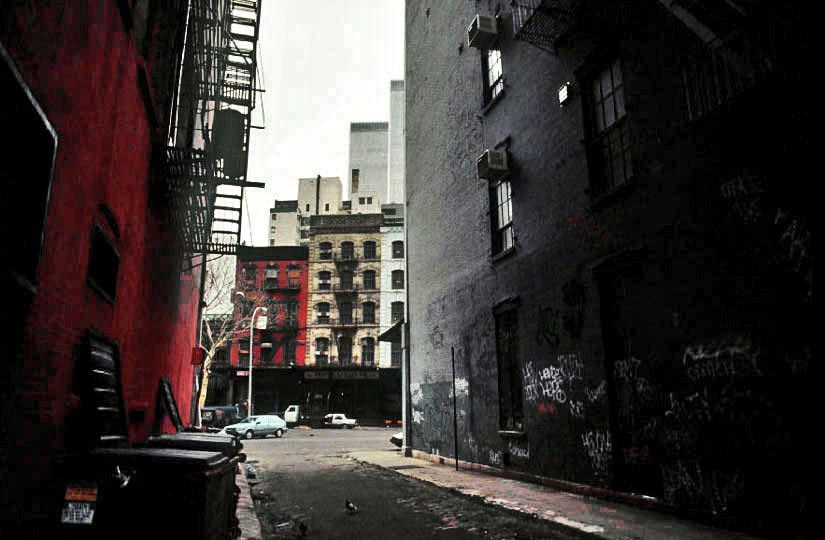 January 1995

A nine mile loop heading downtown from the Village

Most downtown buildings that have not been torn down have been renovated with shiny clean facades. Alleyways somehow always manage to remain the same.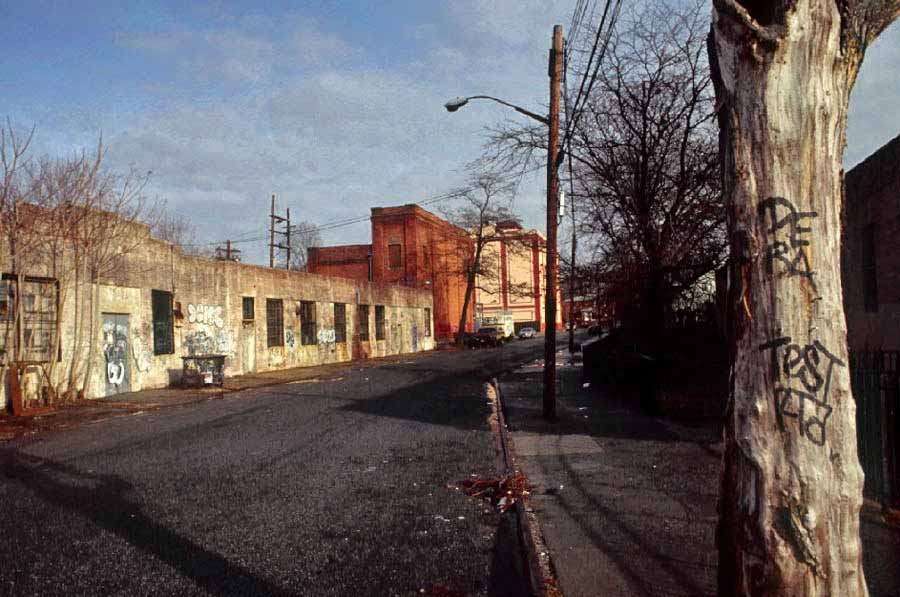 January 1995

An 11 mile walk from Flushing to Bayside

A pothole filled lane with a crumbling curb, garbage caught under the edge of a fence. Both walls and trees here are the canvas for tags. I turn the corner onto a tree lined street lined with fine homes, gardens, and manicured lawns. Why do our values have such boundaries?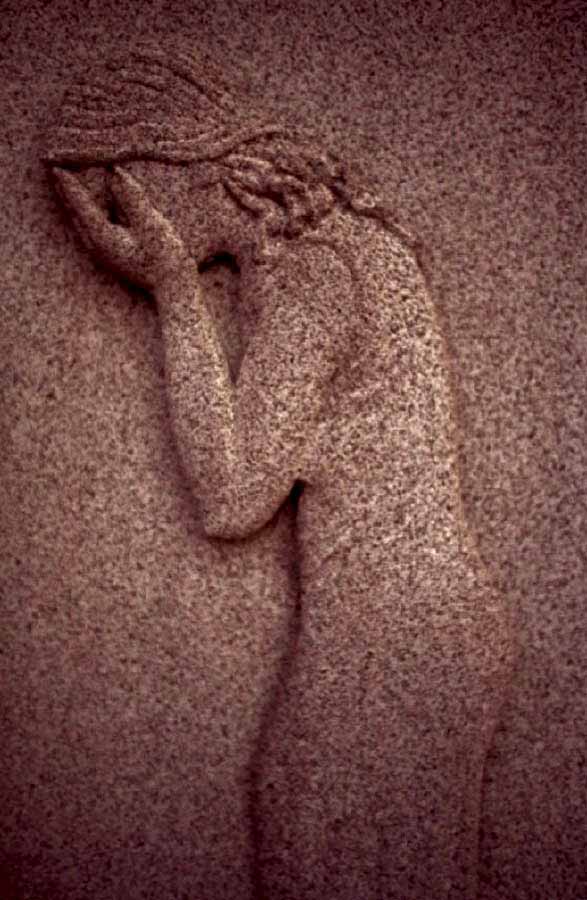 November 1994

A walk from Steinway to Jackson Heights

I walk down street after street of apartments and homes. Sometimes Queens can seem endless but nothing is.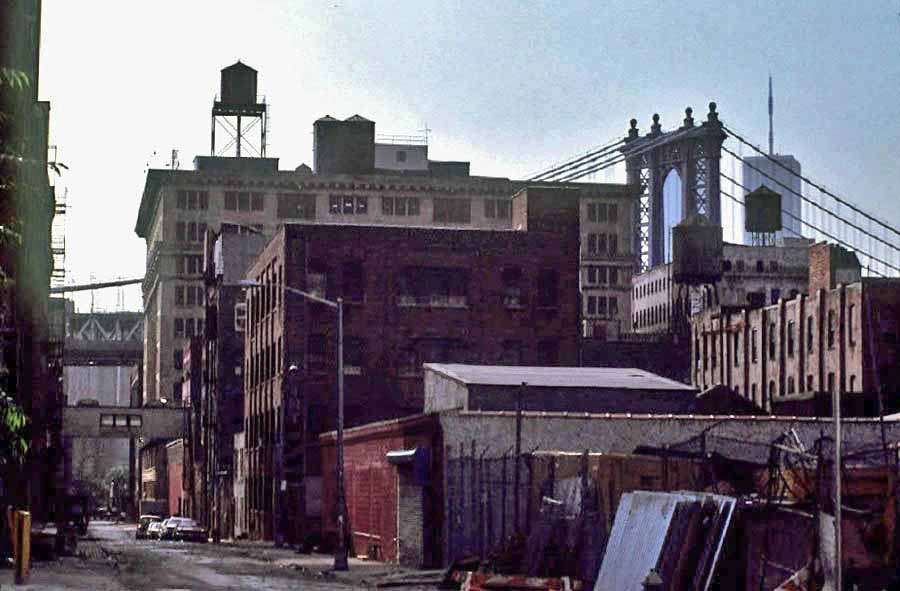 September 1994

A ramble through Dumbo and Vinegar Hill

A general problem of shooting in this neighborhood has been the inability to free myself of the dark shadows cast on its streets. Sometimes I just have to learn to treat them as an asset.
August 1994

A loop between Soho and City Hall

Some streets are so full of different architectural styles, signs, and activity that I can barely stand to walk down them. It is as if I am inside some giant arcade game desperately trying not to go down the wrong hole.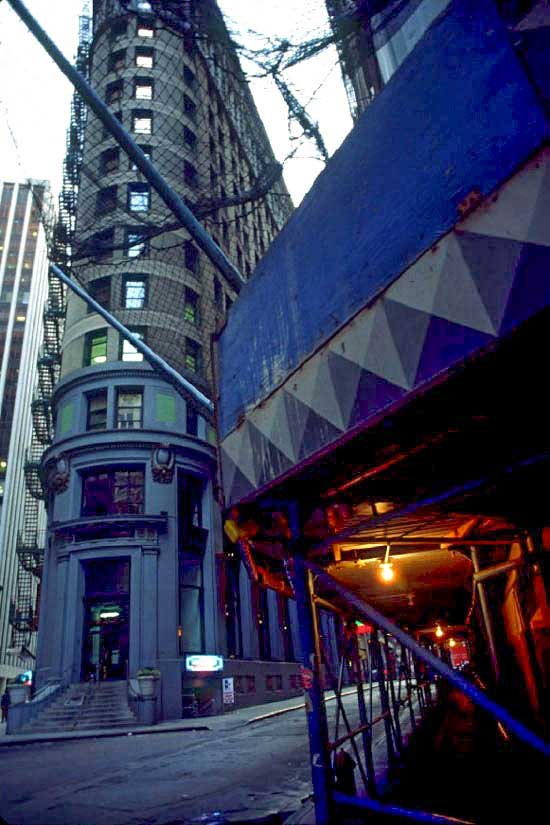 August 1994

A 7 mile ramble Downtown from City Hall then on to the Lower East Side

Little is left from old New Amsterdam except for the downtown grid and the street names. Some are so narrow that the term city canyon has never been more applicable than here.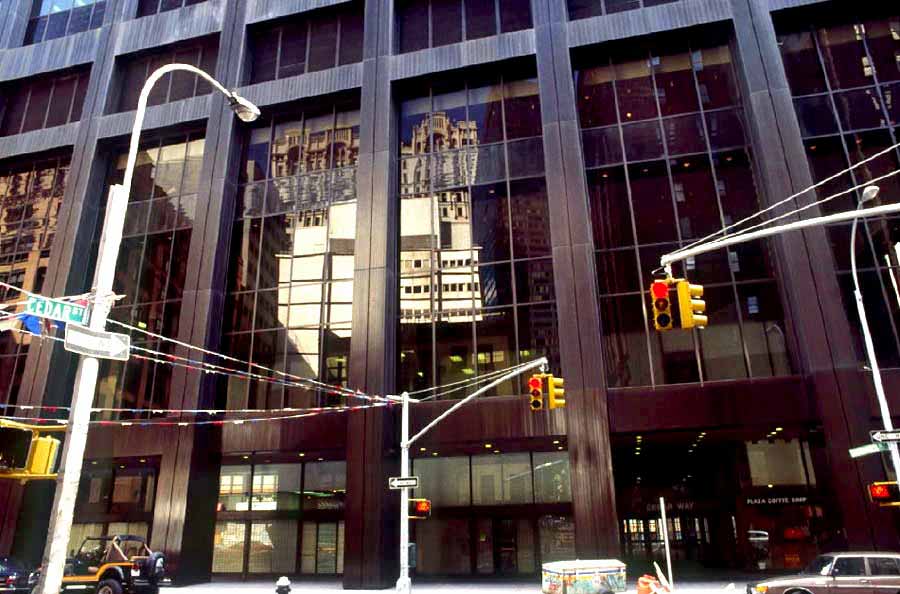 August 1994

A Downtown ramble

Many of the downtown glass and steel structures are as ugly as can be. But sometimes, if I do not look at them as buildings but rather as abstract forms amid the milieux they can be tolerated.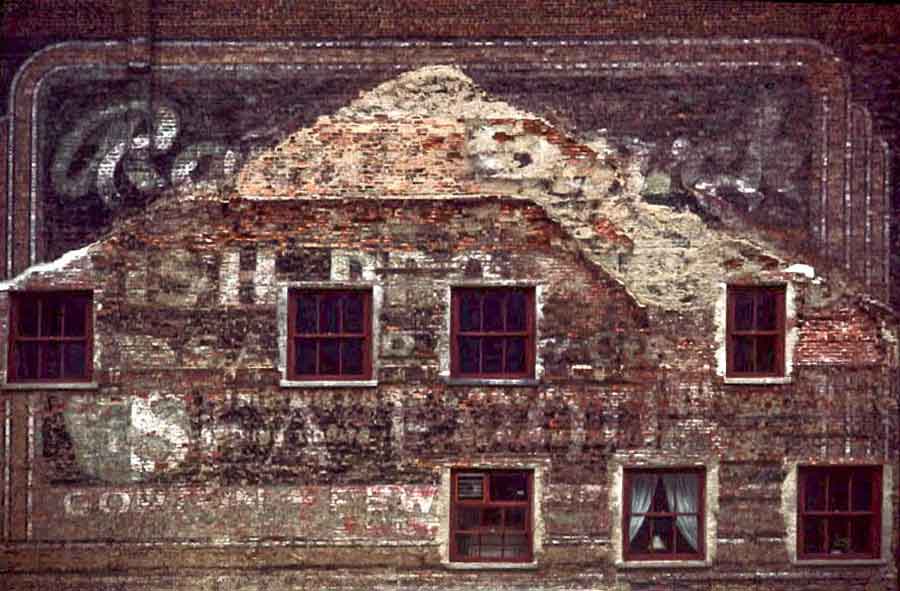 August 1994

A walk from Soho to the Battery

When buildings come down a window of opportunity often arises to observe the advertising painted onto walls decades ago and long hidden. But many such displays are already out in the open if only our eyes were open to see them.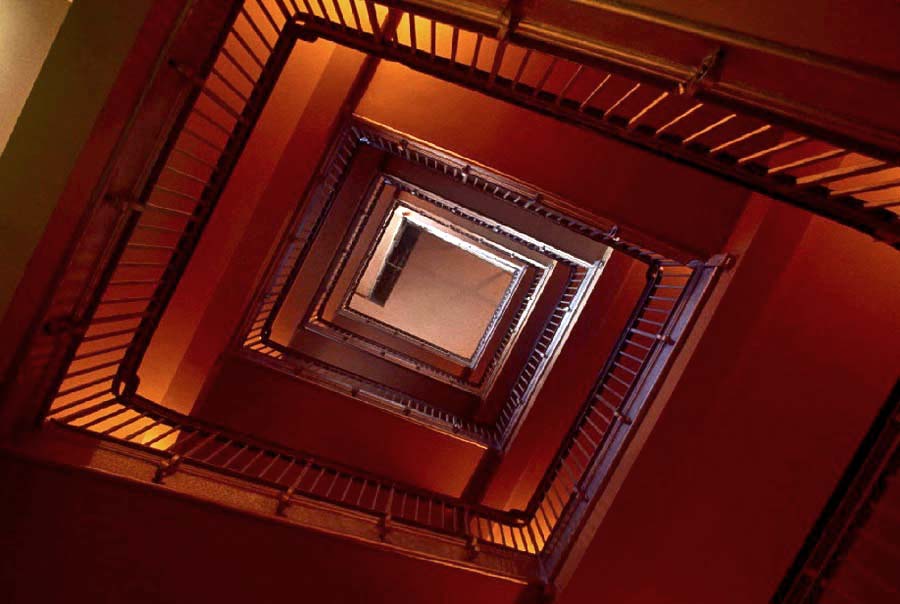 August 1994

A walk on Ellis Island

I was sadly disappointed by the limited public access at Ellis Island. While I can understand why they do not want hordes of tourists wandering through crumbling halls in need of renovation, at least some more of the grounds could have been opened. It was as if they would not let you look at anything that was not sparkling clean when it is well known that most of what remains there is in ruins. I was very surprised to find one of my grandfather's names on the memorial plaque. I had not submitted it as I objected to the fact that only those willing to buy their way into history would be recognized here regardless of whether or not their family ever passed this way.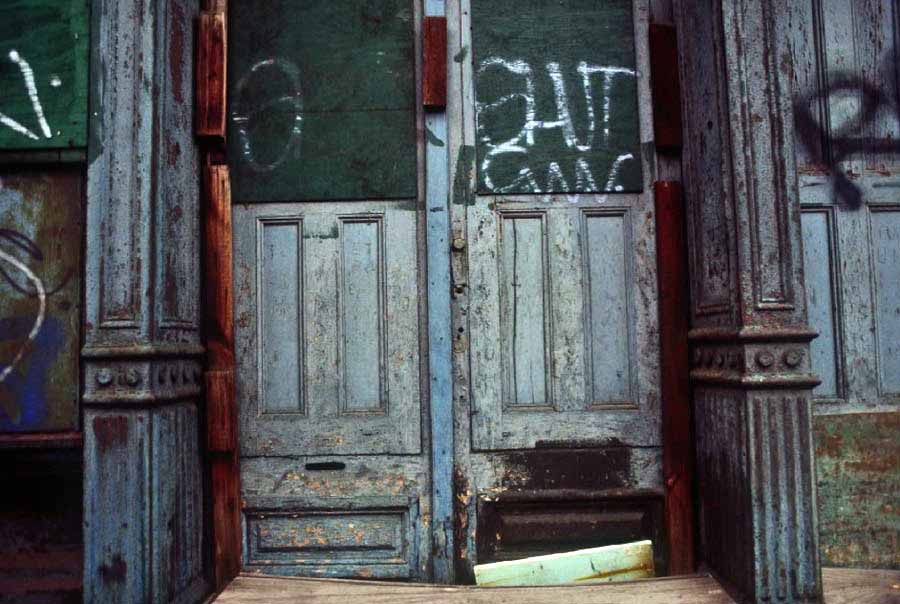 August 1994

A loop between Soho and Battery Park City

Those buildings that were once the hallmark of Manhattan's North River waterfront have become a rare commodity. When found I have to wonder how much life is left in them.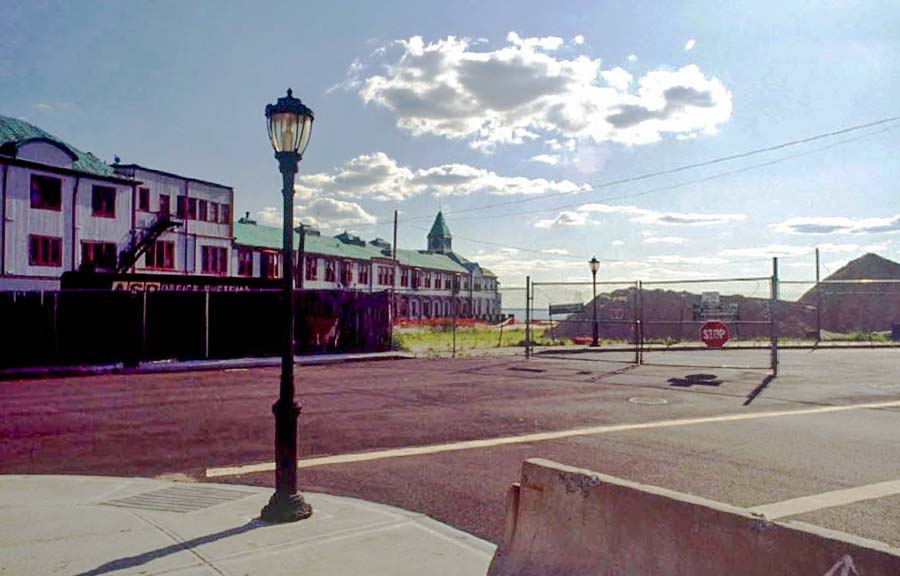 July 1994

A ramble about the Battery

There seems to be construction everywhere. Great open spaces have been created at the edge of the Battery, an anomaly among the narrow downtown streets. These new configurations create some interesting abstractions but they are temporal and silent giving little clue as to what will follow.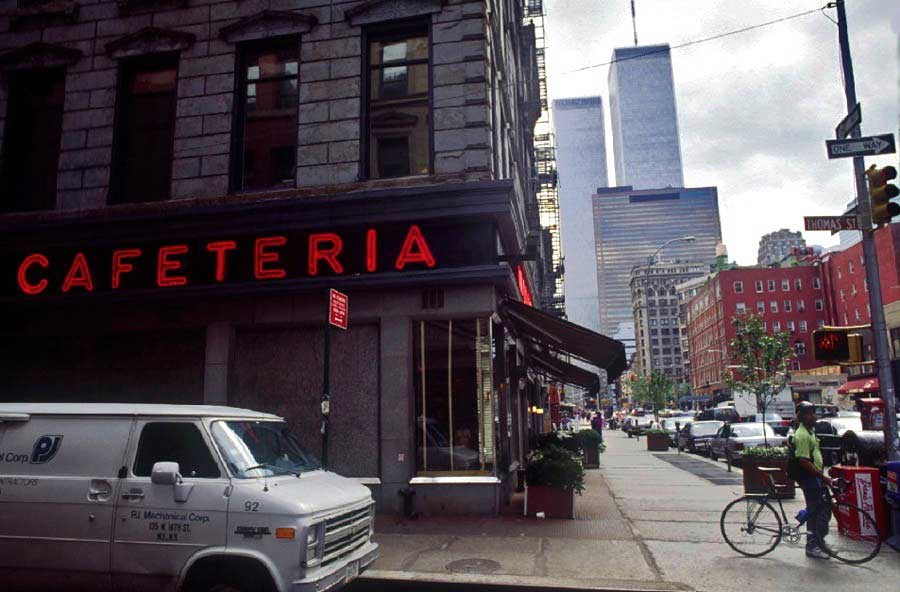 July 1994

A loop between Soho and Tribeca

Certain neighborhoods are in a strange flux. In those places traditionally dominated by manufacturing, the shops and eateries that catered to workers are now being replaced by boutiques and fine restaurants as more residents move in. But it is not a wholesale takeover and the streets now have a schizoid air about them.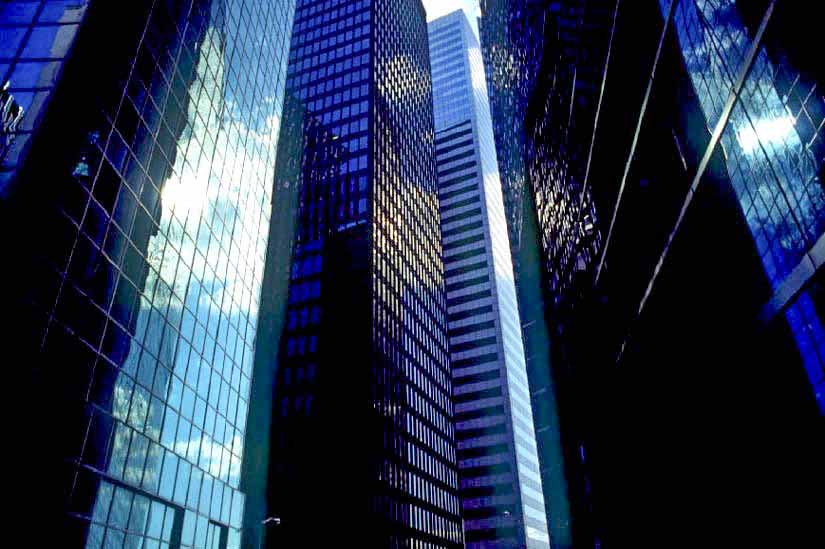 July 1994

A 7 mile loop between Soho and the Battery

As the sun receded the canyons of glass and steel took on new countenances. While some buildings turned into heavy silhouetted masses of solid darkness, others became transparent and faded into the sky.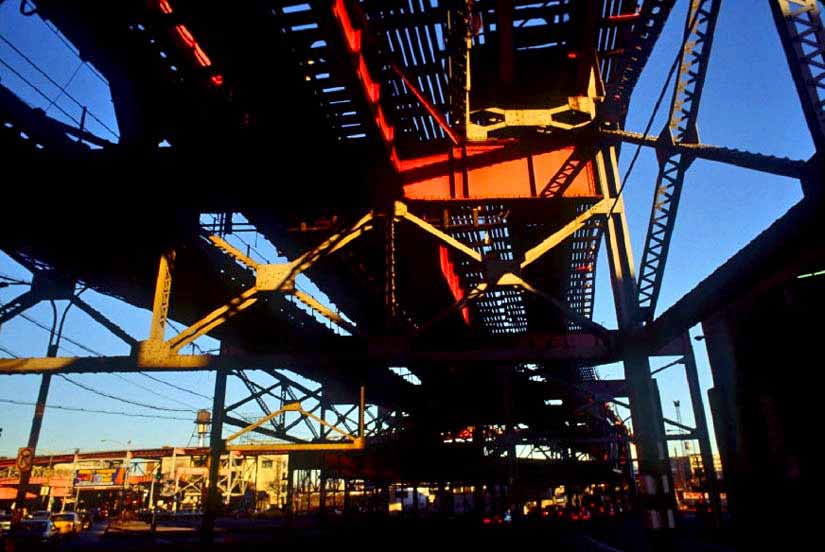 April 1994

A short ramble about Queensboro Plaza

The shifting sunlight on the elevated line creates a world of ever changing geometries. Where the engineering is more complex the variables between light and shadow throughout the day seems endless.

---
Copyright 2009 Alan Petrulis All Rights Reserved