NEW YORK RAMBLES (page 15)
page 1 2 3 4 5 6 7 8 9 10 11 12 13 14 16 17 18 19 20 21 22 23 24 25 26 27 28 29 30 31 32 33 34 35 37 38 39 40 41 42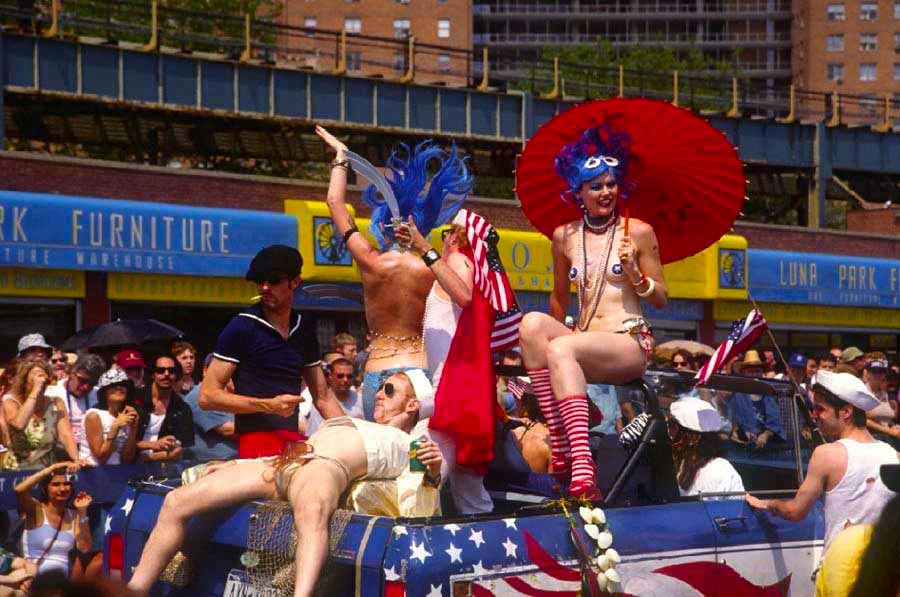 June 2002

A loop between Coney Island and Brighton Beach

Though the Mermaid Parade is a fairly large event it seems more suited for a small town rather than a city that prefers everything carefully regulated and controlled. This parade still belongs to the people who live here, where spectator and marcher are not from two different worlds.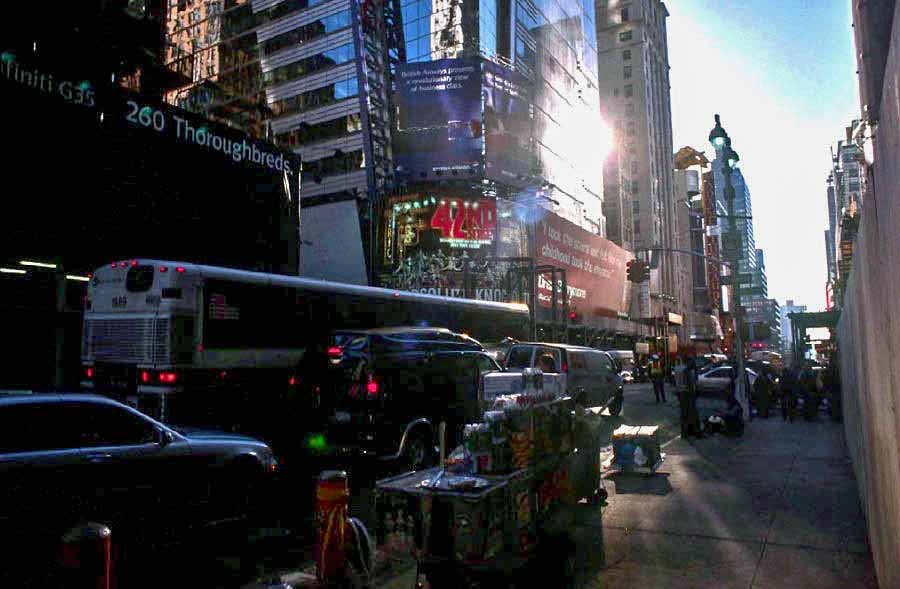 May 2002

A short walk up to Times Square

I am not sure what to expect once all the construction around Times Square is over, that is if its ever really over. In New York razing, building, and digging is a way of life.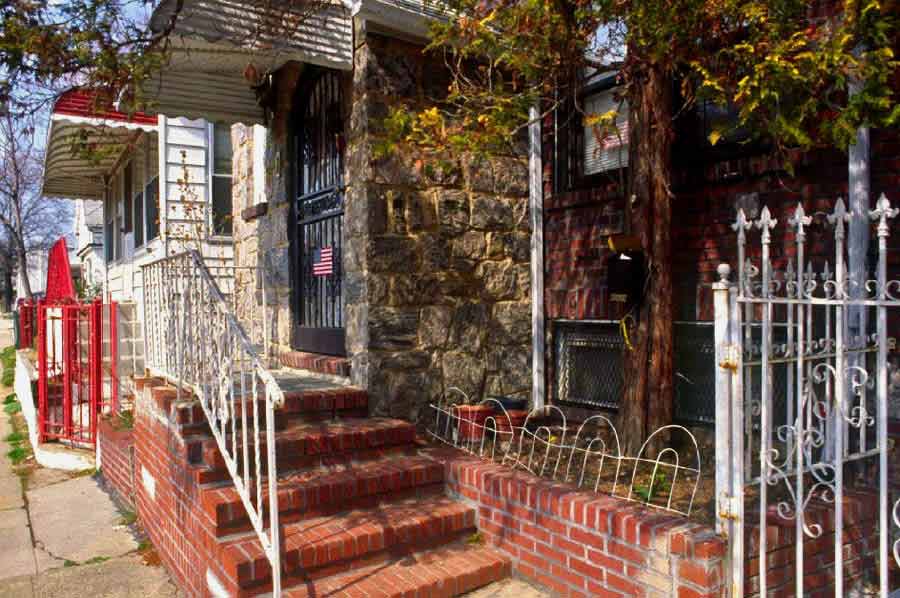 April 2002

A ramble in Flushing

Flushing is an old town that contains many different types of architecture. In the past variations were usually contained within a neighborhood or at least a single structure, but now there are homes to which concepts of period or style are completely foreign.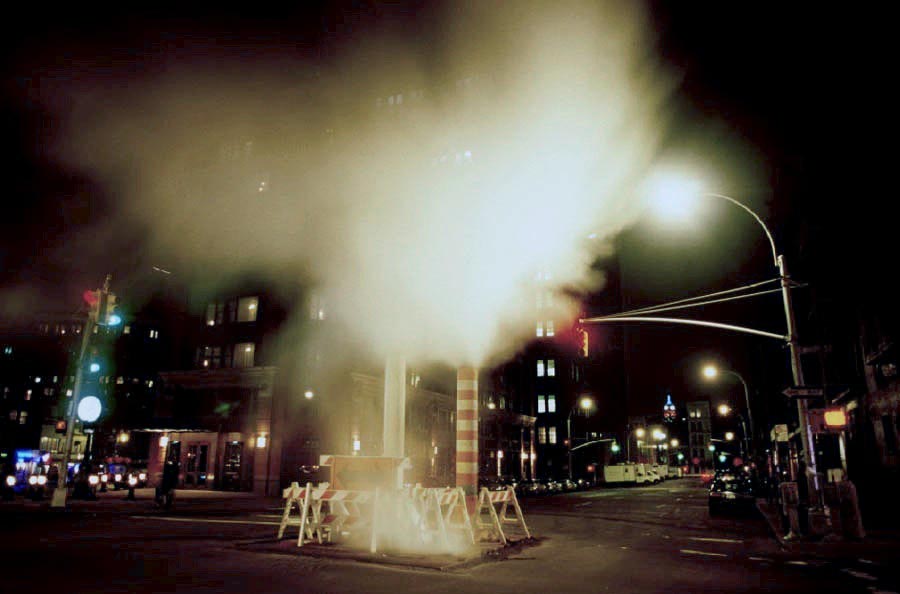 April 2002

A walk in Tribeca and Soho

Its a wonder to watch illuminated steam at night, it's as if it is giving birth to the heavens.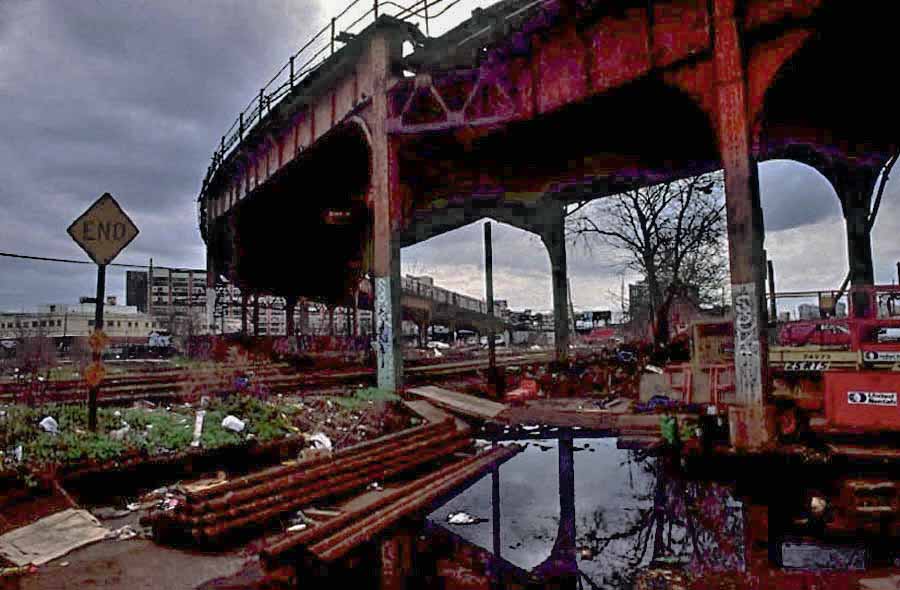 April 2002

A 7 mile walk from Long Island City to Maspeth

The dark overcast seemed to blend into the industrial surroundings of the day. But crumbling concrete, rust, and rotting wood could not hold back the first signs of spring.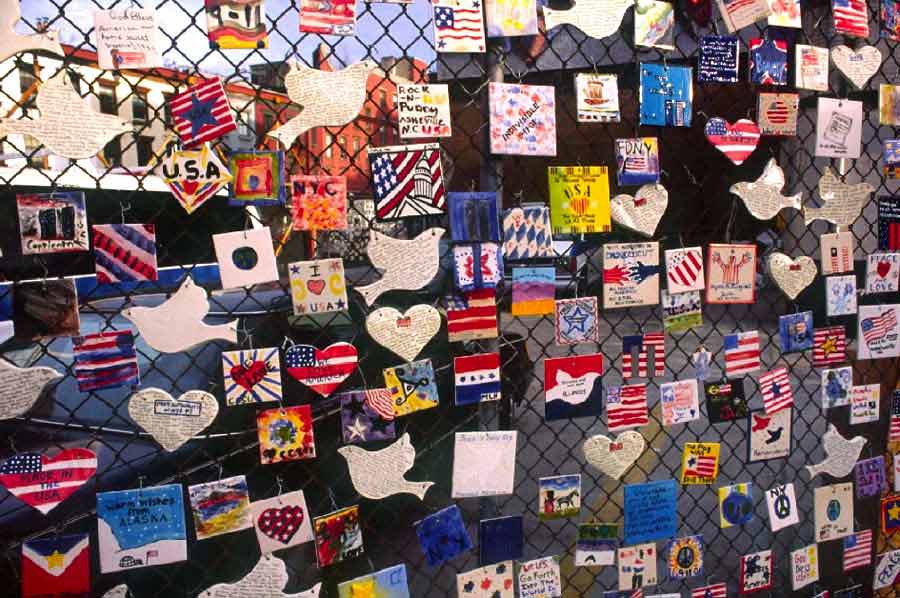 March 2002

A 5 mile walk from Union Square to Battery Park City and then up to Soho

It's a comfortable day for March. The leafless trees say winter but spring is already in the hearts of those out on the street.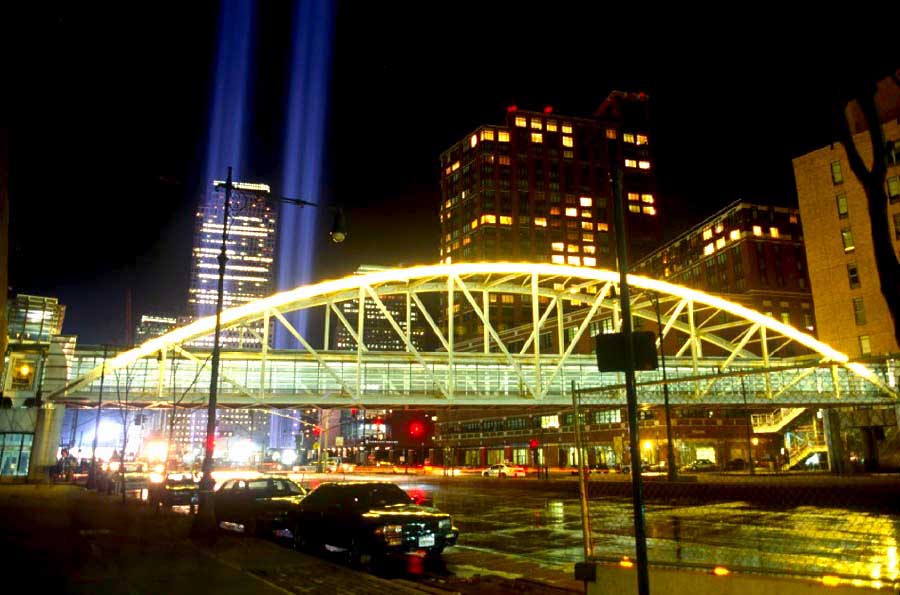 March 2002

A Downtown ramble at night

I spent a good deal of the night wandering about empty streets. Two great beams of light harkened me down to Ground Zero. Just like the two towers this memorial in light dominated the downtown skyline. From a distance they were a ghostly reminder of what stood but up close they took on an almost solid appearance. These phantasms suit the city better than anything that they will rebuild here. As the night grew late water trucks ambled by to wash the dust from the streets. I suspect the air down here is a lot worse than they are letting on.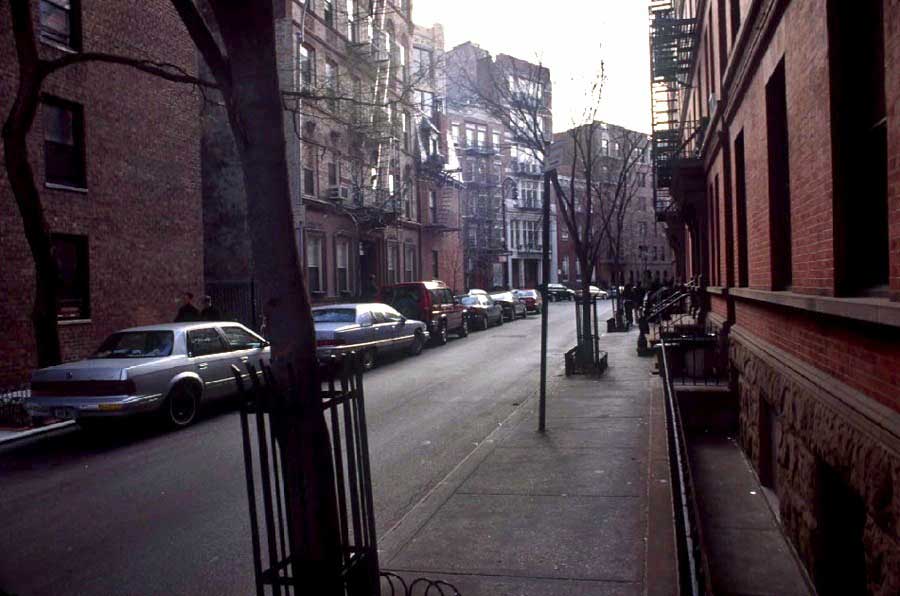 March 2002

A 6 mile loop between Soho and Chelsea

There are no shadows or glare to battle with today. The world is presented in monotone.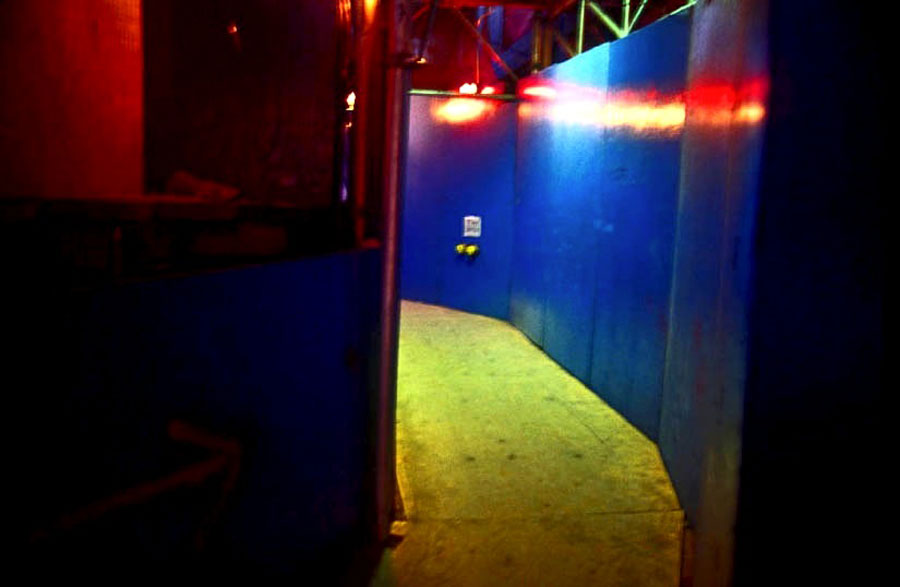 March 2002

A walk from Madison Square to Chelsea and up to Times Square

Whenever I see a sign for a pedestrian bypass around a construction site I know to expect dark plywood corridors filled with chalky air. Sometimes I get a little more.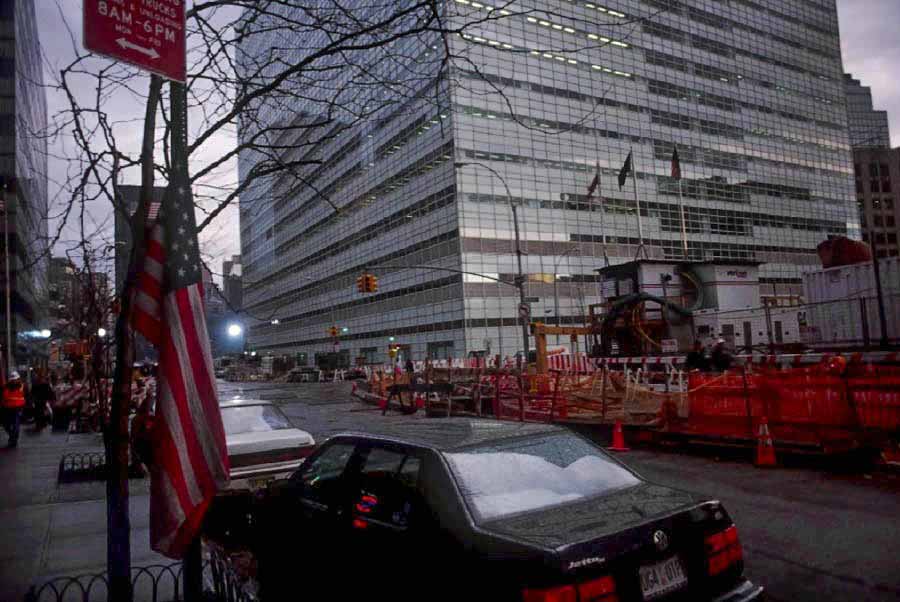 February 2002

A Downtown ramble

The sight of the twin towers used to always greet me when looking down certain avenues. A bright dome of white light has now taken its place as huge flood lights have been set up to allow continuous day and night excavation.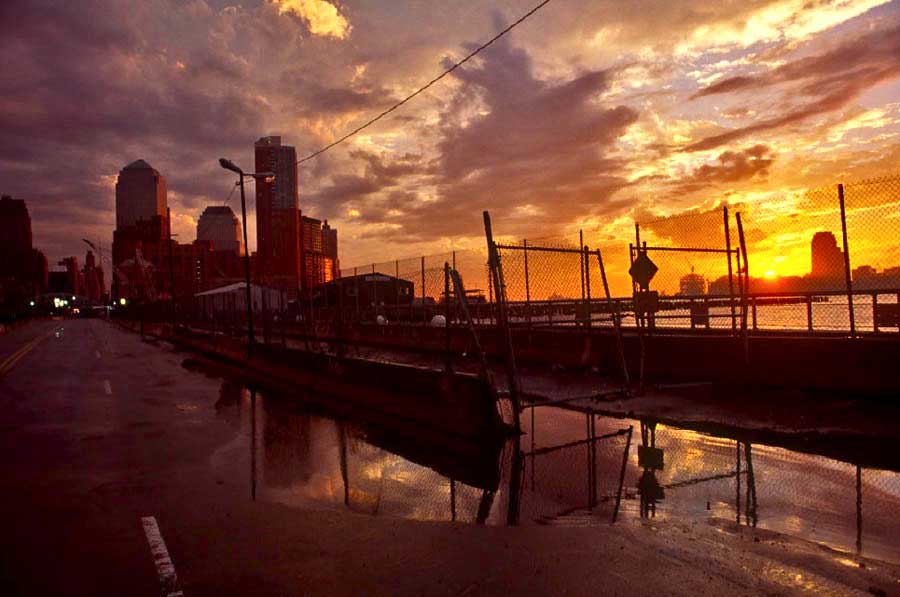 February 2002

A walk from the Battery to Soho

Trucks dump their loads as barges haul debris away from Ground Zero around the clock. Today I will leave that world and only concern myself with the sun, the clouds, and the river.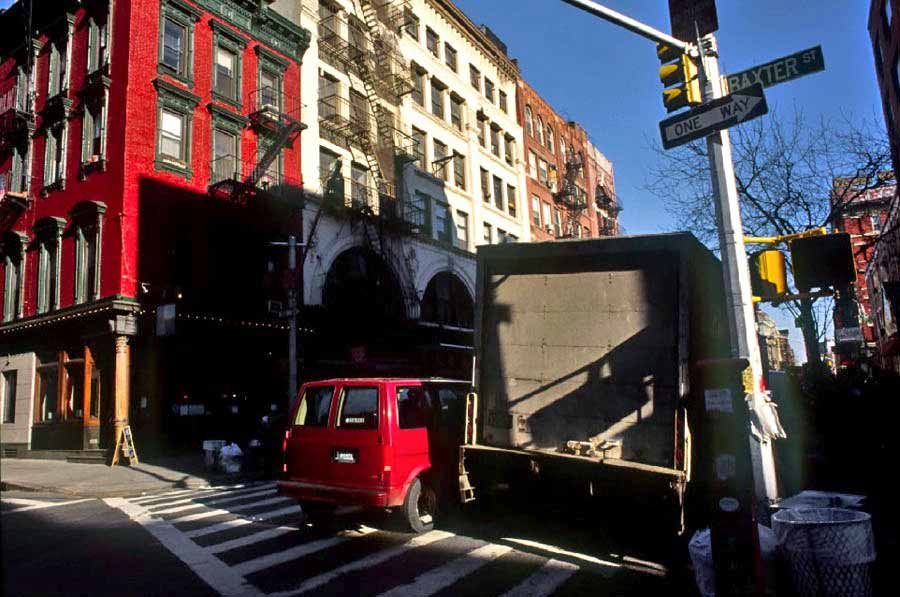 February 2002

A 9 mile loop from Soho to Brooklyn Heights and Williamsburg

Not only did I have the privilege of crossing a great bridge today, I walked across two. As I rose further from the City's streets the buildings seemed desolate. Only the whizzing cars and rumbling train behind me said the City was not deserted. That's the trouble with panoramas, they take the life out of the streets.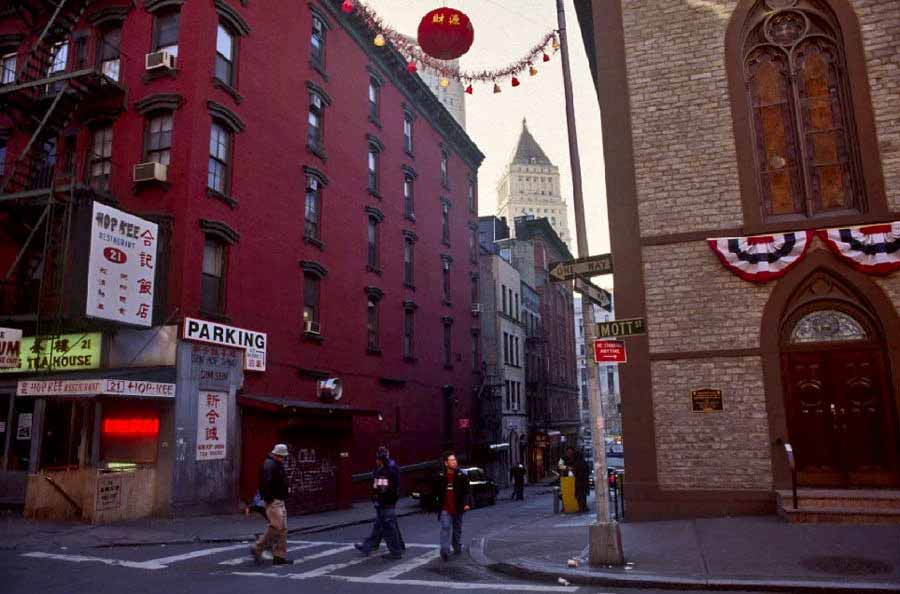 February 2002

A walk from Soho to City Hall

This City of long avenues is filled with short streets of only a block or two long. If not our grandest byways they are often no less interesting.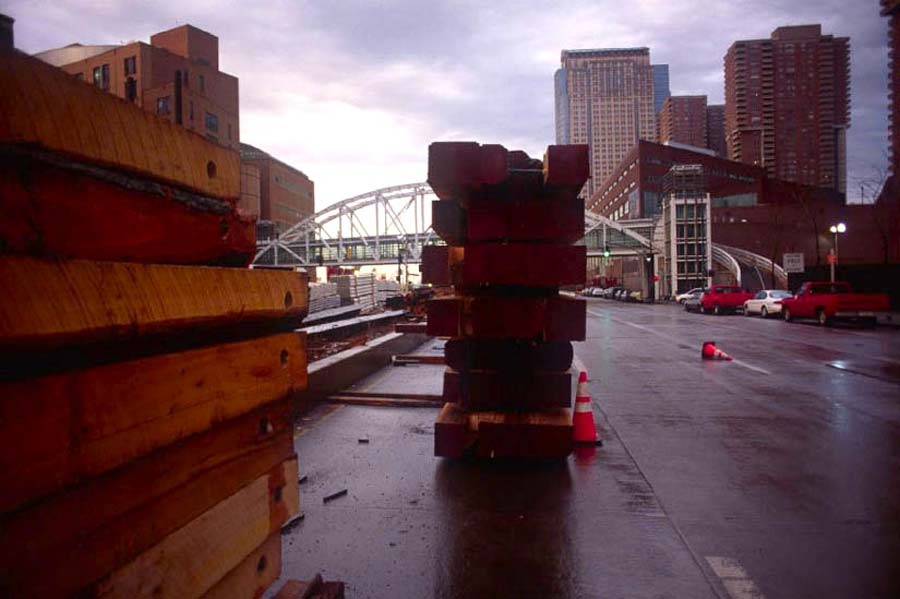 February 2002

A walk from Soho to the Battery

What will the flavor of the day be? Will I be able to take a picture of Ground Zero or will there be walls everywhere? Will the Mayor call photographers insulting names today or will I find a public viewing area? There seems to be neither rhyme nor reason for anything happening down here, only rhetoric.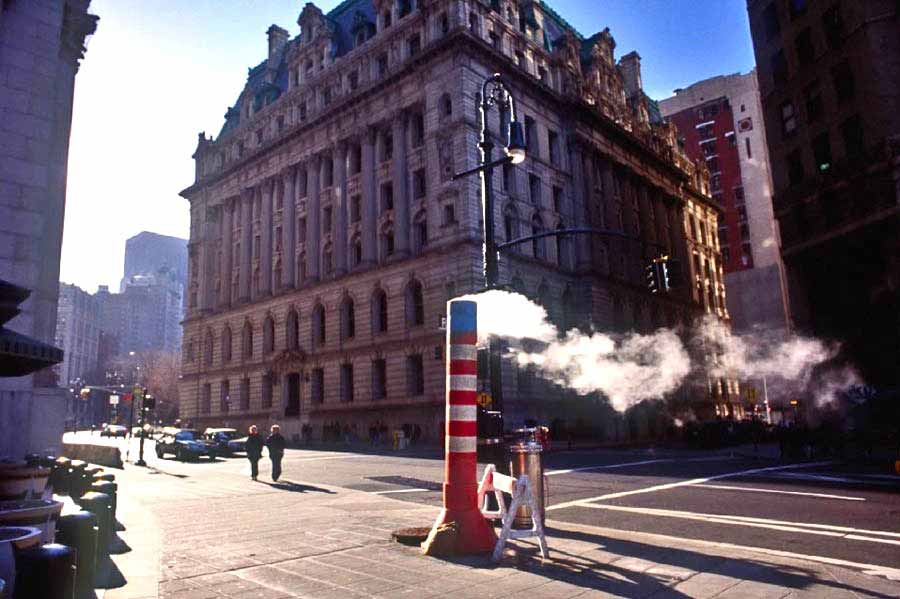 February 2002

A Downtown ramble

A more senior friend of mine was giving her daughter in law's family a tour of the city. They were very puzzled by the vast amount of steam that seemed to rise from numerous fissures in the tarmac. Eventually they just had to ask what it was under our streets was causing all this hot smoke. This proper matronly figure turned to them and replied with one word, "Hell".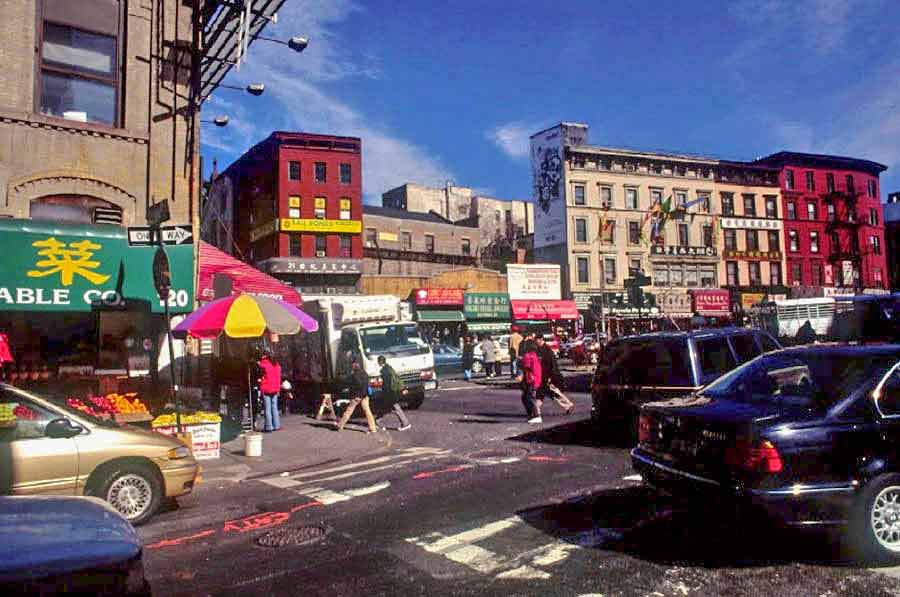 January 2002

A 5 mile walk from Soho to the West Village

Traffic has returned to Chinatown.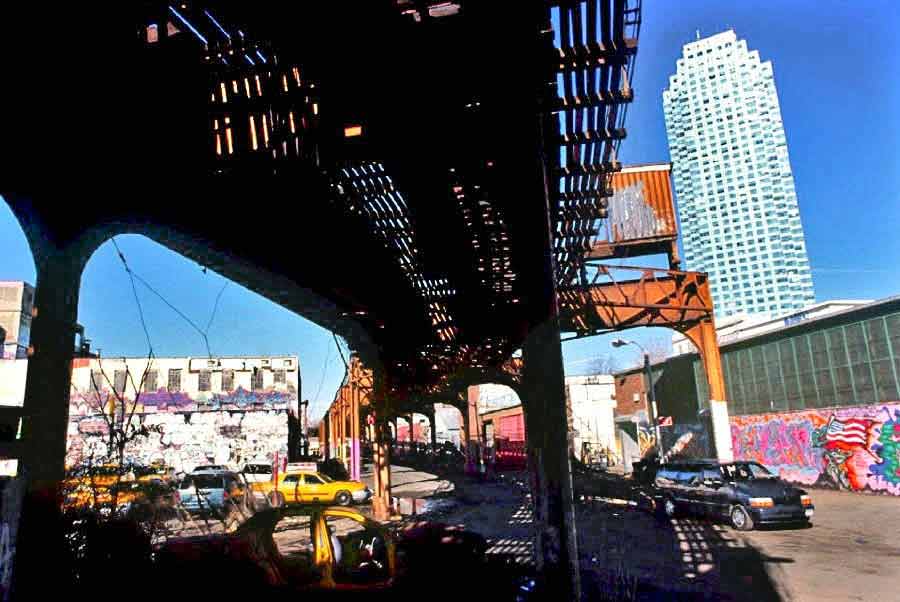 January 2002

An 8 mile walk from Long Island City to Hells Kitchen

As I wander into the railroad yards I worry about heightened security but I am left to roam there by myself. Later I pass an armed soldier standing guard at the pedestrian entrance to the Queensboro Bridge. It's a hit an miss affair. Isn't a chain as strong as its weakest link? Security is nothing more than an illusion.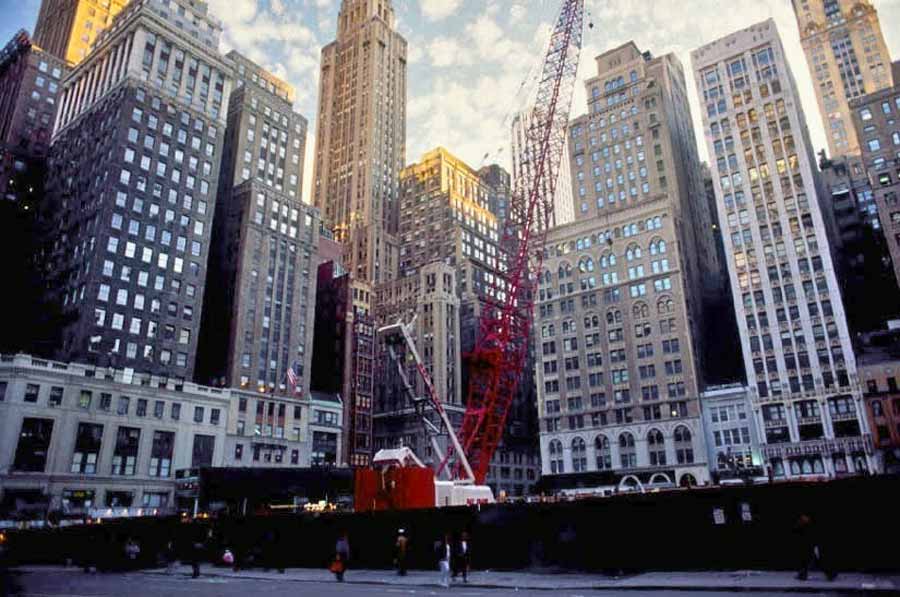 December 2001

A short Midtown ramble

Buildings come and go here at a rate so fast it is impossible to keep track. The appearance of a vacant lot always requires examination because of its potential in offering up new views. Usually by the time I get around for a second visit the void is already filled by something far more obstructive than what original stood.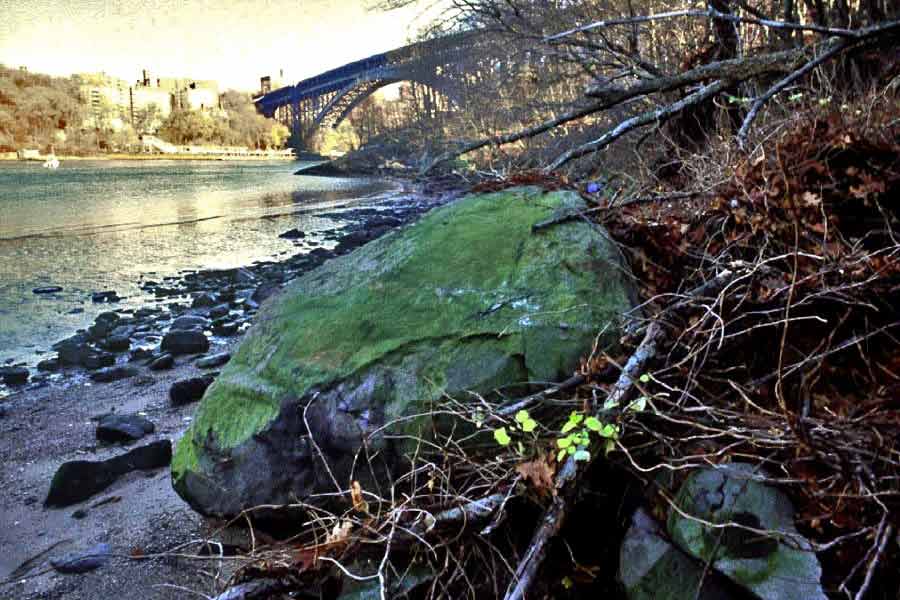 December 2001

A ramble about Inwood

It seems a landscape of sun and shadows, everything else just the insignificant details that occupy it.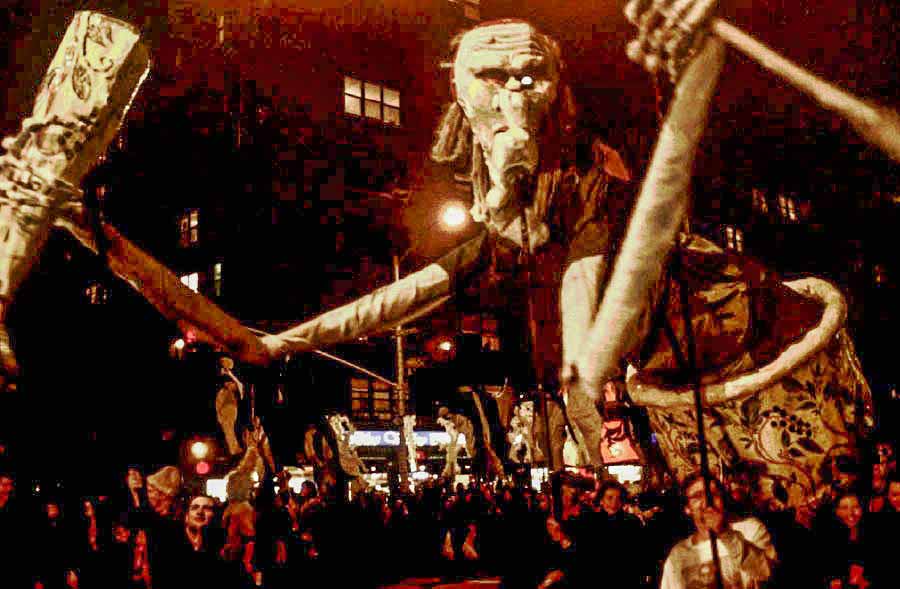 October 2001

A ramble from Union Square to the Village

I thought there was no more an appropriate time for the usual army of skeletons to leed the Halloween Parade up from the smoldering ruins of lower Manhattan. Their absence was more than noticeable, obviously a victim of political correctness. If you're really celebrating Halloween in this city, what better a year to give death its due. The wheels of the universe stop for no one.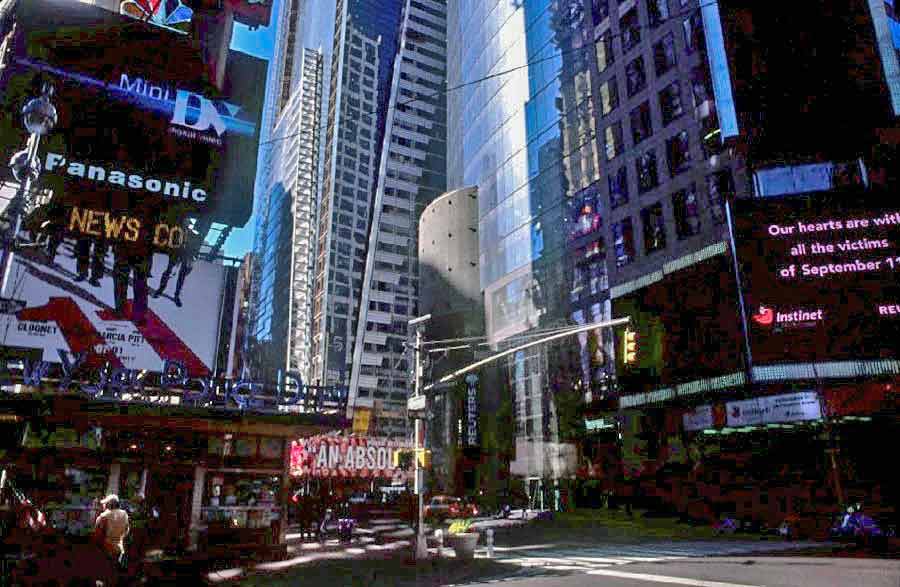 October 2001

A walk from Times Square to Riverside Park

Nervous soldiers with automatic weapons in the subway do not make me feel safer. I move about cautiously under watchful eyes.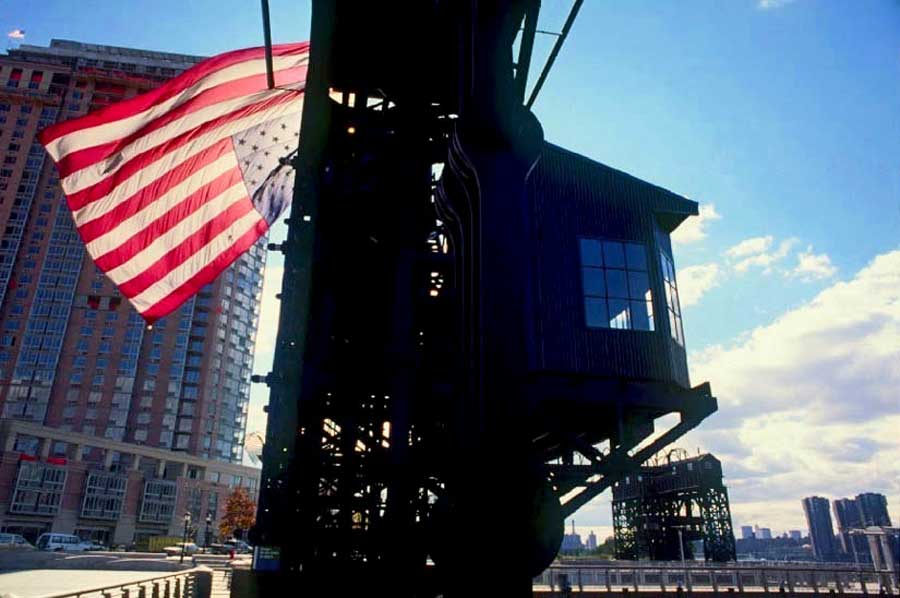 October 2001

A short walk across Long Island City

The giant American flag hung on the old lift was whipping and fluttering in the high winds off the river. It's hard to believe this once gritty industrial area could be turned into something so sterile. At least the construction work adds an interesting dimension for now, otherwise there would be little to photograph. As the wind twisted the flag upside down I knew I found my shot to represent this new neighborhood.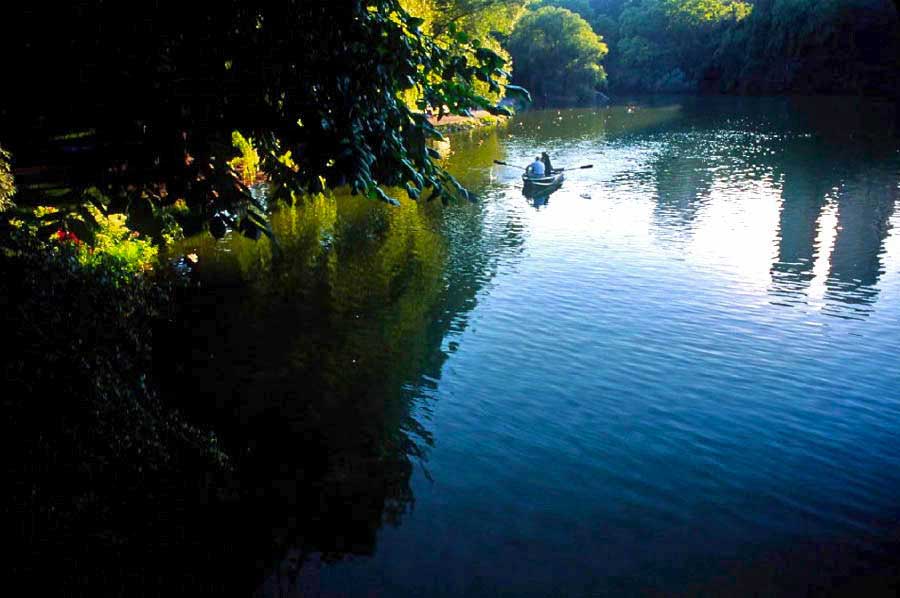 October 2001

An 8 mile loop between Central Park and Riverside Park

The reservoir that neatly divides Central Park in half is usually referred to as its center. But if there is a core to this Park it is probably the body of water simply known as The Lake. From the Boathouse to the Ramble to the small plaza at Bethesda Fountain everyone seems to find their place here.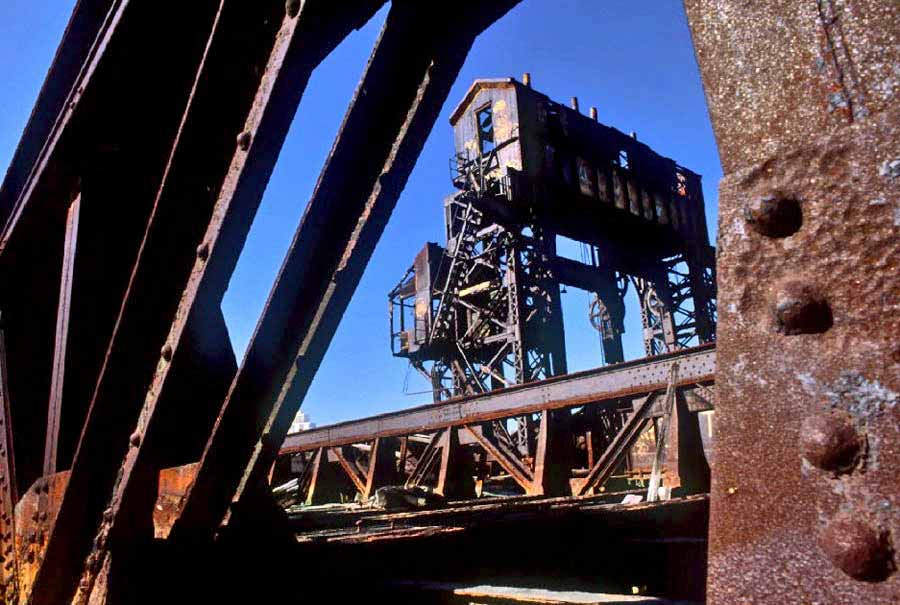 October 2001

A walk from Central Park to Riverside Park and on to Midtown

After setting this old rail yard in my sights years ago I finally arrived. The new park that is under construction has replaced the tracks but the piers and old lifts on the waterfront remain. Some have been damaged by fire melting their sharp geometric frames into piles of rusty noodles. I cross over the fence to get up close and personal with what is left while I can.
Postscript: A new bulkhead has been built here along with recreational piers but some of the old lifts and sagging piers remain.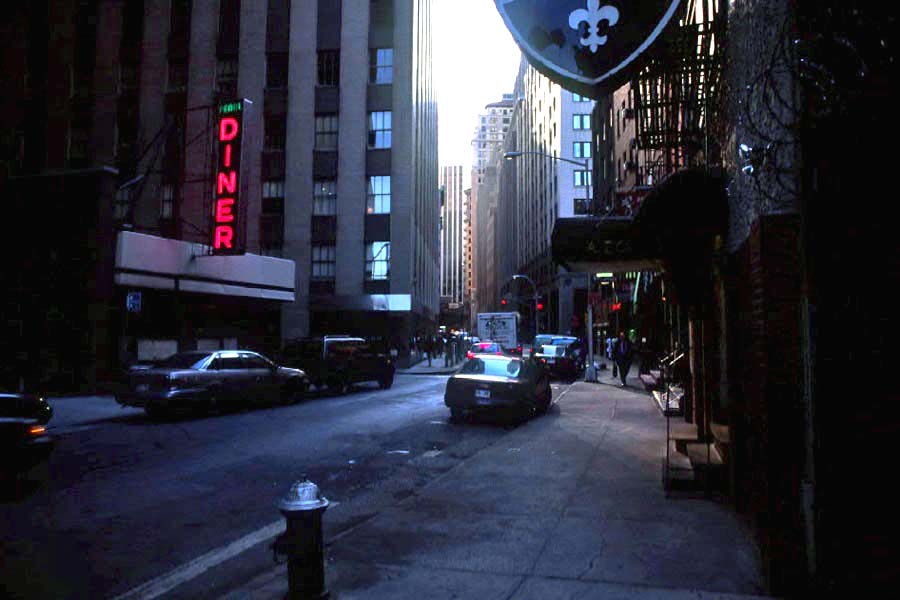 October 2001

A walk from Soho to the Battery

On some downtown streets you would never know there had been an attack on New York. They always seem to be running through a ghost town.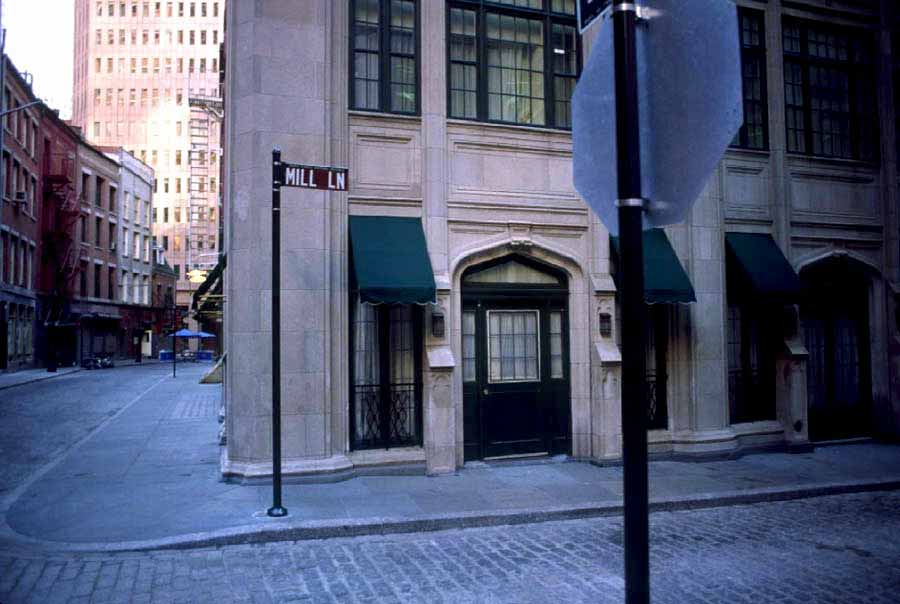 October 2001

A walk from Soho to the Battery

It is almost impossible to get anywhere near the World Trade Center site. It is not about keeping the public safe, it is about controlling the imagery. The mayor has come to calling those of us who try to take photographs ghouls. Yet those with the right connections have been given permission to shoot down there. This is my home and yet I'm being told what goes on here is none of my business. Politicians have become fearful of photographers as they might contradict the spin.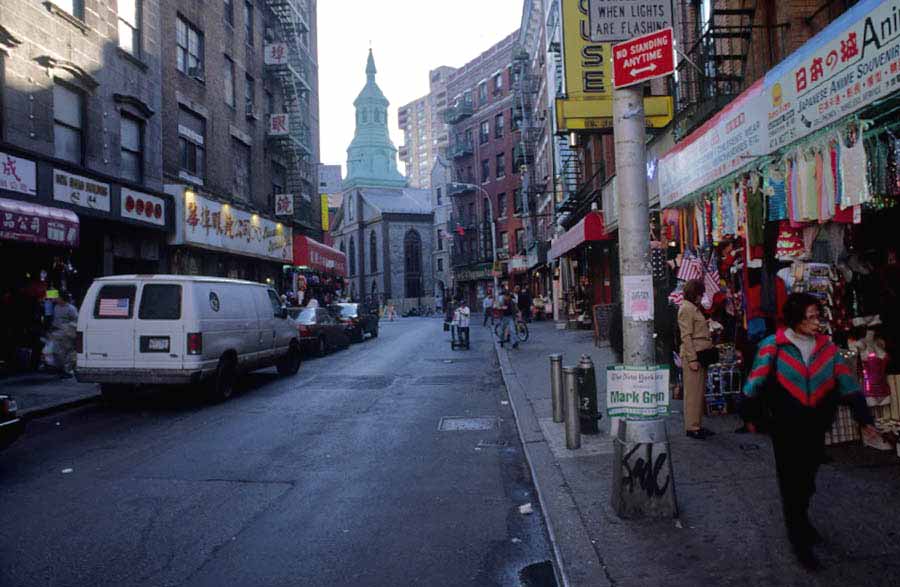 October 2001

A loop between Soho and Tribeca

On some days the smell of smoke and death blowing up from the World Trade Center still fills the air. Downtown is still cordoned off to traffic and streets once overflowing with people are errily empty. I gather views from the tarmac rather than pavement with no fear of getting hit by traffic while composing.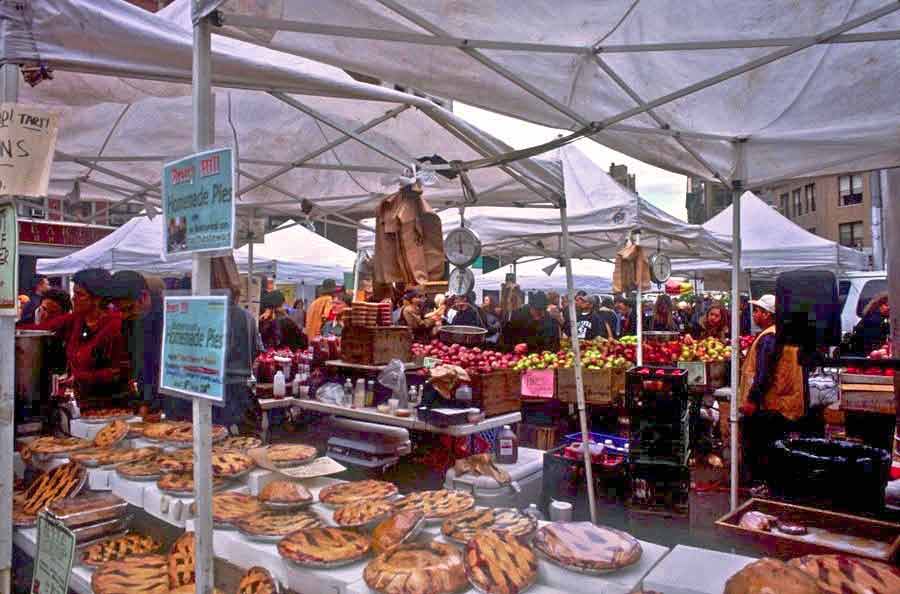 October 2001

A Midtown ramble

Some normalcy is ebbing its way slowly southward. I still find it disturbing to find heavily armed soldiers stationed in the city. It is as if their presence is meant to prevent us from moving on. The people in the streets are calmly getting about their lives, only law enforcement seems to remain in a state of panic barricaded in their station houses.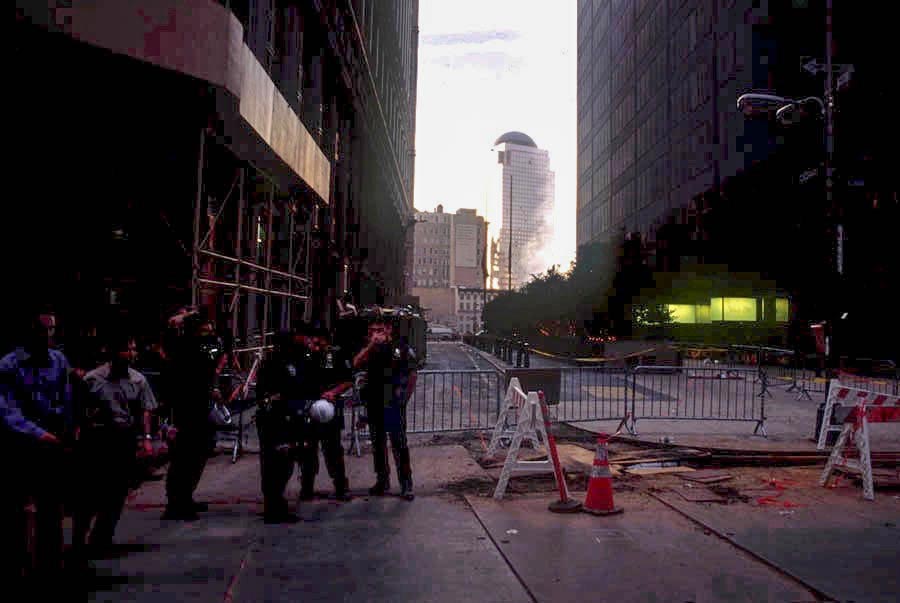 September 2001

A walk from Union Square to Wall Street

I met a nurse standing at a closed off street who had served in Viet-Nam. She elaborated on the smell that filled the air describing it as not just smoke but the aroma of burning flesh. I suspect that there is no rush to put out the fire now that there is no longer a chance of finding survivors. The burning of body parts will save the excavators from working in an environment filled with thousands of rats.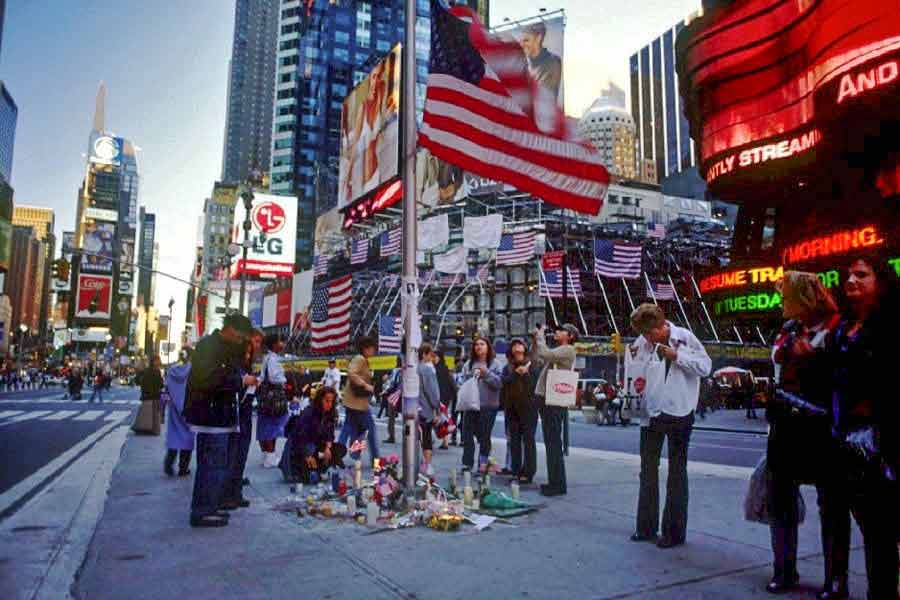 September 2001

A walk from Union Square to Times Square

I woke up this morning thinking my house was on fire. The smoke from the burning remains of the World Trade Center had just shifted my way. After closing all my windows I headed off to the City. Flyers were taped and stapled to every conceivable surface by people desperately searching for missing family and friends. For the first time the personal tragedy of this event began to sink in. I wanted to capture the posted walls on film but all the portraits soon became unbearable to look at. At a nearly empty Times Square I discovered a makeshift memorial. None were speaking as this event seemed beyond words. We looked up as a fighter jet patrolled overhead with a distinct roar.

---
Copyright 2009 Alan Petrulis All Rights Reserved