NEW YORK RAMBLES (page 6)
page 1 2 3 4 5 7 8 9 10 11 12 13 14 15 16 17 18 19 20 21 22 23 24 25 26 27 28 29 30 31 32 33 34 35 36 37 38 39 40 41 42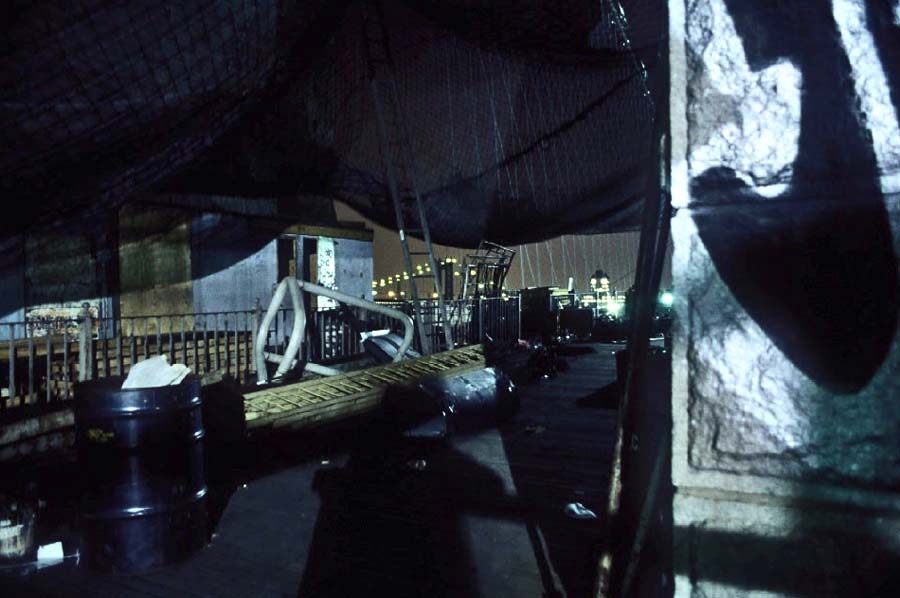 June 1990

An 11 mile downtown ramble with a walk across the Brooklyn Bridge

After nightfall the construction materials left upon the Brooklyn Bridge take on forms apart from their day job. The walkway has become the setting for an avant-garde rendition of a gothic play.
June 1990

A walk from St. George to Silver Lake

I was greeted by a vast panorama as I reached the heights above silver lake but despite my maneuverings I could not find a perspective that would allow me to capture on film what I saw with my eyes. I refocused my efforts on scenery closer to hand.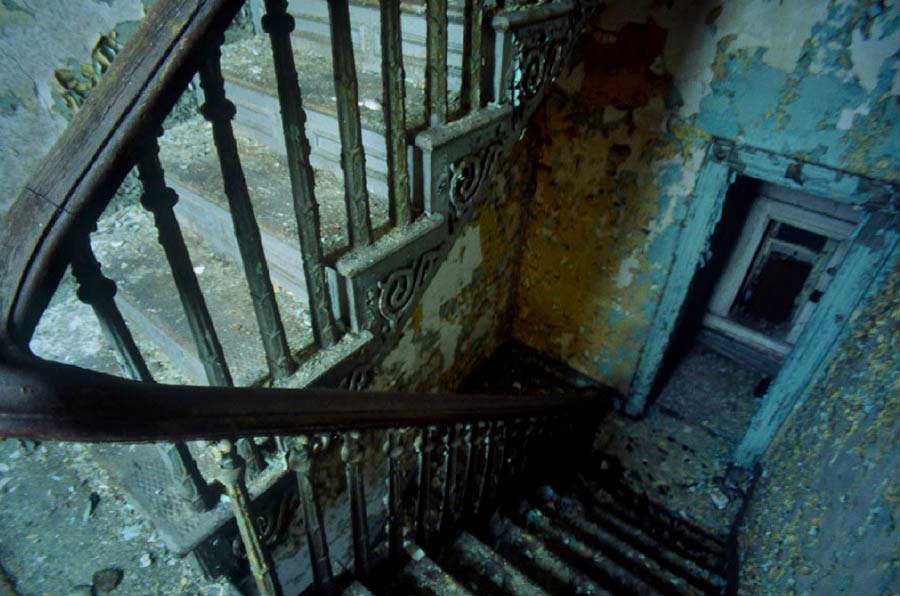 June 1990

A ramble about northeast Staten Island

As I walked passed the open gate to the lighthouse depot I noticed there was no guard on duty. Poking my head in further I could not see anyone in sight so I headed on in. The buildings that stood on the waterfront had already been demolished while the rest were empty and did not look like they had been used for some time. One structure contained some sort of workshop in which colorful wooden carvings lay scattered about like minimalist sculptures turned surreal. They may have been prototypes for engine parts. Had I the means I would have gathered them all up but I was on foot and a long way from home. The shop like most interiors here were too dark to shoot in but even so this was the highlight of my day.
Postscript: New maintenance facilities for the Staten Island Ferry have since been constructed on the waterfront. The other remaining structures were to be renovated and used for the National Lighthouse Museum but they have only fallen further into decay.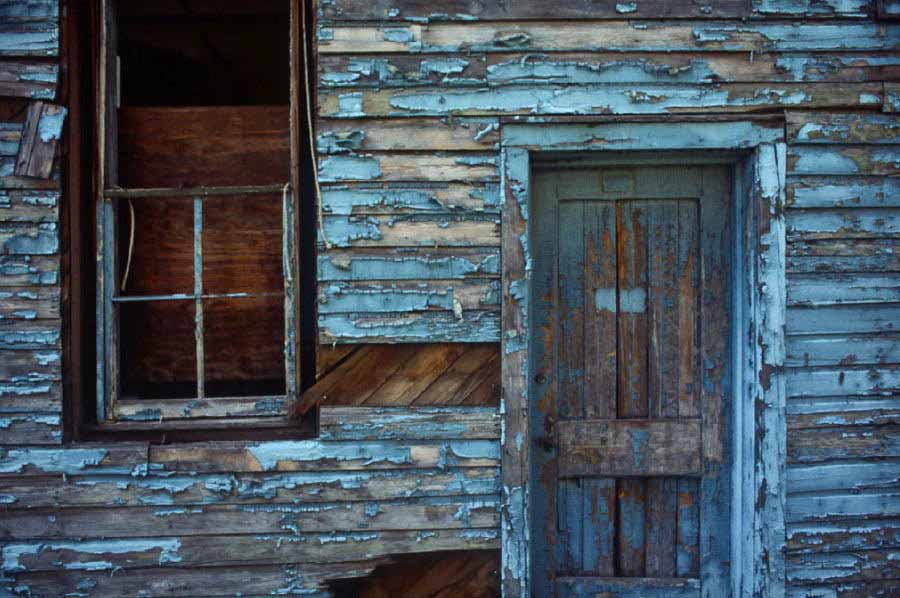 May 1990

A walk from Gowanus to Sunset Park

New York has one of the greatest waterfronts in the world; it is amazing how much of it is covered with abandoned industrial sites.
Postscript: Be careful what you wish for. In subsequent years just as I became more interested in shooting the New York waterfront it began to be redeveloped at an alarming rate. While greater public access to some parts have been gained, the new parks built in all Boroughs seem to be designed with the same uniform sterility.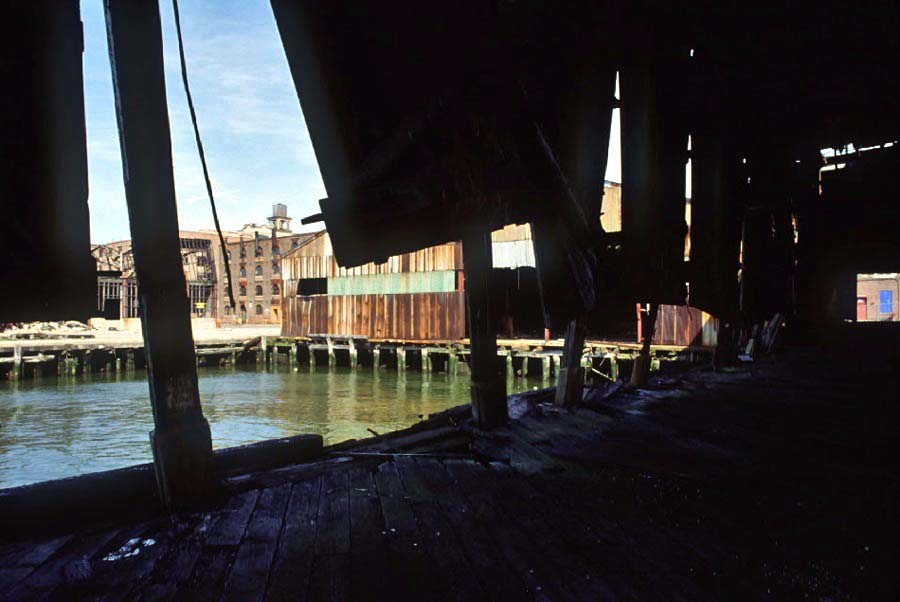 May 1990

A 6 mile ramble about Sunset Park and the Bush Terminal.

The old Bush Terminal Piers were suffering from a whole range of maladies. Metal beams were contorted into strange shapes in those areas that had burned. They loomed over my head like the rails from an off season amusement ride. In other places wooden pilings had given way sending crumbling concrete decking sliding into the harbors depths. The most interesting effect was where the sagging frames of the piersheds had pulled the wall out away from one side of the floor as it leaned toward the other. Scores of huge bay doors were left hanging in midair like a clunky wind chime.
Postscript: The abandoned structures at the Bush Terminal Piers have been demolished, and since 2006 efforts began being made to clean up the toxic waste left behind.
April 1990

An 8 mile walk from Woodlawn to Mt. Vernon

When older buildings grab my attention it is usually due to certain characteristics added by aging that give it soul. But sometime a structure will brighten the gloomiest of landscapes just because it was built with some fun.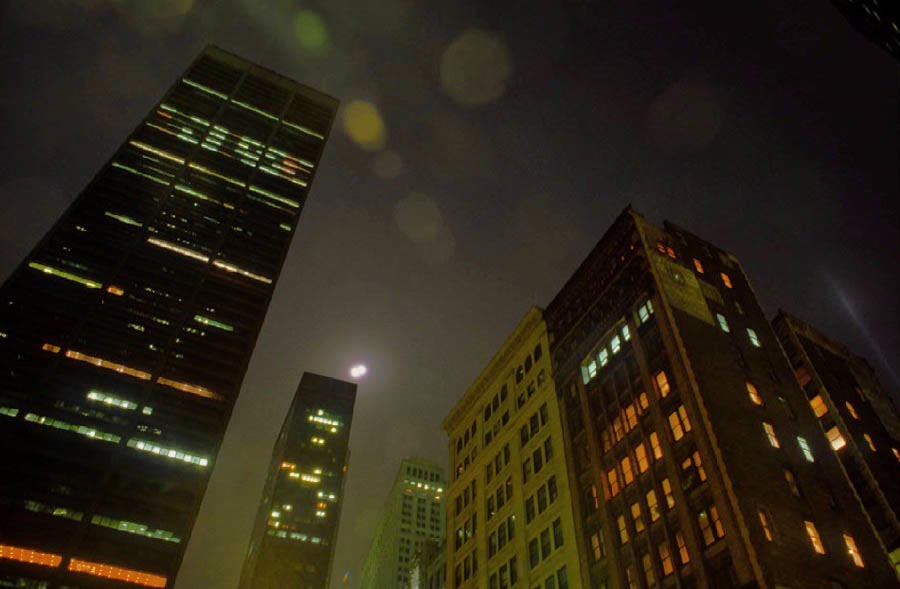 February 1990

A ramble at night in lower Manhattan

During the weekends this business district becomes a ghost town, I can walk down streets without seeing another living soul. Yet late at night on weekdays there seem to be many burning the midnight oil.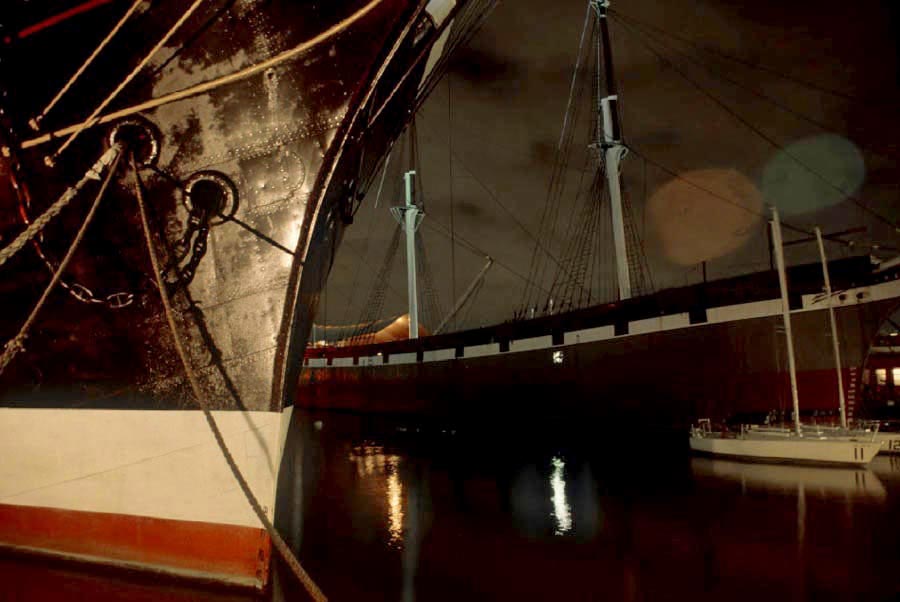 January 1990

A Downtown ramble at night

A narrow view presents another time, only it was never this well lit.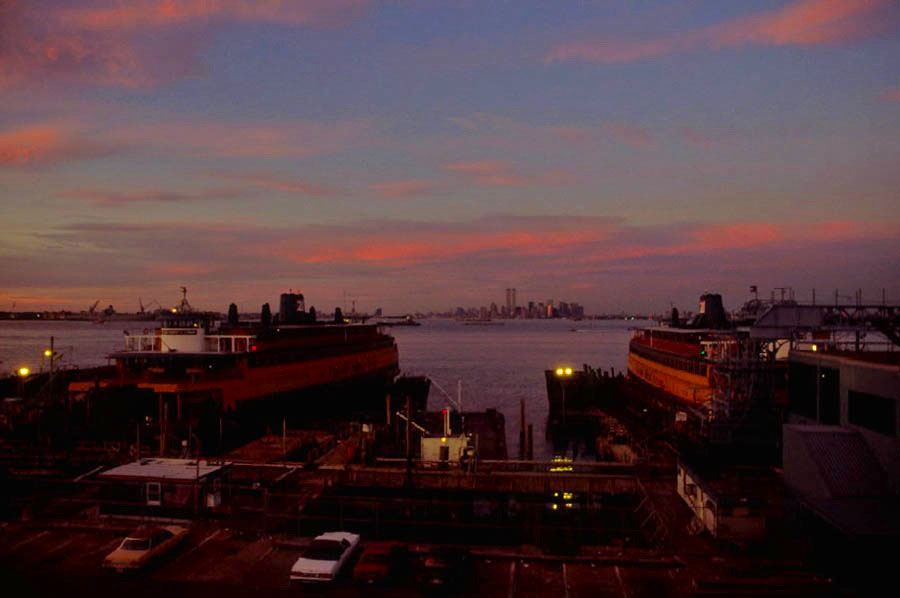 September 1989

A ramble about St. George

When walking the city streets every building has significance, each hill seems to loom high. From out on the water it is a much different story. I've begun to appreciate the markings on old navigational maps that give emphasis to a giant tree or a church steeple. The modern landscape has changed this dynamic at least in the places where man's hand is heavy. The World Trade Center renders Manhattan an inescapable target from anywhere out on the bay.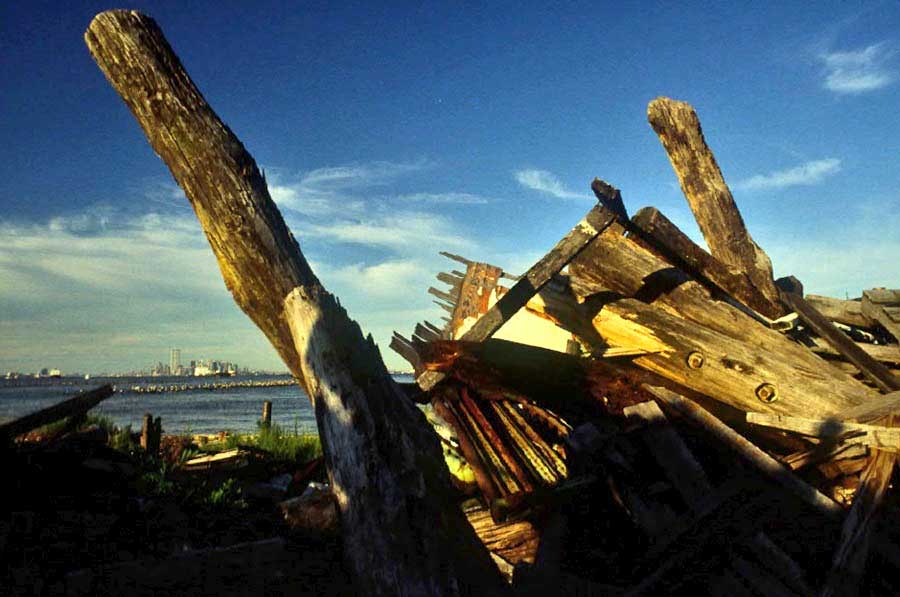 August 1989

A walk from St. George to Rosebank

Piles of debris from demolition work littered the waterfront. Something is a brewing here so I take my shots while I can.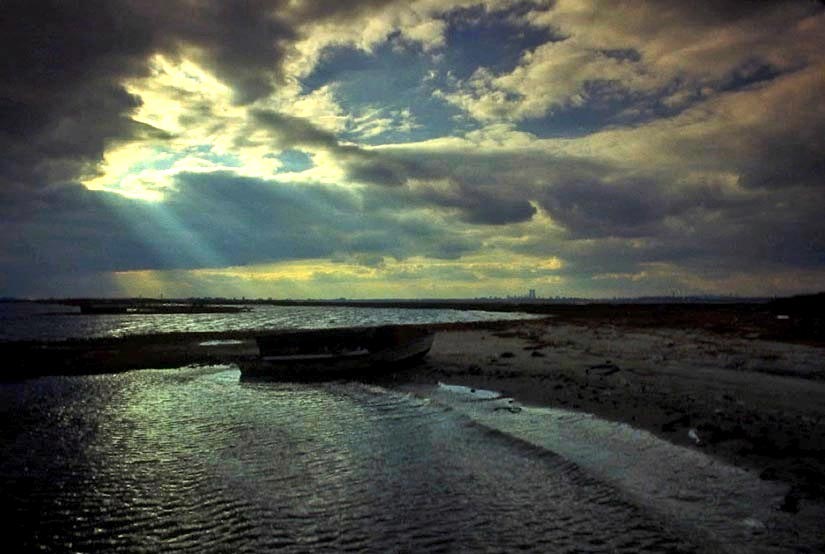 April 1989

A 12 mile walk across Jamaica Bay from Hamilton to Rockaway Beach

While I started the day shooting waterfront shacks I was drawn further and further out into the marshlands by the silvery light. Every so often the tumultuous clouds would break apart and heaven sent beams would bath the bay. I've seen sunbursts before but today they just kept coming and going. In the flatness it seemed as if nothing stood between me and the skyscrapers of Manhattan sitting on the distant horizon. If not for this almost mythical skyline it would be easy to get lost here, not on the ground but in ones mind.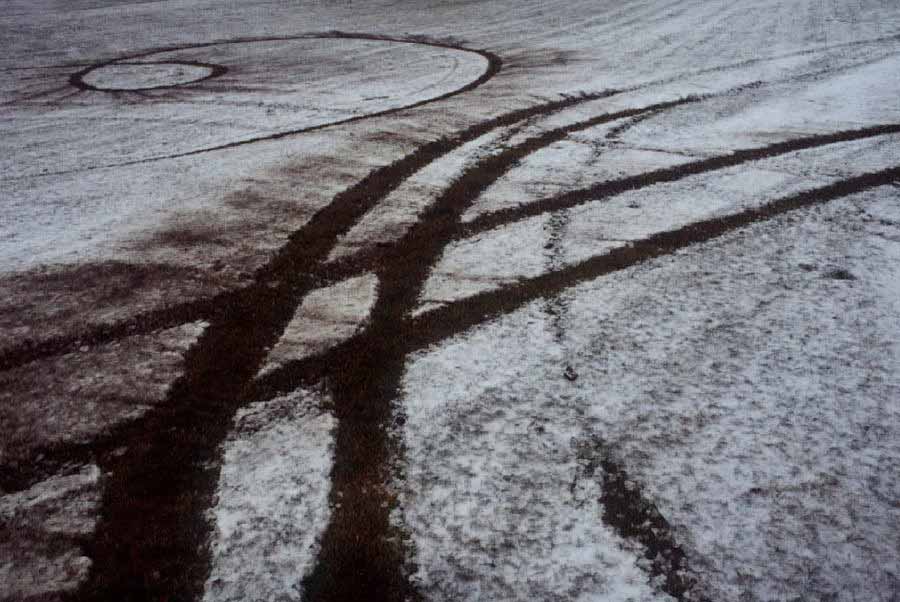 January 1989

A ramble in Kissena Hollow

The land was bathed in a thick fog as warm air sat on the snow that fell during the night. As I wandered out strange lines began to make their preasence known in the fields. Slowly the extensiveness of these arcing pathways began to become evident as the fog began to lift. I was enthralled. The lines were similar to those left behind by long gone civilizations of distant lands that are sometimes attributed to alien influences. I think my visitations of the night were more likely that of ski-mobiles.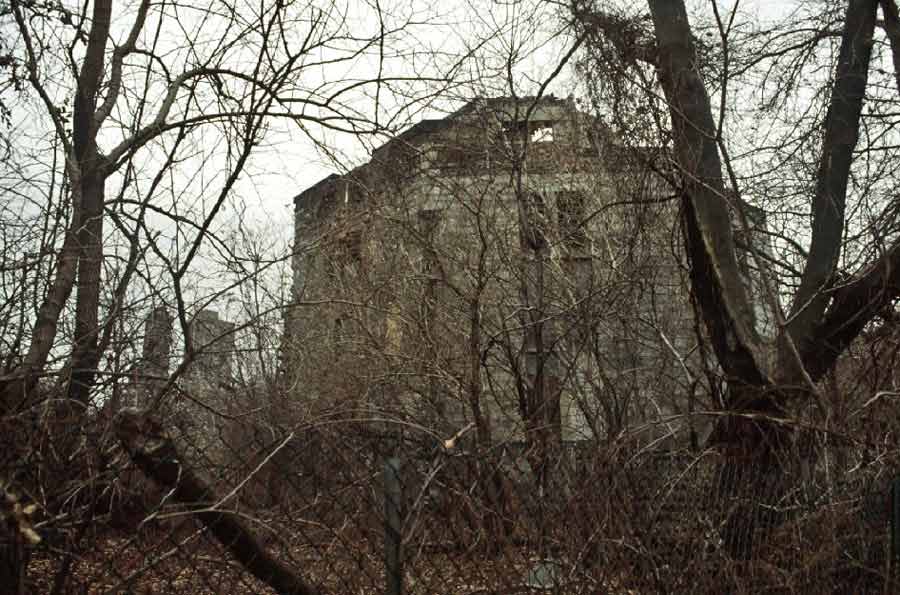 December 1988

A ramble about Roosevelt Island

Abandoned buildings have a magnetic pull on me that fences only slightly temper. But some places like the old insane asylum bother me as if the torments from its past still have not found a way to leave us.
Postscript: The insane asylum burnt for a second time in 1999. Since then efforts have been made into converting its remains into apartments for those who do not believe in ghosts.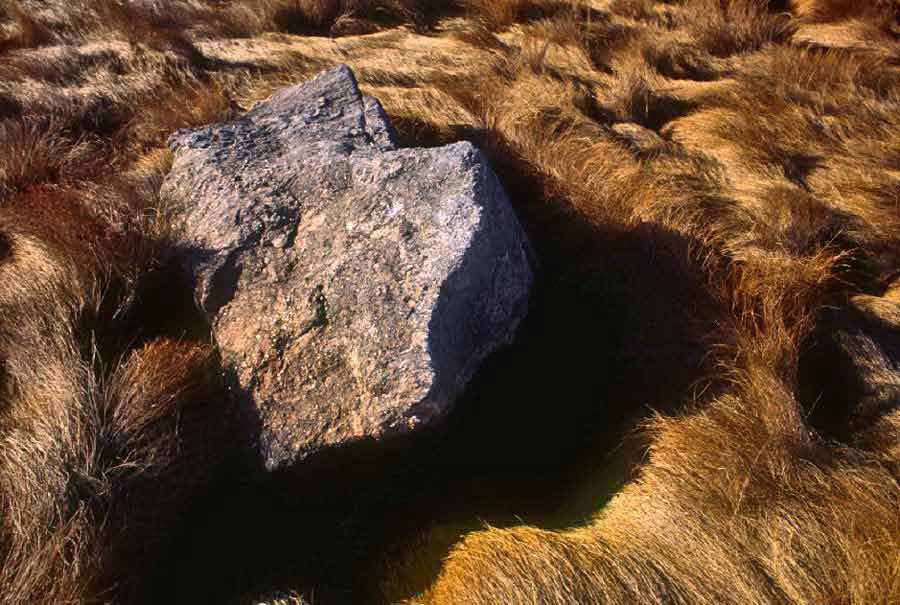 December 1988

A 9 mile ramble on the shores of Pelham Bay

The rocky shore around the bays at Pelham could not help but draw out comparisons with Maine. But why should this be? Do people in Maine think of the Bronx when they are at the shore? We have too many preconceived notions in our heads. I know this City better than most and I still don't always live in the reality of it.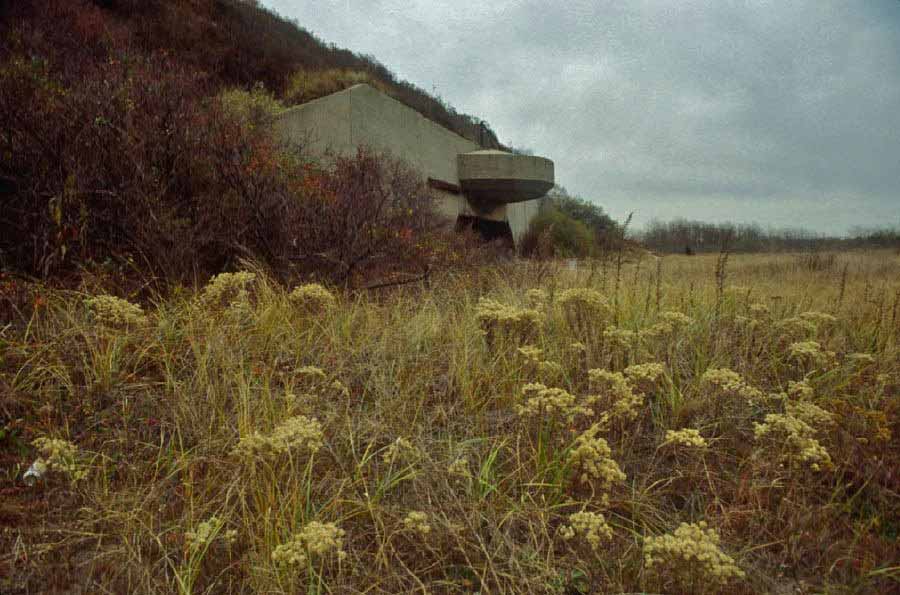 November 1988

A 13 mile loop between Rockaway Beach and Breezy Point

The bunkers for holding coastal artillery had been disguised as giant sand dunes. Yet their tops offered 360 degree views dwarfing all beneath them to such an extent they seemed to be the largest targets in the world.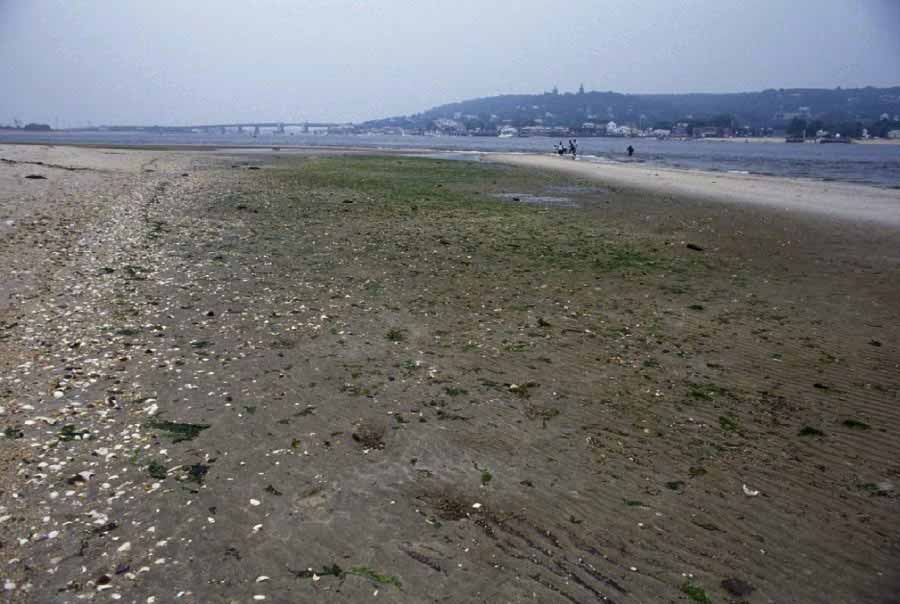 July 1988

A 5 mile ramble on Sandy Hook

The ocean surf was roaring in with great ferocity but on the bay side all was tranquil. A light haze rose with the heat and softened the distant view. As I moved out among the bars the tide got a jump on me and I had to wade back in, a burden I could bare.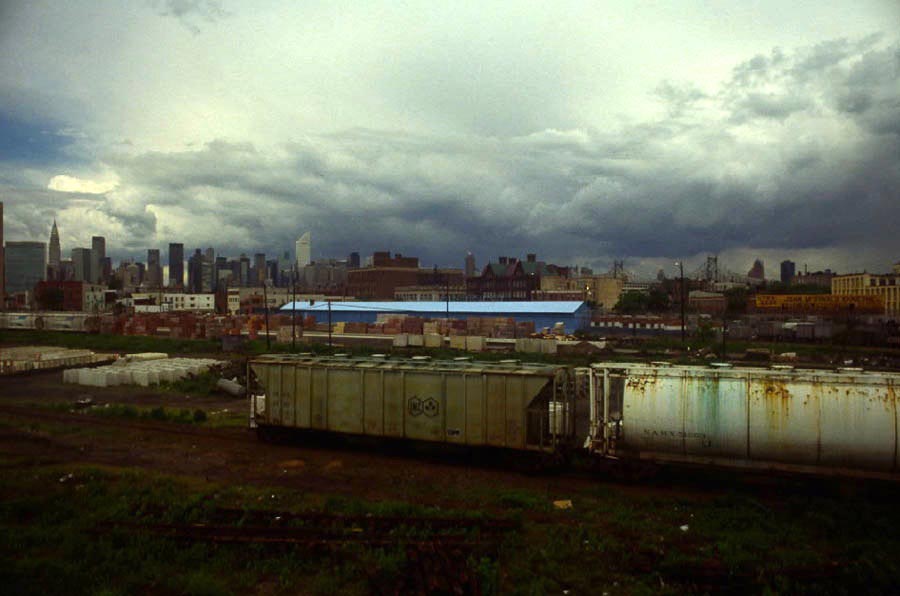 June 1988

A ramble about Long Island City

The curve of the tracks set against the grid of the streets has always attracted me to this area. I see the bigger picture here, not as a landscape but as a giant canvas where I can paint with trains, factories and whole city blocks.
Postscript: Tracks in this yard were ripped up so it could first hold rock salt, and then large mounds of debris and dirt. Eventually tracks were relaid as part of a new maintenance facility built on this site. Much of the same attraction remains though the panoramic view is disappearing behind a wall of condominium towers.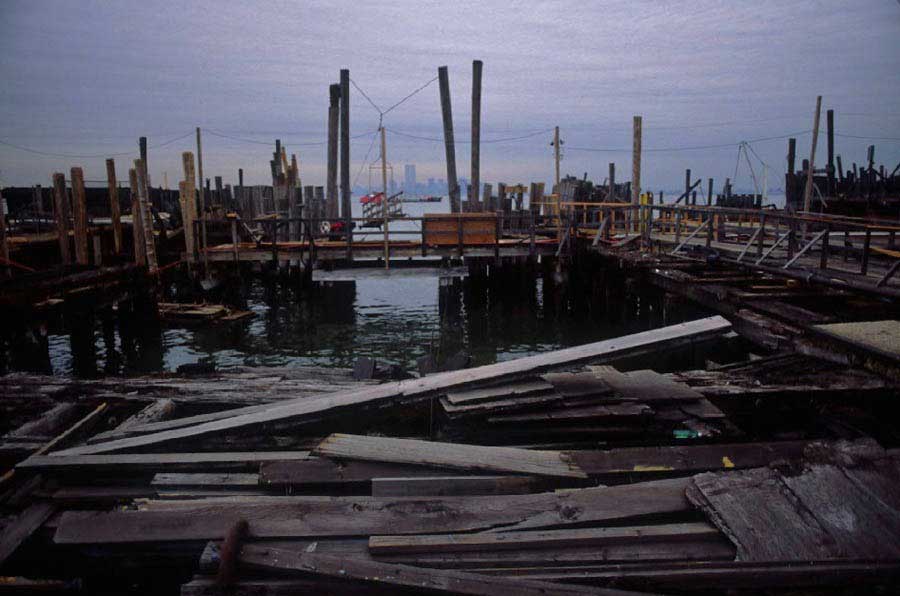 May 1988

A ramble in St. George

They seem to be rebuilding the waterfront with debris found floating out on the bay. Maybe they are just recovering pieces that have broken off and floated away. Much is in flux here but I cannot tell where any of it is going.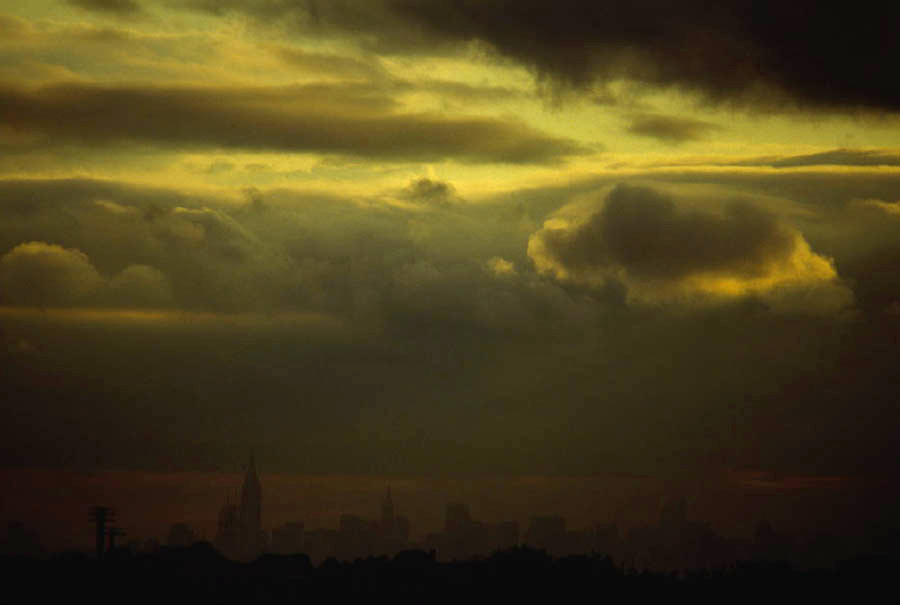 May 1988

A ramble in Kissena Hollow

How heavy the sky, how distant the city.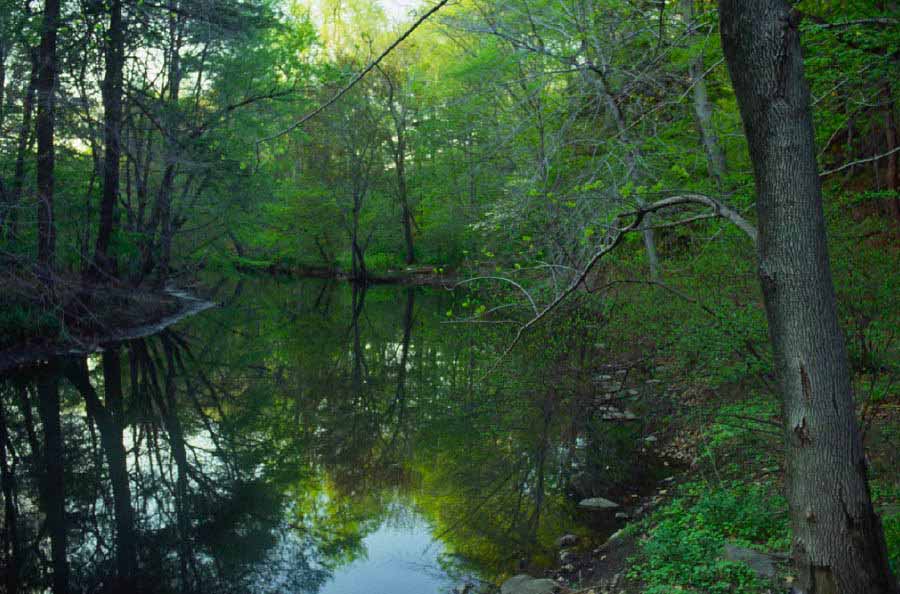 May 1988

A loop between the Grand Concourse and the Bronx River

The serenity and soft pallet I found along the Bronx River could not have been in higher contrast to the concrete landscape I traversed to get here. I am grateful for these parks but wonder what this city may have been like if we built it on a different model, one that prized quality of life as much as it does profit.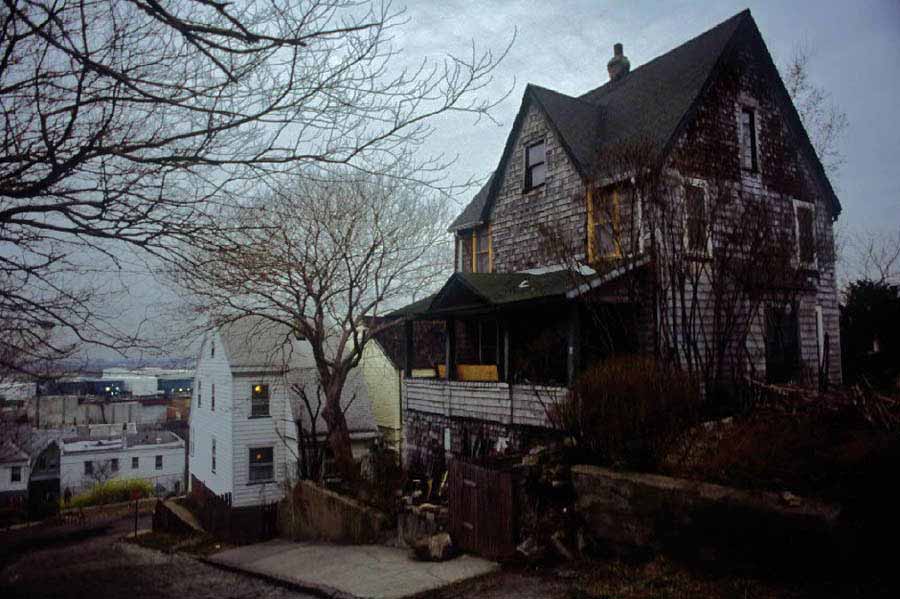 April 1988

A short loop between St. George and New Brighton

In some cities hills that are too steep for the flow of traffic are simply bulldozed or blasted into submission. Here streets flow as best they can with the contours of the land but many are forced into dead ends leading nowhere. If lucky stairs may exist where no road dare go.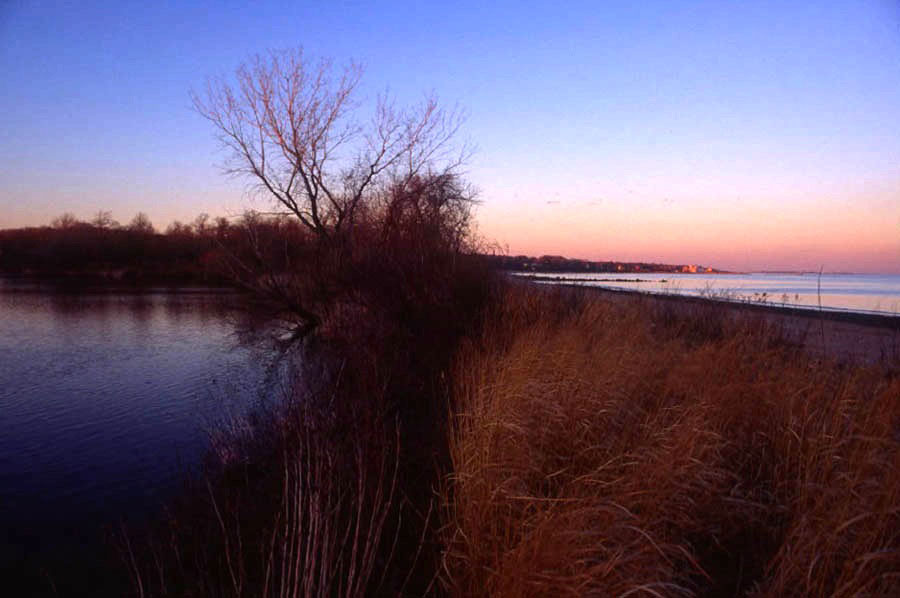 March 1988

A walk out to Seguine Point

I was contemplating the beware of guard dog sign posted to the factory door wondering if it was applicable to when the facility was open or now that its closed when I heard growling behind me. Two none to friendly looking German Shepherds were eying me carefully from across the courtyard. I generally know not to run from dogs but I ran anyway. I calculated that the scattered debris lying between us would slow them down and I was back over the fence before they reached me. Once at the beach I walked over to Wolfes Pond contenting myself with more tranquil pursuits.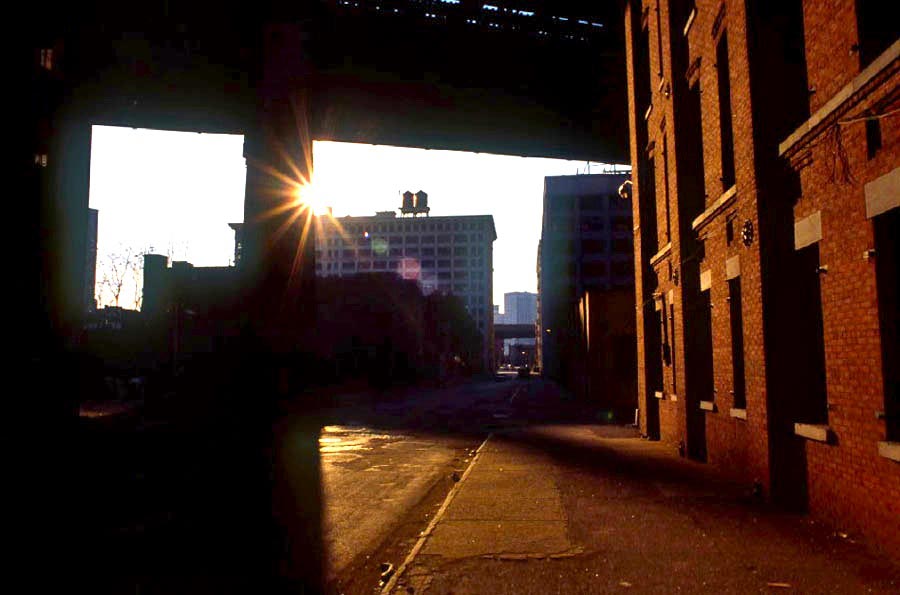 March 1988

A short ramble around Dumbo

More than other neighborhoods Dumbo is highly dependent on the position of the sun when it comes to getting good shots. With its tall buildings and narrow streets all under the looming shadow of the Manhattan Bridge the sun tends to show up only briefly and at odd angles.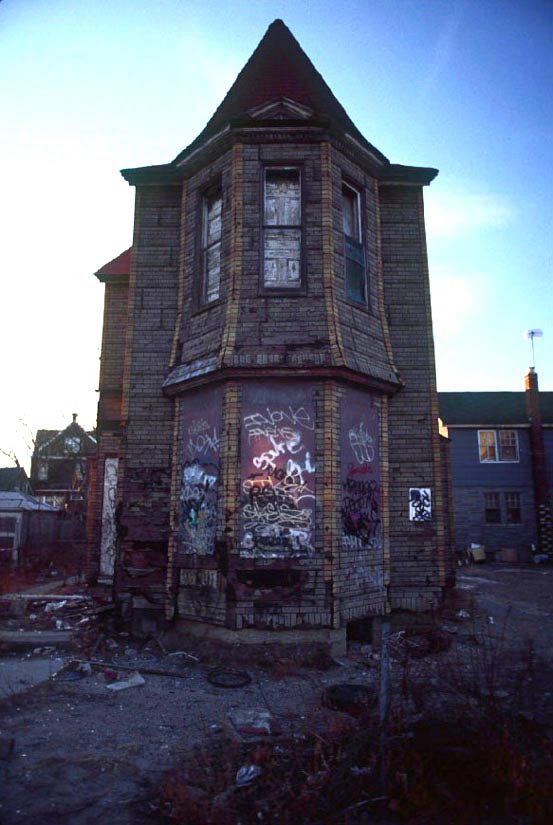 March 1988

a ramble in the Rockaways

Many old properties here are not in good repair. The worst they look the more I seem to be attracted to them. Does the appeal lie in their lack of conformity like some teenage girl crush on the bad boy. I would like to think it's more than that. I any case I'm not in the market to buy only to shoot.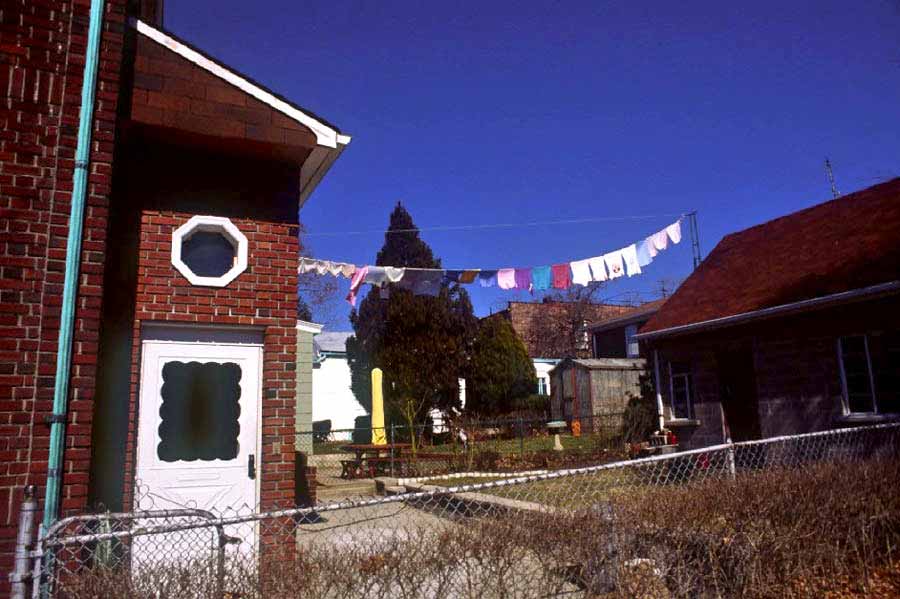 March 1988

A six mile walk from Flushing to College Point

The ability to see interesting patterns within the mundane may mostly lie in the eye, but it also must have some presence in reality. I can walk blocks without spotting anything of interest and then find whole grouping of homes and yards that yield a bonanza of intricate and varied textures. This is not dependent on the type of homes, their age or the community they lay in. It is more like some strange convergence of cosmic energy that attracts everything meaningful into one place.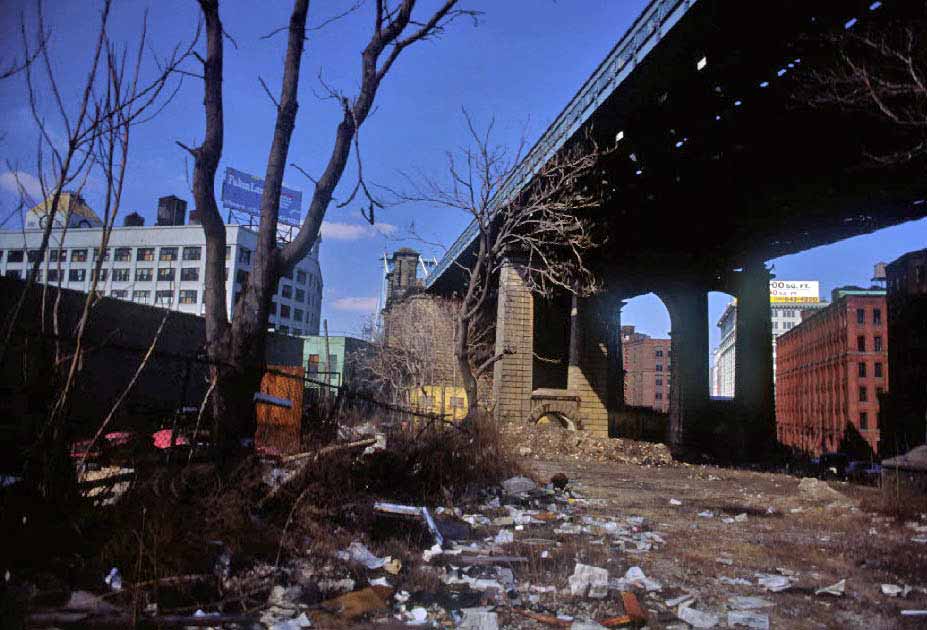 March 1988

A ramble through Dumbo and Brooklyn Heights

It sometimes seems to me that everything I love is ugly.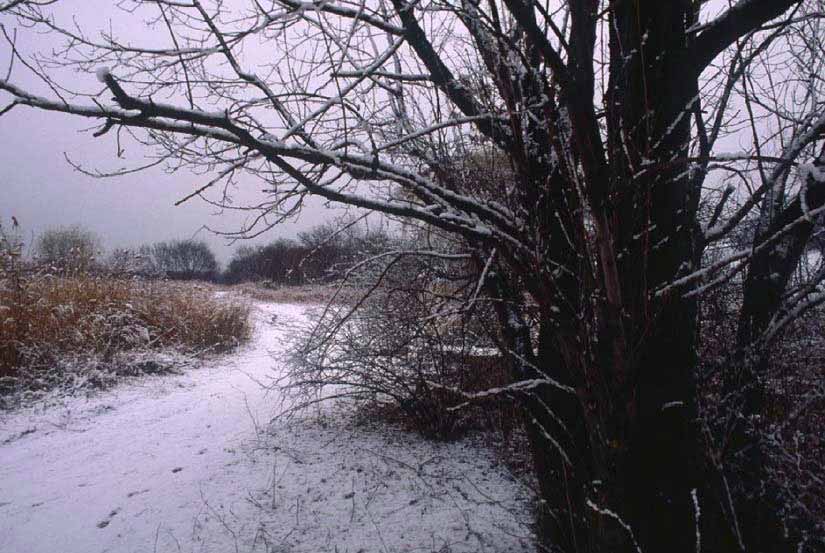 March 1988

A ramble about Kissena Hollow

A snowfall brings me out to the hollow. It lets me see past the ordinary.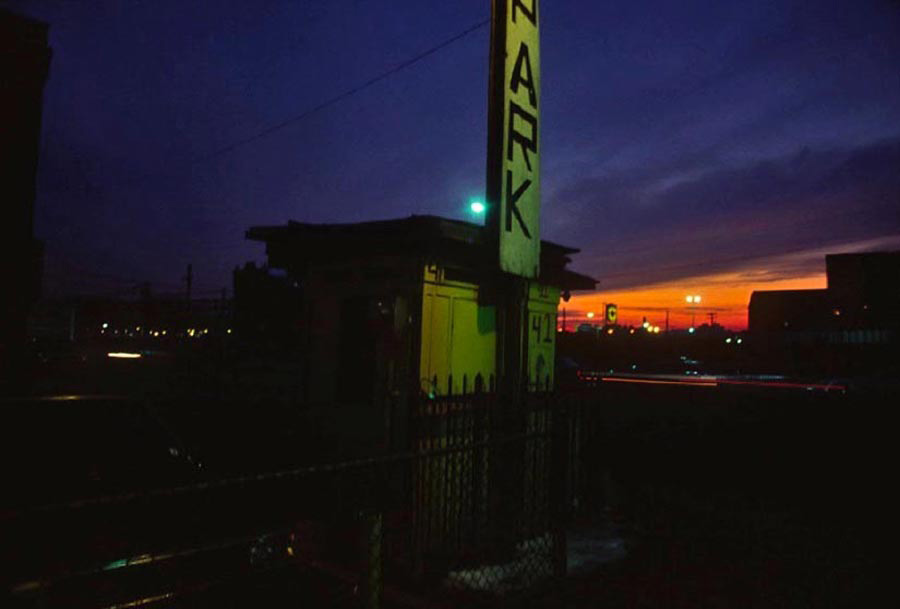 March 1988

A ramble across Hoboken

Its cold and late and I have a fever yet tonight I'm wandering about far from home.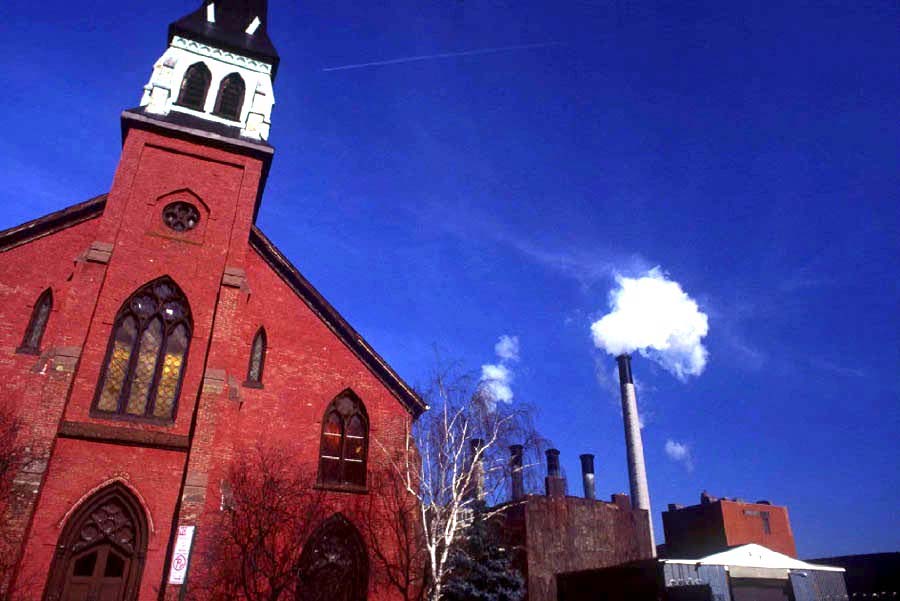 February 1988

A ramble about Dumbo and Vinegar Hill

I could have created a Chagall if only had there been a yellow angel playing the violin in the sky.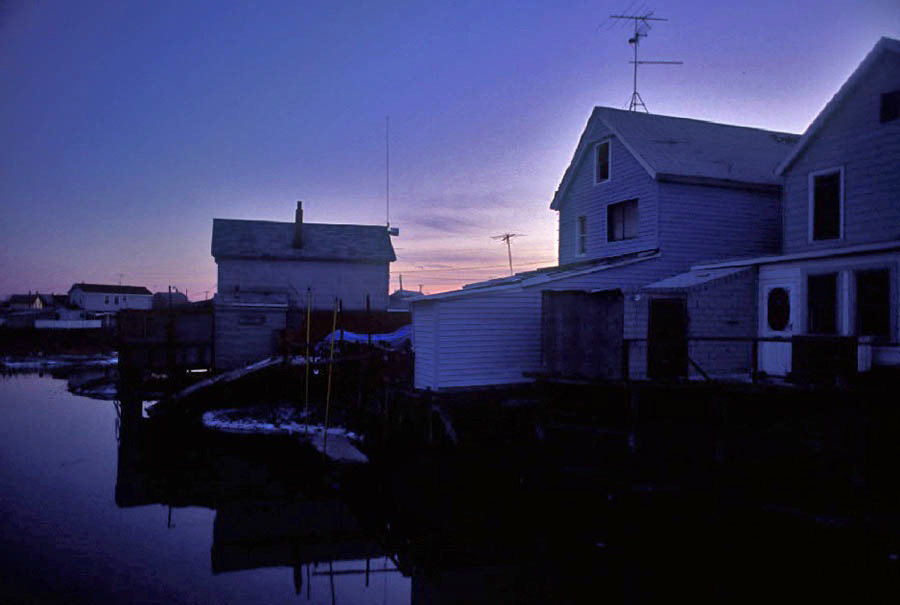 February 1988

A walk in Hamilton Beach

The flat landscape along the bay was plain enough by daylight, but as evening fell all was reduced to the simplest of elements.

---
Copyright 2009 Alan Petrulis All Rights Reserved