NEW YORK RAMBLES (page 17)
page 1 2 3 4 5 6 7 8 9 10 11 12 13 14 15 16 18 19 20 21 22 23 24 25 26 27 28 29 30 31 32 33 34 35 37 38 39 40 41 42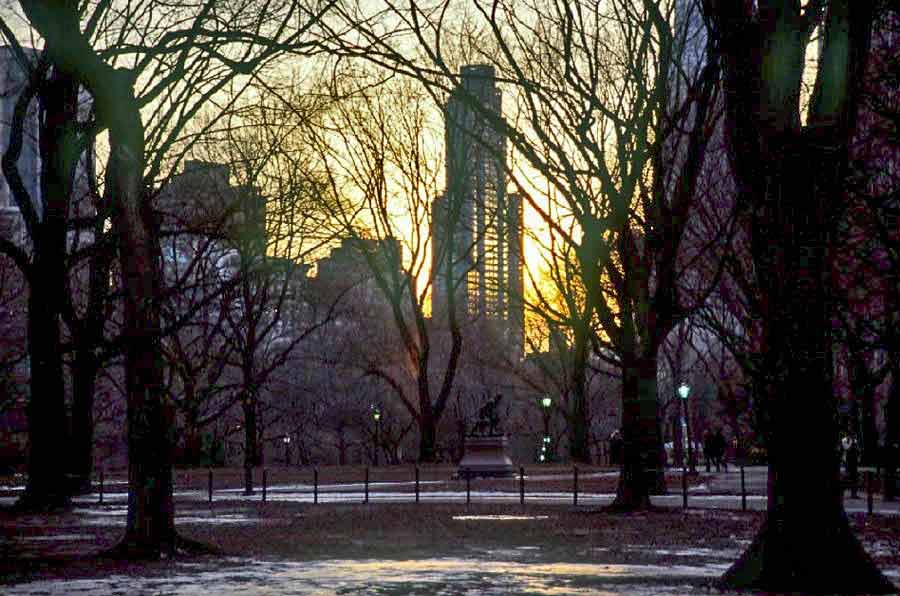 February 2004

An 8 mile walk from Union Square to Chelsea and then on to Central Park

Many parts of New York fall into shadow before sunset due to its tall buildings. Walking in Central Park at this time is like being in a deep valley between two mountains. The light is soft but yet not dark. It is a lingering moment where the inevitability of day's end is in the air but just enough hope is given to think we can live forever.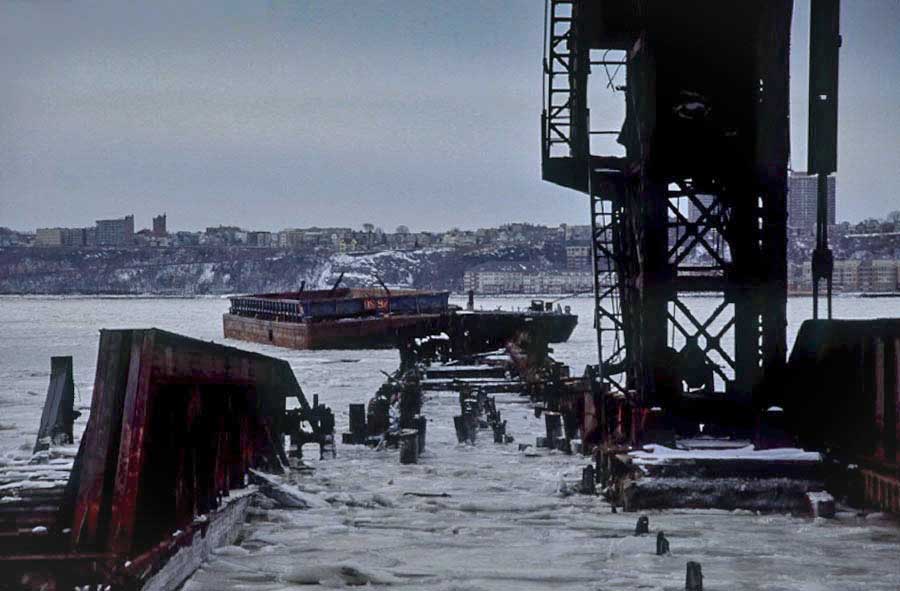 January 2004

A walk from Midtown to the Upper West Side

The day was very cold and the winter wind blowing down across the Hudson went through me as if I had no physical substance. Not only had fresh snow fallen but the river itself was frozen over. There was something about the snow and ice here that took me back in time, not to my childhood but to an earlier period in which I never lived. Not all my memories are my own.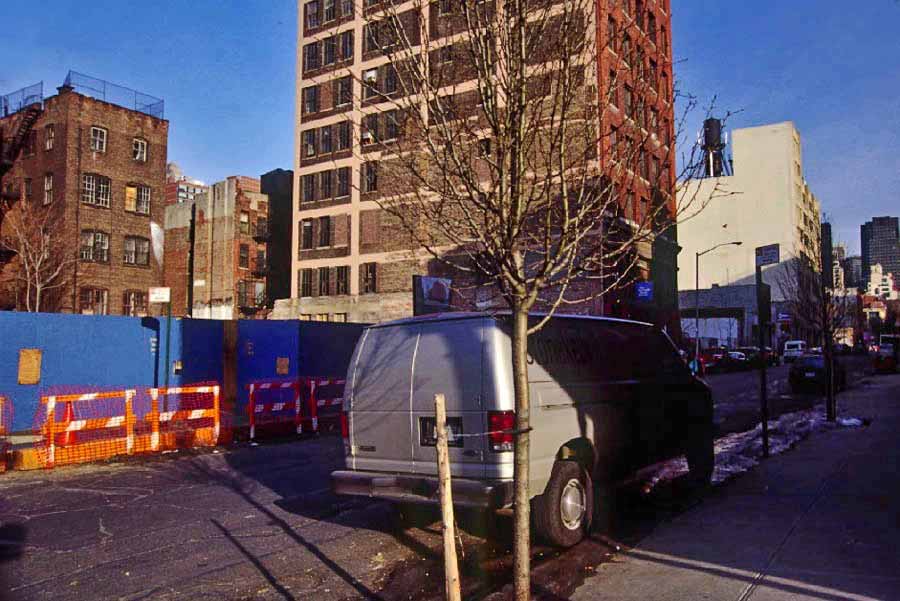 January 2004

A walk from Union Square to Chinatown and on to Soho

I was not getting many shots as I walked the streets today, I suspect I was moving too fast. This was not a day for dramatic moments that would leap in front of me but one that required more deliberation tham I had the mindset for. Often I had to stop and retrace my steps when a voice told me I had passed a good composition by. Even then I would pause to ask myself, is this what I returned for? I took the shots and debated their merits latter.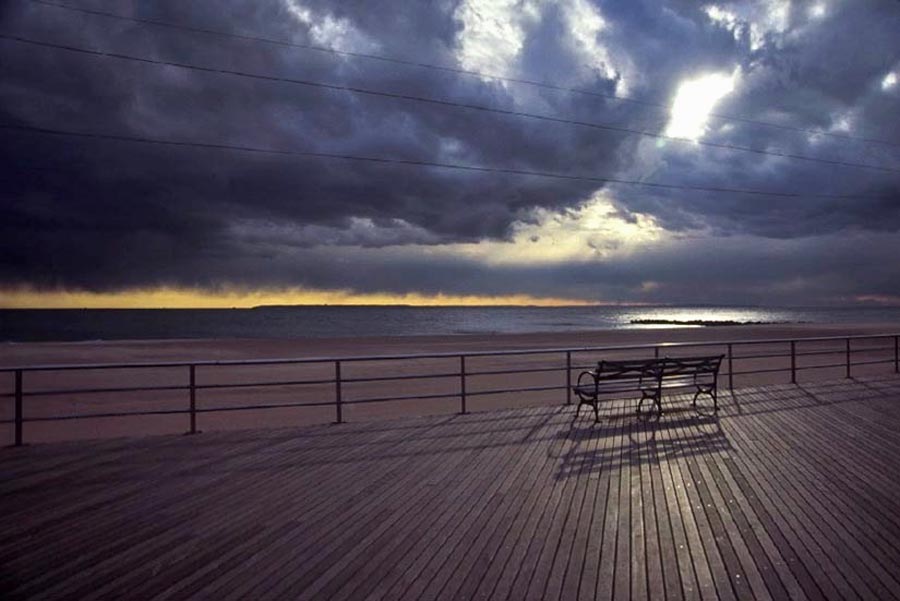 December 2003

A 7 mile walk from Sheepshead Bay to Coney Island

The wind was high and it was cold. As I stood looking across the bay I could not believe that I chose this day to photograph the waterfront. By the time I reached the ocean the sky of solid blue had turned a stormy grey. Then a light rain began to fall. There were no crowds to scatter but the boardwalk was far from empty and the spitting clouds did not chase all away. There was magic being stirred up in this cauldron and others besides myself knew it.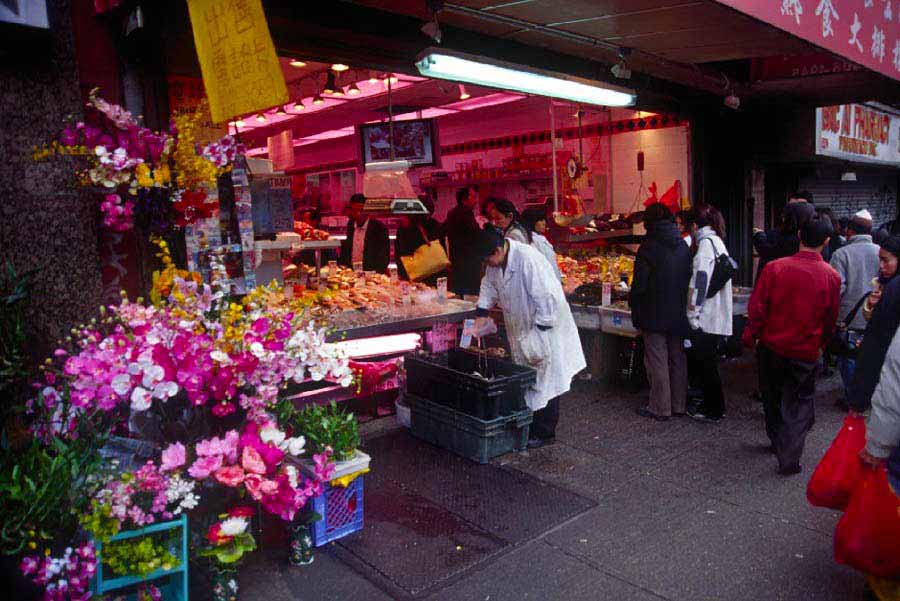 December 2003

A loop from Soho to Chinatown

Exotic orchids are being sold next to bins of raw shellfish. This is Chinatown.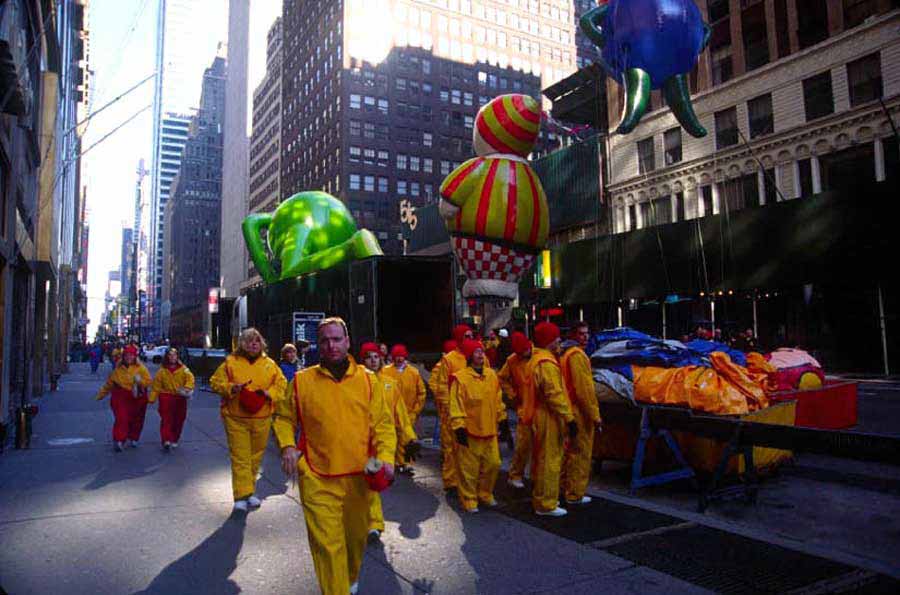 November 2003

A 6 mile walk from Times Square to City Hall

While I managed to find a good vantage point to view the Thanksgiving Day parade, the crowds were so thick that I found myself penned in with little room to maneuver. As it drew to a conclusion the masses dispersed for dinner and I found some room to seek out unconventional views.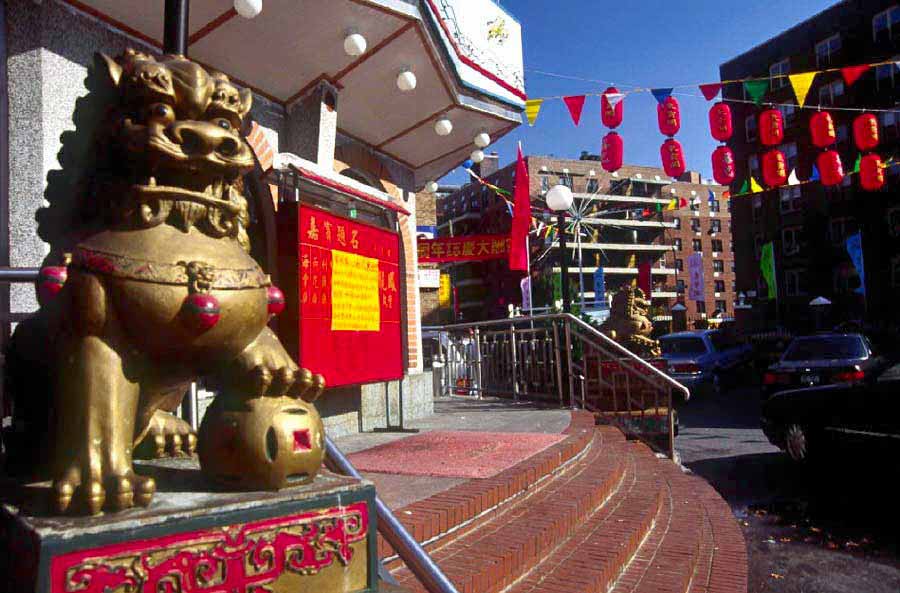 November 2003

A ramble through Flushing

Asian immigrants have given Flushing a new face but this is really nothing more than a different mask. Real change has come more from the the dwindling of trees and single family homes.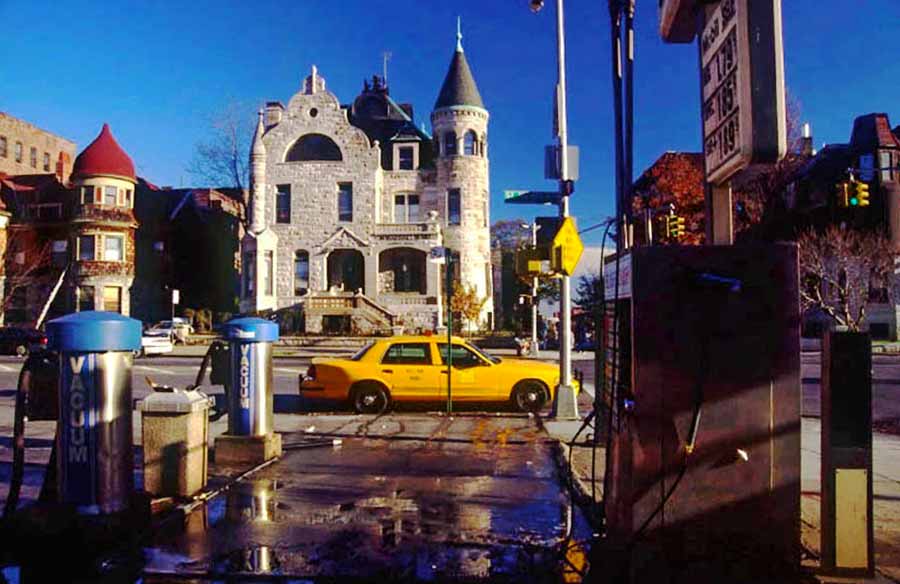 November 2003

A 6 mile ramble through upper Manhattan

The steep cliffs that traverse upper Manhattan were a thorn in the side to early developers but they are a boon to those looking for a view. Unfortunately for me many of these panoramas are so expansive that they are difficult to capture on a small scale in any meaningful way. Still there are little corners everywhere that provide.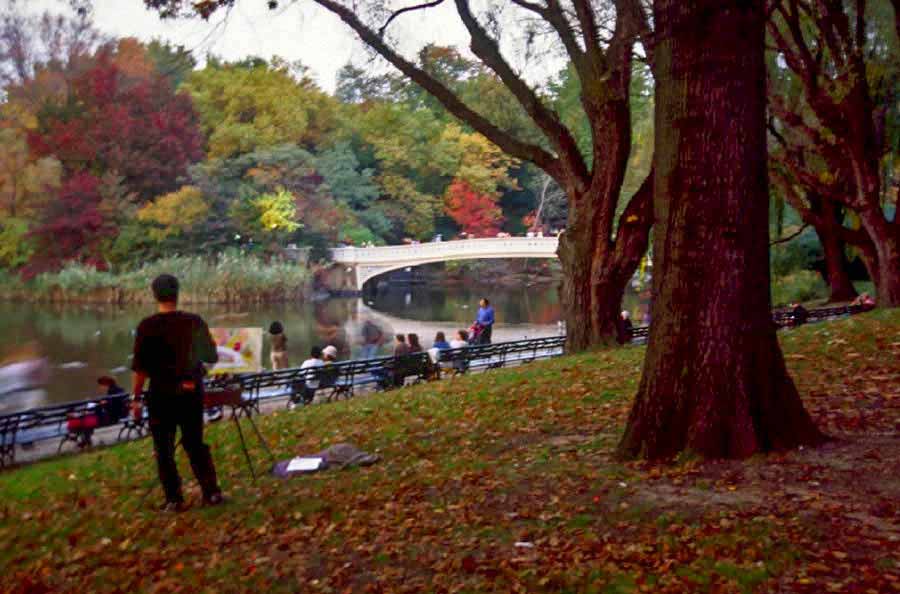 November 2003

A ramble in Central Park

As I enter the park a man passes me shouting at his plumber over his cell phone. A minute latter a women is pacing while in a heated argument with her boyfriend on her cell. Is this why they came here, to work themselves into a frenzy under the trees? This place is an escape from the tumult of the street and the pressures of our life if only for a few moments. If lucky we can carry a piece out with us on a canvas, by a photograph, or in our hearts. Those who bring their tormenters here with them are an affront to this gift.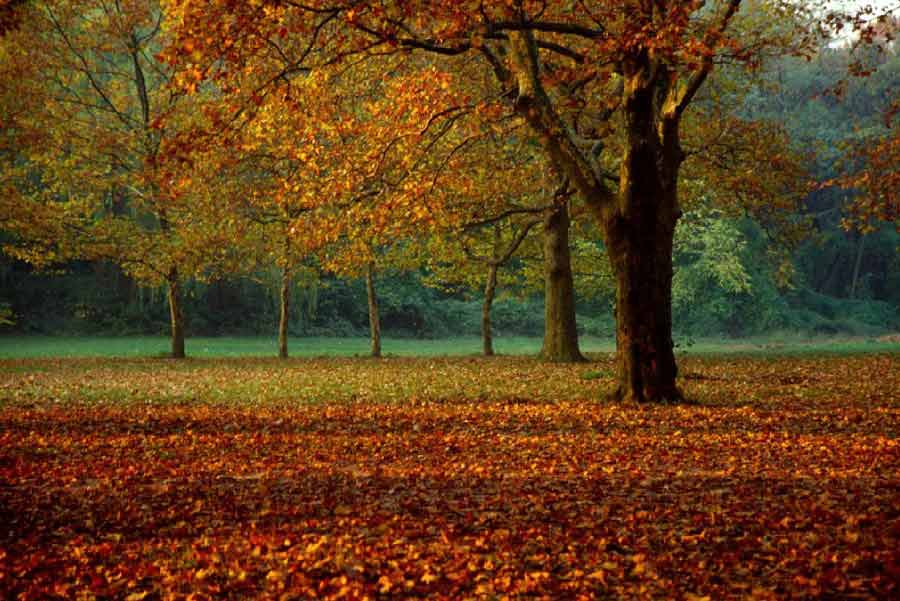 November 2003

A ramble in Kissena Hollow

It has always struck me how some plants calmly remain a resilient green as winter stares them in the face when others around them are frantically turning color.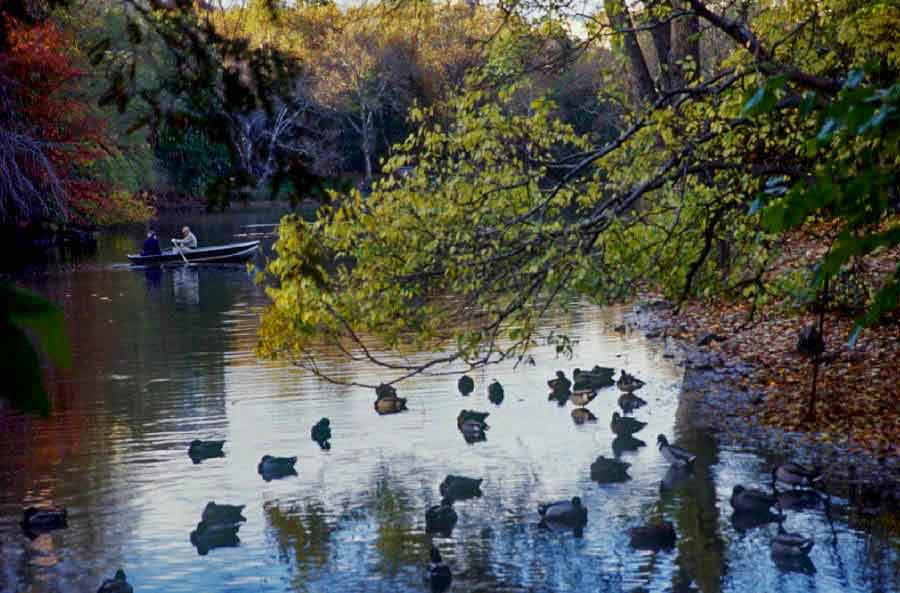 November 2003

A ramble between Central Park and Times Square

Few realize how much of Central Park is built on illusion. There are tiny corners everywhere that remove you from the city with the promise of wilderness. Yet all here is skin deep for if one delves too far you will find yourself leaving this refuge almost as fast as you enter it. Birds by the thousands seek safe harbor here but they are never far from prying eyes.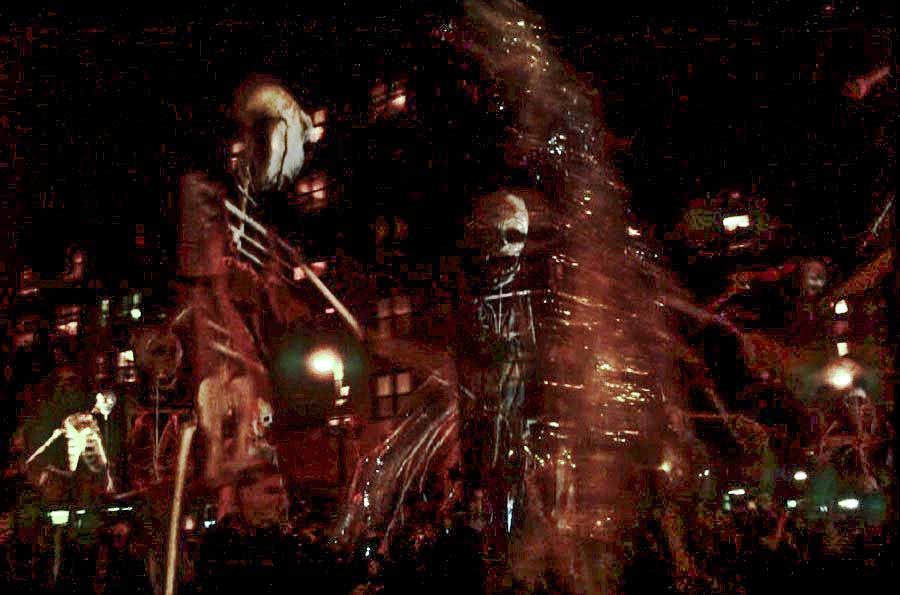 October 2003

A Midtown ramble on Halloween

It is good to see that we are comfortable enough with death again to celebrate it on our streets.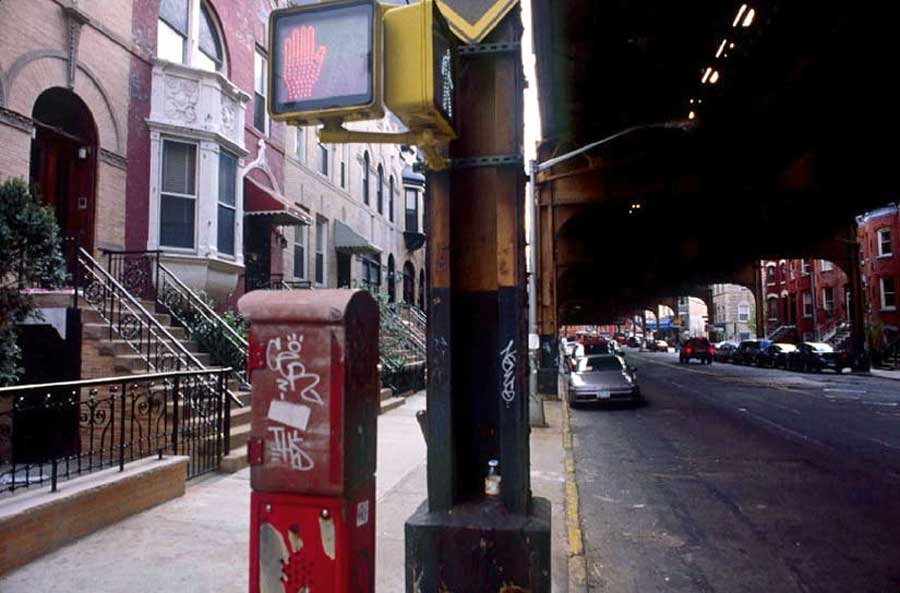 October 2003

A ramble about Long Island City

I dream of the sunlight that sometimes filters trough the elevated lines creating playful patterns of shadow. But today is overcast and the El is a brooding mass. A train rumbles overhead and wakes me. I move on.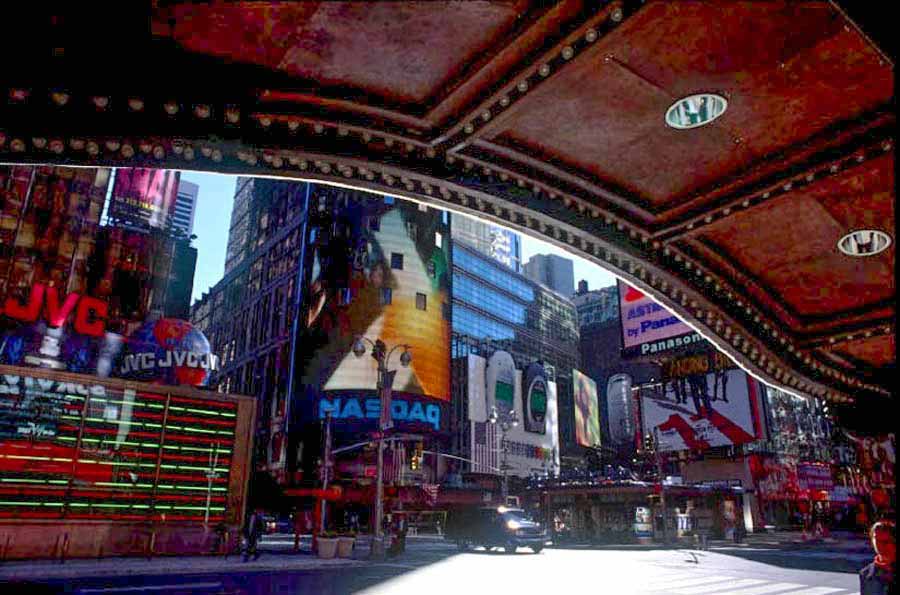 September 2003

A Midtown ramble

Even on the most crowded of city streets and in squares overflowing with people there are those rare moments stemming from the configurations of traffic that suddenly renders one particular spot nearly empty.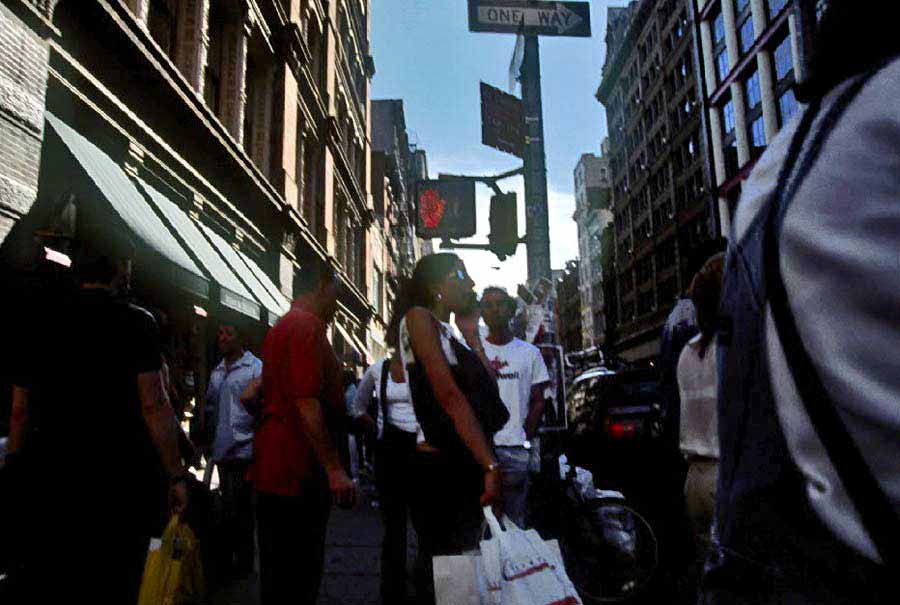 September 2003

A loop between Soho and the West Village

When I walk around in Soho on weekends I wish that I could carry a big stick to knock people out of my way.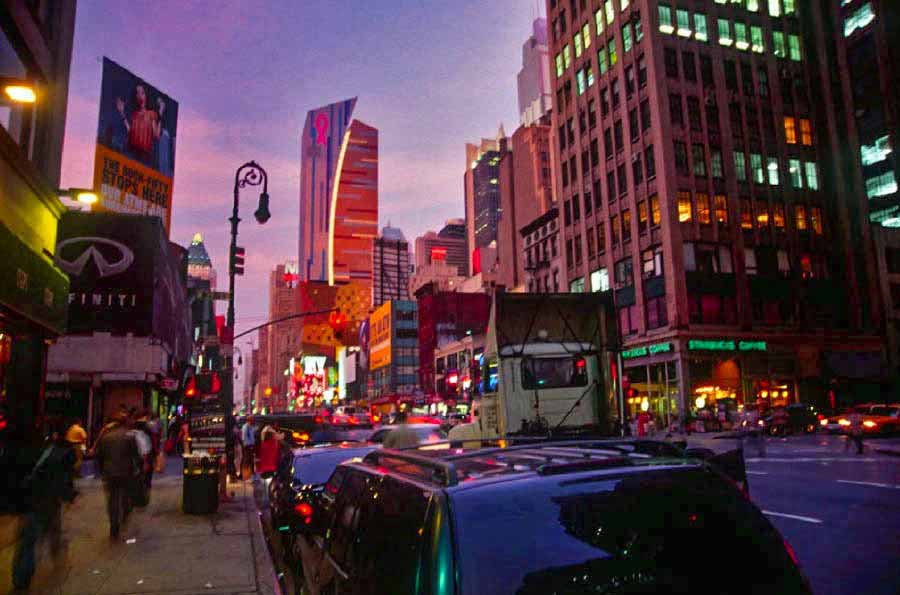 September 2003

A short walk up to Times Square

It's that strange hour between day and night. Up ahead looms 42nd Street with its neon lights lit under an iridescent sky. It is a city within a city. No film can capture these colors for they are not just garish and subtle but alive.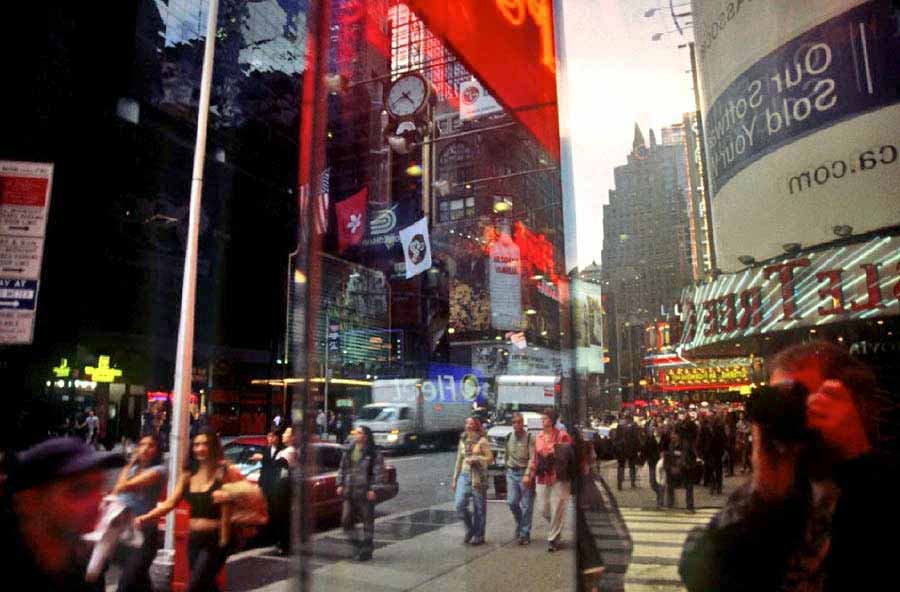 September 2003

A Midtown ramble

It is amazing that with all the reflective surfaces in New York City that I don't capture myself in action more often.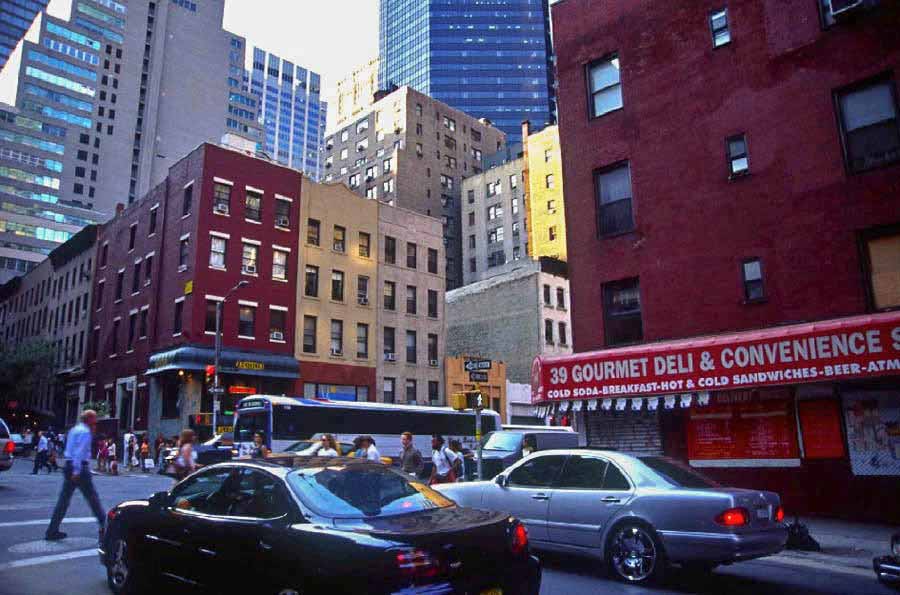 September 2003

A walk uptown from Union Square

There are parts to midtown Manhattan that have a great variety of building sizes, styles, and yet they often add up into a very homogeneous if not monotonous look. They are however realms of reflected light that bounce off a limitless array of setbacks in constant reconfiguration.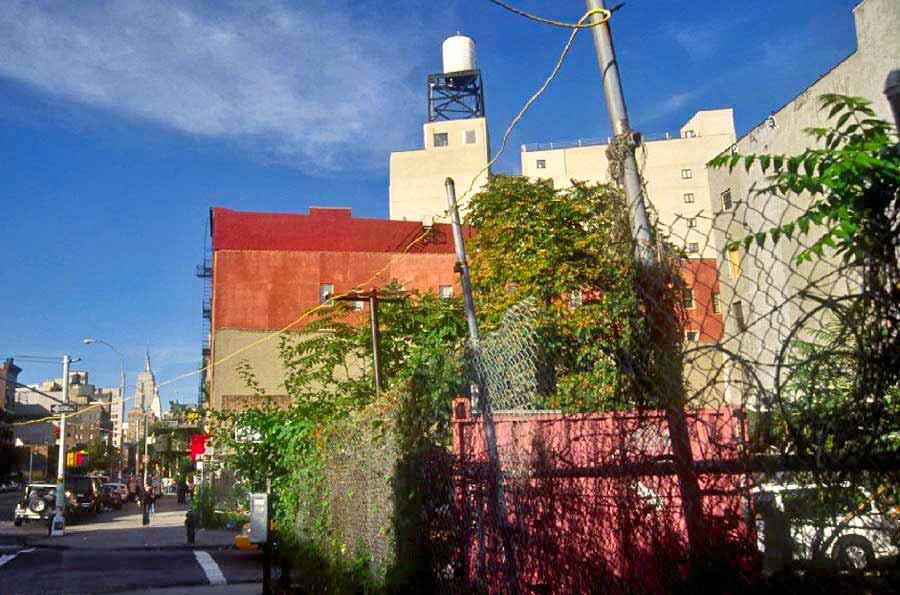 September 2003

A 5 mile ramble from Union Square to City Hall and then up to the East Village

The Lower East Side is no longer that forgotten corner of New York. Efforts are being made to clean it up as the gentrifiers chew on its borders. They don't realize that it's the grittiness of this place that makes it what it is. For some all is just real estate.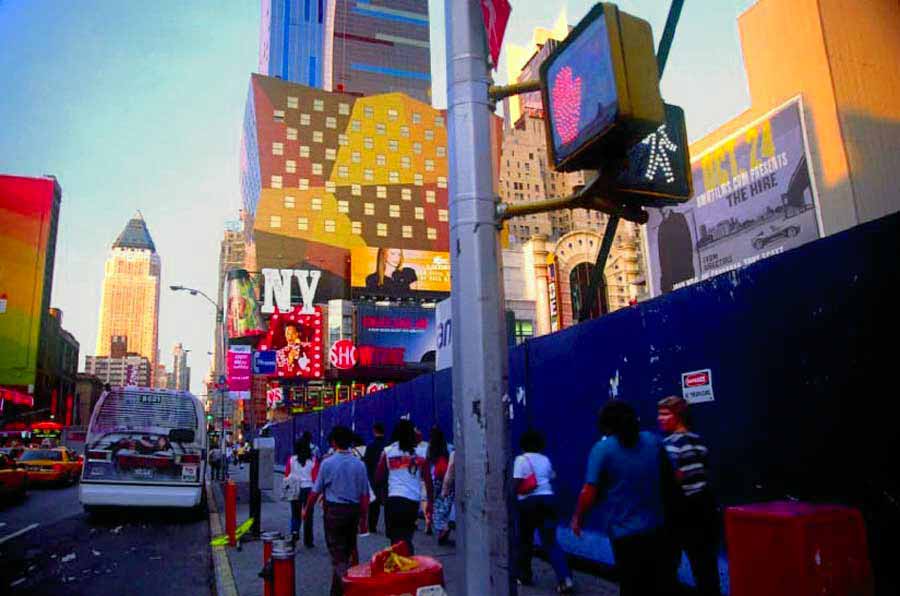 August 2003

A walk from Union Square to Times Square

It's good to have some color in the city, or should I say a lot of color.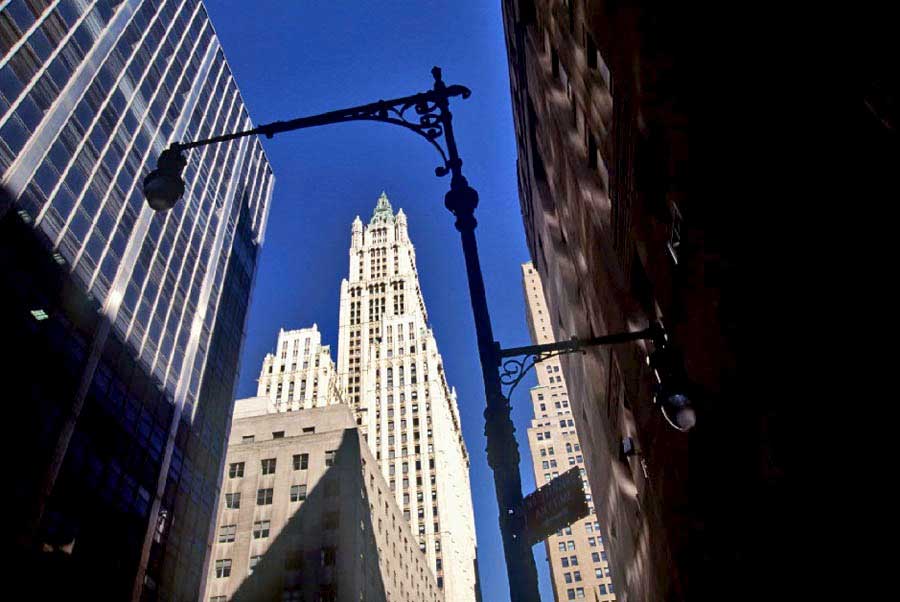 July 2003

A loop from Soho to Battery Park City

As much as I thought the World Trade Center ugly it was an important anchor for me when walking around the city. I could always judge my position when spotting it, and it always said New York when shooting an otherwise generic street. I find it very disturbing to look up and see sky where I remember these towers looming over me. It is as if a mountain suddenly disappeared from a landscape.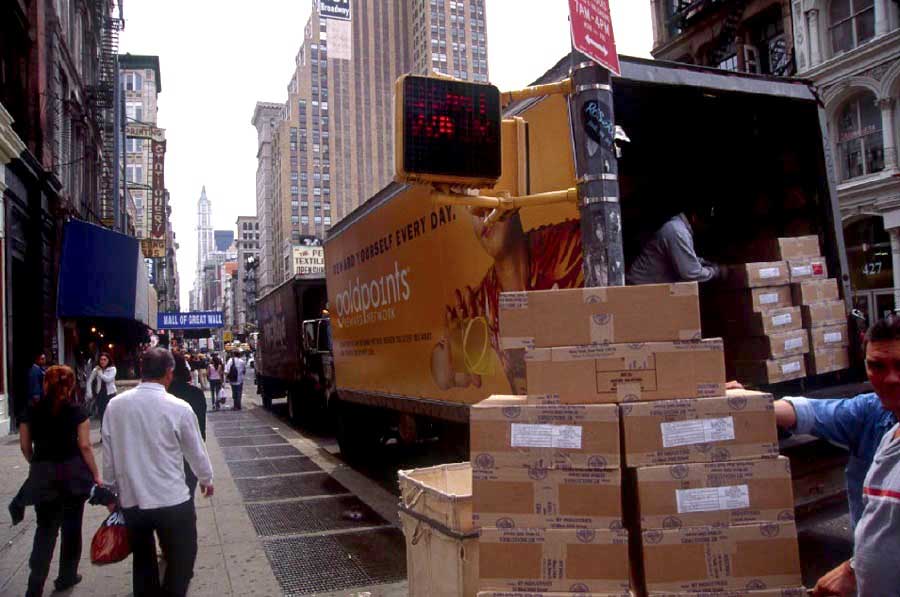 May 2003

A ramble between Union Square and the East Village

Streets are not just about the buildings that line them, they change minute by minute as crates are unloaded, food is delivered, messengers rush by, and all from shoppers to lovers press foot to pavement.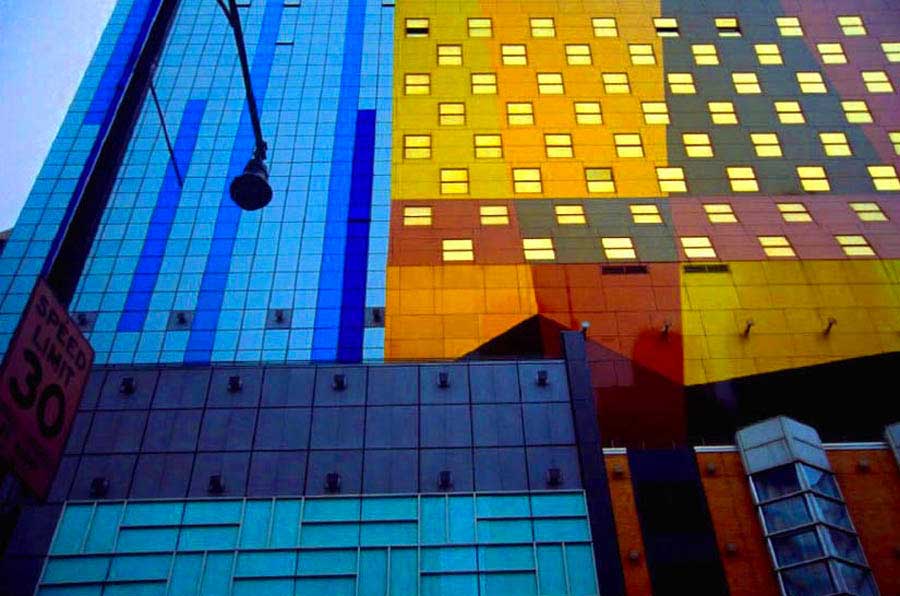 April 2003

A Midtown ramble

Finally, They put up a new building in New York that I like.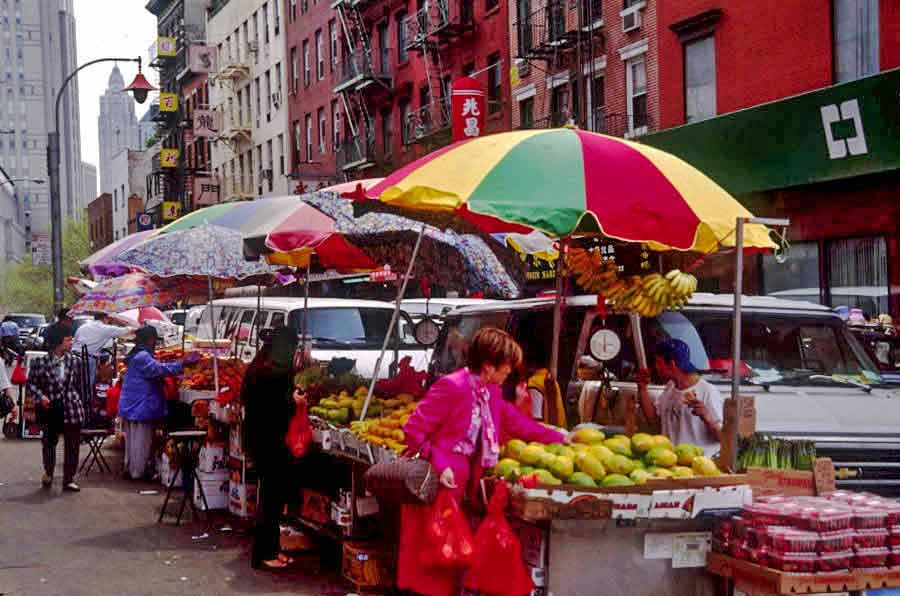 April 2003

A short loop between Soho and Chinatown

Vans have now replaced most carts but many streets of lower Manhattan are still defined by the Push.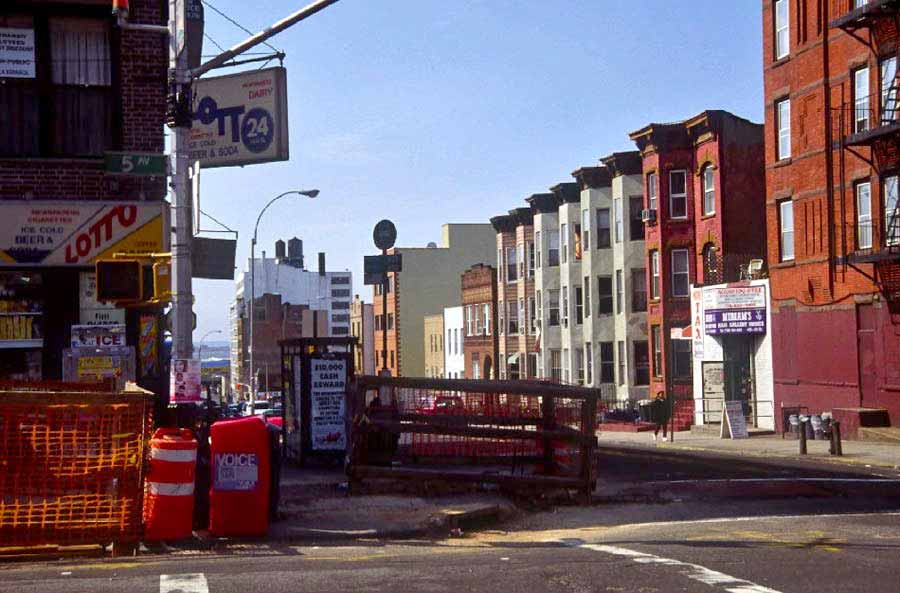 April 2003

A ramble across Sunset Park

For once I kept away from the waterfront and wandered up and down the quiet residential streets off the main drag. I continue to be struck by the often amazing views toward the harbor from this otherwise ordinary neighborhood. It's like many of the other old ethnic neighborhoods of Brooklyn and Queens, a good place for texture.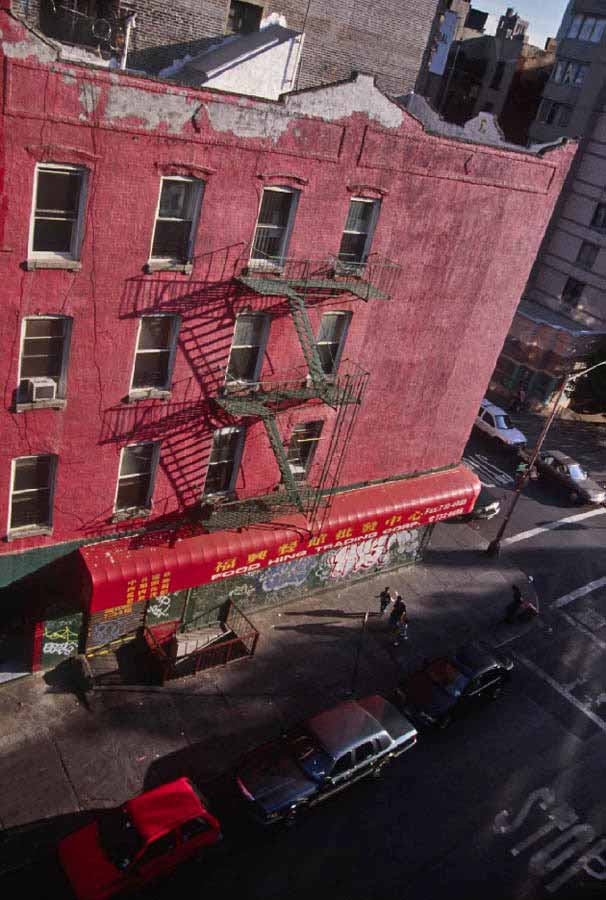 March 2003

A walk from City Hall to Soho and on to Brooklyn

The Manhattan bridge lacks the grace of its neighbor to the south but the views from it can be outstanding. Great panoramas of brick and steel are to be found here that make it seem as if the city has been emptied of all its people. But it is the more intimate views of rooftops and city streets that attract me with daily chores being carried out under watchful eyes. I am close enough to shout down to the people below yet they and I now inhabit two different worlds.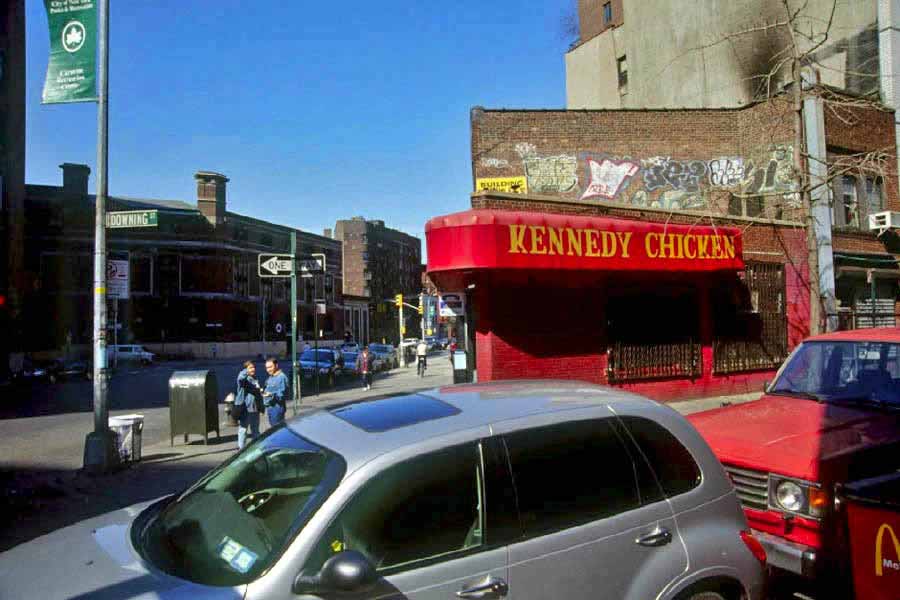 March 2003

A walk between Soho and the West Village

To improve traffic flow the City's newer avenues were simply cut through the existing blocks of Greenwich Village. These scars are still visible on some buildings that built new walls to seal themselves off from the street. More noticeable are all the strange points created from the collision on two grids. These can sometimes provide unusual compositions but more often confussion while wandering the streets. Planners never see neighborhoods, only clean slates.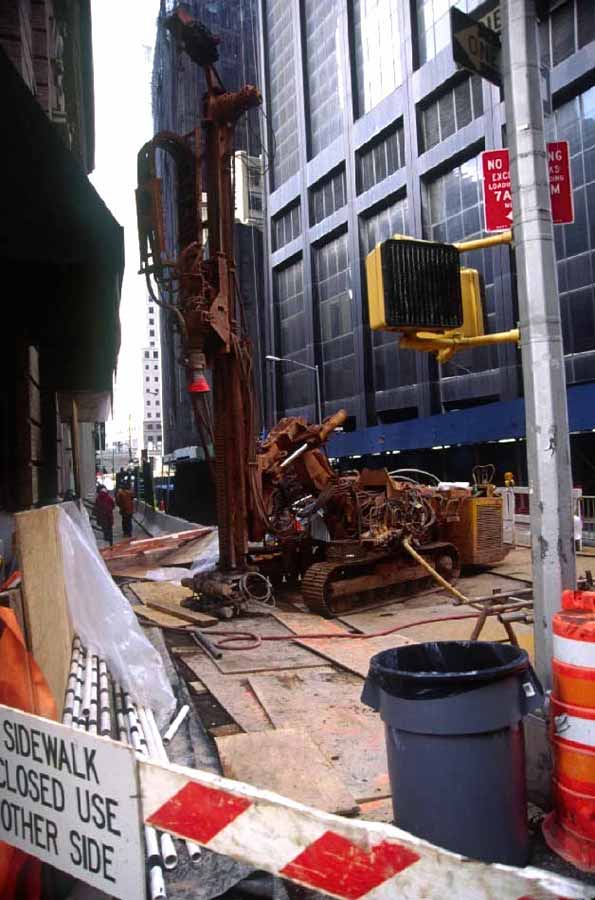 March 2003

A Downtown ramble

These modern buildings may have been designed with clean lines but the streets they sit on are filled with disorder. All of downtown seems to be one gigantic construction site. Barriers move, streets are dug up, it is a constant shuffle without conclusion.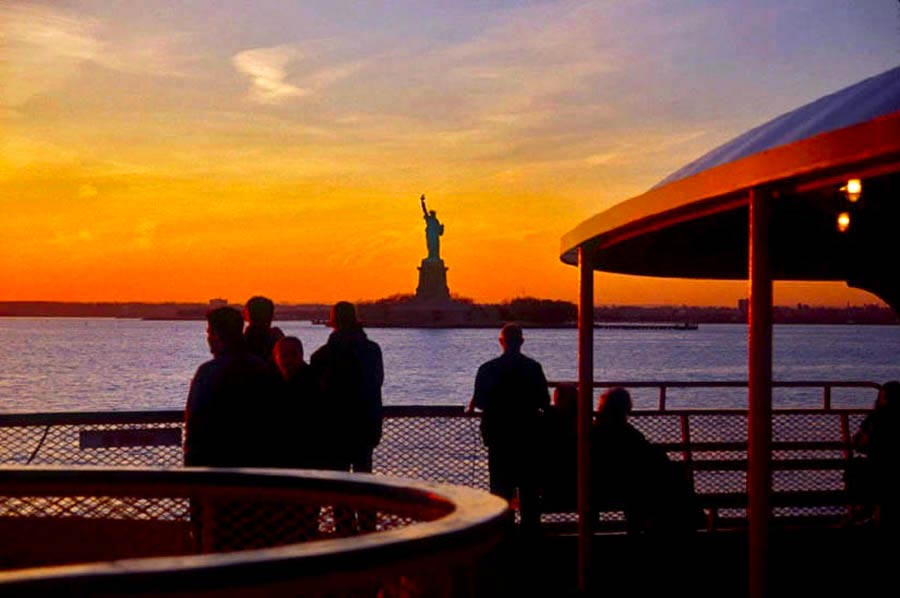 March 2003

A walk around the deck of the Staten Island Ferry

Usually people I cross paths with are in the way of my taking a good shot. Today I could not have posed them better. Had I painted this image it would look contrived.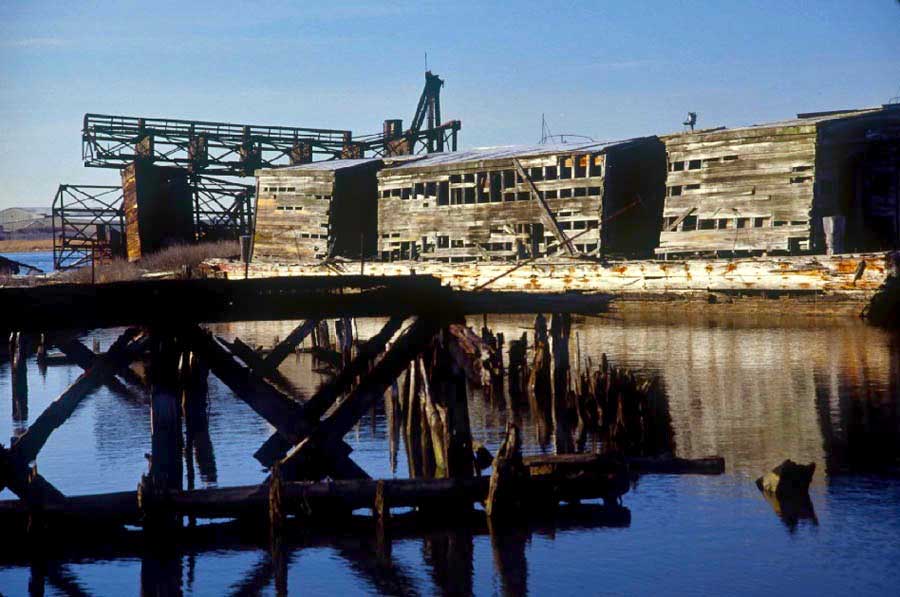 March 2003

A short walk amidst the wrecks at the Dead Pool

The massive heaps of car wrecks had all been pulled from the shore since my last visit leaving behind a muddy field full of rust. Only the old hulks stuck deep in the flats remain. My maneuvering proved to be more limited as many of the ship decks I once walked out across have since collapsed in on themselves. It has become a lot more dangerous to work out here with all the additional rot. Every once in awhile as I get distracted from where I'm stepping I find my foot will not move. Much of the planking here has more rusty nails pointing upwards than I can count.

---
Copyright 2009 Alan Petrulis All Rights Reserved