NEW YORK RAMBLES (page 13)
page 1 2 3 4 5 6 7 8 9 10 11 12 14 15 16 17 18 19 20 21 22 23 24 25 26 27 28 29 30 31 32 33 35 37 38 39 40 41 42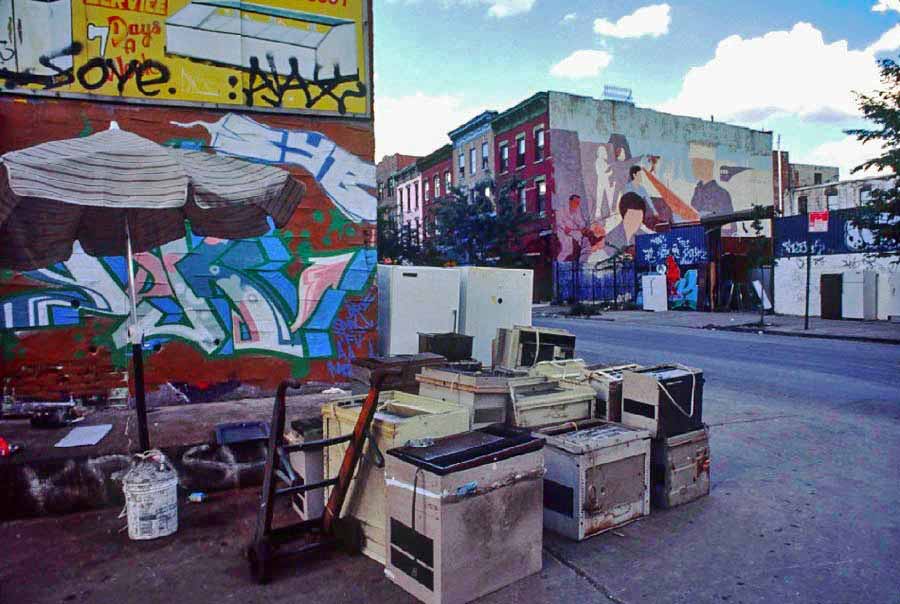 September 2000

A ramble about Williamsburg

We build so much these days with minimalist designs and large clean shapes forgetting that human nature abhors a vacuum.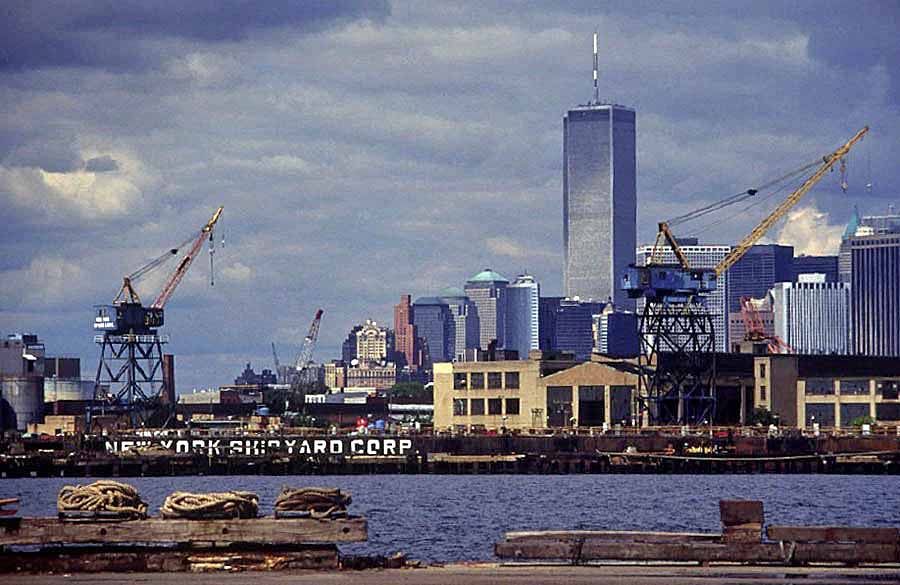 September 2000

A loop from Gowanus to Red Hook

I was so interested in shooting the Erie Basin that I actually sought out permission to work there. I didn't get it. Fortunately I found at least some of the peripheries a bit permeable.
Postscript: The shipbuilding facilities that they could not let me photograph have been demolished and a giant box store has replaced the old warehouses. There was much public outcry to save the old graving dock but to no avail. Two weeks after it was filled in for use as a parking lot an official report was issued stating that the harbor's lack of such facilities puts this nation at risk.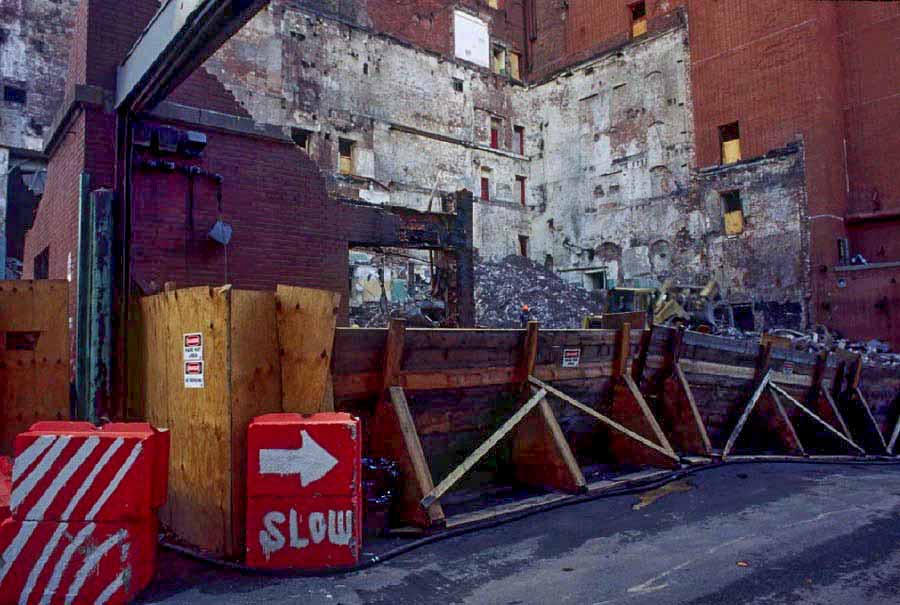 September 2000

A 12 mile walk from Gowanus to Williamsburg

I was amazed to see the tall brick walls still standing after the entire interior of the factory had been gutted. Bulldozers worked inside pushing piles of dirt and rubble from one end to another.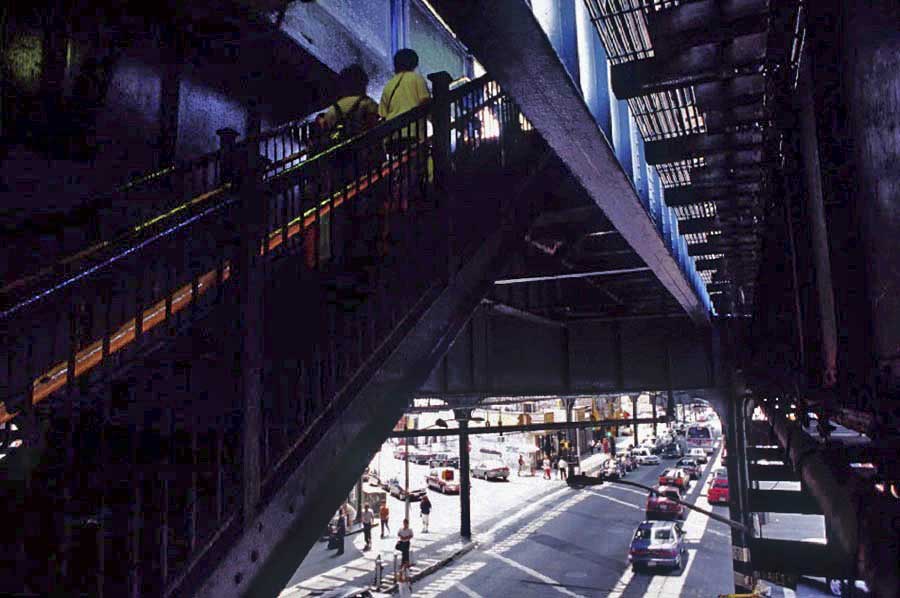 September 2000

A walk from Bushwick to Maspeth via the English Kills

The elevated lines in Brooklyn are old and you know it. No stainless steel here, only wood and cast iron that has been painted so many times that the rivets holding it all together are barely visible. It all feels big and clunky as if made for a race of people far larger than us.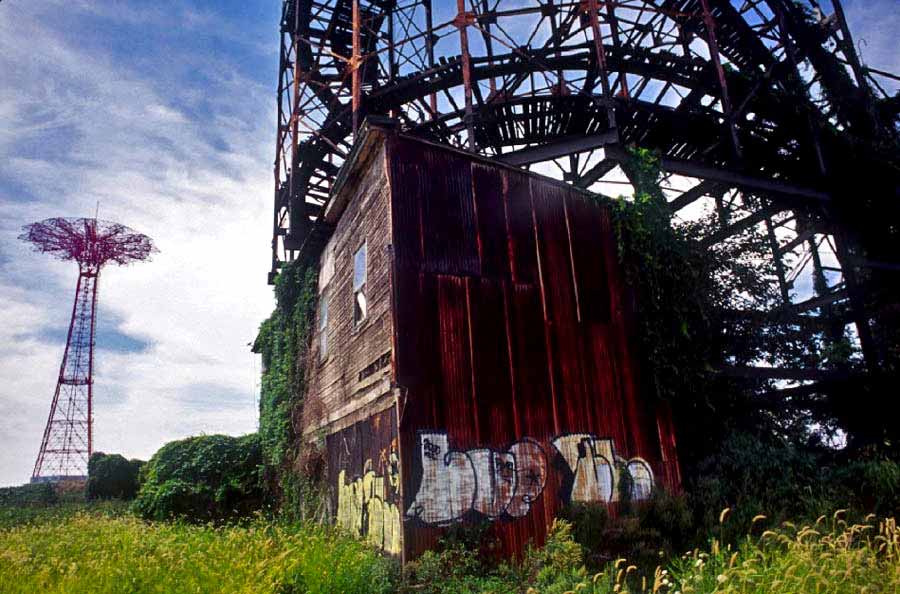 September 2000

A ramble between Coney Island and Sea Gate

The fence surrounding the old Thunderbolt roller coster was not very formidable so I made my way in for a closer look. The weeds were high after a long summer but easy to pass through until I got right up to its base. The vines and foliage were so thick here I was uncertain if there were a way in. A chorus of hidden dogs then let out their barking howls stopping me in my tracks. Were they guard dogs or strays? I decided to unravel the mystery at a latter date when the weeds had died and any needed getaway could be more swift.
Postscript: The Thunderbolt was suddenly demolished just two months after I photographed it and before landmark status was approved, not to mention before I returned to take more shots.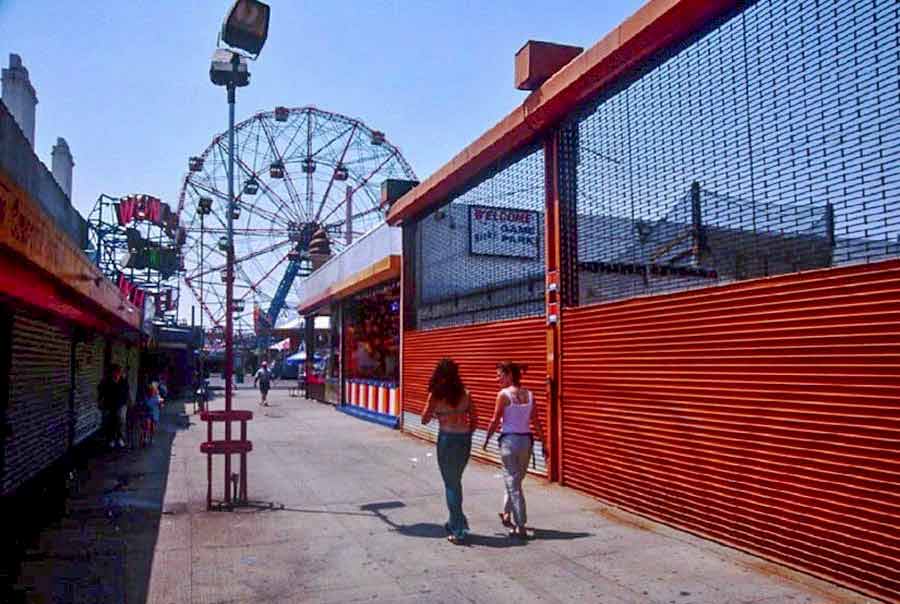 September 2000

An 11 mile walk from Coney Island to Bay Ridge

While some have likened the Surf Avenue station to a house of horrors with its dark chambers of stained crumbling concrete it was more like a time machine to me. The moment I stepped out the train door I remembered this place from an early childhood visit. It was like seeing some vague dream of my youth crystallize before my eyes. The rest of Coney Island was not in much better shape. I really didn't mind its appearance, only that there was so little honky tonk left to see. It appears so grand in my mind it is a little sad to come face to face with it.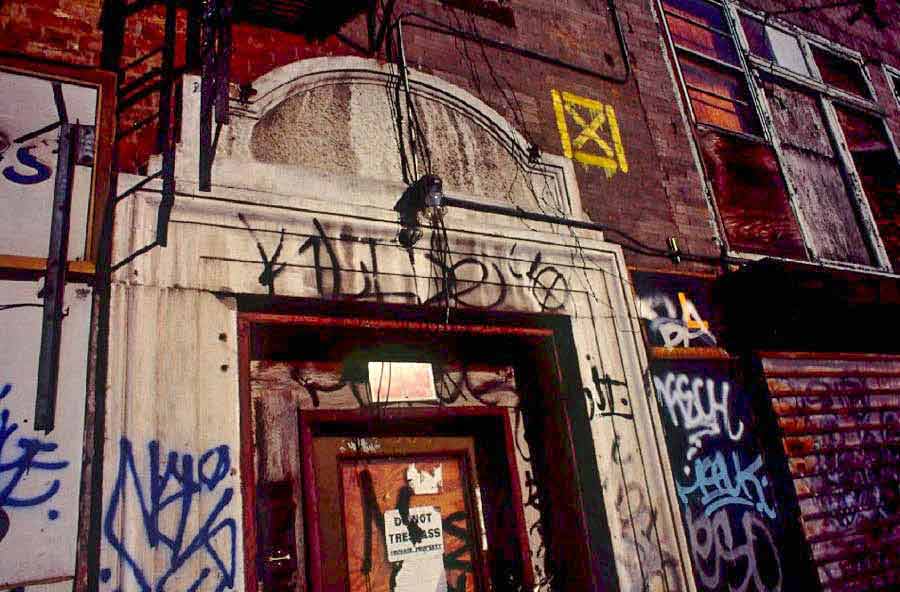 August 2000

A ramble in Williamsburg

Blight in this City comes in two forms, that which has become too run down to properly function and the soulless structures we replace them with.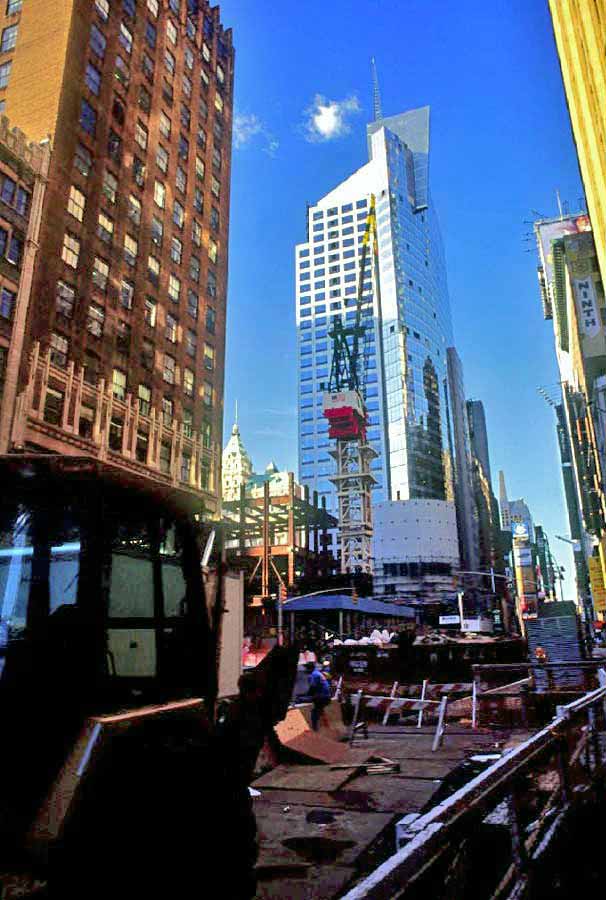 August 2000

A walk from Union Square to Times Square

The skyline rises at a fierce pace but down on the streets it is unrelenting chaos. Perhaps that's the true story of this city.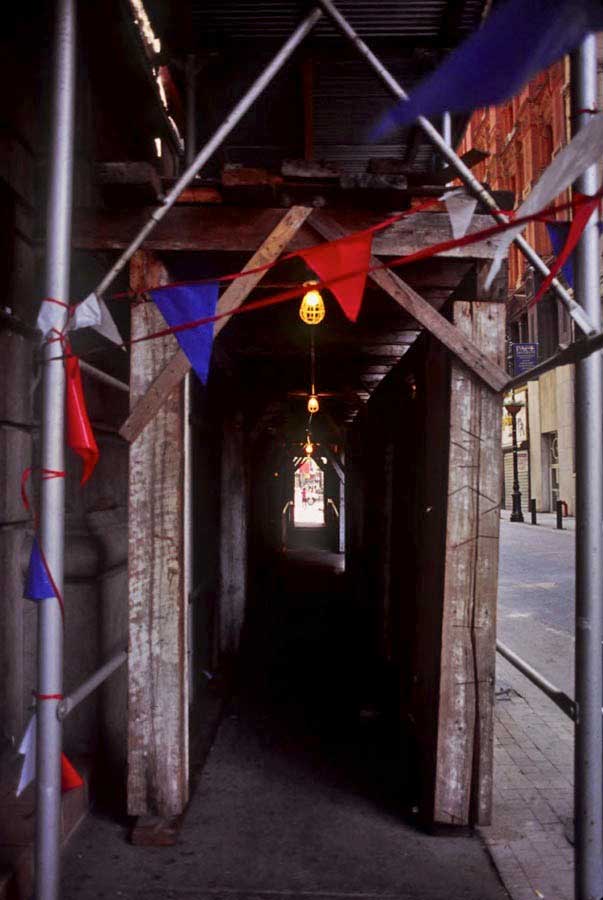 July 2000

A Downtown ramble

It has gotten to the point where there does not seem to be a single block in this City left that does not have some form of scaffolding erected on it.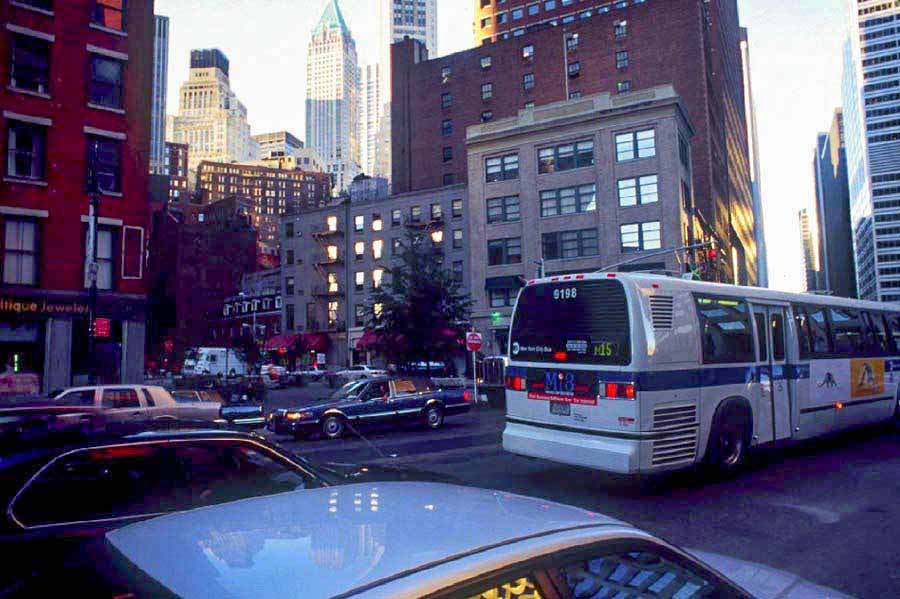 July 2000

A Downtown ramble

The landscape in New York begins at the end of my nose.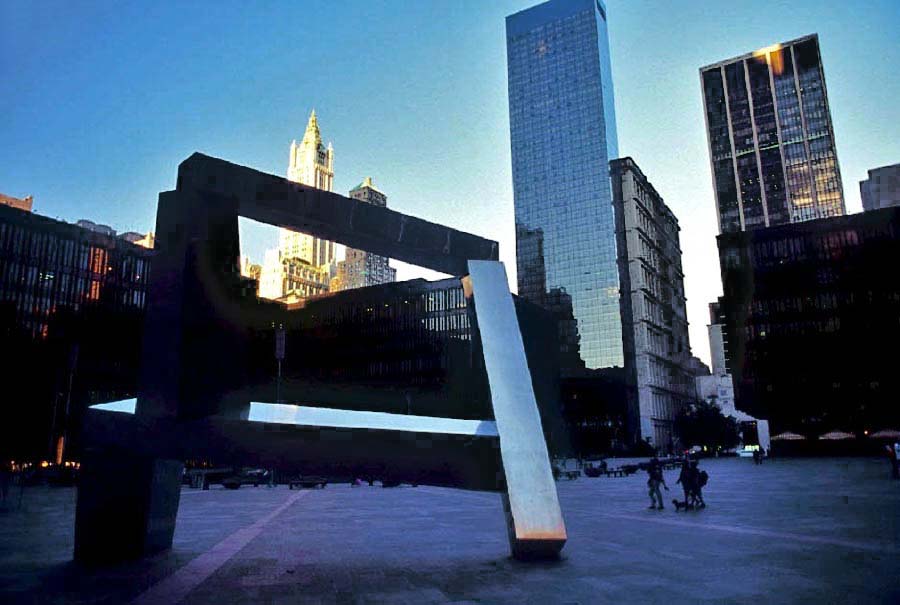 July 2000

A Downtown ramble

I have walked down the surrounding streets many times but had never set foot on the plaza between the twin towers before. This is a truly uninspiring space. My timing has not helped as I am confined to a pit of dark shadows.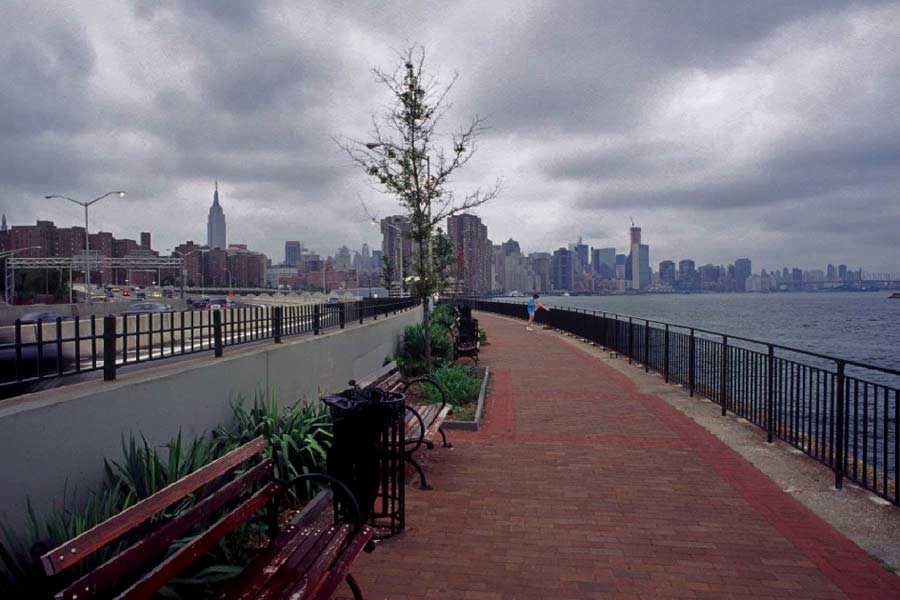 July 2000

A 7 mile walk from Midtown to Soho along the East River

New promenades have been constructed along the river that open new panoramas. I am excited but still have difficulty finding something to shoot. Everything is a bit to clean for me today, 'cept the sky.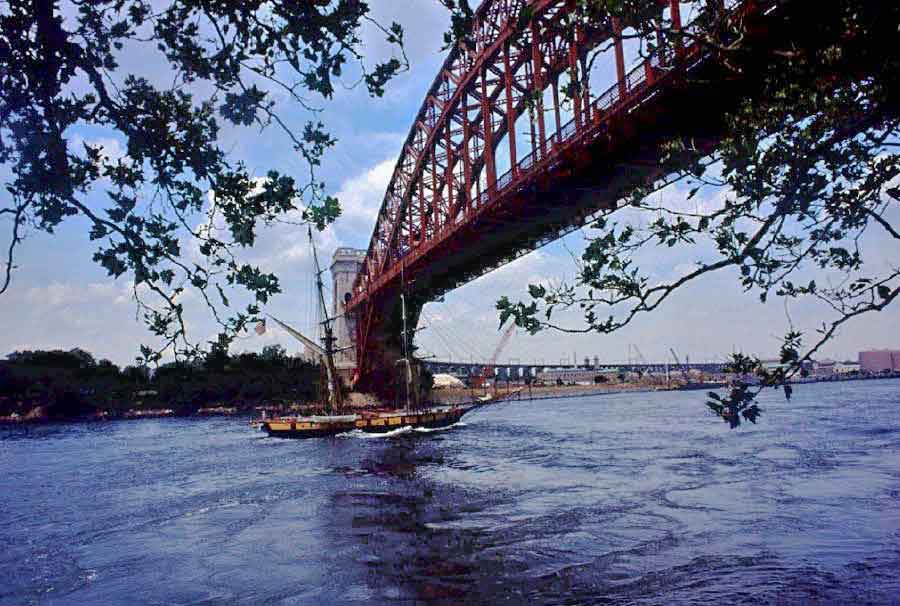 July 2000

A walk in Astoria

I headed for Hell's Gate this morning where I knew the boats docked downtown from the 4th of July festivities would have to squeeze through on their way to New England. I thought few others would think of this and true enough the waterfront was deserted. While I had the drop I didn't have a schedule so I did not know if I had arrived too early or late as I gazed out onto empty waters. The tide was low so I climbed down below the seawall to amuse myself. Lying between the rocks was more broken glass than I have ever seen. It would have been a paradise to a sea glass collector had not most of it still held their sharp jagged edges. I became so engaged in poking around I almost missed a ship as it cruised by.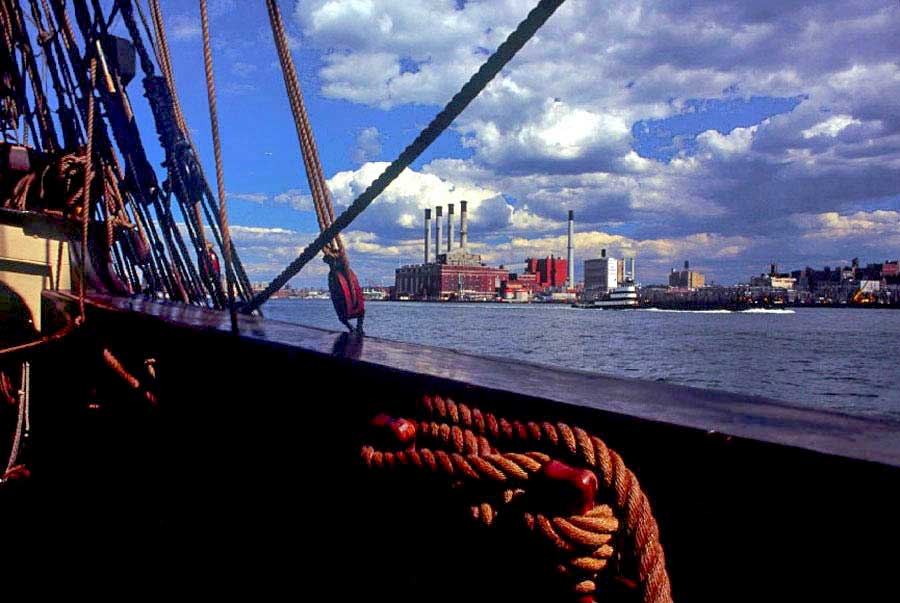 July 2000

A walk up the East River

The Tall Ships that were visiting New York was promoted as a multi-day event but they did not mention that not all ships would be staying on till the end. It was an effort to find the seacraft that remained at scattered moorings throughout the City.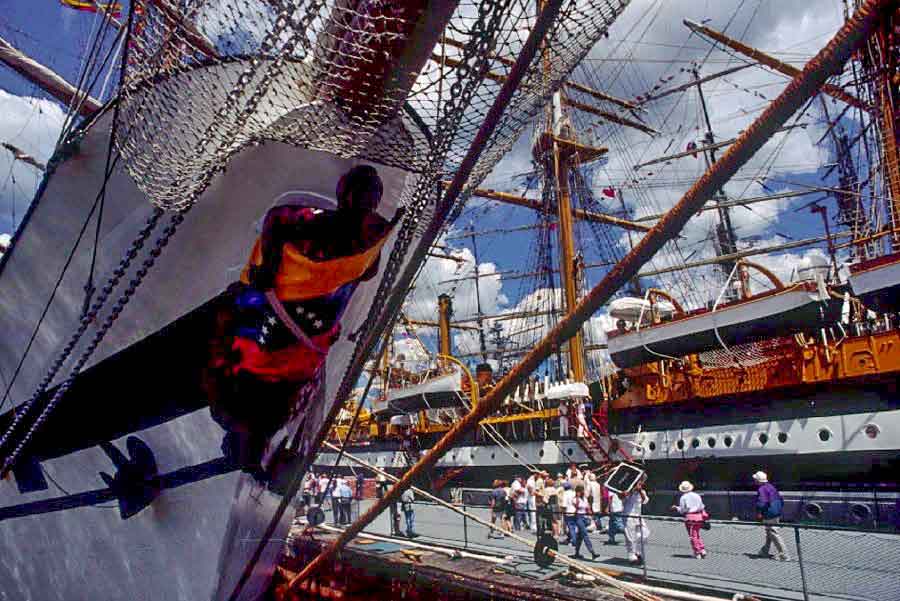 July 2000

A 13 mile walk from Times square to the North River then down to the Battery

Where fog and haze dominated the Fourth, large puffy white clouds filled the skies today. The million and one facets of the ships and their rigging where almost too sharply illuminated in the bright light. Contrast fractured these graceful craft into conflicting pieces.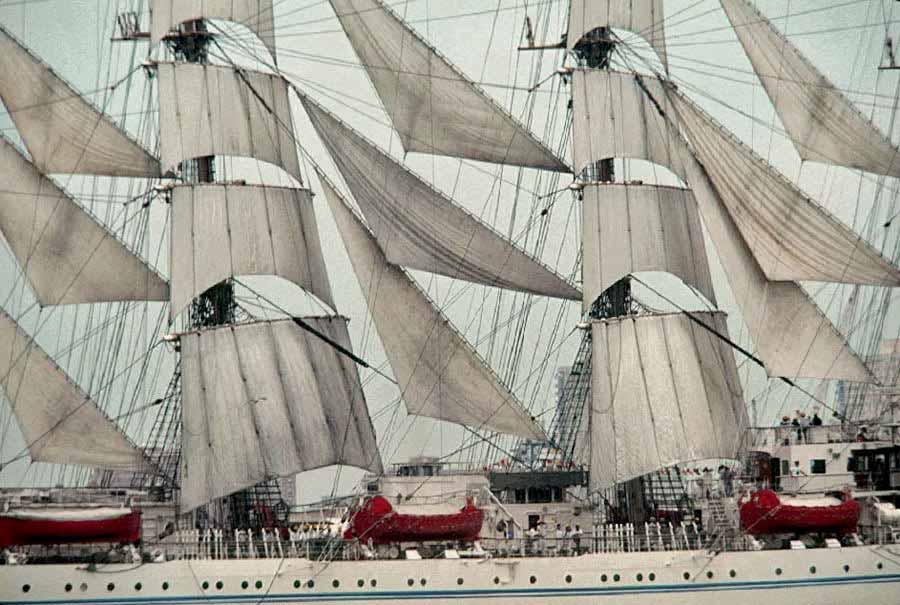 July 2000

A 7 mile walk from City Hall to Chelsea and up to Central Park

With such an amazingly long waterfront I was surprised to find it so difficult to position myself for good shots of the Tall Ships. I had searched for all sorts of good foregrounds but in the end it was the ships alone that consumed my interest.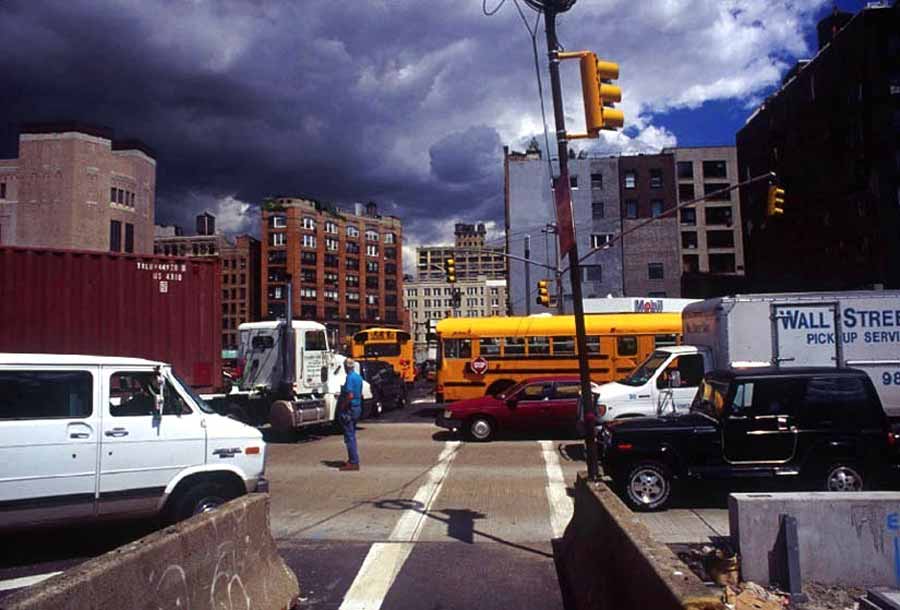 July 2000

A loop between Soho and Battery Park City.

I am fully aware of the dynamics of sun showers but their opposing characteristics create a sense of awe in my heart every time despite the rational in my head.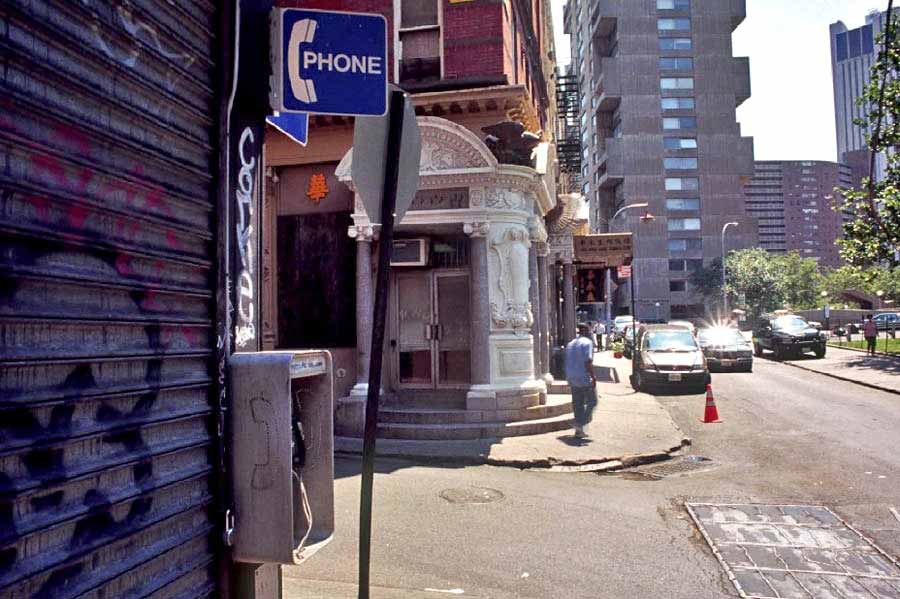 July 2000

A 6 mile loop between Soho and South Street

It is amazing Humans find a place to live at all. When we are not complaining about the cold we complain about the heat. Today it's the heat's turn.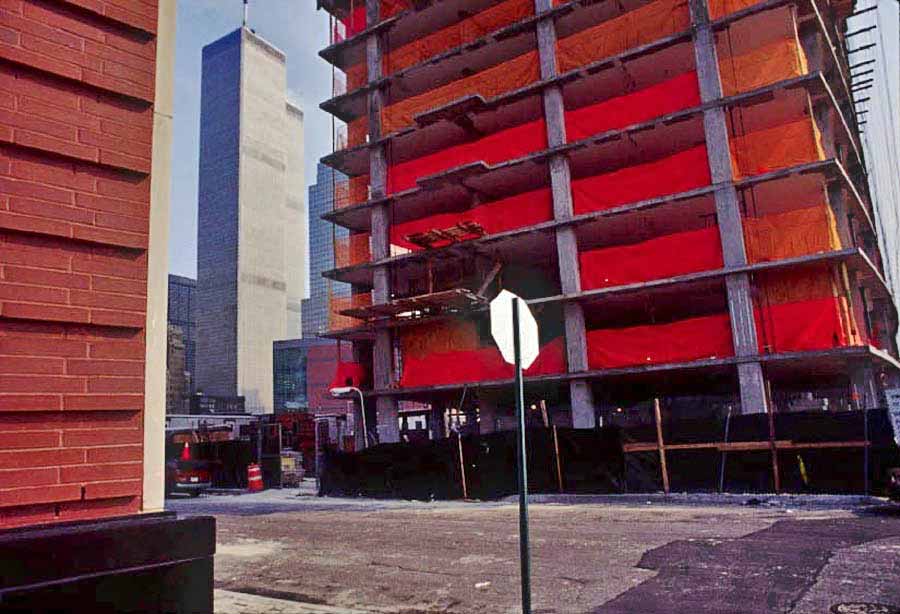 June 2000

A loop between Soho and Battery Park City.

They were only laying the foundation a month ago. My panorama has disappeared but the view is no less interesting, at least for today.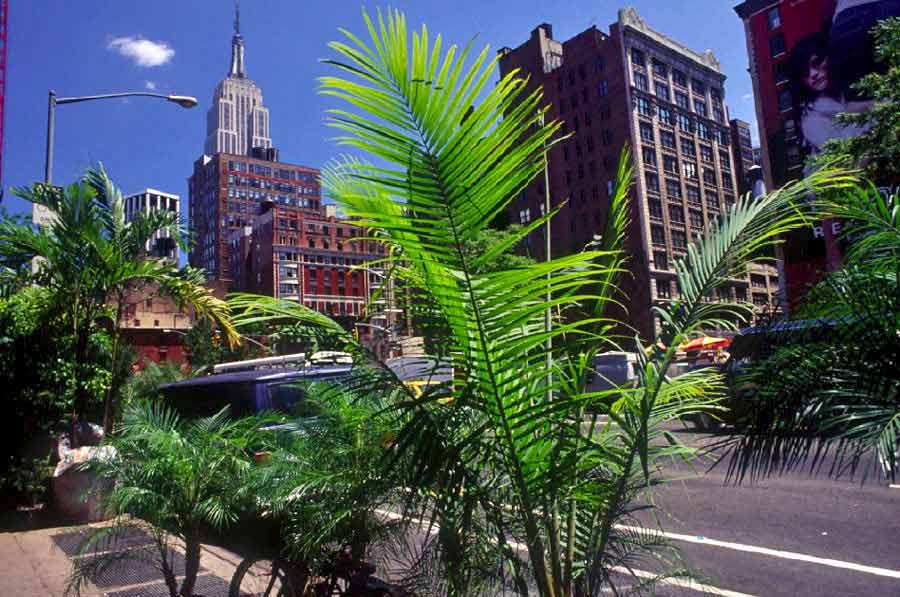 June 2000

A Midtown ramble

In the flower district where the potted plants are put out to sunbathe, the streets are transformed into a landscape somewhere between that of an exotic marketplace and a surreal painting.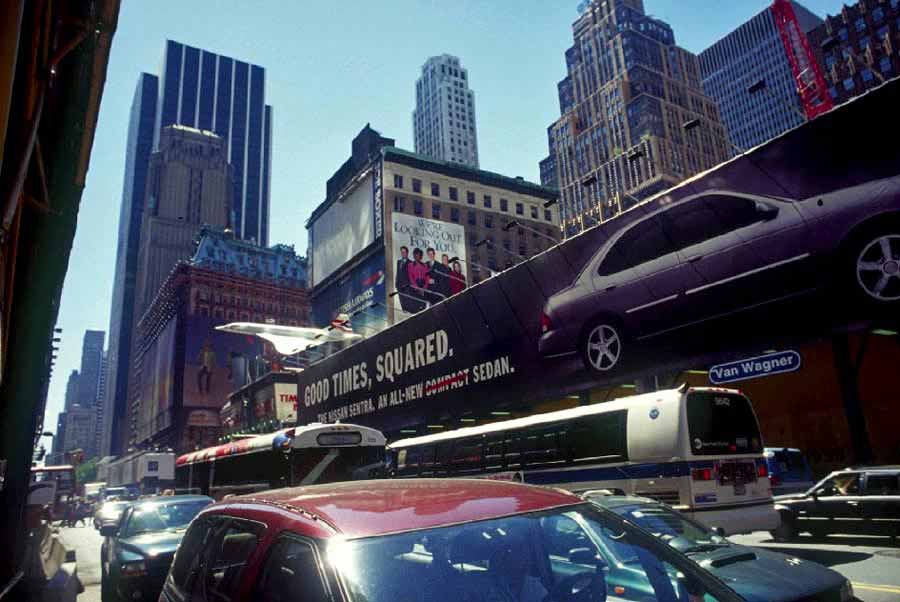 June 2000

A Midtown ramble

As I walk down the streets I can feel the sun burning my skin. I fear to accidentally touch anything metalic.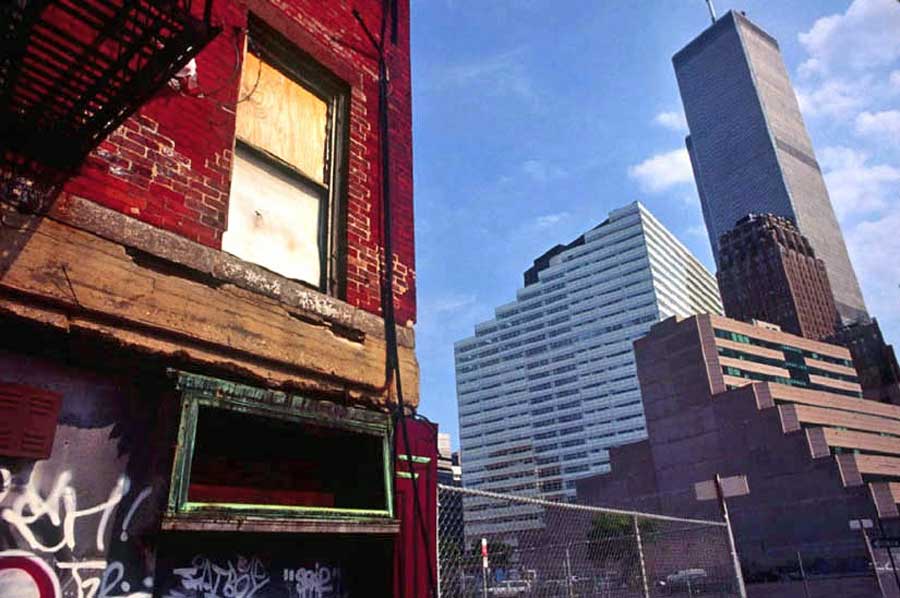 June 2000

A 5 mile loop between Soho and Battery Park City

The closer I get to the World Trade Center the more difficult it is to photograph. It doesn't seem to be a matter of scale as much as its surroundings. My best shots are taken from the remnants of the old neighborhood.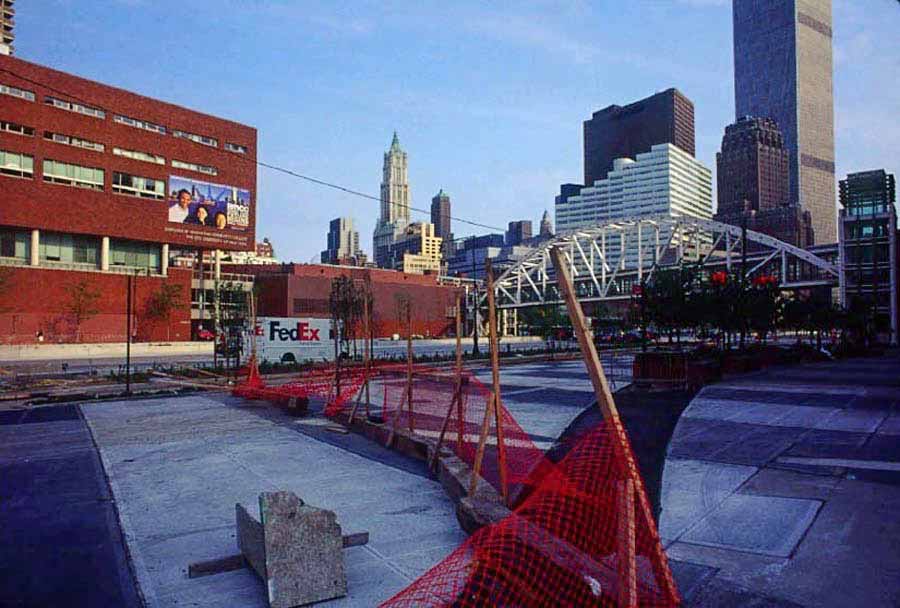 June 2000

A walk from Soho to City Hall

The reconstruction of roads on the west side is providing me with opportunities to capture the city in the midst of change and before the area becomes too polished.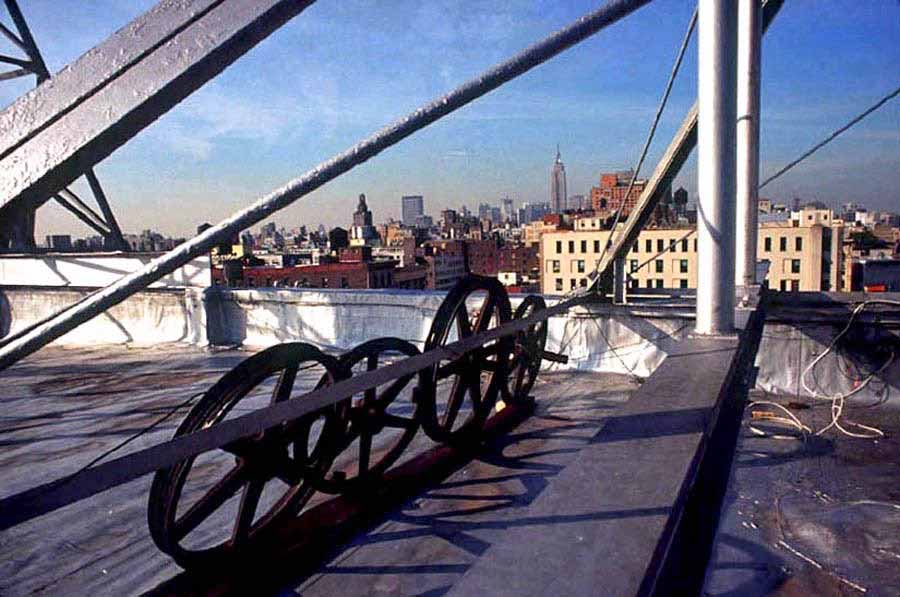 June 2000

A 6 mile walk from Times Square to Tribeca

A full block of rooftops provided a detour from my usual route in the streets. There is always something intimate about shooting pictures from a roof, no doubt do to its less public nature; but at the same time it is these types of views that always seem to be able to capture the spirit of this place.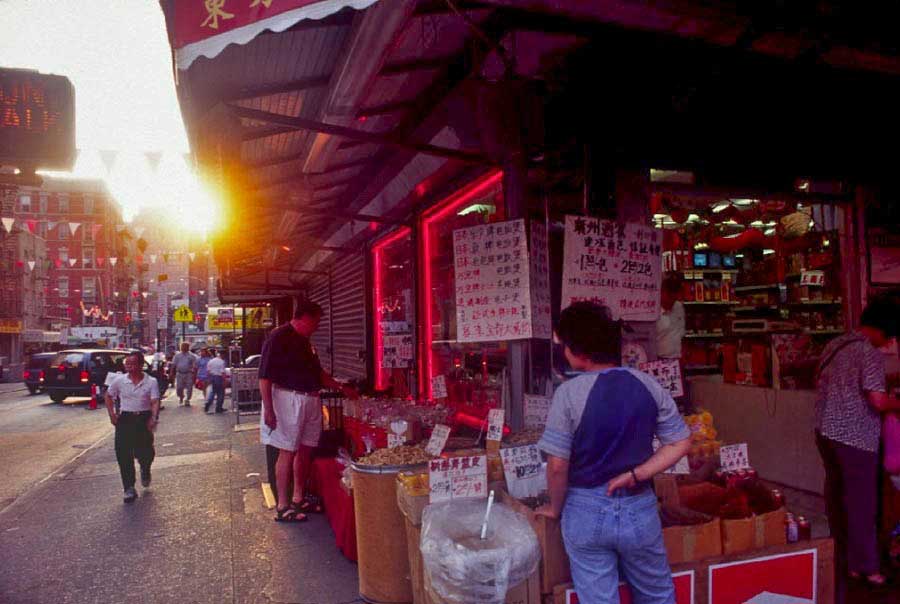 June 2000

A ramble through the Lower East Side

Windows fill with neon signs, and candy covered with wrappers in a language I cannot read are sold from brightly colored plastic bins. These are just the trappings of the day. Some things have not changed here in a long time.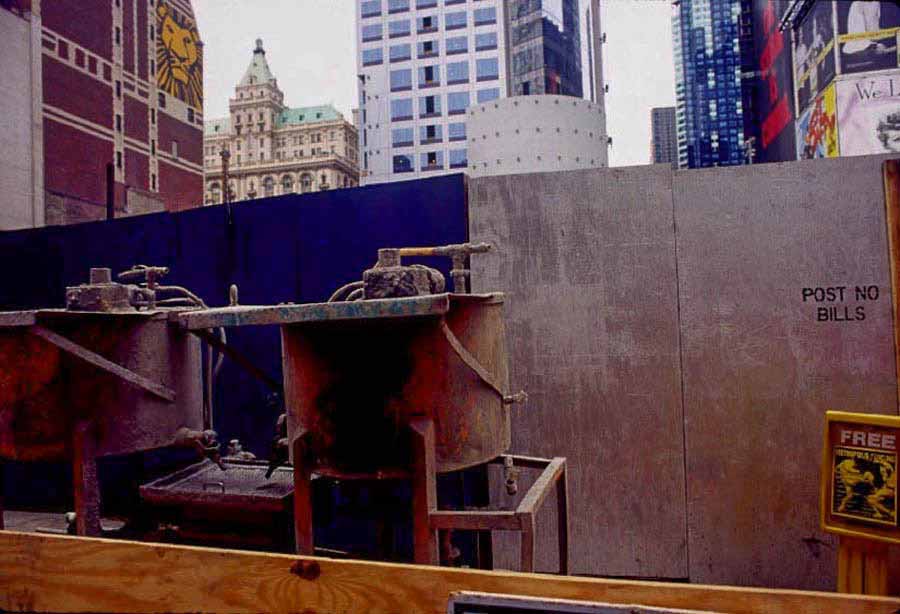 May 2000

A Midtown ramble

My world grows more abstract with each passing day.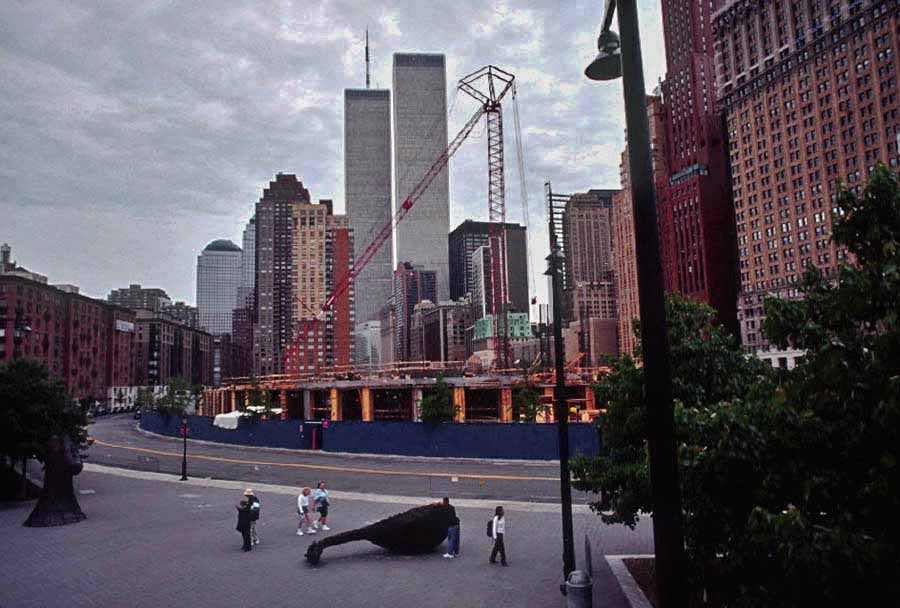 May 2000

A Downtown ramble

There was something about the construction cranes that made me think of the circus. With the World Trade Center as a backdrop I should have been able to get some dynamic shots but they were not forthcoming. The overcast seemed to have cast a dark spell over me as well as the city.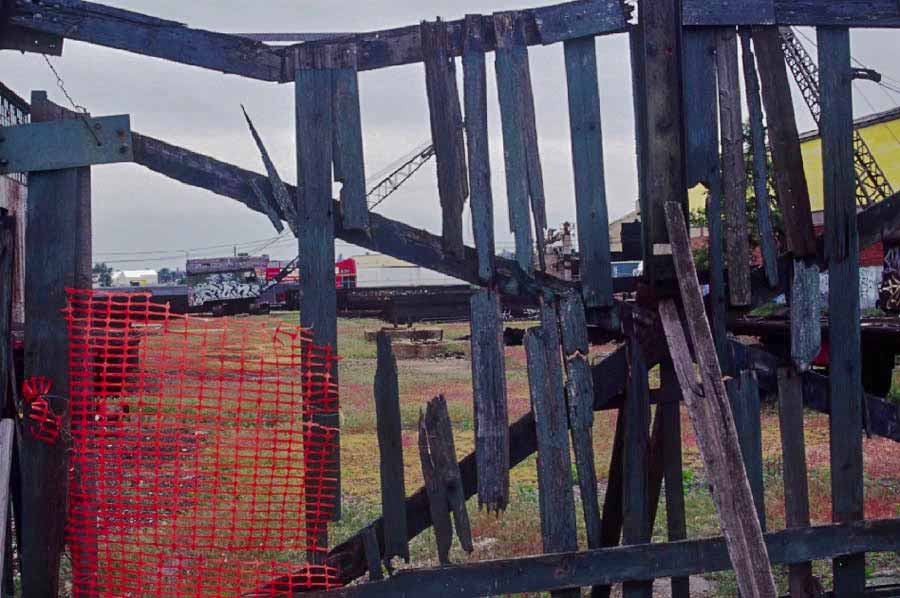 May 2000

An 8 mile walk from Maspeth to Long Island City

I keep hearing on the news of local industrial landmarks being blown up in demolitions. Explosions like fires make good press on television, but of course this is always after the fact. I confront empty warehouses and acres of broken scattered brick. The base to a once giant smokestack rises a dozen or so feet into the air. I barely crossed paths with another sole this day.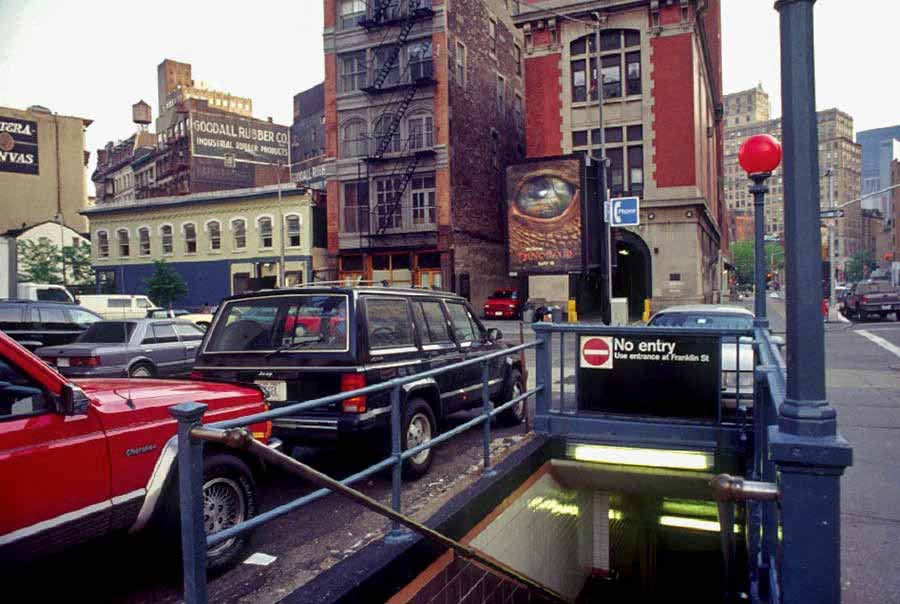 May 2000

A loop between Soho and Tribeca

On certain corners the entranceways to subway stations seem as natural as can be. But every once in awhile one pops up where I least expect it and I have to check it out before believing it's real.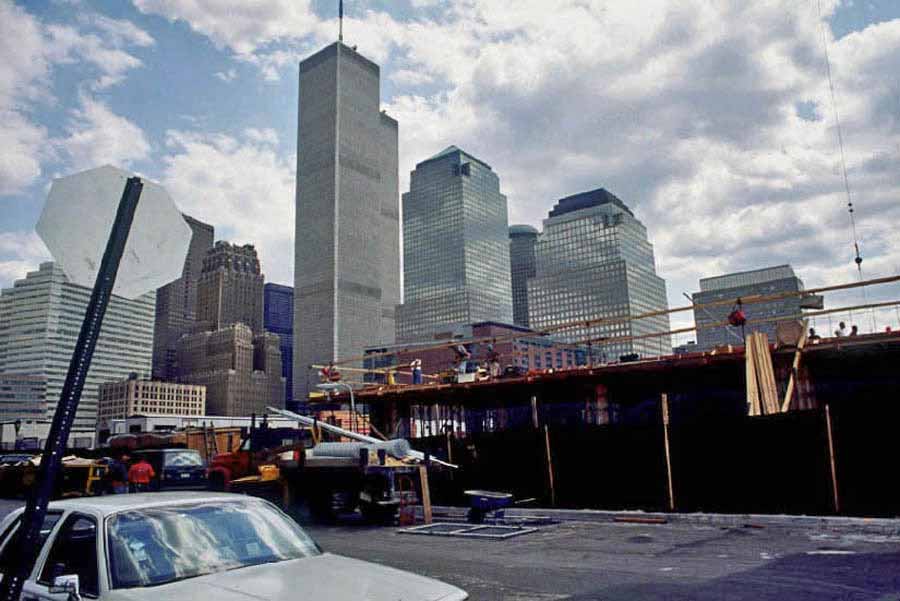 May 2000

A walk from the Battery to City Hall

The empty lots are filling fast. It is to my detriment to remain idle.

---
Copyright 2009 Alan Petrulis All Rights Reserved