NEW YORK RAMBLES (page 18)
page 1 2 3 4 5 6 7 8 9 10 11 12 13 14 15 16 17 19 20 21 22 23 24 25 26 27 28 29 30 31 32 33 34 35 37 38 39 40 41 42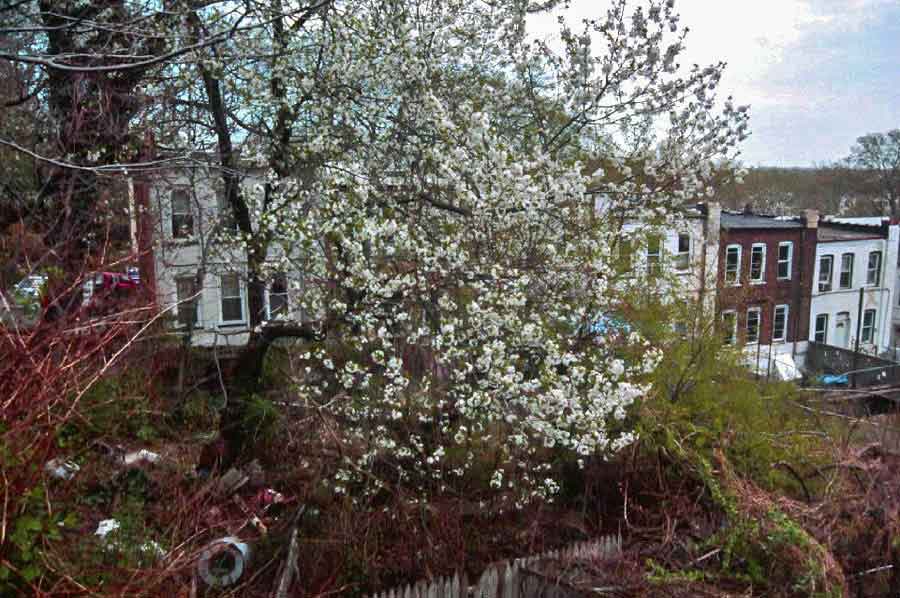 April 2005

A 6 mile walk from Cypress Hills to East New York

I specifically set out to photograph elevated tracks today but as the overcast grew heavier the underside of these metal behemoths merged into a solid dark mass. But the air was still and warm sending some of the budding trees into full bloom. I was suddenly thrown into a dream.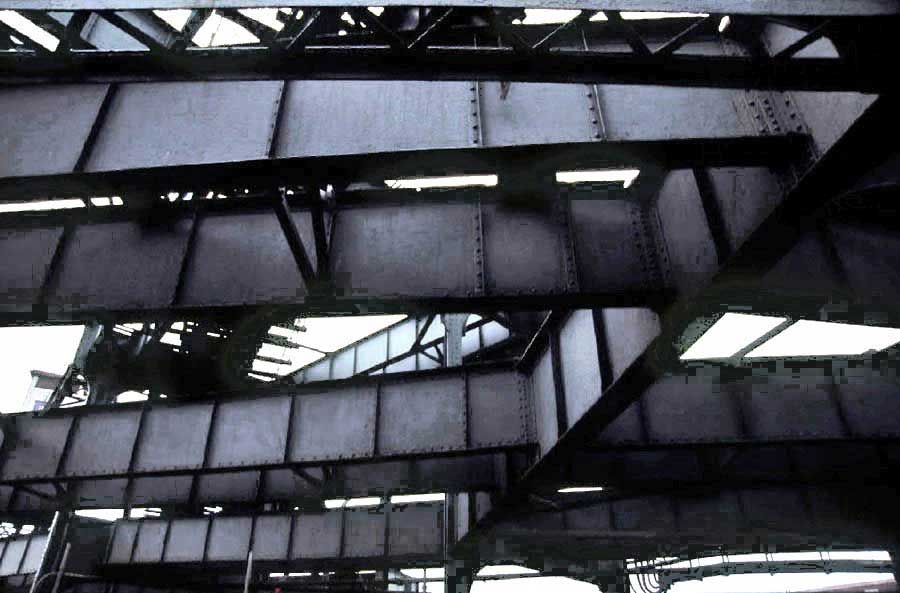 March 2005

A ramble about East New York

As my train pulled into the station the police were waiting for me. Someone had seen me taking pictures and called 911. I was let go with a warning then resumed my work once on foot. I was surprised to find that City officials were so concerned about this neighborhood, I didn't think they even knew it existed.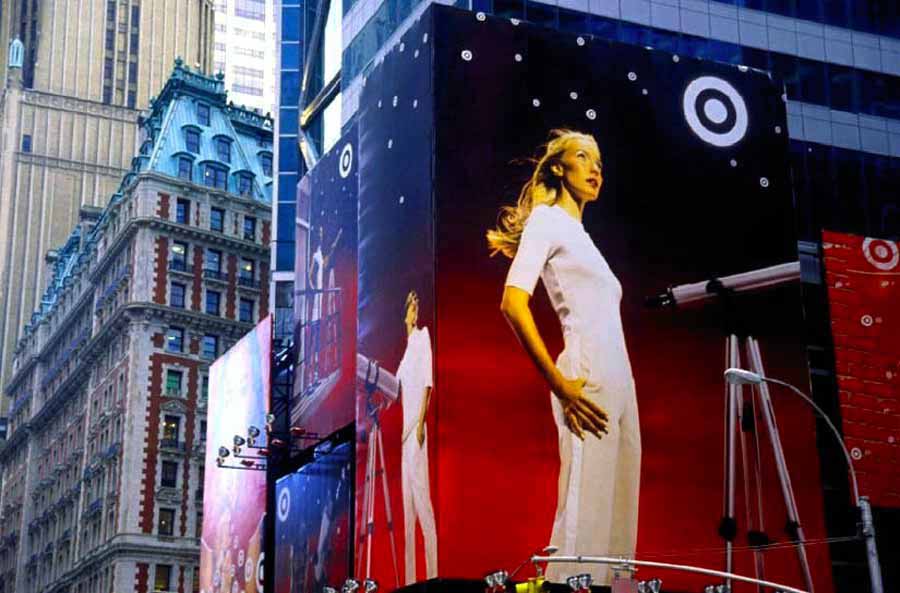 March 2005

A Midtown ramble

As construction work fades on 42nd Street I've begun to look look for new sources of abstraction. Billboards not only offer geometries but a touch of the surreal.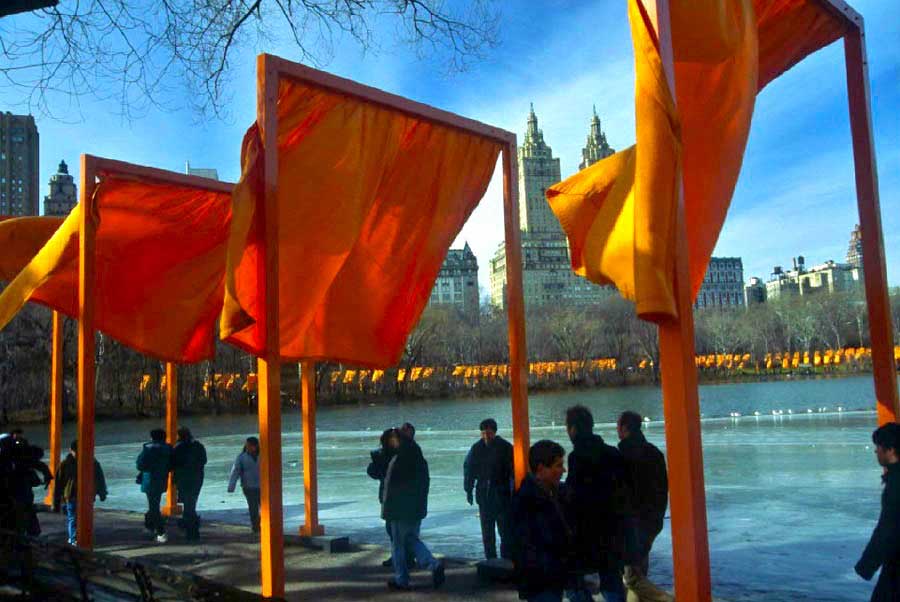 February 2005

A 7 mile walk through Central Park to Harlem

The recent snowfall pulled me back to Central Park to re-photograph Christos' Gates. It seemed like every other New Yorker had the same idea. The snow had transformed their appearance but I still liked them more at a distance than close up. I did not really want to know what they were made from or how they were constructed but only wanted truth to blend with fiction.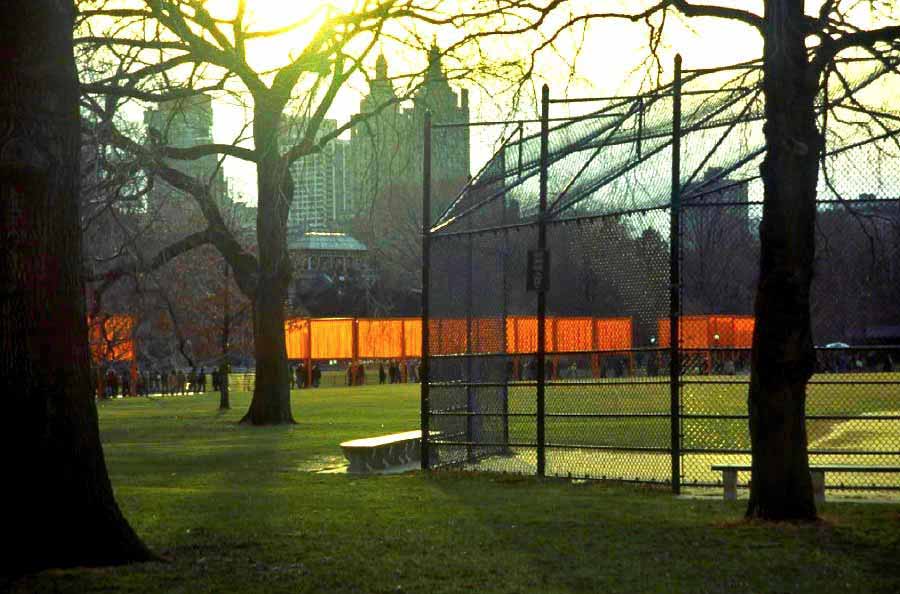 February 2005

An 8 mile circular walk through Central Park

I took advantage of the comfortable weather to go out and experience the instillation Gates by Christos. Unfortunately I had imagined it much differently and was disappointed when confronted with its reality. I had pictured it as a giant serpent winding through the park but in reality it was little more than groupings that did not always seem to be well situated in relation to the geography. It worked best in those places where vast stretches could be seen all at once meandering across the landscape. Walking down a path at the Park's north end I suddenly noticed Christos and Jeanne-Claude walking strait toward me. I quickly got a few shots off the hip but they only produced close ups of his pants.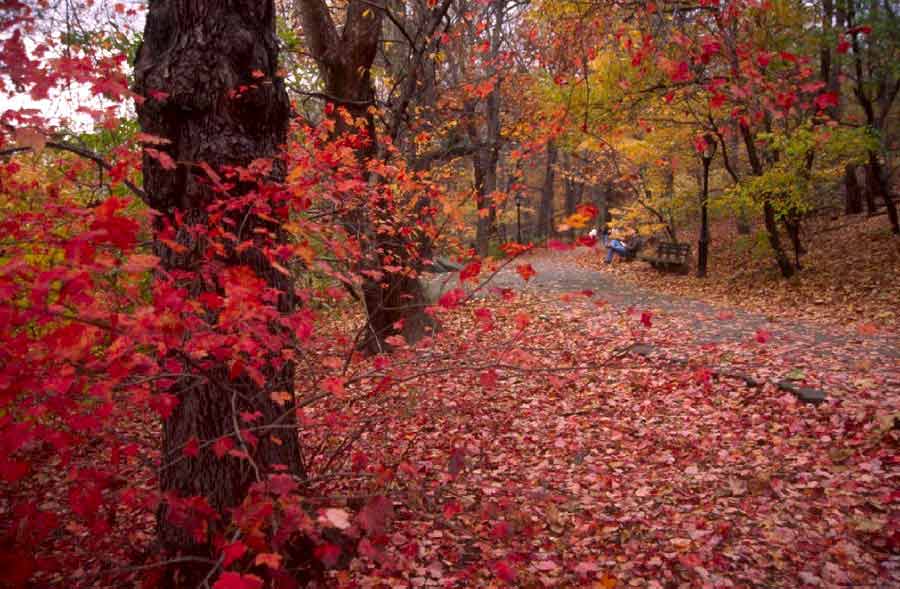 November 2004

A walk from Midtown to the Upper East Side via Central Park

I've begun to feel obliged to take at least one walk in Central Park every Fall. I still find it amazing that we are suddenly blessed with all this color.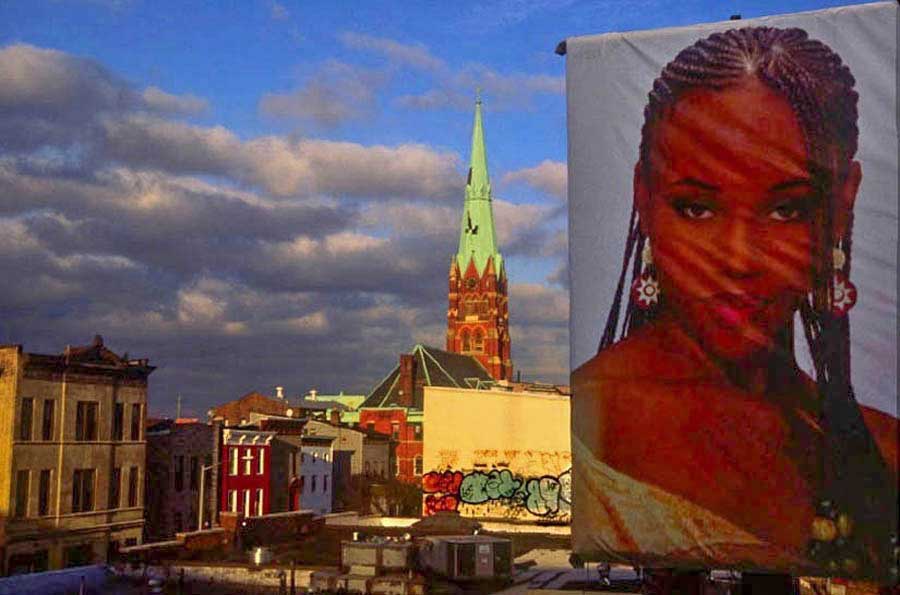 November 2004

A ramble about Bushwick

I have a love hate relationship with the older neighborhoods of Queens and Brooklyn that I don't completely understand. They are inextricably connected to the world of my grandparents of which my memories have become confused with my dreams. These places were never my world, yet it is the world I come from, it is in my blood. Perhaps I am trying to rewrite my own story.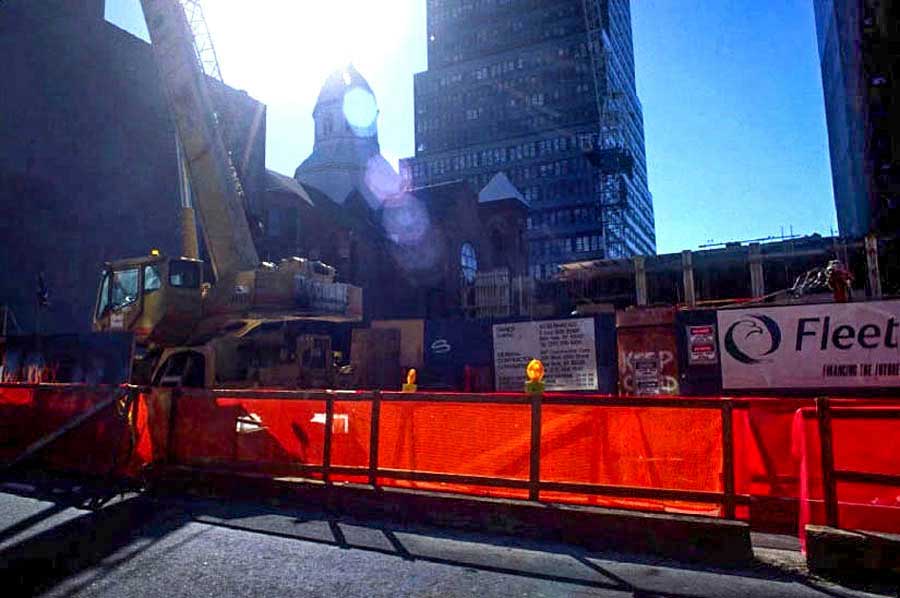 October 2004

A Midtown ramble

I was horrified to see that a building was rising on a parking lot that would eventually block a view that I really liked but had not yet found time to satisfactorily photograph. Shooting into the sun at least created something strangely beautiful.
October 2004

A walk on the Upper West Side

Windows may be transparent but for the most part our private lives are carefully hidden behind them well out of view. For some however they are a canvas giving us a glimpse of the inner lives of those unseen just beyond the glass.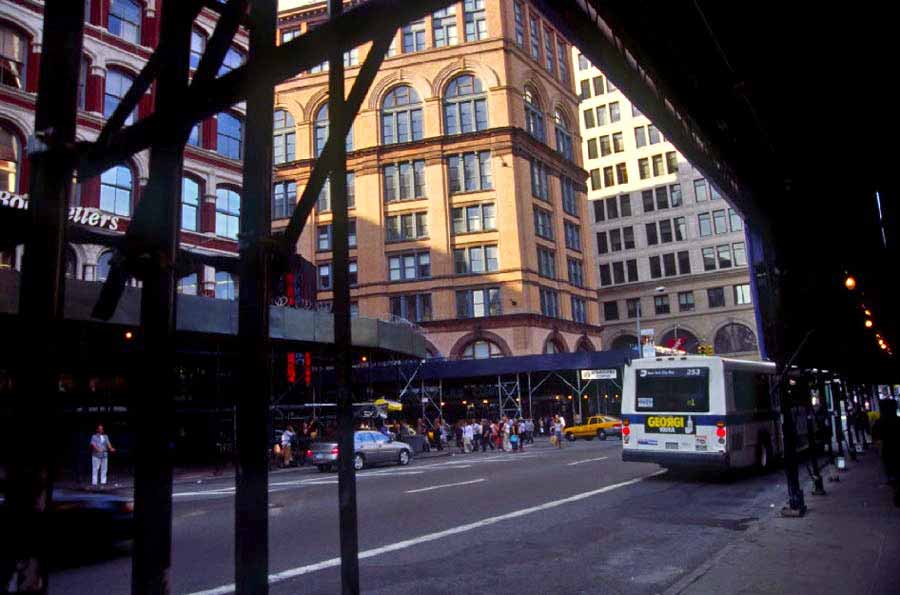 September 2004

A loop between Union Square to the Lower East Side

Some days I think I can take an entire walk around the city without ever seeing the sky.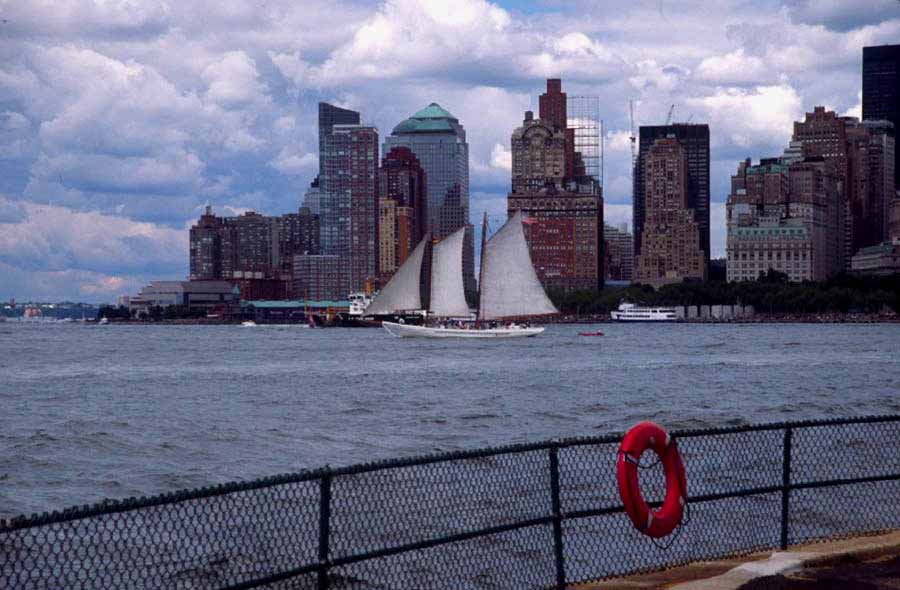 August 2004

A Downtown walk with a trip to Governors Island

I took advantage of the summer ferry to Governors Island only to find myself restricted to a narrow strip of its promenade. I wandered off for awhile on arrival only to be corralled back by security. I was very annoyed that I had more access to the Island while it was an active Coast Guard base than I do now that it's basically abandoned. My only solace was in the tremendous clouds speeding across the sky. Feeling penned in I took the first ferry back.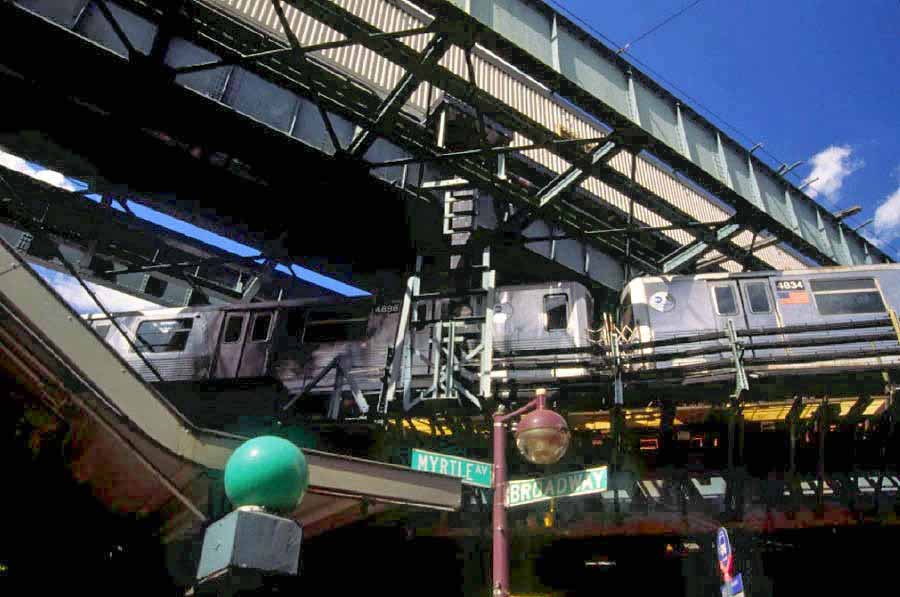 August 2004

A ramble through Bushwick

I stepped onto the streets of Bushwick to photograph the elevated lines from the other side of the train window. The curves of multiple train lines and abandoned frameworks all worked to form a compositional paradise. I could have taken photographs here for hours if I wasn't spotted by the police. Despite the fact I was shooting from a public street I was told it was illegal to do so. I was let off with a warning and I headed for a more hospitable local.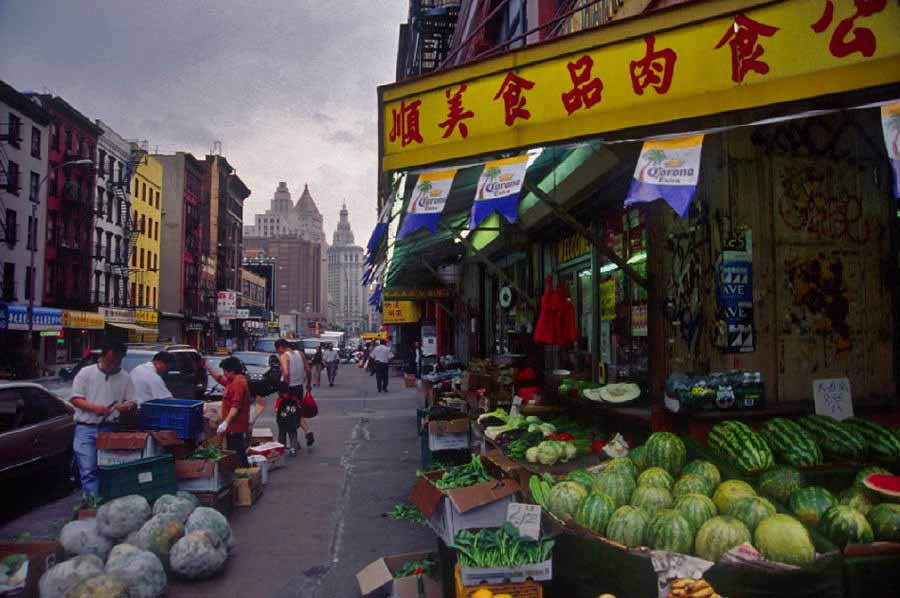 August 2004

A walk from the Lower East Side to Union Square

The only advantage to not knowing a language is that its calligraphy can be read as pure art.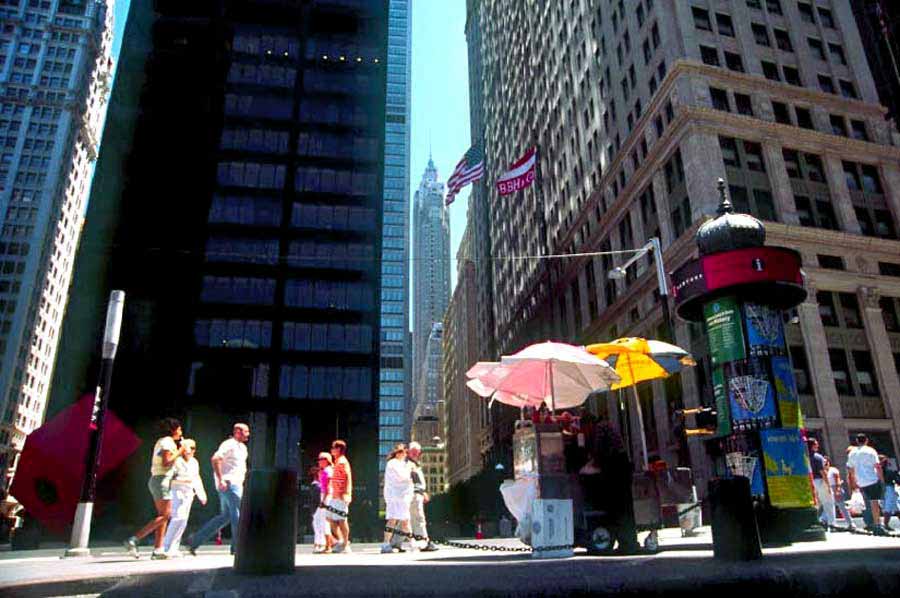 July 2004

A loop from Soho to Battery Park City

The best views downtown are not of the abstract geometries of buildings but of the confluence between them and the more organic forms occupying the streets.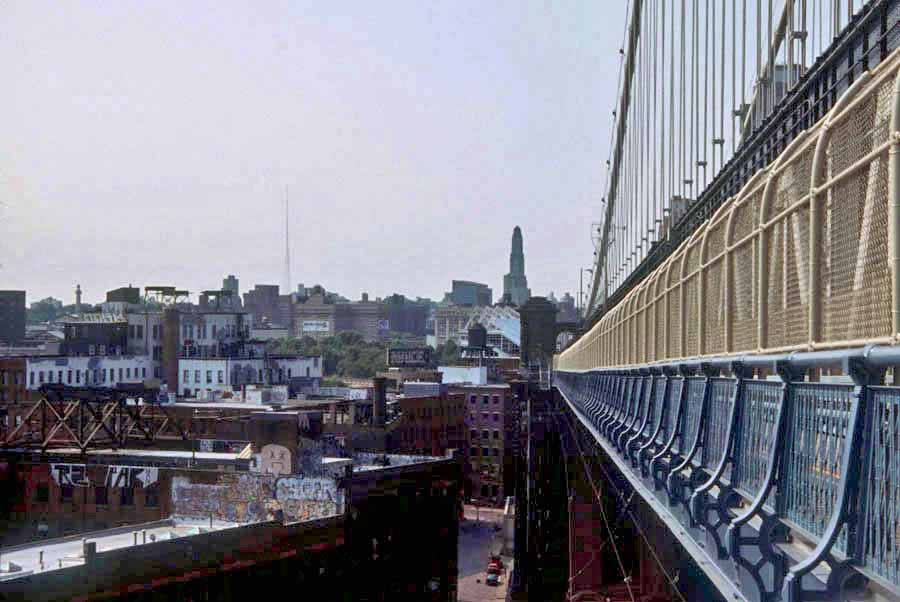 July 2004

A walk from Chinatown to Fort Green via the Manhattan Bridge

Why is it that people have crossed bridges and overpasses for decades and longer without problems but now we must all be caged in? Are rock throwers that great a problem? Are we all ready to jump? I don't know if all this fencing is ignorant overkill, political pandering, or just a profitable kickback scheme.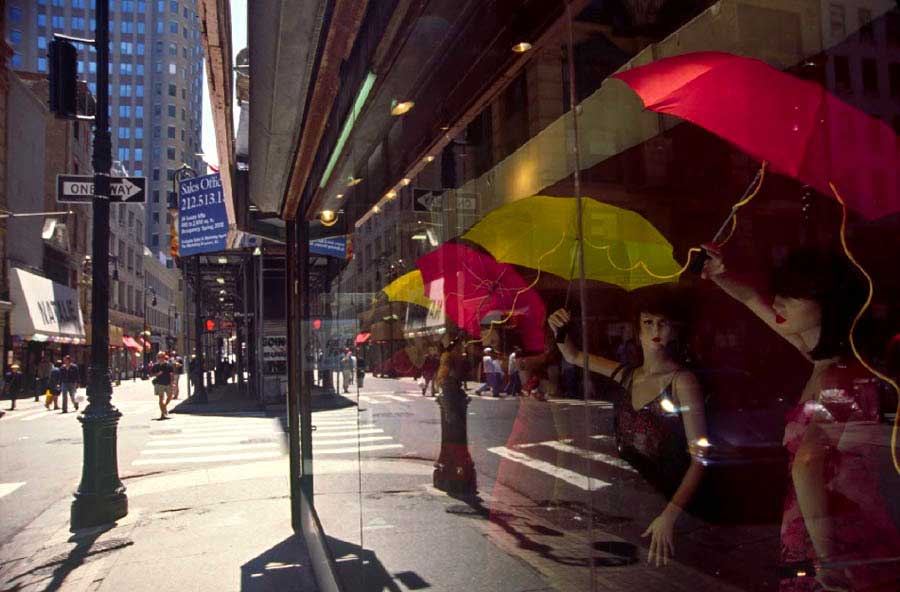 July 2004

A Downtown ramble

Broad avenues have their place but so do narrow streets. It's about more than measurements.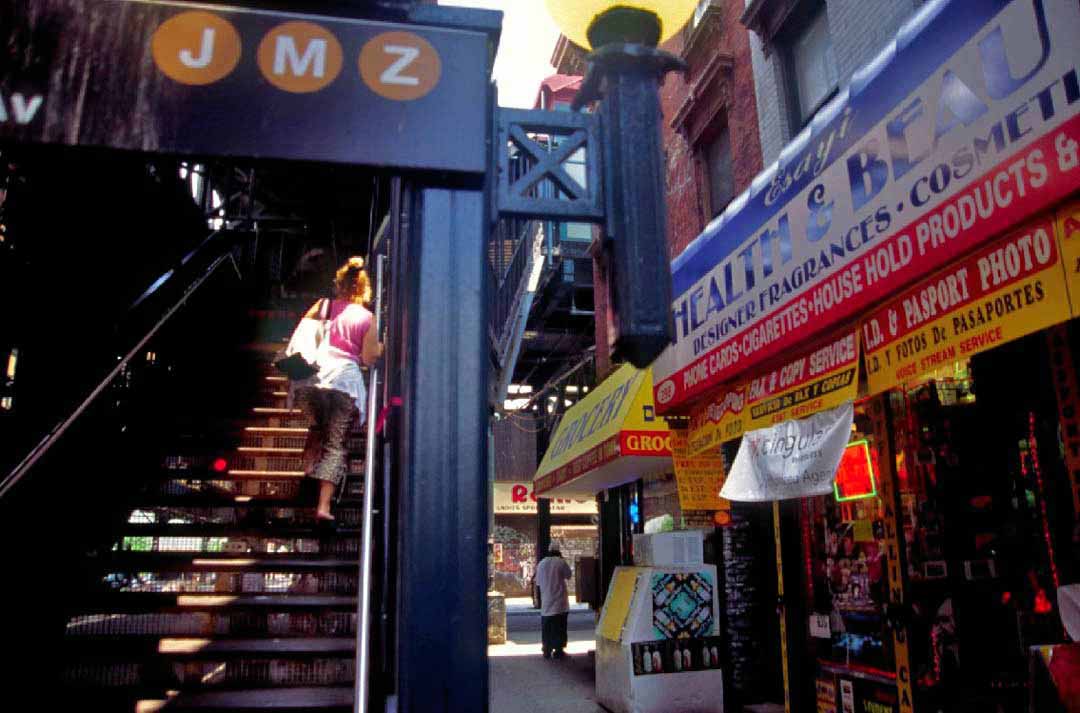 July 2004

A walk from East New York to Williamsburg

Many complain about the dirt and noise that elevated trains bring to a neighborhood. But on another level they come to define a place so deeply that if removed one would be lost.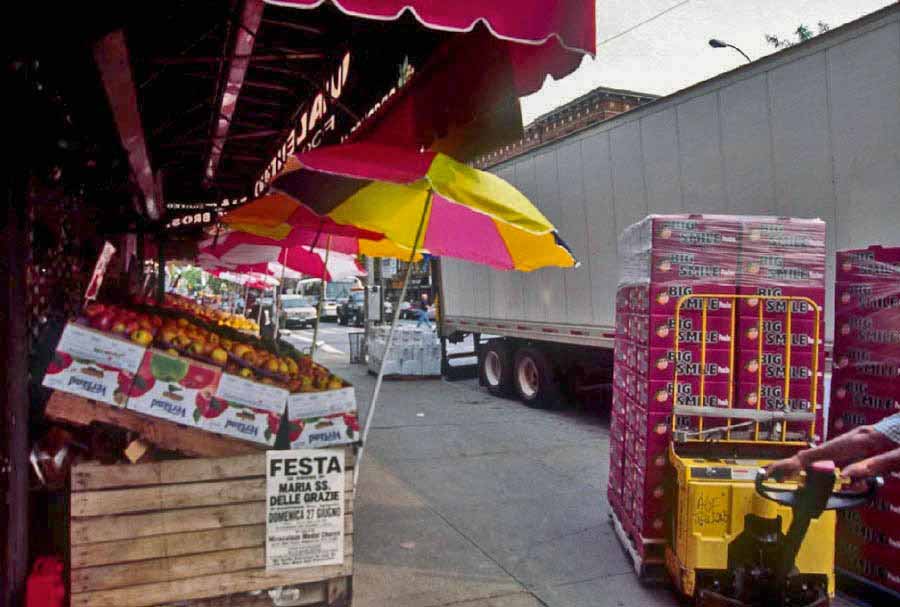 June 2004

A ramble in Ridgewood

I realize I'm not always interested in places, Sometimes it's all about flux.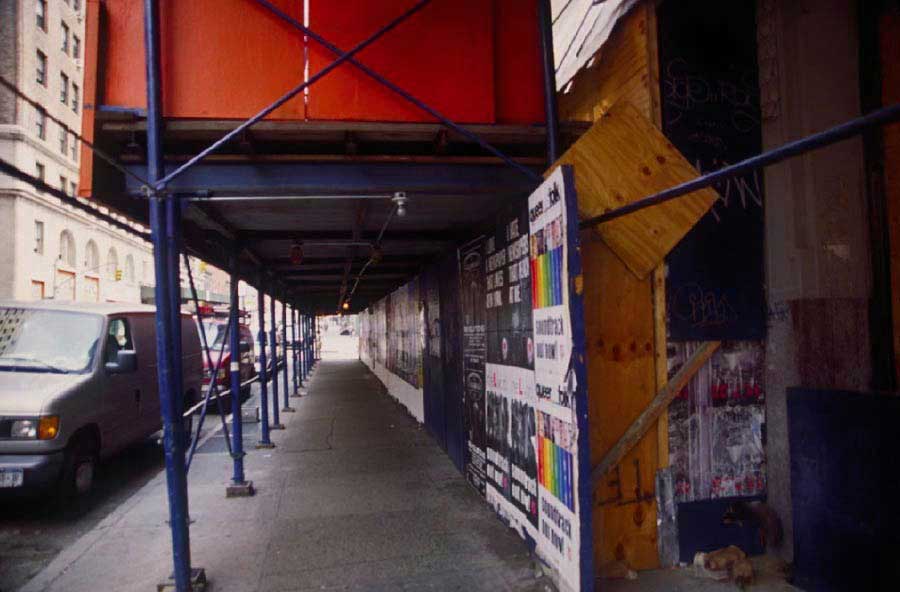 June 2004

A walk from Soho to Union Square

There is so much scaffolding in the city now I think it is being erected for its own sake.
June 2004

A loop between Soho and Chinatown

It is too hot for an overcast day. I wish the skies would open so I can breathe.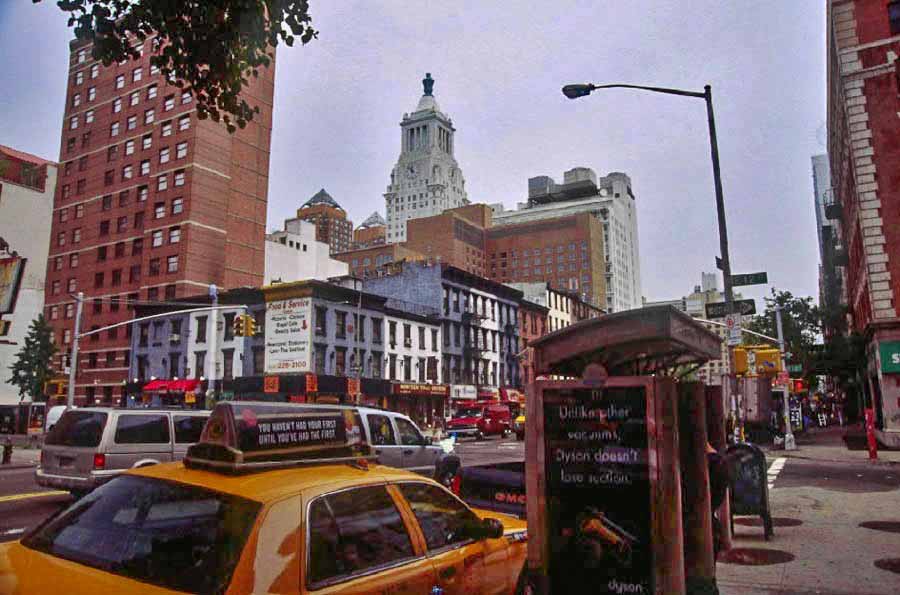 June 2004

A 5 mile ramble between Union Square and Soho

Towers in this city have been rising over their lower seated neighbors for some time but they seem to have become more intrusive lately. The contrast between old and new has always played well here but now it is like two different visions that refuse to mix. I guess this is the meaning of a sore thumb.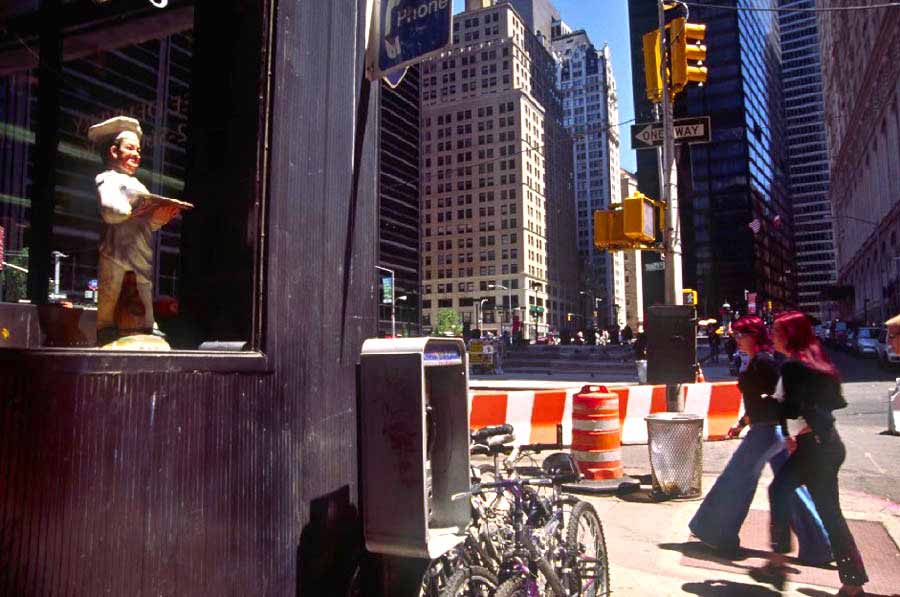 June 2004

A Downtown ramble

I'm beginning to dread the end of construction work downtown. It has added more color to this area than ever seen before.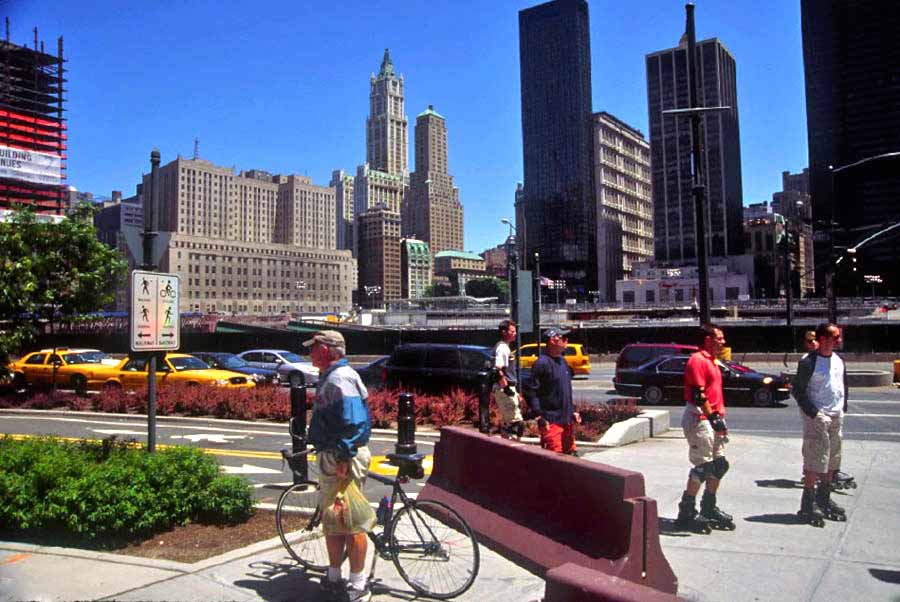 June 2004

A loop between Soho and Battery Park City

From the right vantage points Ground Zero looks more like open space than a construction site. I've decided the best thing that can be done here is to leave it all open as a memorial park with an arbor of trees 'round its edges. It would give downtown some badly needed breathing space. I know this is only wishful thinking, when all the wrangling is finally over with we will have erected a great monument to greed.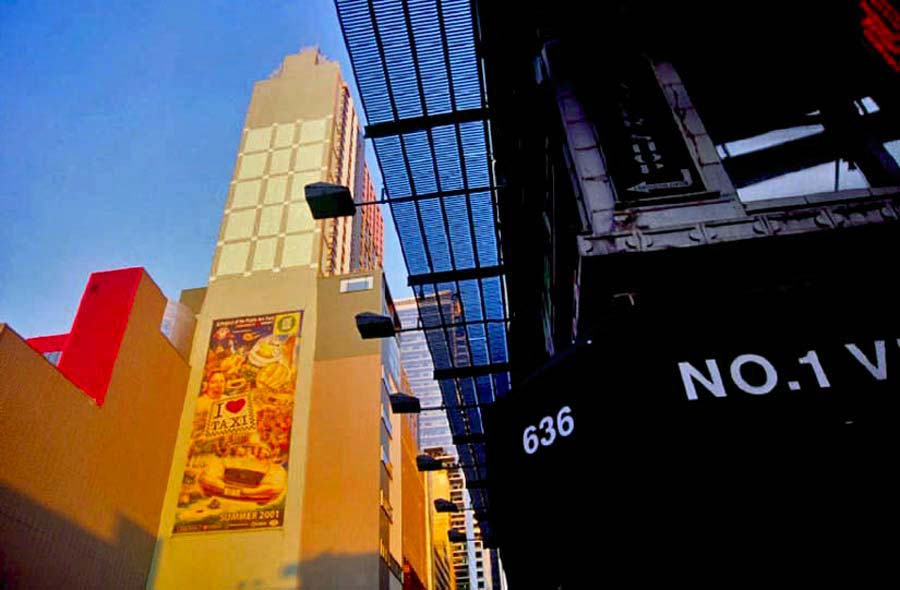 April 2004

A 5 mile ramble between Chelsea and Hell's Kitchen

We use numbers every day and share a mathematical spirit but few ever contemplate their magical associations. There are those among us that consider numbers divine.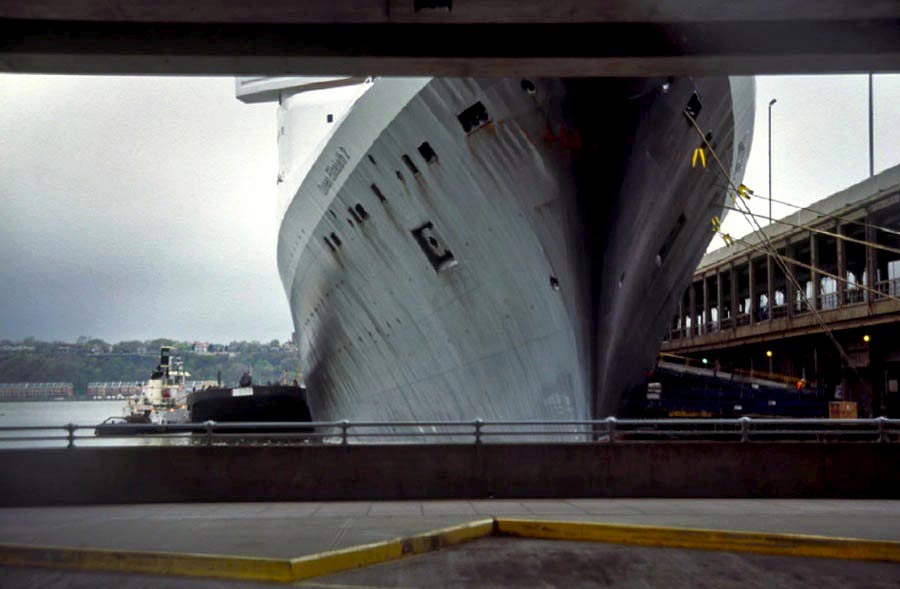 April 2004

A ramble along the North River

Three enormous ocean liners are in town but this opportunity is soured by the tight security that prevents me from getting in too close. I cant help but think of all those wonderful old photographs of the waterfront taken when photographers had free reign to go where they liked. The ability to capture the last of the working waterfront is disappearing faster than the waterfront itself.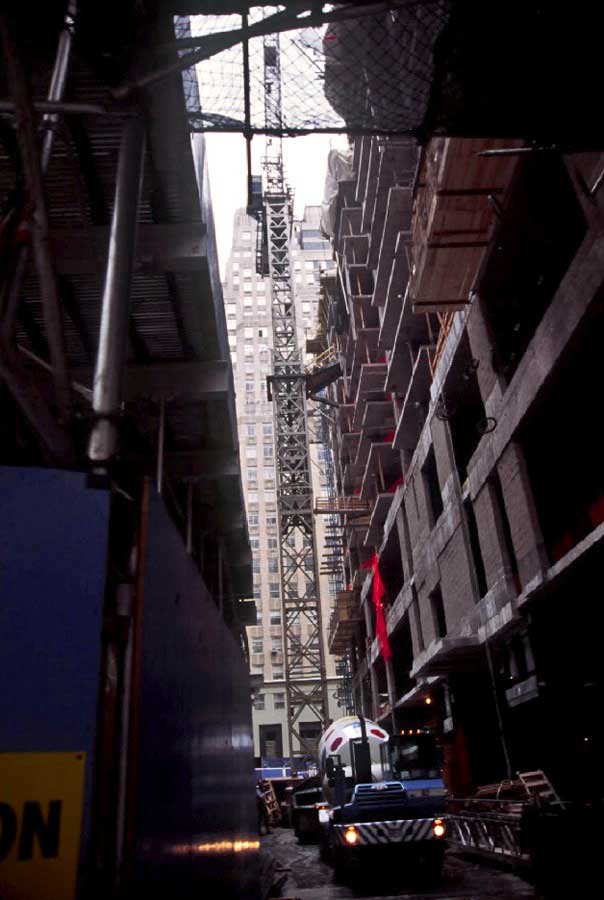 April 2004

A Downtown ramble

Another building rises.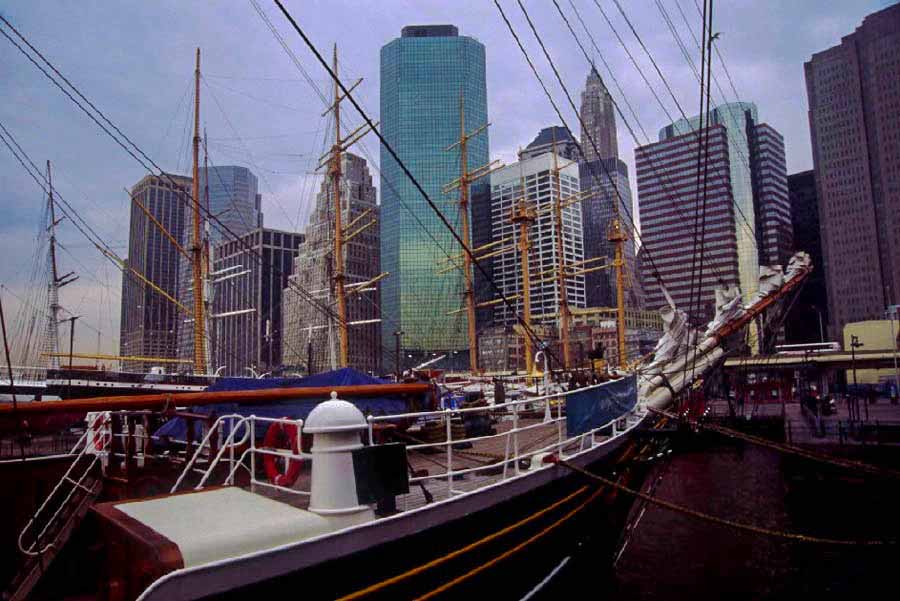 March 2004

A short Downtown ramble

When I heard that the Dutch ship, Stad Amsterdam was docked at the Seaport I rushed down there to get some shots before it left. The day was damp and a dark overcast hung overall. Today this worked to my advantage as the soft light off the water bathed everything in a blanket of pewter. The wooden masts and their rigging set against the glass and steel city skyline was more than the contrast of geometries. These products of man were never meant to work together and yet they sang in harmony.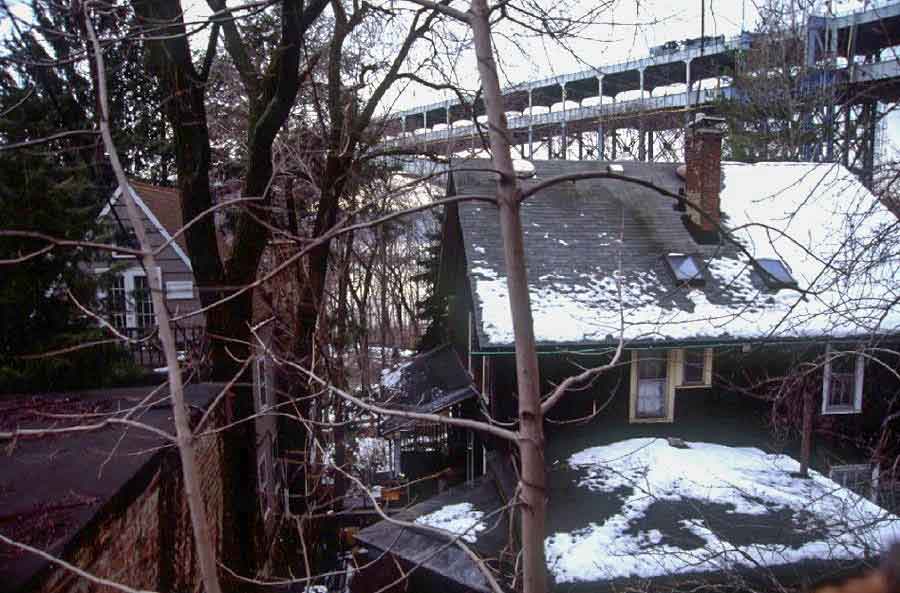 March 2003

A 7 mile walk from Inwood to Spuytin Duyvil and then on to Kingsbridge

I had drawn my largest etching years ago from a vantage point in Spuytin Duyvil and now I can not even find the spot.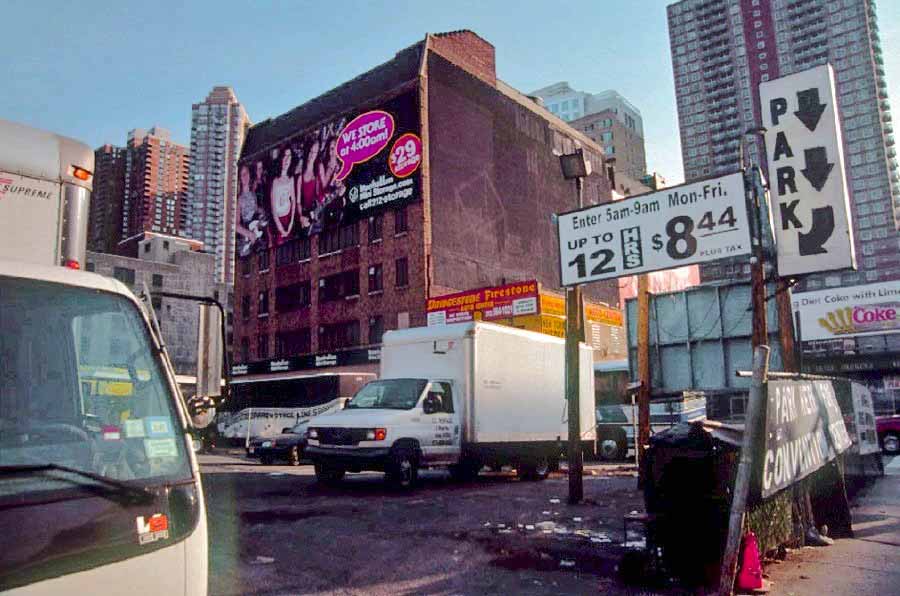 February 2004

A Midtown ramble

Parking lots are sometimes the only places from where I can find a wider perspective of my surroundings. With little aesthetic or historic value there has been little public outcry at their steady demise. People don't realize that the greatest asset they provide is empty space.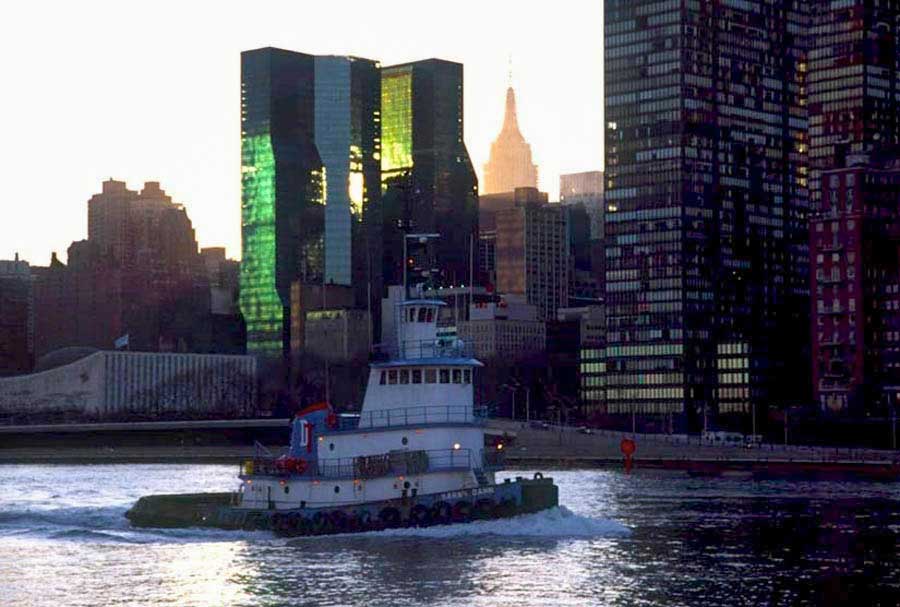 February 2004

A 6 mile walk from Hallets Point to Roosevelt Island

It was strange returning to the south end of Roosevelt Island by a paved path. Access had generally been over a sheet metal wall topped with razor wire. The Pest House itself was now fenced off though I saw places where the adventurous had managed to crawl under. Birds had made a sanctuary of it fluttering about inside and perched on its rafters as if in a giant cage. Not being in the mood to get muddy today I contented myself watching the tugs glide past the City as the sun moved ever lower behind it. A wealth of reflective colors consumed the skyline.

---
Copyright 2009 Alan Petrulis All Rights Reserved