NEW YORK RAMBLES (page 12)
page 1 2 3 4 5 6 7 8 9 10 11 13 14 15 16 17 18 19 20 21 22 23 24 25 26 27 28 29 30 31 32 33 35 37 38 39 40 41 42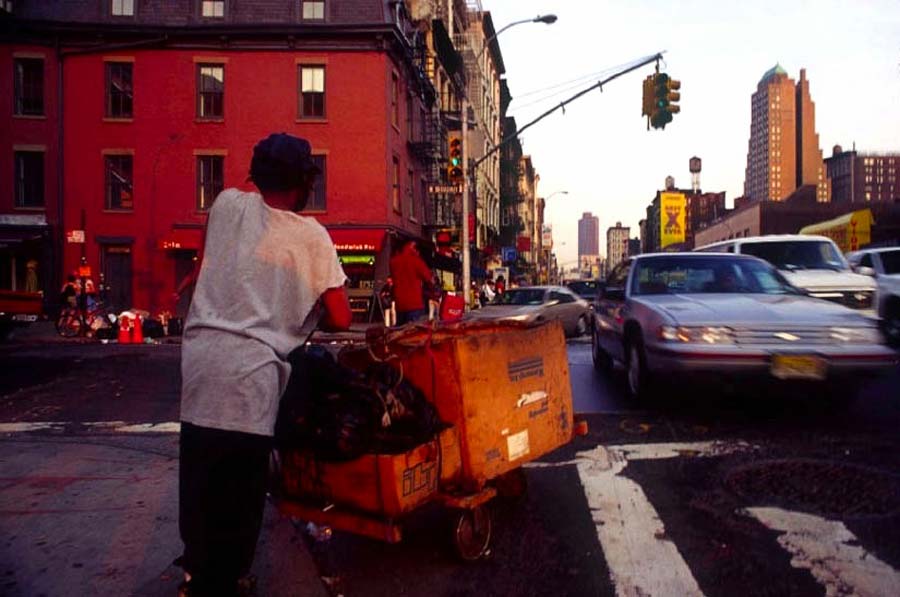 May 2000

A short walk from Soho to the West Village

Everyone competes for space on Canal Street.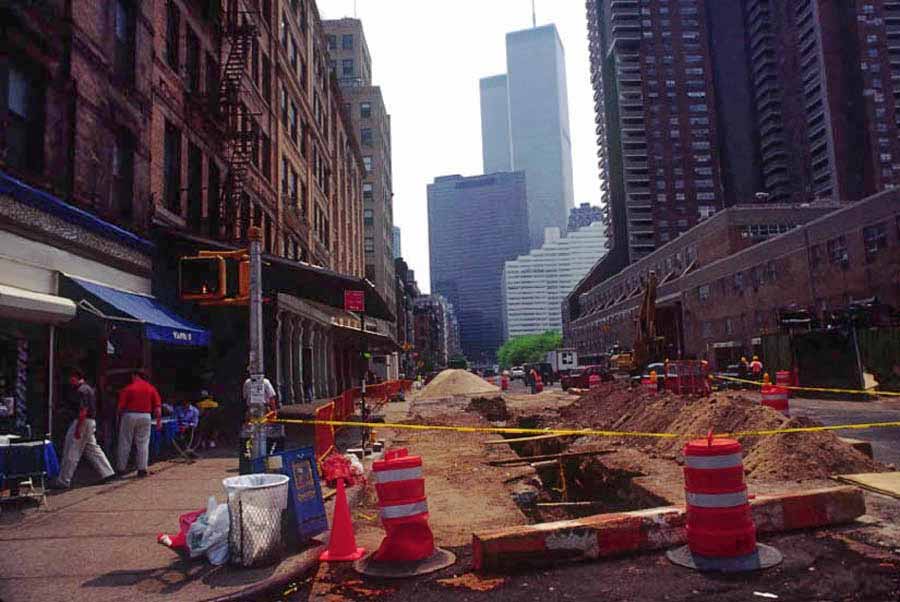 May 2000

A 5 mile loop between Soho and Battery Park City

All of the west side seems to be under construction. Tall cranes are in operation at Battery Park City and I struggle to juxtapose them against the World Trade Center. Streets are ripped apart at seemingly random intervals forcing me from my projected route.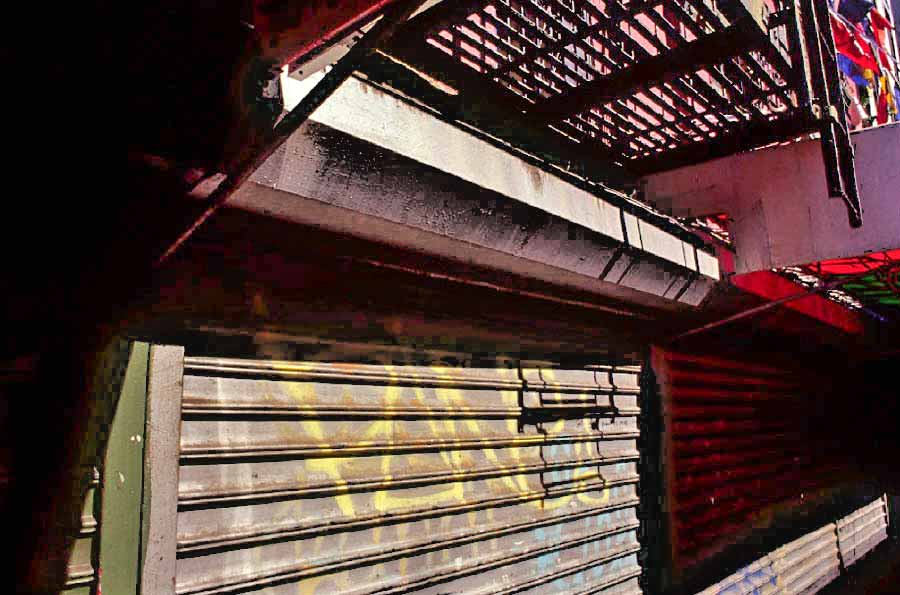 April 2000

A loop between Soho and City Hall

While storefronts exist all over the city they differ in subtle ways from one neighborhood to the next. This would have passed me by unnoticed had I not come to realize that certain streets consistently provide me with more shots than others.
April 2000

A ramble between the North River and Times Square

It may only be an illusion but it seems that there is more new construction on Manhattan's west side than anywhere else in the City. Perhaps its because I have little reason to come down this way on a regular basis, so when I do arrive I am always confronted with surprises. I still suspect a whole new city is rising unnoticed right under our noses.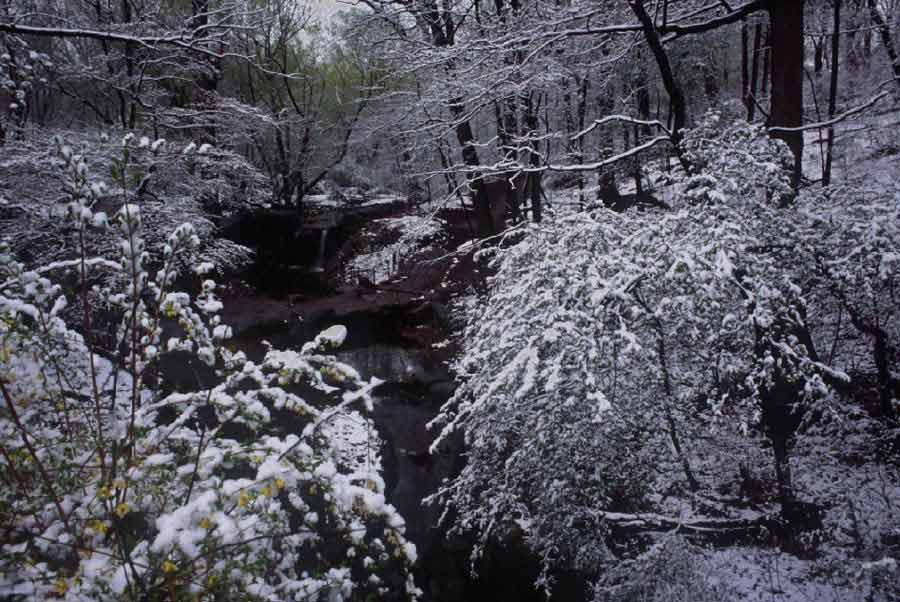 April 2000

A 5 mile ramble between Spanish Harlem and the Upper West Side

The forsythia were already blooming when the snow fell. Spring need not worry for such beauty is never lasting.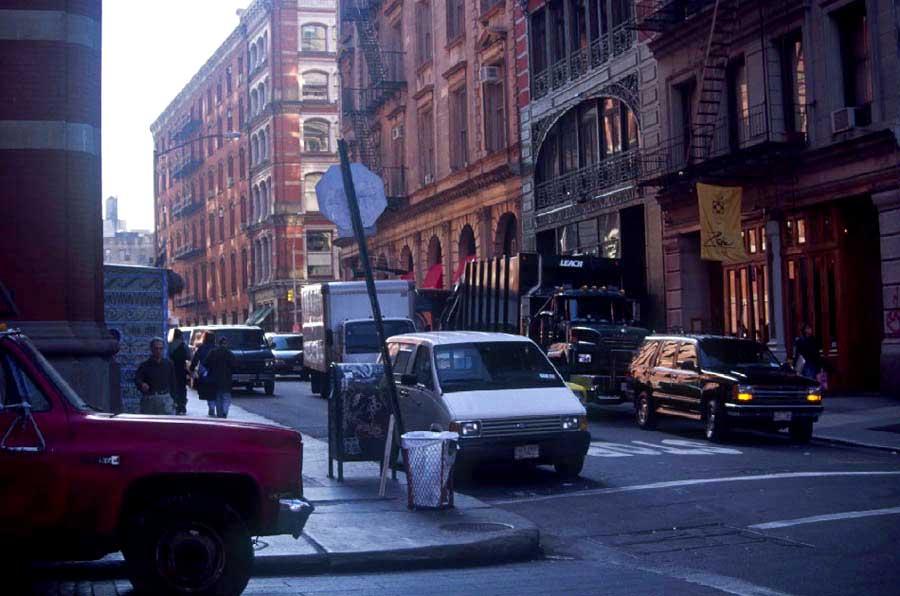 March 2000

A loop between Soho and City Hall

The streets of New York are generally lined with trees, large ones if they are old and small ones if the old ones were cut down to widen the street. Soho however is conspicuously absent of trees except those few in planters. I never thought much about this at first, since it had been a manufacturing neighborhood it always seemed natural. But now with a large presence of shops the streets have begun to look a little bare. It took some time to realize that the problem lies in the hollow sidewalks with cellars underneath rather than soil.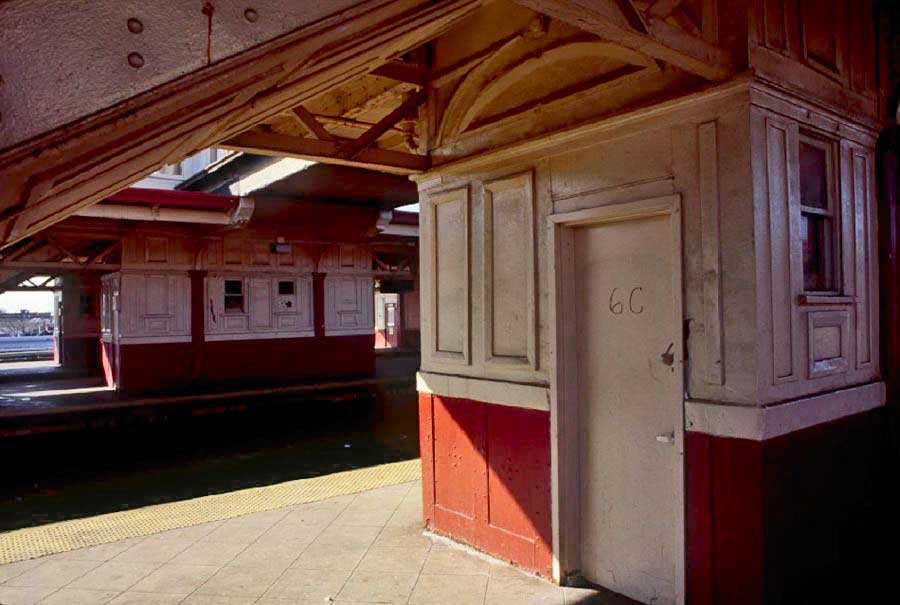 March 2000

A short ramble through Jamaica

A close look at Jamaica Station gives an immediate indication of why renovation is underway. But if I look beyond the rust and rot I find a spirit that resides here in the careful detail crafted by metalworkers and carpenters. This simple design provides a lot more than mere function for those who can see it.
Postscript: This railroad Station has undergone a major renovation that has turned it modern, efficient, and sterile.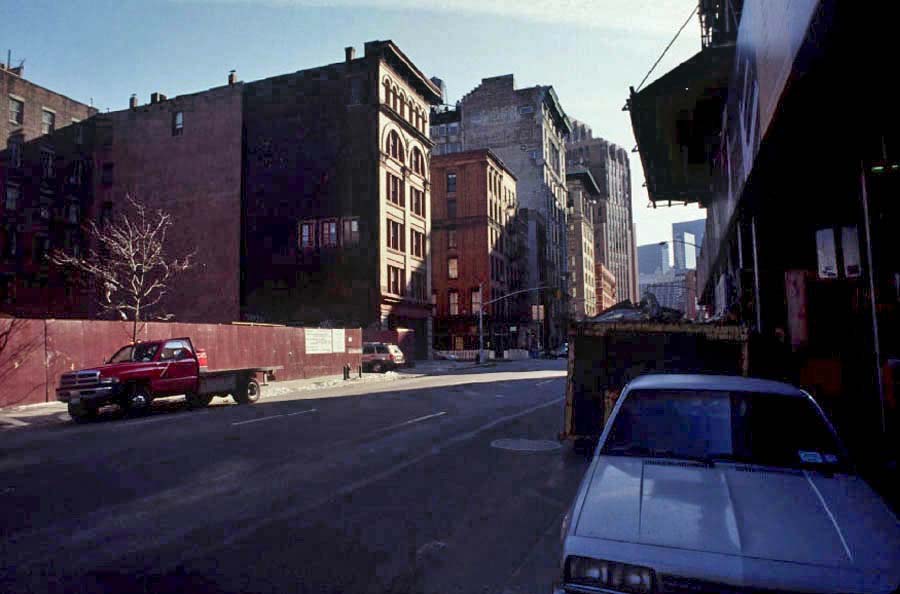 February 2000

A loop between Soho and Tribeca

The light is harsh for February and the cold keeps most from the streets. Today I am happy to have them to myself.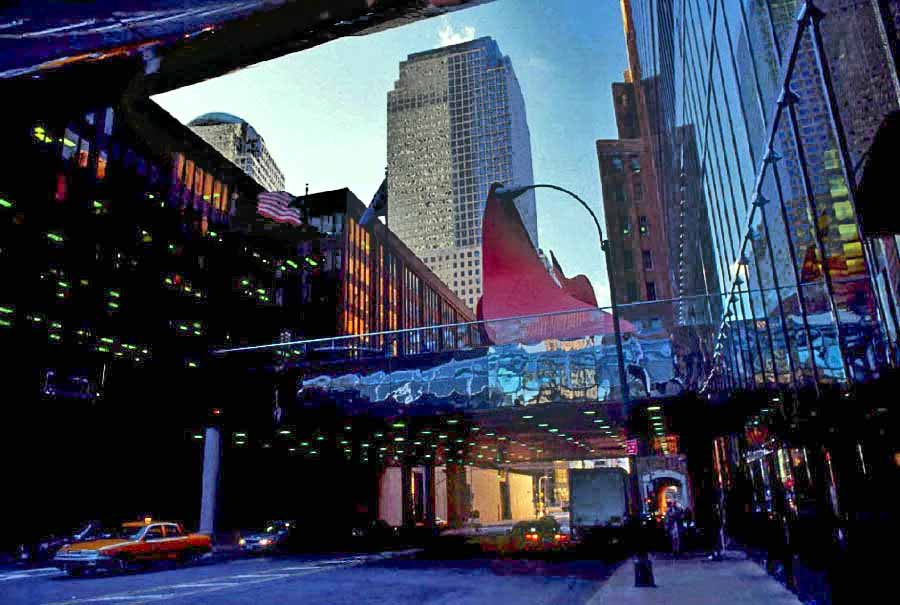 January 2000

A loop between Soho and the Battery

The contrast between old and new styles of architecture is what makes it work most of the time. Downtown Manhattan is the best example for this. But down near the World Trade Center there has been so much new construction with an overabundance of glass and steel that I don't know what they are thinking. Human Beings seem too impure to walk on these streets.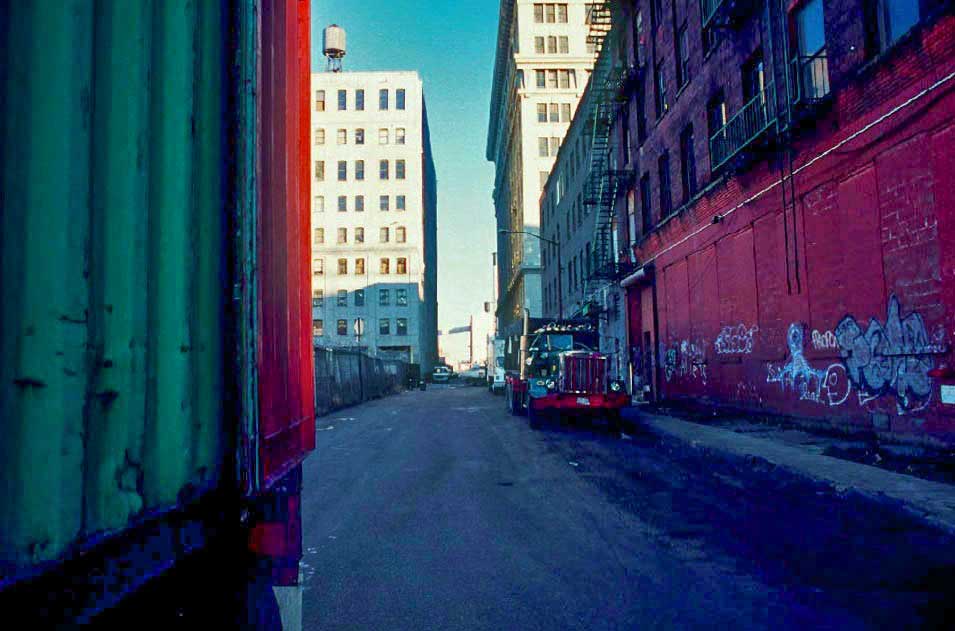 January 2000

A ramble in Dumbo

I can walk down a street a hundred times and then there is that one day when the colors just come together.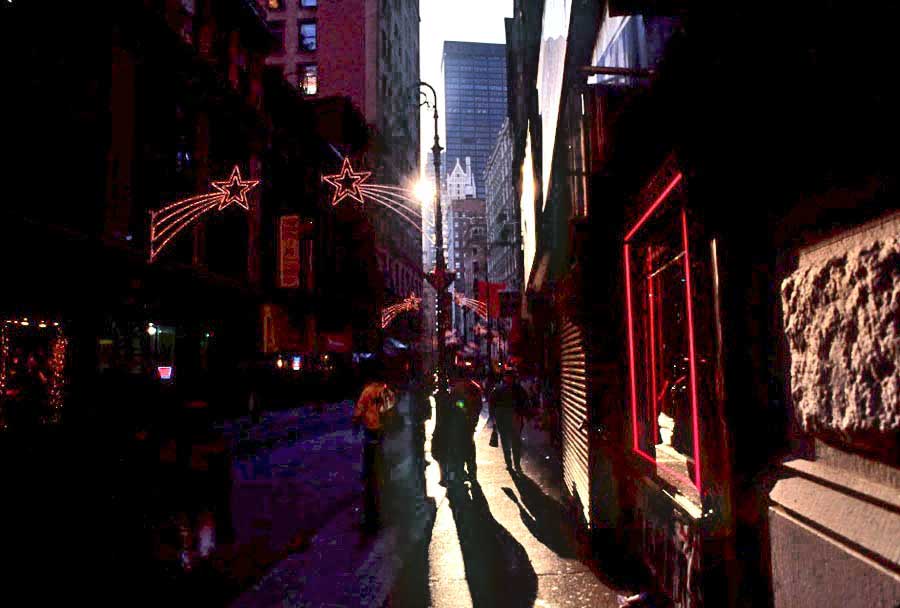 January 2000

A 7 mile walk from Hell's Kitchen to City Hall

All of lower Manhattan can take on the appearance of a monumental calendar, its significance tied to the position of the sun. As sunlight passes from canyon to canyon and bends around tall spires we become a cosmic sundial with nuanced readings beyond our comprehension.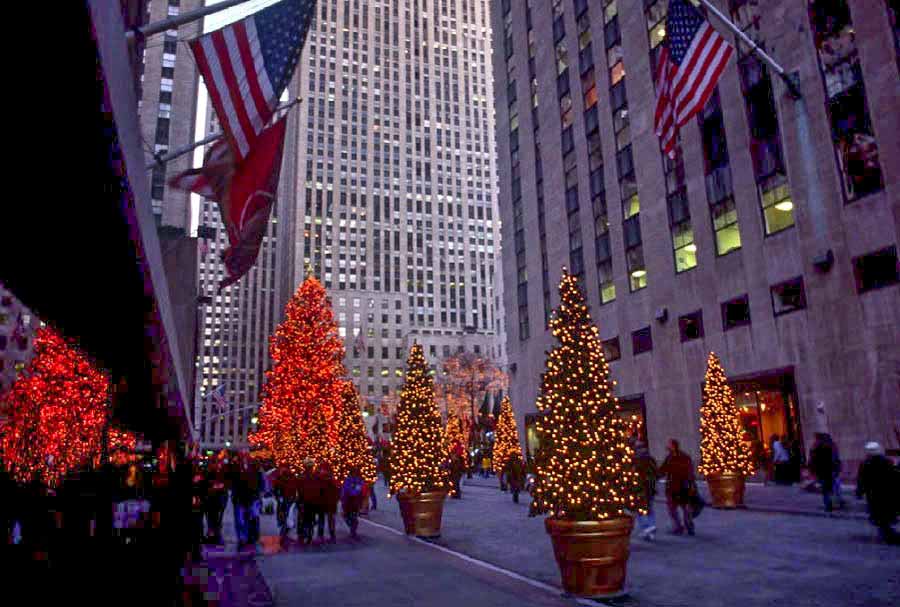 December 1999

A Midtown ramble

A bit of holiday flair can absorb so much of our attention that we cannot see beyond its grandiosity to realize how dwarfed we really stand under the skyscrapers that surround us.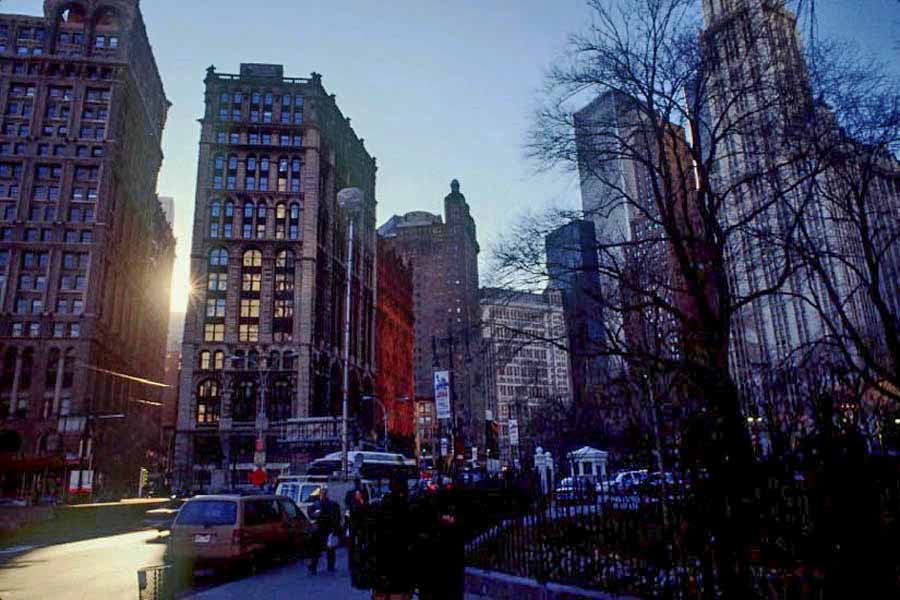 December 1999

A walk from City Hall to the Battery

With the winter sun low on the horizon the already dark streets of lower Manhattan can make it feel as if it does not exist at all. But if the right corner is turned a magnificent show awaits.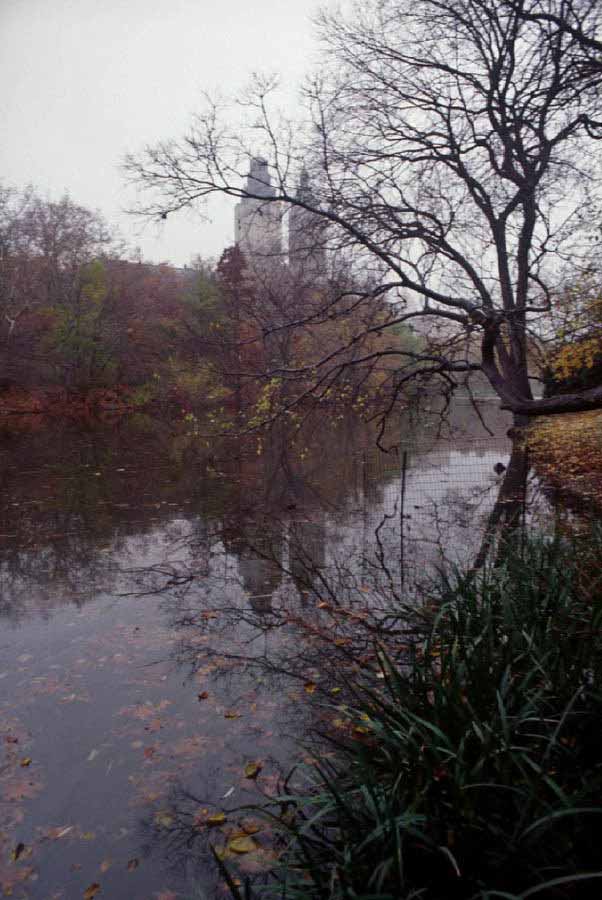 December 1999

A ramble in Central Park

The day is damp. I wander off from the designated path to hug the lakeshore. Some late color still hangs on but more leaves line on the lake bottom than remain on the trees.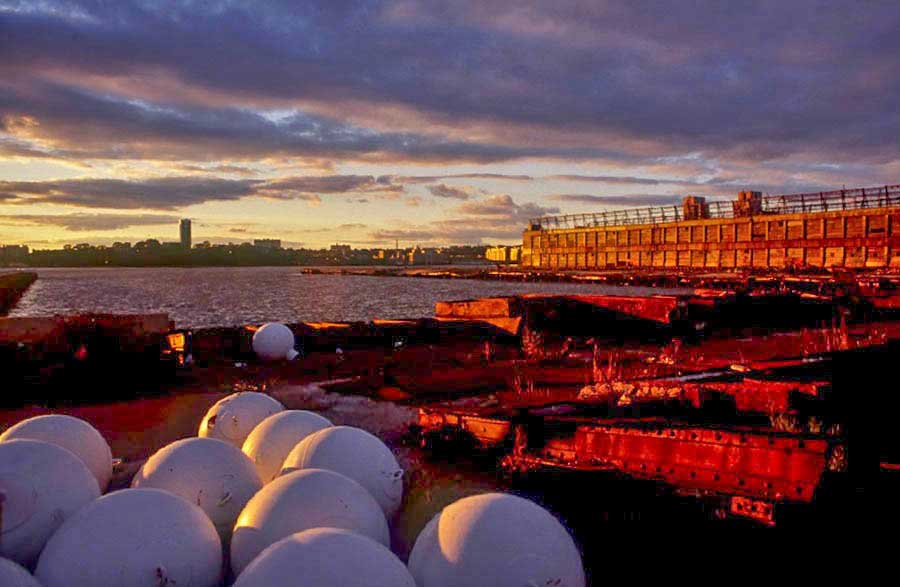 November 1999

A walk along the North River

In the summer a walk by the river is the place to catch a refreshing breeze. Today it is the place to catch the light.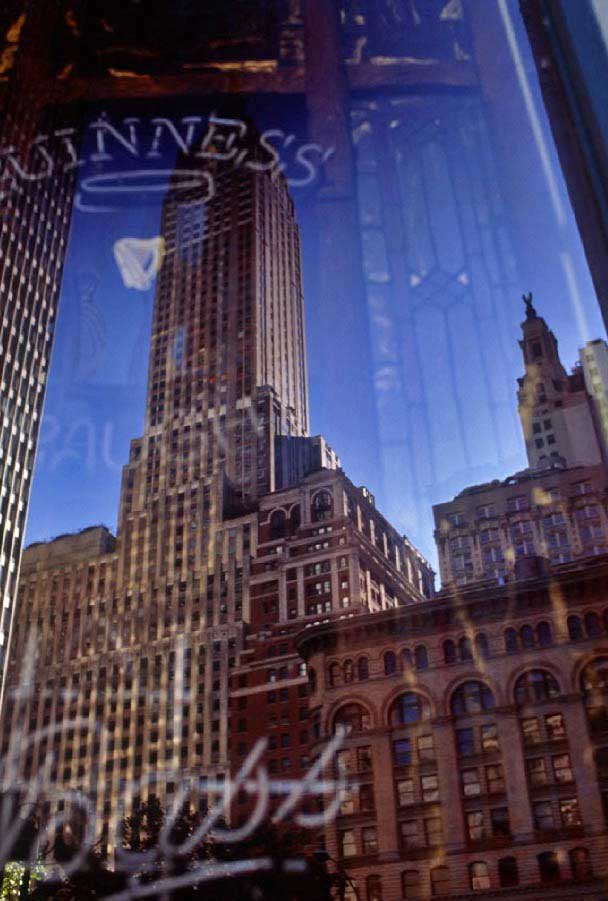 November 1999

A Downtown ramble

There are different measures to a season. For a farmer the ripeness of a crop is more important than a day on any calendar. I gauge autumn buy the changing color of leaves, but even those living solely among concrete, glass, and steel see changes as the sunlight arcs differently behind tall towers and the shapes of shadows that cast differently day by day.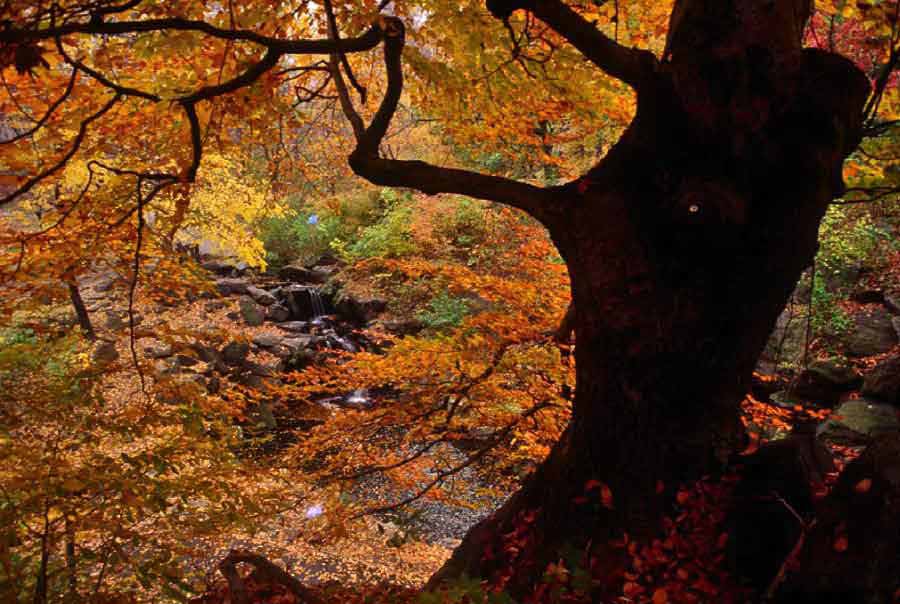 November 1999

A 7 mile walk from the Upper East Side to Harlem via Central Park

On a busy day all of Central Park appears to be crowded yet there are nooks where solitude can be had. In full autumn splendor there are few places that can match the beauty found here. Here one can ease from a dark woodland to pastoral splendor in the blink of an eye and with the most comfortable ease. Sudden changes that may be disconcerting elsewhere seems totally natural here.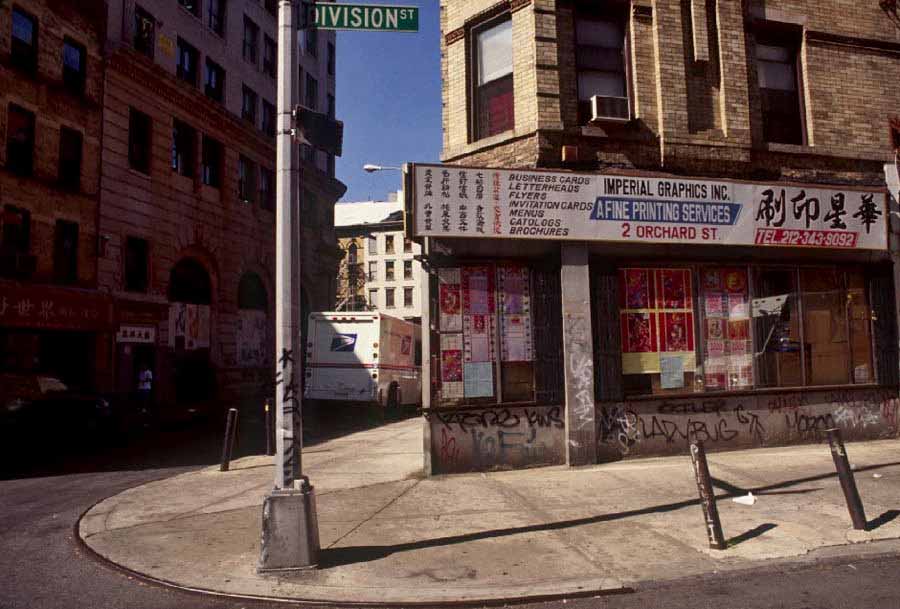 November 1999

A loop from Soho to the Lower East Side

I have no grand visions today as it is only the small that interests me.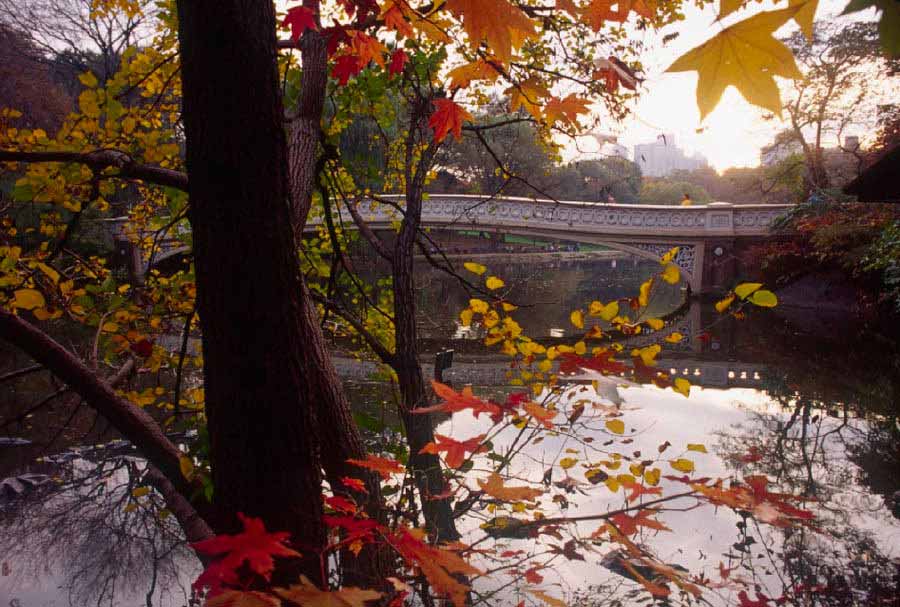 October 1999

A 7 mile walk from the East Side to East Harlem via Central Park

A million photographs must have been taken here. How is it that a new perspective is always available.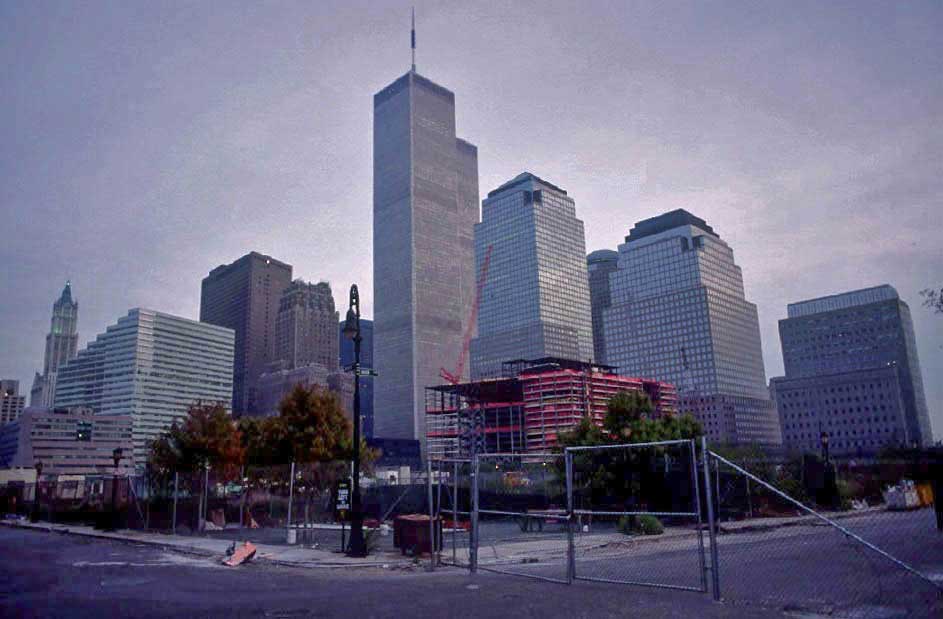 October 1999

A Downtown ramble

The days are growing shorter as downtown is getting taller. By the time I reach the battery it is almost too dark to shoot but I take what I can get. Views that are open now will not be so for long. The jagged pyramid I find will soon rise into an indescribable shape. The skyline is in motion.
October 1999

A 5 mile walk from Chelsea to Soho

The waterfront is dreaming of another time and place where a cold wind does not blow and the seasons do not change.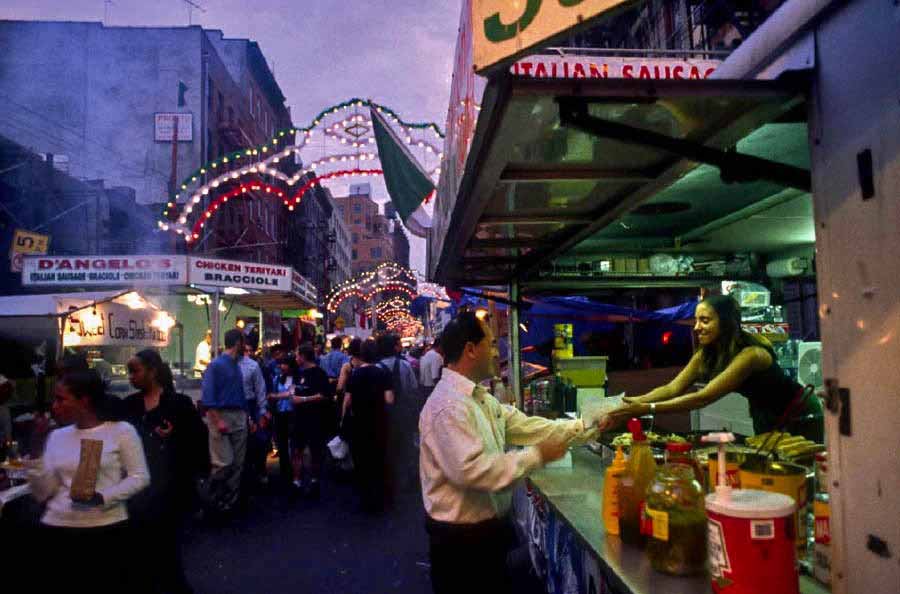 September 1999

A ramble from Soho to Little Italy

The short window of opportunity between day and night brought me out to the San Gennaro Festival once again. I have always had a problem of taking pictures of people on the street, I can't get over the feeling I'm intruding. In a festive crowd this comes a little easier.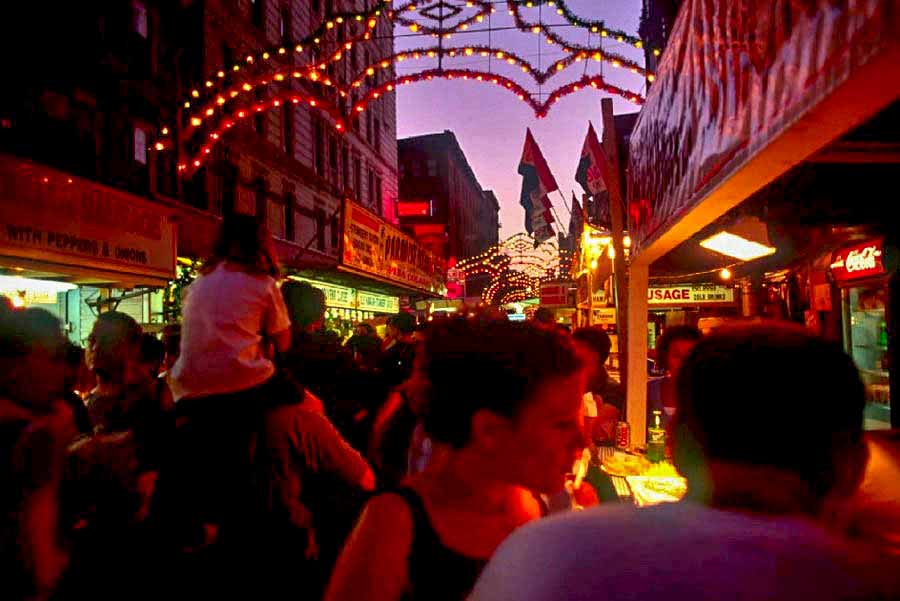 September 1999

A short ramble through Little Italy

I timed my arrival at the San Gennaro Festival to coincide with the hour it turned dark enough to appreciate the festive lighting but before the sky lost its last traces of blue. I had considered using black & white film to get sharper images in the evening light but what's the point. Everything here is about color.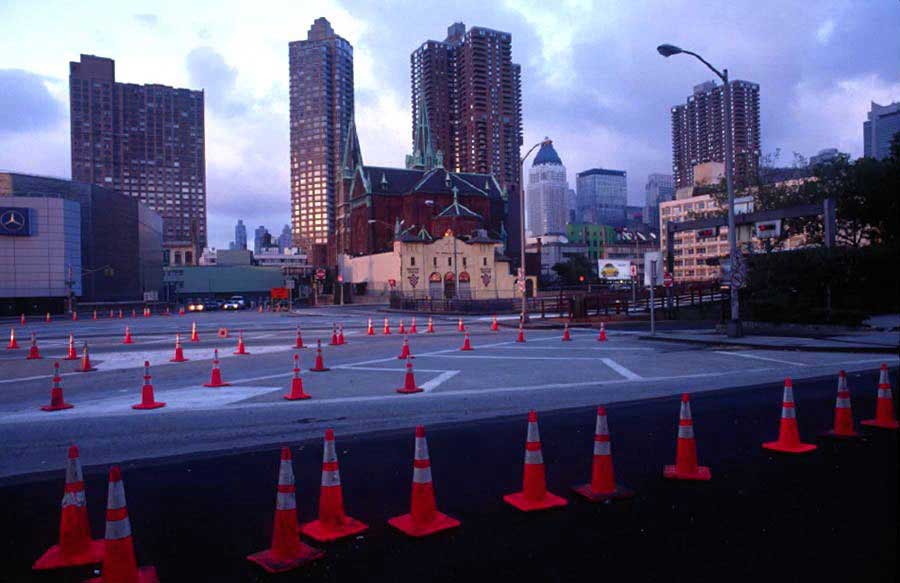 September 1999

An 8 mile walk from Little Italy to Times Square

No matter how many oddities and strange sights I come across none ever seem more out of place than just plain open space in this crowded city.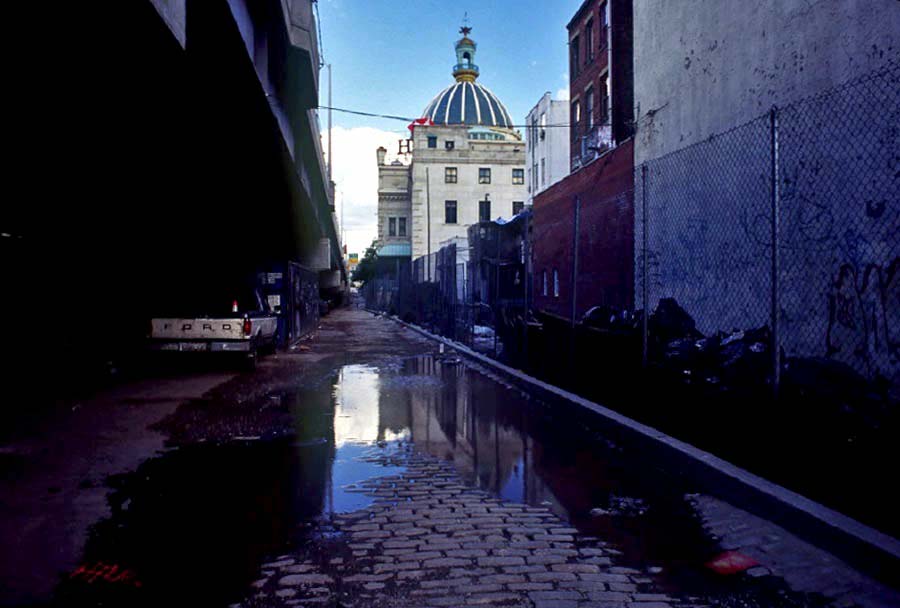 September 1999

A ramble in Williamsburg

There is something Old World about Williamsburg. Perhaps it is because of its ethnic flair. I think it is due more to the way it looks, as if built upon the ruins of an older civilization.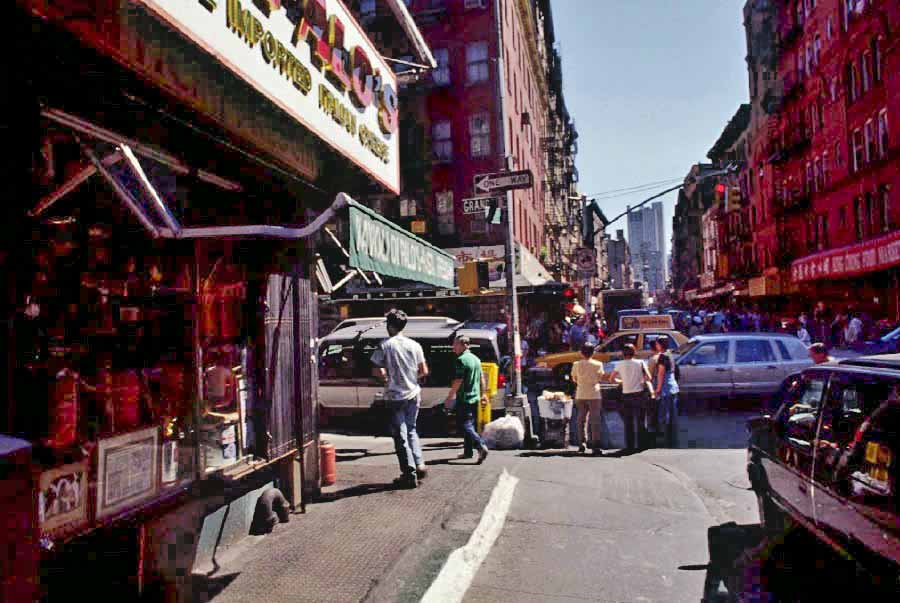 August 1999

An 8 mile walk from the East Village to Chelsea

The streets are very crowded and the light is so bright today I find myself in a whirlwind. I don't know where I will blow next.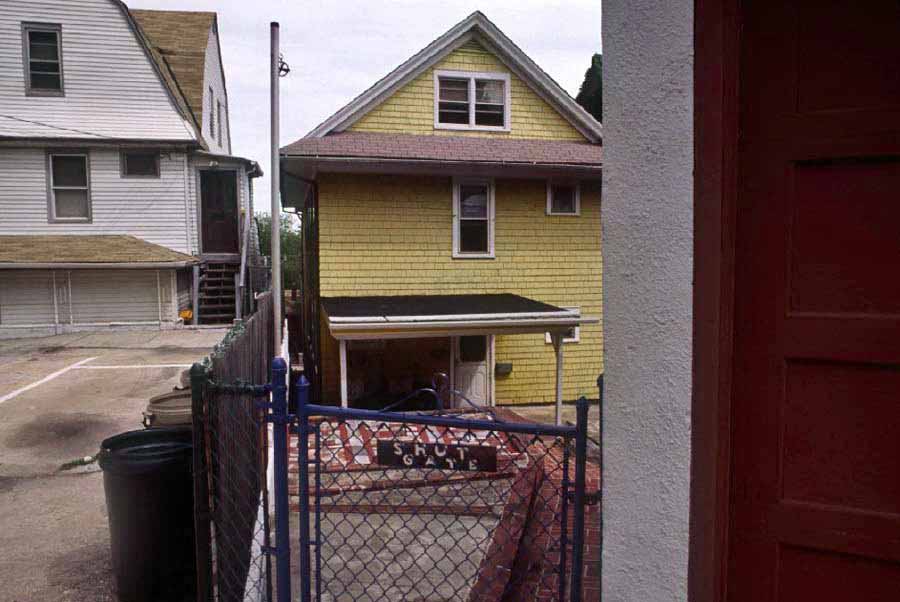 August 1999

A 13 mile walk from Weehawken to Washington Heights

Whenever I'm at the Palisades I am always conflicted on whether to walk along the shore or atop the cliffs. Having arrived by ferry the shore was the logical place to start but after being kept at bay by new development projects I soon found myself headed for higher ground. Panoramas awaited but they were dwarfed by the more intimate.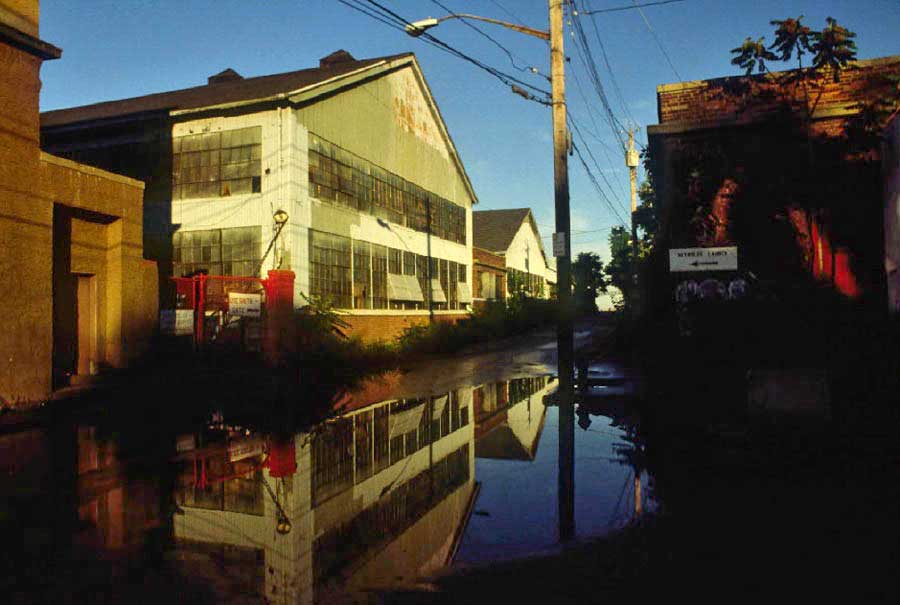 August 1999

A walk from St. George to Clifton

Commerce once dominated the shore here, now the warehouses and small factories that accompanied it stand in limbo awaiting an uncertain fate.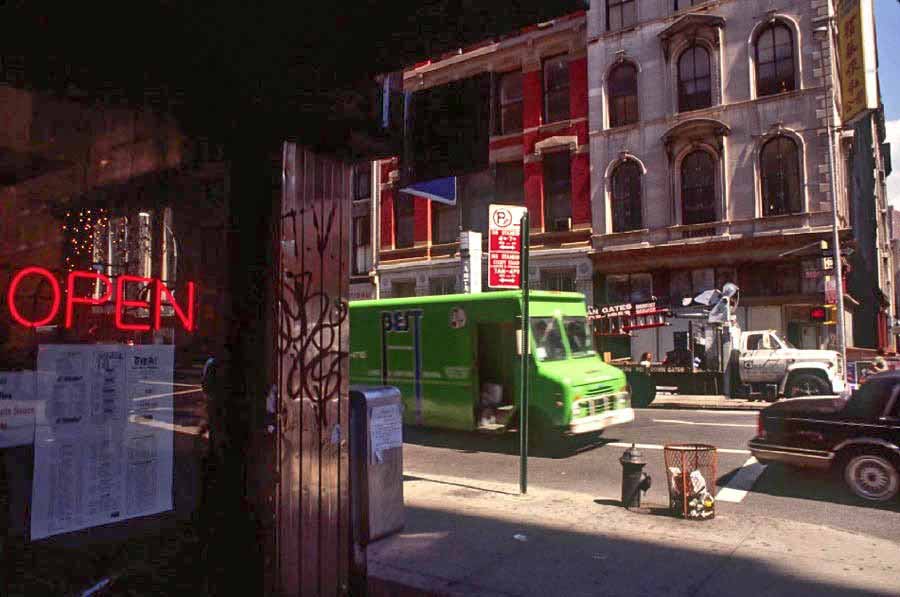 August 1999

An 8 mile walk from Union Square to Times Square and then down to Tribeca

There are variables more fleeting than light when shooting on the street. The shape of a passing truck or the color of a pedestrian's jacket can alter any composition immeasurably.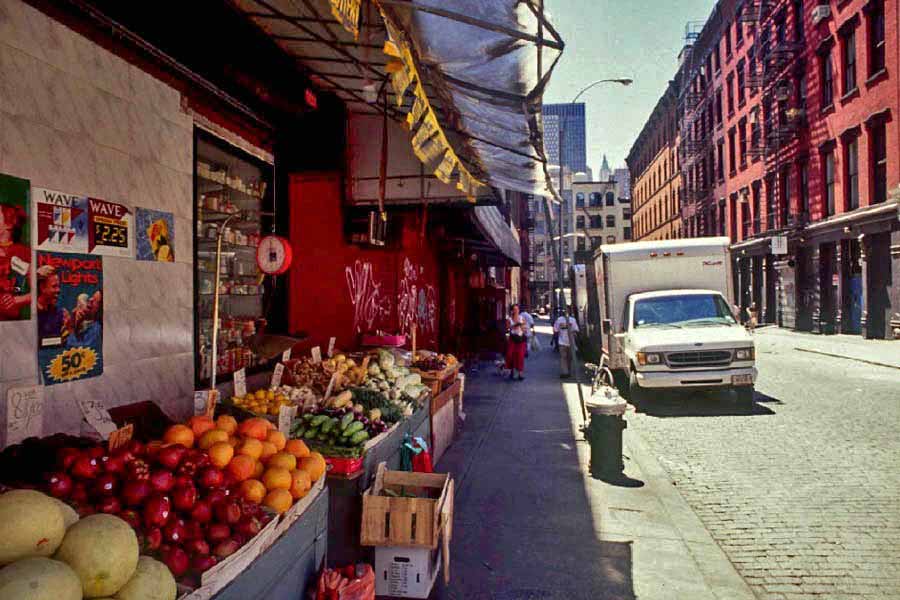 August 1999

A loop between Soho and Chinatown

Chinatown is expanding and streets that were once exclusively the domain of manufacturing lofts are now filling with the colors of fresh vegetables and fruits.

---
Copyright 2009 Alan Petrulis All Rights Reserved