NEW YORK RAMBLES (page 1)
page 2 3 4 5 6 7 8 9 10 11 12 13 14 15 16 17 18 19 20 21 22 23 24 25 26 27 28 29 30 31 32 33 35 37 38 39 40 41 42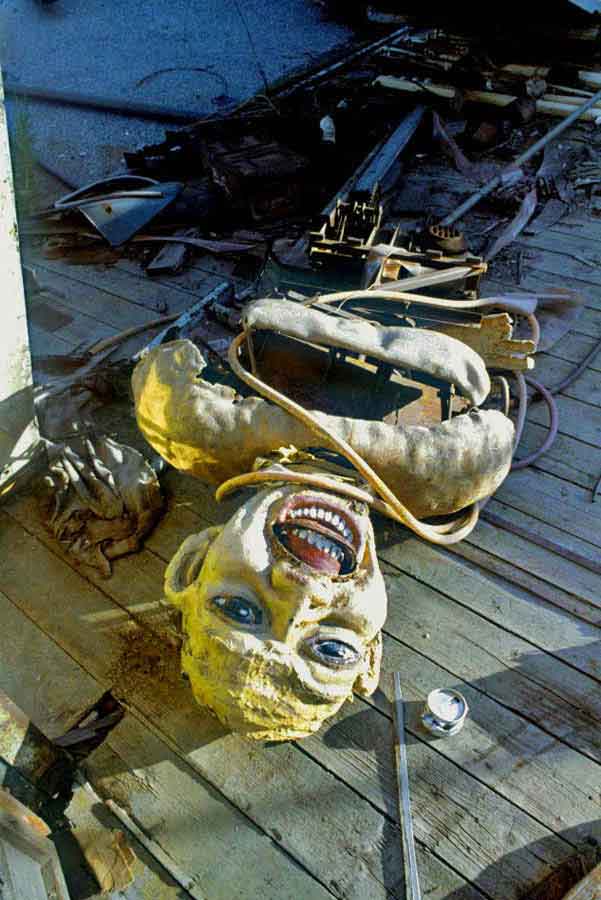 August 1981

A ramble about Flushing

Scattered junk lies all about the expansive landfill. While most are nondescript pieces of twisted metal and odd pieces of rubber a few found objects are nothing less than outstanding. Finding a dismembered amusement park dummy was nearly as horrific as discovering a gangland dumping, though much more palatable. Unfortunately its metal frame made it much too heavy to carry home.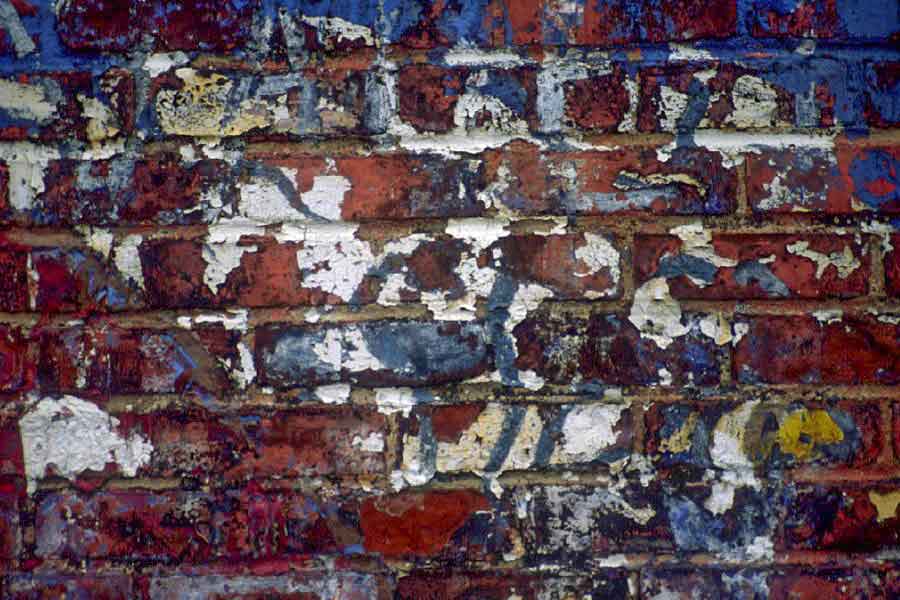 August 1981

A ramble in Kissena Hollow

Mixing different types of paints from garage leftovers in order to paint a mural is a lesson in impermanence. We may like the idea of immortality but even under the best circumstances all must pass. What is required is a fresh look for my handy work is far from gone, it has just evolved.
Postscript: In the summer of 1977 I painted a mural in Kissena Park before moving to Baltimore. Nearly everyone I met while it was going up said, "I hope it is not ruined with graffiti." Because I did not work on this project alone letting all that wished to help do so, this project soon became a community affair and it was never subsequently touched by a malicious hand. In the end it was more about process than substance and the mural faded away on its own accord. This wall has since been whitewashed.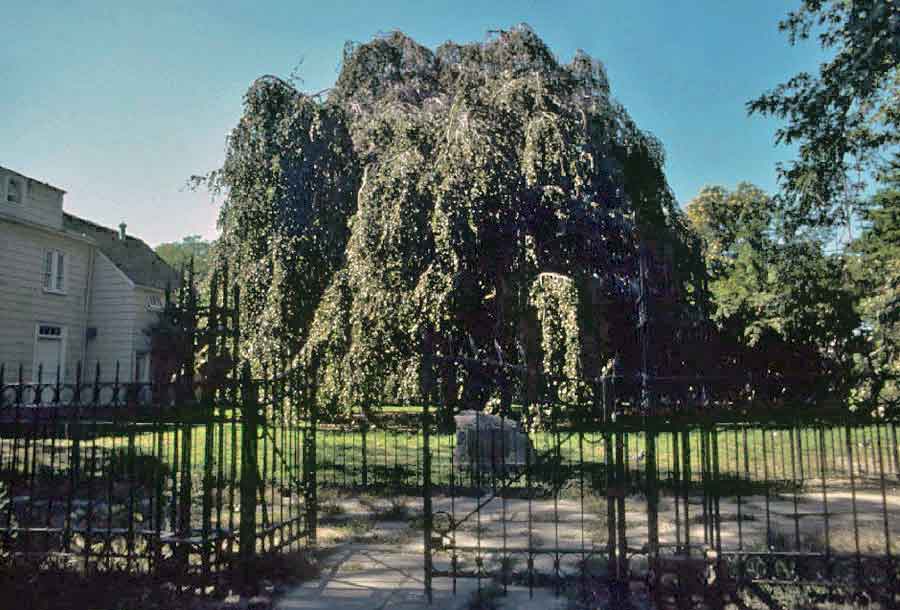 August 1981

A ramble about Flushing

Amidst my serendipitous wanderings I decided to pay deliberate homage to Samuel Parson's great Weeping Beach. It did not excite me as a tourist site nor as a composition, but as a living presence it was overwhelming. There is the walk and then there are the photographs.
Postscript: Planted in 1847 from a Belgian cutting, this genetic mutation is the parent to all Weeping Beach trees in the United States. Due to neglect the tree died in 1998, or at least that is when its trunk was cut and removed. But as it is a weeping tree, its branches took root where they touched the ground and now a circle of saplings grow in its place. When it comes to trees our notions of death need some refining.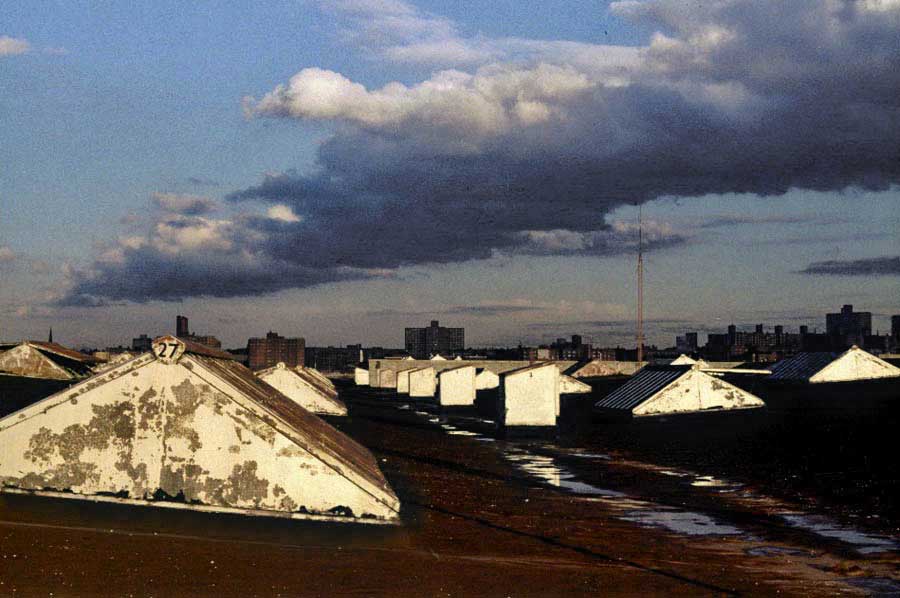 August 1981

A 6 mile ramble into Flushing Meadows

The geometries provided by factories, subway cars and train sheds ruled the day. Despite sitting on what was once a great tidal meadow, the creek and its marshy shore now seem more like an afterthought.
Postscript: These factory buildings on the Flushing shore have been torn down and replaced with luxury condos.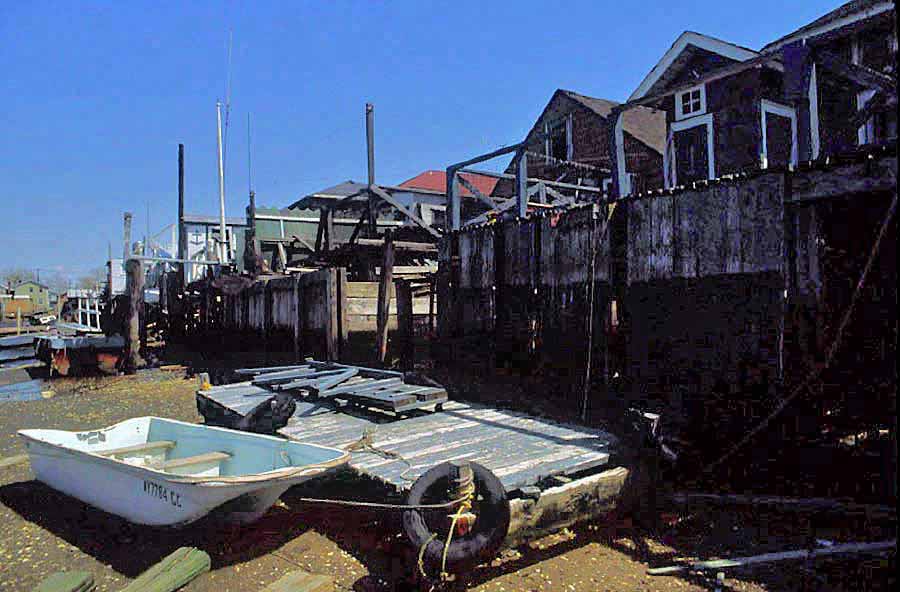 May 1981

A ramble about Broad Channel

The low tide allowed me to scramble down into the channels that perforate this community. I was initially excited to find a new vantage point to shoot from but the bright light of day proved difficult to work with.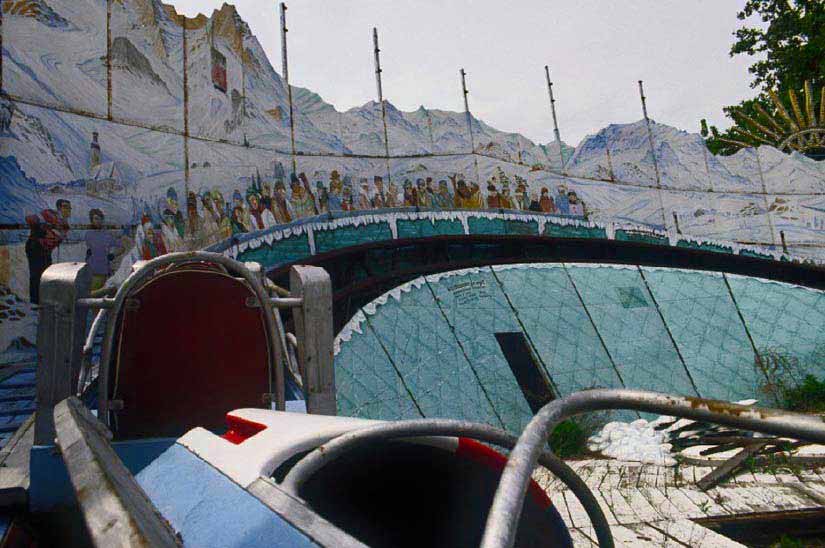 May 1981

A ramble about north Flushing

A closer look was had today at Adventurers Inn. While the structures were in disrepair I was surprised to find the remnants of so many rides still lying about worn but nearly intact. I could hear the footsteps of ghosts behind me.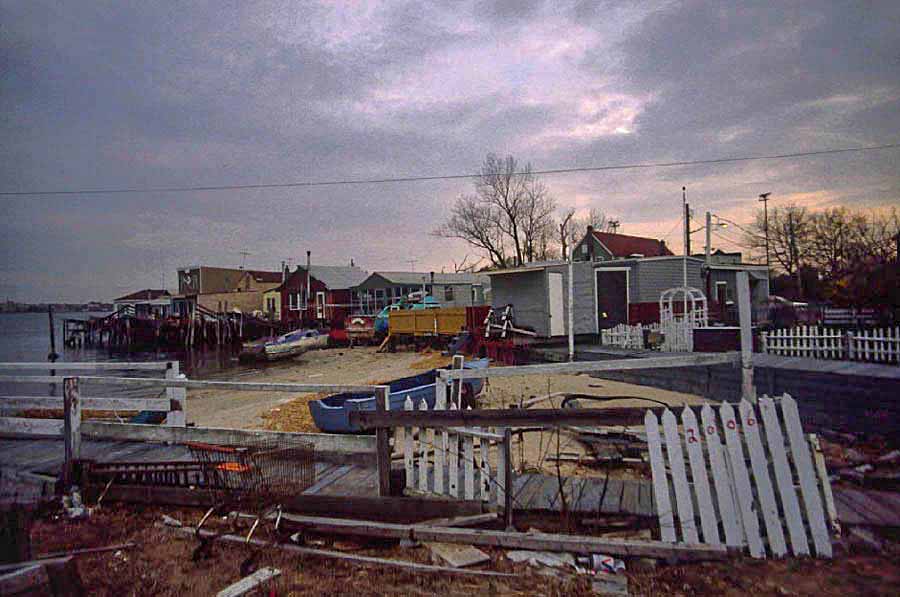 April 1981

A ramble about Broad Channel

Much of this old squatters community looks as if it were pieced together from what washed up on its shores, which may not be far from the truth. Whenever a brand new house is built here in more traditional form it stands out like an eyesore.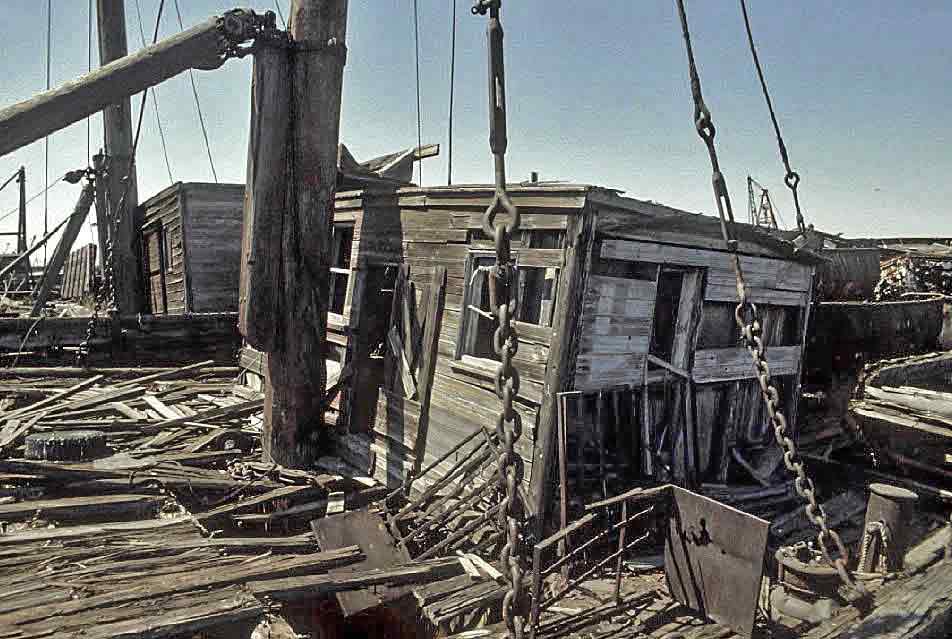 April 1981

A ramble at the Dead Pool

Though I could pass through the dilapidated fence, the hills of vine covered rusted autos proved quite an obstacle when I tried to get closer to the waterfront. Once there my trek proved none the easier as I had to watch my step in this land of ruin and rot. From the Dead Pool the wrecks of ships stretched out as far as I could see. This was a place of real ghosts.
Postscript: Most of these old wooden lighters near the shore were later set ablaze and they have burnt down to the waterline.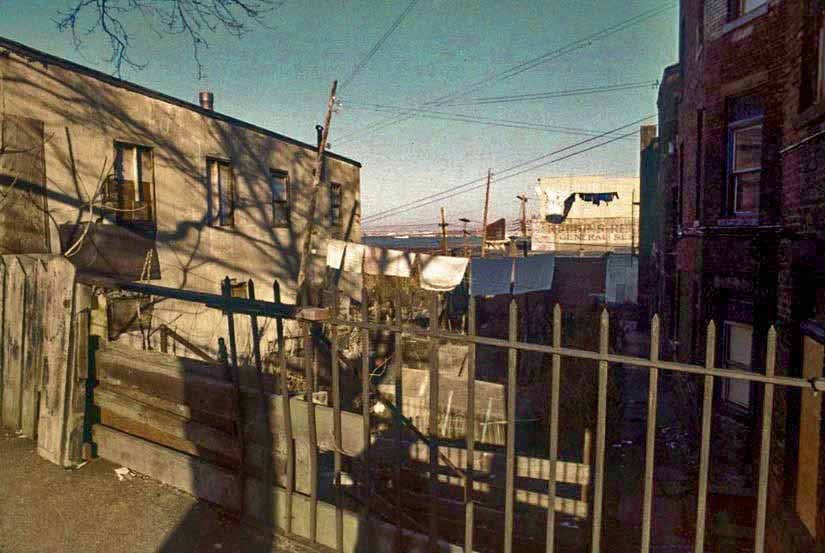 March 1981

A quick walk around St. George

I really only intended to take shots from the ferry but I couldn't help stepping off the boat and walking around once I arrived at St. George. This place is old, run down, and hilly, a photographer's paradise.
Postscript: I only took a handful of shots that day but nearly everything I captured is now gone.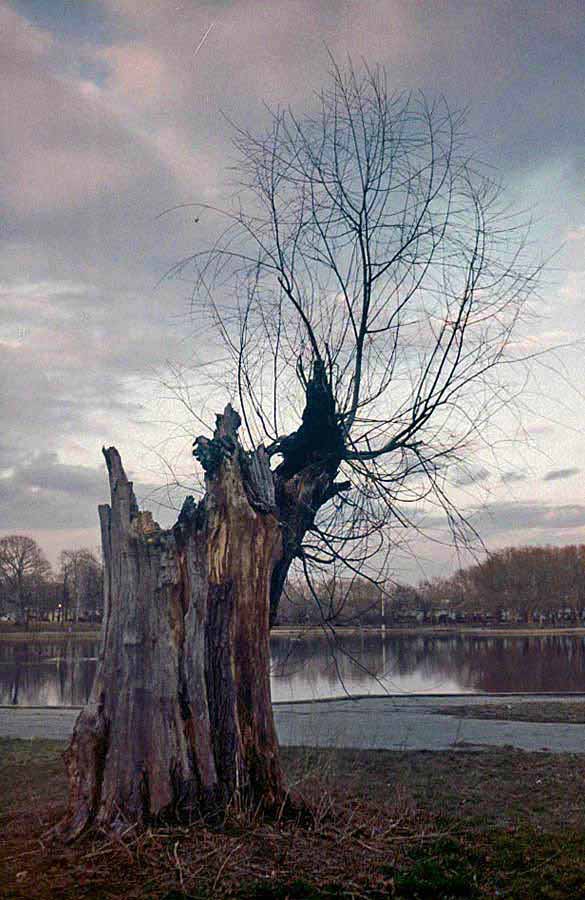 March 1981

A ramble in Kissena Hollow

There is such a close harmony of color between land and sky it is possible to believe it has always been this way. But the world is ever changing and I have lost an old friend despite its best efforts to continue on. This too is harmony.
Postscript: Kissena Lake was once surrounded by many giant weeping willows that were lost to storms over the years. Two trees lived on well beyond the rest but they too eventually met their fate at the hands of high winds. This stump lingered for about a year with some growth before being removed. New willows have since been planted but they will be giants for a different generation.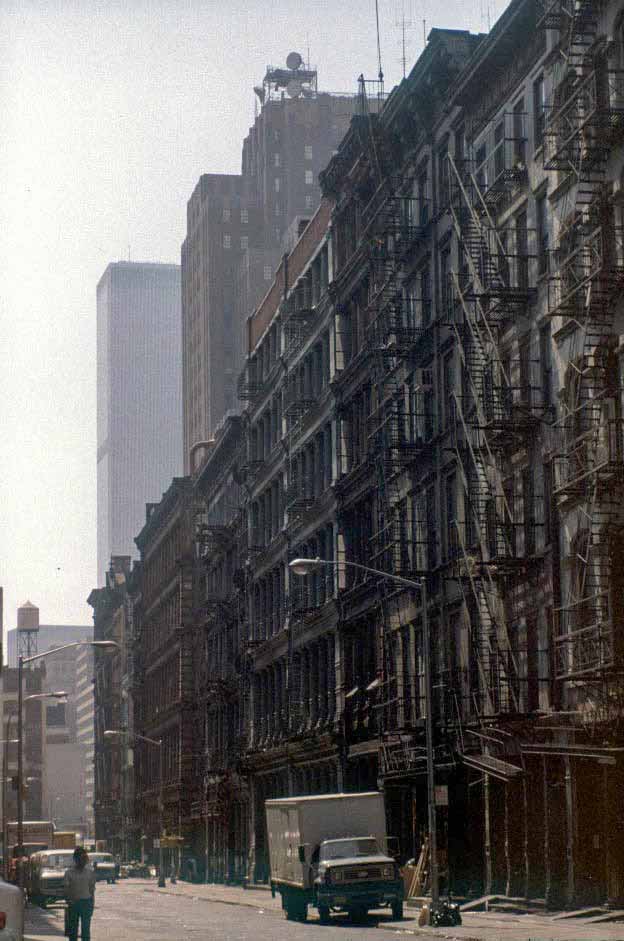 August 1980

A walk from Soho to Noho

I continue to search for something beneath the surface of these streets but I can't seem to scratch through. What is it I am I looking for?
Postscript: Mercer Street, now full of shops and painted facades, was one of Soho's last streets to loose most of its manufacturing lofts.
July 1980

A 9 mile walk from Little Bay to College Point and then to Flushing

Laguardia Airport with its constant traffic has such a strong presence over this nearby neighborhood, yet visually it is nearly non existent.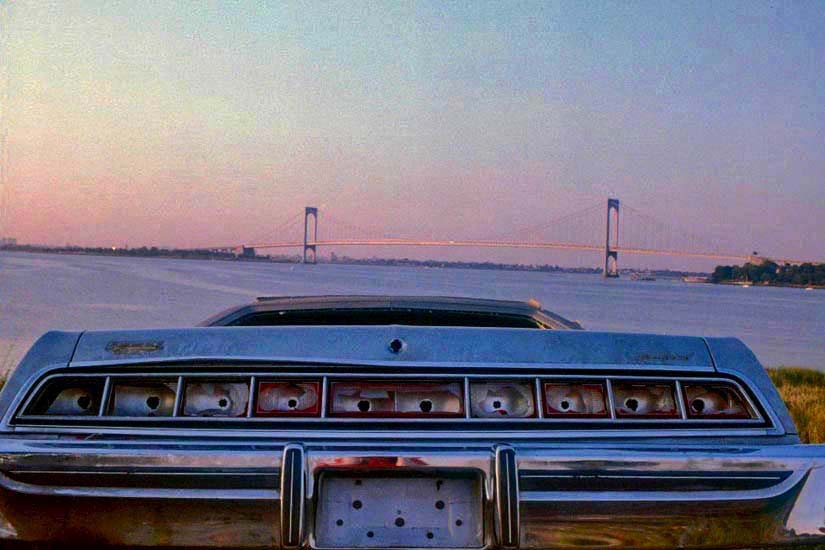 April 1980

A walk from College Point to Beachurst and then on to Flushing

I shoot without any interest in social concerns and have little use for pure formalism. It seems I'm always expect to address one or the other but I wish to fulfill neither. I do not need permission to look any deeper than at two elegant spans of metal in synchrony.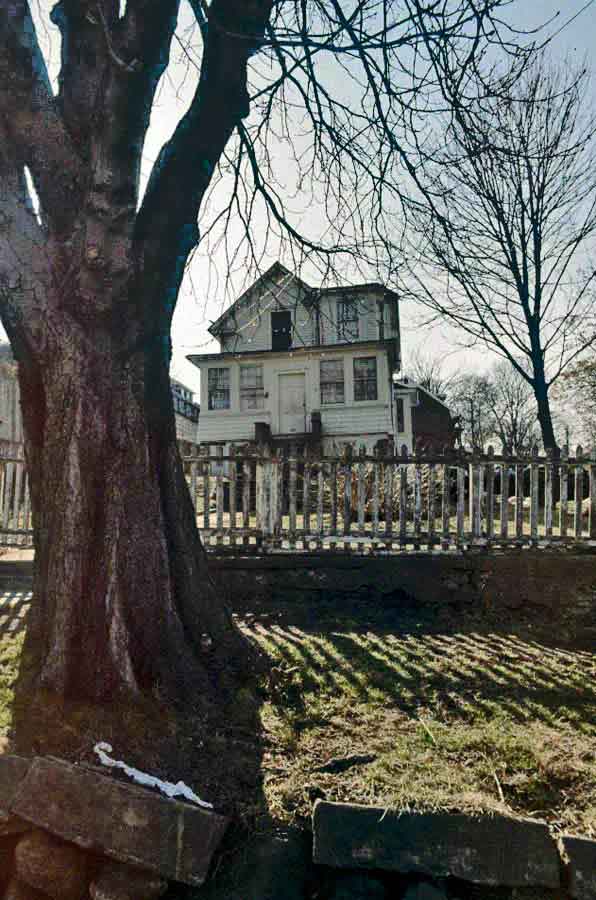 March 1980

A ramble about College Point

I love finding properties that have somehow escaped the City's rush to modernize. I don't just mean old homes but those properties that remain without sidewalks and that hold peculiar remnants of an age that past long ago.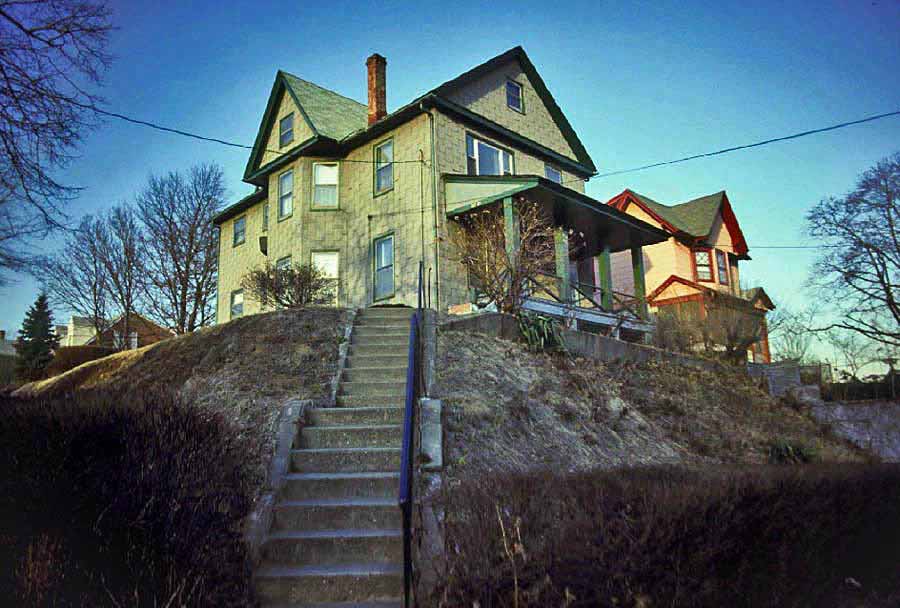 March 1980

An 8 mile walk between Flushing and College Point

In my mind Queens is relatively flat, which often proves far from the truth when actually walking across it. Streets do not only ungulate with the appearance of abrupt rolling hills, but an occasional home can be found perched high above the pavement like a castle without battlements.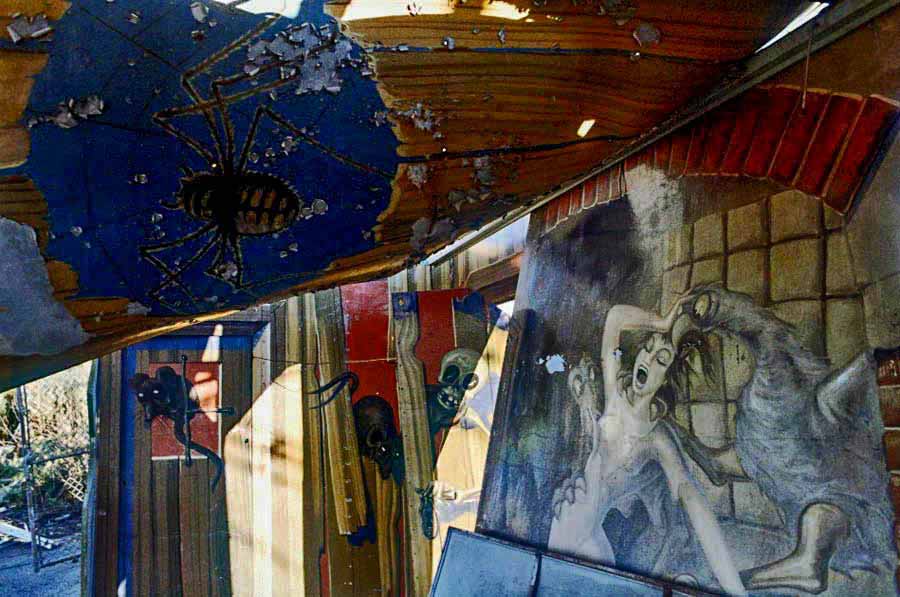 February 1980

A loop between College Point and Flushing

Amusement park paintings of darkness and horror are flushed out by collapsing walls. In the light of day they seem more comic than scary. Yet they are at home in their new world of decay where they assume a different form of apprehension.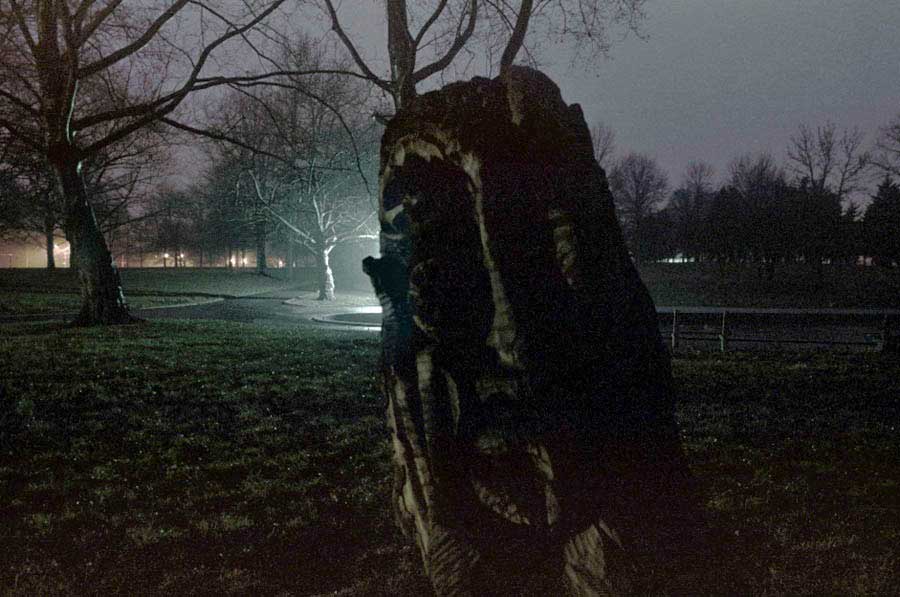 February 1980

A ramble in Kissena Hollow at night

As trees fall a woodcarver's hands find work. In darkness these presences move between being mistaken for a strange but natural phenomena to icons of a world not ours.
Postscript: All these impromptu sculptures were short lived as the Parks Department cut them up and hauled them off as refuse.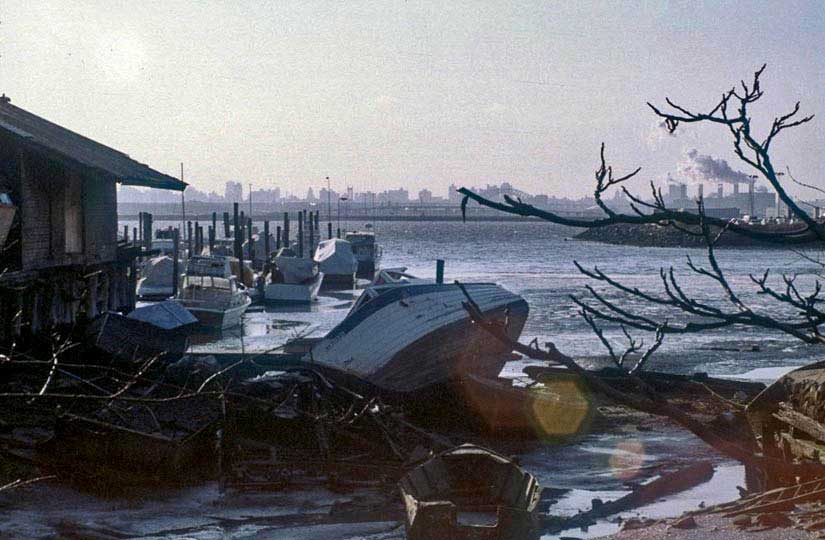 January 1980

A very brief walk in College Point

I should never have been out shooting pictures today. My gloves were warm but too bulky to handle my camera and as soon as I took them off, my hands went completely numb in the frigid wind. I had to carefully watch what my fingers were doing in order to control my movements. After one shot I called it quits.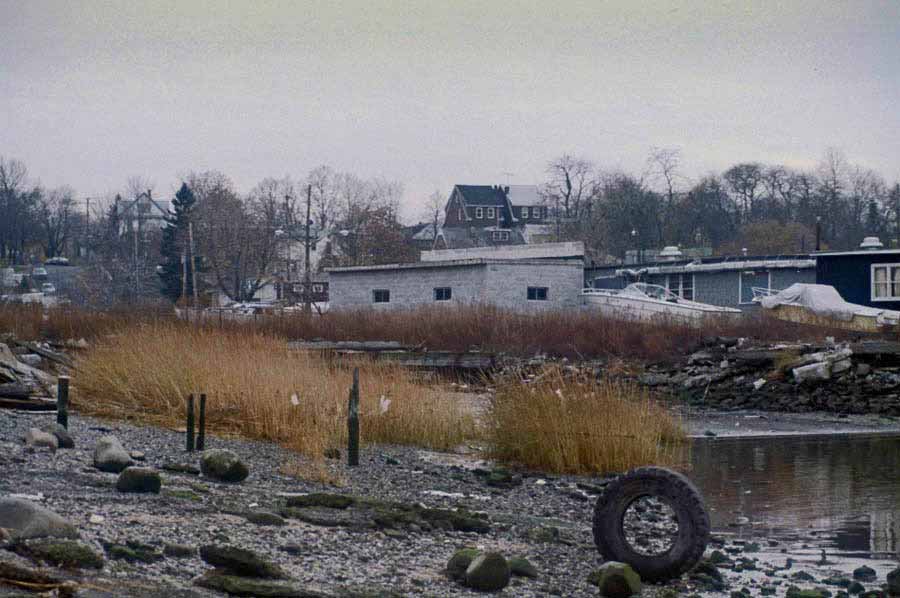 December 1979

A ramble about College Point

When I do not look too closely it is possible to fall back into a more rural time. What have we done?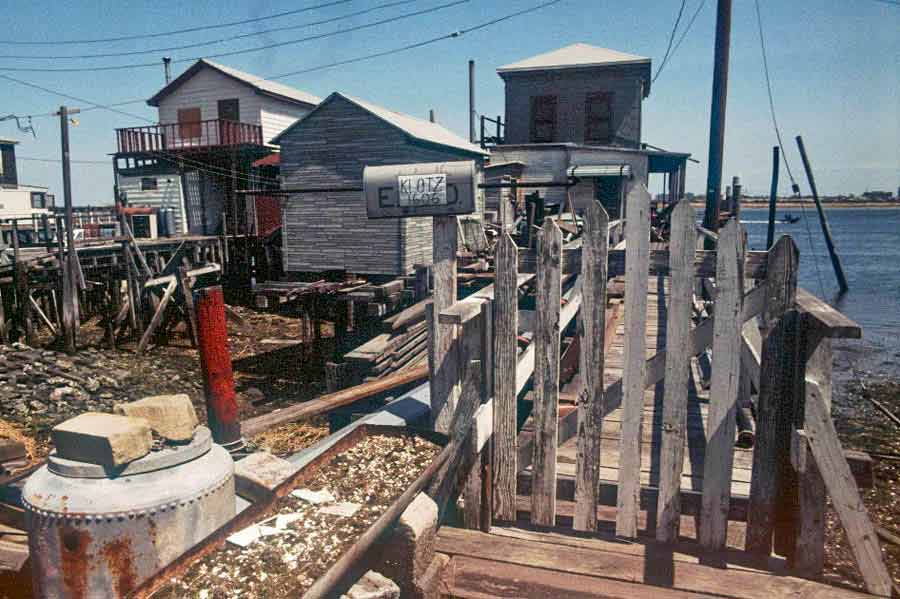 November 1979

A ramble about Broad Channel

Life on Jamaica Bay is truly a world apart from the rest of the city. It's hard to believe that a wooden shack on stilts in a mud flat and a luxury penthouse atop a glass and steel highrise can both call New York home. It all seems out of place, not because of its uniqueness but because it is lost in time. There is a strange mix here of the old resort days combined with urban renewal and suburban blandness. It is a paradise of mixed metaphors, perfect for the artist but impossible to impose any order on.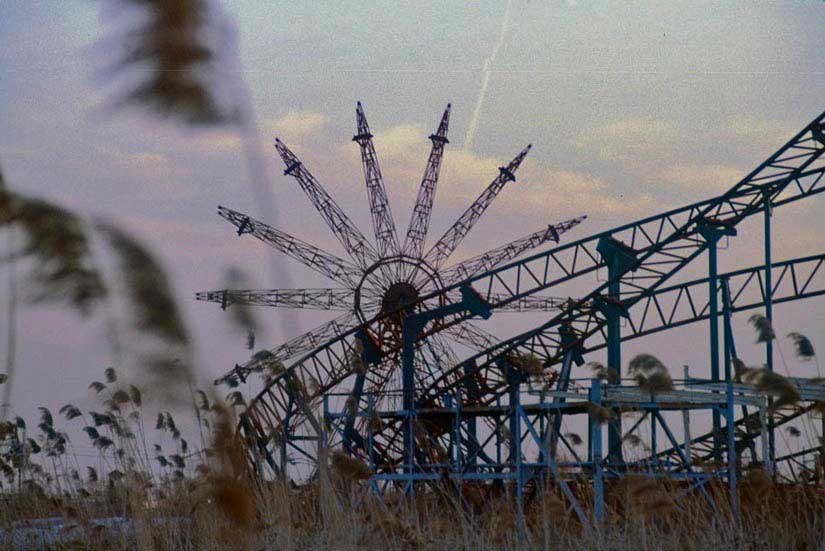 October 1979

A ramble between College Point and Flushing

It takes quite a stretch of the imagination to envision the fields north of Flushing as the pristine tidal meadows they once were. Even the old airport and amusement park built atop this garbage strewn landfill are now in decay. I busy myself creating 360 degree panoramas on these flatlands for I know change will eventually come. The rusty towers of Adventurers Inn look like the remnants of an abandoned city from another planet.
Postscript: This amusement area has been removed and the expanse is now filled with an industrial park and shopping mall.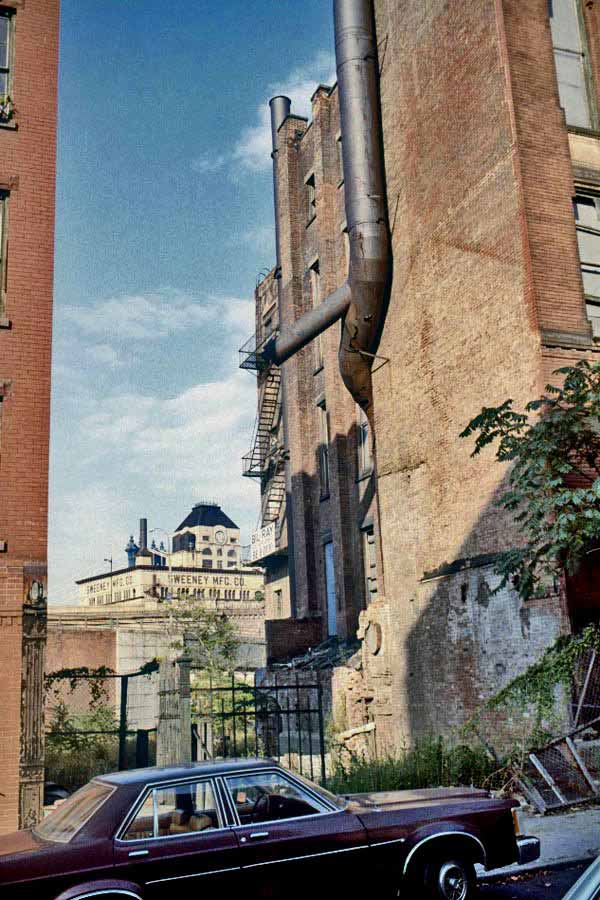 September 1979

A walk from Brooklyn Heights to City Hall

A return to my old haunts in Brooklyn produced few shots that I could use. Perhaps my memories were interfering with seeing things as they are.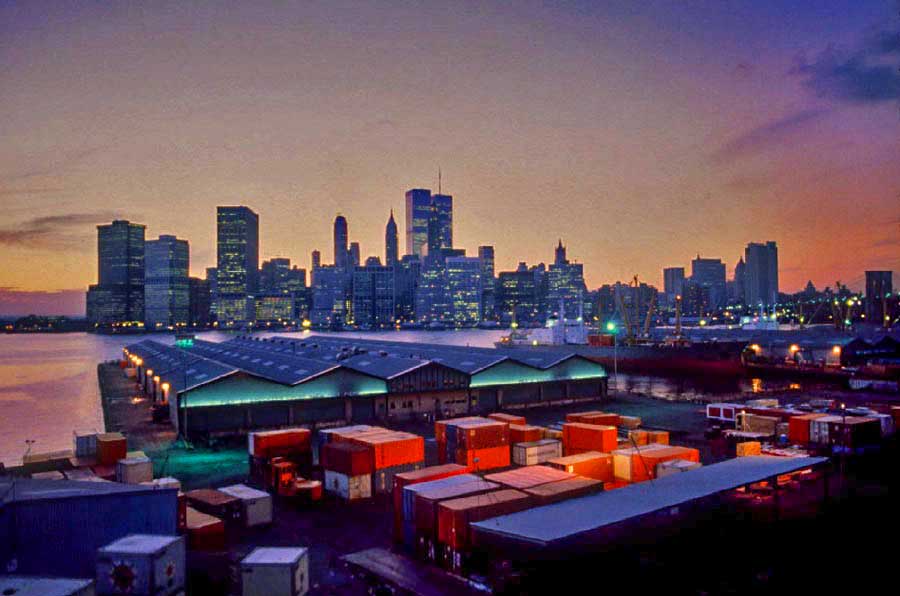 September 1979

A walk from Brooklyn Heights to City Hall

I find myself hesitant to click the camera's shutter. I have seen the view of the skyline from the Brooklyn promenade so many times I'm afraid that I'll only be adding to something there is already too much of. Then again those other photos have nothing to do with me; I am standing here in the moment seeing this well known view with my own eyes. This is my experience alone. I shoot the frame.
Postscript: These piers were unused for many years except for storage. There have been numerous plans to develop this waterfront site over the years that have all fallen through. It is now finally being developed into a park.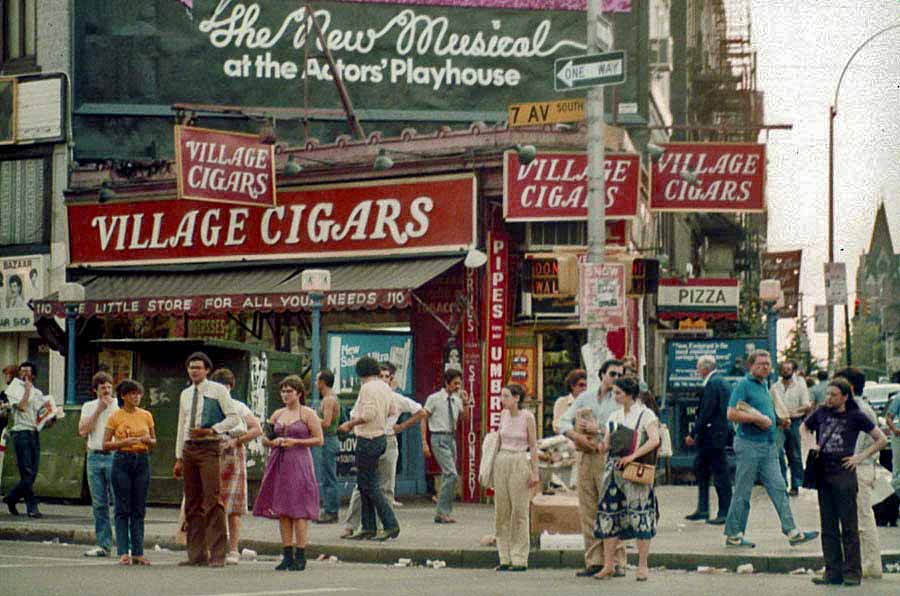 August 1979

A ramble about the Village

I spent the day in search for something that I could not seem to define. In the end I'm pretty sure I did not cross paths with it.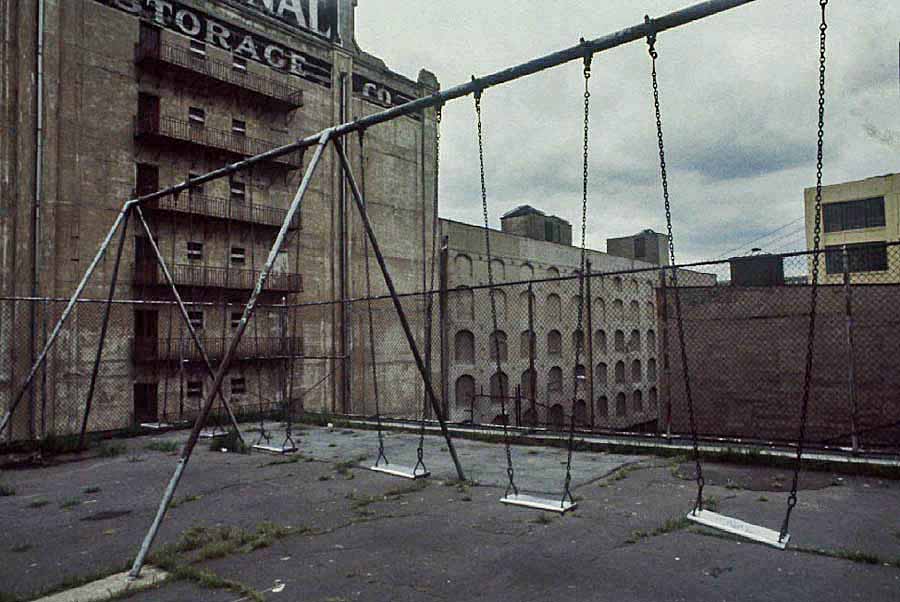 August 1979

A ramble about Brooklyn Heights and Dumbo

While a heavy overcast does not automatically translate into a bleak day, it does much to contribute to this feeling when supplemented by massive forms in concrete from the bridge piers and giant warehouses. Weeds grew from piles of rubble dumped in the dark shadows under the bridge while a nearby playground was so bare and sterile I could not even conceive of children ever coming here.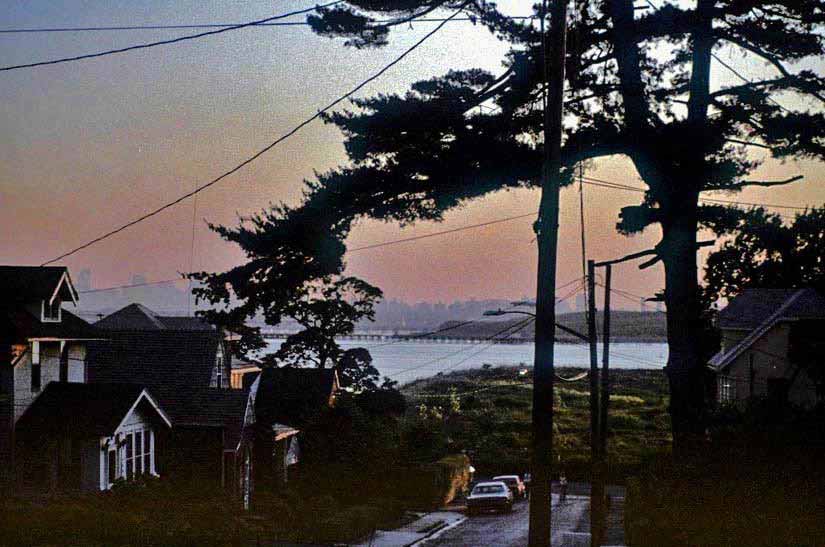 August 1979

A ramble about College Point

Though much of the waterfront here is hidden away behind large industrial buildings there are large stretches that open up to views of Flushing Bay and the skyline beyond. At points just a block up from the shore I can rise to heights that provide impressive vistas.
Postscript: All the open land along the shore has since been filled with dense housing that hides water views.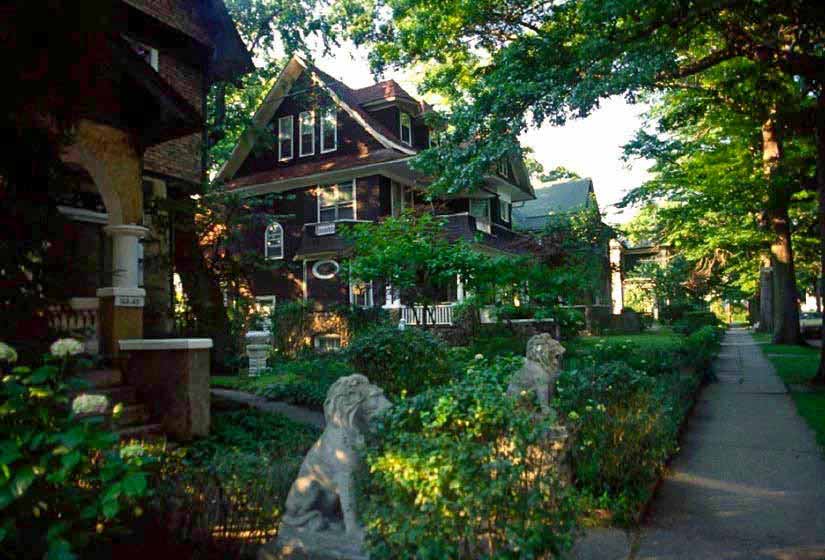 July 1979

A ramble about Flushing

Summer is about green, not only in the countryside but on those tree lined residential streets where houses loose their distinction half hidden under broad leafy canopies. Styles of architecture go unnoticed as differences all melt into a whole.
Postscript: This neighborhood, rejected from landmark status has lost about fifteen percent of its old homes to new generic construction. Also lost are many old trees, which have rendered the intrusive buildings even more hideous.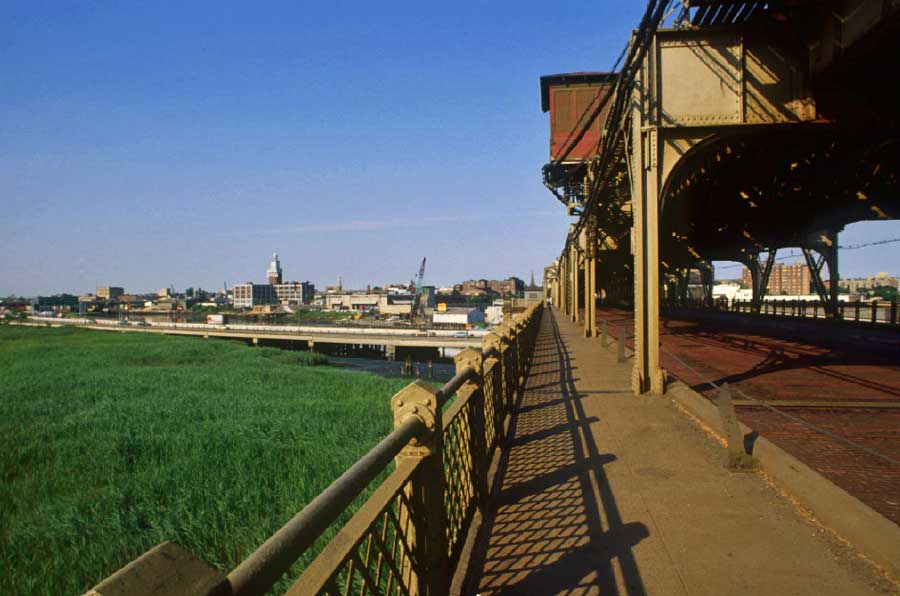 July 1979

A loop between Flushing and Corona

A good vanishing point is all I can seem to hope for today.
Postscript: The stylized metal railings on this bridge over the Flushing River have been replaced by a high cyclone fence as if views are of no consequence.
July 1979

A ramble about Flushing

I'm learning that not everything has to be carefully planned out to work.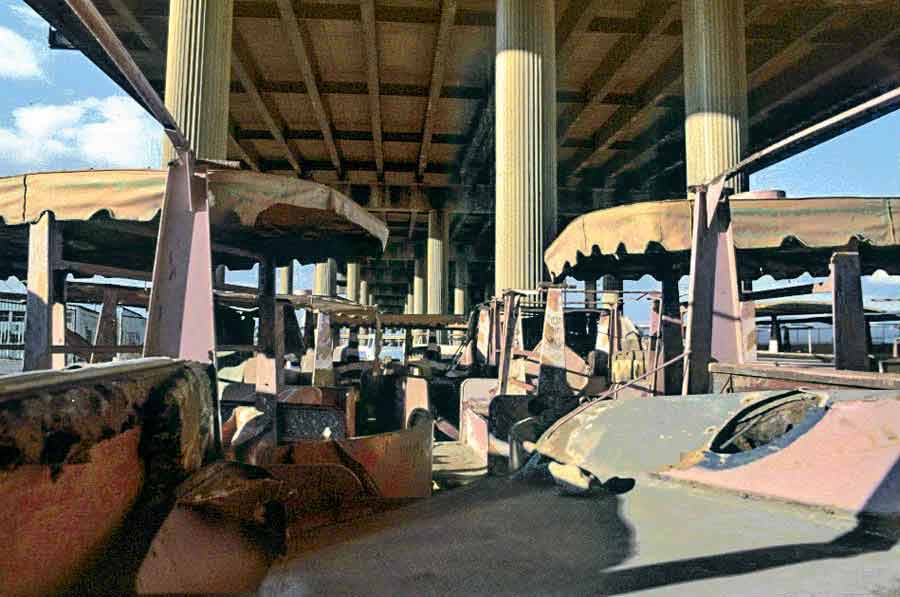 June 1979

A ramble about Flushing Meadows

Flushing Meadows Park is a ghost town of sorts. Most of the few remaining buildings leftover from the Worlds Fair now lie abandoned despite promises of further use. Empty tree lined roadways turn here and there, beckoning crowds but leading nowhere. In some corners more discernible souvenirs of the Fair lie about, too heavy or worthless to steal away.
Postscript: Some of the so called permanent structures have since been demolished while others still lay abandoned. The touring carts were removed long ago.

---
Copyright 2009 Alan Petrulis All Rights Reserved