RAMBLES IN THE HUDSON VALLEY (page 8)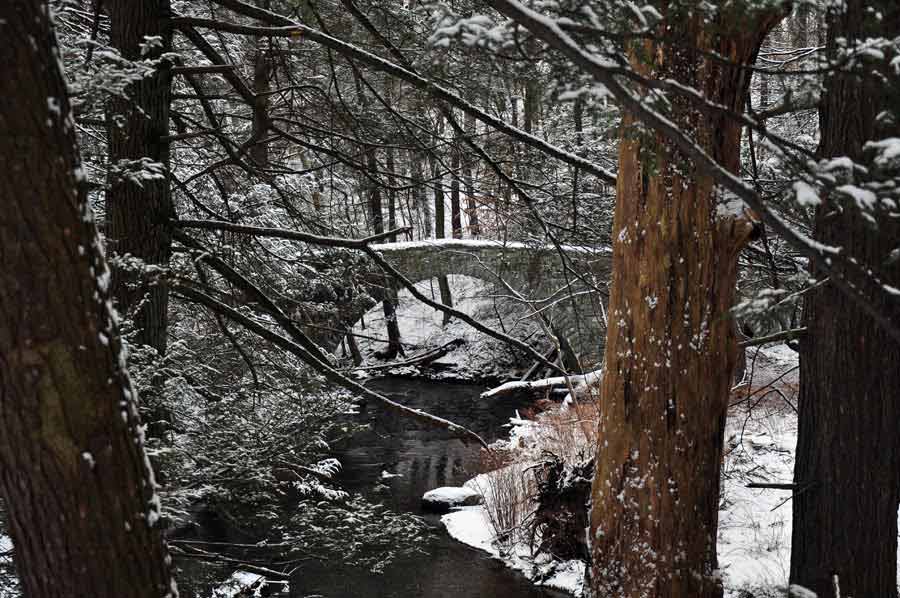 January 2010

A 9 mile loop between Tarrytown and the Pocantico Hills

The flurries continued throughout the day adding lace to all the trees, not like a normal wet snow might do but rather as if a light rain of dust had gently settled on the land. Nowhere was this more evident than in the stands of tall hemlocks that stood along the streams. Here was a sheltered world further beyond the open fields than my footsteps could ever convey.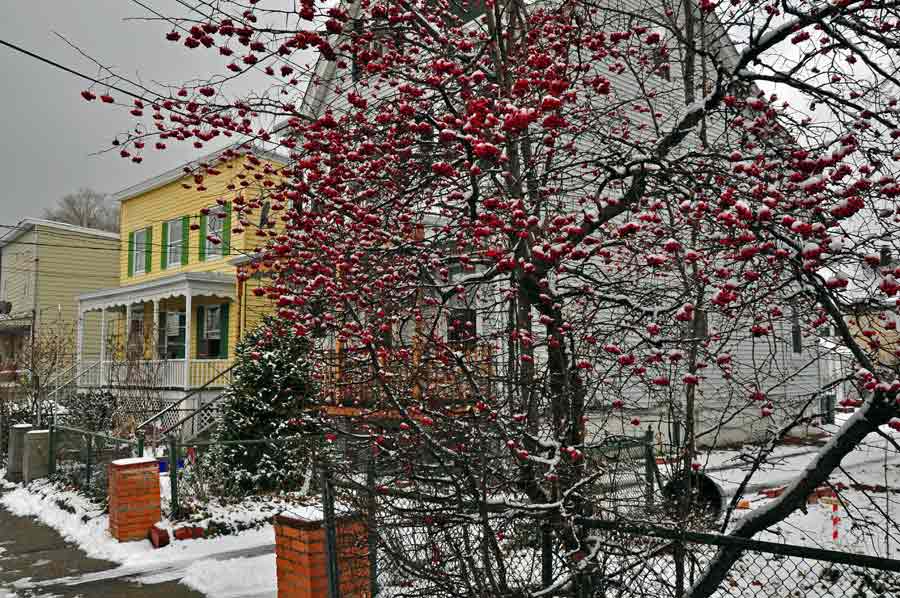 January 2010

A walk in Sleepy Hollow Village

Snow always adds a new dimension to streets and here it did a wondrous job. It sometimes seemed too easy to get a good shot but this complacency can do me in. There is a line between not letting the minute details of photography interfere with the experience of my walking and becoming sloppy.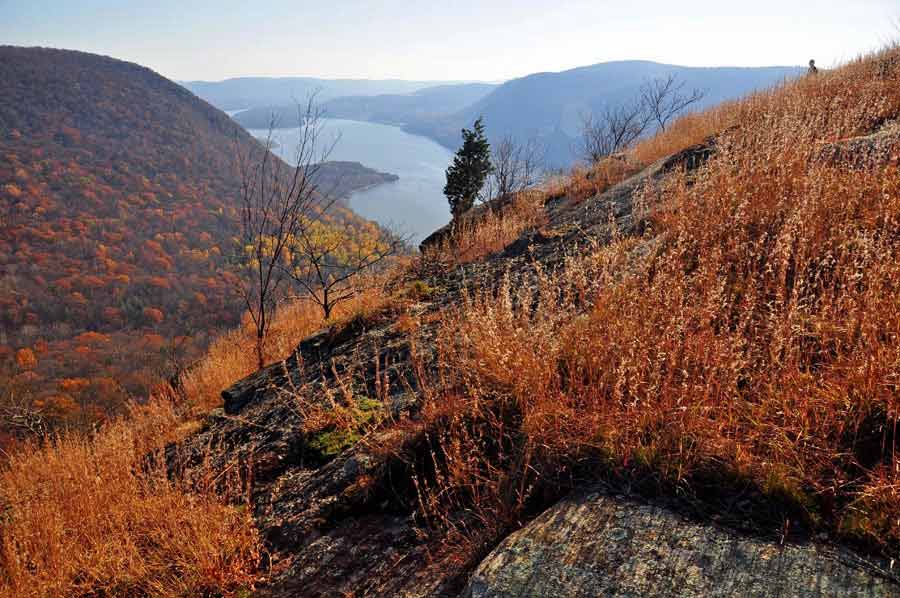 November 2009

A 7 mile loop between Cold Spring and Breakneck Ridge

The air was almost too still to be believed. A single hawk struggled to find the currents that would sweep it back and forth across the valley below. There was a lightness to everything that went beyond the pale haze of this Indian summer day.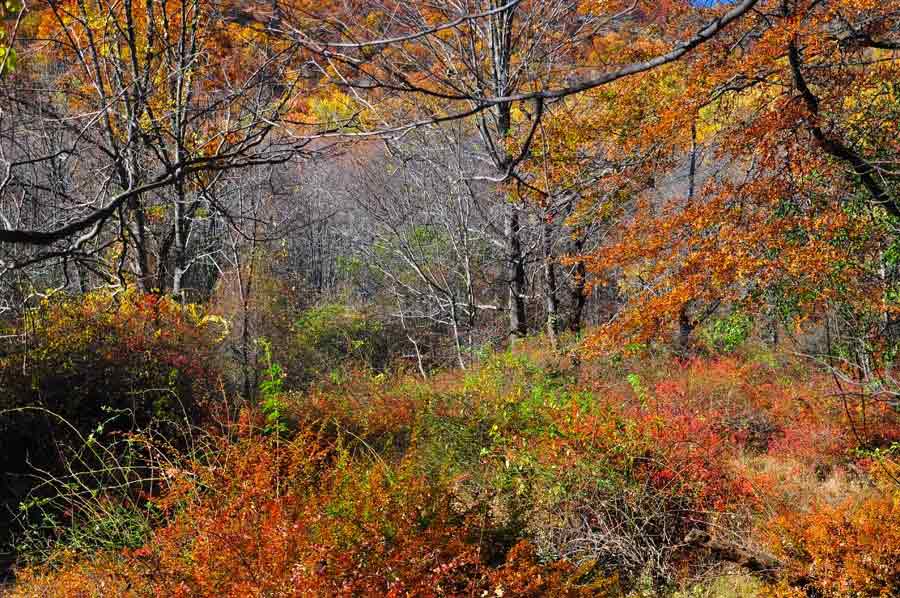 November 2009

A walk in Breakneck Valley

The treetops near the lake comprised of your typical rusty oaks and the bright yellows of maples but the underbrush was half native and half the escapees of gardens that once grew nearby. These wet bottoms provided hospitality for every wayward seed, for all the remaining color in the valley seemed to be concentrated in this one spot as if conjured up by some great spell.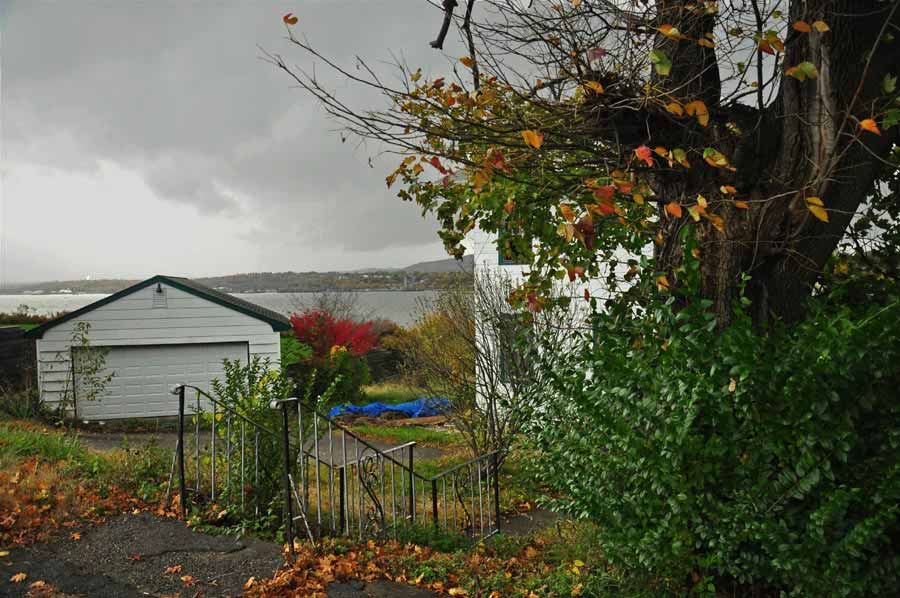 October 2009

A walk in Beacon

The skirmishers had moved up with their constant spitting but I foresaw this was only my preliminary engagement with the threatening sky. As the clouds grew ever more somber, swirling about and then swallowing the distant mountain tops I understood that I would soon be engulfed in a more serious battle.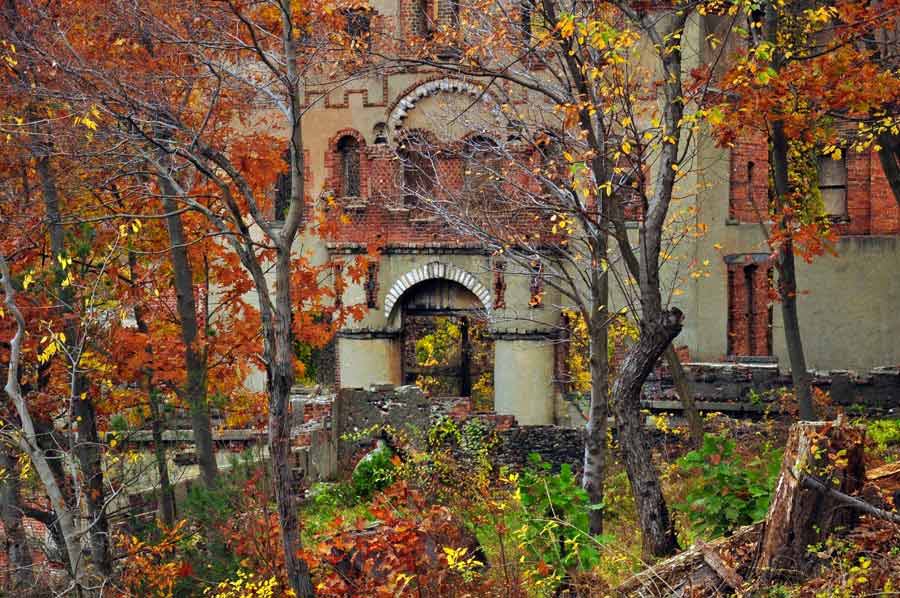 October 2009

A walk on Pollepel Island

From its rocky heights above the Hudson the more prominent eminences of the Beacons, Sugarloaf, Breakneck, and Storm King all rise around this island. The sights are familiar but held from a place never before conceived of. It is easy to imagine that even when its arsenal was bustling with activity, the sense of solitude and refuge found here never left this place. From this dream I can watch the world and believe it is impossible to be touched.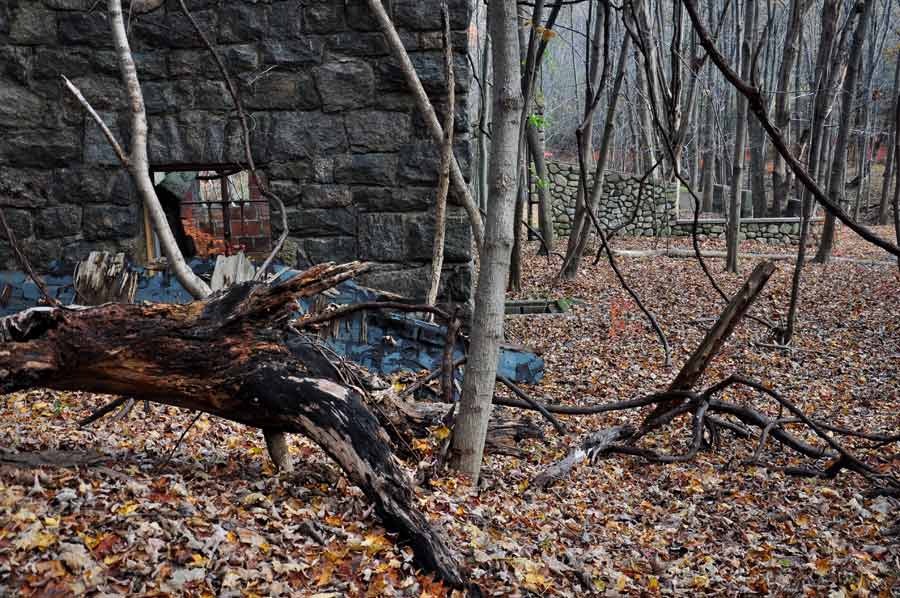 October 2009

A walk in Breakneck Valley

Walls of stone or at least what passed for them crisscrossed the hills. Some held their ground, others were fading into ghostly tracings. Even at the old dairy it was difficult to judge how much sway manŐs hand once held here. The remnants of the dead abound but the crumbling well and rusty plow seem more like props added to balance out a composition than anything ever contained by a field hand's grip. Did they once love this place as I love it now?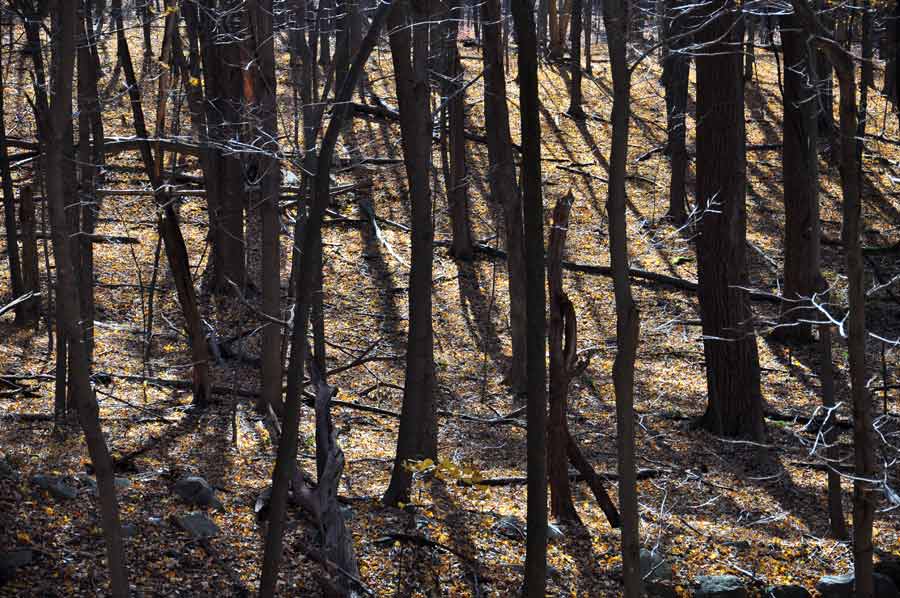 October 2009

A 9 mile loop between Cold Spring and Mount Taurus

A perfect carpet of sparkling leaves shone in the raking sun. Yesterdays rain had ripped the last of them from the trees to bath the earth. There would be no rustling as I walked today, each step cushioned by a sea of yellow and farewells.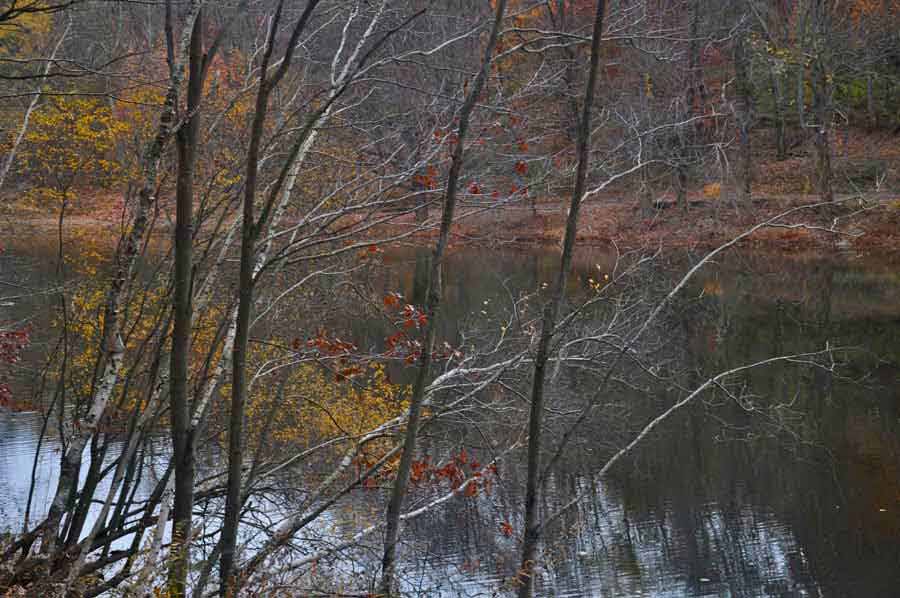 November 2008

A loop between Tarrytown and the Pocantico Hills

The sun never showed itself today as expected but I was not disappointed. The somber light was a perfect match to the landscape. Most of fall's bright colors had passed evolving into an infinite number of rusts and umbers. This is a glorious part of the season unencumbered by spectacle.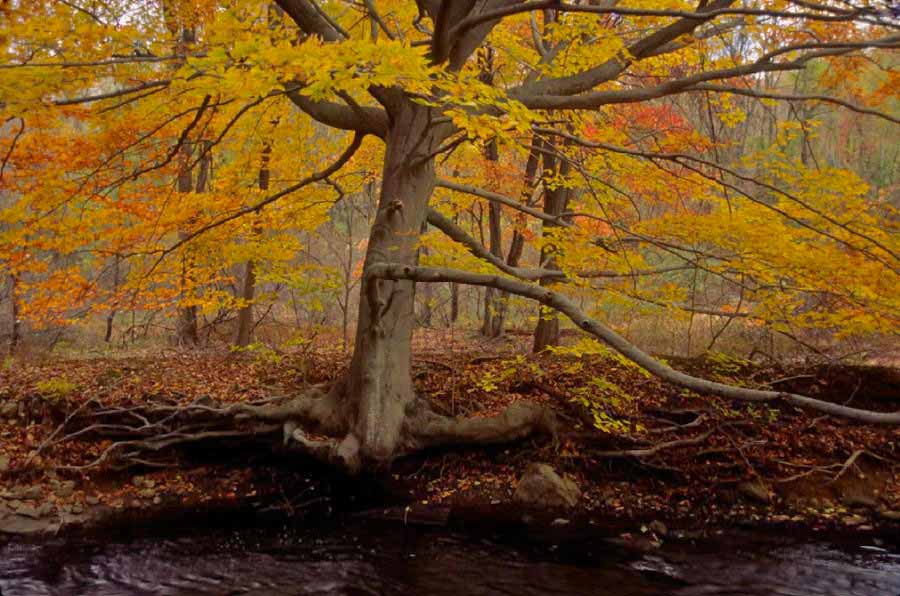 October 2006

A 9 mile loop between Tarrytown and Sleepy Hollow on Halloween

The day was dark and the autumn colors none too bright. I followed the paths along the brooks, going out along Gory, coming back by way of Sleepy Hollow where the rumbling cascades made the first discernible noise of the day as the air was damp and still. I passed a Beech tree I had photographed before and did so again. It is like adding snapshots to a family album.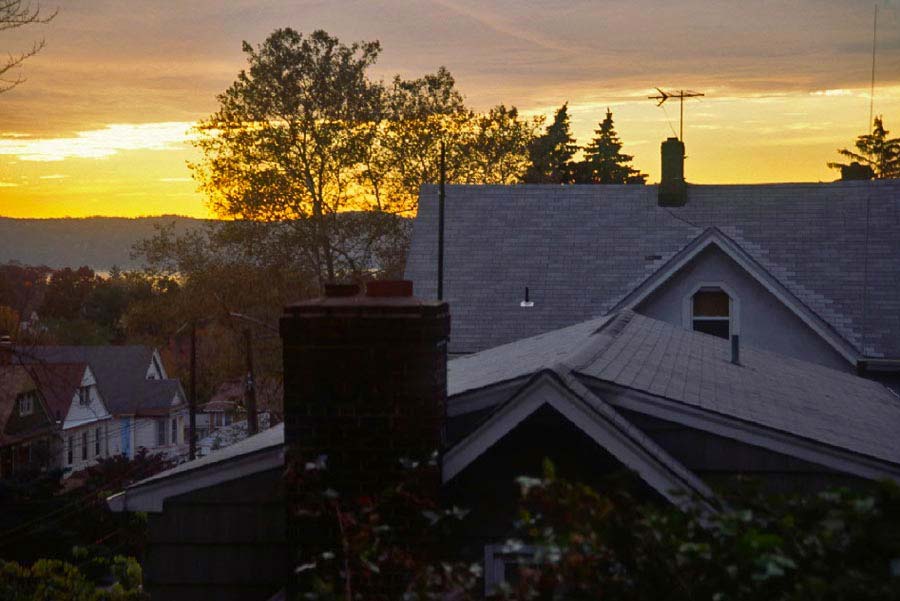 October 2006

A ramble in Tarrytown

The towns of the Hudson Valley have always had an appeal to me beyond any rationalization I can make. I don't know why or if this feeling has any substance beyond some Romantic notions but it has created a great yearning for something I am missing. All I do know is I have always felt at home here, more so than where I have lived most of my life.
June 2006

A ramble about Croton Point

The sky rumbles as a distant storm passes. Those who do not rush back to the safety of their cars are met with glorious sights.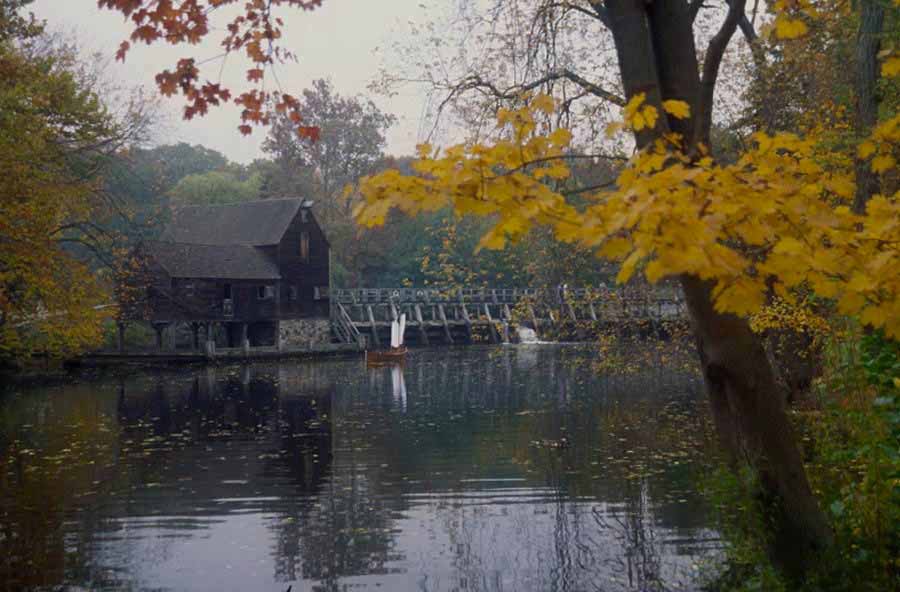 October 2004

A 12 mile walk between Tarrytown and Achville and back down to Philipse Manor

Halloween festivities at the old Philipse Manor diverted me from my trek out to Sleepy Hollow. While tourists amused themselves with costumed guides I wandered off to the pens just as the sheep figured out how to escape. They had scurried across my feet so quickly I barely had time to compose a shot. But it was on the far bank of the river that I found the view I wanted where a small make shift boat drifted on the nearly still waters. With not a sound in the air I drifted to another time.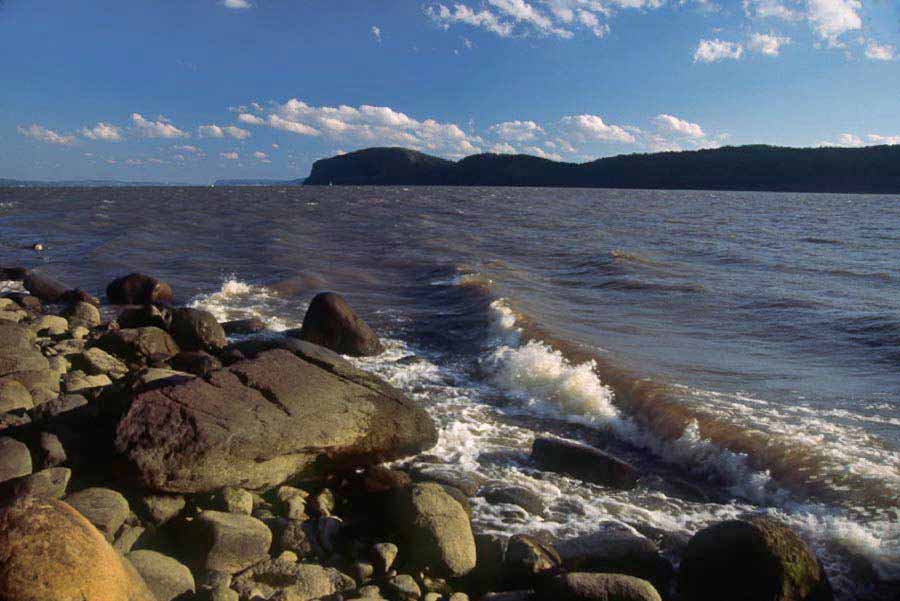 June 2004

A 6 mile ramble about Croton Point

The sun was intense today but a light breeze just kept it bearable. I scurried along the narrow beach wading in and out of the shallow water to dodge the many trees hanging down from the eroding bluffs. I'm not sure if I'm running away or desperately searching for something, but a heavy weight is tugging on me. Whatever it is I have not arrived at where I need to be.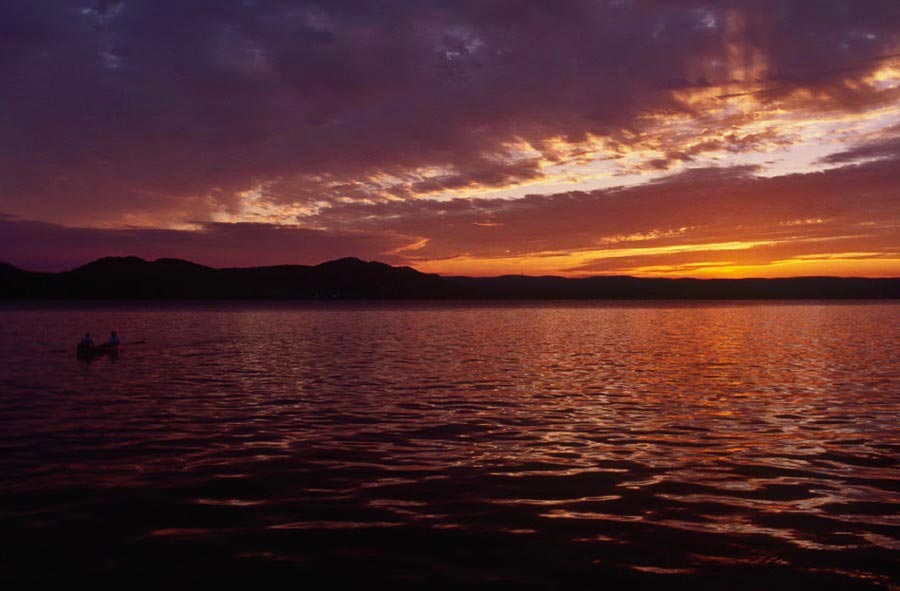 June 2002

A ramble about Croton Point

A thunderstorm came and went quickly but it was enough to rid the area of most of its visitors. By the time the sun set the river turned placid and red, its surface barely broken by a lone canoe.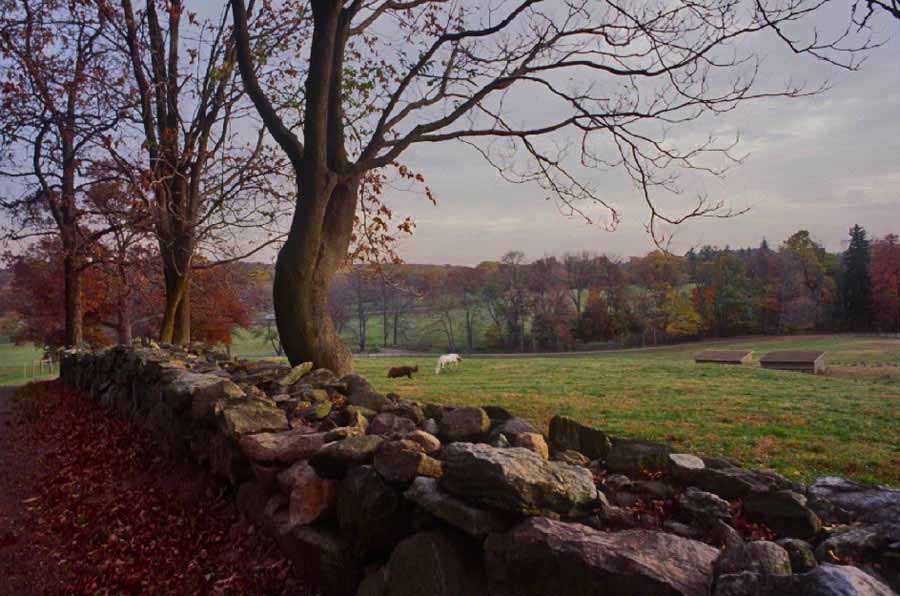 November 2001

An 11 mile loop between Tarrytown and the Pocantico Hills

What is it about the pastoral landscape that I find so appealing? Perhaps it is because it is a dance of sorts between the forces of nature and the hand of man. An order is imposed on the terrain to create the landscape that exists in our minds, but one it can never fully control. The moment the imposition of our will ceases, pastoral begins its slow trek back to wilderness. As darkness falls this evening the deer come out to graze side by side with the cows.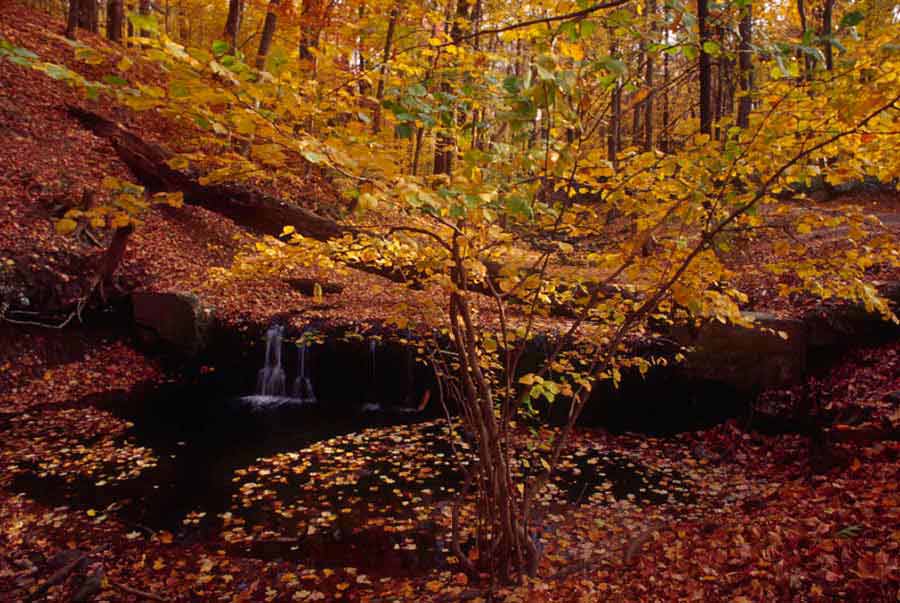 November 2000

A 10 mile walk from Phillipse Manor to Archville and back down to Tarrytown

In the gentle narrow little valleys where the leaves float down and gather it is difficult to tell where the tree branches end and the forest floor begins. Green can be wearisome in summer but in the right season it fetches a price. All the world is of yellow and red.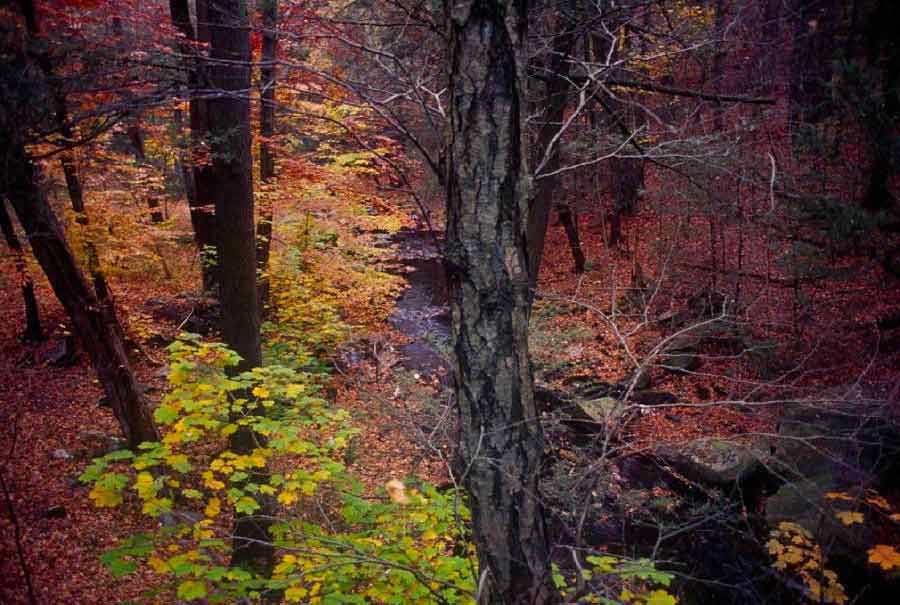 October 2000

A loop between Tarrytown and Sleepy Hollow

The woods in the fall often reminded me of the near abstract paintings of fireworks by Whistler, where random sparkles of gold drift across a darkened night sky.
October 2000

A 7 mile walk from Dobbs Ferry to Tarrytown

Autumn is not just for the woods. When you live in a place where the seasons are strong you know it.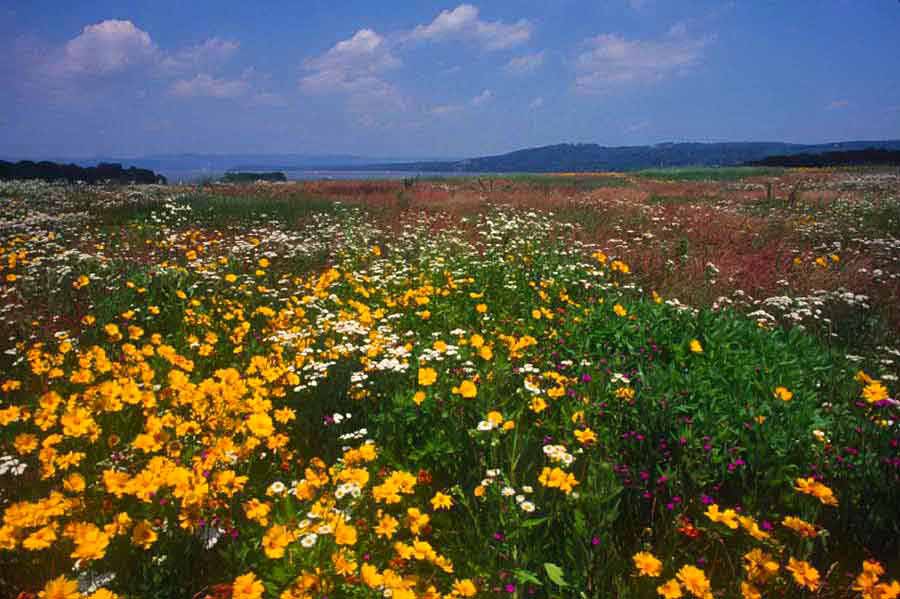 June 2000

A ramble about Croton Point

The landfill at Croton Point is finally capped and planted with wildflowers. It is a sight to see. I take a breath and life fills me.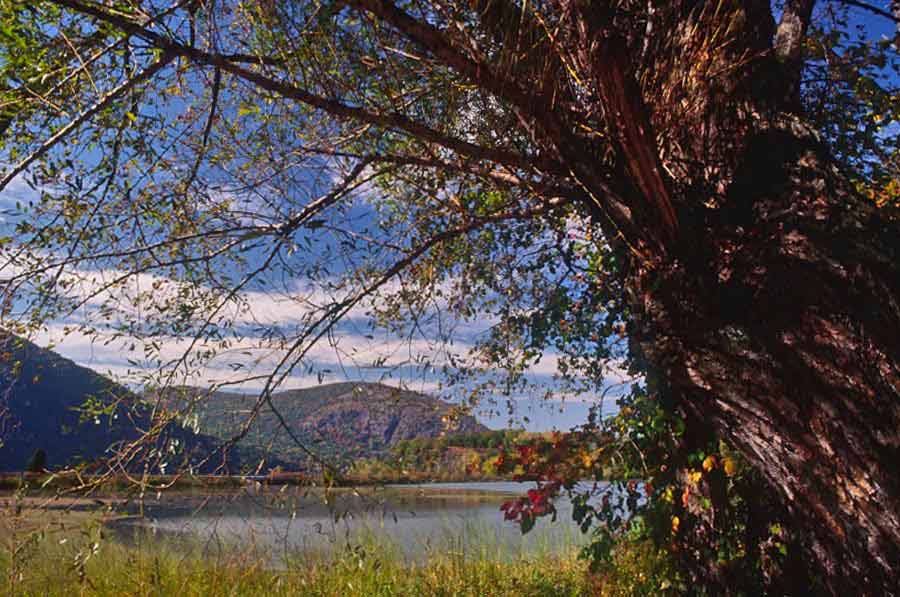 October 1999

A 7 mile loop between Cold Spring and Mt. Taurus

On the way to the mountains I am sidetracked by willows hugging a little lagoon near the riverbank. There is not much in the way of drama here but the swirls in the tree bark and their spindly branches deny any sense of the calm.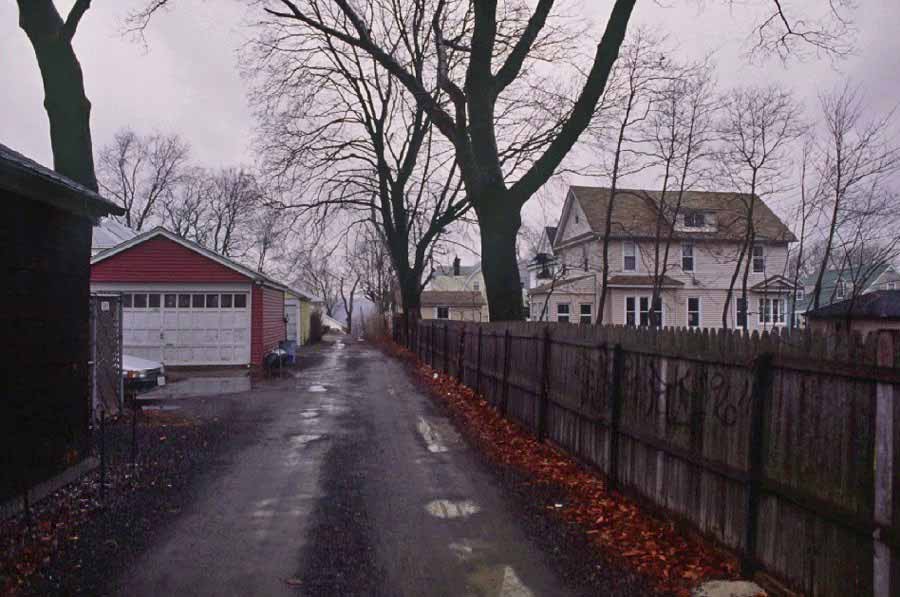 February 1999

A walk from Yonkers to Dobbs Ferry

It is a dark and very dank day. Like the birds pecking through spent flower beds and in the tough winter grass I too am gleaning.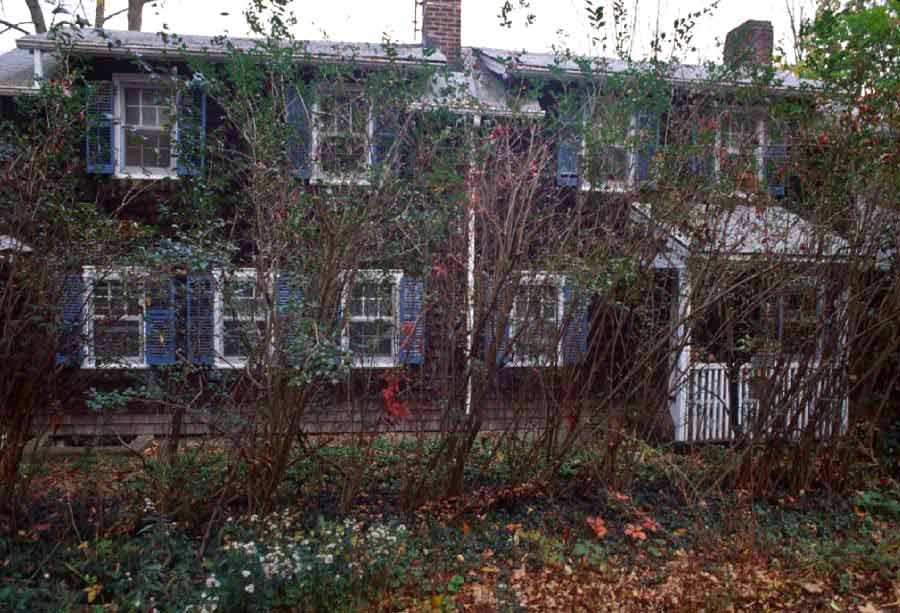 October 1998

An 8 mile walk from Osining to Chappaqua

I can hardly believe I arrived at my destination without a map. Of course I had studied one before leaving but it did not take long for me to forget my route. Traveling by intuition as much as faulty memory I made all the right turns on untested roads. Some would call this dumb luck.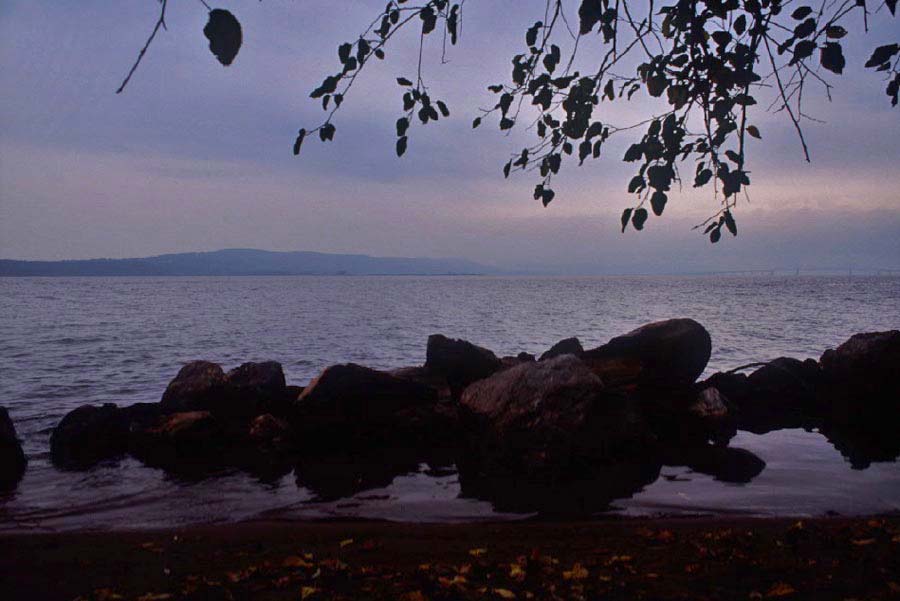 September 1998

A ramble in Dobbs Ferry

The morning was dark and drizzly but I needed to be outside. At a little beach near the end of Wickers Creek I sat down for a respite from my own footsteps. Ducks appeared from around the bend and paddled past me on my rocky seat at arms length away. It was as if I was nothing more than another piece of the landscape.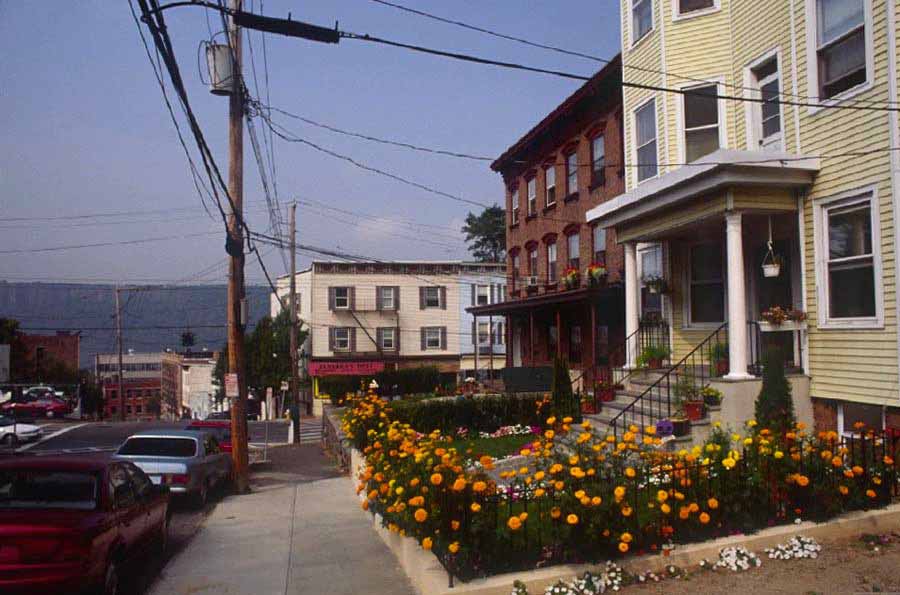 September 1998

A 5 mile loop between Dobbs Ferry and Hastings on Hudson

Industry has not been a stranger to this valley yet I have often viewed it as something apart from the grand Victorians and simple workers homes that sprung up from it. As a new era of townhouses and condos emerge the older connections seem ever more clear. I have to be careful not to sanitize my images to conform to some aesthetic.
August 1998

A ramble about Rockwood Hall

The day was nearly over when I reached the Hudson. I could feel the end of summer approaching and the invisible currents beneath the river pulling at my soul. Nothing I could say or do would make a difference. The tides took hold and the fiery sky marked the end of many things.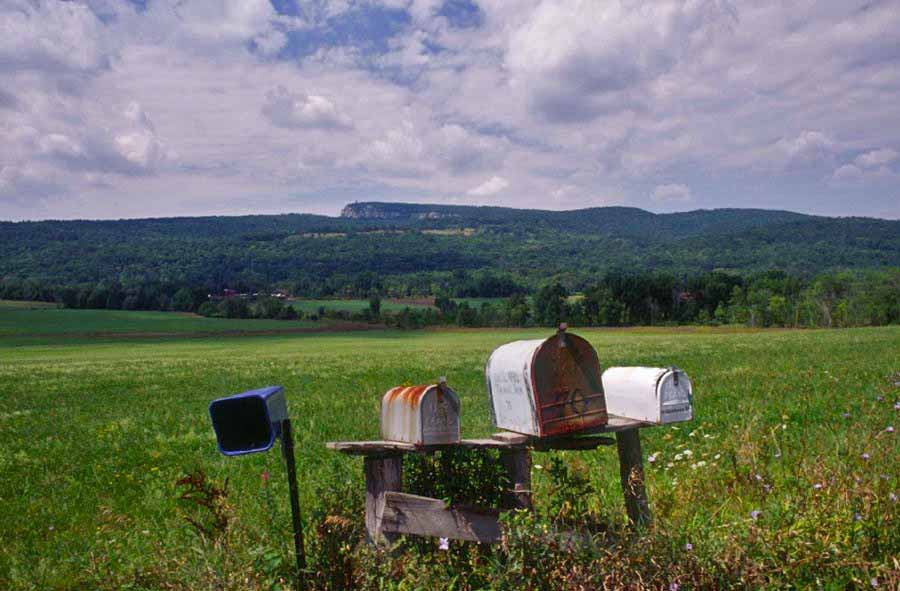 August 1998

A short walk in Butterville

Most of the farmland I remember from childhood is now buried beneath homes, malls, and highways. To see open land set against the mountains has now become a treat even if it is no more than a simple field of grass. I don't think I'm becoming nostalgic as much as being reminded of the things I have always been attracted to.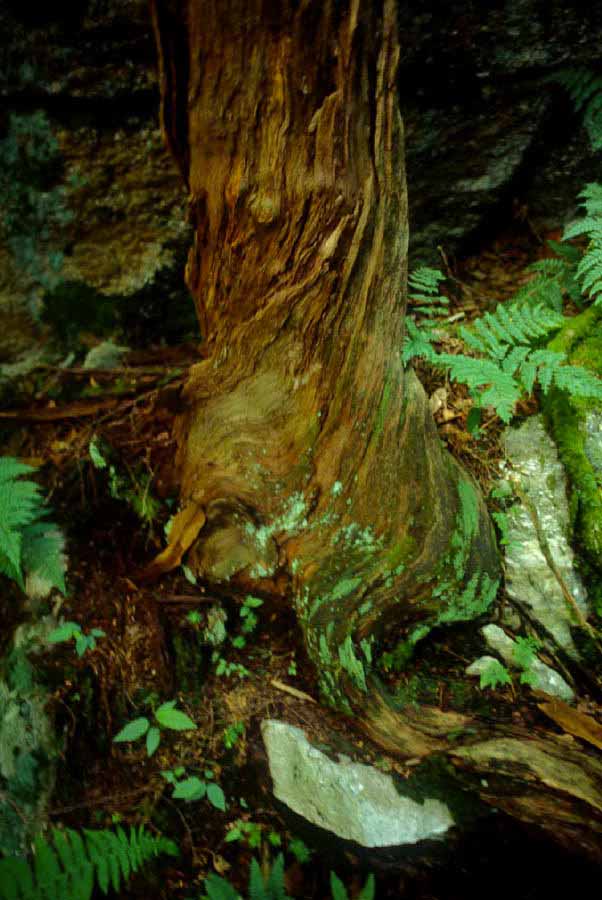 August 1998

An 8 mile walk to the Trapps of the Gunks

While searching off path for a spot to break for lunch I was more than pleasantly surprised to find one with air conditioning. As I maneuvered between two large boulders I was suddenly hit by a cold blast of air that shot out from a narrow crevasse. This area is known for its deep caves that retain ice year round, yet I wondered if this was truly a new discovery or if I was just one of many to have wandered this way.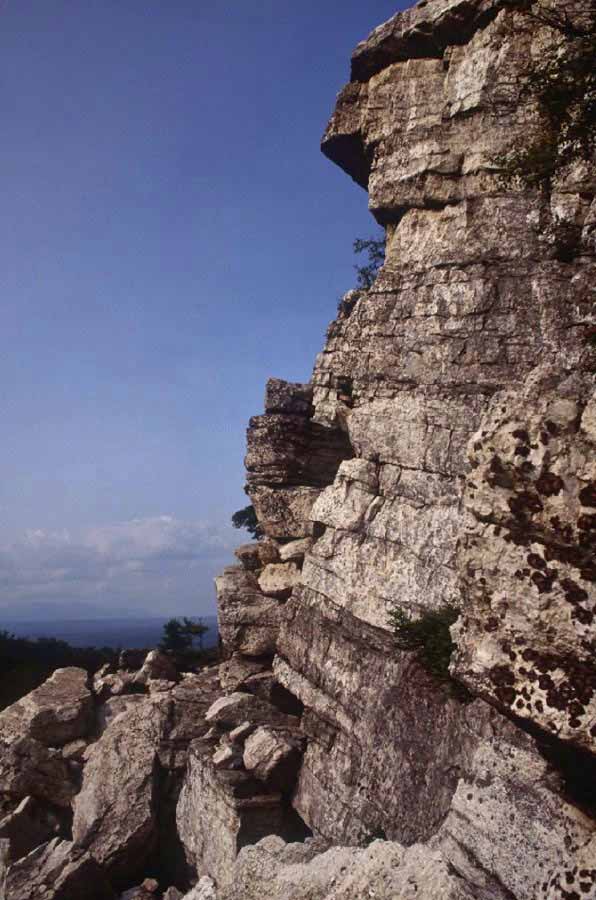 August 1998

A short ramble up and around Bonticou Crag from Spring Farm

After the rocky scramble up the side of the Crag I was not prepared for the wide open vista. While I knew there would be ledges and a view, the sudden expanse of glistening white limestone set against a bright blue sky was an unexpected jolt.
July 1998

A ramble about Peekskill

While sitting at the shore I spotted a muskrat casually swimming along the riverbank to or from its little hut. Having come up from the City my first reaction was Norwegian Rat before remembering that animals do actually exist in the wild.

---
Copyright 2009 Alan Petrulis All Rights Reserved