RAMBLES IN THE HUDSON VALLEY (page 1)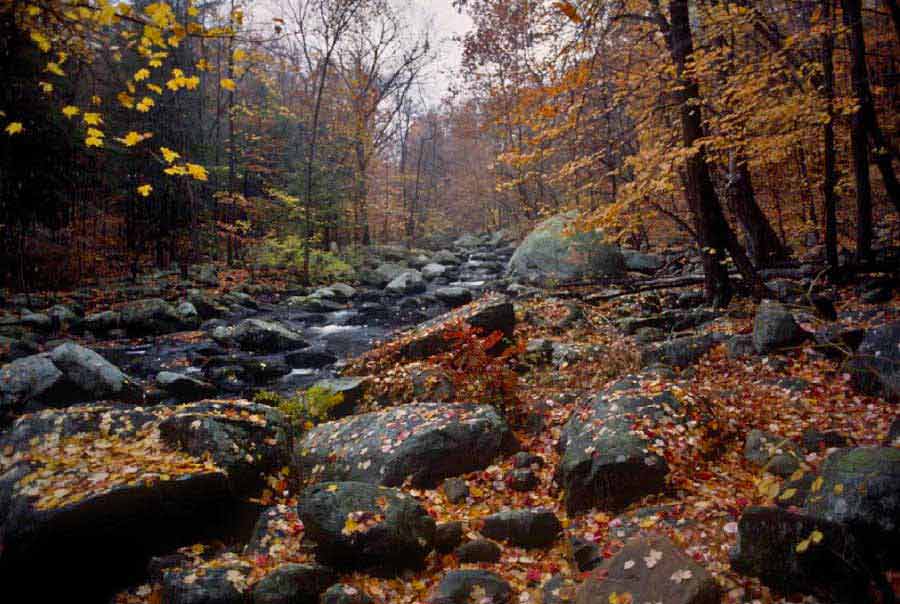 October 1986

An 11 mile walk around Bear Mountain via Popolopen Gorge and Doodletown

Whether looking down through the spindly trunks of young trees or standing midstream amidst the boulders, this gorge is a spot as close to Heaven as one can find. Despite this beauty the steepest place where the stream flows through has been named the Hell Hole. When one only thinks in terms of industrious practicality I suppose anyplace that cannot be exploited can be considered Hell.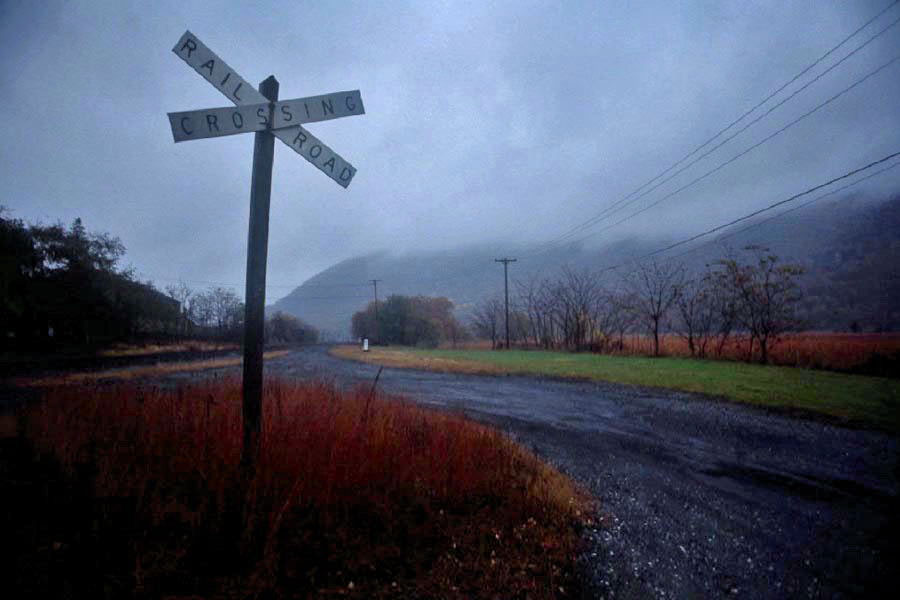 October 1986

A 6 mile ramble about and around Iona Island

It has been said that the sound of thunder here is caused by the goblins bowling up on the mountain tops. Today this explanation seemed plausible. While freight trains still rumble down this shore the railroad crossing seemed more out of a dream than anything based on reality.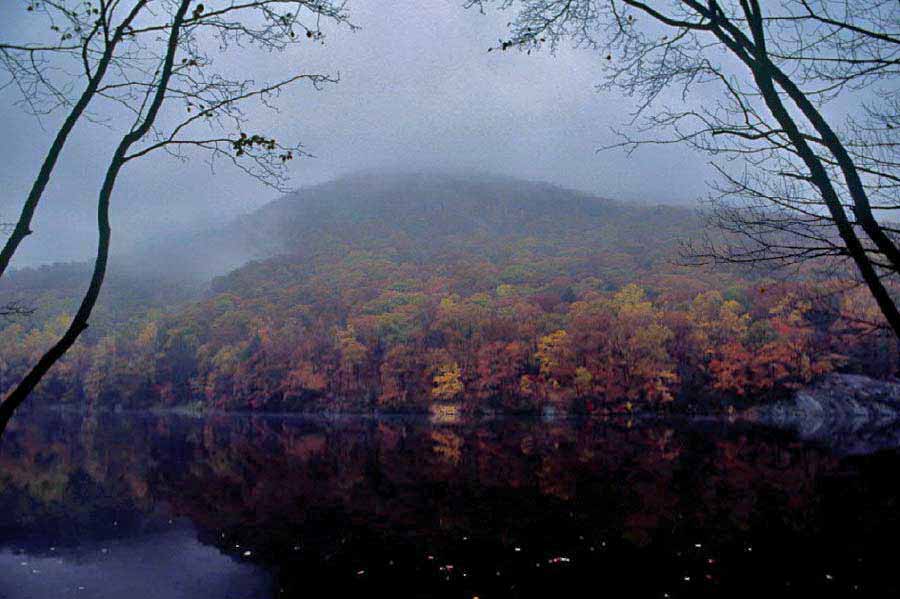 October 1986

A short ramble around Hessian Lake

It has been raining on and off and the multi colored leaves pasted to the dark trail floor look like a galaxy of stars stretching across the universe. As the floating mists grow thicker limiting visibility the space where I stand grows infinite.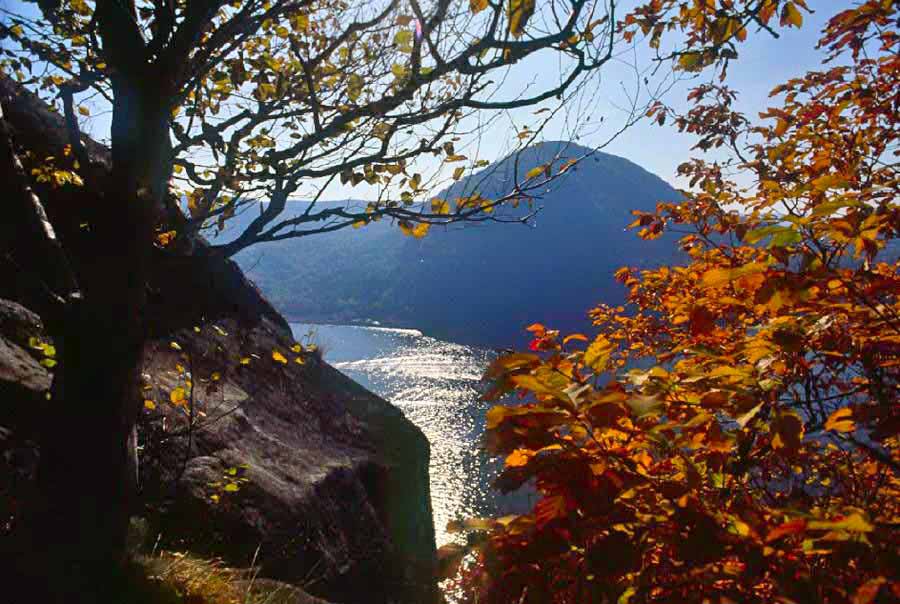 October 1986

A loop between Cold Spring and Mount Taurus

I passed no one on the trail today but still wandered off it to find a more quiet place to rest. I did not seek out a spot that would provide me with a great composition but sat where I felt safe and secluded. Slowly everything around me began to meld together into a single presence. Shall the words I hear be true?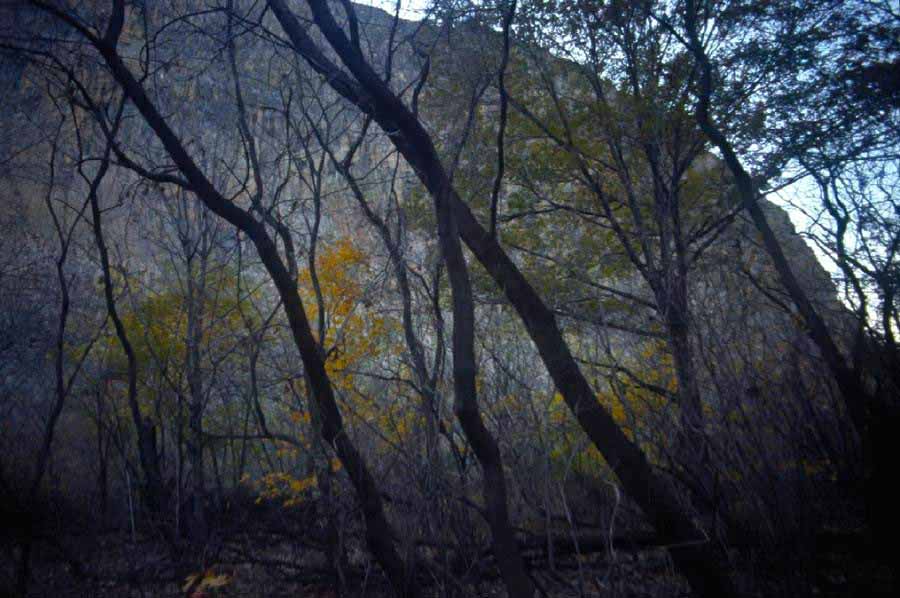 October 1986

An 11 mile loop between Nyack and Hook Mountain

Rusted scraps of metal littering the ground marked my arrival at the abandoned quarry. As a made my way through the trees a great rock face shot up toward the heavens. From across the river this is a scar so great that it is nothing less than a crime, but here, just feet away it appears as some gigantic natural wonder.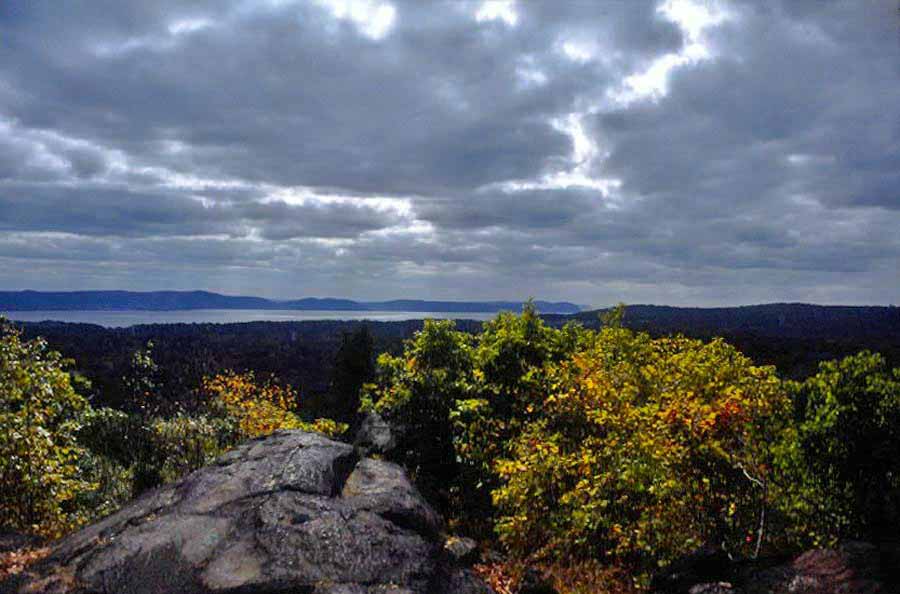 October 1986

A 9 mile walk from Montrose to Peekskill via Blue Mountain

On the wooded trail it was much too dark to shoot. But as the canopy gave way on the slope of Mount Spitzenburg the landscape below me suddenly began shimmering, its surface alive.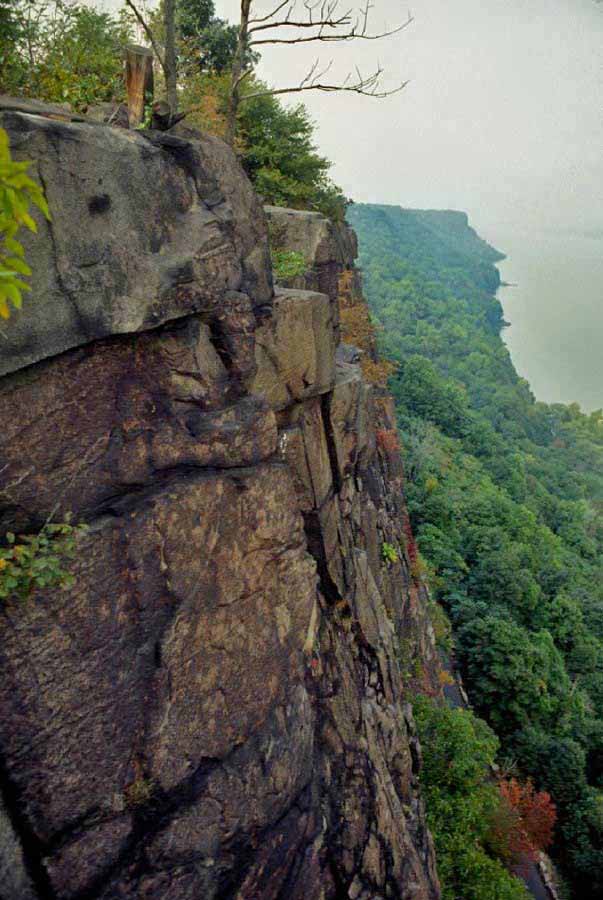 September 1986

A 7 mile loop along the Palisades between Alpine and Walker Hollow

Signs warn visitors to stay clear of the cliffs edge. I already know that falling from a five hundred foot cliff onto jagged boulders is more than dangerous. But if not for the view, what is the point of hiking atop a great height? Names a century old are carved into the rocks right on the precipice. There is a pull here that no mere sign can deter.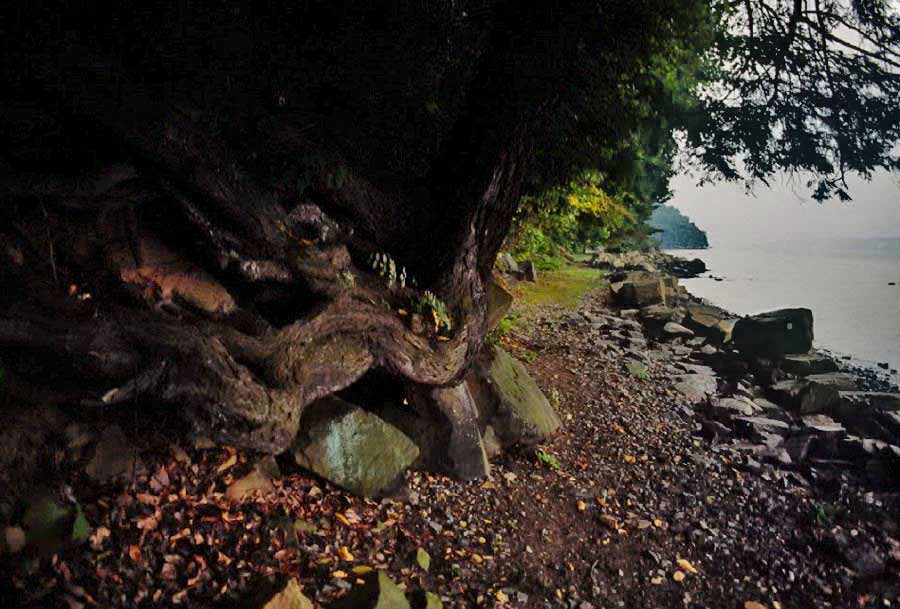 September 1986

A loop on the Palisades between Alpine and Huylar Landing

The path has turned intimate, it is mine alone and I feel connected to only what is within reach. I keep the city's skyline to my back so not to break the spell. It is the quietest of days and there is already a hint of autumn in the leaves.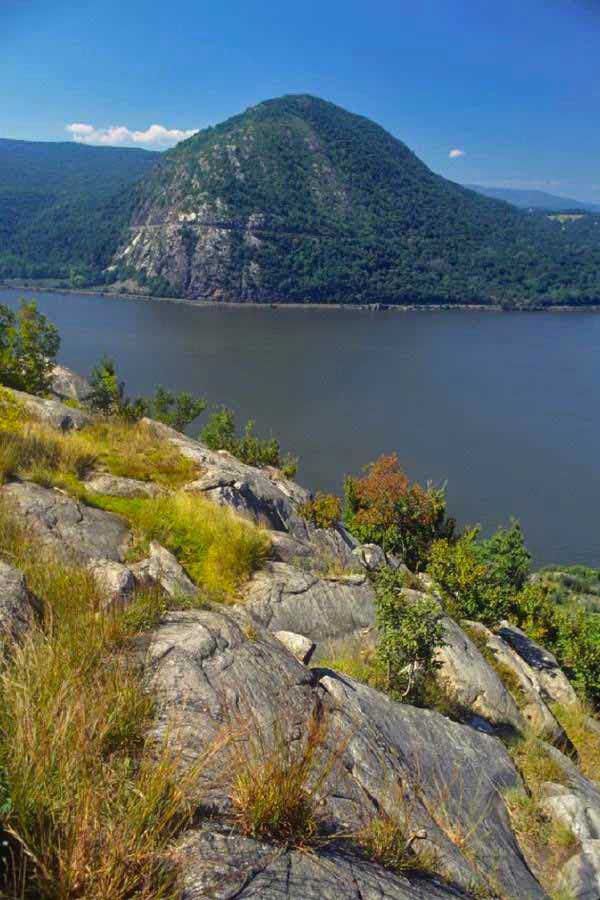 September 1986

A walk from Breakneck Ridge across Mt. Taurus to Cold Spring

Before ascending the heights of Breakneck Ridge I wandered about the low areas where it meets the river. Here I found a deer lying dead in the tall grass. It had been here awhile, its white bones now protruding through dry peeling skin. I wondered if it had been a victim of the railroad that ran only yards away. A horrible scenario ran through my head. The outdoors are more than scenery.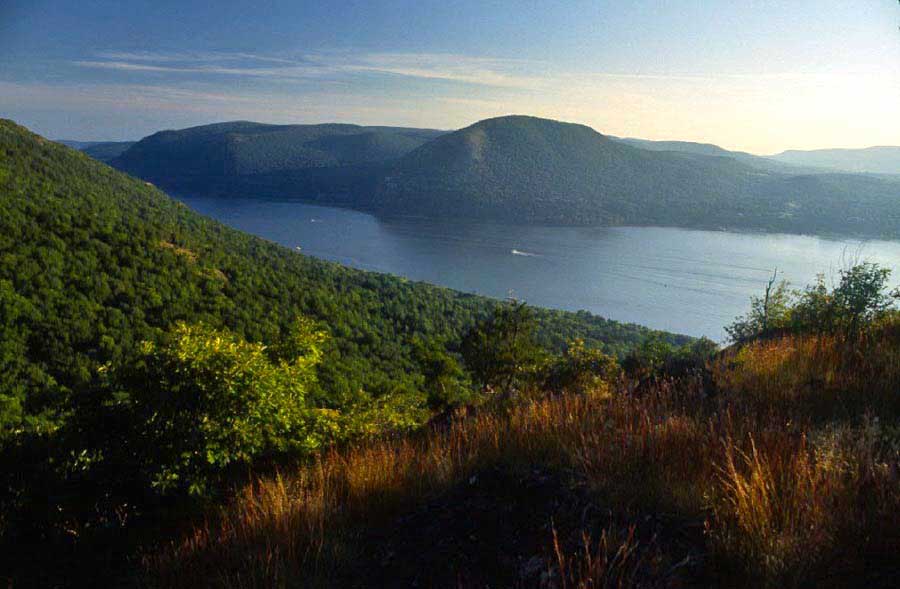 August 1986

A walk across Sugarloaf Mountain

I got lost on the back roads behind the mountains. Wherever my map showed a fork in the road I was confronted by three different choices. But there was no mistaking Sugarloaf Mountain in the distance. Its more exaggerated conical shape than that of the cake by the same name made it an easy target. On top I played with some wildly gnarled trees but the compositions looked forced. I came to realize that this place was not about drama but the quiet ending of a summer's day. Long blue shadows slid down off the mountains while white boats glided beneath them in silence.
August 1986

A 13 mile walk from Breakneck Ridge to Cold Spring via Sunset Hill

What is the primary ingredient to a good composition, the lay of the land or the way light falls on it? The views here are dramatic but they lay under the ordinary light of a summer afternoon. Perhaps I must judge my own preconceptions before judging a scene. Is not the light I stand under at this moment as valid as any other?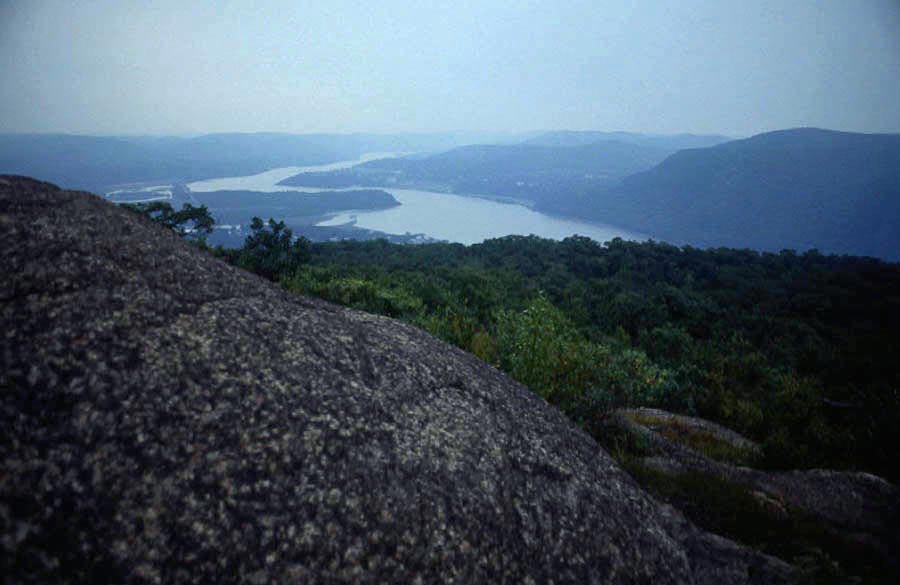 August 1986

An 8 mile loop between Cold Spring and Mt Taurus

When I reached the first granite ledge on my way up Mount Taurus I was awed by the view. Most of the climb was through forest and while the vantage points were widely intermittent they never disappointed. I took a break just short of the summit after having bushwhacked out onto a wide open area with a panoramic view. All was under a dark summer haze turning the landscape blue. As I stared out at the continence of Storm King across the river I noticed something was headed toward me. It was a Hawk riding the air currents over the Hudson. It was soon followed by another, then another until eight of them glided just feet over my head.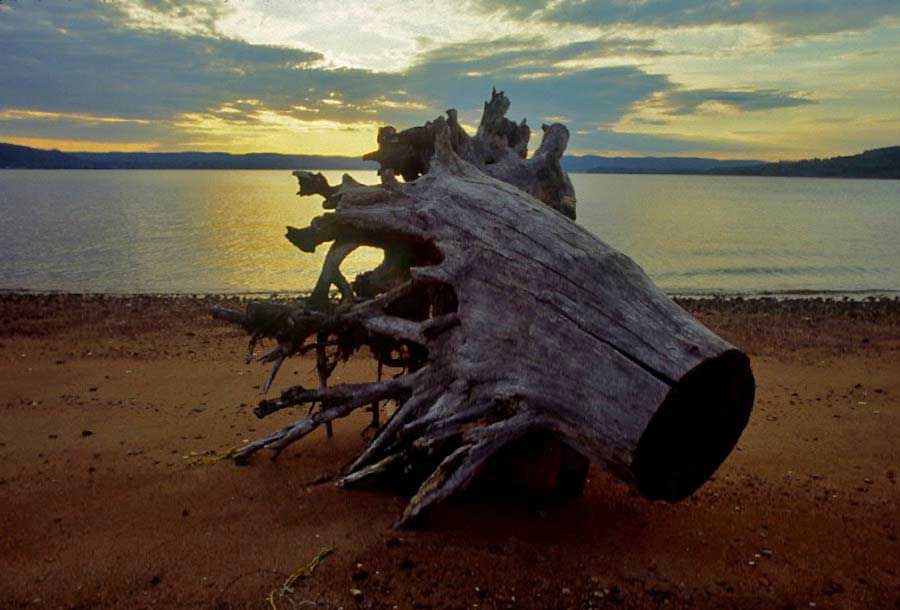 June 1986

A 20 mile walk from Montrose to Tellers Point and back to Croton on Hudson

For most of the day the bright light turned green to grey, but as evening began to fall a more varied if soft pallet emerged.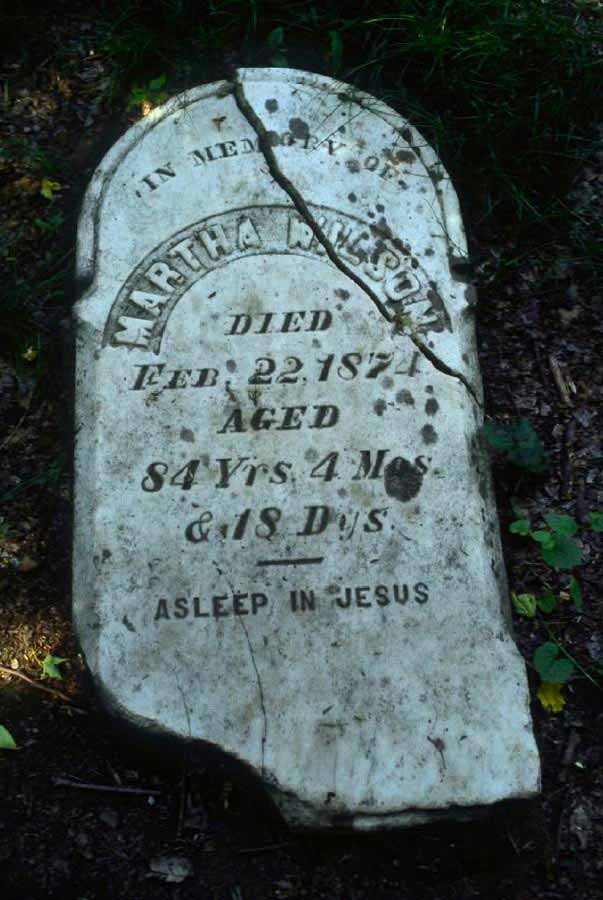 May 1986

A 12 mile walk from Rockland Lake to Nyack

The ridge that sidetracked me from my planned route provided none of the views that I had hoped to find. But within this dense green woods lay a forgotten gravestone of a woman born only a few years after the birth of the United States. I often encounter remnants of old homes or of the Valley's industrial past, but this is a far more personal reminder of the lives actually lived here.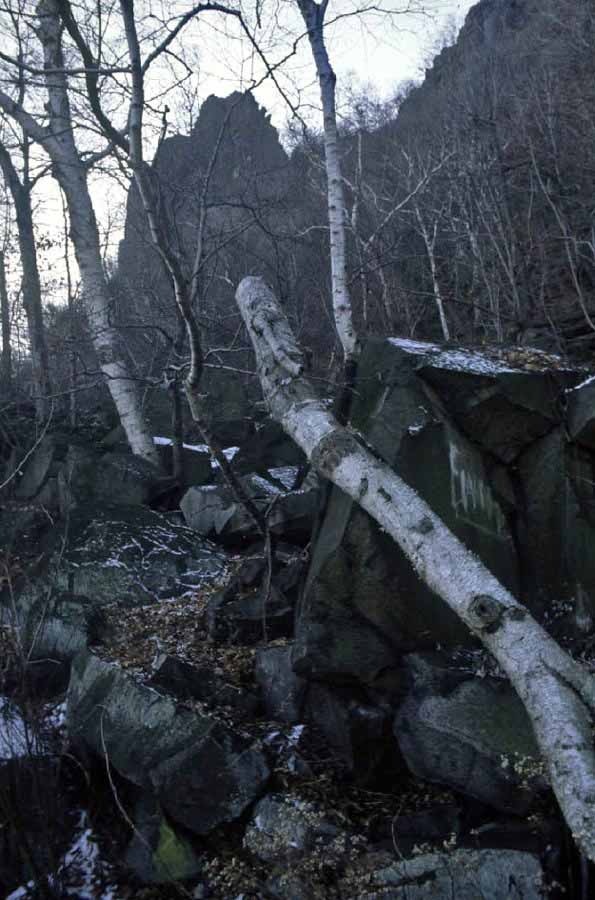 March 1986

A 14 mile walk from Alpine to Sparkill via the Palisades

Are the Palisades reminiscent of Gothic churches because of their jagged spires, or is it because the stone blocks of many churches were quarried from these cliffs?
February 1986

A ramble in North Tarrytown

It is more than difficult to believe that there once existed a time when views could be had all the way down to the Atlantic from here. The days when a stone wall was all that broke the endless fields is long gone and I glean small peeks where I can.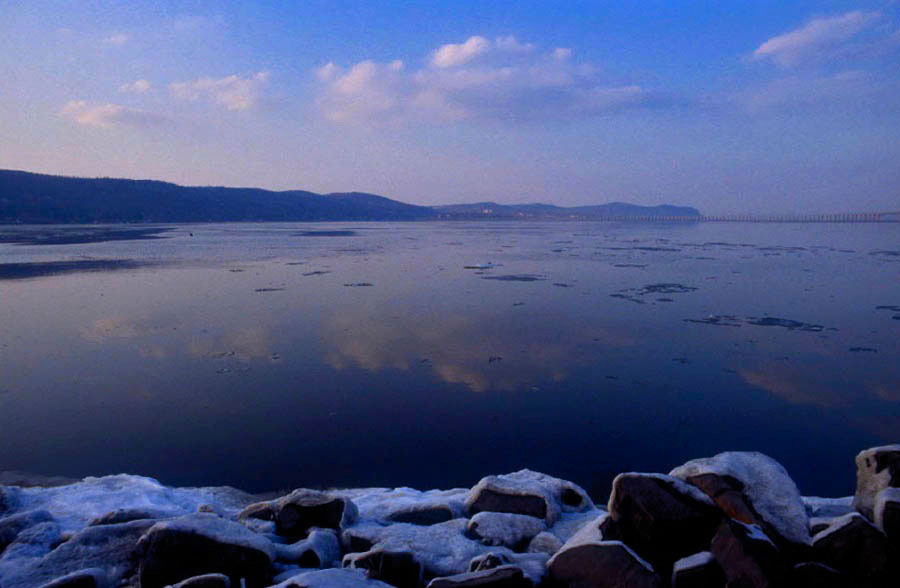 January 1986

A ramble in Piermont

As I neared the river's edge a soft haunting song arose as if in the company of whales. It was the sound of large sheets of ice shifting with the river tide. I walked out to the end of the pier and listened far from the company of men.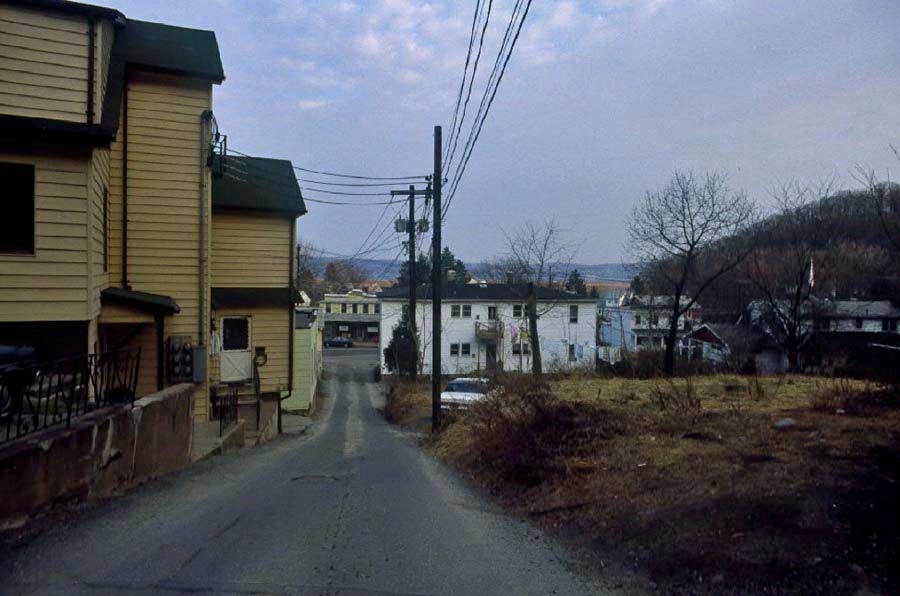 January 1986

A 9 mile walk from Fort Lee to Piermont and on to Sparkill

The day's dim light reinforced my notions of January. The landscape seemed tired and already weary of winter.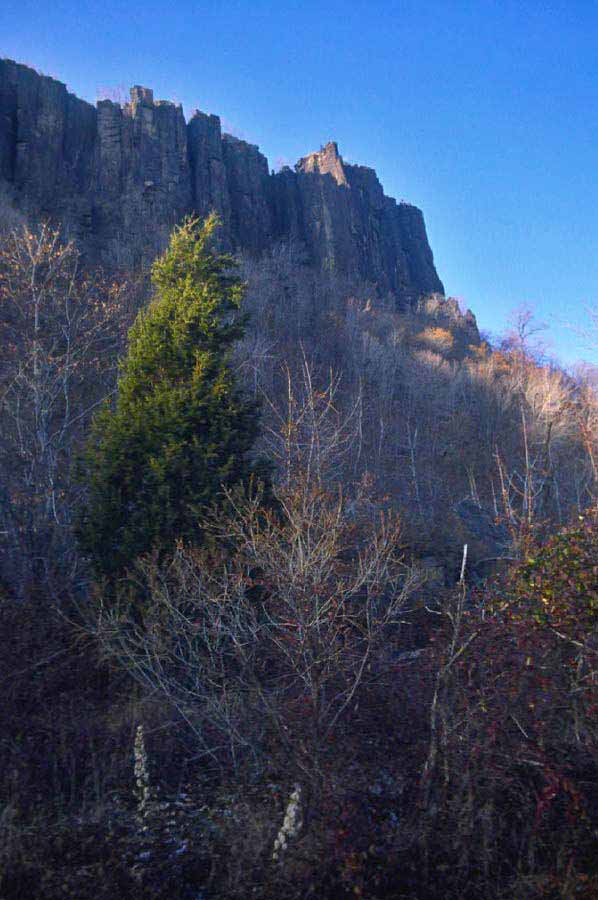 December 1985

A 6 mile walk from Alpine to the Lamont Observatory

As the sun heads westward the shore trail beneath the cliffs becomes dominated by shadow well before sunset. In the summer this can be a godsend but on a winter day already cold it reenforces its numbing qualities if only in one's mind. My canteen not prone to illusions was freezing up solid and it became difficult to drink. The treetops glistened for a few moments under the shifting sun distracting me from my thirst.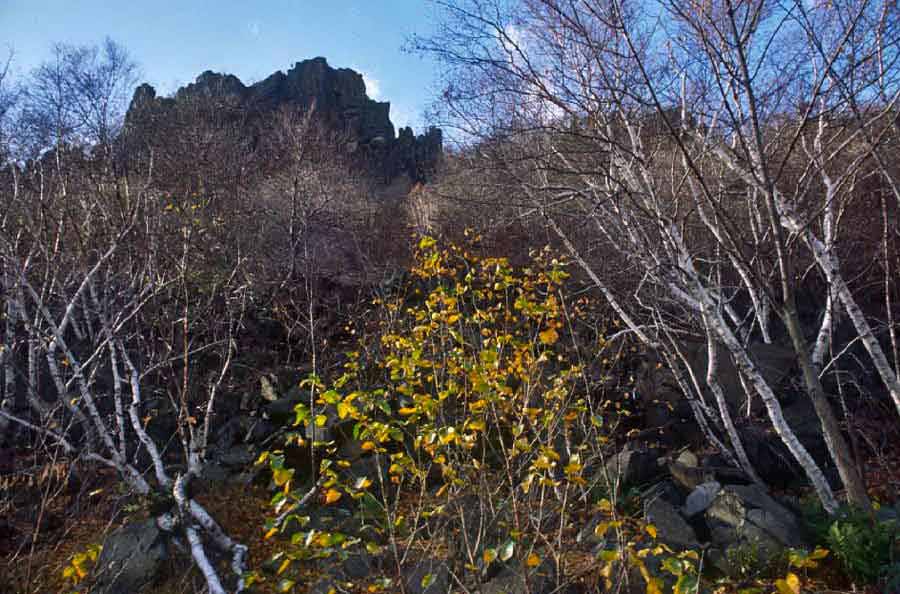 November 1985

A walk along the Hudson beneath the Palisades

Even in winter the narrow strip of vegetation that grows between the riverbank and the foot of the Palisades renders this long expansive cliff invisible to the eye most of the time. When it does peek out it is a great gift.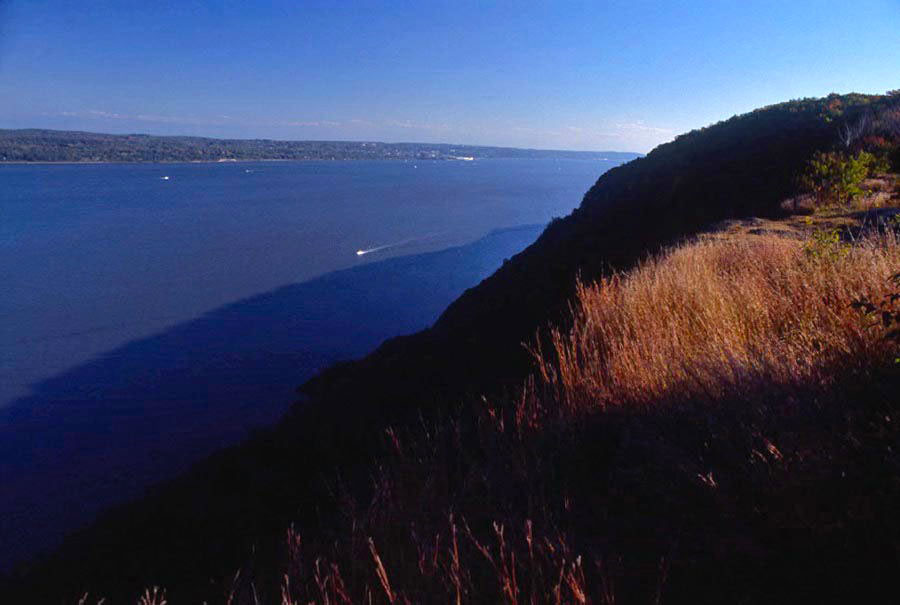 November 1985

A 10 mile loop between Nyack and Hook Mountain

As I arrived at the top of Hook Mountain I was greeted by a dozen or so bird watchers. They had been in place for awhile and all seemed a bit disappointed about not spotting anything out of the ordinary. Leaving the birders behind I headed for the next rise, which was not at all open, forcing me to bushwhack for a view. As I pushed apart the brush at the cliffs edge I could see sailboats fluttering in the water far below adding their own sparkle to that of the river. Two eagles hovered above them, suspended on the air current just yards away.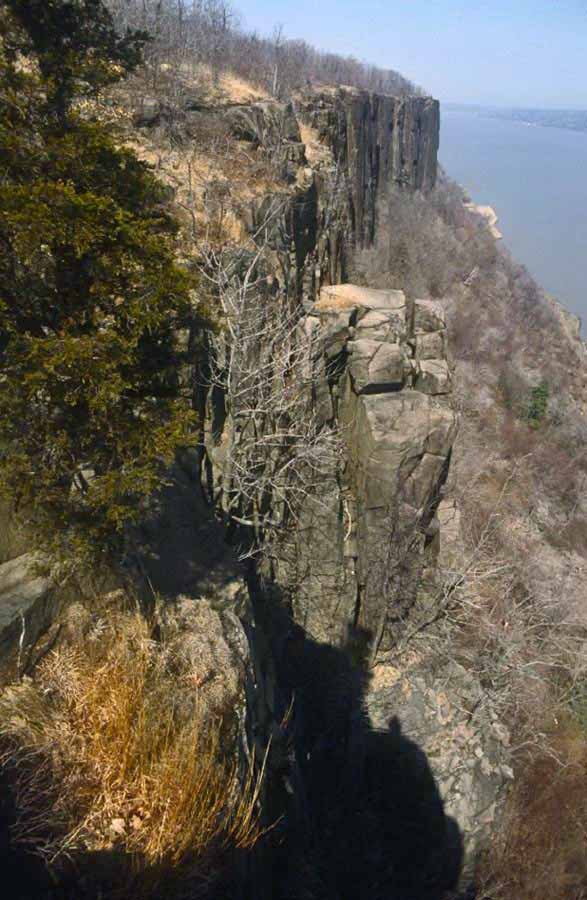 April 1985

A 15 mile loop between Fort Lee and Green Lake on the Palisades

The Palisades along the Hudson can be a formidable presence. When walking here I need to decide beforehand on whether the shore path will be taken or the trail atop its cliff face as only a handful of opportunities exist to move from one to the other. But today with my eye carefully roving for good compositions some unusual features in a cliffside caught my attention. As I began to climb up through the brush my suspicions proved right, it was an old abandoned and unmarked road accessing the top of the cliff. Small carts may have once used it with great care but no auto had ever passed this way.
Postscript: Though not on my map, and by the sight of it not often if ever used, this old track is not unknown. It urns out to be the old Lambier Road once used by farmers to bring their produce down to the landing on the riverbank.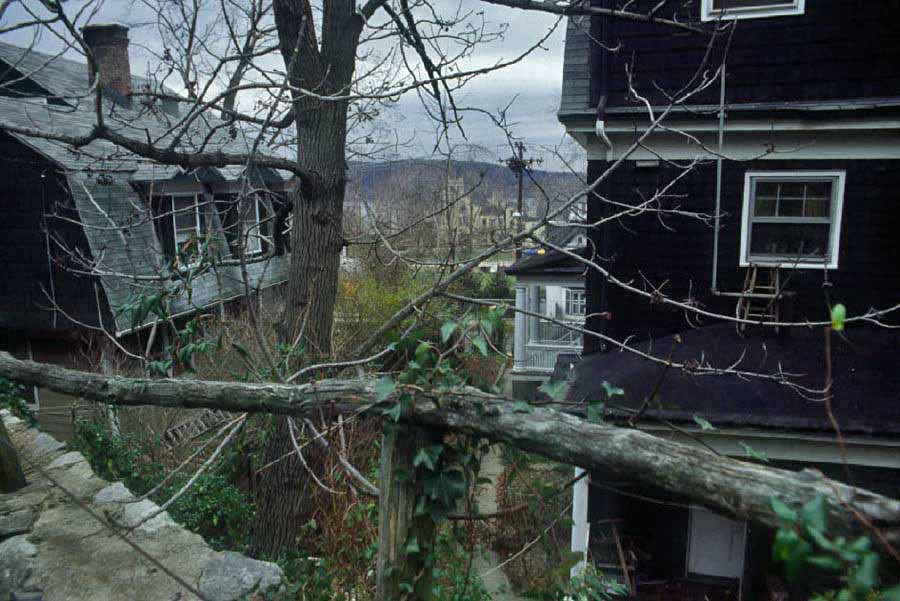 December 1984

A walk from Hastings to Irvington

The trail atop the Croton Aqueduct is not about the grand vistas I had hoped to find. Even in winter with leaves fallen to the ground the tangle of branches and brush block much from view. No, this trail is about peeks.
June 1984

A 16 mile walk from Glenwood to North Tarrytown

At Lyndhurst I was pulled from my route atop the Croton Aqueduct by the sight of an old palm house. Without its glass panes this tall spindly structure looked so frail I was amazed it was standing at all. With the last of its paint flaking off it still managed to flow with a grace that any spider would be envious of.
Postscript: Renovations were begun on this structure in 1988.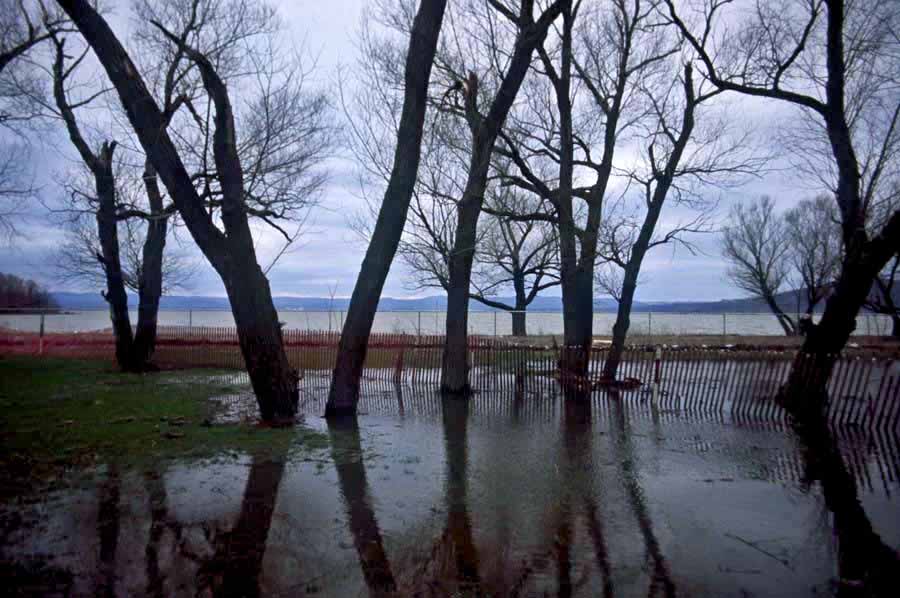 April 1984

A 12 mile walk from Ossining to Croton Point via Quaker Bridge

After spraining my ankle while bushwhacking in Croton Gorge I was relieved to reach the railroad station. I was in a fair amount of pain as I watched a light rain begin to fall but I couldn't sit still. A voice was calling that pulled me further out onto Croton Point causing me to forsake my easy ride home. It was difficult to maneuver near the river's edge as the rain puddles grew into small lakes and the expansive lawn began to look like tidal grass. Few good pictures came my way but I learned that my walks were more than about pleasure, exercise, or even acquiring photographs.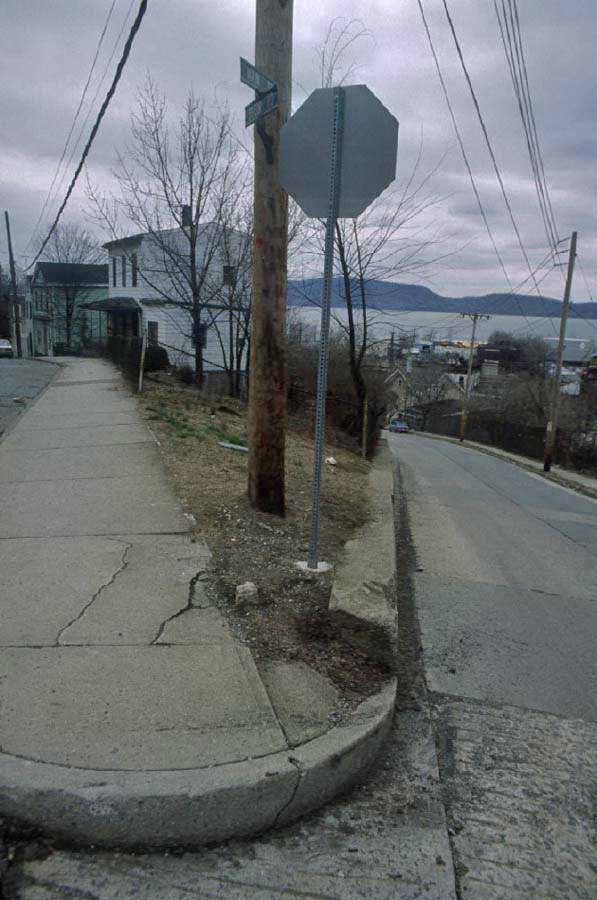 April 1984

A ramble about Ossining

The communities along the Hudson all seem to come in two parts. One oriented toward commerce on the plain along the riverbank to better meet boat and rail, and the other where people live high on up. I found little that can be characterized as an actual bluff in this area but it is still amazing how fast the streets can rise.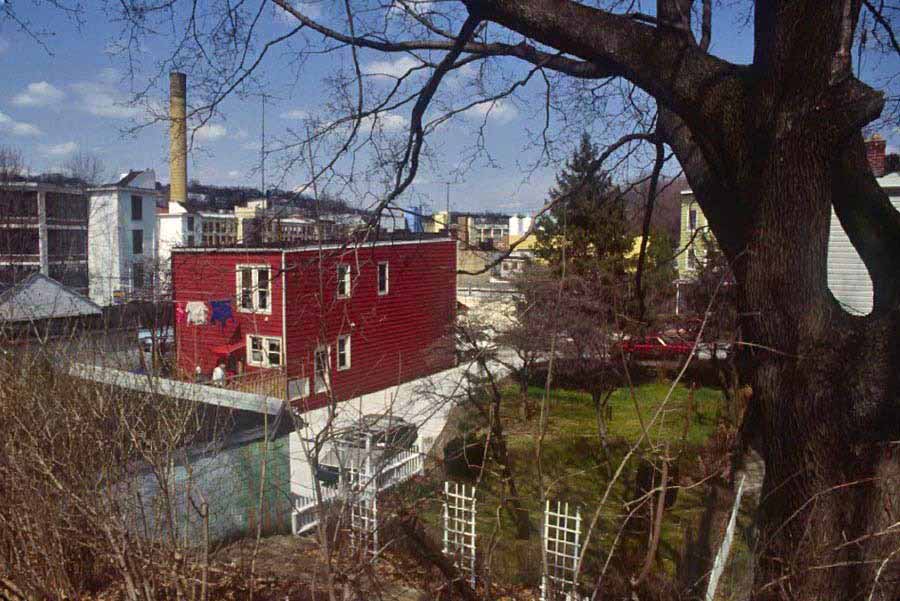 April 1984

A walk over the hills of Yonkers

Hills, factories and old homes, it's hard to beat this combination.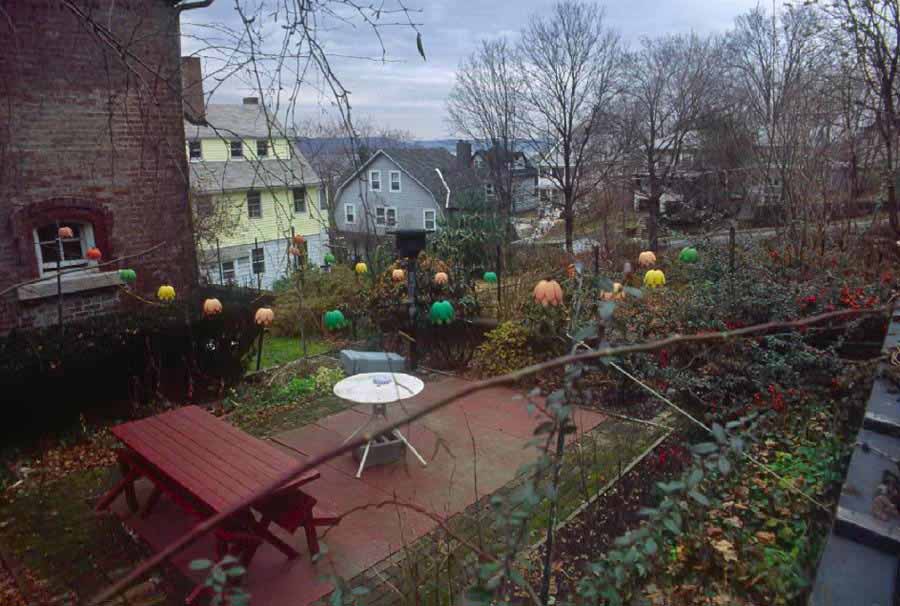 December 1983

A 12 mile walk between Glenwood and Tarrytown along the Croton Aqueduct

This old right-of-way seems so out of place it is as if it had been hidden in the deep fold of some map until forgotten. While older than most of the structures that surround it, it takes the semblance of an interloper that has snaked its way through the riverside communities. It is a strange mix of views. Looking down into people's back yards you see the things they have tried to keep private, away from public view. It is an intimate landscape with distinct voyeuristic overtones. Yet here and there a view will open up between a few houses and the Hudson will display itself in romantic splendor.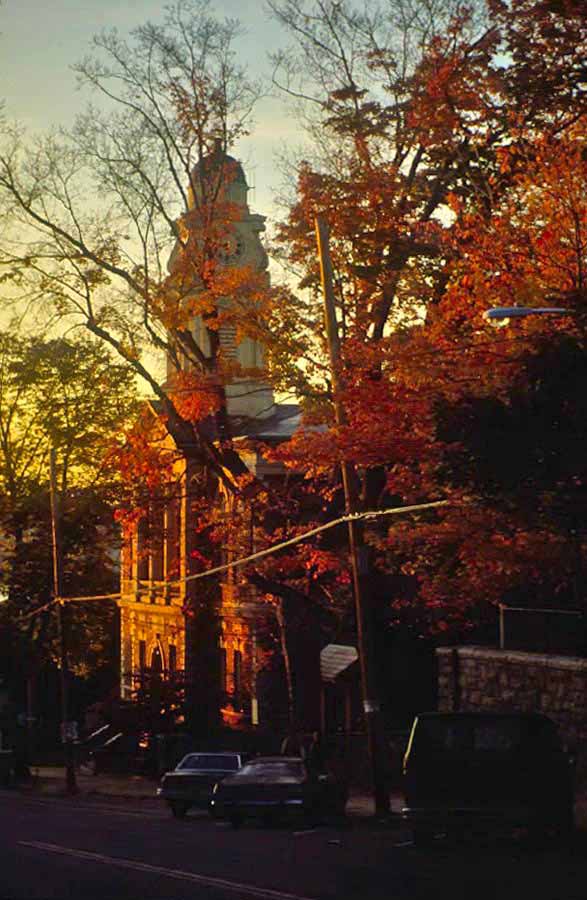 October 1983

A 9 mile walk from Glenwood north to Irvington along the Croton Aqueduct

Intrigued by the trail atop the Croton Aqueduct I returned to it today and pushed myself beyond my previous stopping point. Even so as the light grew dim I seemed far from exhausting its promise. At Irvington, where I turned off from the trail the rooftops were aglow in the setting sun. The effect was a perfect ending for this fall day but I could barely line up a shot to capture it.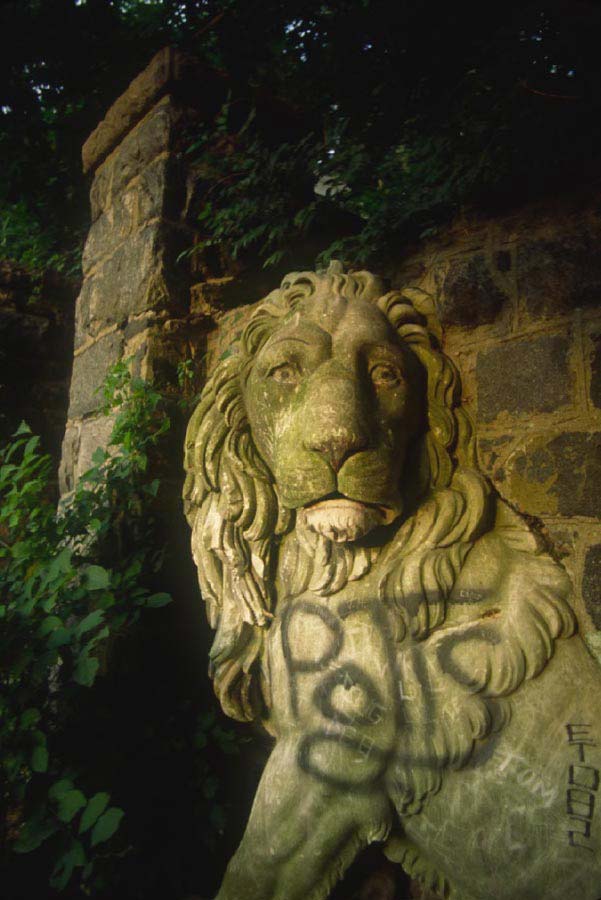 September 1983

A walk from Glenwood to Greystone

While pressing the boundaries of a local park I stumbled upon an abandoned gatehouse to an old estate. It was from there that I made a more important discovery, a pathway stretching out as far as I could see in both directions. It was the right of way atop the Old Croton Aqueduct. I followed it out as far as daylight allowed far short of what it promised.

---
Copyright 2009 Alan Petrulis All Rights Reserved