RAMBLES IN THE HUDSON VALLEY (page 2)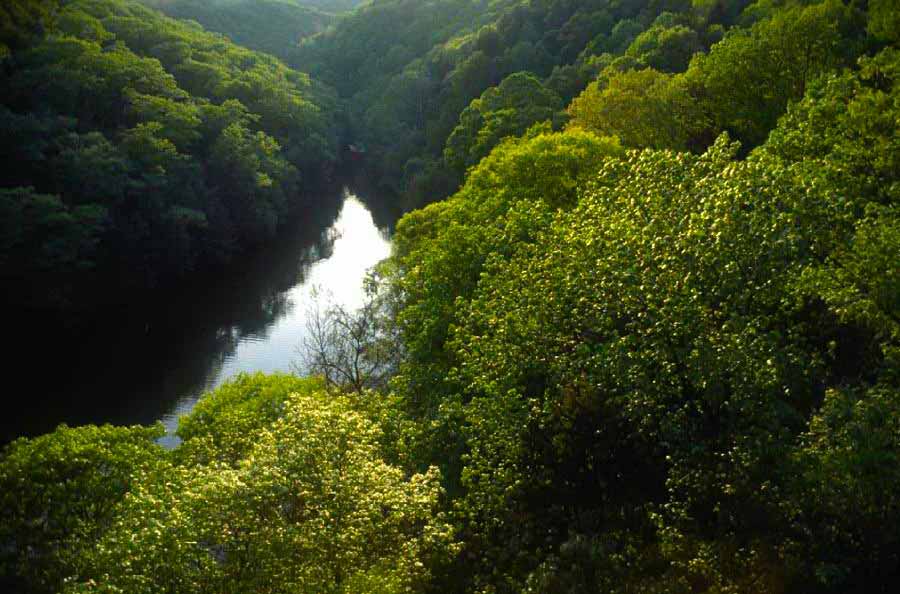 May 1987

A short walk along Popolopen Brook

This stream has many faces depending on the vantage point. I have seen it rushing over boulders with a roar and barely offering a whisper where its pools turn to mirrors. Looking down into the gorge today it lets me know that a mystery is still contained beneath its waters.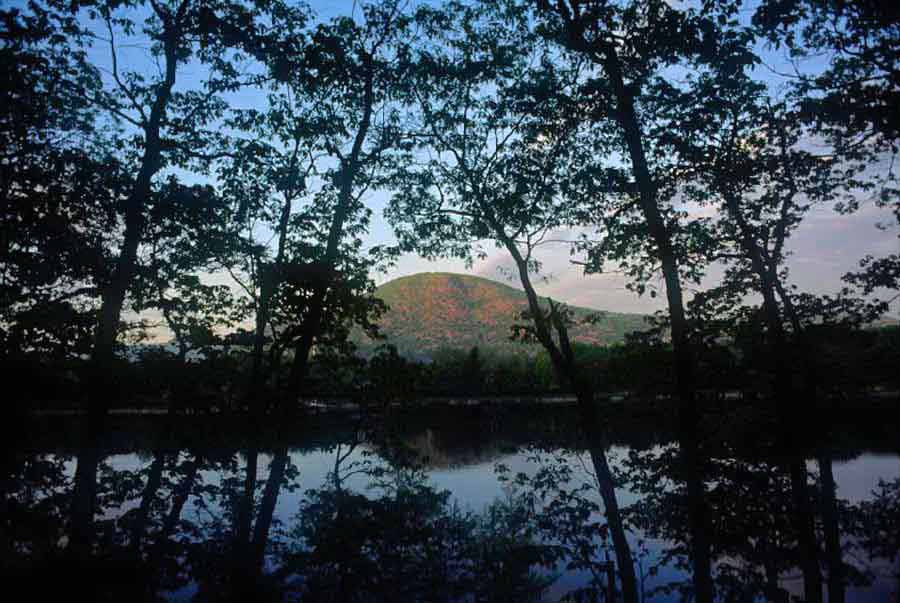 May 1987

A 6 mile walk from Hessian Lake to Iona Island

The evening sun has lit the caps of the mountains so brightly their warm glow could be mistaken for peak autumn color. I've seen this scenario played over and over again but I doubt that I will ever tire of it.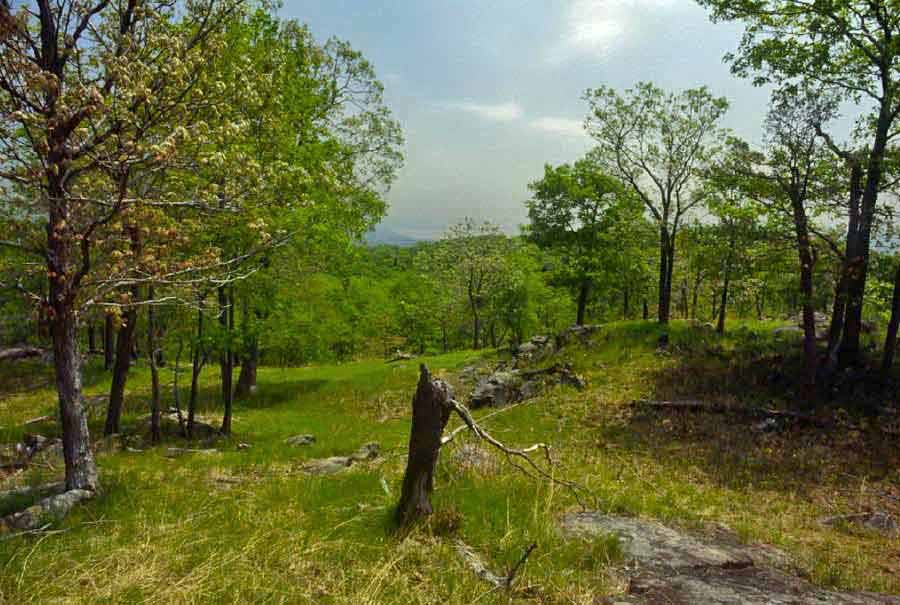 May 1987

A 12 mile loop between Hessian Lake and Jones Point via Bald Mountain

The temperature had dropped dramatically overnight and the road that I found unbearable to ascend just the day before was behind me in no time. The mountain tops were that peculiar green found only for a few spring days before leaves are fully formed Here and there touches of pink flowerets added their highlights to forest.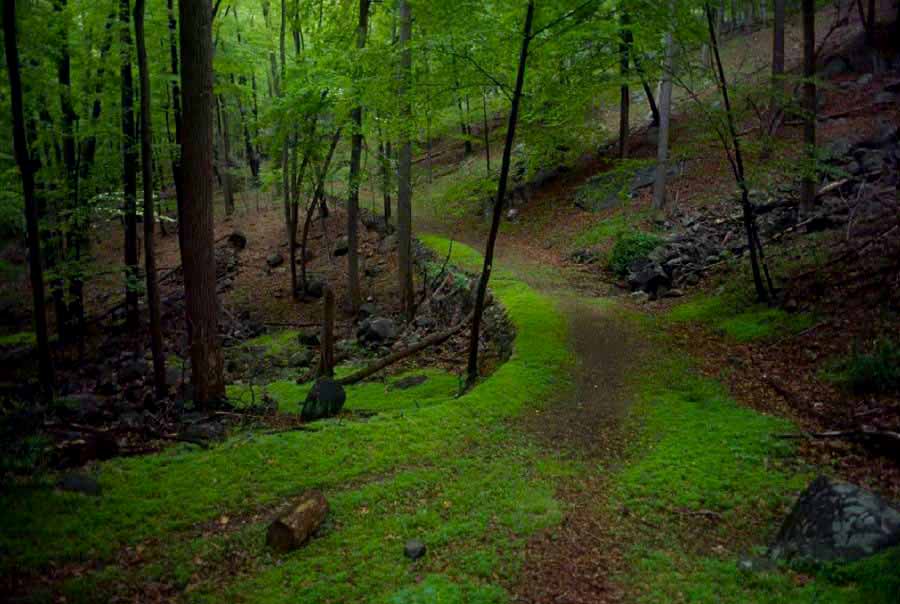 May 1987

A 14 mile loop between Hessian Lake and Brooks pond via West Mountain

It is unbelievably hot and humid for May. I did not even get halfway up the road towards Bald Mountain before giving up for lower ground. There the forest floor sprung to life where the carpet of leaves was most worn. Strange patterns of green spread out across the land seemed to say follow me.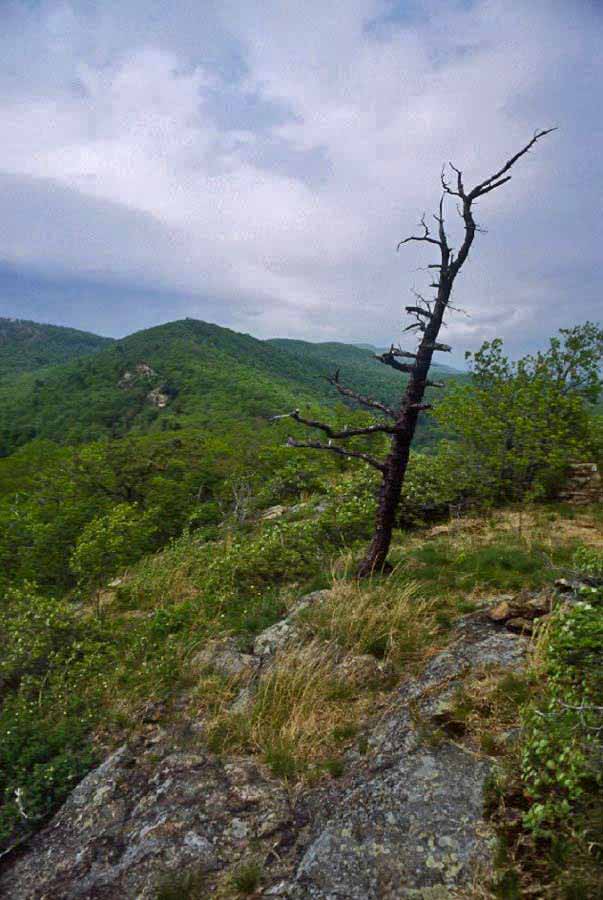 May 1987

A 8 mile round loop between Hessian Lake and Rat Tor

I lingered atop Popolopen Torne for it was open and windy and one of the few places I could rid myself of the obsessive flies that seemed to be everywhere else. As I began to take a few last shots before my decent I noticed a faded blaze on a stump where I did not expect to find one. I followed it until confronted by an array of keep out signs. Exploring the trail further was tempting but I decided not to press my luck today.
Postscript: Later, after examining an old map I found this path to be the old abandoned Turkey Ridge trail leading to West Point. It was closed during the Second World War for security reasons and never reopened.
May 1987

A 9 mile walk from Popolopen Brook to Bear Mountain via Pleasant Valley

All at once the buds on every tree have swelled to bursting under the exceptionally warm sun. It is like a great silent fireworks display with colors so unexpected it could almost pass without notice.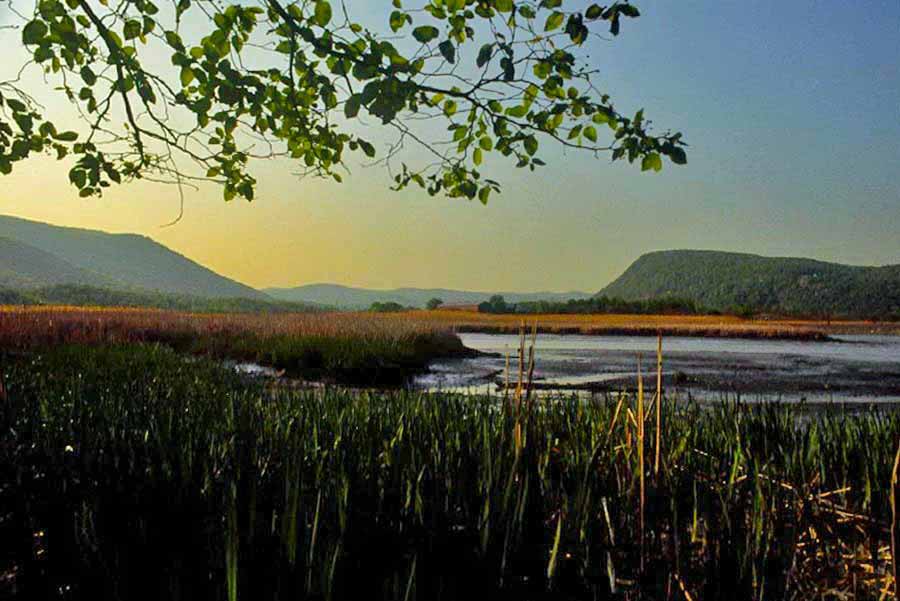 May 1987

A 16 mile walk from Peekskill to Iona Island

After making my way through highway construction, walking up winding mountain roads without shoulders, and crossing an insanely busy traffic circle, I was happy to have reached the opposite shore of the Hudson alive. The marshlands behind Iona Island seemed secluded enough for a respite from my morning ordeal. I found a spot where I could wander along the edge of the marsh without getting too wet. There was nothing outstanding here to shoot even though the early evening light cast a warm and comfortable glow. I could still hear distant cars on the road above me.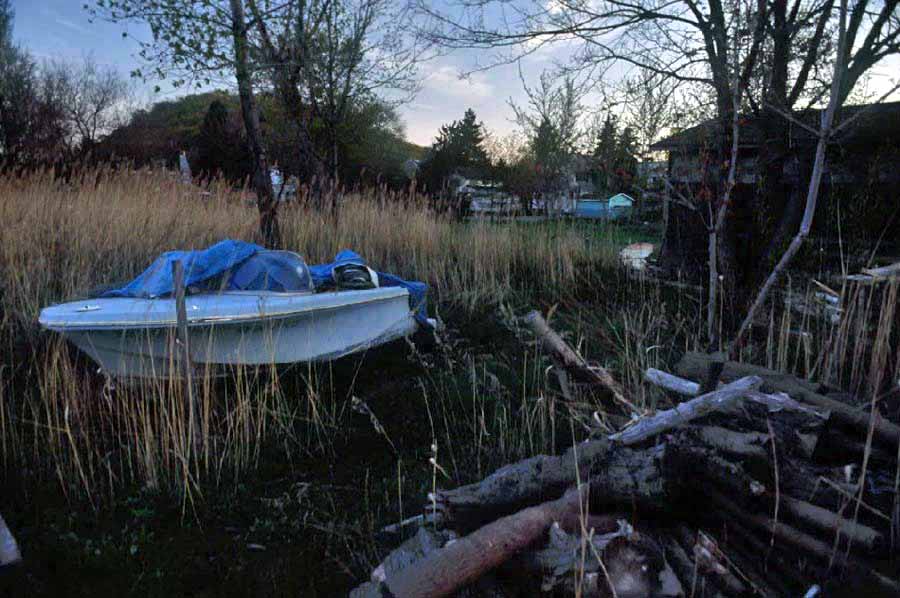 April 1987

A 10 mile walk from Alpine to Piermont

Here and there I can spot strong signs of spring. Tree buds of red and green act as a veil placed over the landscape and frogs chirp loudly in numbers from their freshly melted ponds. But in many places winter's hand has not completely lost its grip and the promise of spring remains only a distant wish.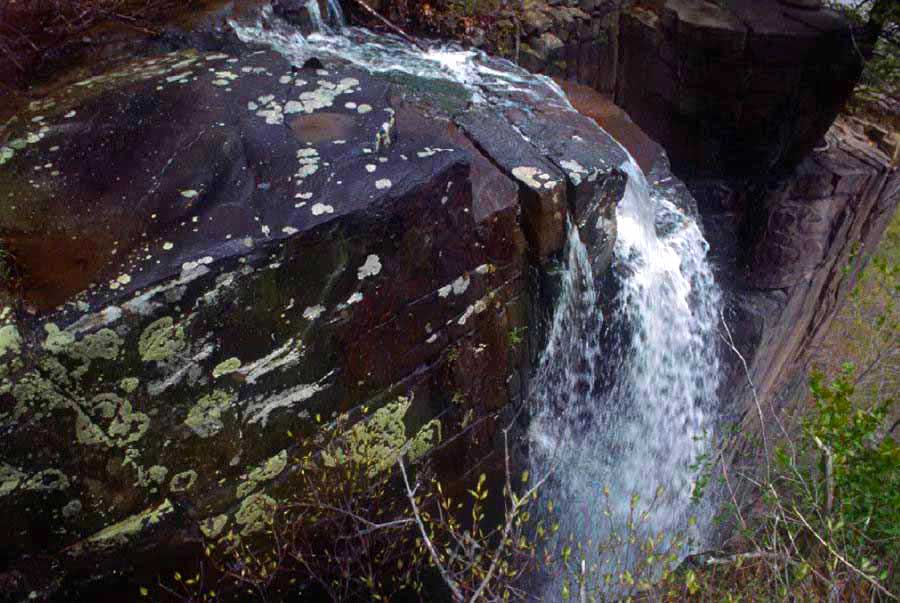 April 1997

A loop between Fort Lee and Alpine

A simple rule is if a stream runs towards a cliff, there will be a waterfall. Being able to bushwhack to the cliff's edge and finding a vantage point from which to view it is a completely other matter. Today the following of this rule bore results as the accumulation of spring rain poured over the lichen spotted cliff. The few signs that anyone had ever come this way made the experience all the richer.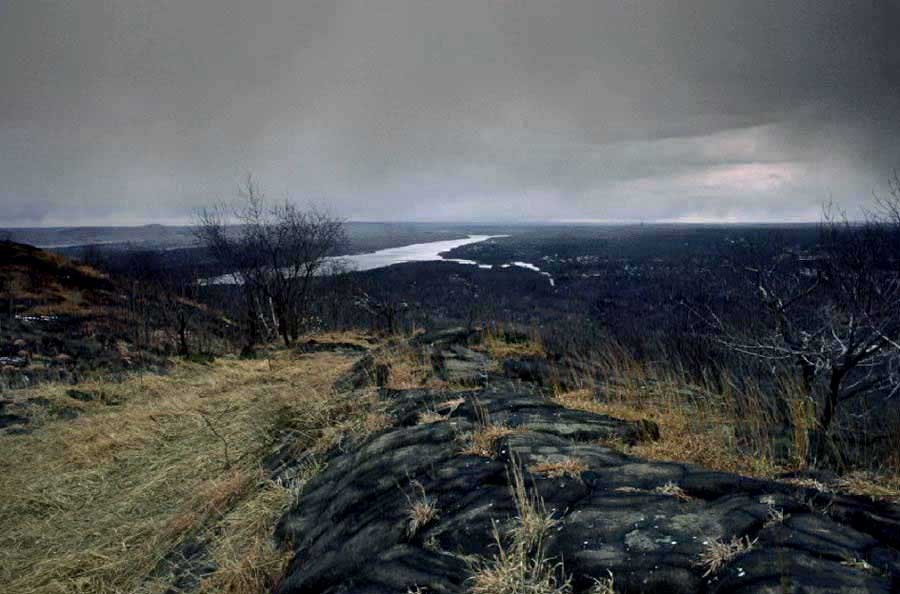 March 1987

A 14 mile walk from New City to High Tor, then on to Nyack by way of the Seven Sisters

The overcast was so dark and heavy I was barely able to shoot. This just added to the overwhelming gloom of late winter when the promise of spring is nowhere in sight. The rocky ledges atop High Tor looked ashen and charred while every tuff of grass was dry and sere. Even at the shore the trail bore the scars of winter washouts.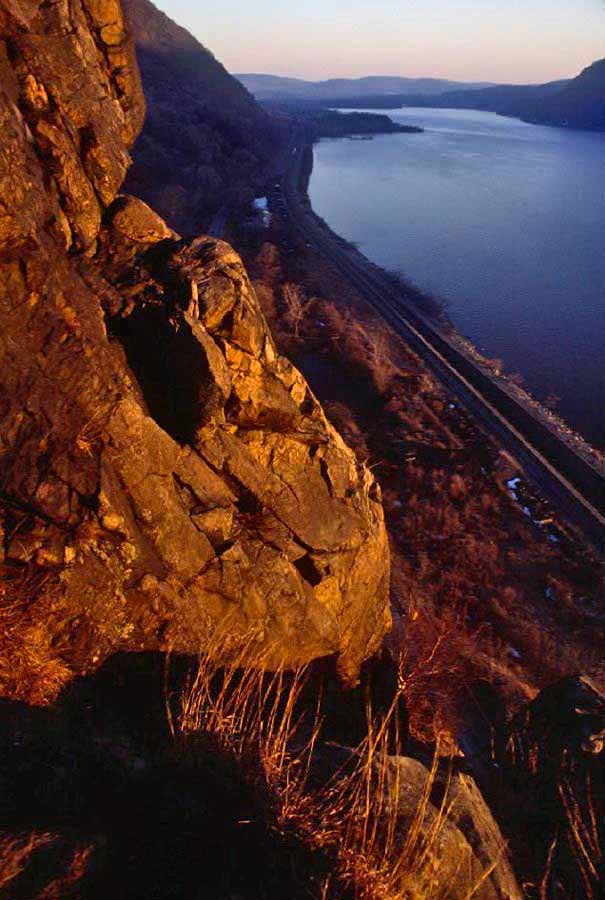 March 1987

A walk on Breakneck Ridge

All is quiet then a train whistle sounds. I see nothing below. It is around a bend somewhere, up or down the valley I do not know. Soon it will pass and I will remain in the sole company of long shadows.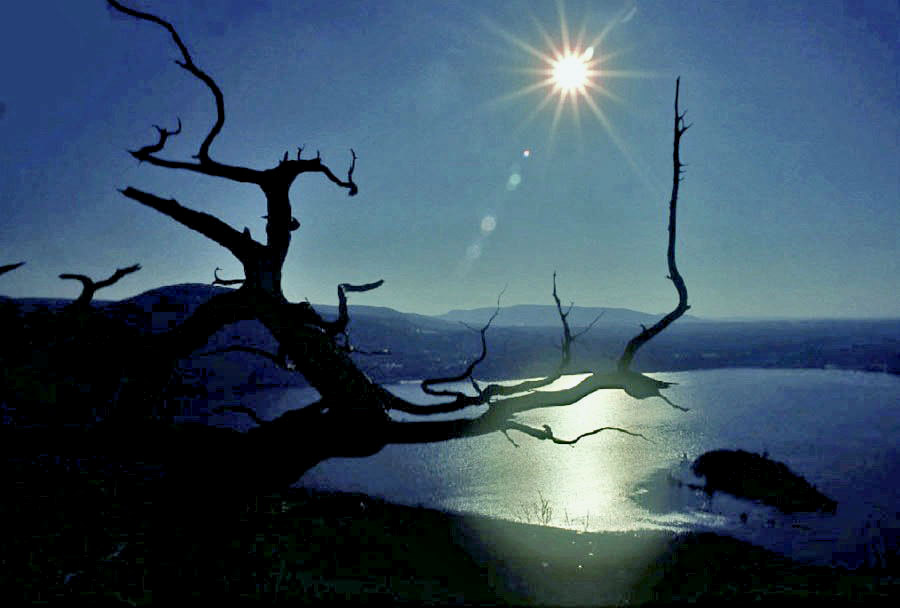 March 1987

A 7 mile walk from Beacon Landing to Breakneck Ridge

I was hoping for more snow but found that the light dusting, which fell in the night proved interesting enough. Most of it had melted by the time I reached Sugarloaf Mountain but some still clung to the exposed cold granite sheets to bring out strange contrasts. I sought out the gnarled tree that I had found when last up here in warmer days; the warm sunset pallet now replaced by the sharp blues of a cold winter day.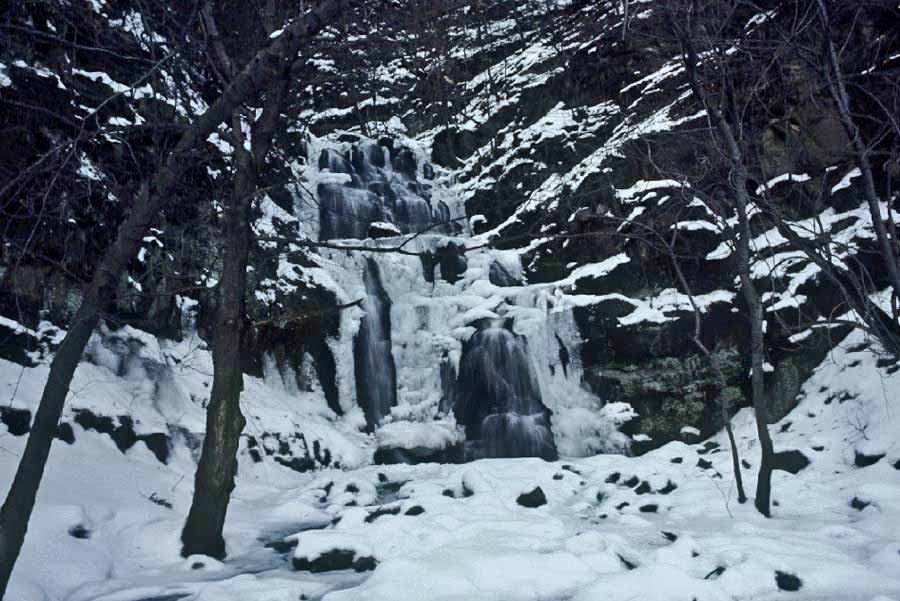 January 1987

A 10 mile walk from Washington Heights to Alpine along the Palisades

If six inches of snow makes for good hiking, eleven inches makes for agony. The day began well enough, I was excited to be out in the snow but I was soon to tire having miscalculated my ability to walk in it. The breaks I kept taking were growing ever closer together. The path up the cliffs at Huyler Landing was heavily packed with snow drift and my footing became more uncertain the higher I climbed. I reached the top without mishap but I was so exhausted I had to force my way on before nightfall set in.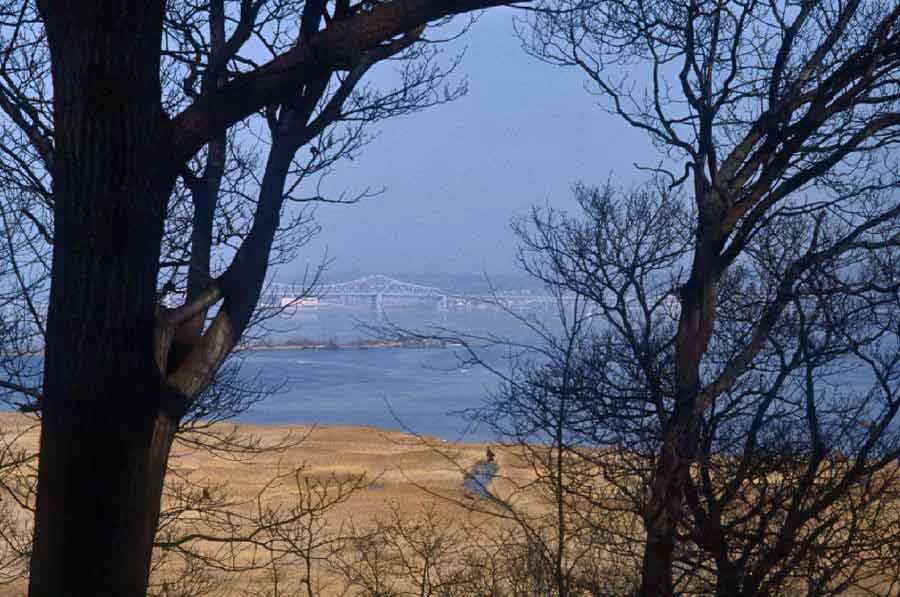 January 1987

A walk from Palisades to Piermont

The brown carpet of the marshlands below me provided much of the remaining color left to see. Early winter had passed and the last bright yellow leaves of the holdout maples had fallen. There could no longer be any doubt that the seasons had changed.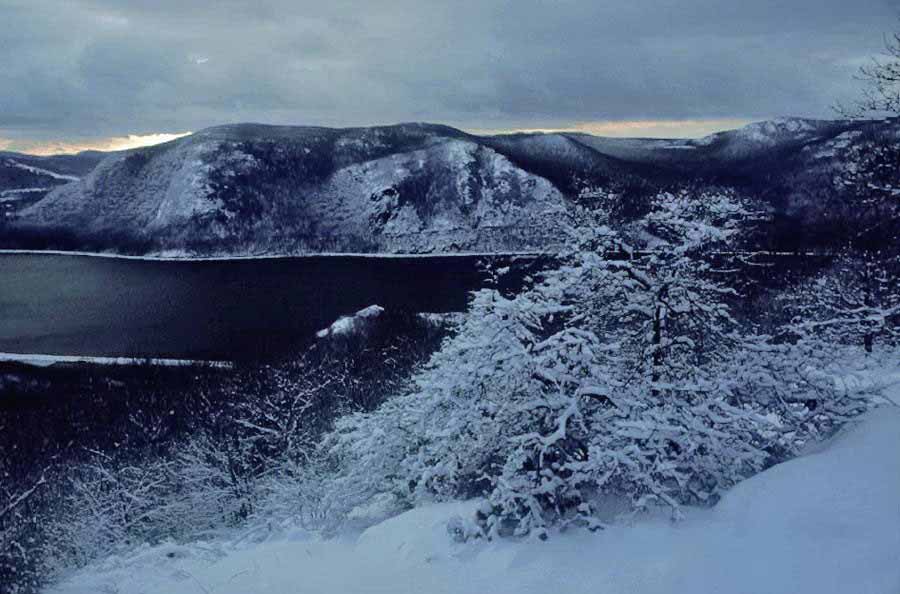 December 1986

A 7 mile loop between Cold Spring and Mt. Taurus

The six inches of snow that fell last night was a perfect depth for climbing. Even so it was good that I was already familiar with the ascent up Mt. Taurus or I would not have never found my way. The trail was obliterated by virgin drifts and its blazes of white were blotted out under a crust of sticky snow that clung to every tree. Near the summit the mix of snow and ice created a crystalline world more suitable for fairytale illustration than the realm of men. As I stood under the stormy sky and looked outward I could barely believe I was actually here.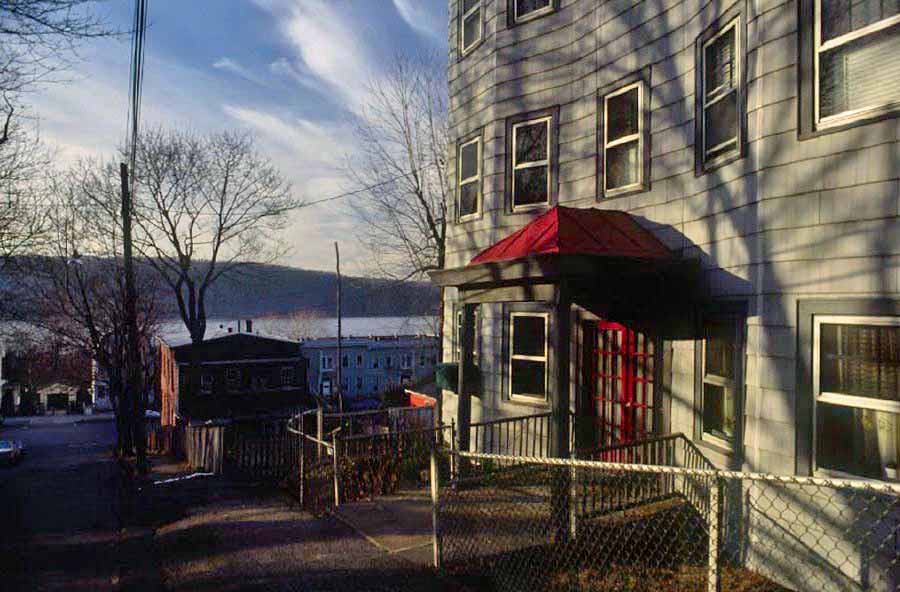 December 1986

An 11 mile walk from Irvington to Glenwood

A river town, a quiet street, a modest house with lacy shadows of bare trees cast in the raking afternoon sunlight of early winter; what could be more ordinary. But it is only in the ordinary that I can best find that which captures this place.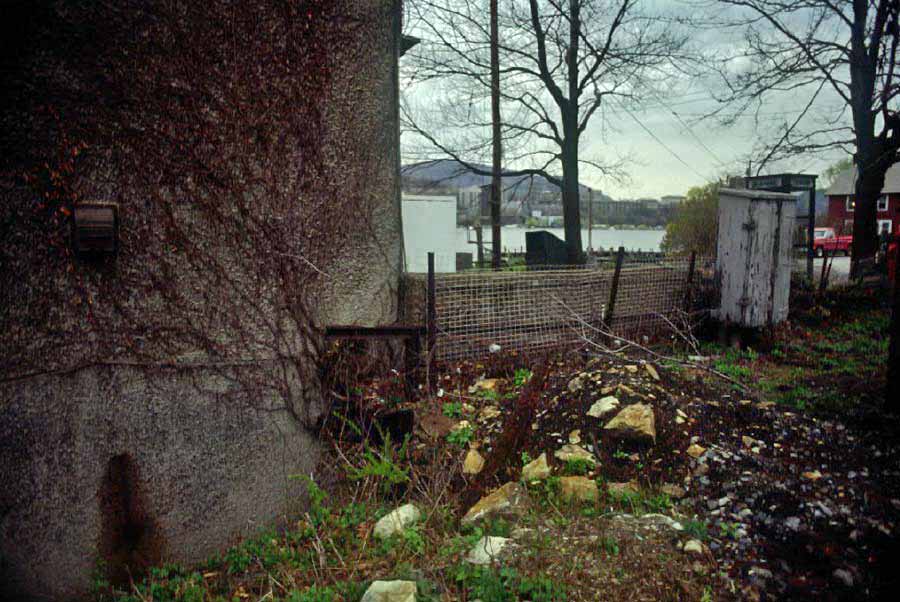 December 1986

A 10 mile walk between Garrison and Cold Spring

The gravel crackles under my feet as I hop off the train at Garrison. The old station is the first sign that I am beyond the valley's commuter towns that connect to New York. Most of the village is spread about on back roads, but at the landing a tighter mixture of homes and old stores stand. Nothing is grand here except for the river views that carry this little community beyond its modesty.
Postscript: Progress has arrived at Garrison with the construction of raised concrete passenger platforms alongside the railroad tracks. While I'm sure many welcome this convenience I really miss jumping down the last couple feet from the train. It was the gate to another world.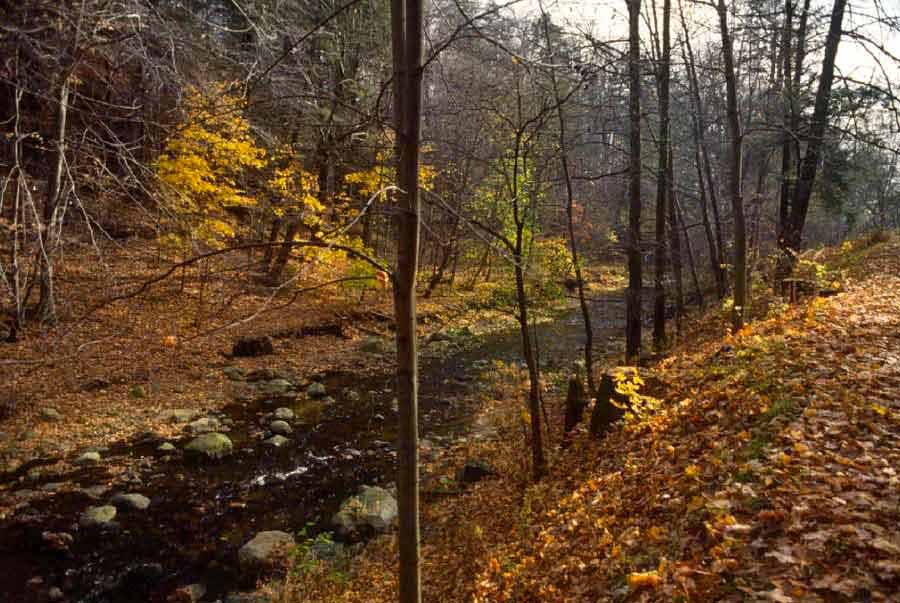 November 1986

A ramble in Sleepy Hollow

The colors today are quiet. Even the brook flows with barely a whisper.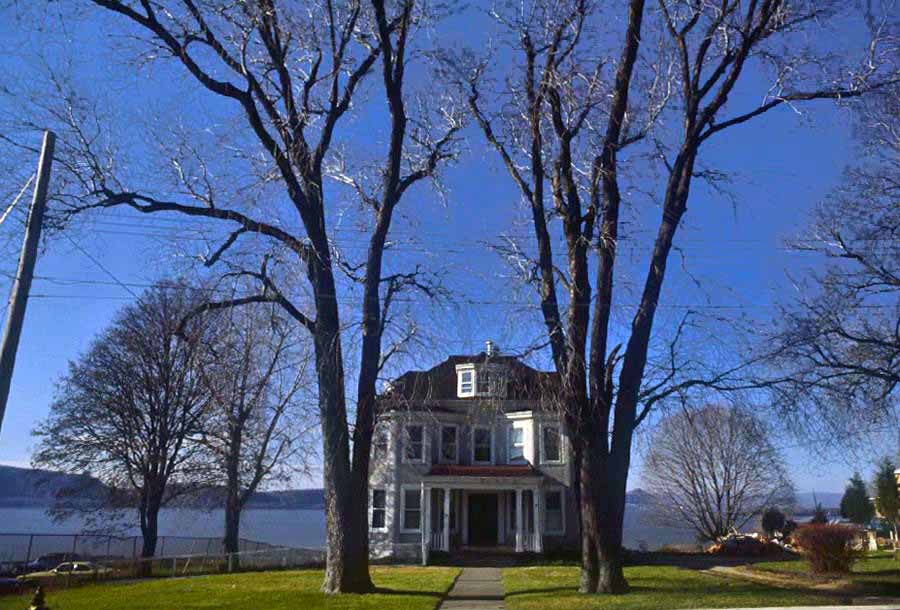 November 1986

A 9 mile walk from Ossining to Croton via the Aqueduct

On a street high above the river, houses of modesty and grandeur both share the same views. With the river valley as a backdrop they each become more impressive than if found anywhere else.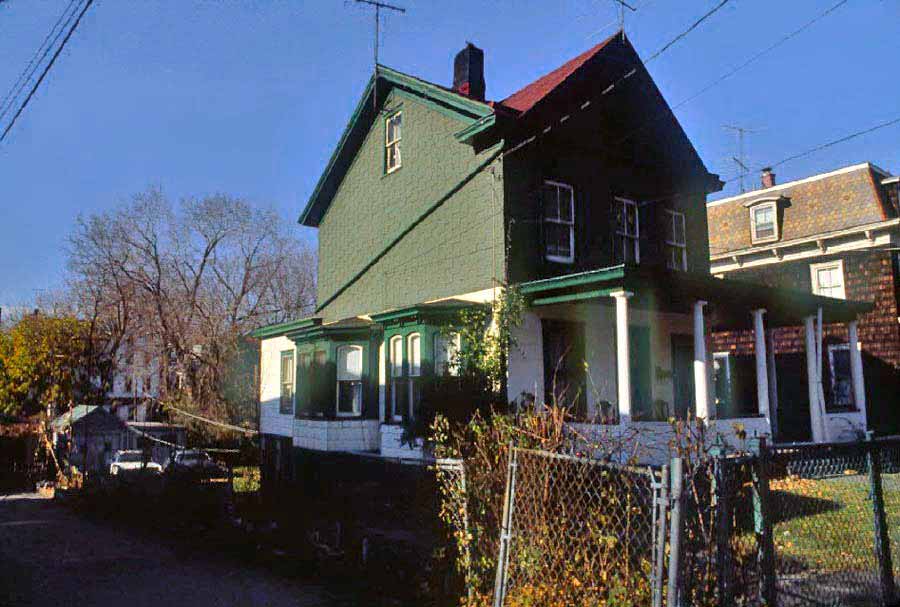 November 1986

A 13 mile walk from Tarrytown to Ossining

My attempt to walk atop the Croton aqueduct today proved rather futile. After some initial success I lost the trail only to pick it up again at Archville, but only after careful calculation. Young saplings had sprouted everywhere in its once smooth surface. Off to the side I discovered an old forgotten plaque dedicating the aqueduct's construction. It did not look as if anyone had laid eyes on it for some time. As I moved further along the trail faded out once again turning into forest and before I knew it I was in someone's backyard. I did not find another walkable stretch until reaching Ossining, but not before wandering about a number of streets.
Postscript: A new bridge was built at Achville in 1998 replacing the old aqueduct span that was removed when the road was widened for cars. The trail on either side is now maintained and the monument was even cleaned up. There is still a large gap on the trail south of Ossining as too much of this old right-of-way has been incorporated into private property.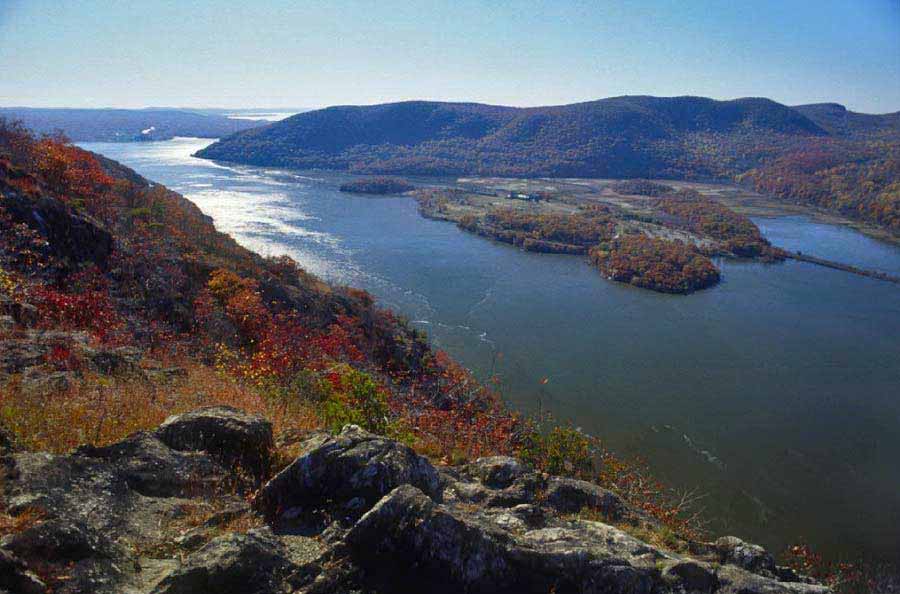 October 1986

An 11 mile walk from Bear Mountain to Garrison via Manitou Mountain

It was a very cold morning when I headed out. The only way I could use my camera was by taking the batteries out between shooting and keeping them warm deep under my coat so they would not freeze.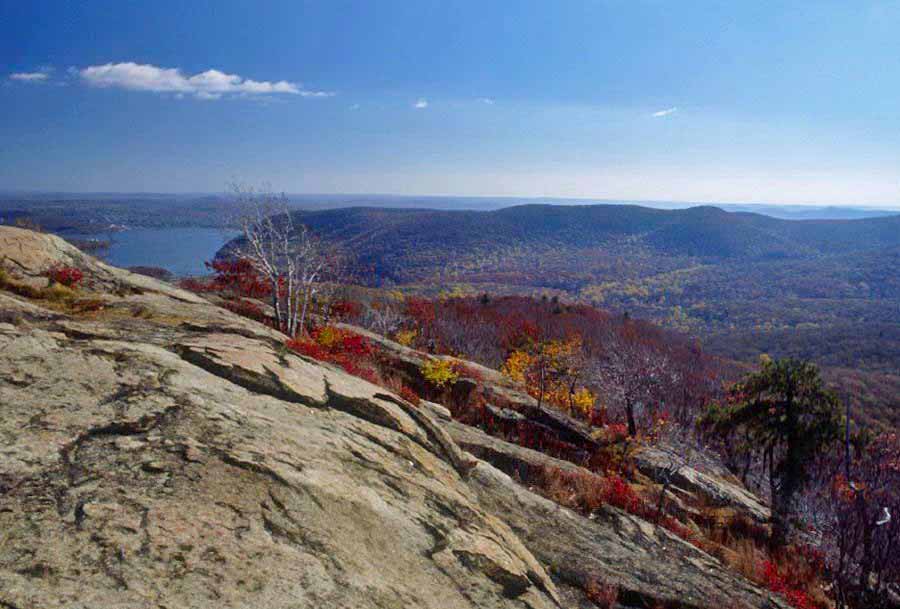 October 1986

A loop between Hessian Lake and Bear Mountain

The trail up the side of Bear Mountain was a popular one evidenced by all the wear and tear and exposed roots that ran everywhere. While I'm not terribly fast moving on any descent, I was surprised when a party of four raced past me disappearing from sight in no time at all. I caught up to them only a few minutes later finding three of them huddled around the fourth with a bleeding head. I've seen people confuse the outdoors with amusement parks much too often.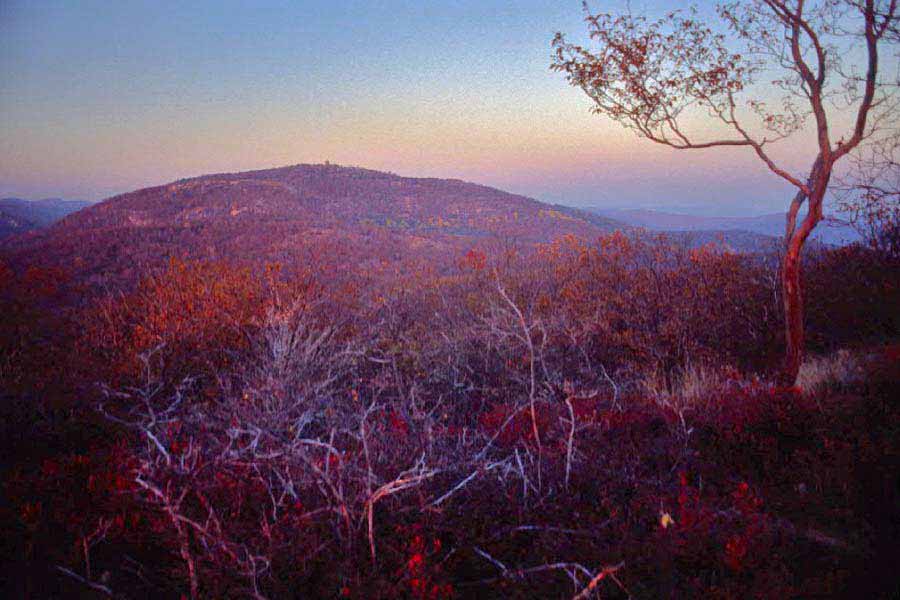 October 1986

A 12 mile loop between Bear and West Mountains

The dome of Bear Mountain was clearly visible from my perch over on West Mountain with its colors shifting from a faintly glowing pink to lavender. It was bittersweet to be able to watch the colors cast by the setting sun for it meant I had missed my turn off on the trail and I had hiked out further than expected. The next trail down the mountain proved a difficult scramble and it was darkening fast by the time I reached the old wood road in the valley below. As I raced down the track the yellow leaves covering its dirt surface suddenly brighten. I quickly turned around fully expecting a car to be coming up fast behind me. But there was only darkness to be found. This scenario replayed itself out a number of times, and though unsettling it helped me find my way to a paved highway just as it turned pitch black. There were no mystifying illuminations now to guide me, only the faint glimmer of a phosphorescence line along the roads shoulder. It was so dark I nearly collided with a deer. Letting out a startled cry it jumped over the railing as we both disappeared into the night.
Postscript: It was once believed that vision was not a matter of light reflecting off surfaces and into the eye, but by the eye projecting energy outward to objects.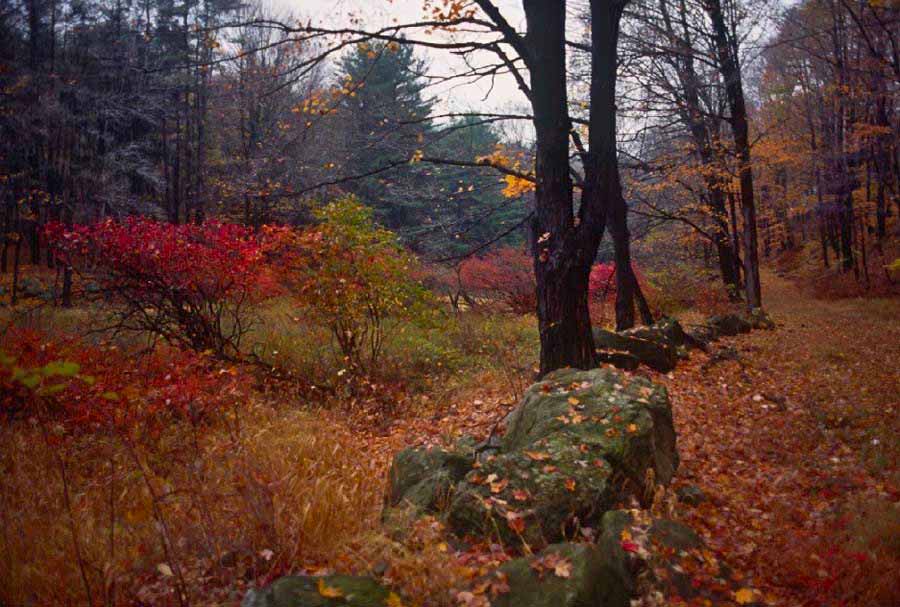 October 1986

A walk through Doodletown

On the road where Doodletown once stood there are constant reminders of the hand of man despite the fact that not one building of this ghost town remains standing. Rows of trees, clumps of flowers, a pattern of stones along an open field all create a haunting sense of something missing. It has become a land that lies somewhere between the competing forces of man and nature but there is nothing pastoral about it.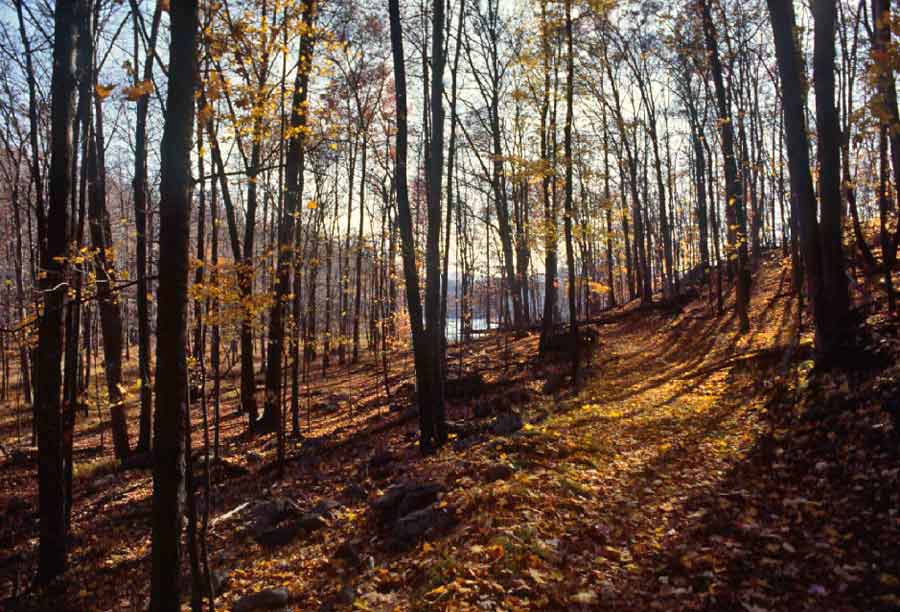 October 1986

A 14 mile loop between Bear Mountain and Turkey Hill Lake

A twig lies broken on the ground, some sere leaves lean against it. Spots of lichen grow on a nearby rock turning it a pale blue with yellow trim. The tiny spikes of bright green moss grow out from its cracks and punctuate the scene. This is the constant that is underfoot with every step I take. Only the big things that fade in and out of view create the illusion of change.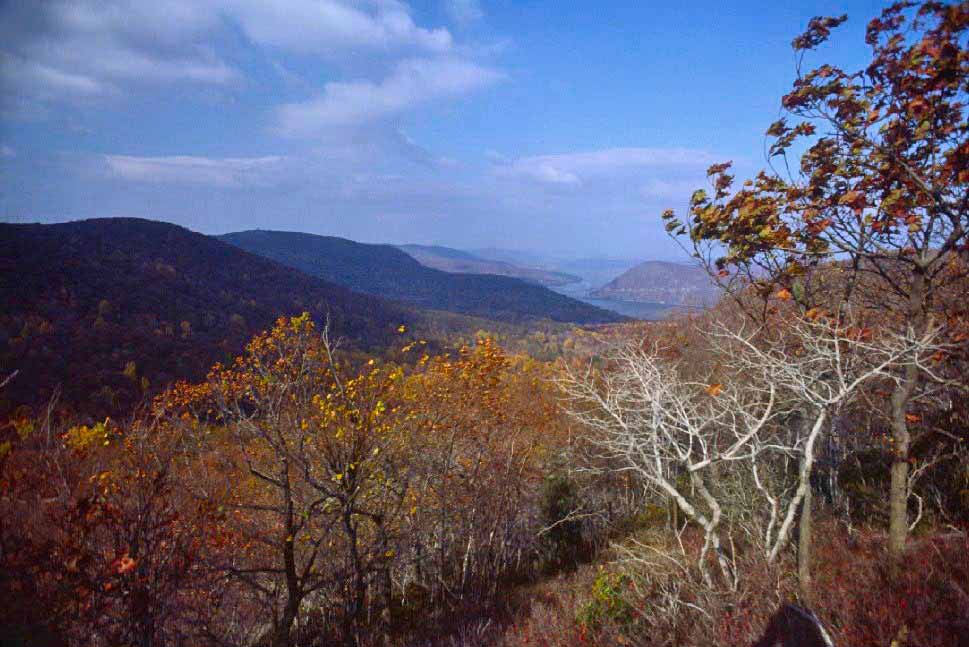 October 1986

A 12 mile loop between Bear Mountain and the Timp

Although the ground continually rose as I followed the old track to the base of the Timp, the mountain itself sharply ascended as if a giant pile of dirt and rocks were just poured out here from the heavens. As I stared at this inverted funnel it became easy to understand why some come to believe that supernatural forces play a hand in creating mountains.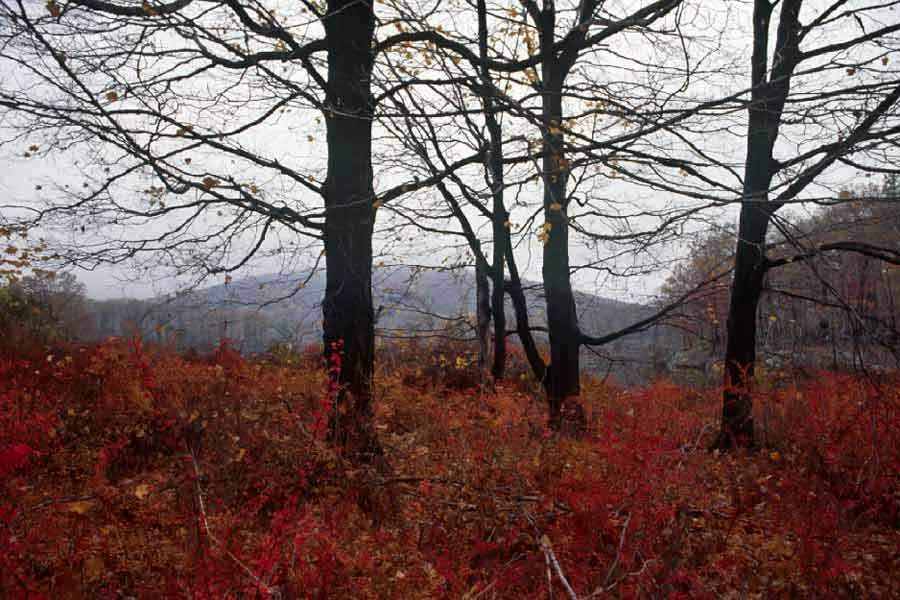 October 1986

A walk around Queensboro Lake

The fall colors have dimmed past peak and the damp air has turned the mountains to grey. There is a melancholy to the landscape, the sadness of endings. I feel timeless here as if I've viewed this scene for a thousand years and know there will be a thousand more.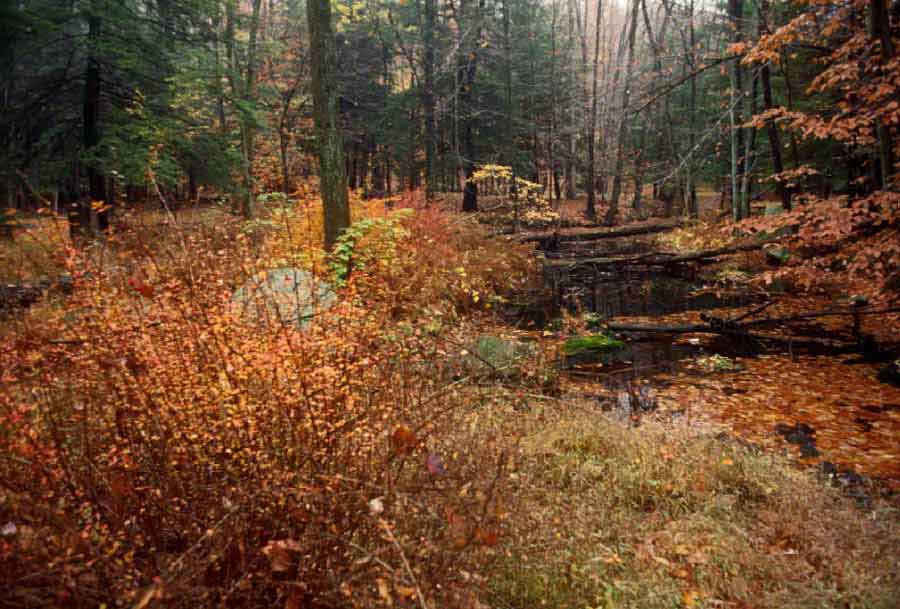 October 1986

A ramble along Queensboro Creek

As I move off trail I loose my bearings. It's not that I don't know where I am, it's just that I'm not certain were the boundary line runs separating the State Park from West Point. I move back and forth across the creek where I find it is shallow ignoring the conceits of men.

---
Copyright 2009 Alan Petrulis All Rights Reserved