RAMBLES IN THE HUDSON VALLEY (page 4)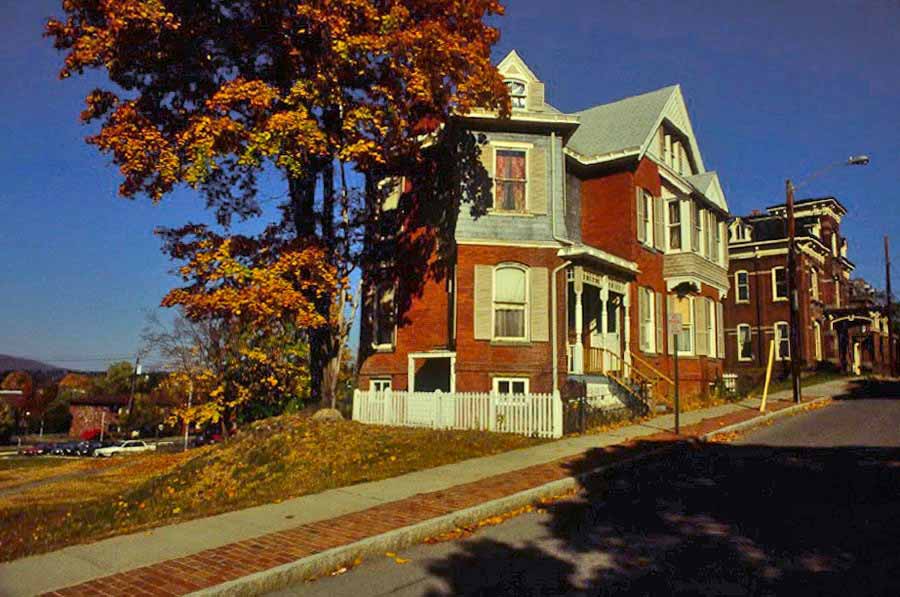 October 1988

A ramble in Poughkeepsie

I thought a change of scenery would do me good. It didn't.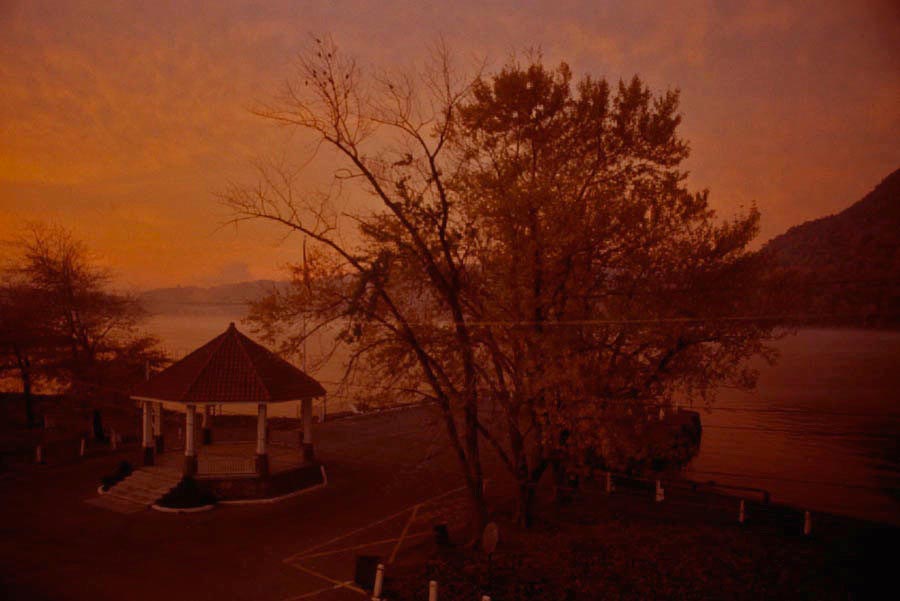 October 1988

A ramble about Cold Spring

For a number of mornings I had watched the Crows Nest just across the river light up as the sky began to brighten, its autumn leaves suddenly ignited in a blaze of red. Slowly these molten hues would pour down the cliffside only to be extinguished in the more common light of day before ever reaching the river's edge. This morning would be different. The heavy atmosphere prevented the sun's early rays from penetrating to the mountains. As the air itself turned pink I was tempted to cut a piece off.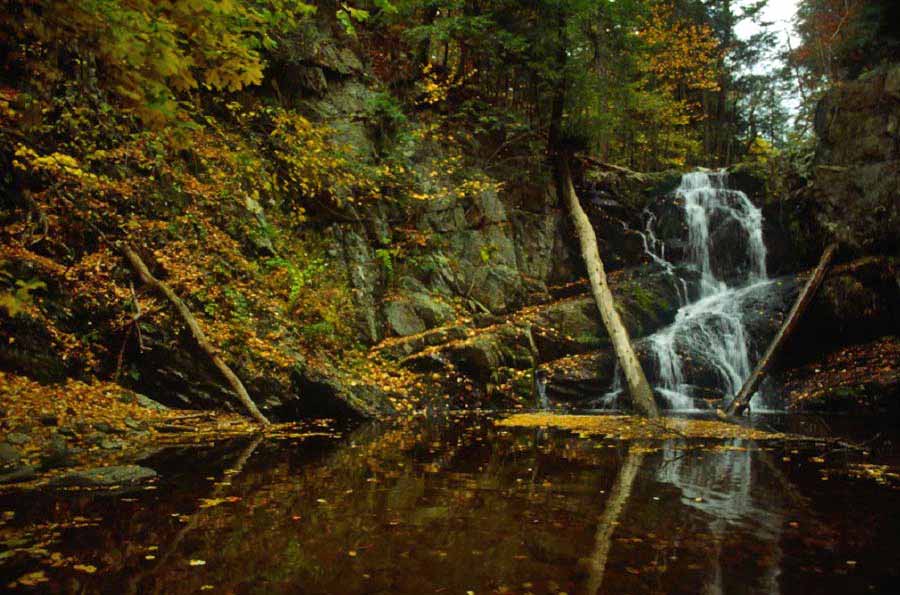 October 1988

A loop between Cold Spring and Indian Falls via the Albany Post Road

My attempt to search out possible footpaths atop the Catskill Aqueduct led me instead on a long circular diversion along back roads. On the way back I discovered a wonderful little waterfall barely hidden from the road. The fallen logs that lay about the granite stones and pool made the whole scene look as if it fell out of a Kennset painting.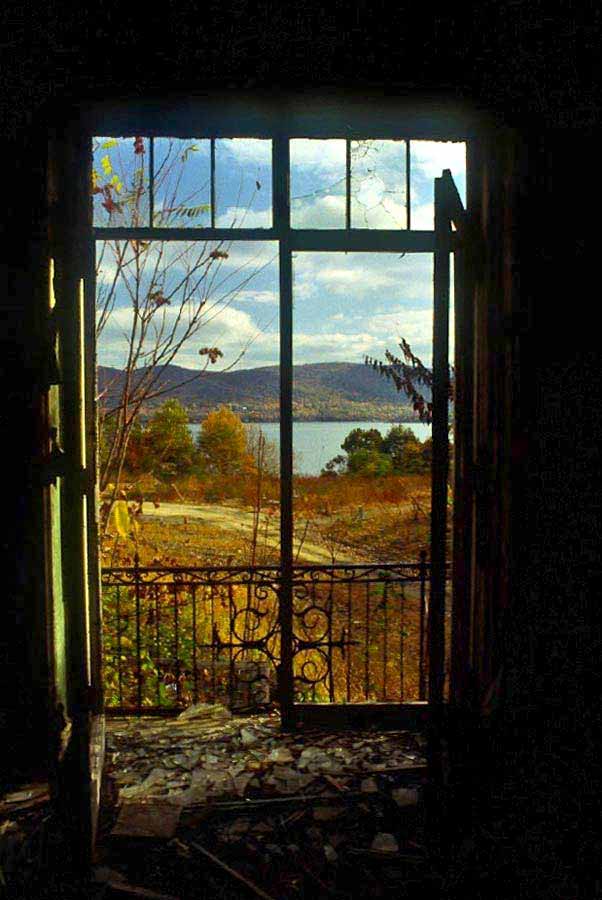 October 1988

A 21 mile loop between Beacon Landing and Moodna Creek

When I saw the new housing units rising around the Greek Revival Mansion on Plum Point I knew I had to grab this chance while I could. No one seemed to be working today as I made my way past stacks of lumber and earth moving equipment left out in the mud. The mansion was easy to enter its doors ajar. It was a mess. It seemed that half the wall's surface had flaked off into random piles on the floor leaving behind patterns even stranger than the exotic Chinese wallpapers that clung on for dear life. This is truly one of the Valley's real ghosts.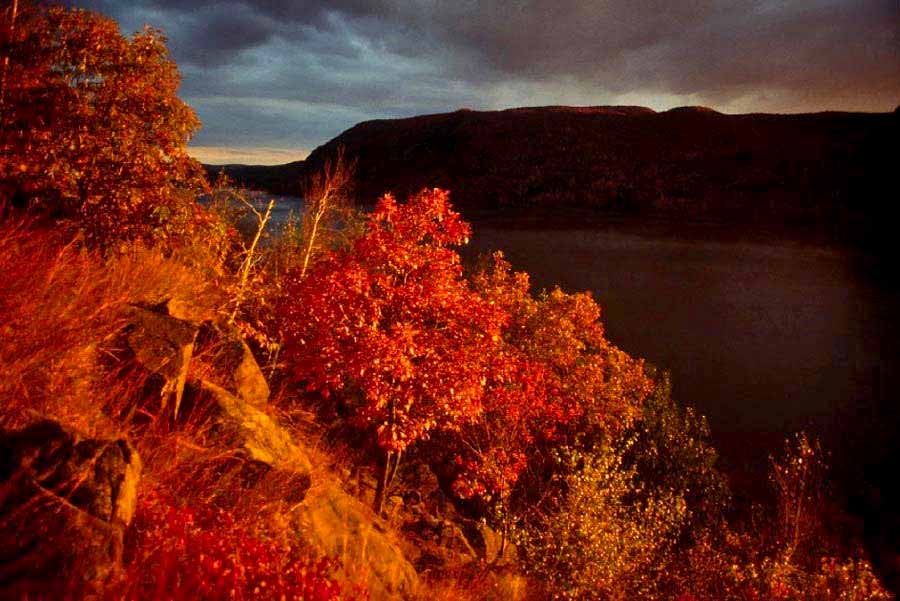 October 1988

A 7 mile loop between Cold Spring and Breakneck Ridge

I rarely make a descent on the steep western slope of Breakneck but today I'm glad I did. As the setting sun burst from behind the darkest of clouds it set off streams of color more luminescent than any fireworks. The once dull landscape seemed to breathe in life and radiate until all vibrated with its energy.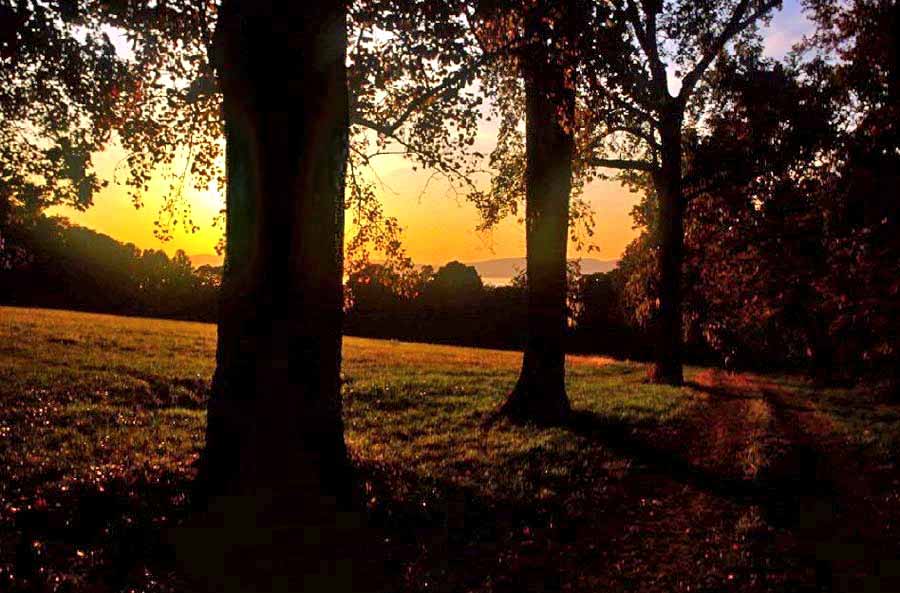 October 1988

A ramble in Sleepy Hollow

Sometimes I choose a specific spot to wait for the setting sun but more often than not the time arrives arbitrarily along my route. Then there is the scramble as I try to line up the landscape with the light to get good shots. The most trying time however is after the sun has set when the still glowing sky remains irresistibly seductive. I could fill a trash can with these wasted shots taken well after it was to dark to shoot, but I continue to take them anyway in the hope that one day I can capture something worth keeping.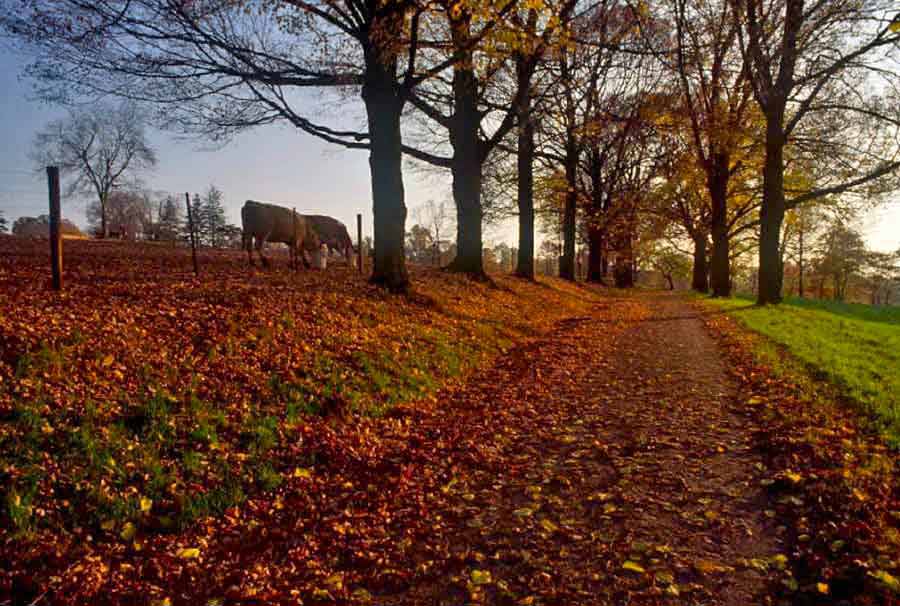 October 1988

A 9 mile ramble in Sleepy Hollow

When cows stare at me with marked attention I never know if it is out of fear or curiosity. Of course there are others I pass that cannot be bothered to look at all.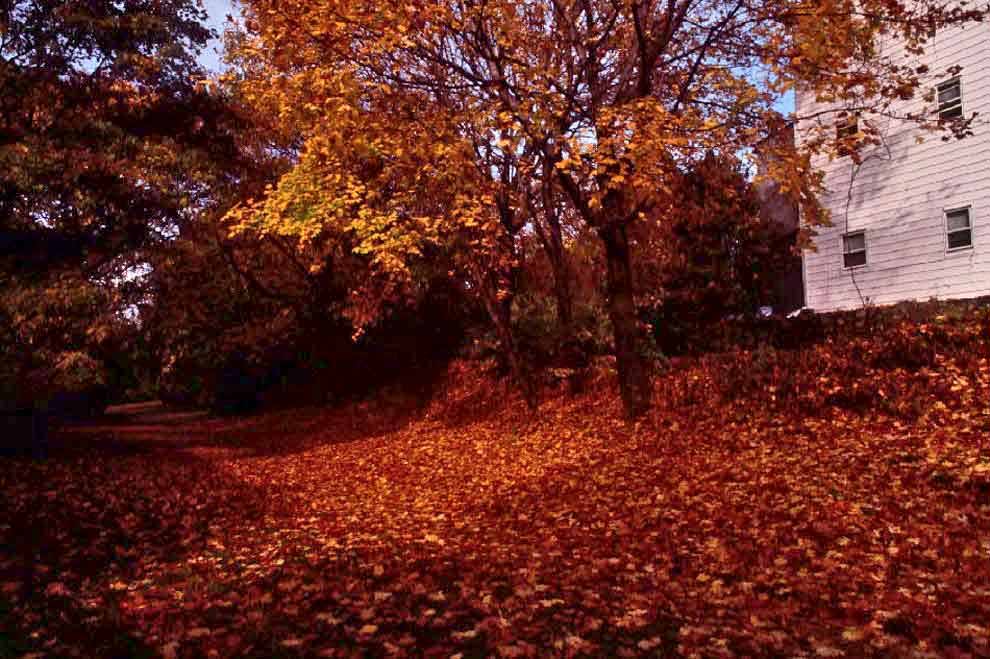 October 1988

A walk from Hastings on Hudson to Dobbs Ferry

How many footsteps have touched this leafy path? Will the living dirt beneath my feet remember my passage?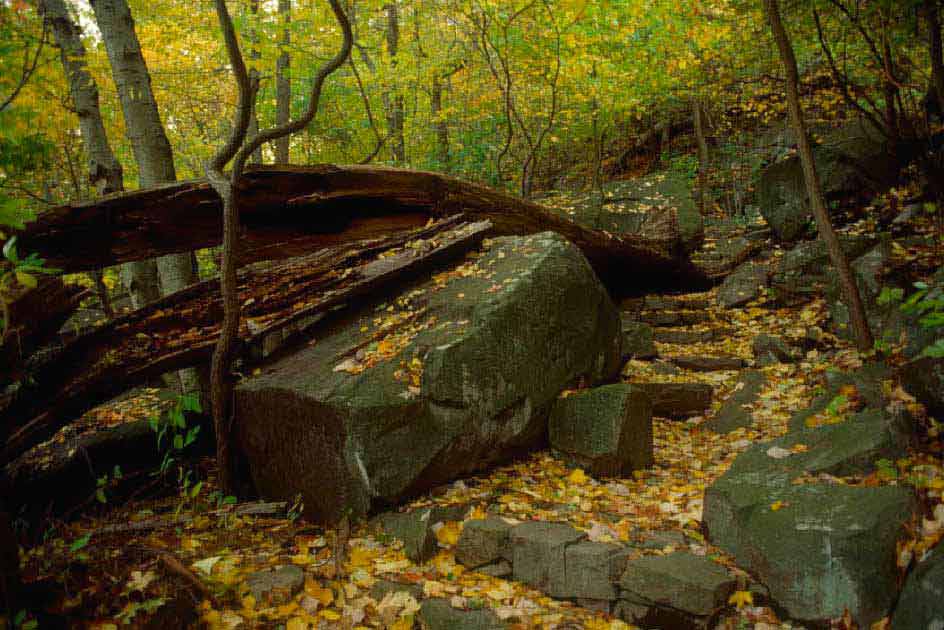 September 1988

A 12 mile loop between Washington Heights and Undercliff on the Palisades

Though dominated by cliffs and river there are places on this narrow strip where they fade away from view and from mind.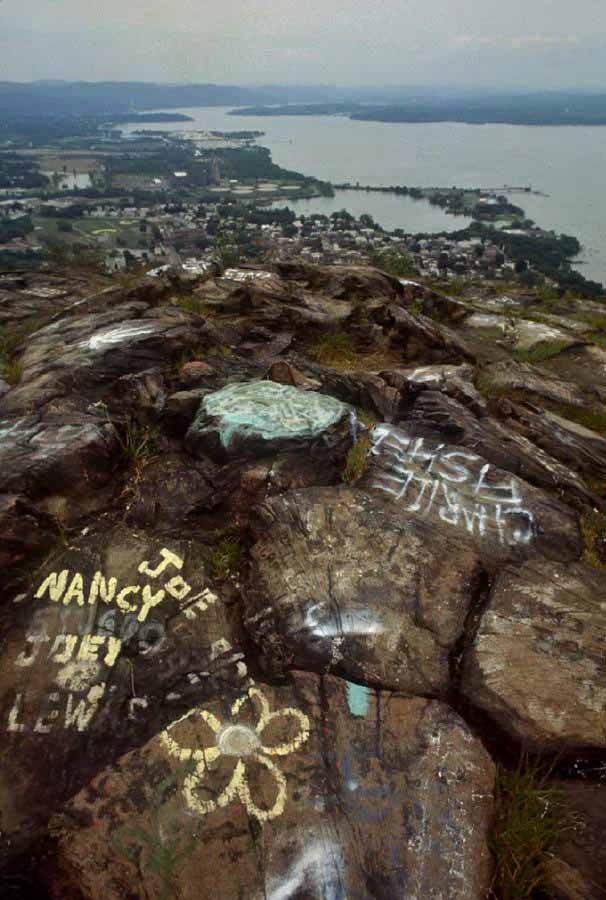 August 1988

A 19 mile walk from New City to Haverstraw via High Tor and back down to Congers

It is hard to believe that someone would lug spray paint all the way up a mountainside just to place a tag. Then again I carried up my camera.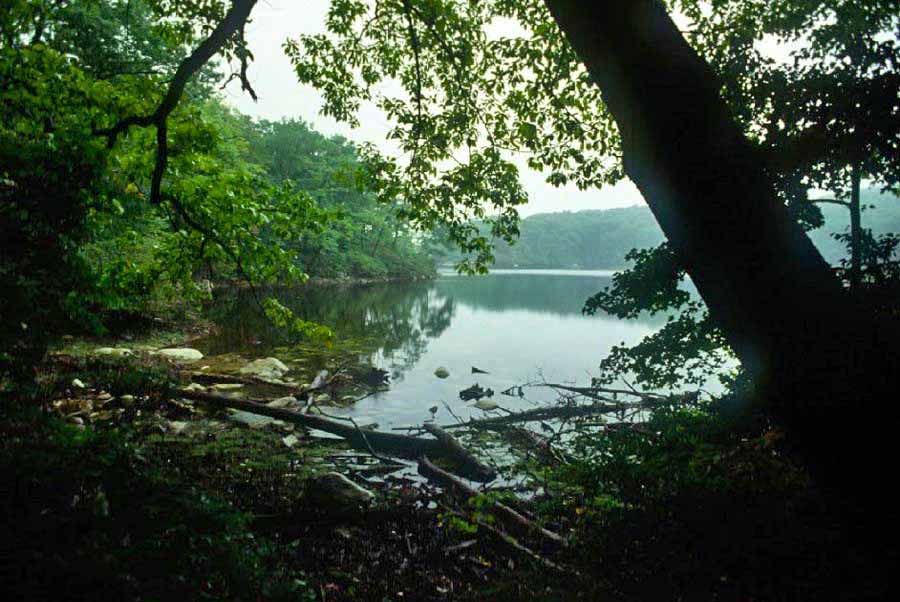 July 1988

A ramble in Black Rock Forest

The promise of a cool forest lake does little more than provide momentary distraction as the day remains still and hot.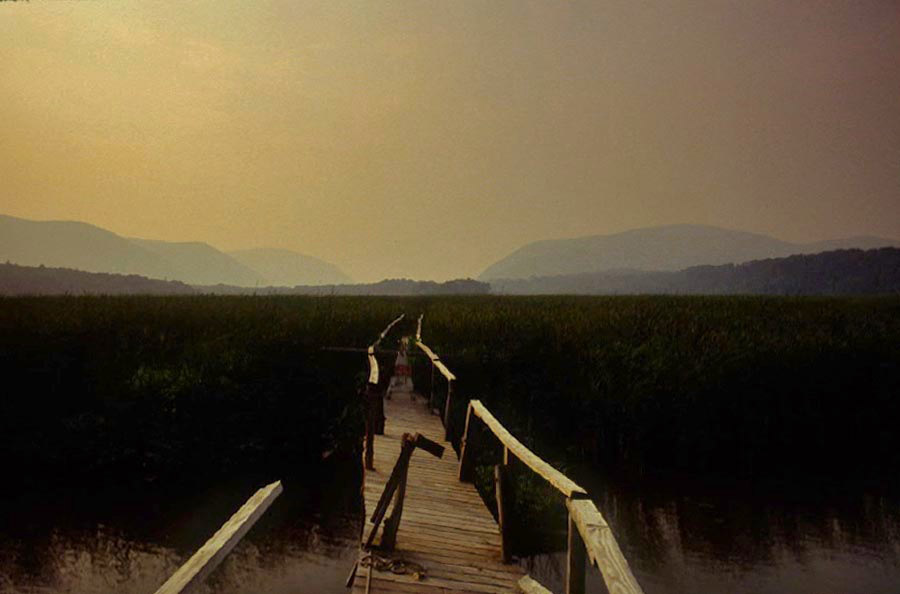 July 1988

A short ramble at Constitution Marsh

The Highlands are burning this summer and a strange erie haze has settled into the Valley. Even in the flat of the marshlands it is a struggle to walk around in the oppressive heat.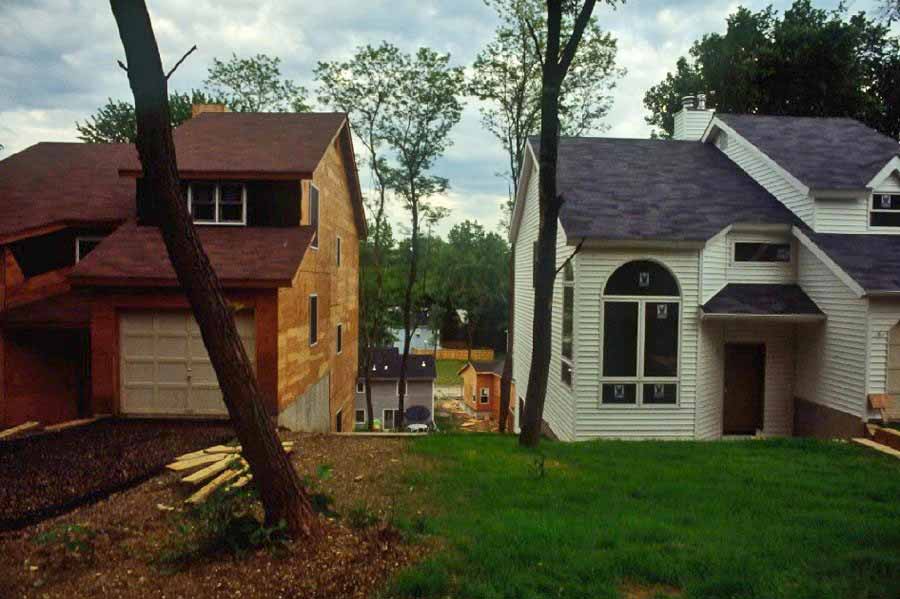 June 1988

An 18 mile walk from Ossining to Croton Point via Croton Dam

Many towns in the Valley are being overwhelmed by the starts on new track housing and town house developments. Can there be small town living when a town is no longer small? As we become one large urban expanse can we retain a sense of community? The same cry is everywhere, We must grow to survive. We tear at the land, kill all before us and learn to live with it for lives of comfortable mediocrity.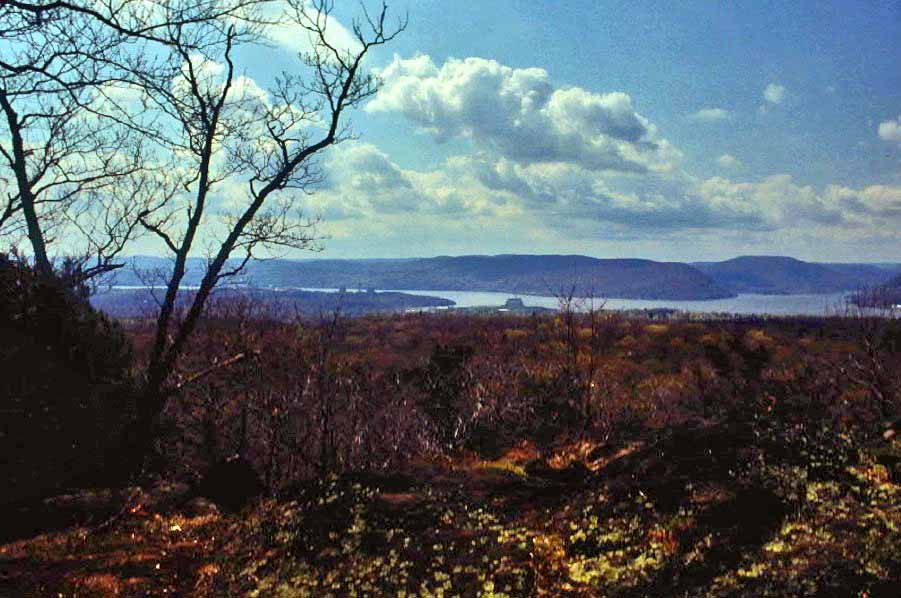 May 1988

A 10 mile walk from Montrose to Peekskill via Blue Mountain

Previous attempts to capture a good panoramic view from Blue Mountain had all failed, so when I saw the churning clouds in the sky today I thought they were the key to my success. I was wrong.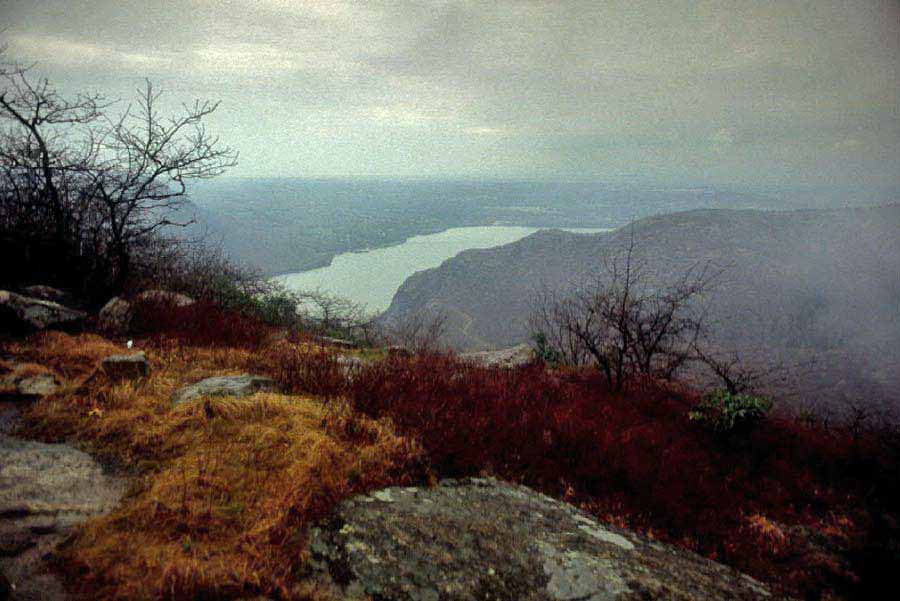 April 1988

A 14 mile walk from Breakneck Ridge across Mt. Taurus and on to Garrison

It was a drizzly damp day, which is why I found it surprising to find a large portion of the summit to Mount Taurus ablaze. The flames were not high but it devoured the wet underbrush with determination as it slowly crept along. I spent some time creating a long firebreak as best I could before returning to my overlook with charred boots. While the remaining fire burned just feet to my back a sublime mist filled valley lay in front of me with heavy beads of moisture dripping from newly formed leaves. Fire and ice, fire and ice.
Postscript: On subsequent visits I saw no evidence that this fire caused any serious damage after I left.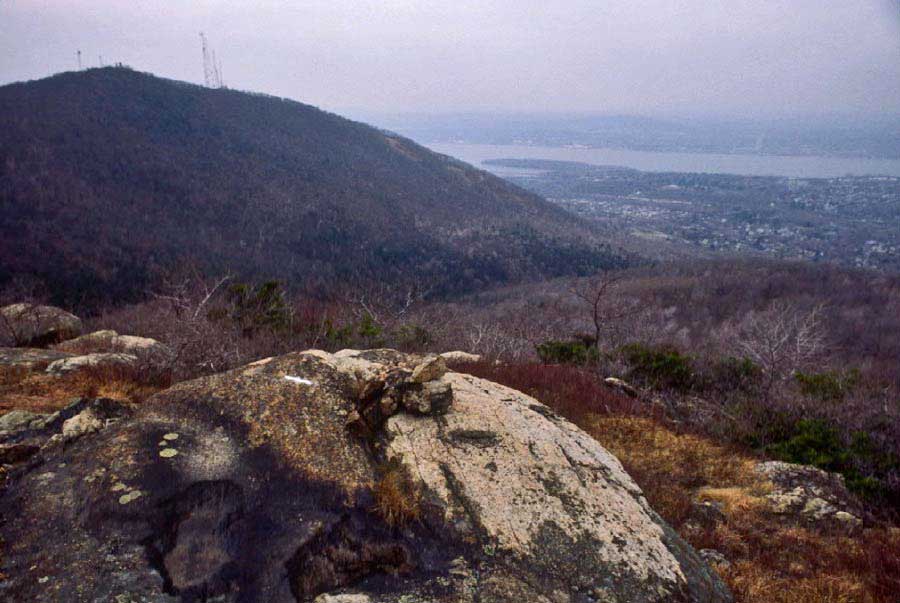 April 1988

An 11 mile loop between Beacon and Bald Hill

The slopes facing the river proved an easy walk but as circled around into the forest I was confronted with a large tree lying across the trail. Had I known what I was in for I would have chosen an alternate route, but full of confidence having quickly scrambled over the trunk I pressed on. Storms over the winter had wrecked havoc on this mountain top leaving blow downs behind at what seemed to be every few yards. This was one of the most difficult passages I ever encountered.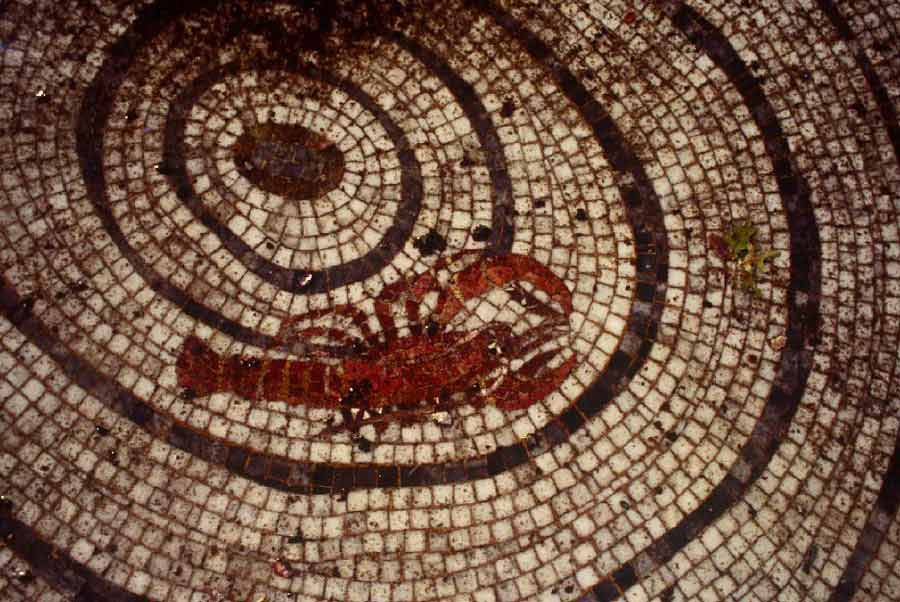 March 1988

A ramble in Yonkers

After shooting in the more formal garden I decided to explore the area that had been left to overgrow into a massive tangle of weeds and brambles. The winters firm hand may have loosened its grip on the weather but I had to fight my way through the brush that would not let go. Here and there a white column poked through, the remnants of a trellis hung heavy with the tendrils of vines. Despite the difficulties I encountered in getting through this tangle I was far from its lone visitor. On entering an abandoned cistern through a wide open crack I discovered a graffiti covered refuge.
Postscript: According to David Berkowitz the cistern in this garden was where he and his fellow conspirators planed the Son of Sam killings. I went back to my slides to see if I could spot some of the directional markers he described and sure enough some were there. The cistern has since been removed and I believe the site is now under a parking lot.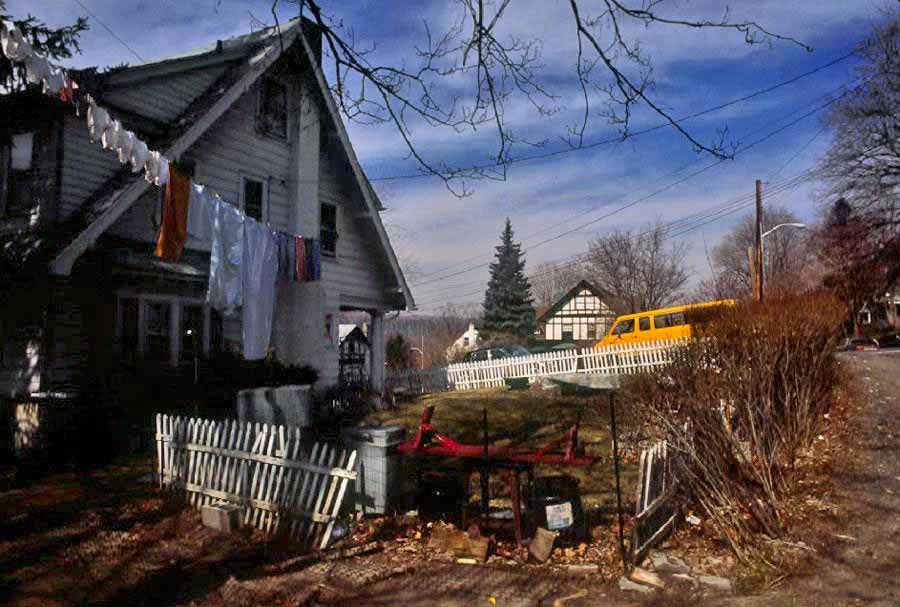 March 1988

A 13 mile walk from Glenwood to North Tarrytown

It seems odd to leave the City just to walk in another well worn environment. My route may be tree lined and there are views of the river below but there is no escape from the human landscape. But the interaction between man and nature here is different, even nuanced from each neighborhood to the next that I pass through.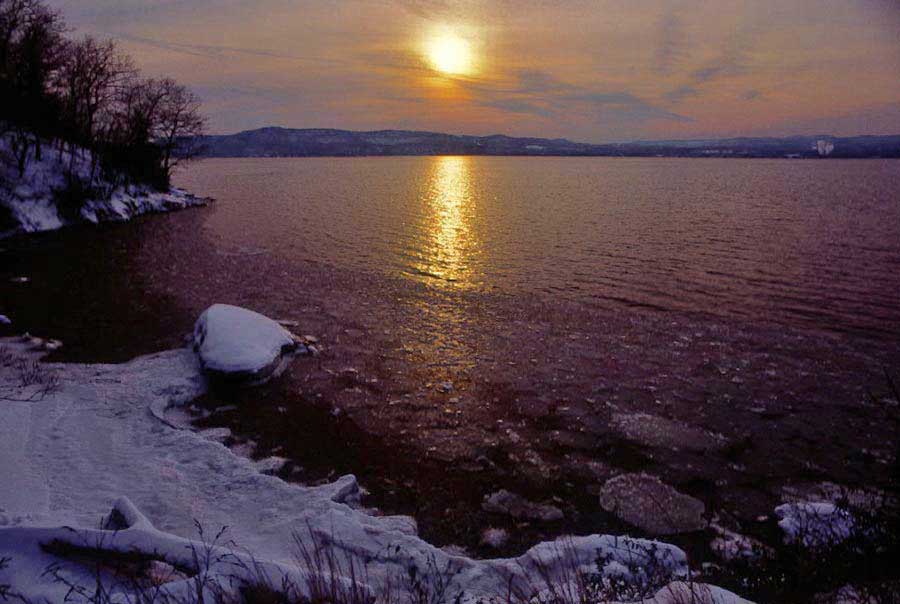 January 1988

A 7 mile walk from Crugers to Oscawana Island and then on to Montrose

This was not hiking weather. The snow was deep and deeper still where it drifted into high mounds amidst broken terrain. Despite this I had made it to Oscawana Island and then back to the train station without incident. That is before temptation got the better of me and I wandered further into the winter landscape for a second round as the sun began to fall. I found myself tangled amidst vines in a deep snow filled hollow when I heard the distant train whistle blow. I had missed my connection back to the City and the temperature would drop dramatically on this already cold night before I got myself onto another train hours later. Feeling did not return to my feet until the next day.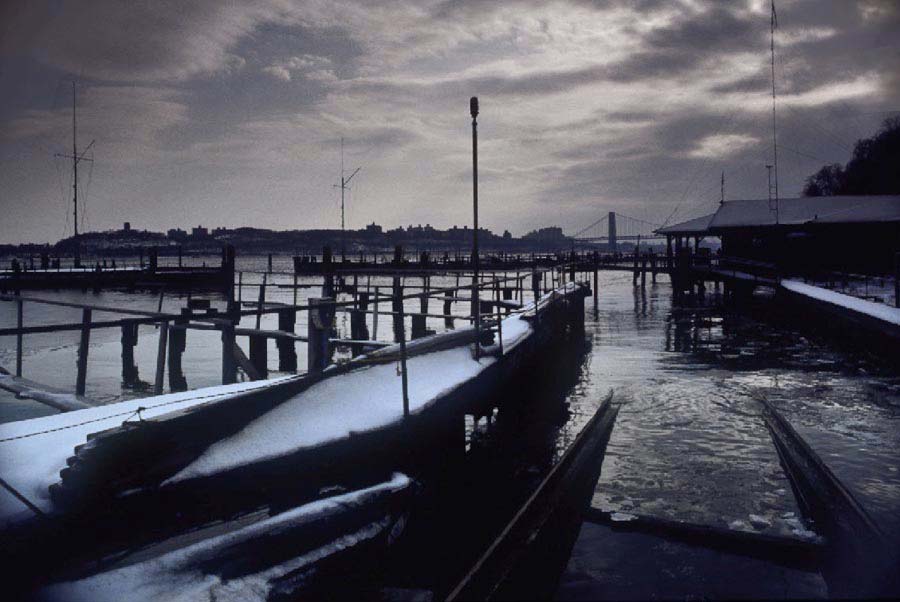 January 1988

A loop between Fort Lee and Englewood

I had thought that in the snow my walk atop the cliffs of the Palisades would yield some interesting panoramic shots but the views just looked stark and confused. It was only when I started shooting deeper into the forest that things began to come together a little more. When I reached the boat basin an uneasy break along the quiet shore was created, but with hints of the City beyond, compositions came easily.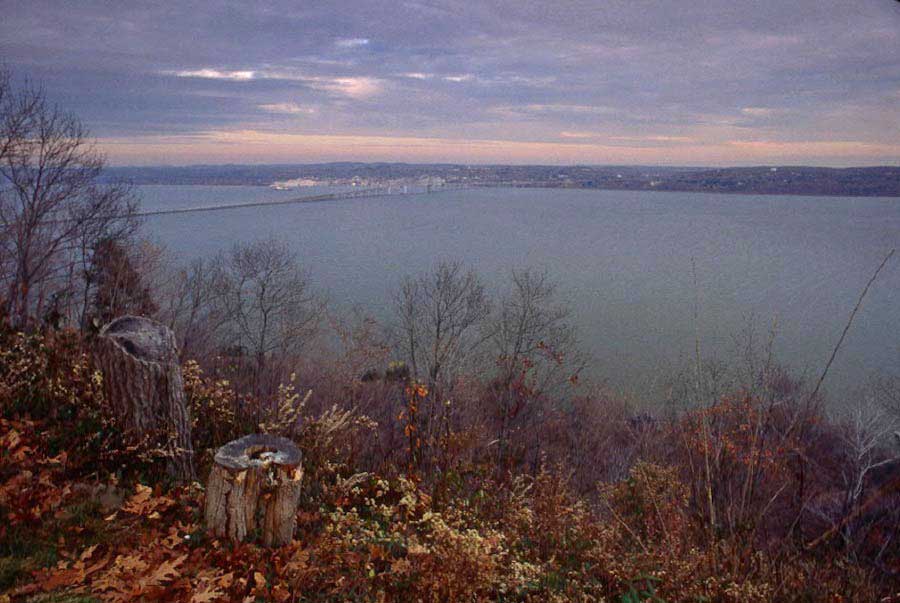 December 1987

A loop around Grand View on Hudson

Though they stood on steep slopes the leafless trees were so tall with branches so thick that it was difficult to find any open views of the river. On the highest drive a clearing was found over the dead weeds and the Tappan Zee spread out before my eyes. This was no wilderness, there were reminders everywhere. In its own way nature held its own reminding us the contest was not yet over.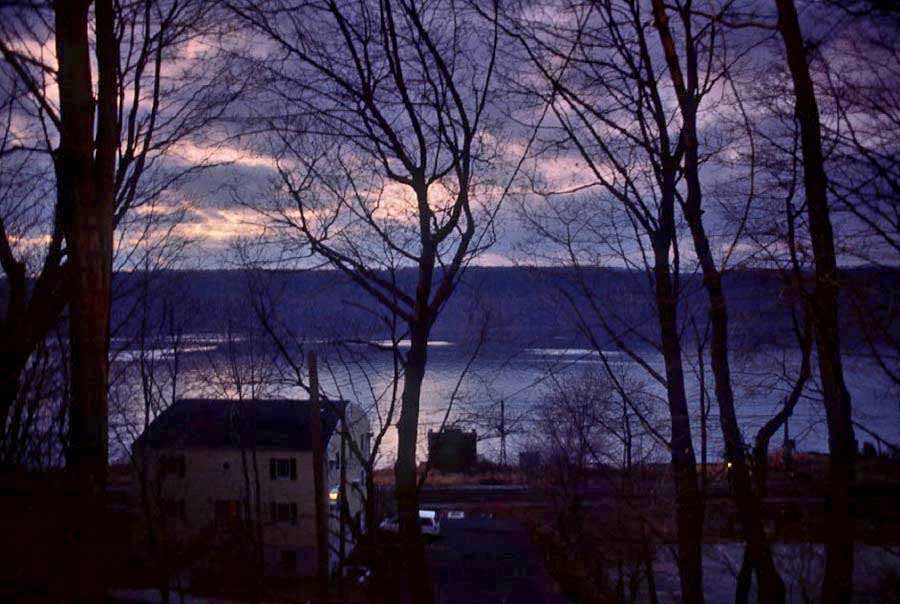 December 1987

A 9 mile walk from Riverdale to Greystone

There are too few hours of daylight this time of year for long walks. As I pushed myself past my planned end point I found myself walking in the near dark. I knew the light had already faded beyond my ability to shoot good photos but I could not resist moving onward.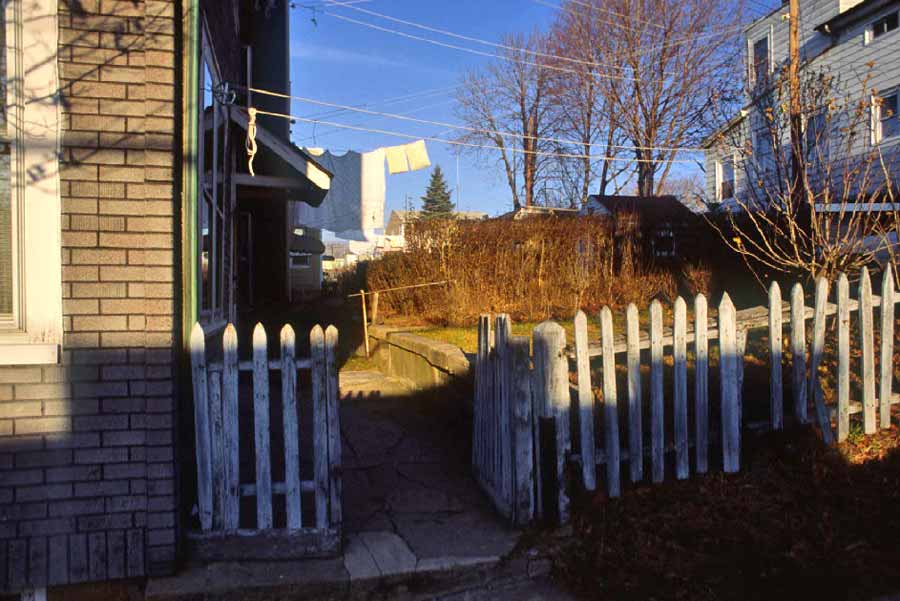 December 1987

A ramble in Yonkers

Everything looks old and worn to me today. Even those homes with brand new additions or recent repairs just seem to be postponing the inevitable. Only the age old raking light of winter is fresh, the blue of the sky, a newborn.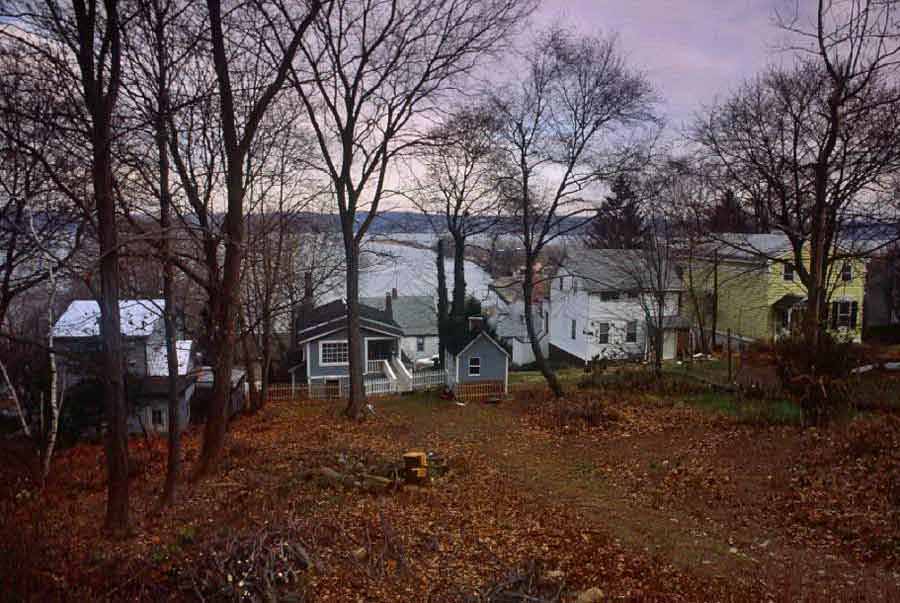 November 1987

An 11 mile walk from Nyack to Piermont

I stuck to the old railroad grade as much as possible today. Some views were so steep that the rooftop views of homes became little more than strange abstractions. As the grade began to level off it became an intimate corridor to backyards. Woodpiles are stacked prepared for a long winter.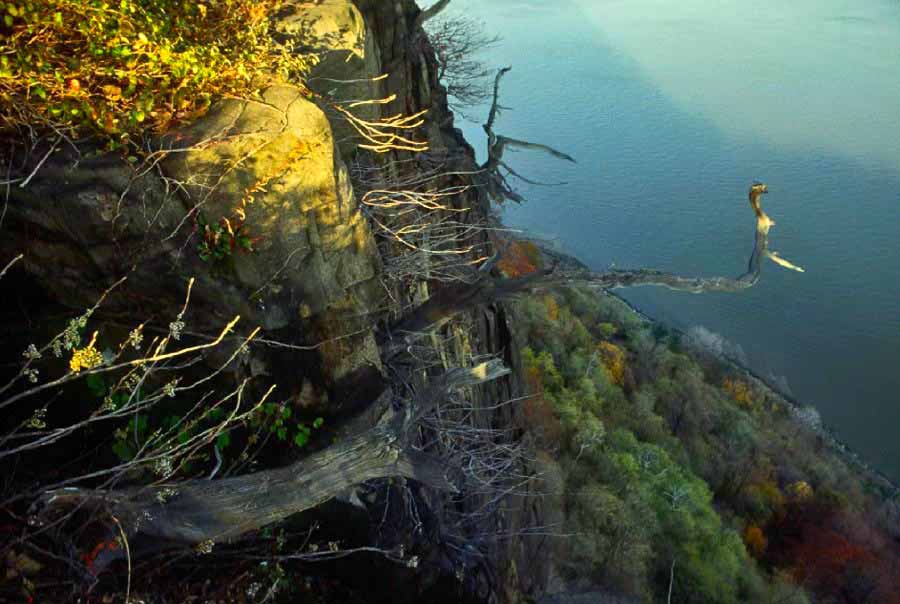 November 1987

A 7 mile loop on the Palisades between Alpine and Forest View

I left the trail to find a spot where I anticipated an untrampled view. My calculations paid off on discovering a cleft in the rocks from which a great panorama opened. I eased my way down the cliff to add the gnarled remnants of the old trees that had sprouted from the cracks to my shots. With little room to maneuver it was difficult to compose. Unwilling to leave without a good shot I moved down further. I found it nearly Impossible to get back up as the cliffs surface crumbled in my grasp and the shallow rooted grasses gave way with the slightest tug.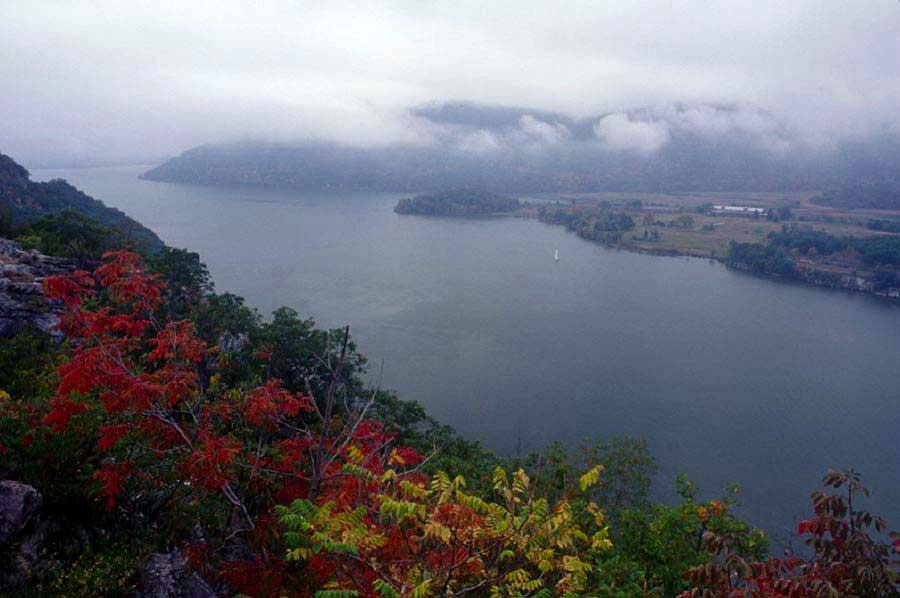 October 1987

A 7 mile walk to Peekskill from Bear Mountain

It looked good on my map but walking on a winding mountain road with no shoulder was probably one of the more foolish things I've done. When I was finally able to climb down onto some ledges I could not believe that cars and trucks were whizzing just inches past me a few moments earlier. Before me lay the definition of serenity; a vast landscape all blanketed under a slow moving mist. How fast the world can change. How fast we can change it.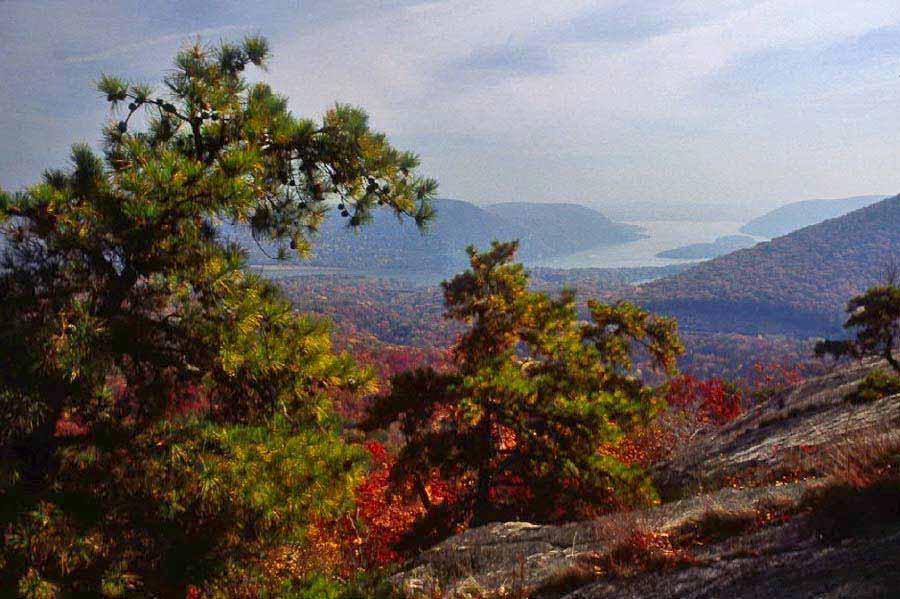 October 1987

A loop between Hessian Lake and Popolopen Torne

As the day warmed a soft haze filled the valley below and the pines danced upon the mountain tops.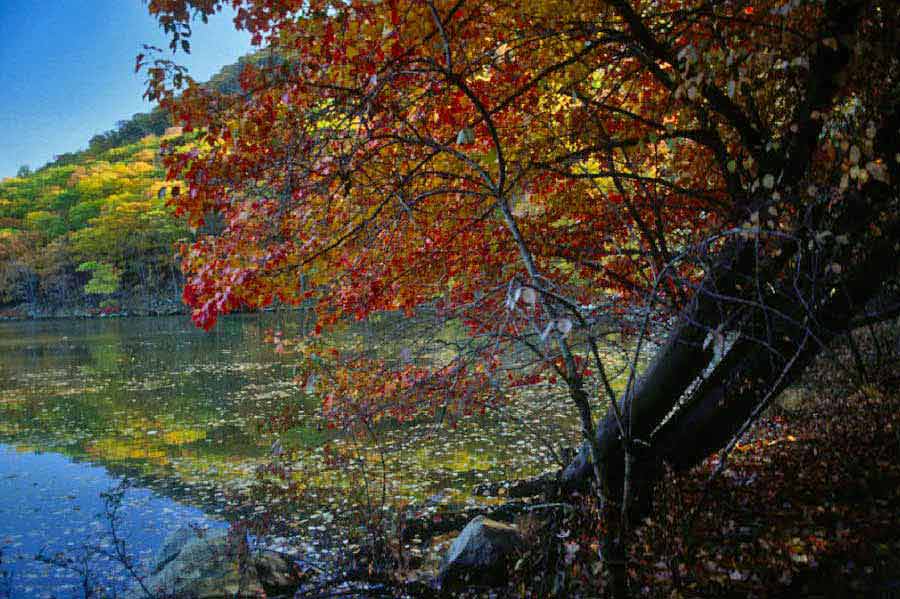 October 1987

A ramble about Salisbury Marsh and Ring Meadow

I explore the marsh today as far as dry boots will take me. Not totally dry anyway, for it became difficult to clear the tree line without venturing onto wet ground. I am paying too much attention as to where I'm stepping. I stop and let myself lookout and see.

---
Copyright 2009 Alan Petrulis All Rights Reserved