RAMBLES IN THE HUDSON VALLEY (page 7)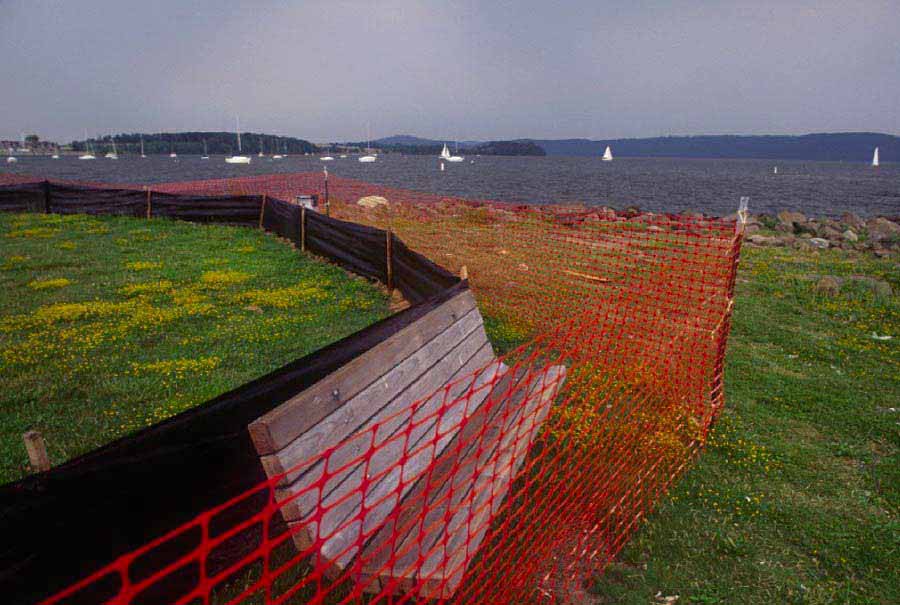 July 1998

A ramble about Croton on Hudson

In this valley I must constantly remind myself that not all shots have to be Romantic.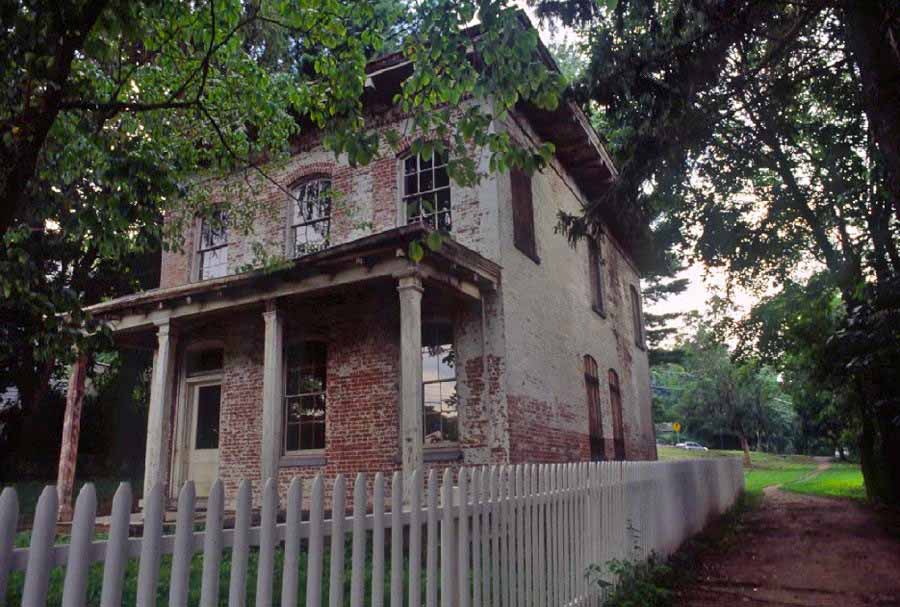 July 1998

A walk from Dobbs Ferry to Hastings on Hudson

I've come to realize that the right of way atop the old Croton Aqueduct does not only pass through a variety neighborhoods but has a variety of people on it as well. It plays host to day long walks, joggers, playing children, and those out with their dogs. I come to this place because it is unique and special to me but for others it exists as part of their everyday lives.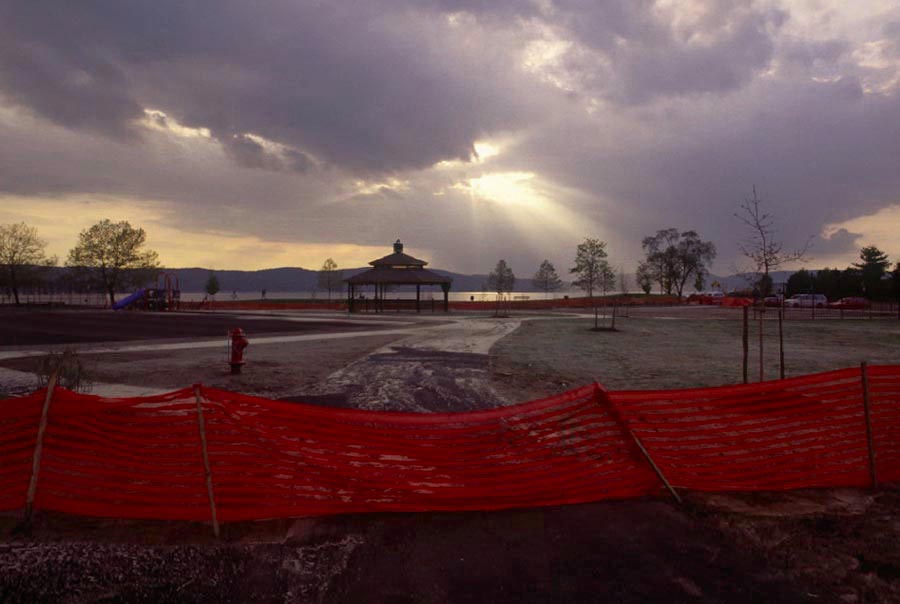 May 1998

A short ramble through Tarrytown

The mixed geometries of unfinished park renovations were a perfect complement to the churning cloud filled valley. In a world of constant change nothing was out of place in this moment.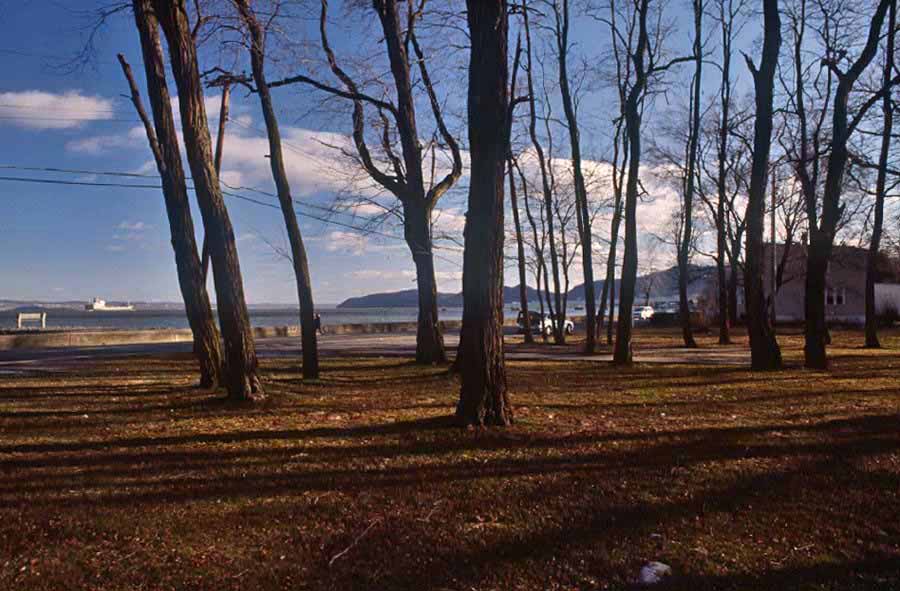 February 1998

A ramble along the Hudson at Haverstraw

The air under the bright sun was exceedingly crisp. Space itself seemed boundless here, the flanking mountains unable to contain the wide open valley. Light and the stiff north winds that crossed the river defined the day. It seemed unbelievable that a landscape could be so brightly illuminated only to be devoid of warmth. This is a real winter day.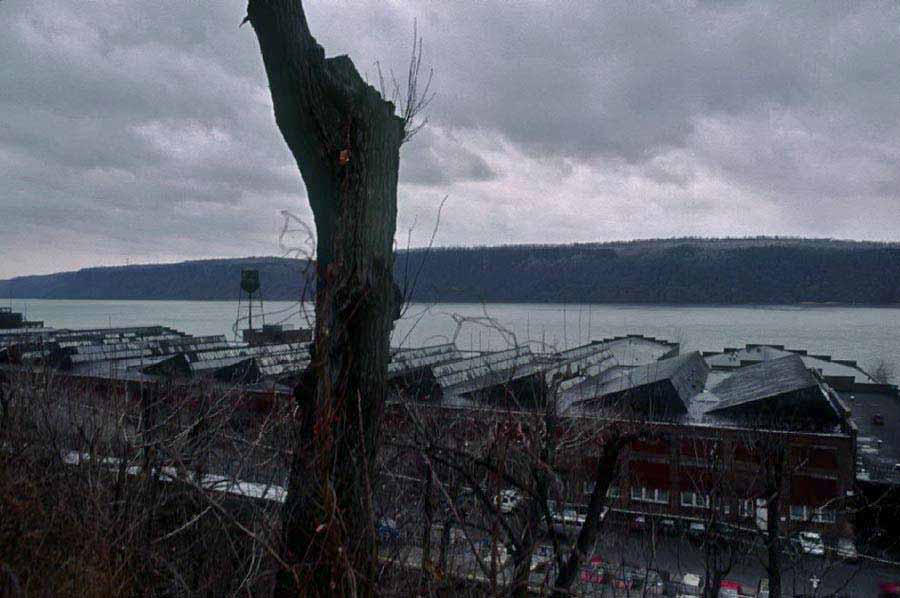 January 1998

A walk from Hastings on Hudson to Dobbs Ferry

The fallen leaves have opened up new vistas but the day is exceedingly dark. I realize this walk is being fueled more by optimism rather than any real chance of taking good photographs.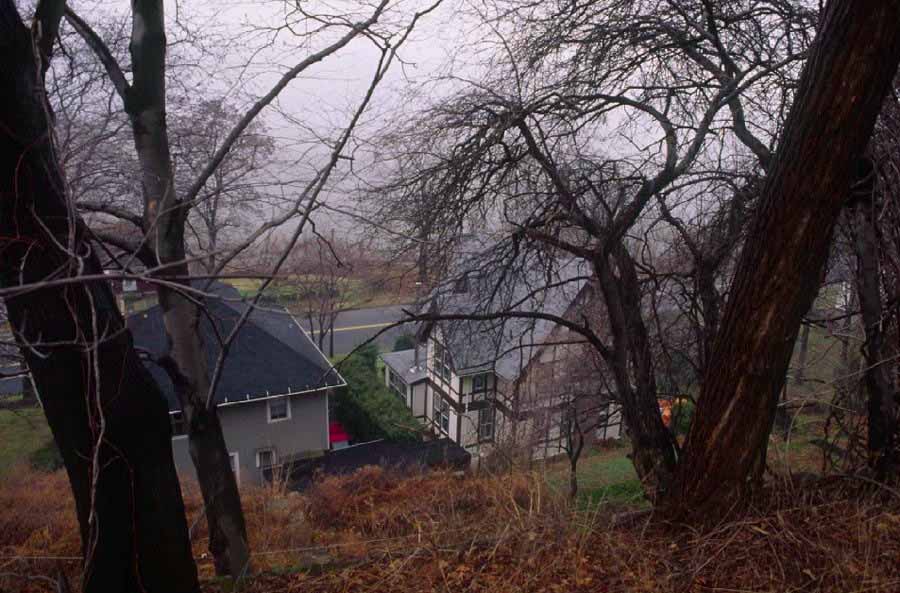 December 1997

A 5 mile walk from Yonkers to Hastings on Hudson

The warm air brought mist that filled the valley adding a new dimension to a familiar path. Was this reprieve from winter anything more than false hope? Cold days lay ahead, those bits of green still hanging on will soon be finished off. Seasons have no duration but fade into dream.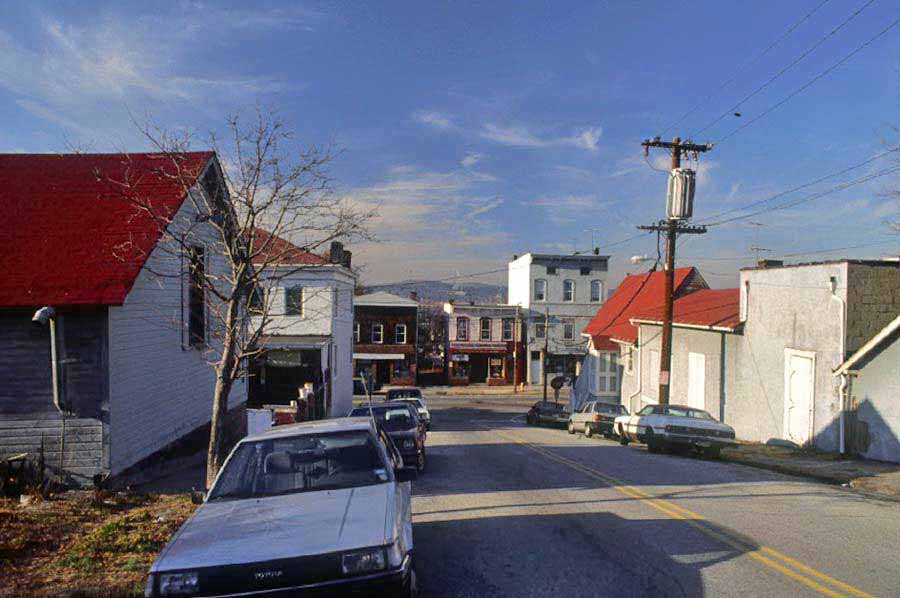 December 1997

A walk from Hastings on Hudson to Dobbs Ferry

The air felt like winter, crisp and filled with a sharp raking light. The small towns along the river sat in quiet hibernation.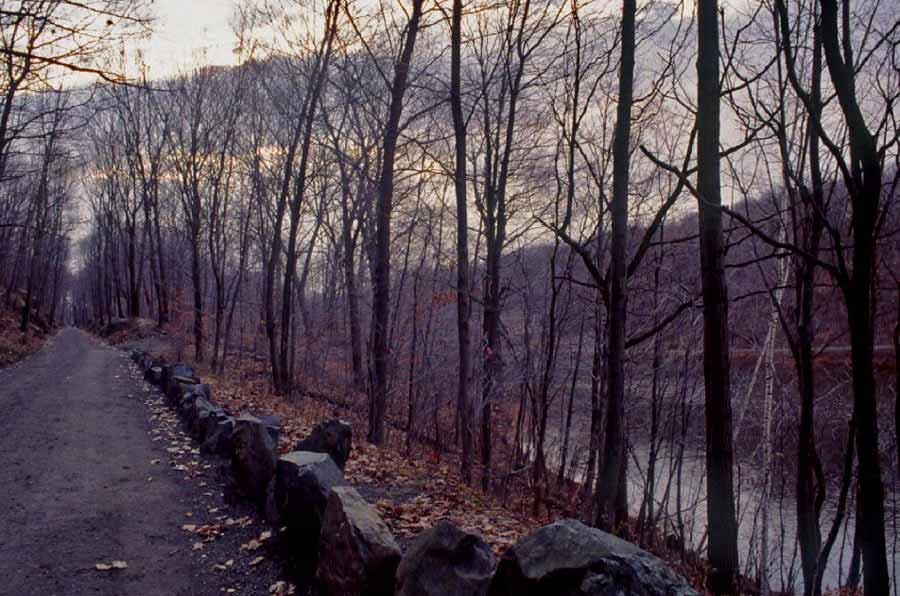 November 1997

A 10 mile loop between Tarrytown and the Pocantico Hills

While traces of autumn lingered it really felt like winter had already begun. In places a certain starkness filled the landscape as if life was never meant to return. A pale cold sun struggled to cast light.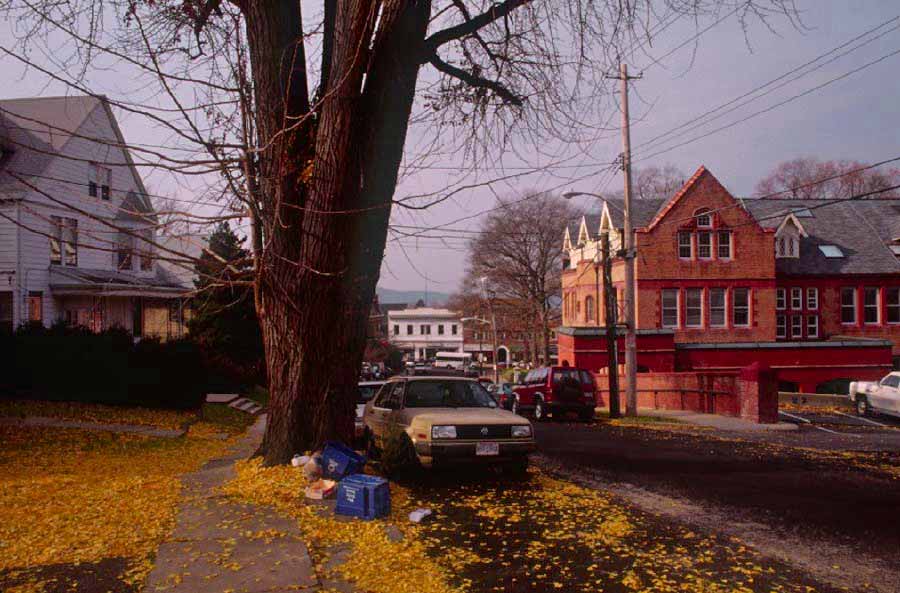 October 1997

A 9 mile walk to Tarrytown from Hastings on Hudson

The colors of fall can sometimes give the most ordinary of views the punch it needs to carry it further. But it's more than just color. There is something poignant about the end of things, more so than the changes to be found in other seasons. Is there a joy in melancholy? Why should rot and decay be able to rival the blossoms of spring? Why not?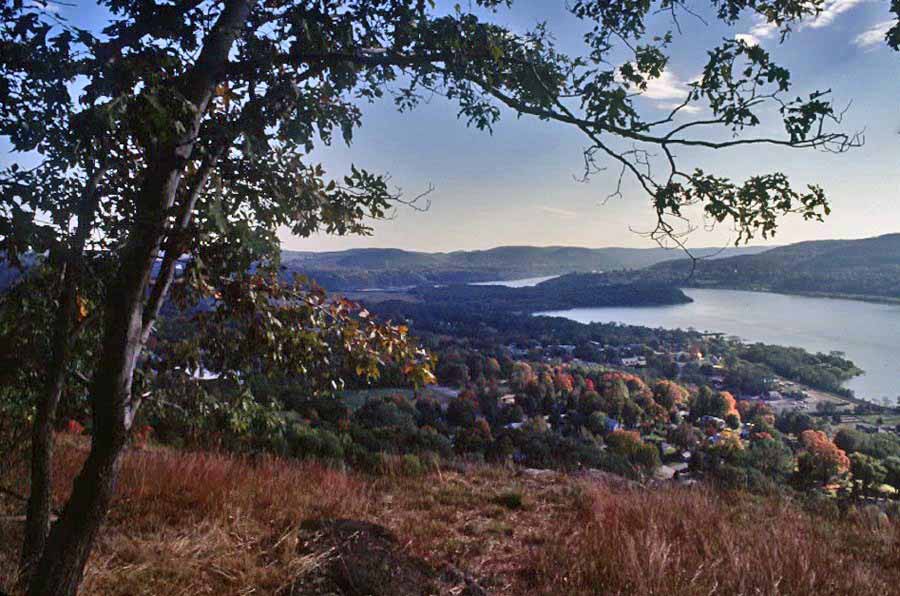 October 1997

A 7 loop between Cold Spring and Mt. Taurus

When I reached the first overlook on my way up Mount Taurus I stopped and sat there for some time. Though my intention was to reach the summit I got up and turned around. It wasn't so much the lack of energy as much as I was being pulled somewhere else. My feet had taken me to this place for I told myself this is something I should do, but I was not really here. Today the earth wares on me as much as I do on it.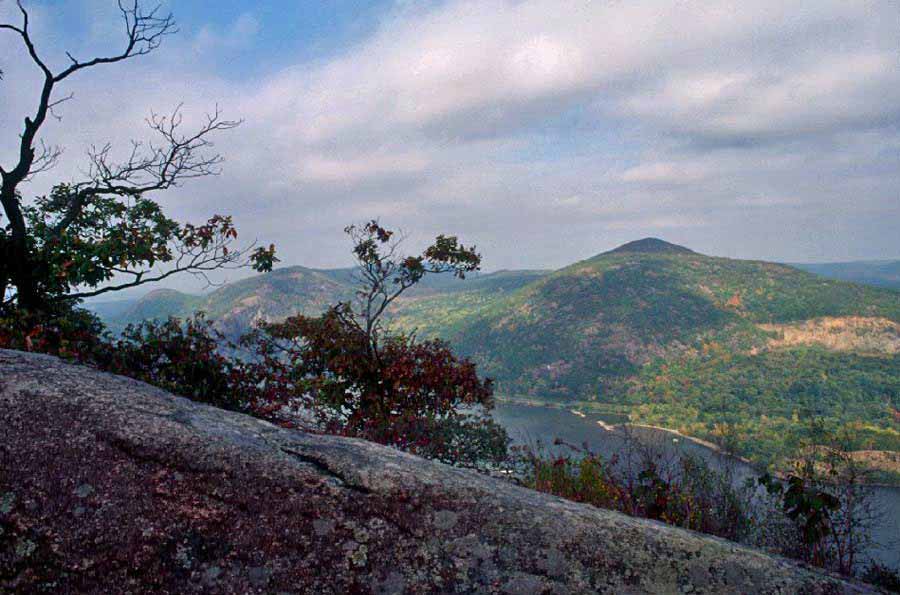 October 1997

A 5 mile loop down from the Crows Nest and back up through the Clove

The warmth of the fall day brought out the haze but the view from Crows Nest remained spectacular. After descending the rocky face I headed back up an old abandoned wood road through the clove. Within minutes I had lost the way as the ground was completely blanketed in dense piles of leaves. Without a worry I just followed the natural contours upward as if it were a true path. There is a difference to being lost and not knowing where you are.
Postscript: Unexploded artillery shells lay about this area from being test fired years ago from the Cold Spring Foundry across the river. Before taking this walk the trails had been closed while ordinance experts cleared the land around them. After this walk a subsequent fire on the mountain set off many they missed a second sweep has since been made of the area but it is still unwise to stray from known paths as I did many a time that day.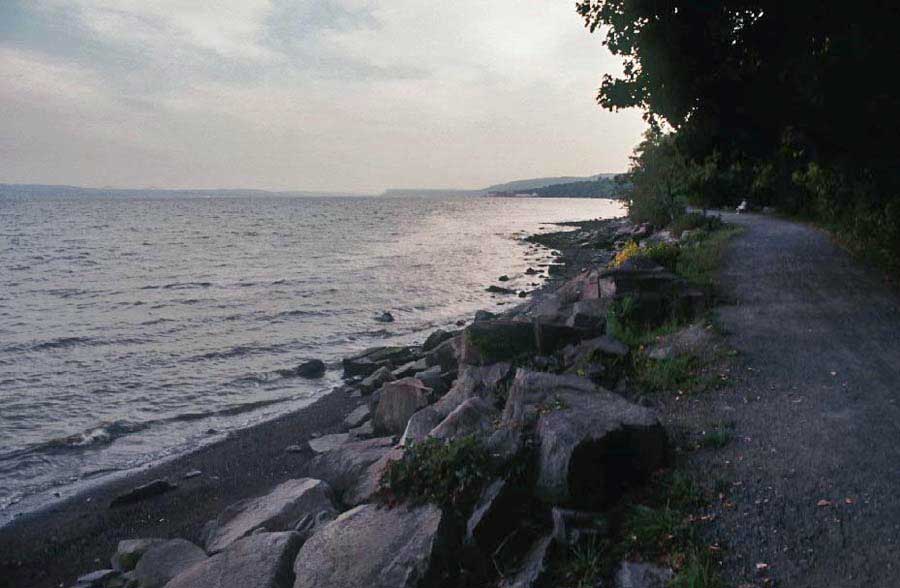 September 1997

A 5 mile walk below Hook Mountain

It was a day spent in the shadows both literally and figuratively. Nothing seemed quite real, as if life itself had drained out from the world leaving behind a pale grey replica of itself. The few photographs I shot all suffered for it.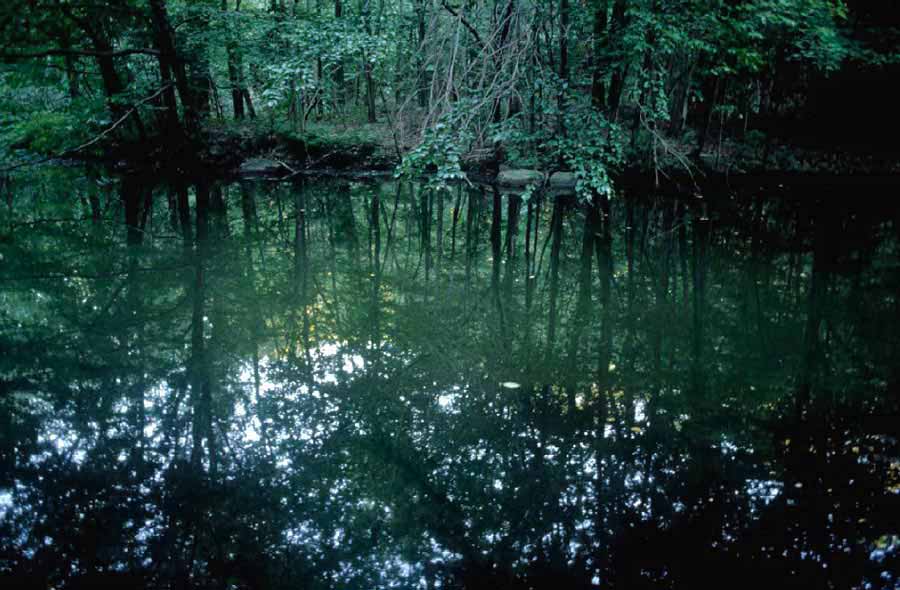 September 1997

An 8 mile ramble in the Pocantico Hills

It was a most pleasant day for walking but the cheapness of green kept my shots to a minimum. Even so I stopped and dallied at a still corner of a dark eyed lake surrounded by green where it was at its most intense. Everything is of the moment.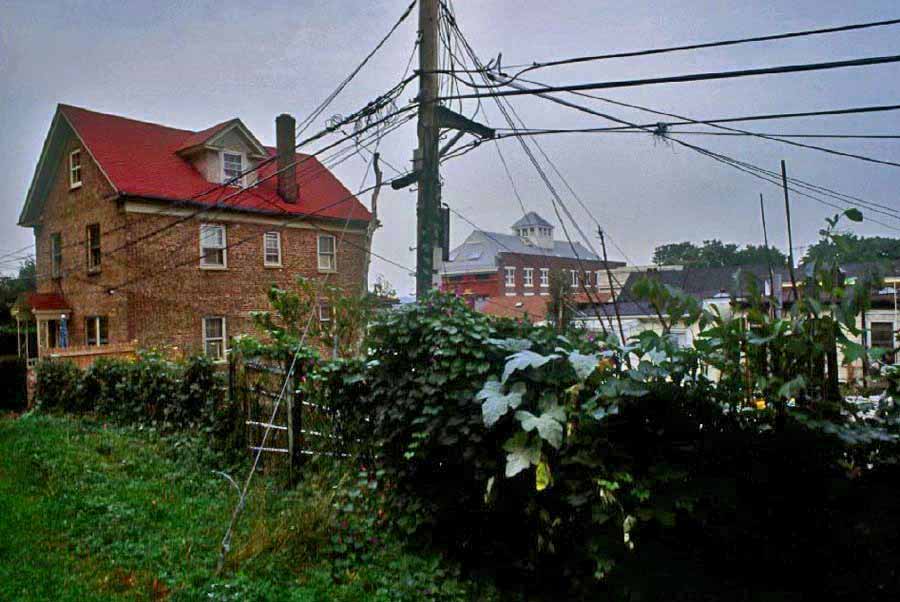 September 1997

A ramble in Dobbs Ferry

Many of my familiar autumn views were hidden by the growth of summer. Leaves had grown heavy and burdensome, scared by insects and the elements of a long season. They were tiring and soon they would fall, but today they lived and I celebrated their life.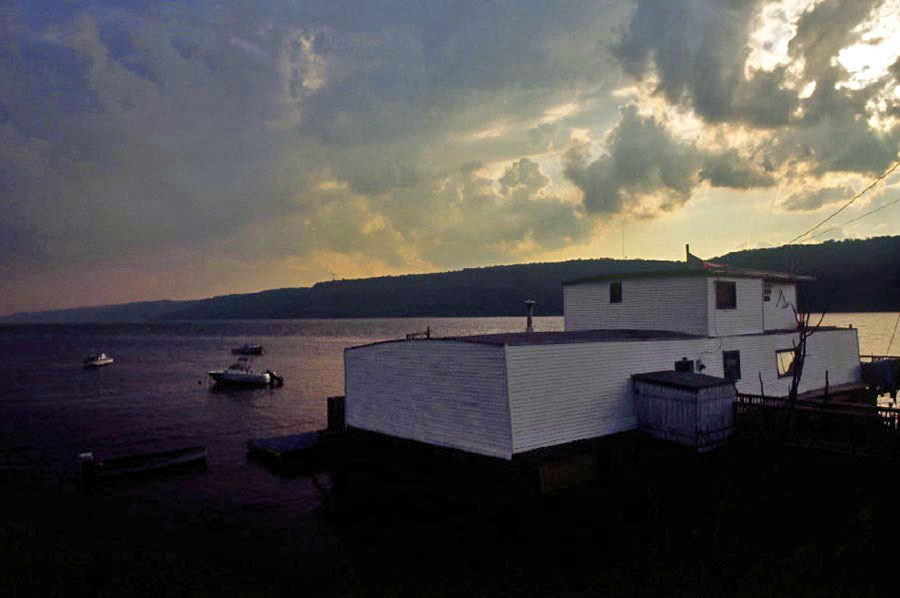 August 1997

A 7 mile walk between Dobbs Ferry and Glenwood

A storm's approach can display ominous signs warning me to get out of its way. Yet it can also be accompanied by the most fabulous light of subtle to dramatic proportions that keeps me frozen in place. Life cannot be lived without paradox.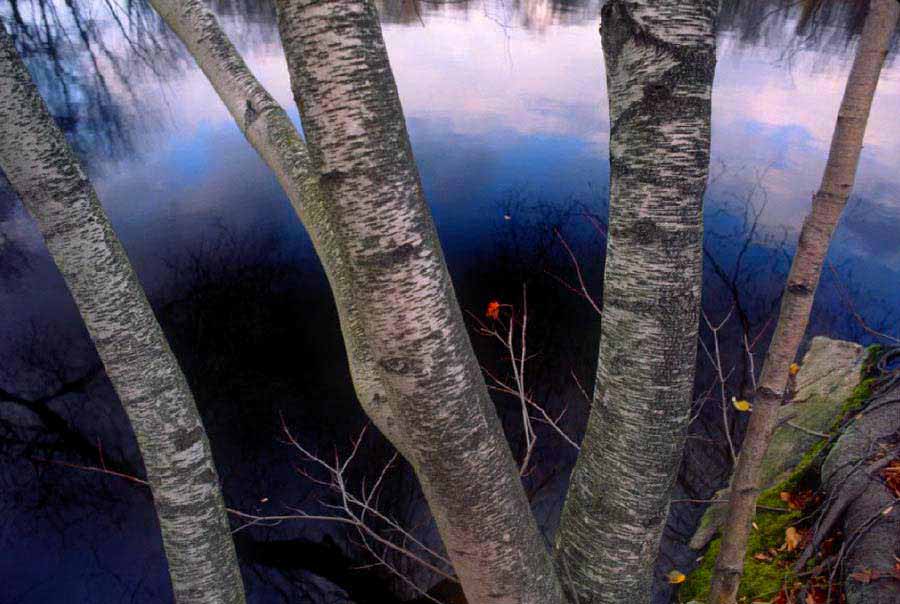 November 1996

A 15 mile loop between Tarrytown and the Pocantico Hills

There was a real chill in the air today, much more than expected. Most signs of fall had disappeared and my interest fell on the play of light across the land rather than the remnants of leaves. The intricate patterns of vines, branches, and tree bark however were too enticing to be overlooked.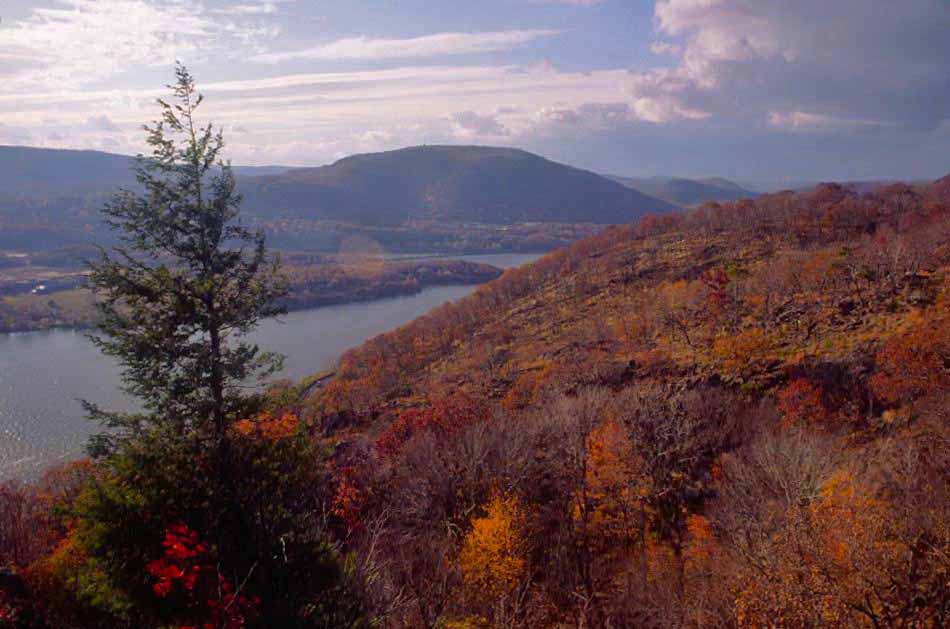 November 1996

A 7 mile walk from Peekskill to Manitou Station

With most of the leaves having fallen, the fire damage from years past was clearly visible. While it was difficult to gage where trees had once stood among these open rocky balds the occasional pile of burnt remains were stark clues. It was still pleasant here, actually more than pleasant. The view down through the Southern Gate of the Highlands was dramatic while the long view up the Hudson was pastoral and calming. The marshlands directly across the river felt so inviting as to defy the great chasm between us.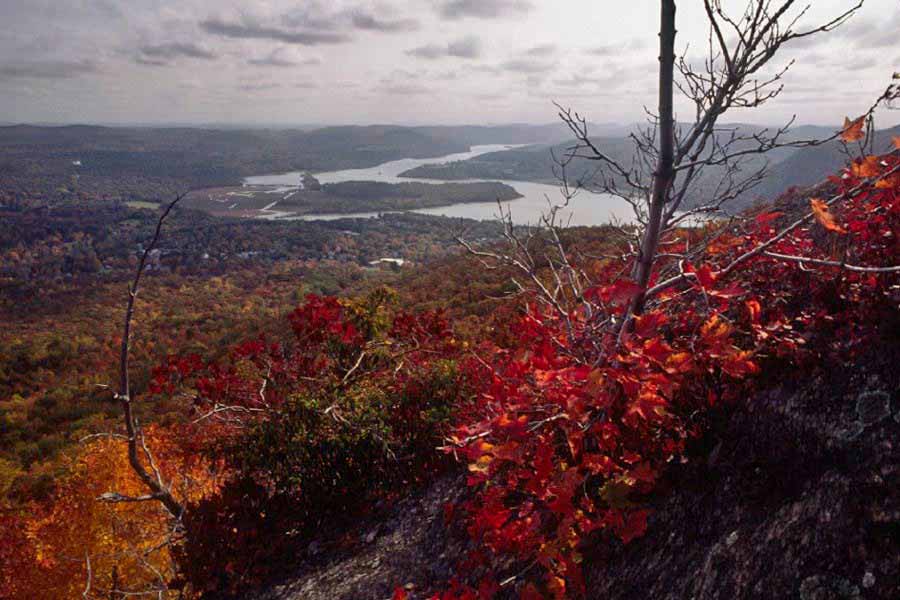 October 1996

A 10 mile loop between Cold Spring and Mt. Taurus

The occasional sunburst through the grey overcast bathed all from the mountains to the river in a beautiful silver. There seems to be times like this when a landscape goes beyond ones ability to describe it in terms of color, that it is not color alone that one sees but some form of living energy. Photographs do not come close to capturing this and if it were possible for me to put it down in paint, it would certainly be too unbelievable to be considered good work.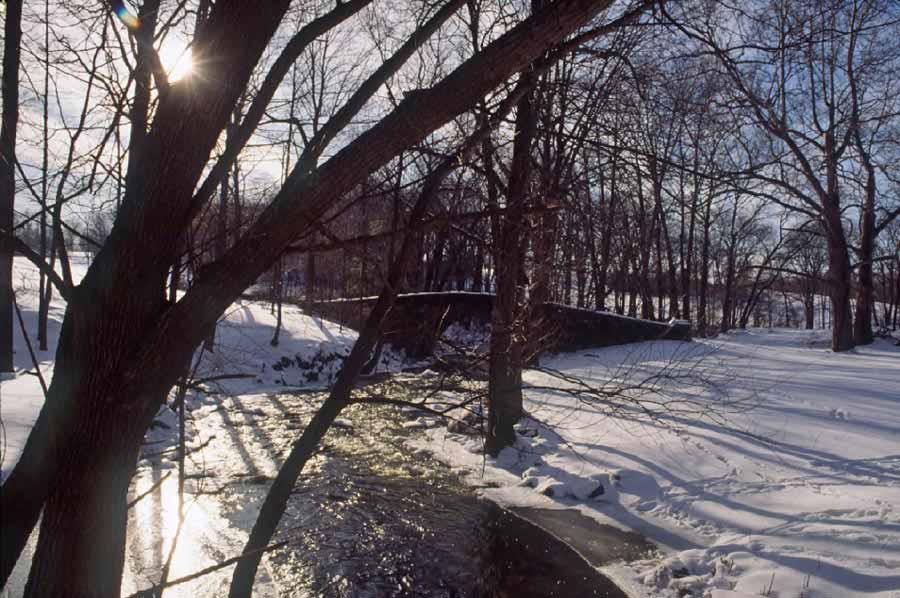 February 1996

A 6 mile walk from Kingsland Point to Sleepy Hollow an on to Tarrytown

I had specifically come out here to experience the results of the snow storm but it was way too deep to comfortably walk in. If most of the snow had not fallen off from the tree branches my enthusiasm to plow through the drifts would have been greater. As it was, my lack of good shots just kept me aware of how tiered I was getting. No one else was around, the murmur of the icy brook as it rippled around rocks was all that broke the silence. In this quiet the deer were encouraged to come out midday. Pairs of them crossed distant fields of white.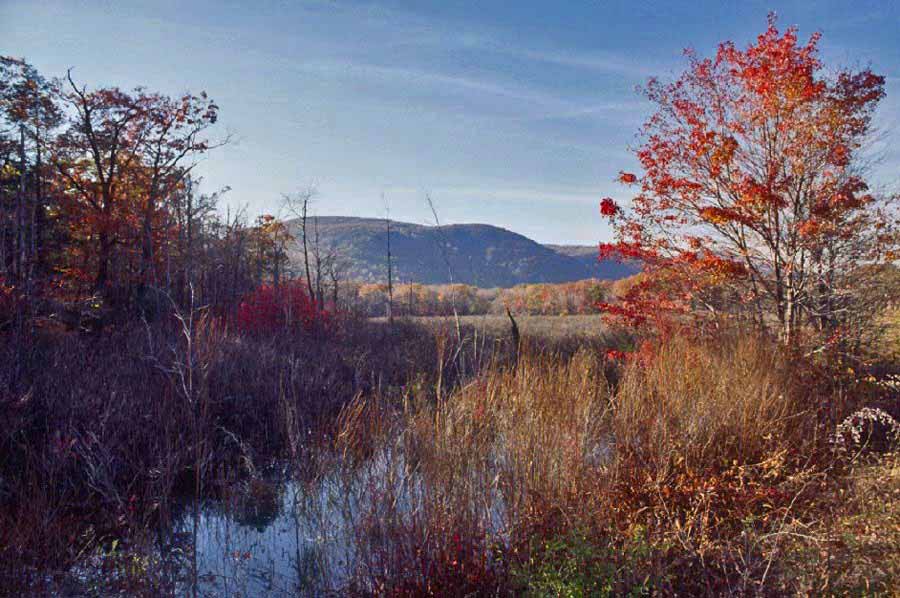 November 1995

A walk from Garrison to Cold Spring

When the trains aren't whizzing past at speeds high enough to knock me off my feet the causeway along Constitution Marsh is rather peaceful. The open views along the railroad abruptly disappeared as the causeway arrived at the back end of Constitution Island, but even here views would emerge where the marshlands intrude on the forest. Wherever these two wet and dry environs meet chaos ensues as both try to expand into areas they are ill suited for. This provides a great foil to the mountains so clean and elegant if only by their distance.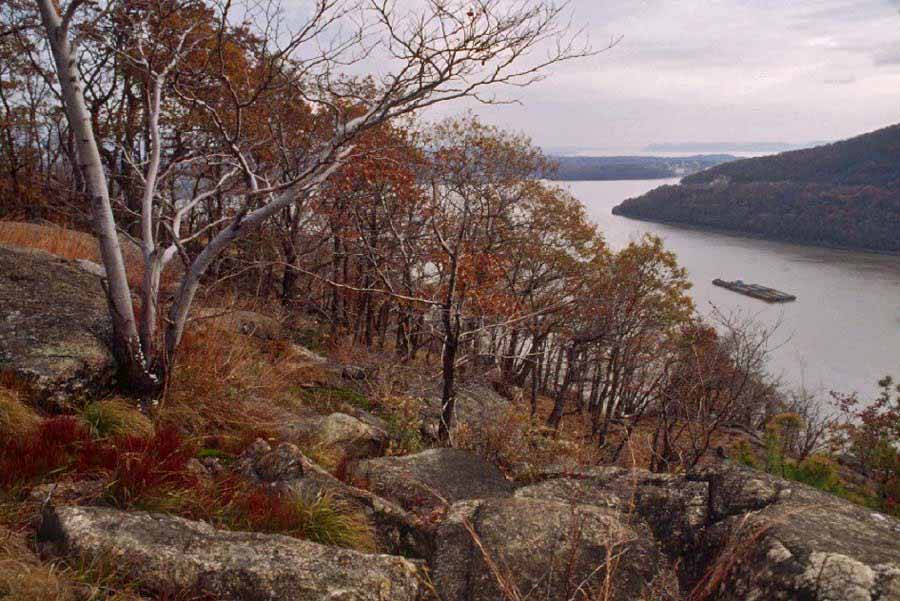 November 1995

A 9 mile loop between Peekskill and Manitou Mountain

My second attempt to reach Anthonys Nose via Manitou Mountain failed as I simply ran out of daylight. Road construction down by the creek caused delays in finding a way over while the time I spent bushwhacking out on the mountain ledges did nothing to speed up my pace. The raking views down this steep slope were just too good to quickly pass by. As I watched strings of barges move up and down the river I thought of earlier days. Yet there was no need to, they were here now just as I was.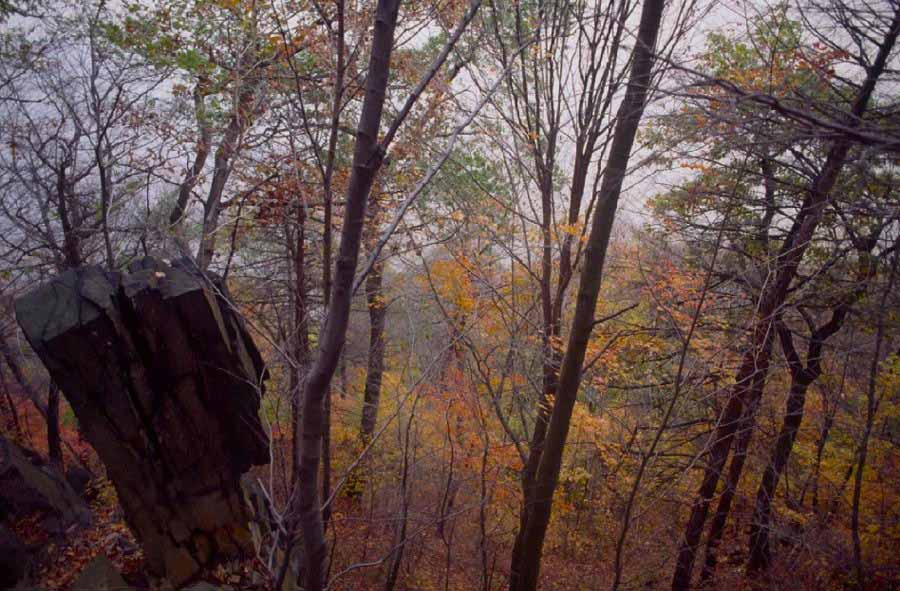 November 1995

A 10 mile walk from Alpine to Piermont

I was horrified by the new fence I found erected along the cliffs edge. It was put up in response to a rash of recent suicides but it created no real barrier for anyone intent on going over the precipice while destroying some of the most magnificent scenery along the Palisades. Not all of the precipice is suitable for fencing however for much of it falls over severely broken terrain divided by deep fissures. With a little bushwhacking and no fear of heights I was still able to hunt down views of interest.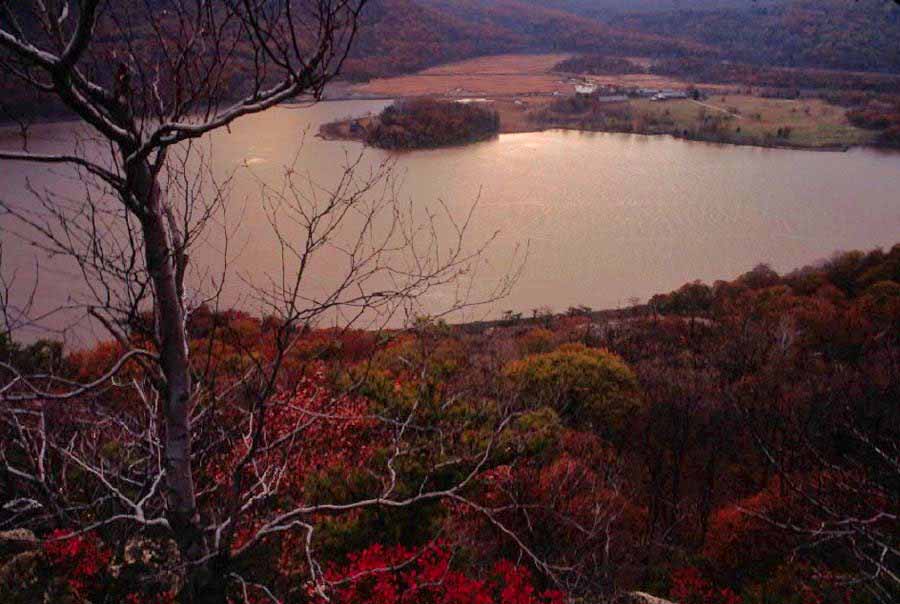 November 1995

A 9 mile loop between Peekskill and Manitou Mountain

Though the trek up from Peekskill along the highway was as dangerous as it was arduous it was worth it to be on this recently blazed trail. After hugging the steep mountainside for some distance the path rose above the tree line and opened onto some craggy ledges. It seemed strange to be viewing the valley from this shore when I was so familiar with the other. Many leaves had already fallen with those that remained of red and rust. Despite the bright color the valley looked soft, a united chorus singing one song.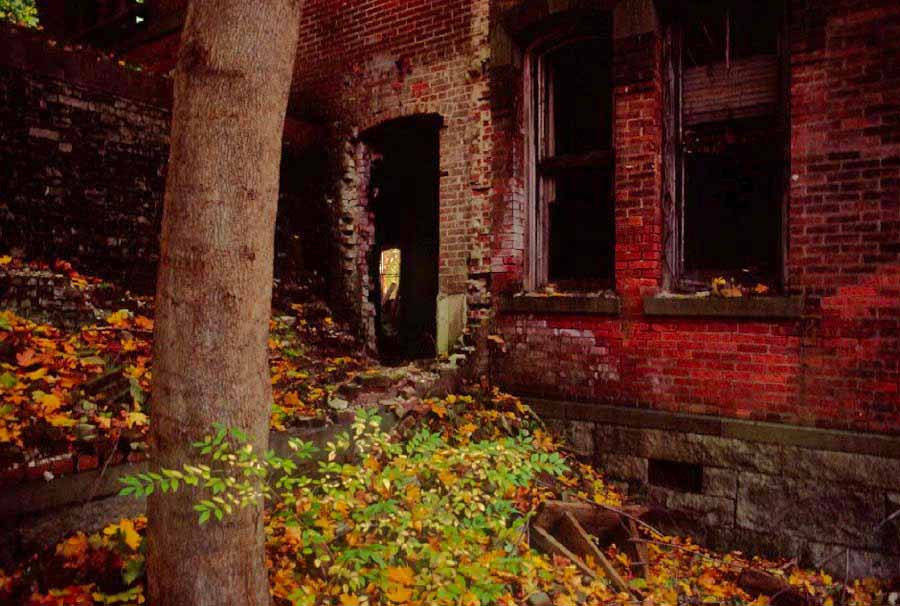 November 1995

An 8 mile walk from Garrison to Nelsonville and down to Cold Spring

After many halfhearted attempts over the years I finally found my way to the Cold Spring Foundry. Little remains of this once giant complex outside of deep leaf filled pits and hints of toxic waste, which is enough to discourage too much poking around. The ruins of one old structure however proved to be mesmerizing, its state of decay enhanced by the colors of autumn.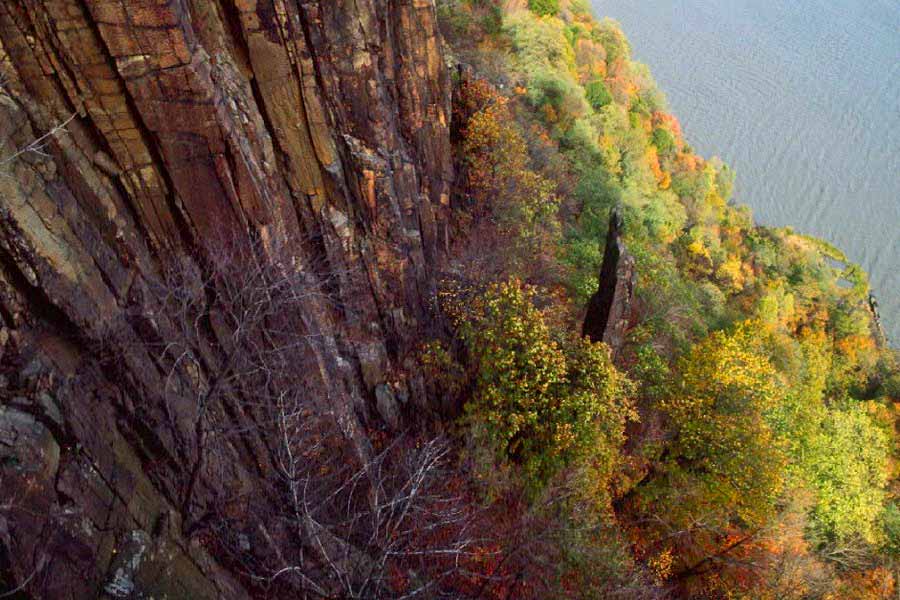 October 1995

A loop between Alpine and Forest View

While there are posted signs warning visitors to stay away from the edge of the cliffs, well worn paths and occasional graffiti attest to their failure to control behavior. For many I suppose it is the thrill that comes from the danger. I have seen tags on rock formations separated by crevices so deep that even I would not dream of crossing. If there is a thrill for me it only comes from moving off the beaten path and finding something out of the ordinary to capture.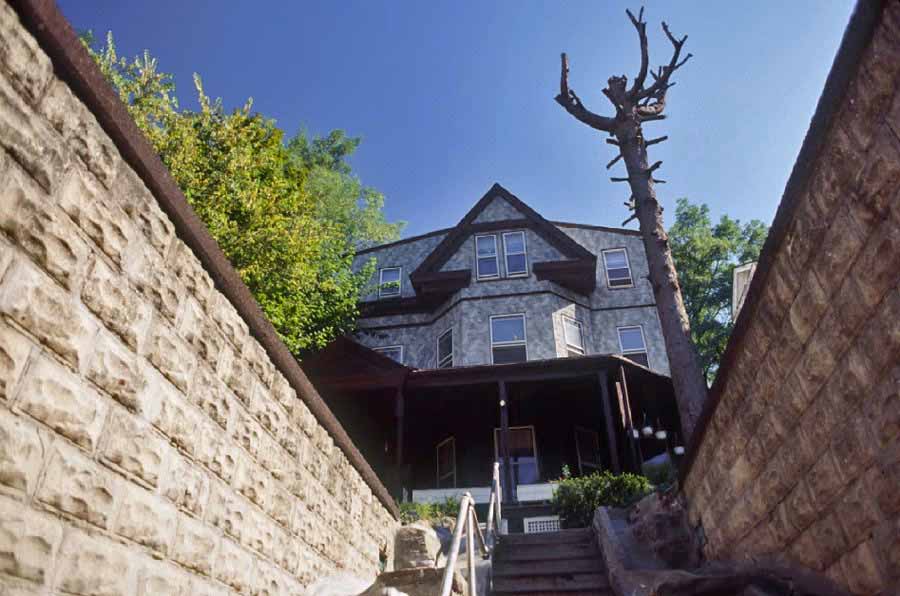 October 1995

A 7 mile walk from Glenwood to Dobbs Ferry

I purposely left my traditional route atop the aqueduct today in order to find new views to shoot. It was a sound strategy only I was finding little to show for it. But wherever there are homes built into a hillside I can expect to find solutions to sloping terrain that turn private little landscapes into something that could be from other world.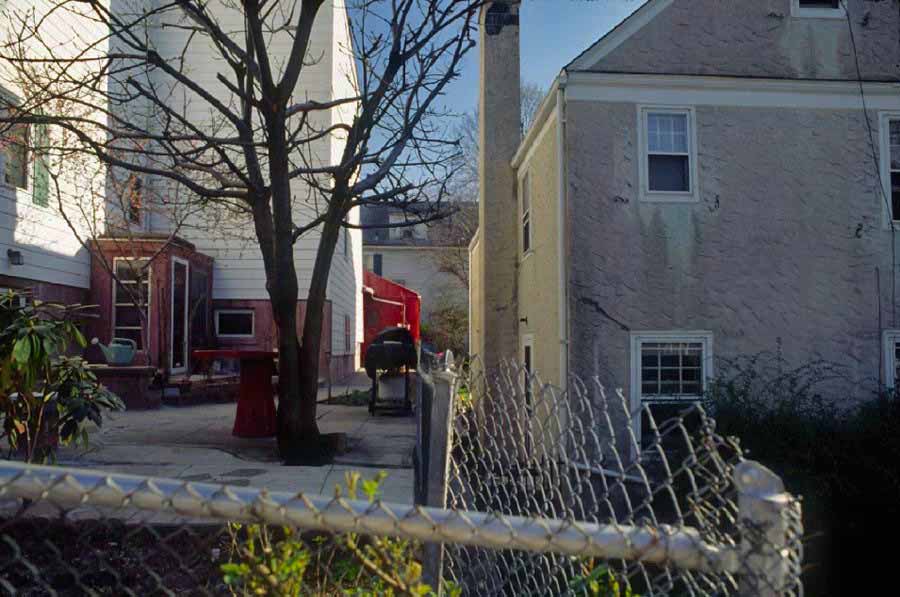 April 1995

A 14 mile walk from White Plains to Valhalla and over to Tarrytown

Despite hiking miles over much new terrain the only subjects I found of interest were of the same old backyards.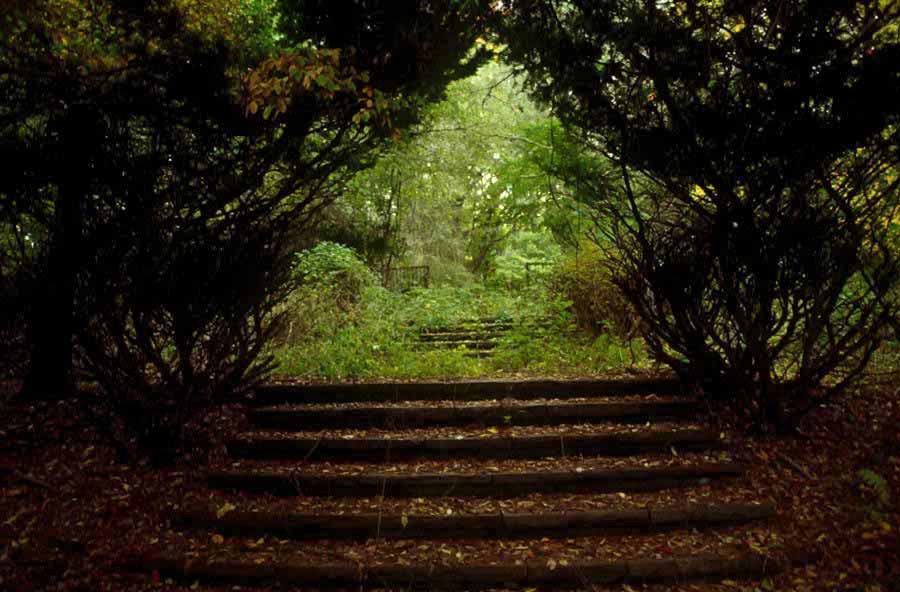 October 1993

An 8 mile walk from Tarrytown to Dobbs Ferry

For years I have been tempted to jump the wall of this abandoned estate but the thicket on the other side was so unbelievably dense it always discouraged any notion I may have had of exploration. But today something got into me and over the wall I went. It was tough going through the thorny brambles and vines. Every single step required careful calculation but I kept up a determined if slow pace. The remains of stonework that was once part of a more formal garden peaked out from the overgrowth. Some walkable paths eventually emerged and this lost world was lost no longer.

---
Copyright 2009 Alan Petrulis All Rights Reserved