BLOCK ISLAND RAMBLES (page 1)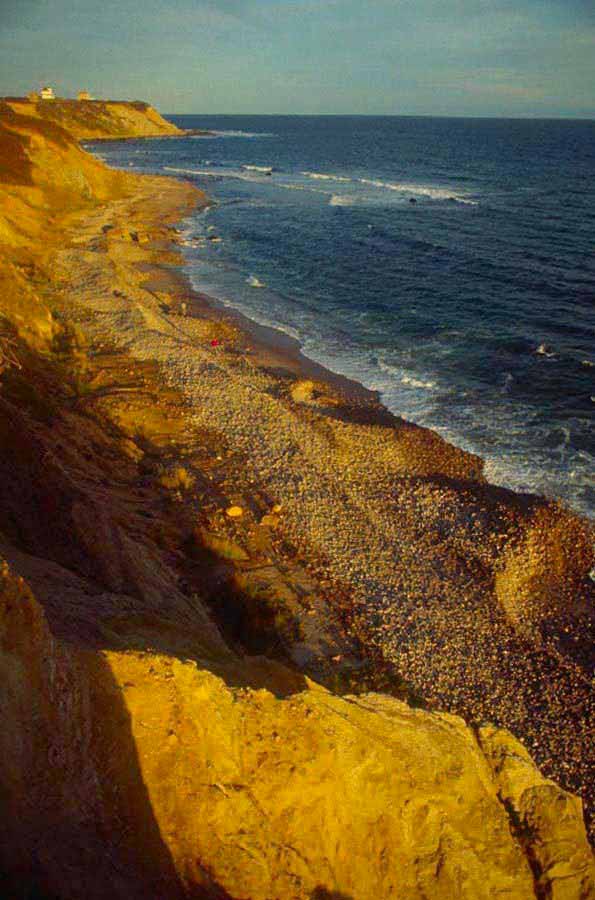 October 1990

A 15 mile loop between Old Harbor and Dickens Point

Gold is not a typical color for these clay bluffs but one that occasionally suits them.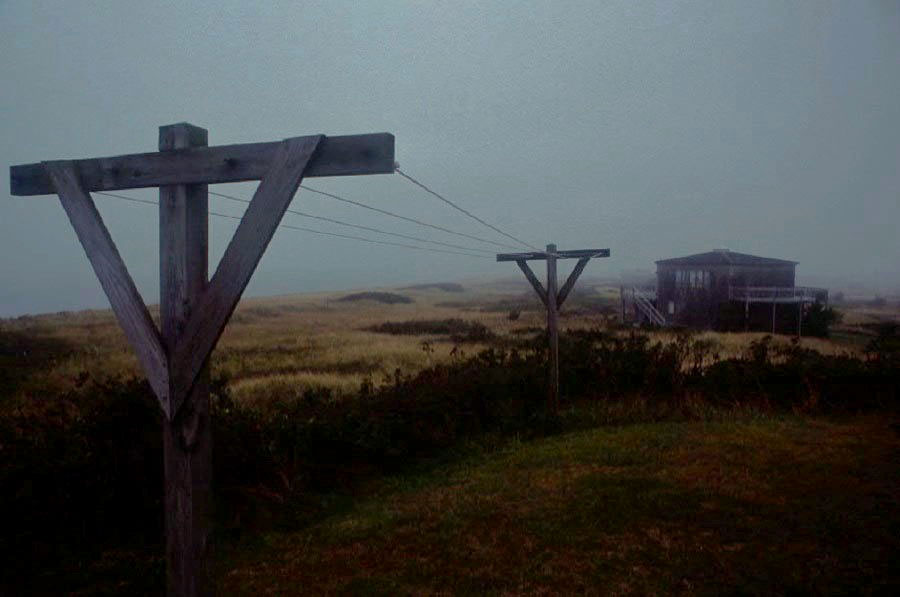 October 1990

A 6 mile loop between Old Harbor and Cormorant Cove

By the time I reached Cormorant Cove a heavy fog had rolled in. The shuttered cottages on the dune line turned into toys left behind in the sand.
Postscript: This once nearly empty stretch of sand is now lined with large houses.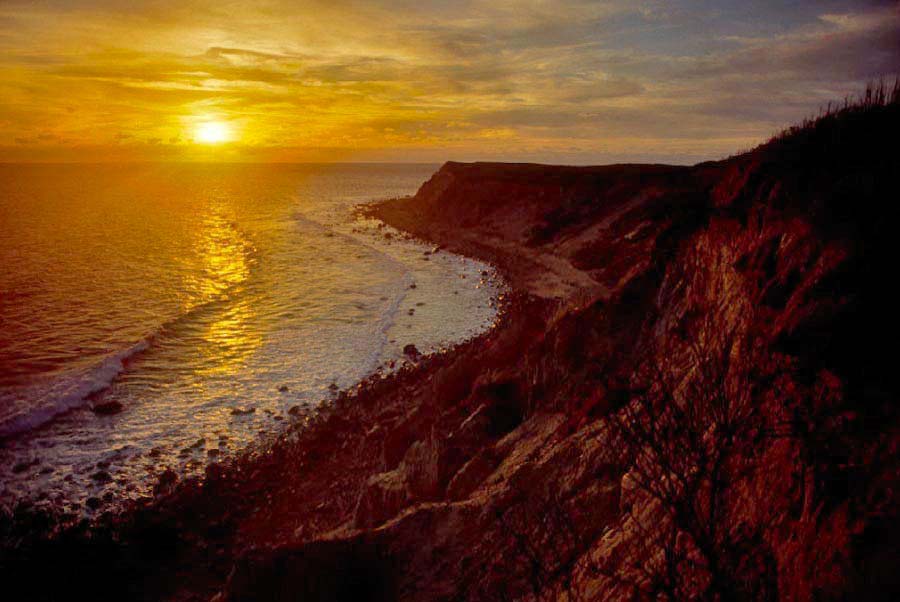 October 1990

A 21 mile loop between Old Harbor and Black Rock Point

I had come out specifically to capture the sunset from a vantage point discovered the day before, a move untypical of my more serendipitous habits. The autumn air was amazingly crisp and clear. From my perch high up on Black Rock Point I could just make out Montauk Light far out on the horizon.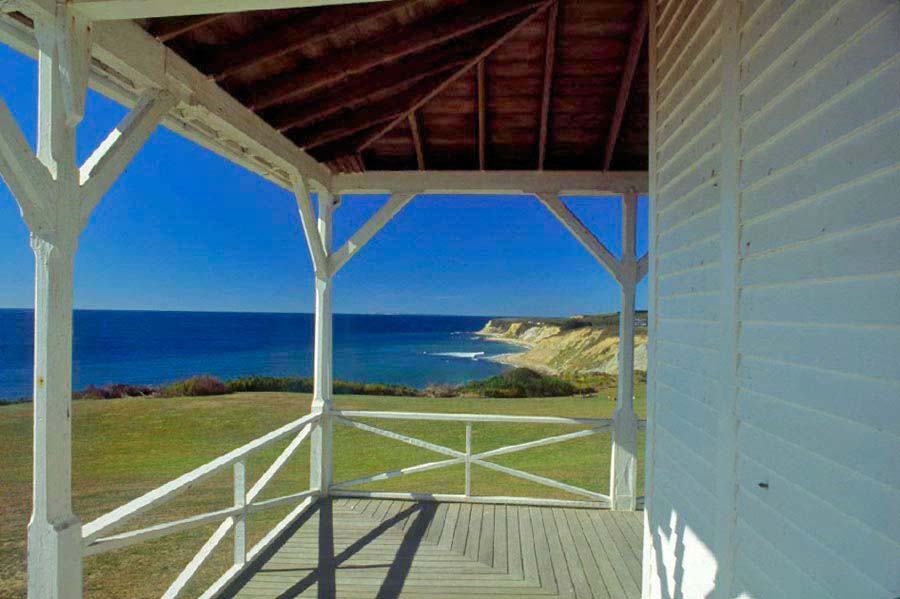 October 1990

A 17 mile loop between Old Harbor and Schooner Point via Cormorant Cove

Nearly all the summer people are packed up and gone, their cottages shuttered for the season. All seems lighter and free.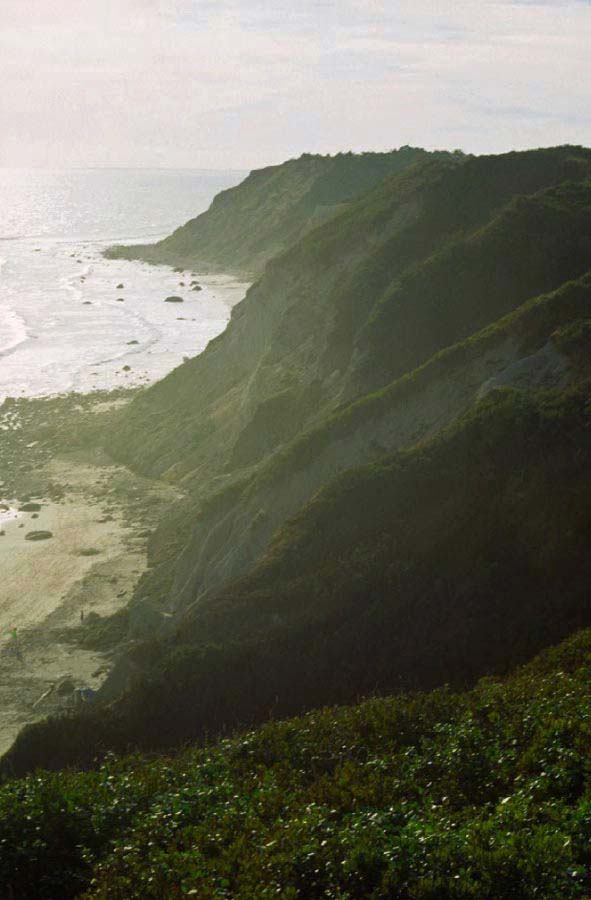 October 1990

A 5 mile loop between Old Harbor and Great Point

I suppose the variations of light change the landscape everywhere but by the sea the possibilities seem inexhaustible.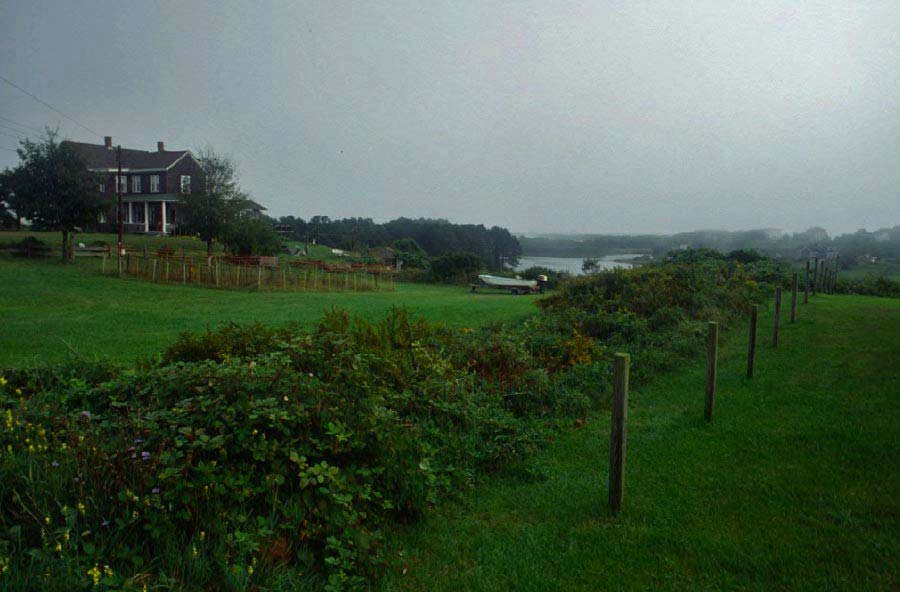 September 1989

A ramble from Old Harbor to the central hills.

The rolling hills of Block Island are its saving grace. Their nuances combined with open fields and ponds of every conceivable size offer a multitude of visual possibilities that would be lost on more flat topography. What may pass for the most ordinary landscape elsewhere takes on a subtle beauty here.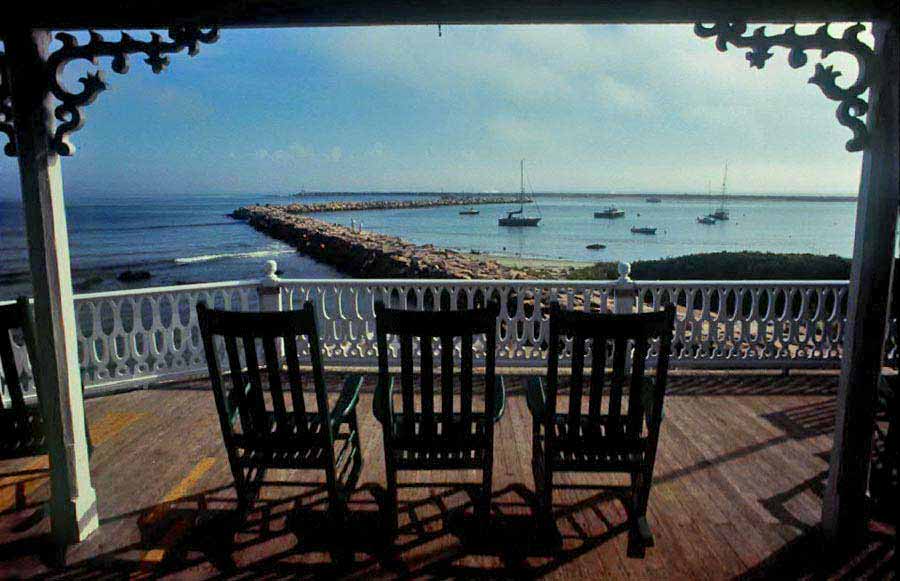 September 1989

A ramble about Old Harbor

The town of New Shoreham may be an odd mix of architectural styles but there are still places where it is not too difficult to slide back in time.
Postscript: The old Victorian Surf Hotel closed its doors in 2007.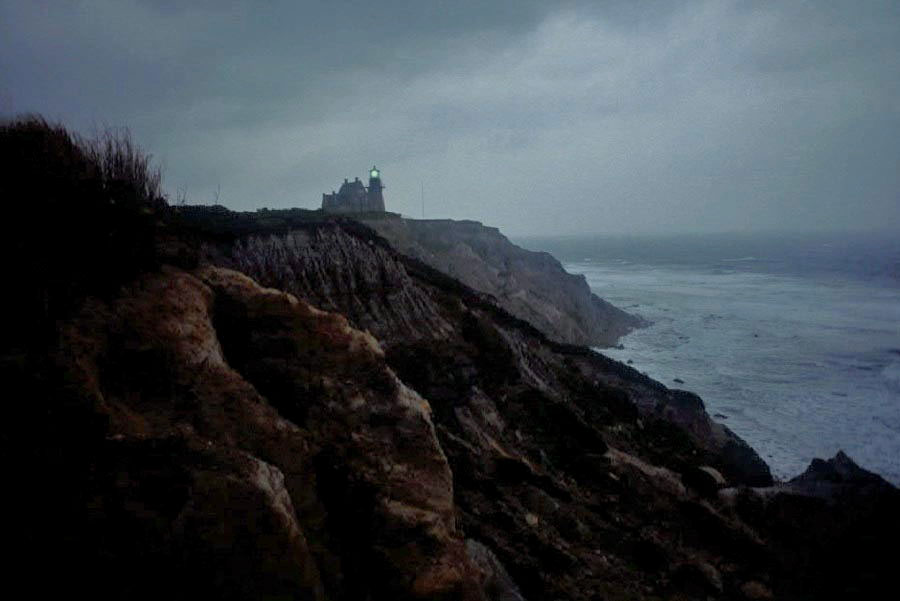 September 1989

A 5 mile walk from Old Harbor to Mitchell Pond via Southeast Point

As I rounded Southeast Point I could not believe the sight before my eyes. I had started to walk this narrow beach as the tides were falling, but now a high surf was crashing against the large boulders of the beach as thick salty foam flew through the air like ash from a great fire. On the horizon were the darkest clouds that I have ever seen. Pocketed into a cove against the high clay bluff I used resources I didn't know I had and eventually escaped across the narrow point. It was a close call. From a higher vantage point I could see the ocean that penned me in, churning a solid white for half a mile off shore. This was no rainstorm approaching but a hurricane. I stayed until the wind and pelting rain drove me away.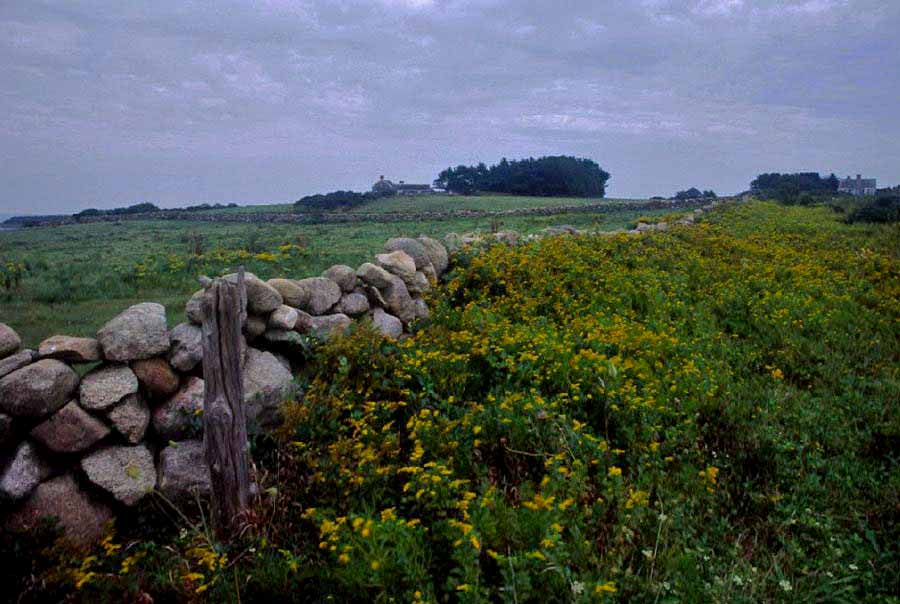 September 1989

A 12 mile walk from Cow Cove to Old Harbor

Though autumn was on the horizon it smelt like a Summer day, the way it does when a thunderstorm grows near. The clouds off over the Sound provided continual drama as I walked down the beach. Everything around me seemed to fall into place as if part of a chorus heading towards a climatic feverish pitch. It is impossible to remain in oneself at such moments. It was as if everything around me was too big for me to even exist.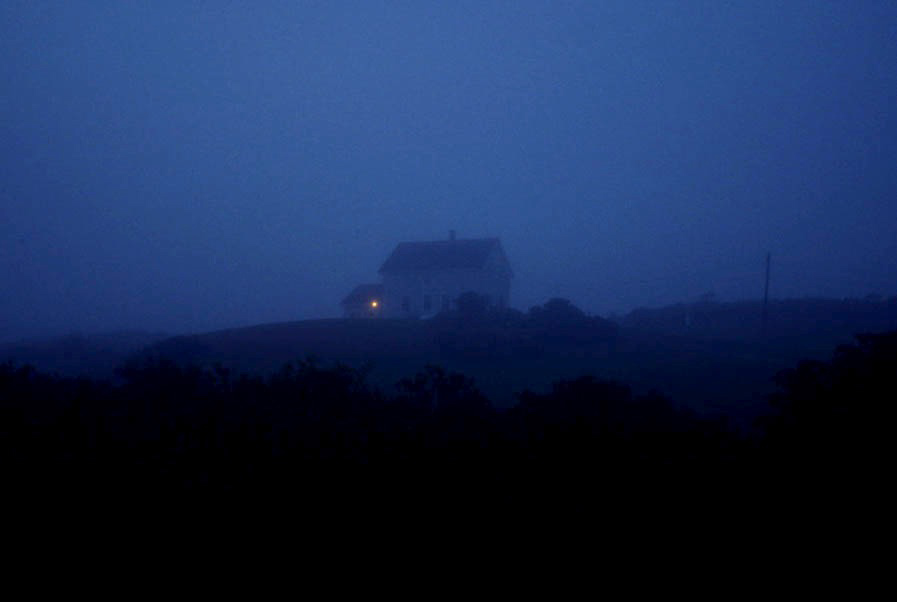 September 1989

A ramble out in and out of Old Harbor at night

Night has fallen but I am too restless to stay indoors. The fog horn at the harbor begins to cry out; it is my cue to leave for a walk. The town is dark. I walk out further where it is darker into the unseen and untold.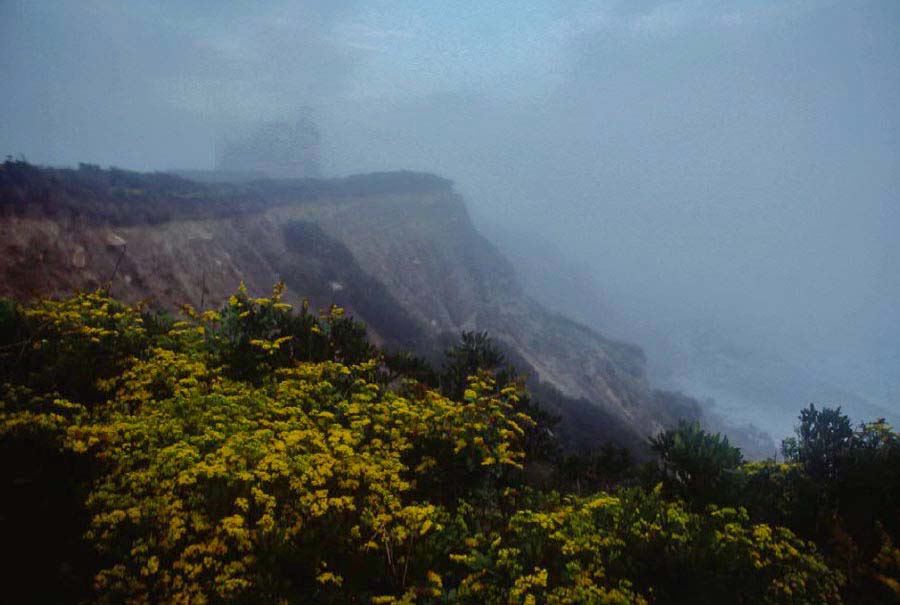 September 1989

A 5 mile loop between Old Harbor and the Monhegan Bluffs

I neared the south shore in the thickening mist measuring my approach by the fog horn's blast. At the buffs edge all was in turmoil as if I were nothing more than an insignificant ingredient in some cosmic soup. For a rare few seconds as all swirled about me the silhouette of Southeast Light would come into focus then disappear before I could be certain it was really there.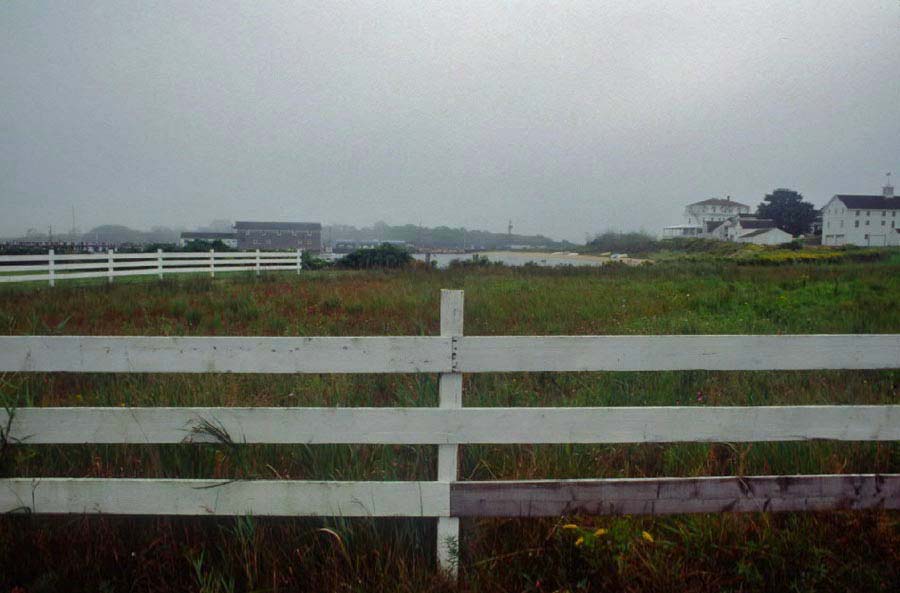 September 1989

A loop between Old Harbor and New Harbor

One of the most fascinating features of the Island is its myriad of old stone walls that run in every direction. While some remain hidden under brush others meander about like great serpents through abandoned fields, and still others are kept up as part of functioning farms. A whitewashed plank fence seems out of place in this company, that is until the fog rolls in.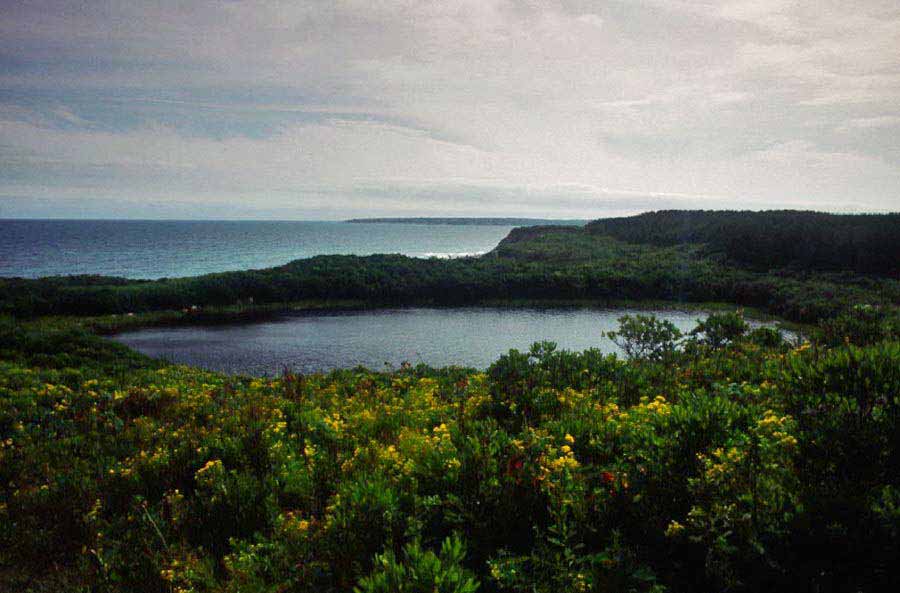 September 1989

A walk in the Bluestone Maze

This island is dotted with numerous ponds, which is why I can't understand my sense of something haunting about this one in particular, this one sitting high on a bluff above the pounding surf. Its existence in this dense green tangle seems unreal; its dark deep waters the home to a magical presence.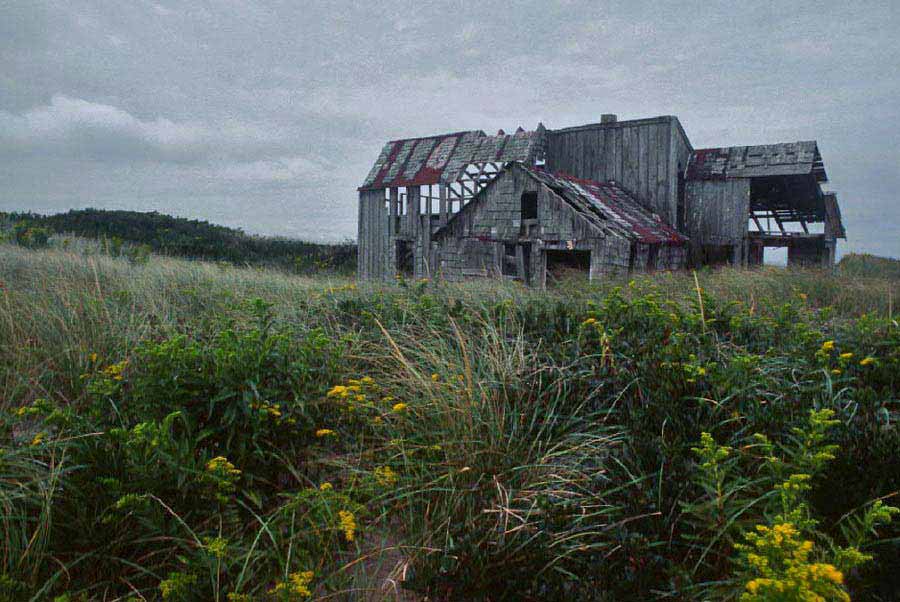 September 1989

A 17 mile loop between Old Harbor and North Light

Near Sandy Point the skeleton of an old Life Saving Station drew me toward it and then inside. It has not weathered well in this harsh environment blasted by salt and sea. Soon it will be like the hundreds of small dry bones of seagulls that lie between these hills. Life may be plentiful here but it is fragile as well.
Postscript: This structure has been demolished and there is little evidence to show that it ever stood.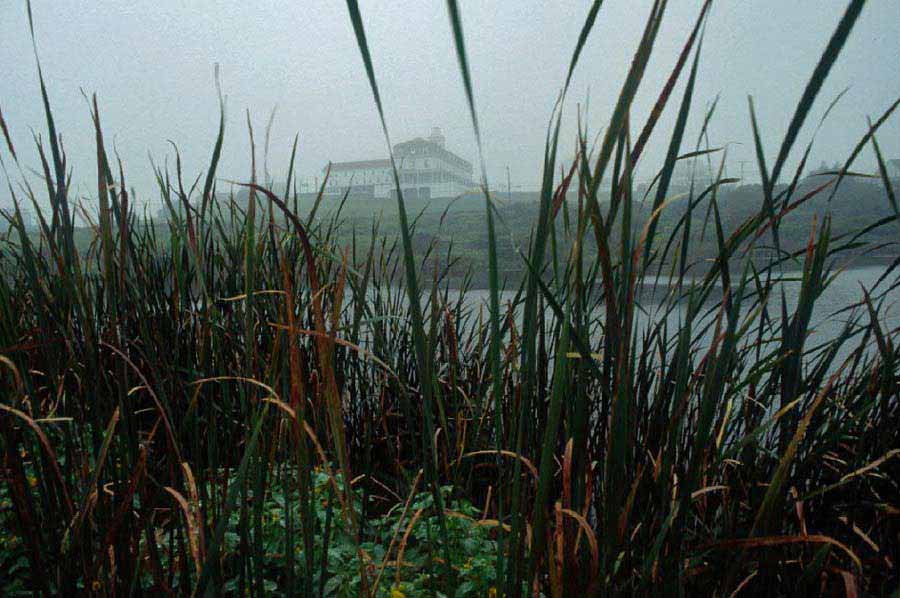 September 1989

A 8 mile ramble between Old Harbor and Pebbly Beach

The air this morning is full of moisture shifting between mist and light rain. It is barely enough to get me wet but I quickly become soaked after moving through the tall brush.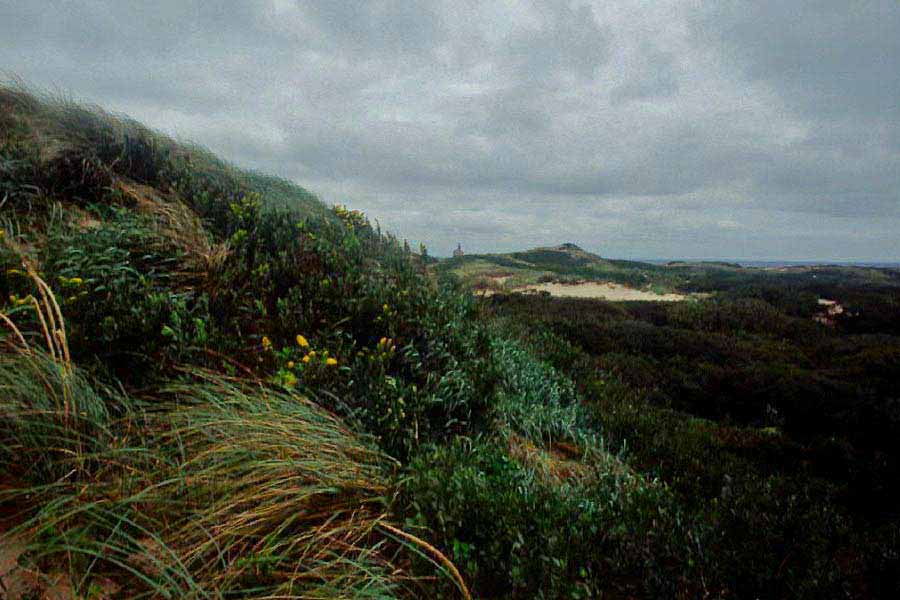 September 1989

A 17 mile loop between Old Harbor and Sandy Point via Gunners Hill

The nesting gulls that tormented me on my last visit in spring have all disappeared from the dunes, but it is the sky that remains agitated today. A damp wind blows through these hills and whistles in my ears.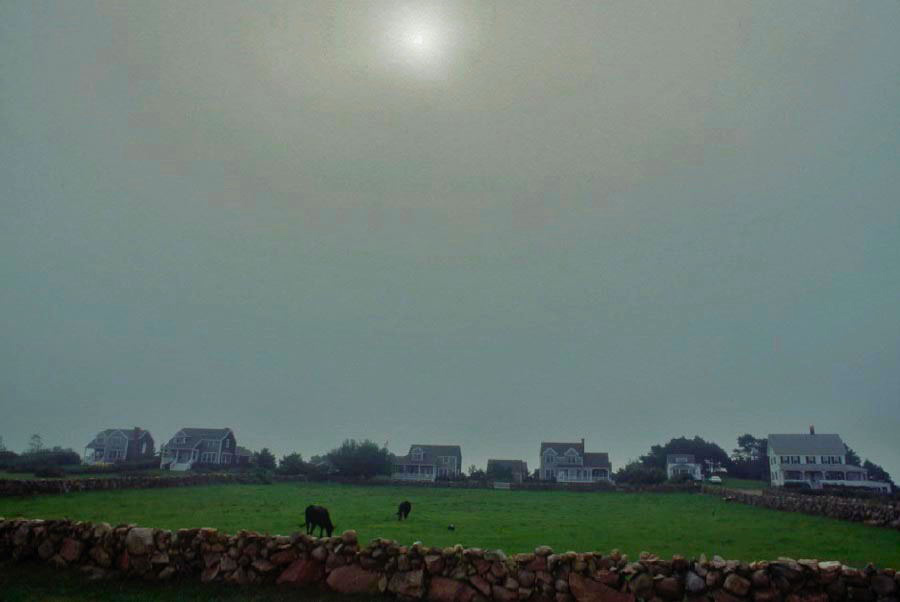 September 1989

An 8 mile loop between Old Harbor, Cormorant Cove, and Graces Point

The fog was heavy this morning, it never really burnt off. Horses and cattle grazed in their fields in a timeless manner, unconcerned with the doings of men.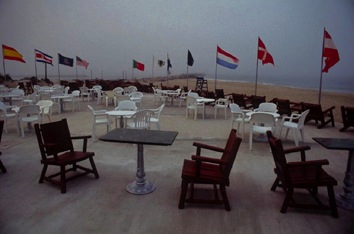 June 1988

A ramble about Old Harbor

The June bugs arrived last night, thousands of them flying in as in a mad rush to escape the stormy skies across the sea. There was a mysterious ping against my wall at first, then another and finally my own mad rush to shut open windows. By morning a light rain was falling or perhaps it was just a heavy mist, it hard to say. I walked down the beach until there was no debate on the weather, it was raining.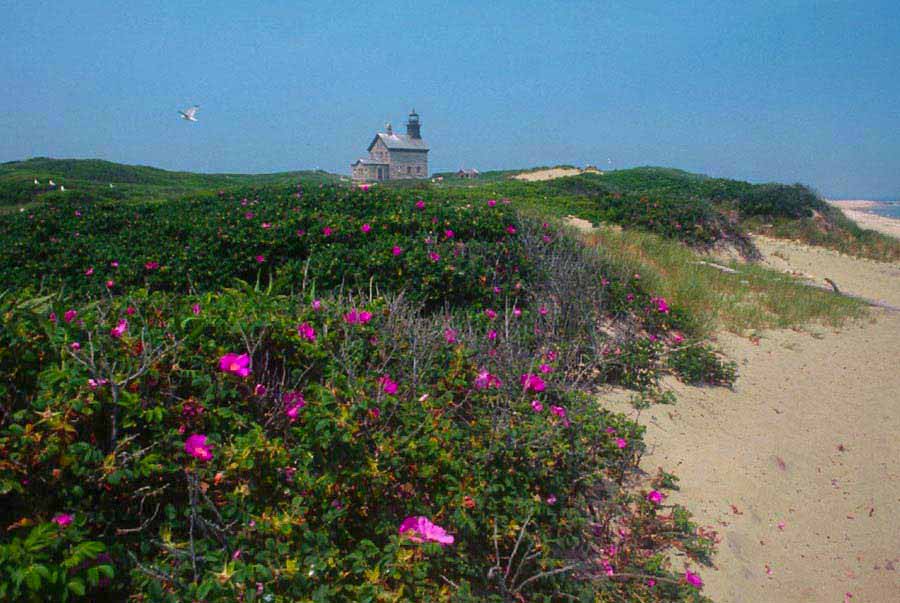 June 1988

A 7 mile walk from Sachem Pond to Old Harbor

Though I moved as slow as I could through the sea of nesting gulls that surrounded North Light they were still highly distressed at my presence. One seagull walked up to me with a stick in its mouth waving it as furiously as it could in an attempt to dissuade my passage. The clatter of their annoyance quieted as I passed out of the dunes and back down to the beach.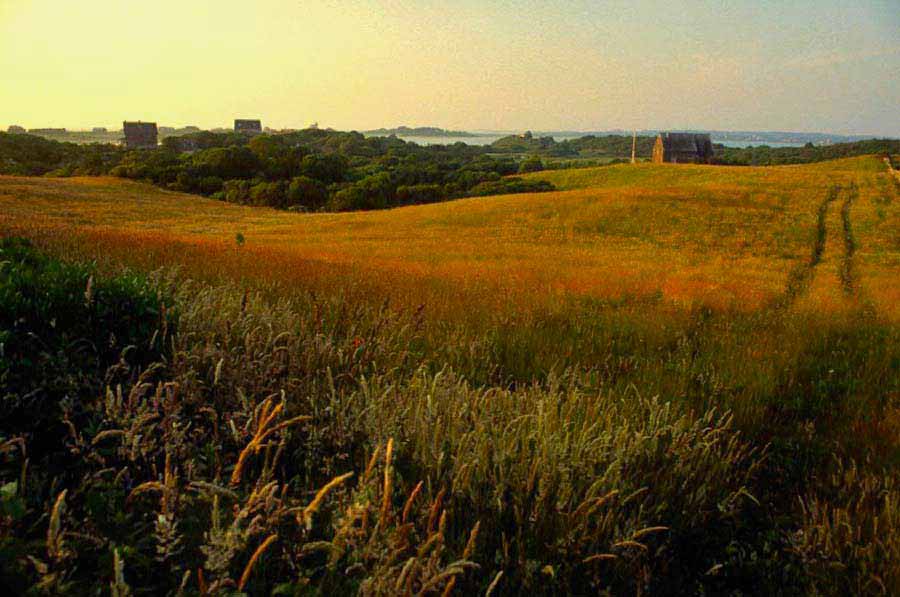 June 1988

A loop between Old Harbor and the entrance to the Great Salt Pond

At a turn the wild rose lay low beyond the stone wall that followed the road. A farm with its broken hills, ponds, and pastures proved almost too idyllic to be real. The haze that blanketed the water for days had finally lifted and from this vista I saw the distant mainland for the first time.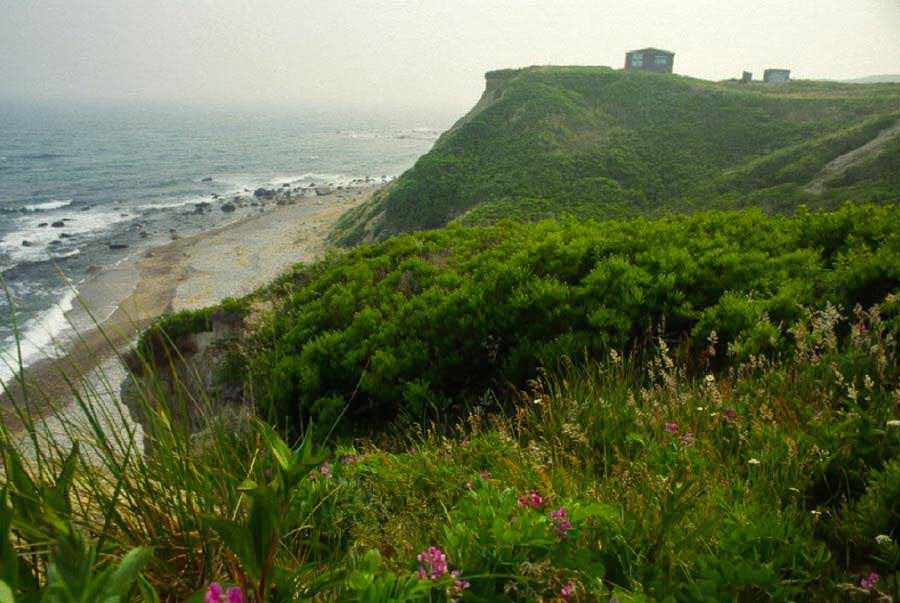 June 1988

A 10 mile walk from Old Harbor to Black Rock Point and back to Old Town

The island is still imprisoned by haze but it adds a softness to the light that makes everything a little less real. I am happy for it.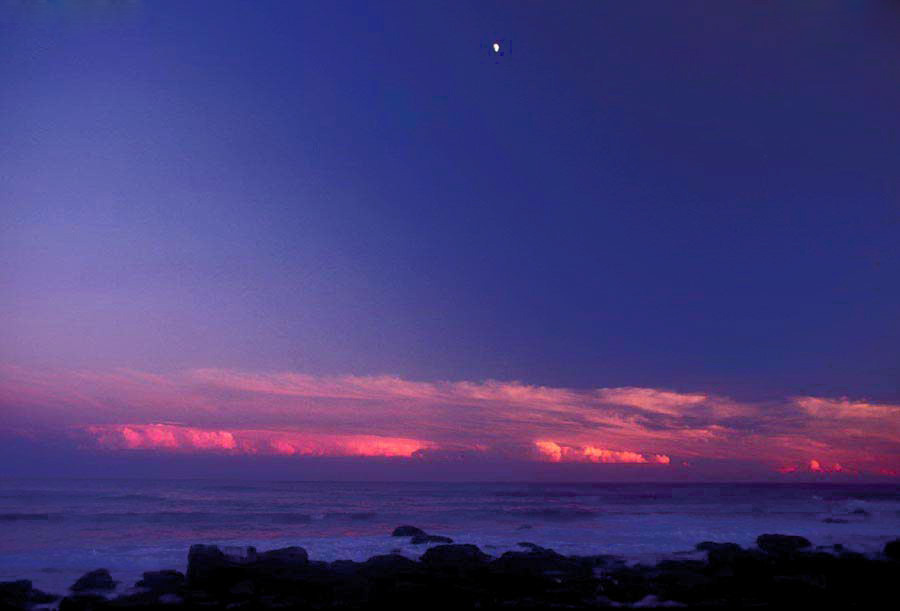 June 1988

A loop between Old Harbor and Lighthouse Cove

The world could be burning but here all is at rest.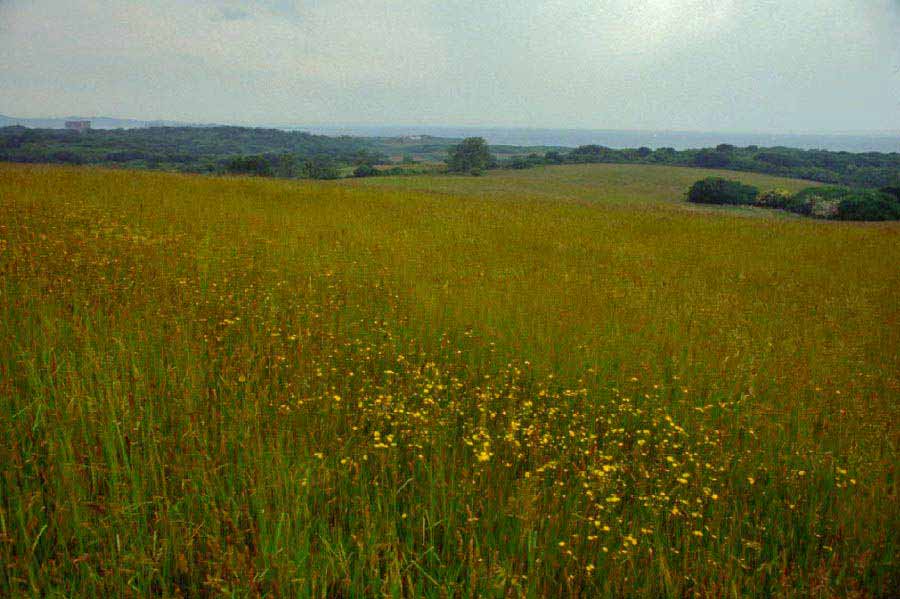 June 1988

A loop between Old Harbor and the Middle Pond

Although it was race week I saw little of the yachts other than their passage from safe harbor into the haze that surrounded the island. From atop the ridge of Corn Neck a far distant sail would sometimes catch the light and glisten. But it was the bright surface of the ponds shining through a sea of green that kept my attention. Everything was alive on this ocean bound spec of sand. Wherever life could take it did so.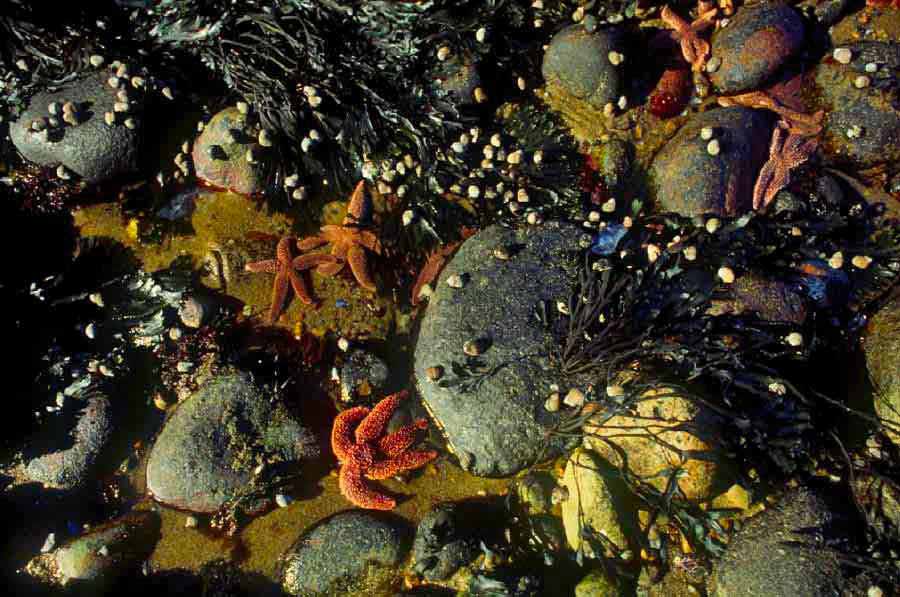 June 1988

A walk on the west shore.

Upon reaching Dories cove I was met with a scene that seemed terribly out of place. While I have come across many dead things lying on a beach I had never found a cow before. Perhaps a misstep at the edge of a fragile high bluff sent it hurtling to its death and it drifted here on the tide. The surf was calm but the beach was a roller coaster as I hopped from rock to rock on its uneven surface. Wandering out into the tide pools I discovered hundreds of bright orange starfish amidst mussel shells of iridescent blue. A delight for a child's eye but as with the constellations of the night sky I could stare deep into my own sea swept soul.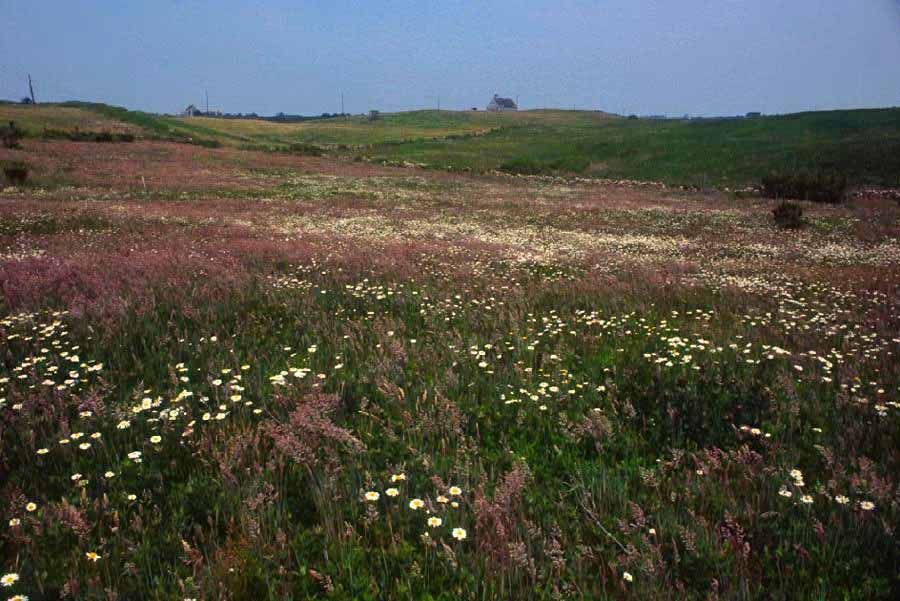 June 1988

A 15 mile loop between Old Harbor and Black Rock Point via Dories Cove

As I climbed up from the beach over a dip in the bluff I suddenly found myself in a vast open field. The grass and flowers held reign here, the long lines of walls standing in a feeble attempt to contain them. This landscape would not be constrained.
Postscript: These fields have been put aside as conservation lands but the empty ridges that once surround them are now lined with homes.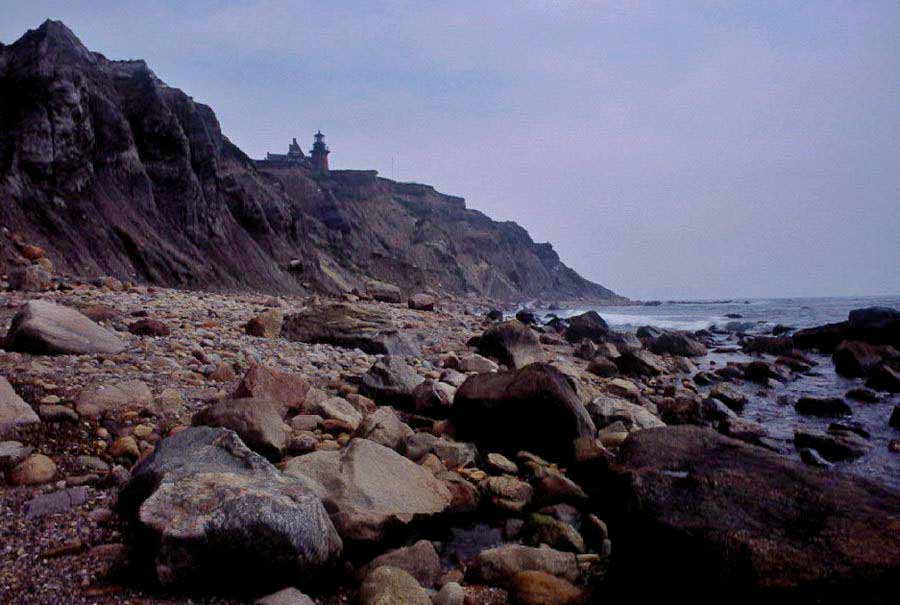 June 1988

A loop between Old Harbor and Lighthouse Cove

The day's faint sun had already passed when I reach the ocean. The heavy swells that had wrenched the boulders that strewn the beach from the tall clay bluffs behind me just offered a small token of surf. It is so quiet and calming here in this landscape of destruction.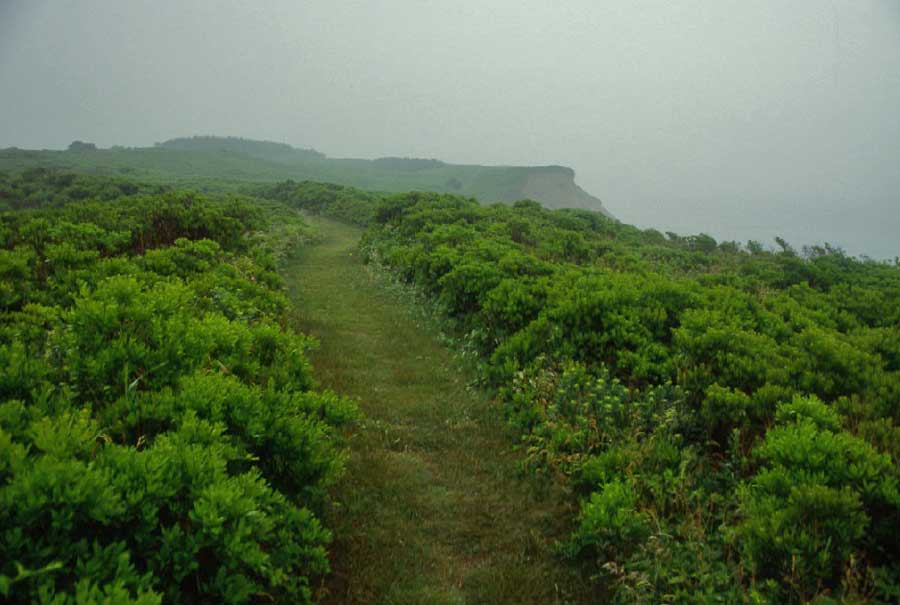 June 1988

A walk through the Bluestone Maze

With a seemingly endless choice of pathways I wandered about the maze aimlessly. Fog was moving in, a little at first but in no time all was white. My path became my world as I could not stray from it and nothing could be seen beyond it. As I moved forward I was confronted by a ghostly presence that began to take form in front of me. There was a cry. A stag reared up on its hind legs just feet away and then it was gone.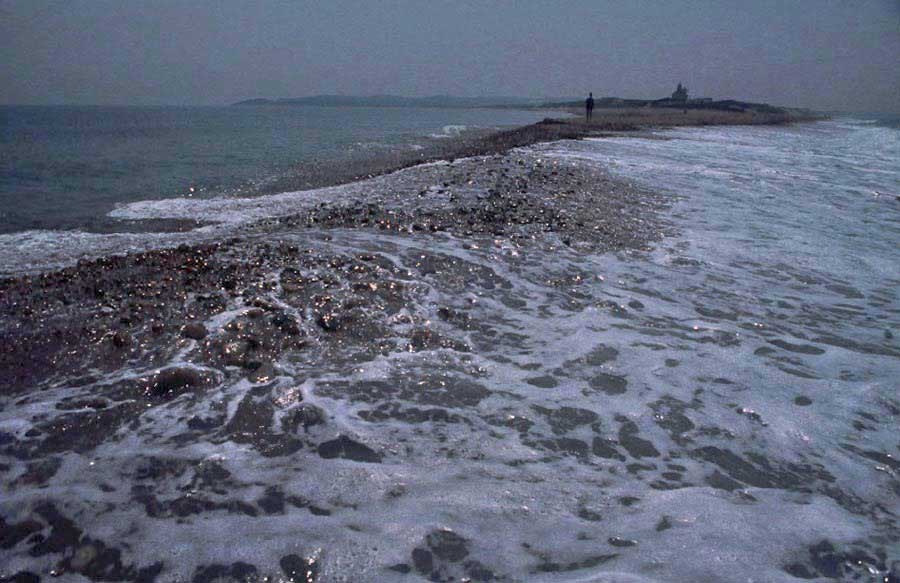 June 1988

A 19 mile loop between Old Harbor and Sandy Point

A small wooded knoll was once connected to Block Island's northern tip by a long sandy spit. It has long washed away but its remnants stretched out before me for some distance. With small waves just caressing its surface from both sides I headed down its length. This place was called Sandy Point but there was no sand here as the bruises from wave tossed stones against my ankles will attest to. I went out as far as the fear of being swept away let me.
June 1988

A 14 mile loop between Old Harbor, Dories Cove, and the Monhegan Bluffs

By the time I reached the Monhegan Bluffs the fog rolling off the Atlantic prevented me from even seeing the beach below but the sound of the crashing waves gave notice that I was indeed atop a great height. What I had thought a trail along the very edge of the bluff turned into little more than a deer path after a score of paces but I followed it anyway. As the thick bayberry gave way to grass a phantasm suddenly appeared out of nowhere. I was on the narrow strip that had not yet eroded away between the Southeast Lighthouse and the precipice it looked over. My pants were soaked from the moisture hanging heavy on the long stems of grass. The foghorn blasted out another low moan; I thought I'd go over the ledge. Many consider lighthouses to be clichés but all I knew in the midst of this otherworldly drama was that I never felt so connected to what is real.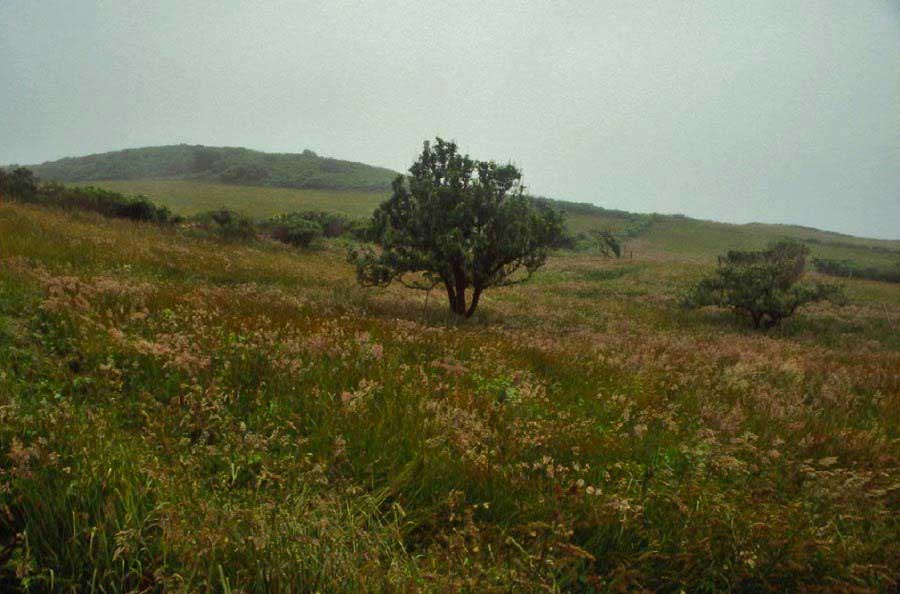 June 1988

A loop between Old Harbor and the western moors

My ferry had approached Block Island in a dense fog. The old Victorian Hotels surrounding the harbor did not come into focus until the boat was at the very entrance to the harbor. Suddenly my heart began to race as I was transported back into another time. As soon as I dropped off my bags I ventured out into the unknown, mapless and with no clear idea of where I was going. On a deep rutted old road on the far side of the island I startled a horse and rider as I walked out of the mist. The ocean waves sounded on shore but all that could be seen were fields of grass with their long walls of stone and the occasional yellow flowers.

---
Copyright 2009 Alan Petrulis All Rights Reserved